At Polette or Silmo, when Optics takes an air of Art
5 min read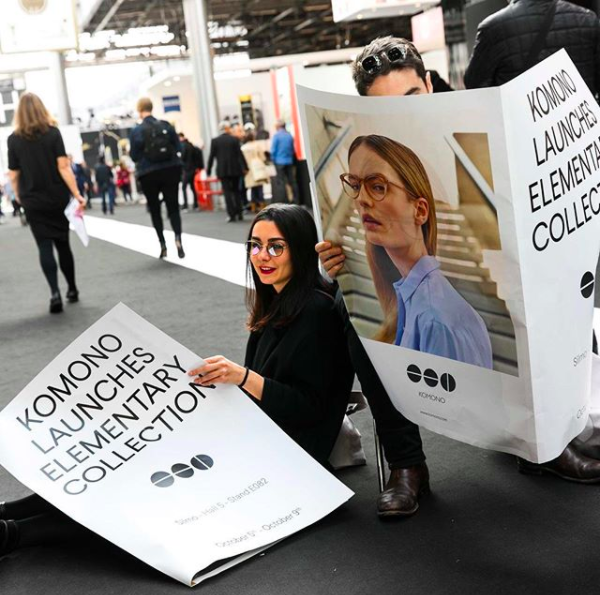 It looks as if Art could also decline in other spheres than those we could usually think about. Optics is one of them and uses its multiple actors to refine their manufacturing techniques. Some are modernizing via the emergence of 3D printing and the enthusiasm of buyers for models at the forefront of fashion, which evolves very quickly like Art, even single pieces. The boldness of more and more forms and materials used transform these tools of visual aid into true works of art, reflecting a certain culture.
---
The glasses are an excellent example since it tends to combine the useful and a certain aestheticism. This involves an incursion especially in other artistic fields; including fashion, painting, sculpture or even music. The shortcut or inspiration for an artistic movement is developing as stylists create their creations, aiming to come closer and closer to the expectations of a market that is ever more inclined to adapt its consumption habits to the expression of a part of their personality. In this way, we are returning to the perception of optics as a true object of Art that will be able to express itself by the increasing influx of the exposure of their users on social networks. And this to the detriment of the functional object, without rallying cultural or cultual (if we can talk about Art as a religion in some cases), to which we can still link to Optics.
One of the newcomers to the market, the French firm Polette, founded in 2011 by two afficionados Pierre Wizman and Pauline Cousseau have decided to ride this trend (photo credits: Alex Plato and polette). Indeed, she inquired to take up a challenge to propose frames designed by home creators, with just one flow depending on the parameters of Fashion.

This implies a regular renewal of the range with almost weekly arrivals both on the online store as well as in one of the 4 showrooms in France and Benelux including a last one that will open in May 2018, in Brussels. These places are in phase with the digital revolution that the optical market is experiencing since they are consulting centers allowing visitors to evaluate their correction on the spot and then to carry out physics tests before a possible subsequent online purchase.

In addition, they also serve as a reception area where real fashion shows are held; thus highlighting the latest creations, like the late collection in the air, called Coachella, related to the Festival of the same name and its very hippie inspirations.
A typical creation of polette that tends to reach the standards of fashion, the Stark model mixing the aviator shape with the oval. Encircled by gold metal, and adorned with olive acetate partially glossy, embellished with engraved details.
A flexibility allowed by the absence of intermediaries throughout the raw material supply chain, thus allowing a very attractive price adapted to a clientele very focused on the proliferation of possession of fashion accessories, equipped with glasses correctors from € 14.98.

With the aim of sticking closely to the affinities of everyone on vintage, classic, modern or even more eccentric models with postmodern design, the brand works with materials, from acetate to wood, to reinforced plastic, titanium and more donning these accessories of style or real works of Art, according to each one's perception.

Frames coming directly from factories (in China) for prices between € 4.99 and € 49.99 and also glasses (with a large choice of colors to go further in personalization), including treatments, between € 9.99 and 99.99 €.
ShowRoom Paris, 91 Rue Rivoli, 75001 Paris.
www.polette.com

For those who would like to enrich their optical culture and discover new fields of inspiration, the annual rendez-vous of the Silmo fair, in Paris, is within this quest.
The next event of this show devoted to international eyewear, conventional or not, will be held from September 28 to October 1, 2018 (photo credits: SILMO).

This real museum of Optics is a meeting place for the various actors of the sector.
The most luxurious or the most exotic, an authentic journey through a universe, dedicated to shapes and colors, more daring.
Space comes in multiple features to facilitate the visit.
Thus, the SILMO M@TCH application facilitates meetings, connections, exchanges, discoveries and increase business opportunities. The SILMO ACADEMY offers new skills through training programs to stay in step with scientific advances in the field of vision. The annual SILMO D'OR award recognizes the talent and know-how of an entire industry and is expected every year.
Upcoming in 2018, the SILMO NEXT brings together everything related to foresight, innovation and trends; it has been conceived as a "think tank" intended to help visitors and exhibitors to anticipate changes on the move and to project themselves into the future of optical-eyewear.
Note the declination of the event in other world places throughout the year, SILMO Istanbul, SILMO Bangkok and SILMO Sydney. Thus, the SILMO M @ TCH application facilitates meetings, connections, exchanges, discoveries and increase business opportunities.