Spend a luminous winter with the natural scented candles of Clæpsidra, Melchior & Balthazar and Carrière Frères!
11 min read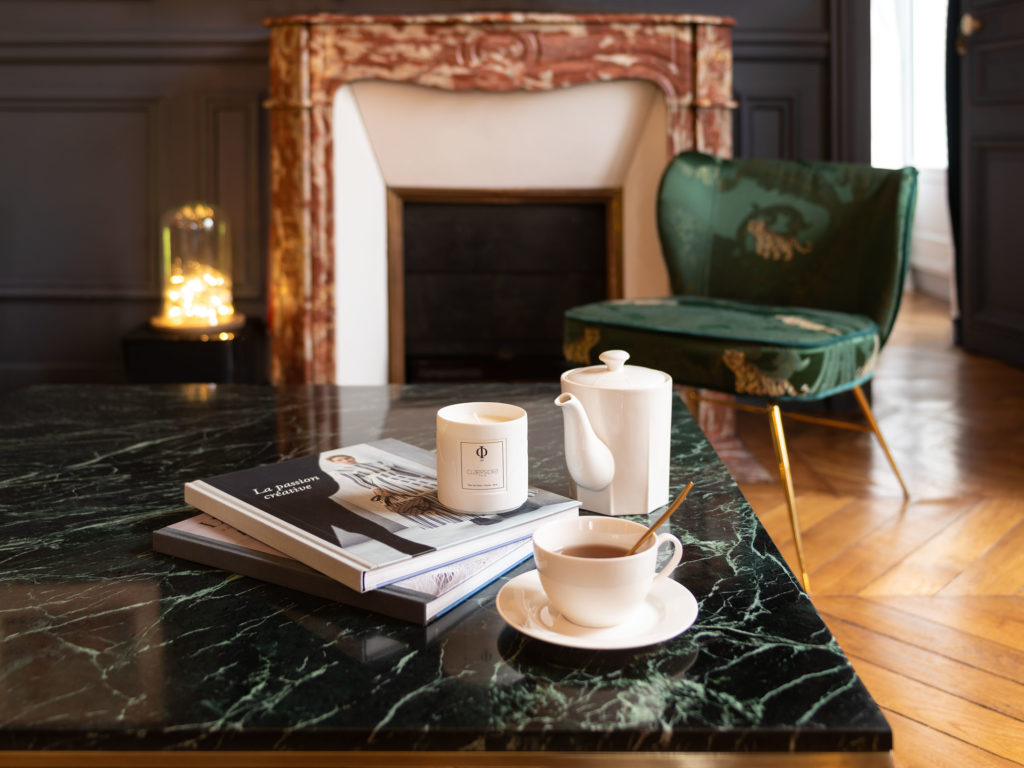 In many sides of the World, the darkness officially operates during the winter time days, due to shorter days and a substantial decrease of luminosity… For that reason, people need more brightness! The candles is a solution for those searching for natural light, and sometimes they may be provided with smart fragrances, always with a recommended first burning time of 2 hours to shape the wax… That's the proposition of several French manufactures focusing on organic raw material and sustainable candles, naturally made in France. We're pleased to introduce you here Clæpsidra, and its premium porcelain jar. In an other hand, Melchior & Balthazar, two of the Magi, wish to share their souvenirs from their oriental trips, through a selection of fine and precious candles! Last but not least, get into a wooden flavor, within the limited-edition cypress candle developed by the Carrière Frères… By Alex Plato
---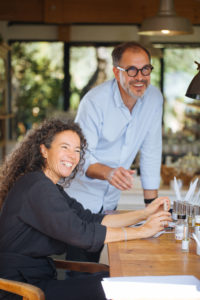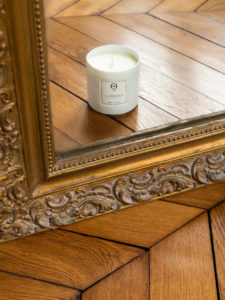 First of all, don't miss the first candle collection, simply baptized L'Heure Parfumée, imagined by the newly premium French brand, Clæpsidra, founded by an epicurean couple Béatrice and Patrice Bouëxel. A common desire aimed to reach aesthetics and quality goals, due to certain lifestyle codes as well as a sustainable commitment, through a social and eco-responsible approach. For instance, they decided to use the services of a solidary workshop ESAT, for the majority of their finishing touches (photo credits: Sonia Souk for Claepsidra Paris).
From raw materials to packaging, the entire Claepsidra manufacturing process tends to last as long as possible, while remaining far away from the common culture of the ephemeral.
Indeed, this brand name finds its origins in the clepsydra, like the water clock used in antiquity. For instance, it evokes the expression of time which flows and the fleetingness of everything, floating through the times.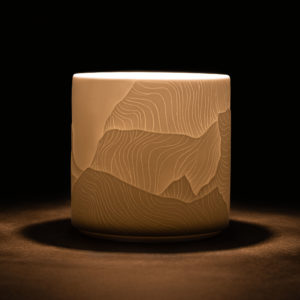 In order to fulfill this longevity, each
Clæpsidra
candle is handmade in France, with exclusive local crafts from the French manufacturer
Haviland
, located in
Limoges
. Implanted in this international capital of porcelain (cf past
article
), this famous factory naturally realized a
candle jar
made of this translucent
Limoges
porcelain
bisque, a real collector imagined with great finesse! You may also keep this precious element forever thanks to the refill sets for
scented candles
, soon available.
With its elegant fragrance and the soft reflections of its warm light, pose the setting for a unique moment of life. Inspired by the memory of one of their trips to an inspirational place called Antelope Canyon, located in Arizona (USA), the motif of the porcelain case evokes the passage of water imprinted on the rock, like the ripple of multiple lifelines delicately placed.
Consequently, the Haviland manufacture, one of the most prestigious French luxury tableware houses, realized a true exploit, within this original creation, resulting to an elegant, poetic and unique perfumed candle, thanks to a Certificate of origin. Therefore, you would eventually find on the mold in the form of a plaster block, where is engraved the exact pattern, imagined by the Clæpsidra founders, also designed and highlighted by the Studio Marianne Guély.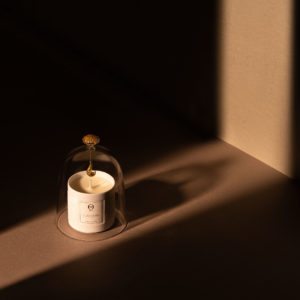 At the heart of creation, this
haute couture
candle
designed by the
Studio Marianne Guély
, focused on a visible (8cm height and diameter) and lightweight element (270g) to place it anywhere in your living space, for an approximative burning capacity between 70 and 80 hours. For a recommended price of 150 euros.
This Studio paid much effort to develop an innovative decorative item, starring a choice of noble materials such as the translucent and immaculate white porcelain bisque, adorned with this inventive bas-relief motif, chiseled like a delicate paper art… "This soft and subtle material lets the light crossing through the graphic grooves, like a fluid and harmonious movement around the cylinder, while the candle gently burns out…" says Marianne Guély, the creative artist and founder of this Studio, which also wished to highlight the inspirations and values of Clæpsidra with a eco-design packaging. This possibly reusable box notably includes a 100% recycled FSC tinted and solvent-free cardboard, protected in a 100% organic cotton pouch bag.
Moreover, the perfumes and hand-poured waxes are guaranteed by the home master chandler (strong of a 30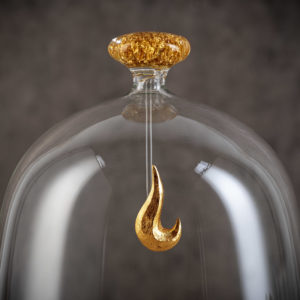 years experience) and the IFRA (International Fragrance Association), without bisphenol, phthalates, nor carcinogenic, mutagenic and reprotoxic substances (also called CMR).
The result? 7 different fragrances (like the 7 Sins?), all stamped with a greek letter, maybe in reference to the antique and sculptural aspect of those candles? In fact, you would amazed to discover a bucket of very inspired scented associations inside them! The founder Béatrice Bouëxel admits that "those fragrances were elaborated to take her back to personal particular moments: a childhood memory, a specific moment, an emotion, an atmosphere…"
Indeed, those perfumes were conceived by a High-Perfumery enthusiast (a topic we already covered here), Delphine Thierry, owner of Inspiration Libre, a perfume creation workshop, located in Grasse, the French cradle of perfumery!
She framed the design of singular but very pleasant fragrances… From an oriental inspiration with the Iota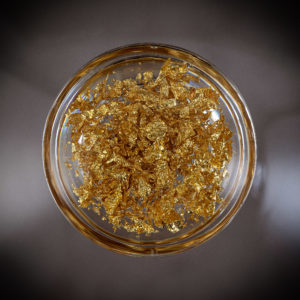 candle (orchid, oudh and santal wood flavors), passing through the exotic mood of the Gamma candle (ginger and teakwood), or even the gourmet side included in the Alpha candle (almond, tonka bean and white musk), the sweet forestry Ksi candle (freesia, mahogany and bergamot), you would surely find your happiness in this flavorful alphabet. On top of that, the organic cotton made candle wick would take care of your brand newly refreshed indoor air!
Recently, Clæpsidra launched a tall luxury blown glass bell, adorned with a 24 carat golden knob, composed of gold chips and inside this bell, a suspended handmade porcelain flame, gilded with gold foil. Unsurprisingly handcrafted by an artisan glassblower, this decorative glass dome would perfectly suit to your candles, with a golden touch (with 17,5cm height and 13cm diameter).
Find out more information, follow the new chapters of this illuminated adventure, in the official website!
---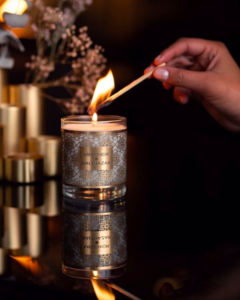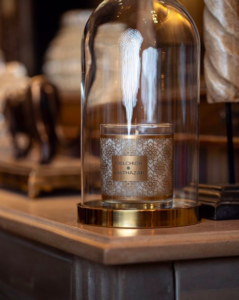 Created by two brothers passionate about travel, Melchior & Balthazar is a brand of cosmetics and home products, 100% natural and made in France. Each product is the fruit of a discovery of a unique terroir and know-how. Since 2012, Melchior & Balthazar has shared ancestral rituals in treatments enriched with exceptional natural active ingredients, you may have a look on our article here (photo credits: Melchior & Balthazar).
The Melchior & Balthazar candles are a a real invitation to travel through myths and legends. The French brand has imagined two collections inspired by Middle-Eastern and Asian moods, which would transport you to distant lands, but with a clean carbon balance!
Indeed, their candles are created from soy and rapeseed waxes, they are composed of vegan exotic scented fragrances, also CRM-free (non-Carcinogenic, non-mutagenic and non-reprotoxic). Thus, those natural waxes hold several personalities, spicy, woody or floral notes may arouse anyone's emotions, emanating from each olfactory discovery. By this way, those items create a certain soothing atmosphere, a suspended moment that should surely provide real awakening of your senses.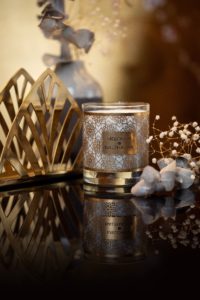 These
candles
are presented in glass containers with a specific graphic decoration, two patterns cut out from a golden metal, which create pretty
Chinese Shadows
.
As elegant as they keep respectful of your health, those candles are waxed by hand, according to a certain ancestral know-how, in the Melchior & Balthazar workshops, based in Normandy.
Each of them is the fruit of a traditional manufacturing with an untreated cotton wick, completed with the ecological soy wax, emit no harmful components and consequently, keep your indoor air clear and safe!
That's why, we may consider that those Melchior & Balthazar scented candles are a real invitation to travel through myths and legends from all over the world. A trip made possible with two alternatives, the first one through the 130g format candle, able to offer nearly 30 hours of burning (€ 39), and the other one, in a 290g jar would take you away for 60 hours of burning (€ 69).
Your first step could start with the Orient Collection, follow the incense and oudh emanations of an oriental medina and let you swept away from your daily concerns, while enjoying this relaxing time.
– Babylone candle (Babylon):
The Babylone candle invites you to push the doors of any random legendary city's palace to discover its wooded interior and its garden filled with pines, exotic and palm trees. The comforting and inspiring atmosphere of the Porte des Dieux is reinterpreted in a delicious way, thanks to a balanced blend of oudh and oriental woods scents.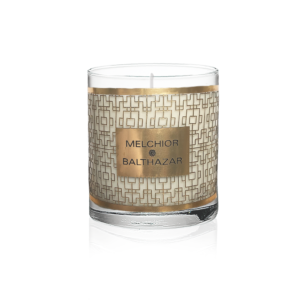 Woody and aromatic top notes: Bergamot, Cardamom, Pine, Raspberry
Woody, oriental heart notes: Texas cedar wood, Island saffron, Wood guaiac, Sandalwood
Woody, amber base notes: Oudh from Thailand, Vetiver from Haiti, Hay, Amber, Vanilla from Madagascar
– Encens Charnel candle (Charnel Incense):
An offering to the gods, incense is one of the three treasures brought by the Three Magi. The Encens Charnel candle immerses us in a sacred atmosphere defying forbidden pleasures. Its amber, warm and sensual scent is terribly addictive.
Citrus and spicy top notes: Amber, Bergamot, Orange, Mandarin, Rum, Black Pepper
Floral and opulent heart notes: Amber, Rose, Jasmine, Geranium
Mysterious and sensual amber base notes: Amber, Benzoin, Opoponax, Incense, Vanilla, Caramel, Cistus, Ganac Wood, Blond Wood, Patchouli, White Musks
– Byzance candle (Byzantium):
We set off to explore the lands of the forgotten city of Byzantium, as mystical as it is prestigious. From this scented candle escapes a delicate smoke with a delicious scent combining vanilla and fresh tobacco leaves, like a genie in the candle!
Aromatic and spicy top notes: Fresh tobacco leaves, Mixed spices
Woody and vanilla heart notes: Tonka bean, Spring flower, Vanilla, Cocoa
Woody and amber base notes: Dried fruits, Musk, Woody notes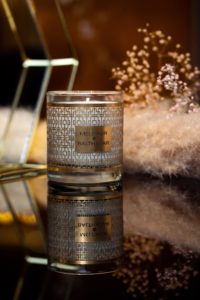 Some thousand miles away, calm your flat down, with the Collection du Soleil Levant (Rising Sun). Those candles are full of symbolic reminiscences, straight from Japan with its Zen contents or maybe you would prefer the soothing properties of the white tea from Yunnan, in China. Such a Cornelian choice!
– Cerisier de Kyoto candle (Kyoto Cherry):
Getaway to Japan, a country as beautiful as shiny. It is in spring that Kyoto reveals the sweetness of cherry blossoms. This candle takes us on a journey to the land of sakuras, thanks to its fruity and floral scent.
Fruity and citrus top notes: Plum, Cherry, Mandarin, Lemon, Peach, Green Notes
Floral and fruity heart notes: Lavender, Violet, Jasmine, Raspberry, Rose, Exotic fruits
Musky and delicious base notes: White musk, Sandalwood, Vanilla, Biscuit
– Thé Blanc du Yunnan Candle (Yunnan white tea):
The Thé Blanc du Yunnan candle takes you directly to China, in the heart of the tea fields. The sweet scent of fresh herbs and tea leaves from the scented wax provides instant peace and well-being. Once arrived in Yunnan, there is a real relaxing atmosphere, ready to be spread in your place!
Fresh and vegetal top notes: Sage, Fresh herbs, Botanical notes
Floral and spicy heart notes: White tea, Sweet spices
Woody and amber base notes: Vanilla, Crystal musk, Ylang Ylang
More information in the online store, or in the partner stores.
---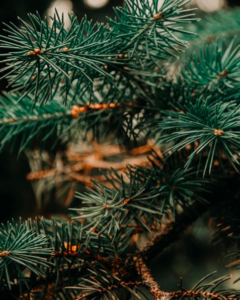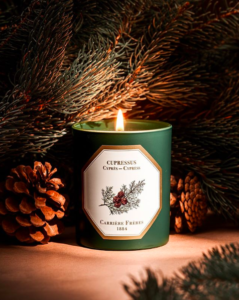 This time, we meet a brand new candle, straight from a random coniferous forrest and still created by a French classic brand… Thus, Carrière Frères is a natural continuation of La Manufacture Royale de Cire nowadays known as Trudon. In 1884, the Carrière Frères became involved in these old skills with the idea of ​​modernizing them. Attached to the traditions of wax masters, from the 17th and 18th centuries, the factory revived this heritage, while keeping curious and entrepreneurial. Then was born the sister firm Carrière Frères, which stands out for its ability to innovate (photo credits: Carrière Frères).
The illustrious Industrial Revolution was underway and the modernization favored electricity and yet, the two brothers managed to keep the use of candles going on. Through a creative and ingenious approach, they opened up a proper religious and functional use to envision it also as a decorative object. That's why the brotherhood gave birth to a new generation of candles, any kinds of nightlights able to enliven your future table center-pieces, dinners and festive evenings.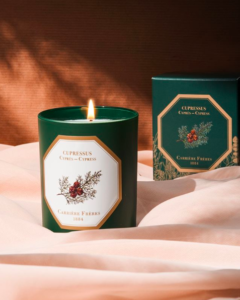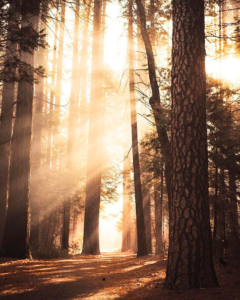 As early as 1889, their vision was rewarded with a Gold Medal proudly bestowed at the Paris Universal Exhibition (see video extract nearby). Made in the Trudon factory, Carrière Frères candles have always tended to stay at the crossroads between an age-old skilled know-how, emanating from certain traditional manners and more contemporary bias, on another hand.
The last episode is inspired by a majestic and strong-charactered tree, whose scent was honestly transposed in a limited-edition candle. Indeed, the woody, fresh and camphorated concentrate of those cypress trees, famous for their long and lean silhouettes (possibly reaching 40 meters in height), an ideal item for creating a warming atmosphere in any situation. It joins the wide Carrière Frères family in a festive dark green colored and lacquered glass holder, presented in a beautiful cypress-green and gold box.
For your information, with its evergreen foliage and incense scent, the Cypress tree has ever been a symbol of eternal life, since Antiquity. This vegetal species actually grows in warm Northern temperate regions (China, Vietnam, Asia Minor, North and South America), but this is also an epitome of Mediterranean landscapes. Indeed, the cypress defines the Tuscan landscape, for instance its precious wood was historically used to manufacture Italian harpsichords. The result in those candles? A fresh aroma wafting from the branches and needles, accessible in any real Cypress tree, for hopefully for a burning time expectation between about 45 and 50 hours.
Available in 185g format on the official website, for a recommended price of 46 euros.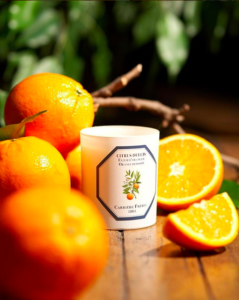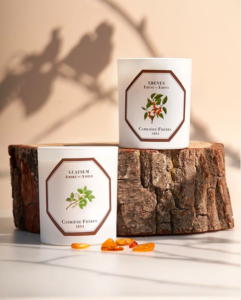 Furthermore, you may pursue your forest walk within a singular moment to surround yourself through other natural soft fragrances, gradually going to sleep for winter. Why not prolonging this unique experience with the huge choice of the selection of Carrière Frères woody and fresh scented candles?
We could take as an example, a noble wood, rich with enticing hues, the sugary Ebony notes may intermingle with the ample Amber scent, for a rare moment of pure sweetness.
Otherwise, carried on soft and warm winds, let yourself bewitched by the fresh and floral notes of some Orange Blossom fragrance, embalming your family house.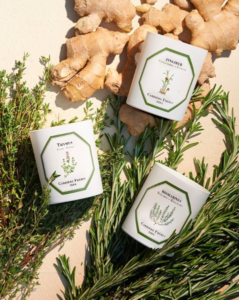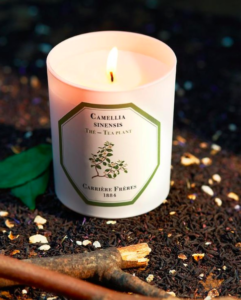 An other gourmet perfume embodied by the Black Tea version, already created in the 17th century, some fine goods matured during a long trip between China and London.
Hence, Carrière Frères has distilled these woody aromas in an intense candle, a good suggestion to wake up your tea time sessions.
Unless, you would dare to feel some aromas of the herbaceous plant family's, such as Ginger, a hot and spicy fragrance; answering the sweet and sensorial power of Thyme or even getting tempted by the stimulating aromatic scent of Rosemary.
An initiatory walk through fine natural waxes, carrying you into plenty of complex and enticing scents, all complementary according to your preferences. Rediscover some of those Carrière Frères candles fragrances, in many other home declinations, like diffusers, room sprays and the last botanical palets.