The new edition of Les Folies Gruss waits for you in the heart of the Bois de Boulogne!
5 min read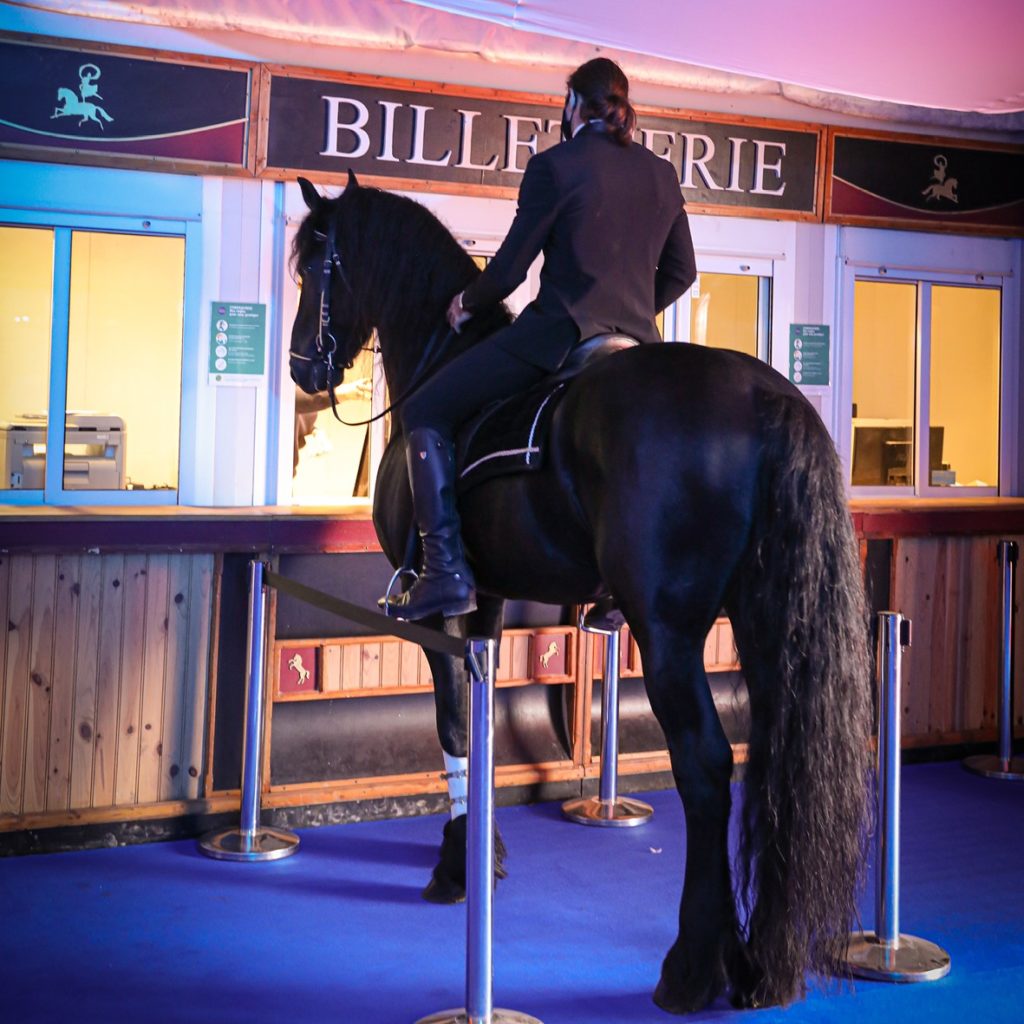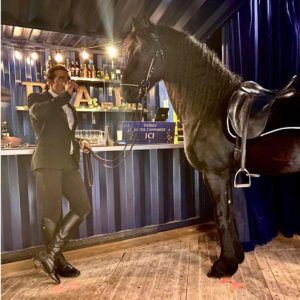 The legendary Alexis Gruss circus company presents, for a new season, from October 2020 until February 28th, 2021, its unique concept of Les Folies Gruss, in the heart of the Bois de Boulogne. This inspired equestrian themed show is a recent creation that required 9 months of preparation, accompanied by a food moment of sharing with the artists!
This year, the Alexis Gruss Company relaunches its own Folies​, a concept already in vogue during the Belle Époque period, while combining moments of entertainment and fancy food. Thus, in this category, you are more than invited to arrive a long time before the show, in order to benefit of all the food and animation offered by the troop​, both dedicated to kids and adults. During your lunch, the artists are your hosts, they give a pre-show with a real orchestra lead by the singer Candice Parise. On the menu, prepared by a professional caterer, recipes from the sea (smoked fish, oysters, ceviche…), along typical French gastronomy (cold cuts, parmentier and duck breast, chicken supreme…), to accompany with a cup of champagne or Parisian craft beer. A convivial moment where you can interact with your neighbors in the common tables, watching a few circus acts. On the program, an authentic circus​ time, starring skilled acrobats​ and clowns​, along a rich equestrian show​, full of surprises.
A project initiated by the Gruss family, includes a whole universe to get immersed into before and after the spectacle. Therefore, you could spend some traditional meal or enjoy typical fair sweets, such as crepes, waffles from Liege, candy pop and, above all, the possibility to discuss with the artists at the end of the show.
In this case, listen to the interview of the group leader Stephan Gruss, in the second part of the article and in our video below. He tells us more about the upcoming performances of this year and some secrets behind them! By Alex Plato
---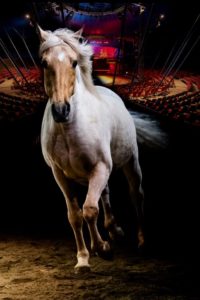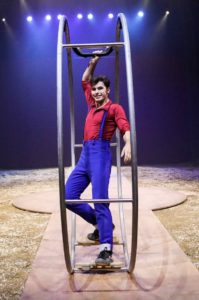 With this brand new creation, the famous Compagnie Alexis Gruss goes off the beaten track and reinvents an unexpected surprise to share day and night, with family or friends. With the Folies Gruss, the company presents an astonishing concept show (photo credits: Folies Gruss).
Thus, Les Folies Gruss becomes the place for all pleasures, where the spectator can live a full experience, before, during and after this magic session.
Adding to this, take the chance to discover a creative scenography, imagined by a new creative team, expressing a warm atmosphere. On top of that, enjoy a gourmet lunch in the midst of acrobats, horses and artistic surprises (including a candyfloss and waffles bar), to share with your friends or even an artist, in a festive and friendly atmosphere, that's the Folies Gruss!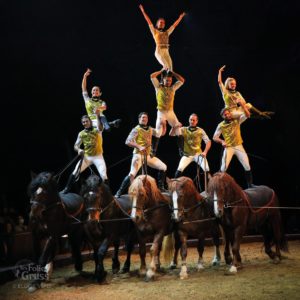 From October 24th, 2020, the Compagnie Alexis Gruss invites you to discover its new creation Les Folies Gruss, in compliance with health instructions. Until February 28th, 2021, the Compagnie Alexis Gruss is relaunching the Folies, a concept already in vogue during the Belle Époque period.
As far as we known, these Folies Gruss combine an entertainment and catering set, hosted by a united tribe of artists announcing a festive, musical and culinary moment, under its famous marquee, visible from anyone in the Bois de Boulogne. Discover an extraordinary place and a fine catering offer, eventually to share with the Gruss family before attending a great equestrian and aerial show, punctuated by a dynamic gig performed by a live orchestra.
The magic of the show continues off the track with artists specialized in music, humor and dance. Les Folies Gruss promises an immersive experience of a new kind, designed for everyone, to be enjoyed day and night.
We invite you to learn more about these fabulous artists introduced here to you, by Stephan Gruss himself!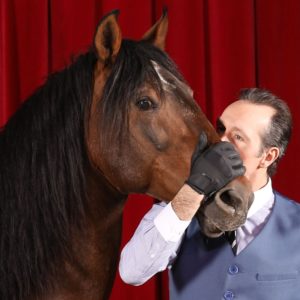 – Could you describe us in some facts and some figures, your concept of Folies Gruss show? Is it supposed to travel somewhere, beyond Paris?
My brother Firmin and I, imagined the new concept, Les Folies Gruss, in order to allow the spectators not to only see a beautiful show, but to have a unique experience submerged in the DNA of our company, which is the family and the horses. In this venue you can eat, drink, and meet the artists, all accompanied by live music, there are free cloakrooms at the entry, while you admire horses, along multiple animations to enjoy during your meal. Afterwards, you go through to the main big top where you watch our latest show. After the show, this amazing experience continues and you can meet and speak with the artists and stay for a drink. This new concept created for Paris can totally work in another town in France or abroad.
– For this new edition of the Folies Gruss, it seems that you prepared some surprises, could you tell us more about them?
For this new creation, I surrounded myself with a new artistic team, notably Gregory Antoine, with whom I assigned the stage direction, and to whom I asked to imagine a new scenography which would better show off the orchestra and our wonderful singer Candice Parise. We have also created lots of new pictures which show off the multiple talents of our artists and our horses.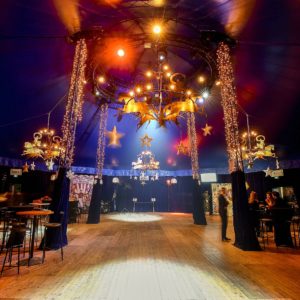 – How long it took to develop this updated version? Did you meet some obstacles or get some support of anyhow?
We have spent many a long month working on this show and have had many challenges caused by the complexity of some of the tableaux. Notably in the aerial numbers, we have a new motor system in place meaning each individual flight is programmed into and piloted by a computer, this was a very complex process.
To bring together humans, computers and horses was a great challenge. You will also see in this show some young horses that have been in training for several years and debuting their first appearances in the ring. For example, 4 young pure-bred arab horses, who present a musical chairs style number where they jump in and out of giant baskets.
– You belong to a famous Circus family, what could you tell us about their history and which type of heritage you have to transmit now to the next generations?
Our family has been in the world of circus since 1854, the equestrian and saltimbanque skills have been passed down through 6 generations.
The driving force of our
family
is creation, to progress and make our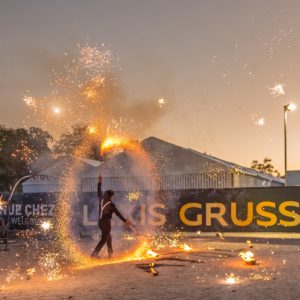 skills evolve from one
generation
to the next, and even between one show creation to the next, is an enormous challenge that all the members of our
family
rise to each year. To this day we are still 3 generations of the
family
in the ring together. And the 7th generation has already arrived, my grandson
Oscar
. Transferring our unique skill set is what drives us to work hard everyday.
Les Folies Gruss
by
Alexis Gruss Circus
, Carrefour des Cascades, 75116 Paris (France) / More information on the official
website
.
2 sessions are kindly proposed per day:
– In the morning, doors open at 12:30 p.m., show at 3 p.m.
– In the evening, opening at 7:00 p.m., show at 9:00 p.m.