The Colvert bistrot flies over Odeon and introduces you to a forester gastronomy
4 min read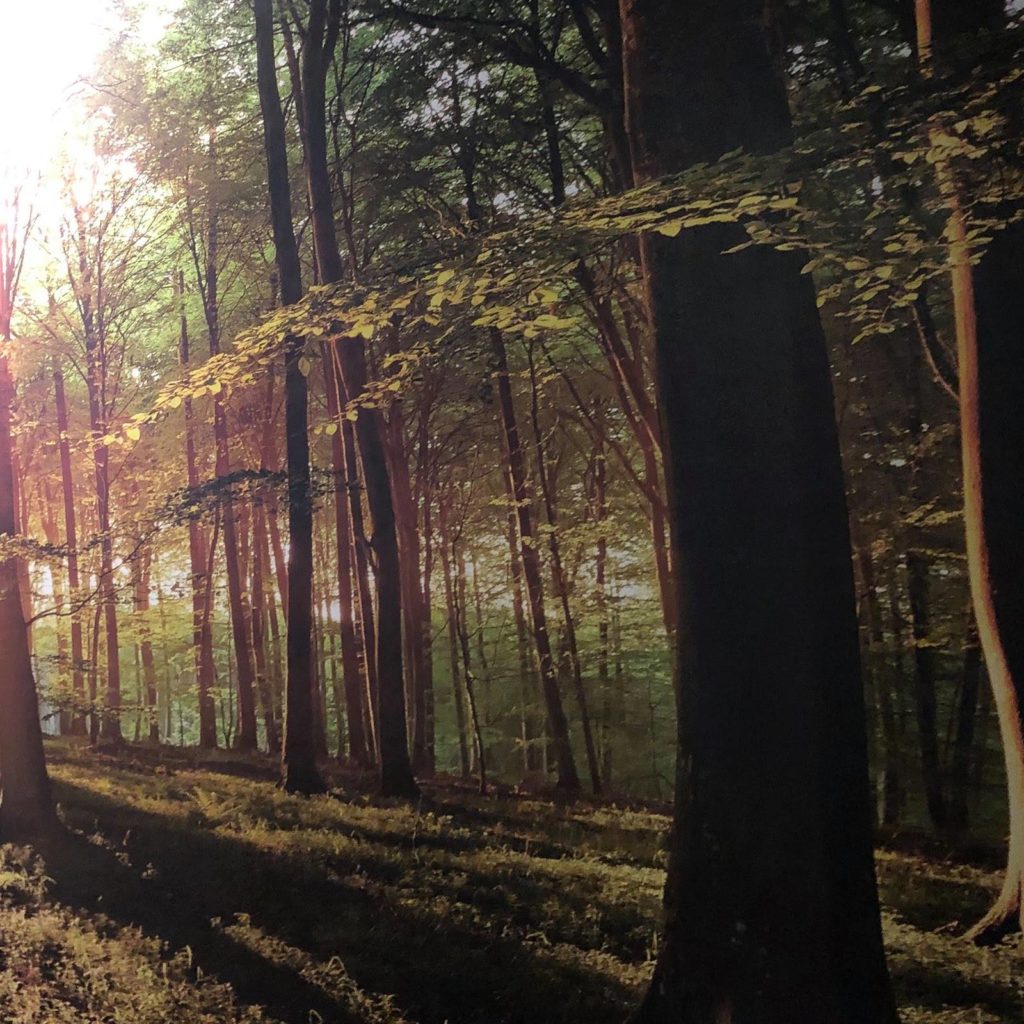 At the origin, Émilie and Boris met on the benches of the Vatel hopitality school where they learned the basics of their job as restaurateur, that became their passion. A connection and trust that made the desire and determination to pursue the family Le Christine restaurant together, in the heart of Saint-Germain-des-Prés and now run by the Chef Rémi Poulain. After another opening on the Saint-Louis Island, les Fous de l'Île lead by the Chef Anaïs Dutilleul and a world trip with the kids to look for new inspirations, the couple settled for a new adventure, the Colvert Bistro. This is set with a brand new thematics, much different from the previous projects.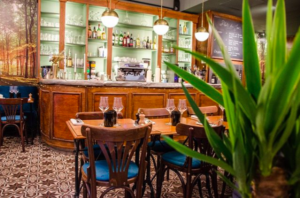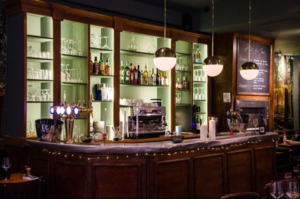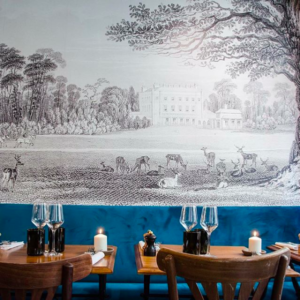 After an active search, they finally found this vintage designed address that would concretize the following of this long cherished dream, at a few steps away from Le Christine, close to the Odéon theaters, this time.
The choice of Le Colvert designation name for this restaurant, would sound as obviously, a tribute to the green collar adorning the neck of the ducks, evoking this world of hunting in the forest and marshes.
During your visit to the restaurant Le Colvert, you would thus find a seasonal cuisine, highlighting a traditional cuisine revisited in a homemade way, tainted by these terroir aspects.
The decoration is friendly and refined offering a classic bistro atmosphere married with a scottish pub, decorated by Estelle Williot. This countryside effect is visible due to mix between a woody touch due to those giant undergrowth theme posters on the walls and supported by a Farrow & Ball "green smoke" painting colors. Raw materials such as the varnished wood on the tables completed by duck blue velvet benches, grounding on the floor still equipped on the original tiles on the floor and the brick wall (discovered during the works) reinforce the historical side of this place, giving a warm space where you feel at home. Like a forest, this place holds many surprises as two other more intimate rooms spread, both upstairs and below.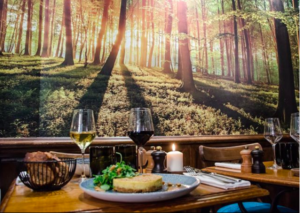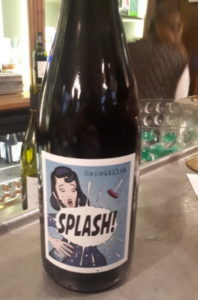 Émilie and Boris are passionate advocates of the French Art de Vivre (lifestyle), which encourages them to favor fresh products and a selection of drinks from French production.
Cherry on the cake, some vegetables are even from their own kitchen garden, located near Versailles and their hunting-ground. This configuration allows them to provide a seasonal cuisine.
The wine list, short and balanced, was selected by the winegrower Camille Benoist and also another list by an ambassador of the natural wines category, Alexandre Bain. In this one, you would rapt with this wonderful Splash natural sparkling wine from the Barouillet Château. In summary, everything is done to accompany you throughout your taste trip, that could start from the strong wooded character bar counter and its opaline colored wall sconces (photo credits: Le Col Vert).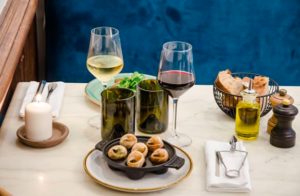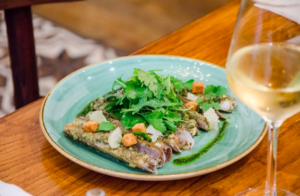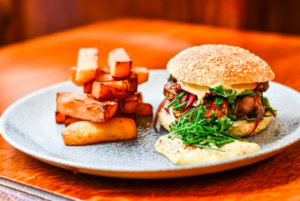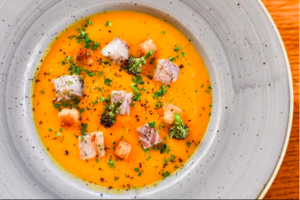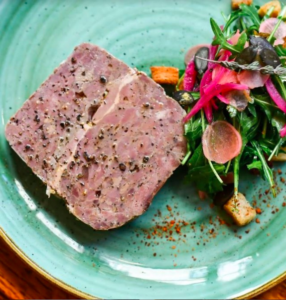 For lunch, the Chef Benjamin Lubin offers a formula, composed of a starter, main course, dessert, available from 13,90 euros without drinks, renewed every day. At dinner, another menu would be proposed, inviting you to choose between many starters and courses for 30 euros or 35 euros with the dessert. For the dish alone, at a price of 19 euros; among the delicious selection, you would be amazed to discover many tradition french specialities to fulfill your knowledge about France, if you're spending holidays here. Indeed, you would find the typical foie gras with grapefruits, the Jura snails from Miss Bonvalot, a smooth celery soup and even persillade and lime razor clams! (illustrations nearby and upon, photo credits: LCV).
As main dishes are proposed the forester fillet of duck and its polenta, the black Angus entrecote steak, the homemade burger with Pont-Neuf potatoes and even a smoked Simmental beef rib, 1 kg to share with your mates!
If you're more into seafruits, discover the cuttlefish ink risotto lying on a bass fillet or a redfish sea bream, drowned in a bisque emulsion. Vegetarians are not forgotten, through a sweet potato galette with an espuma (mousse) of topinambour (Jerusalem artichokes) for accompaniment. Make your choice in advance!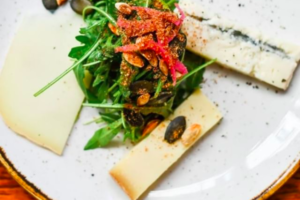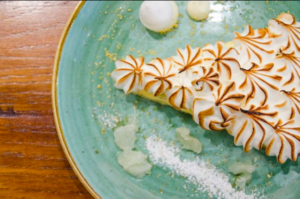 Of course, you could not miss out on an appetizer and a delicacy to select among the plate of mature cheeses, the pistachio moelleux, profiterole cabbages flavored with vanilla ice cream, a lemon meringue pie, a chocolate mousse, a rum baba (photos below), a Fontainebleau (cottage cheese and its strawberries), a brioche perdue or an assortment of homemade ice creams. You could come every day since the menu changes and maybe you would tempted to taste all the novelties from the Chef!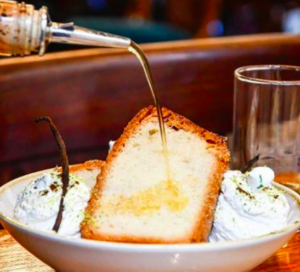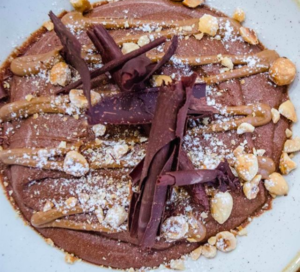 Le Colvert Bistrot, 54, Rue Saint-André des Arts, Paris VI / Open every day from 10am to midnight / 00 33 (1)42 03 73 67