Take some good time in Alsace at Le Parc Hôtel Obernai and its Yonaguni Spa, bordered by the Route des Vins
8 min read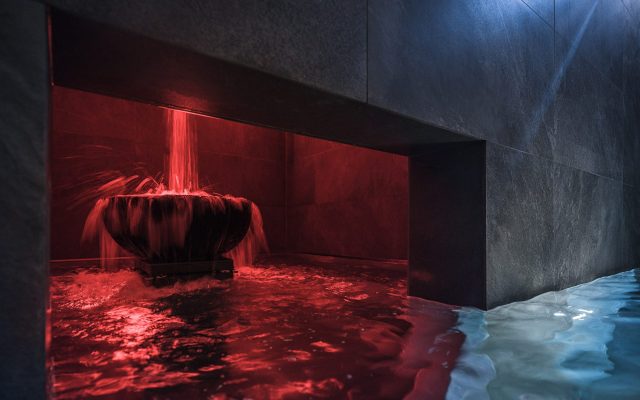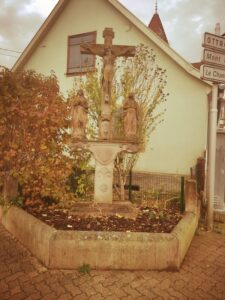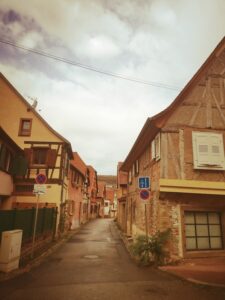 In this region as multicultural as Alsace, there are vineyards, valleys, but also oases. Le Parc Hôtel Obernai, located in the charming village of Obernai, is one of them, thanks to its establishment bathed in water and light.
Lovers of local but also international cultures, don't miss out on this exotic experience at your fingertips. So in the new Yonaguni SPA, which spans the extremes of gigantism, savor intimate moments, directly inspired by suspended swimming pools, onsen, ancient baths, hot springs or even the mystical ruins of lost temples.
This resort stands out at the heart of an incomparable sphere of well-being that we have the pleasure of presenting to you the Renaissance of this authentic pension of this old Alsatian inn, looking towards the future.
By AP
---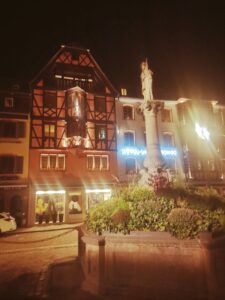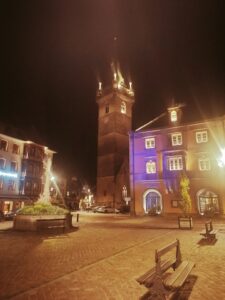 A former guesthouse founded more than 65 years ago, Le Parc Hôtel Obernai is an emblematic establishment in the Alsace region. Indeed, located on the famous Alsace Wine Route, at the foot of Mont Saint-Odile and in the heart of Obernai, one of the last Alsatian medieval towns, this charming 4-star hotel has managed to maintain its typical architecture (photo credits: AP).
You will therefore be able to admire its rich ornamentation, such as half-timbering and oriel windows, which obviously give it a very particular charm.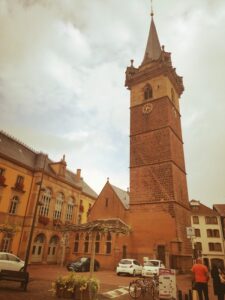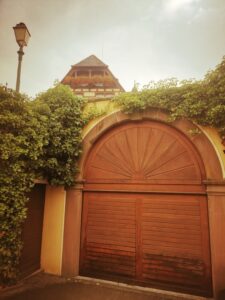 Alongside this guesthouse style, often present in Alsace, admire this imbued style with modernity and audacity. Thus, this establishment offers 61 rooms and suites in a typical setting but with contemporary lines, which are getting renovated one thing leading to another, for greater comfort. This current project, which would be completed by a future underground car park as well as a new, larger reception hall space, follows the recent exceptional installations, carried out for the very innovative Yonaguni Spa.
These current facilities are complemented by seminar and conference spaces, which were also completely recently redesigned.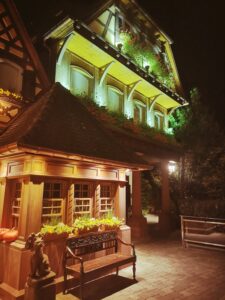 These impressive overhauls were carried out under the leadership of the 4th generation of this family establishment, supported by the AEA architectural firm. Indeed, Maxime Wucher, surrounded by his sister, Marie and her husband Cyril Bonnard, respectively Pastry Chef and Head Chef, have recently taken over the place. They decided to infuse Le Parc Hôtel Obernai with a certain avant-garde vision, tinged with the diversity of their travels around the World.
It is this feeling of serenity and minimalism, almost oriental, that leaves the biggest impression when you enter the new rooms.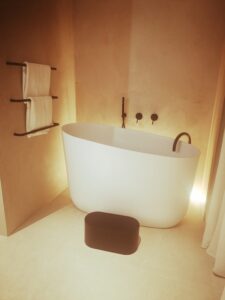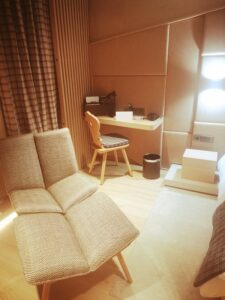 A design, mixing raw materials and colors, giving space to comfort and even senses, with an ergonomic bathtub, large basins and discreet lighting in the shower area. Without forgetting the breathtaking view from the top of the terrace, which you can also contemplate from your contemporary four-poster bed.
For information, the next phase of work on Le Parc Hôtel Obernai, initially launched in spring 2023, and due to be completed by 2025/2026, would take place in various phases, without closing the establishment. Then, you would be able to appreciate a minimalist vision, rethinking the tourist reception in Alsace of the future.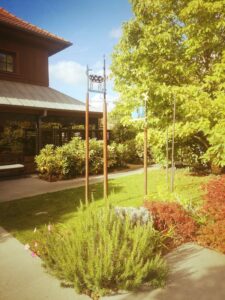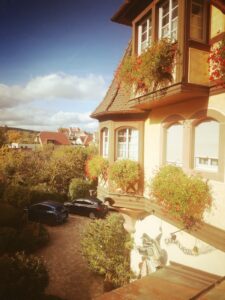 This will be possible through a certain decorative staging by the Parisian agency Stéphanie Daniel, which will be mainly accompanied by light shows, for more dramatization of the places. Designed outdoor spaces will thus be highlighted, like several landscape paintings, forming a plant cocoon, visible transparently from the interior, and imagined by Agnès Daval from the Digitale Paysage studio.
In addition, in the first phase, from winter 2023, a new 500m2 floor of the Yonaguni Spa will be open to customers, bringing its total interior surface area to 3,000m2.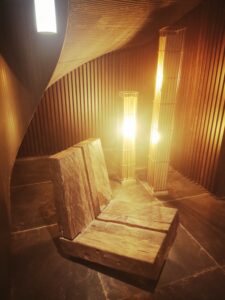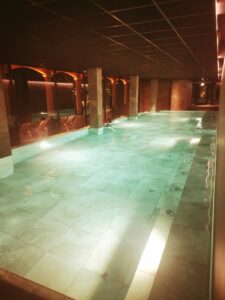 Already in 2020, the creation of the long-awaited Yonaguni Spa had shaken up the hotel structure with an investment of €11 million, one of the largest in the independent hotel industry in France for such equipment. This pharaonic project was the keystone of the renewal of this hotel, including a doubling of the number of employees, for greater proximity with customers.
De facto, Le Parc Hôtel Obernai is today one of the few in France to offer two distinct Spas. The Yonaguni Spa Obernai thus pays homage to a submerged continent, at a depth of 30m, off the coast of the Ryükyü archipelago, in Japan (photo credits: Le Parc Obernai).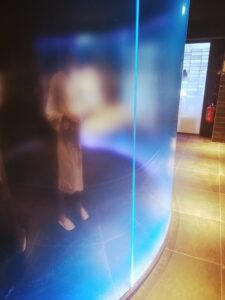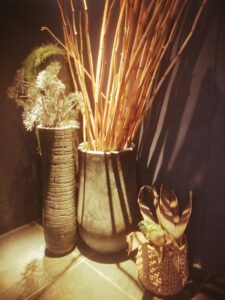 This gigantic space, inspired by the numerous journeys of the Wucher siblings, represents an exclusive sensory experience, to be lived in complete intimacy and gradually, as an invitation to discovery and curiosity. It aims to be the new wellness destination, innovative and chic, which goes beyond the traditional Spa approach in order to live a unique immersive experience.
This complex combines a 3,000m2 Spa around exceptional bathing areas of more than 350m2, with an aquatic labyrinth, made up of 10 surprising sensory universes combining water corridors, submerged rooms, indoor and outdoor pools, and punctuated by more than 100 attractions and water games. Here, swimming is reinvented as an initiation, in its own right to the rhythm of discoveries.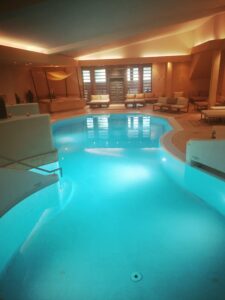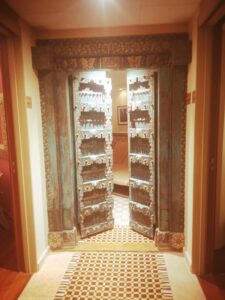 This ambitious wellness offer is the result of a long reflection on the part of this establishment, which was already a pioneer in 1985, with an outdoor swimming pool and in 1989 with an indoor swimming pool, including waterfalls and other wellness installations.
This subsequently became the establishment's first Spa in 2003, called the Asiane Spa, and which has remained ever since accessible, in its original version to offer an additional well-being space to hotel residents. Embellished by sumptuous turquoise blue doors, from Rajasthan, the Asiane Spa is, for its part, only accessible to the hotel's guests, even children. This complementarity of 2 Spas within the same establishment is an unprecedented situation in France to date (photo credits: AP).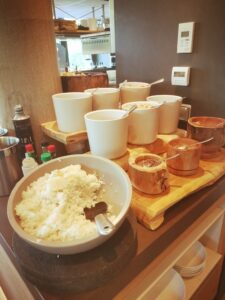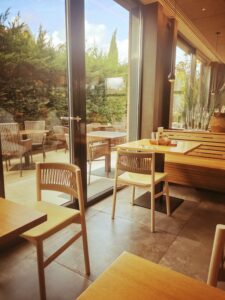 These 1,700m2 outdoor spaces offer an infinity pool, bordered by a savannah beach, landscaped gardens and a bamboo grove, which surprisingly reveals an outdoor banya, nestled in a tiny Japanese tea house. If you wish to continue your experience inside the Spa, by restoring yourself in the best possible way. Please note that Yuzu Bar is only accessible to Spa customers. This is why you will have the privilege of enjoying a good healthy moment in this restaurant, whether you are a customer of the day or night session.
This nearly ethnic cuisine composed of poke bowls, to compose yourself, can be implemented with fresh and balanced ingredients.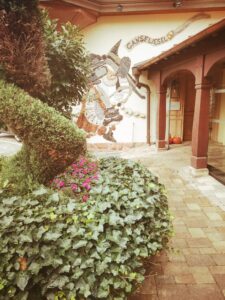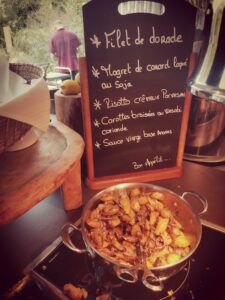 These dishes would be daily renewed, and you will be able to choose from those random fresh ingredients, either rich in proteins, such as fish or lean meats, to be garnished with light spicy vegetables. Without forgetting the unmissable vegetable flammekueche, made just in time, for even more freshness, live performed in front of the customers.
A simple but elaborate cuisine, signed by Cyril and Marie Bonnard, explicitly reflecting their experiences acquired in the four corners of the World, in prestigious houses. Note among them, the following addresses, Freddy Schmidt in Tokyo, Le Meurice and Pierre Gagnaire in Paris, Joël Robuchon in Las Vegas and the Yannick Alleno restaurant in Dubai.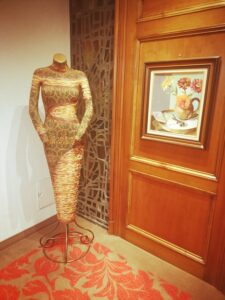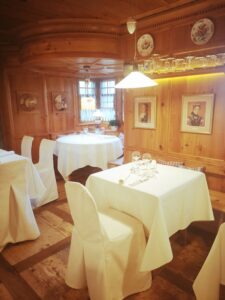 If you are looking for other culinary sensations, Le Parc Obernai will satisfy you with a few surprises. Indeed, La Stub restaurant aims to pay homage to Alsatian gastronomic heritage. This desire is visible from the entrance, thanks to its decoration which exudes a certain local identity, illustrated through its typical symbols from Alsace. In fact, take some time to admire these woodworks from old Ried farms, a large ceramic Kachelhofe, as well as the singular collection of coffee grinders, old salt shakers and mugs found here and there by Monique and Marc Wucher, who imagined the general atmosphere of this hall, as intimate as it is warm use, at the entrance to the hotel.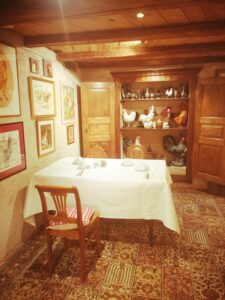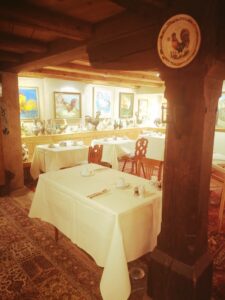 For invigorating mornings, the very large Tomi breakfast room, named in homage to the Alsatian designer Tomi Ungerer, will keep you awake from 6am to 10am Highlighted by a splendid collection of drawings, depicting the world of gastronomy and Alsace, you will take a seat in the part of this space, that could inspire you best and you will let yourself be guided by this quality buffet-brunch.
For the record, it took a year to finalize this artistic Tomi breakfast room. Inaugurated in 2012 by Alain Ducasse, it welcomes hotel's guests but also external customers for gourmet breakfasts.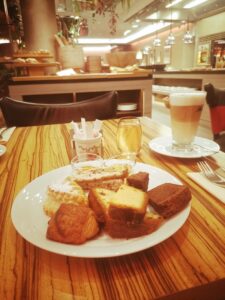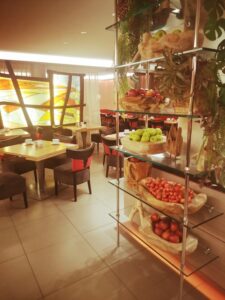 For instance, you will be able to find a jumble of tasty pastries, some with a touch of Alsace, as well as homemade pastries (as cakes type), some of which are surprising, like the one covered with a layer of kirsch-infused sugar.
An Alsatian touch can hide another, since a vast assortment of fresh fruit juices, locally produced, remains at the disposal of your curiosity. Thus, you can enjoy these strawberry, raspberry, rhubarb, quetsche or cherry juices… So many regional sweets, which can also be found in the 4 different varieties of honey that are offered to your taste buds. In addition, for lovers of exoticism, a bunch of seasonal but also exotic fruits await for your arrival, like these maracujas or even Spanish melons, all set up to use.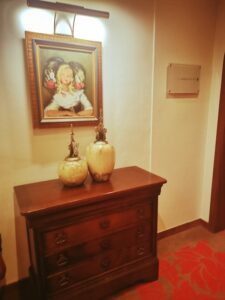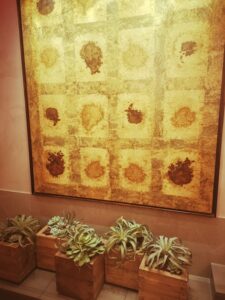 Without forgetting the equally cozy Waydelich's Bar and its smoking room, proudly displaying a charming atmosphere, displayed in vintage red and ocher tones, the centerpiece of which is a charming Corian counter.
This one is sheared by the eponymous artist to unveil an original artwork, to contemplate while sipping your pint of beer. In addition, discreetly discover the Habano Lounge, an adjoining cigar bar, which also showcases an impressive collection of around sixty old rums.
Le Parc Hôtel Obernai & Yonaguni Spa, 169 Route d'Ottrott, 67210 Obernai (France) / Phone : 00 33 (0)3 88 95 50 08. More details on their official website.
---