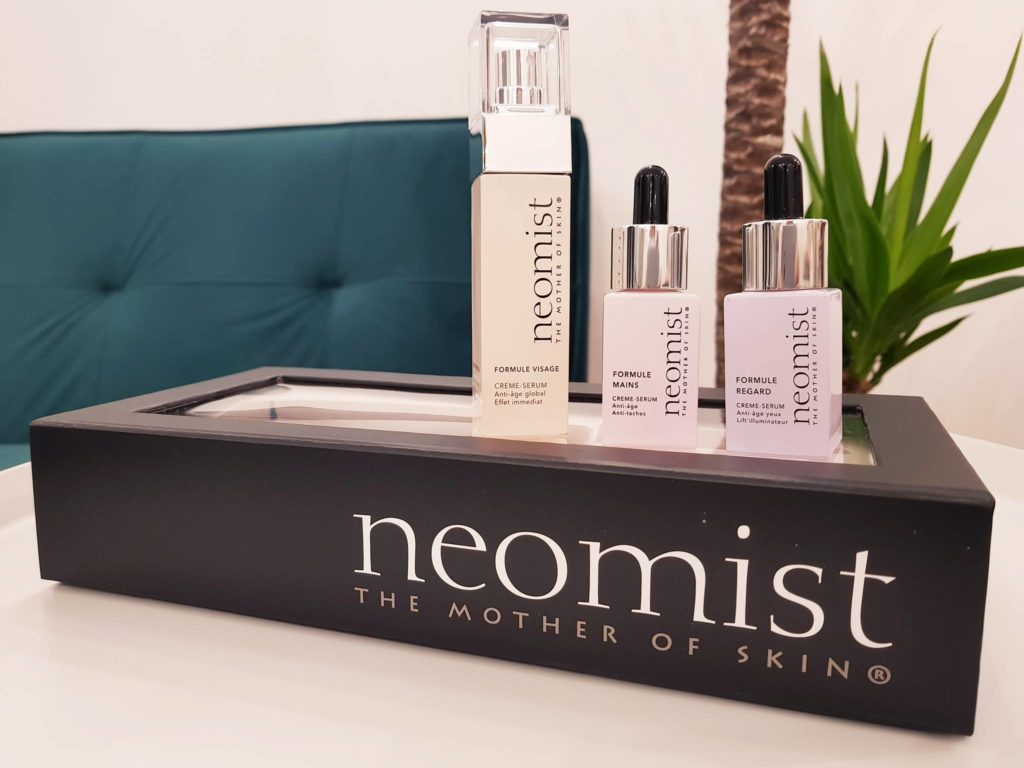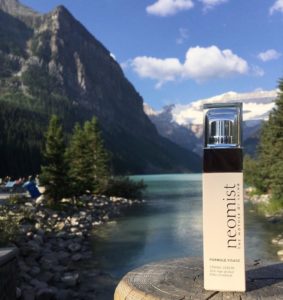 Anti-aging and Moisturizers are the 2 main segments of the facial skincare market, with a constant increase. Laboratories pay much and much efforts to offer a wider and more efficient range of products, so that anyone find dedicated solutions, regarding the first warning ageing signs appearing.
It's a true fact that anyone's skin changes over time, due to several factors and generating many visible aspects… For example, the skin complexion may become less radiant, other first signs of fatigue arise, like wrinkles appear at the corner of the eyes or on the forehead, moreover the oval of your face could become marked and less clear. In order to fight those issues, it's important to foresee some existing anti-aging trends, whether the cosmetic action, both ladies and gentlemen may find their proper happiness. In this topic, we focus on the latest beauty innovations developed by the French Neomist entity, providing some young and beautiful solutions for you. By Alex Lery
---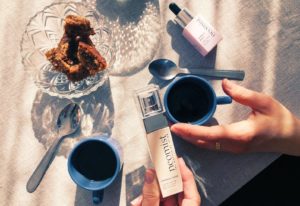 Many people tend logically to react by the arriving of the first wrinkles, and to stop as soon as possible their emergence! Based on this observation, the Neomist laboratory developed an innovative concept range, baptized Crème-Sérum formula, combining a double function of cream and serum. This innovation is made for everybody, regardless your skin type or skin color, since this combo adapts to the needs of each type of epidermis, due notably to very high tolerance, hypoallergenic and non-comedogenic formula. Thus, this new dosage form proposes a complete and practical treatment, thanks to a fluid and light texture, while keeping a high concentration in active ingredients and an application comfort. The result is a rich and nourishing cream, acting deeply inside the cells, like an ointment, and also taking advantage of a certain fluidity and intensity, emanating from the serum side, consequently instantly penetrating in the epidermis (photo credits: Neomist).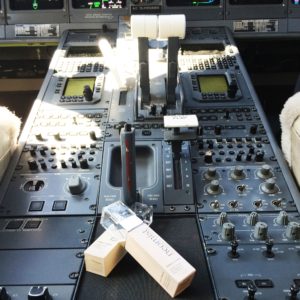 Enriched with the Ultradrops® microdoplets complex, this lotion is promised to adapt to each epidermis. This is possible thanks to the small diametered (20 times smaller than a skin cell) Ultradrops®, then instantly penetrating deep into the heart of your cells, for an optimized application and an over-activated efficiency. Due to those facts, a very little application of this hybrid Crème-Sérum patented product is sufficient for each application, still fully hydrating your skin and luckily without any sticky effects.
This concentration was made possible thanks to the combination of fifty natural active assets, present in this Neomist formulation, moreover fulfilling the nutritional needs of your skin (ceramides, fatty acids, vitamin A, E, D, shea, squalene…). Consequently, those moisturizing active ingredients are up to 3 times more concentrated than in a classic treatment. This improvement in skin hydration is highlighted by the stimulation of two main hydrating key components: hyaluronic acid and filaggrin. The first molecule permits to retain the water contained in the epidermis, then the increased filaggrin level prevents any water loss and restores the skin barrier.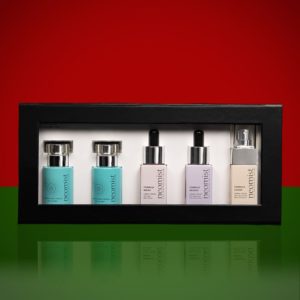 This patented Ultradrops® process is associated with another one, the wpe® function. In this case, instead of mixing the active ingredients with synthetic fat, this wpe® (water plant emulsion) technology gives the opportunity to formulate a micro-emulsion of oil and water in the same time, facilitating the active ingredients to be dispersed. again without the intervention of any excipient or texturing agent, plus without leaving a greasy film on the surface.
Plus, due to the composition based on natural ingredients, this solution opens up many opportunities when formulating 100% organic products, subject to the Ecocert Label. In fact, Neomist has decided to avoid the use of any parabens or phenoxyethanol and its chemical signature is reduced to the minimum utilization, inserting only the latest generation preservatives. On top of that, the elements resulting from this combined process can contain up to 45% of lipophilic active principles (such as: essential and vegetal oils, perfumed compositions, to mention just a few…).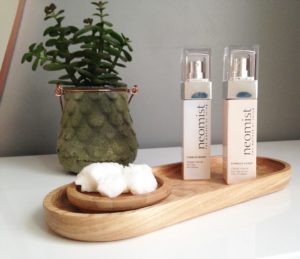 Furthermore, this new skincare routine can either be sprayed on your skin or dispersed in some water, bringing a real watered freshness, without any texture agents nor chemistry or alcohol fusing with the skin. For your information, this spray form allows you to apply the exact dose of product your skin needs, it's a real Neomist house specialty! Since you may find it through all of their 4 different applications: hands, eyes, face and hair. Each time, the application advice remains the same… 2 to 3 sprays for young skins and 2 to 4 sprays for mature skins, enough for a complete beauty ritual. For example, within a morning and evening sessions on cleansed skin, those doses may be sprayed in the palm of your hand and applied by light touch on different parts of your body, naturally depending on your product of predilection! Former clinical studies show that the first results should happen after an assiduous approximately 28 days period, of daily application.
More information on the official website, and explore the detailed selection below, available in the online store or in your nearest store.
---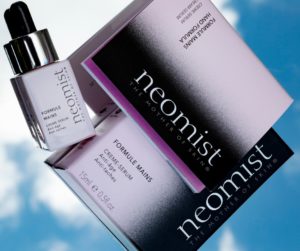 Dedicated to the beauty of your precious hands, the Formule Mains is still a powerful Crème-Sérum solution for your hands only and again, you may be satisfied of its hydrating changes, from 28 days of application. Otherwise, this treatment is effective to fight skin aging in your hands.
Thanks to a composition of 93.20% natural ingredients, its formula is rich in anti-staining, anti-wrinkling, hyperhydrating and of course bioprotective active ingredients, offering you a cocktail of targeted anti-aging actions to preserve the youth of your hands.
We remind you that this light textured formulation has delicately scented and non-sticky properties, that instantly penetrate in your skin, thanks to the dual process we talked about earlier. Then, the application of this product, through the dropper, is dosed but precise, for an innovative anti-aging treatment for your hands, effective in fighting pigment spots but also preventing their appearance.
Formule Mains: a glass bottle pump sprayer (Capacity 15 ml / Recommended price : 39 €).
---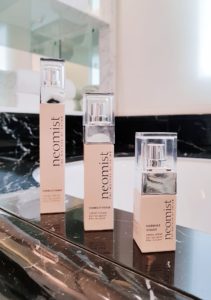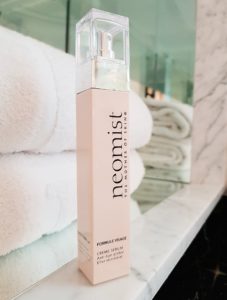 The Anti-Aging Formule Visage is an other singular and global Crème-Sérum treatment, turning your beauty routine simpler and your skin naturally more beautiful. This Formula is above all, a complete daily moisturizer, providing a notable hydration comfort, that accelerates and boosts cell regeneration, fighting against environmental aggressions and against skin aging. Furthermore, its 30% content made of 100% natural active ingredients restores radiance, elasticity and suppleness to your skin, becoming firmer through smoother wrinkles and brighter complexion.
Once again, remember that its Ultradrops® technology is aimed to boost the formation of hyaluronic acid, this hyalurogenic® effect, as one of the best kept secrets of the effectiveness of this Crème-Sérum.
Many sprayer sizes are available, among them a nomadic care size par excellence, of 15ml, is your beauty ally for anti-aging serenity. Thus, during the day, you may spray, at any time, this Face Formula all over your face, neck and cleavage and even directly on your makeup, where it's also suitable for a targeted use as a simple hydrating lotion, especially for the eye or lip areas. Actually, its fine and light formula, immediately refreshes the radiance of your complexion, while ensuring an optimum hydration.
Formule Visage: a glass bottle pump sprayer (Capacity 50 ml / Recommended price: 149 €, Capacity 30 ml / Recommended price : 90 €, Capacity 15 ml / Recommended price : 45 €).
---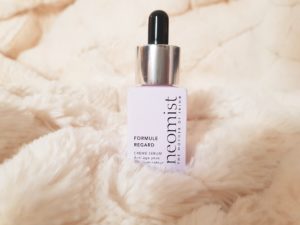 Your outlook is also pampered through this specific Formule Regard, an alternative Anti-Aging Crème-Sérum offer, letting an efficient and avant-garde eye contour treatment with an immediate lifting effect, thanks notably to a caffeine formulation, in synergy with more complex contents, such as albizia bark, sigesbeckia, chicory root and tara gum. An essential element to support this cosmetics treatment, specially designed to visibly reduce the appearance of the main signs of aging and fatigue around your eyes.
This lotion is simple to apply, every morning and evening within a single gesture, gathering many beauty benefits of a serum and a cream, for this targeted global anti-aging action. Pursuing with to the prior dual patented formulation, it's suggested to shake this solution before putting a drop on the tip of your finger, then applying under your eye, starting from the inner corner to reach the outer corner of your eye, while drawing a circle by lightly tapping in order to boost blood circulation. On a perfectly cleansed skin, plan 1 drop around each eye, for marked eyes or 2 drops around each eye, for very marked eyes, to find a more radiant and luminous regard.
Formule Regard: a glass bottle flask (Capacity 15 ml / Recommended price : 54 €).
---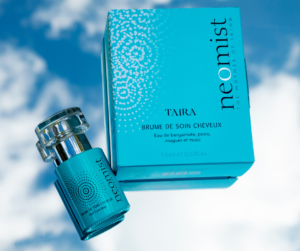 A perfumed hair is always pleasant to wear, within this Brume de Soin Cheveux. A natural Hair Care Mist as the unique infusion of an elegant fragrance in an expert hair care, still rich in active ingredients, fully from natural origin. That's why this product is solvent-free, alcohol-free and without texture agents for a dual-action scented treatment solution. Indeed, this Hair Care Mist hydrates and nourishes your hair. In addition to this, it becomes strengthened and protected, while bathing your wake in a fragrant cloud of two sweet and exotic perfumes available.
The first fragrance is TAIRA, a sparkling, fruity and fresh water. You would undoubtedly appreciate its tangy notes of bergamot, sublimated by a heart of pear and lily, associated with sweet musky accords. This solution was created to awaken your inner six senses and transport you into a fascinating floral and fruity whirlwind.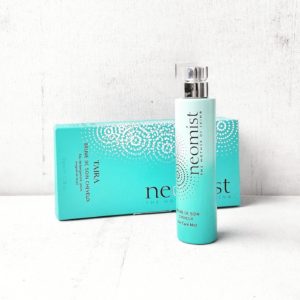 Unless you would prefer the YNAÉ item, the subtle ambered alter-ego. In effect, this captivating olfactory statement is the wedding between the tonic notes of lemon, the elegance of jasmine, the sensual accords of sandalwood and musk, plus again the floral notes of lily. You would be glad to spread this elusive powdery, an amber alchemy escaped from any most sumptuous Oriental gardens.
Brume de Soin Cheveux: a glass bottle pump sprayer (Capacity 50 ml / Recommended price: 49 €, Capacity 15 ml / Recommended price : 19 €).
---