Tell me more about Absinthe and get some Green Fairy suggestions
21 min read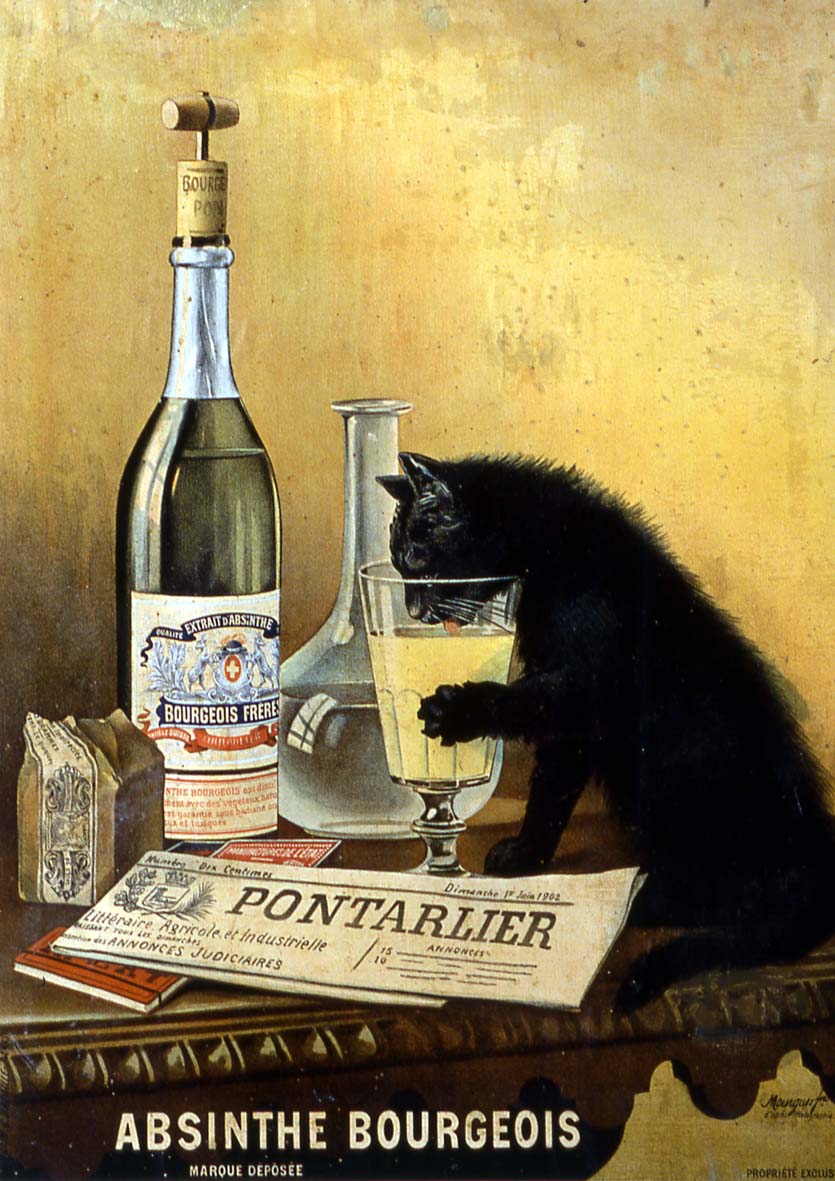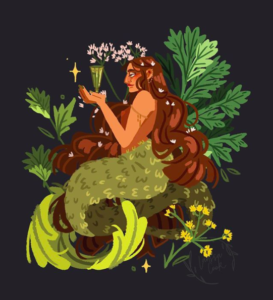 Pursuing our last review about current Parisian bars specialized in Absinth, we focus here on some houses able to fulfill its sensations at home. It's not a secret that the legendary Absinth spirit had its heyday in the 19th century. Lauded and elevated to the rank of "green muse" by the artistic world, which also resulted to be baptized the Green Fairy. Victim of its own success, its consumption quickly spread among popular social strata, giving rise to an informal daily meeting in bars and bistros, called "green hour" (photo credit: Larissa Cook).
Like many other European cities, Paris was the theater of all excesses, but also the cradle of a new marginal way of life, maintained by a community of artists which gave birth to a cultural current, called "Bohemian". Described by its detractors and prohibitionist movements, Absinthe was condemned in many countries, including France in 1915. In reality, the lobby of several winegrowers, who were suffering from a terrible phylloxera crisis, wanted to eradicate the Green Fairy with many advertising campaigns, to tell its harmful. The distilleries had to wait until 1988, that the consumption of Absinthe became legal again in Europe, under the guise of controlling its level of thujone, the molecule at the origin of its controversy. In this article, we would learn about this history and enumerate a couple of alternative actual methods. By Alex Plato
---
---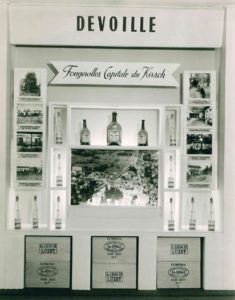 In the same Franche-Comté area, and more precisely in Fougerolles, where the surrounding distilleries were created from the second half of the 19th century. At the beginning of the 20th century, the distilleries were so prosperous that there were until approximately 50 in the commune of Fougerolles, in the 1900s, before the unfortunate Absinthe prohibition…
The Paul Devoille Distillery was founded in 1859 by Xavier Devoille. Already famous for their Kirsch (a spirit full of cherries), it's not a secret that this family affair was very happy that back in 1998, the legendary Absinthe (or rather a spirit made of absinthe plants) was again authorized in Europe, but submitted to draconian rules. Until 2002, when the last legal obstacles were overcome and their authentic Libertine Absinthe may have finally been reborn.
Loyal to an ancestral recipe, dating from the beginning of the last century, but preciously preserved at the Musée des Eaux de Vie, situated in Lapoutriche, the Libertine is an authentic spirit, mainly made from plants and seeds. For your information, this recipe was found by René de Miscault on a handwritten yellowed paper, since this parchment may date back from June 1894. Therefore, the essential was already visible, thanks to endless flavored insights, providing the traditional taste that nowadays everyone knows, in terms of ingredients to use: such as anise, absinthe, among many other secret natural assets (photo credit: Distillerie Paul Devoille).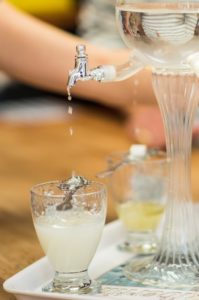 Although, the
interpretation
of the related quantities was more problematic. In fact, these were expressed within some measurement units, specific to that time, the
grass
basket, the
tankard
, the
liter
… That's why, numerous tests have been necessary in order to match with the perfect contemporary
maceration
and
distillation
methods, while following the principles of basis of this secret recipe. On top of that, the
Paul Devoille Distillery
has been recently enriched with the arrival of two brand new
column stills
(one of 1500 liter and another of 500 liter), both adorned with a magnificent
capital
. These masterpieces, coming from the famous
Holstein House
, an homolog family business, located in
Germany
, near the bucolic
Lake Constance
, are all
copper
hammered. Moreover, they are equipped with a
bain-marie
steam and have multiple other devices, in order to guarantee an exceptional quality of
eaux-de-vie
to come!
Indeed, the Paul Devoille Distillery tends to macerate each plant separately. Then, at the end of the maceration, each plant is again distilled individually. Starting with these distinct single treatments, an authentic blending of these distillates operate with the goal to obtain a more achieved juice, before undergoing a second and last maceration. This time married with plants, in order to offer to this Absinthe its popular green color.
The result is a range of different characters of homemade Absinthes, whose Libertine label is directly taken from a painting, of course representing an Absinthe drinking scene in a bistro. An artwork, especially ordered from a young artist, from the Vosges. Moreover, their bottles can be sometimes accompanied with a sugar spoon, in their package!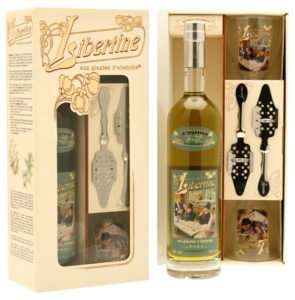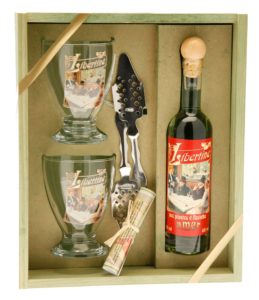 The original
Libertine
(with an accessible level of 55°) combines all the power of
absinthe
(
Artemisia Pontica
) and
star anise
, with the freshness of
fennel
. The result is a soft, round and very little aniseed
Absinthe
, with a very slight
bitter
note from this unmissable
wormwood
plant. Melt with water, its dress switches into a cute and cloudy
yellowish
robe.
Then, as its name suggests its intensity, the 72° labelled Libertine Intense offers a very rich palate, spiced with a couple of marked herbal notes. Still little aniseed, this edition perfectly evolves again, diluted with the ancestral ceremonial of water and sugar. Therefore, it leaves a slight bitterness arising, as well in a mysterious cloudy yellowish appearance.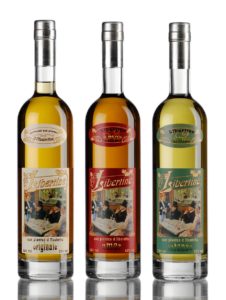 Why not trying the Libertine Amer? Its 68° strength is balanced with a delicious bitterness, directly coming from a greater concentration of wormwood plant, softly completed with fennel and green anise. In summary, a very aromatic ensemble, dressed in an elegant green color, maintaining this real bitter sensation even in the final touch. Melt with water, it turns into a very opaque cloudiness, to appreciate either alone or with your good friends!
The last but not least, the unique Blanche de Fougerolles is the result of a traditional Swiss recipe. It is obtained by the double distillation of 11 different plants, previously macerated in a delicate wine eau-de-vie, composed of grand and small wormwood, green anise, fennel, hyssop, speedwell, chamomile, genepi, coriander and angelica. Once again, following the homemade method, this elixir has been made from a blend of individually distilled plants.
The result is a singular worth version of Absinthe, still with a high alcohol content of 74°, but also accessible to drink. On the palate, the bouquet of plants may be considered as floral, fresh, spicy, enhanced through its alpine notes of genepi, mixed with spicy notes of coriander and floral notes of chamomile.
More information on the official website, where you may explore their wide selection, in the online store.