Feel the magic of Algarve in the Epic Sana Hotel, in the Portuguese village of Albufeira
9 min read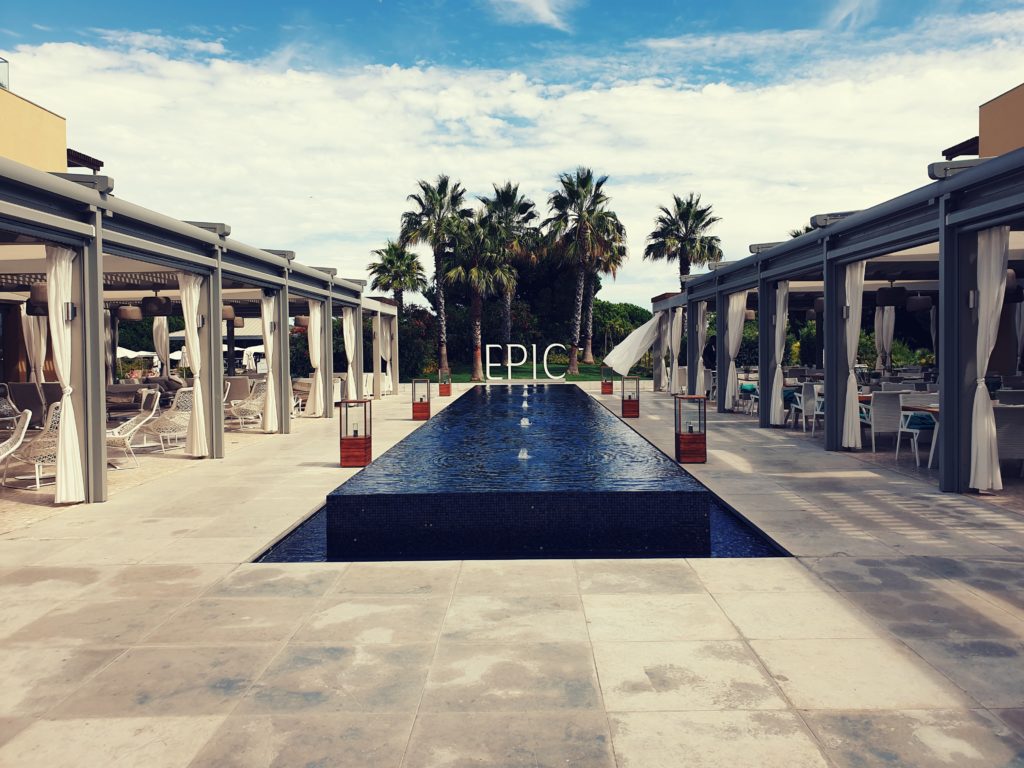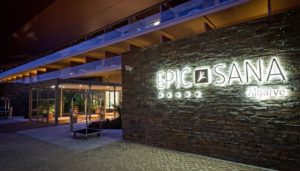 Albufeira is one of the largest, busiest and most energetic leisure spots of all the seaside resorts to be found on the sumptuous Algarve coast in the southern Portugal. Albufeira has everything you need for a fun and entertaining vacation: beautiful beaches, an ideal climate, a hive of activity and an unbeatable atmosphere. As there is much to love in Albufeira, it is not surprising that this peaceful old fishing village has turned into the most popular tourist destination in the entire Algarve.
As it is the largest resort in the Algarve, Albufeira offers a surprising range of activities, attractions and accommodation. This huge choice and variety makes it an ideal vacation destination, whether you are with family, lovers, or friends who want to party.
The Algarve coast is the most esteemed region in the country. Year after year, it has always attracted travelers from all over the world and even from Portugal, notably spoiled with its almost endless summer, thanks to the sunshine visible more than 330 days a year. Among the available activities over there, no surprise regarding mostly marine issues, from fishing, diving, swimming until your plate, and a delicious local seafood cuisine. Indeed, the surrounding beaches are remained pretty large and eventually considered as quite wild, through their white sands and their protecting high ocher cliffs. Upon these green platforms, golf enthusiasts would find their happiness within the choice of multiple courses offered and located at a reasonable distance of this attractive 5-starred EPIC SANA Algarve Hotel. This ideal hospitality starting point to discover Algarve, as one of the best holiday destinations in Portugal, we would introduce you in this article and our video at the end.
By Alex Plato
---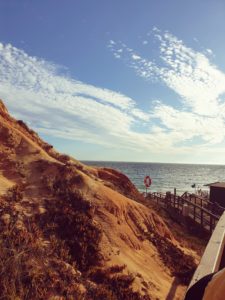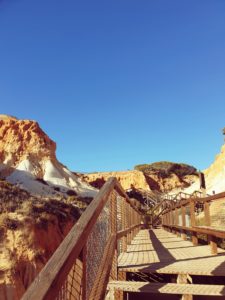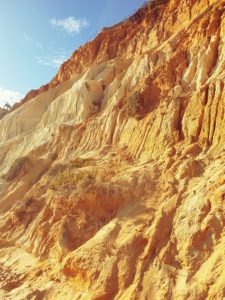 Who never dreamed about spending some free time in a picturesque
area
rich in tradition and sensations? Indeed, the colorful
Algarve
region, located in the southern
Portugal
, benefits from a
Mediterranean
climate, satisfying any kind of
idleness
flavors and
sailing
enthusiasts, and even
adventure
fans may find a perfect place. Thus, this
Algarve
territory is marked by a strong relief, composed of many slopes from three main mountains overlooking a large beach scope, at the crossroads of
Mediterranean Sea
and
Atlantic Ocean
.
Ideally located close to the
Faro
airport, approximately away by 35 minutes by car and nestled between some stretched
pine forest
and
seacoast
, the
EPIC SANA Algarve Hotel
appears above the illustrious and monumental
Falésia beach
, in the former fishermen village of
Albufeira
. This extended luxury
resort
is one of the best embassies of the Portuguese
EPIC SANA
hospitality group, also present in
Luanda
and in
Lisbon
(photo credits: Alex Plato & EPIC SANA).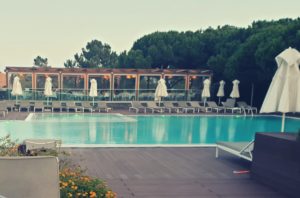 That's why, due to its proximity with the
Atlantic Ocean
, this luxury
hospitality complex
is located just a few steps away from this large
beach
, easily reachable by a majestic wooden
footbridge
, after a light incursion in the
pinewood
.
Due to the dynamism of waves and the mild-cold temperature of the sea (around between 18 and 20 degrees), you would maybe opt for one of the seven swimming pools available; two of them are situated indoor and five outdoor, among them two of them are small basins dedicated for children. Nearby, spread all around the site stand excellent golf courses, several water parks to hydrate yourself, shopping areas, bars and restaurants, plus of course a varied nightlife.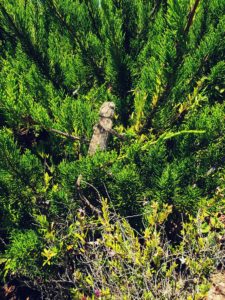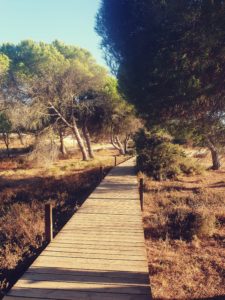 Therefore, you would notice that, unless this part of the
Algarve
fulfills a lot the ones looking for
nightlife
and also for
clubbing
, this multi award-winning
resort
provides a quiet framework, surrounded by more than 8 hectares of a luxurious
garden
, filled with
lush
, high
umbrella pines
for more shadow and of course a profusion of multicolored and scented
flowerbeds
, including the emblematic
bougainvillea
.
In fact, a huge outdoor
peace haven
, in full harmony with
Mother Nature
. Surrounded with this fabulous environment, this
EPIC SANA Algarve
resort proposes three distinct accommodation edifices, the main
Hotel
building, the
Resort Suites
and the
Suites
. Each of them have their own identity, and deserve to have a look on them!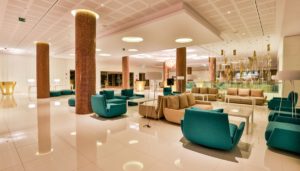 Once inside an other large area embodied by the wide reception hall, adorned with lightful marble material in and around, you would surely admire the focus aimed on design, combined with technology, enhancing this original contemporary experience of comfort and well-being, in symbiosis with the shiny neighborhood.
At your disposal, 229 accommodations in total, are spoiled with possibly a balcony or terrace, enriched with a view on the resort and its gardens, on the ocean or on the swimming-pools. In fact, you would never be too much distant from a fresh source of hydration!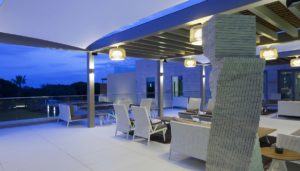 A quality dining experience should be an important part of your successful holidays! That's why, the EPIC SANA Algarve resort paid many efforts to offer a premium food service, as much as possible up to your appetite desires. Whatever you prefer to stay inside this privileged leisure resort, you could take advantage of the three bars and four restaurants proposed in every corner, from the classic Lima pizza restaurant, really suitable to families, with its timeless Italian specialities. Moreover, this seasonal bar is integrated in the Resort Suites, next to the Kids Club and to the pools, during the summer, this tribal inn offers a trendy brunch, where your children may play together without any danger.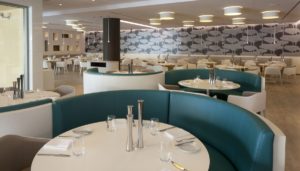 Otherwise, inside the main building, the space where is served the breakfast brunch (composed of fresh fruits, several pastries and also hot dishes), as well acts as a various themed restaurant, called Abyad. This unit proposes a buffet dinner (with a different origin every day) in high season, even served on the outdoor terrace in front of the glamorous corridor fountain.
Supported by the snacks and the cocktails skills of the close Bluum Bar, where live music may be played, to help enjoying your glass, sometimes made with molecular mixes (for example, capirinha with caviar), along some other tuition workshops, in order to learn more about spirits and wines.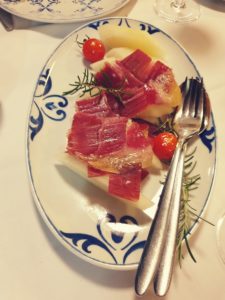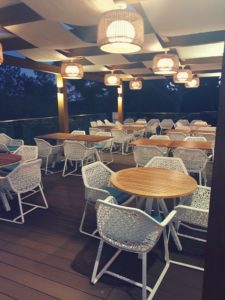 For a more intimacy and gastronomic direction, the
oriental
themed
Al Quimia
is definitely made for you. Directly inspired in the scenery, by the
Moorish
heritage of
Algarve
, this establishment offers a premium selection of local ingredients, from fresh sea fish (
cuttlefish
,
red mullet
,
seabass
…) accompanied with gourmet delights that perfectly match, such as the
Cataplana
sauce. Without forgetting the inventive desserts, either made of
hibiscus
,
kefir lime
or
citrus
!
On top of that, the Open Deck restaurant is an open air pleasure, protected by a pergola, perfect to appreciate some traditional Portuguese dishes, still starring fresh fish you can choose and ask to be grilled on the way, added with local vegetables and other sea fruit. A seasonal concentrate of Algarve in the center of the resort and in front of the pools and the pine forest!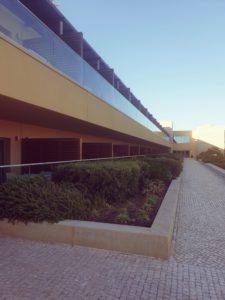 Since you can combine the advantages of a
hotel
with the privacy of an elegant private
room
, make your choice among the different alternatives of comfort available. Therefore, whatever would be your choice, from classic
rooms
with a resort, pool or ocean
view
, or even
suites
with ocean
view
, all of the
accommodations
propose a balcony to enjoy a pleasant journey, great to enjoy with a
Nespresso
machine in every room.
For instance, in the so-called main building, you would pick up one of the 160 deluxe rooms (with a size of 32m2) and 2 deluxe suites (with a size of 64), both of these formats a minimalist and modern atmosphere, thanks to an elegant decoration made of touches of light wooden apparent structures and lime green in some strategic parts. An half open bathroom, including egg-shaped bath tubs and Aromatherapy Associates amenities, may be closed with a sliding partition, just like a Japanese style, sometimes recalled by some related wallpaper, even visible on the loo paper.
As you can see, the major part of these spaces are inspired by the pine forest surrounding the hotel. For instance, as we have seen earlier, the 43 Resort Suites, located next to the Kids Club, a tennis court and of course some swimming pools, either offers different kinds of Suites dedicated for families, from measuring from 38m2 up to 79m2, plus a salon and a fully-fitted kitchenette.
On top of that, count also on the 24 Deluxe Garden Suites, located in the most exclusive area of the resort, since you would appreciate a unique natural atmosphere. Moreover, these spacious suites would upgrade you with honorable sizes from 73m2 to 175m2 for some duplexes, pursuing the same efforts to combine a green experience from your room, eventually with a butler service upon request.
Such as your children who also deserve some kind of a butler service, with the Little Stars Kids Club, settled in a a dedicated place, where they could get the opportunity to experiment different activities such as team games, artwork, cinema, face-painting, gymkhana, origami, cooking workshops, pool games and even some treasure hunts! For your information, it is a seasonal service (available during summertime) and it is aimed for kids, aged between 4 and 12 years old.
Cherry on the cake, you're on holiday so don't miss the occasion to have a tour in the Sayanna Wellness SPA, tending to appease anyone's tensions, passing through, within a range of many personal well-being cares, particularly inspired by the oriental philosophy. Spread in a large surface of 1500 m2, including nine treatment rooms, such as a room for Vichy shower, distinct massage and aesthetic spaces adorned with outdoor terraces, along two relaxing tents hidden with immaculate curtains. This full package is completed with the classic facilities you may find in a SPA, such as a sauna, a Turkish bath, an indoor pool and a relaxation pool. Adding to this, for your intimacy couples moments, explore the outdoor pavilion, starring a charming garden and private jacuzzi.
Not far from all this bubble of levitation stands the Fitness Center, equipped with a real gym room, containing various recent cardiovascular training devices and also weight training machines. In this location, a couple of group classes are regularly scheduled, among yoga, pilates, stretching…
If you're into a professional venue, don't miss the Conference Center, generously spread on a area, with a ceiling height of 4.2 meters, naturally lighted and Wi-fi covered to echo the high-tech built-in audio-visual equipment, a perfect solution for the organization of your best events.
---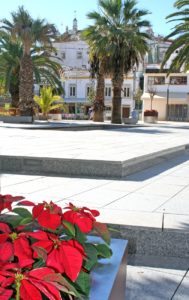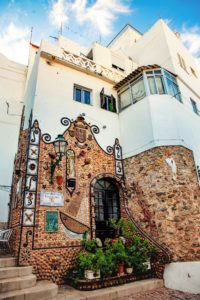 Once in the bucolic alleys of Albufeira, you would undoubtedly get the chance to explore many surprises of this such exotic Algarve vacation destination, as this millenary whitened village has much more to offer than superb beaches and its breathtaking ocean panorama. For instance, among the historic streets of the Old Town stand real charming homes, like this pictured Casa das Conchas, situated nearby the former Castle and the colorful Ermida de Nossa Senhora da Guia.
Surrounded by over a hundred restaurants and bars of all kinds, and for sure its cosy nightlife, conveying a warm and friendly atmosphere. Then, prior getting to the nearest beach, called Praia dos Pescadores, a calm and sheltered beach, ideal for families with children desirable to find rest and comfortable holiday conditions (photo credits: Albufeira Tourism).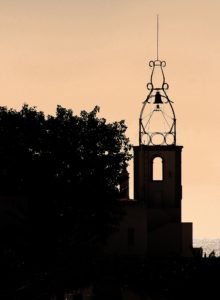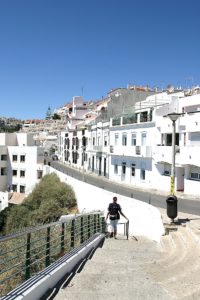 That's why, if you are rather looking for some kind of
clubbing
vacations, the modern part of
Albufeira
would probably be the shoe for you, especially thanks to its
Strip
quarter, a street full of themed
bars
and
nightclubs
, where you can
party
and socialize until the early hours. For you information, this district is easily reachable, since it's located just 2 km eastern from the
Old Town
and propose similar facilities than any other famous
European
hedonistic locations. In case of hard night, there is also the relaxing
Praia da Oura
, a suitable beach to recover under the
Mediterranean
sunlight.
Otherwise, if you're more expeditions, the area offers many intraday journeys, notably including the walled city of Silves, the shopping zone of Loulé, or the historic city of Faro. Some of these excursions are organized by Extremo Ambiente.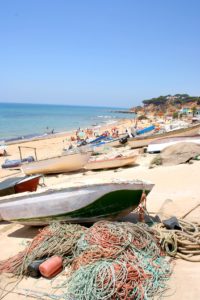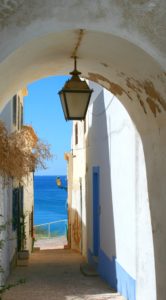 Last but not least, close to the fishermen's beach of
Praia de Olhos de Agua
, you are also invited to have a walk across the
Marina
of
Albufeira
, where are offered many
nautical
related activities, including
deep-sea
diving and fishing,
seacoast
offshore visits even aboard
speedboat
rides,
marine mammals
safari watching
cruises
, and even
party
boats
, since these both activities are among the most popular activities in the zone.
Indeed, Albufeira is one of the resorts, in the Algarve with the largest number of marine and aquatic activities. For example, you may ship over there to observe some dolphins, also not far from the circular Benagil grotto and eventually push it to the limit with a fast Hydrojet boat!