Ask ABK6 Cognac, Ackerman & Ruinart, how they converted their wines into artworks
10 min read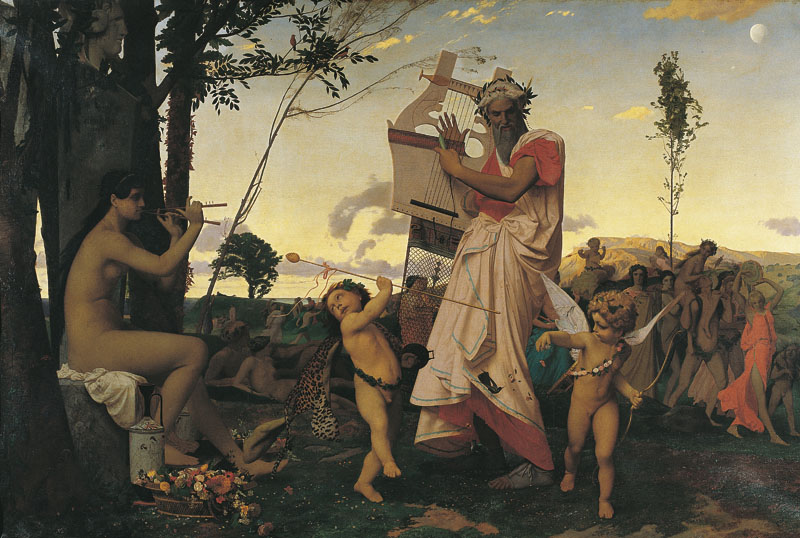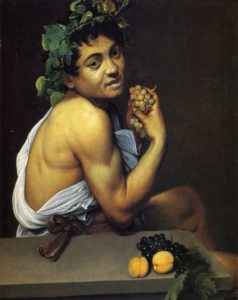 Wine has always been connected to Art, and vice versa… Through an existing iconography of famous paintings, sculptures and frescoes highlighting the cult about this divine drink. Starting by the early divinity of Dionysos and Bacchus, already acclaimed in the antiquity, along many other legendary Mythology banquets, where this elixir was essentially a proper pretext to celebrate a real epicurean lifestyle.
In ancient times, wine was often consumed according to a fixed ritual. The resulting drunkenness was seen as a sort of cognitive experience, a path to another sacred dimension. That's why wine was celebrated by numerous great painters, such as Bacchus by Caravaggio (pictured here), the Anacreon, Bacchus and Love by Jean-Léon Gérome (as cover photo), or the masterpiece of Leonardo da Vinci's Last Scene, as well as his many diversions.
Although, 1945 was a date to remember in the further connection of these two galaxies, when the front label of a famous Médoc Premier Cru from the Château Mouton-Rothschild was offered to a different contemporary artist, every year. Among them, the Millesime 1973 was borrowed from Picasso, as an homage to this artist who died that same year. But the list of artists is long, and just for this domain… Counting on Georges Braque, Pierre Alechinsky, Marc Chagall, Andy Warhol, Paul Delvaux, Keith Haring and even Balthus whose too erotic label was banned in the prudish United States, where, as a sign of protest, the bottle was sold there without any label.
In this topic, we would have look on different kinds of artistic conceptions in this wide world of wine, whatever if it's a sparkling wine like Ackerman, a Cognac like AKB6 and champagnes such as Ruinart. By AP
---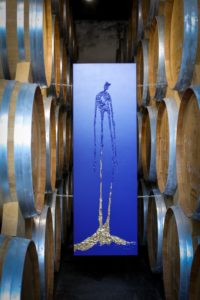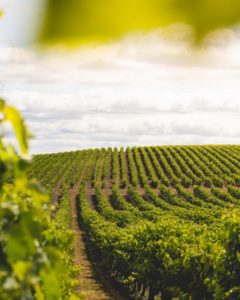 We start our artistic wines tour with the brand new creation of the ABK6 Artist Collection Cognac developed by the Domaines Francis Abécassis, and this in connection with our future article about Cognacs!
With 370 hectares of vines, the newly baptized ABK6 Cognac is today one of the largest independent producers from the Cognac appellation. Francis and his daughter Elodie have built a solid team where each person contributes with their own function and naturally their skills, in their daily actions, to the elaboration of these refined Cognacs. Each of their estates occupies a privileged location, and all stages of production are independently carried out there, in order to adapt the production methods of these Cognacs adapted to their specific terroir.
As far as we know, their Ugni-Blanc grapes are harvested plot by plot and immediately pressed on each site to avoid any transport and thus excessively long processing delays. That's why, their winemaking cellars are equipped with facilities equipped with some high-tech temperature control equipment, intended to produce the finest distilled wines. Moreover, loyal to their green commitment, in the respect of their direct environment and sustainable development, the Abécassis vineyards are as well High Environmental Value certified (HVE3).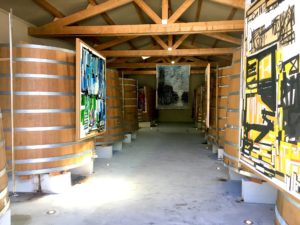 Art is an other engagement for the Abécassis family, especially through their ABK6 Reserve Artist Collection. A limited edition dedicated for this Cognac, based on a list of only 160 artist proofs, initially reserved for their boutique, and sold in the domain but also on their online store (photo credits: ABK6).
Along this initiative, the team decided to expose in the aging cellars of their estate, a selection of some artworks from the local artist Julien Drevelle. Plus, these large formats had the chance to be surrounded by oak barrels, containing their very precious Cognacs. Such a privilege for these juices which live and evolve, notably thanks to the "part of the angels" and contribute these Cognacs to mature harmoniously. This ABK6 Reserve Artist Edition Cognac, can be easily considered as fine and intensely aromatic. As an authentic testimony to what a long aging may provide to any Cognac, particularly in terms of elegance and complexity.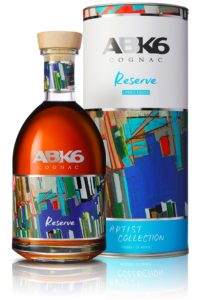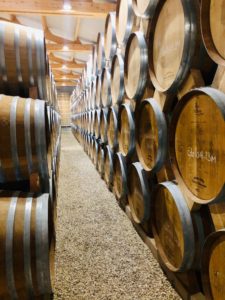 The first edition of this ABK6 Reserve Artist Collection has been imagined as a limited edition, starring numbered bottles from N°1 to 5000. Fully designed by Julien Drevelle, these samples are dressed with an abstract art robe and then offer you a real contemporary art moment, to share with your friends. Really distinctive from his confreres, the style of this French artist gives to this original art support, a certain colorful attractiveness.
For more comfort, this ABK6 Reserve is presented to you in a unique carafe shape, topped with a natural beechwood stopper. Furthermore, its label and gift box echo the bright and harmonious colors of the native artist's canvas. The result in your palate is a bright amber wedding, full of intense and elegant aromas, implying a cocktail of fruity notes of apples, pears, candied plums, cinnamon and even vanilla, with a delicate woody touch. This sweet balance between roundness and strength, leaves a final impression of dominant spicy, vanilla and woody aromas, revealing these persistent fruity notes. Recommended price: 49€.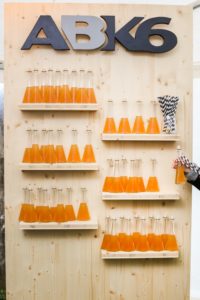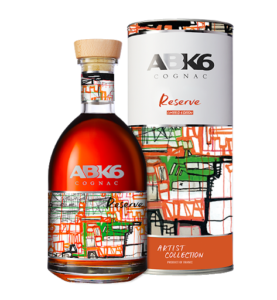 For the second edition, Francis Abécassis still wished to present another work realized by his friend, the artist Julien Drevelle, a personality particularly close to his heart. For your information, in this ABK6 Reserve Artist collection N°2, the original canvas is also visible in the family estate's distillery, located in Claix (Charente).
This Cognac issued from the ABK6 Reserve Artist Collection remains the same, fine and particularly aromatic. This time, just the colors and the shades of the canvas used to wear this ensemble have varied, inviting anyone on a tasting and epicurean journey between art and pleasure. Recommended price: 65€.
Visits of the Abécassis estate are also possible, where you could discover the production stages of their Cognacs.
Open every day from 9am to 5pm upon reservation.
– Discovery tour: 5€ including the visit + the tasting of 1 Cognac
– Tasting tour: 12€ including the visit + the tasting of 3 Cognacs
More information on the official website.
---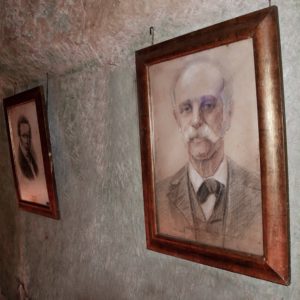 Still in the western part of France and linked with a certain festive spirit, the Maison Ackerman just initiated an innovative spirit, through their sulfite-free cuvée, called and in another hand, a collector edition of their XNoir cuvée. Indeed, always eager to innovate, this sparkling wine structure from Saumur is considered as a pioneer in the Loire Valley, to marry their combined vision of art and technology to some of their different references, in order to offer as much as possible to their fans, an interactive melt into an artistic experience (photo credits: Ackerman).
This is a real revolution for this centenary Maison, founded in 1866, by Louis-Ferdinand Ackerman who took over the reins of this own wine venture, contributing to the international influence of its Maison Ackerman's fine bubbles, in particular in England, where he paid the tribute to create a legendary sparkling wine, called the Royal edition.
Therefore, this nectar, also available in Brut Royal and Dry Royal, immediately met with immense success across the United-Kingdom and even in its colonies, then became very quickly available on the most famous tables, all over the world, from Europe to the Americas.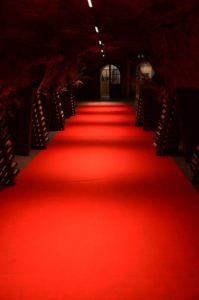 Available through an augmented reality device, thanks to the Snappress application, the Nouvel Esprit offered by the Maison Ackerman thus invites its enthusiasts to enter in a galaxy of fine bubbles, for this unique experience using your smartphone or tablet, simply by scanning the label.
From then on, a 3D graphic animation would eventually appear to you, like a genius, to tell the story of the Loire winegrowers at the origin of this Nouvel Esprit. Thus, you would be undoubtedly glad to virtually meet these different wine activists and epicureans, full of passion and conviction, but also concerned about a certain well-being and a sustainable future for their community. This is also an opportunity to explore this Nouvel Esprit's philosophy, mainly issued from a collective reflection of a group composed of winegrowers, oenologists, researchers, academics and consumers, willing to restore the inner expression from Mother Nature. This excludes all kinds of sulfites, insecticides nor any use of glyphosates. This virtuous circle was made possible through the improving of the production material and then limiting any other types of inputs into the vineyards.
Therefore, the Ackerman team has imagined the development of their direct ecosystem (including bees, ladybugs, etc.) which naturally promotes pollination and limits the presence of vine pests. They also thought about the implementation of some green manures (barley, mustard, radish …), able to positively complete the remaining grass. Last but not least, the presence of sheep in the vines is a huge chance to preserve and enrich the soil, reflecting this eco-friendly Nouvel Esprit's spirit, as a combination of a specific vineyard management on selected plots and a cautious vinification, in the respect of rigorous procedures.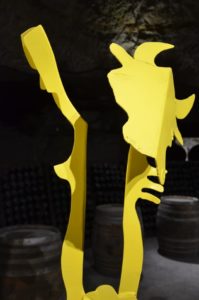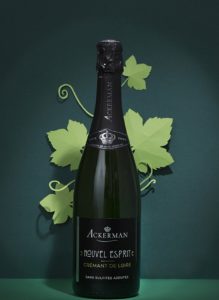 For your information, the
Nouvel Esprit
is a range of white
Crémants de Loire
, in a selection of four
sparkling wines
, immediately revealing this genuine
Champagne method
of making wines, grown in a natural way in the multiple
vineyards
and by the
winegrowers
.
At the heart of their vineyard located in Puy-Notre-Dame, the plots are ideally exposed on a limestone subsoil, offering a solid basis able to produce an elegant and fruity wine, offering aromas of very ripe yellow fruits of peach and apricot. Indeed, this cocktail of 66% Chenin and 34% Chardonnay conveys to a fruity final moment, full of fresh and subtle notes of a creamy pear.
This elixir is dedicated to be paired with savory or sweet puff pastry and fruity desserts, or even just at the occasion of an aperitif. Recommended price: 10€.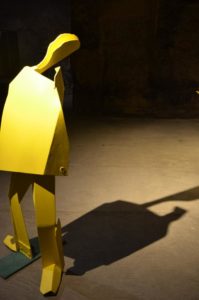 As you can see with these yellow sculptures, Ackerman is used to support some artistic initiatives, and another designed option would be possible, from this longtime player in fine bubbles of the Loire Valley. Then, recently was as well launched a limited edition of their XNoir cuvée, although it's a rosé sparkling wine… A good occasion to reveal their projection on modernity and innovative design within this new collector's edition, embodied by a black and fuchsia bottle.
Initiated in 2006, this so-called XNoir cuvée already created sensation by the time thanks to an original packaging, in a very modern retro-chic spirit. Only available to decorate your summertime, this limited edition appears in an elegant matte black background, sublimed by a flashy fuschia pink flamingo and the ancestral royal symbols. Indeed, this updated robe is an opportunity to give a funny tribute to the double origin of this wine, cherished by the founder Jean-Baptiste Ackerman, of Flemish origin and these fine pink bubbles extracted from the Pineau d'Aunis grape variety, harvested in the Loire Valley and especially in the heart of the Côteaux du Vendômois. Therefore, this very aromatic Pineau d'Aunis de Loire has been reinvented by Maison Ackerman offering an elegant and fruity wine, plus delicately spicy, able to surprise your entourage by the persistence of its dynamic bubbles. Like these two flamingos, a good way to keep your feet in the water! A limited edition Ackerman XNoir, for a recommended price of 6.50€.
More information on the official website.
---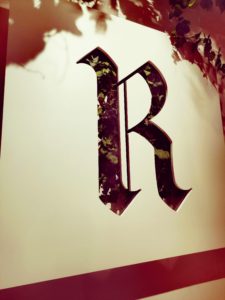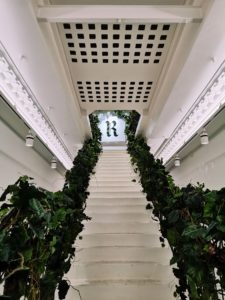 Exactly so did this member House of LVMH group, one of the oldest Champagne houses, last October 10th and 11th 2019, when it hosted some guests for a unique experience in a magic Parisian place, the Atelier Richelieu, very close to the Louvre Museum.
Baptized for the occasion Maison 1729, it was an occasion to share the spirit of this prestigious Champagne House in an exceptional ephemeral artistic nest, notably introducing an exhibition space dedicated to the Ruinart artist of the 2019 year, the Brasilian Vik Muniz, nearby a bronze smith masterclass lead by the sculptor Pierre Salagnac on a real grapevine (photo credits: Maïté).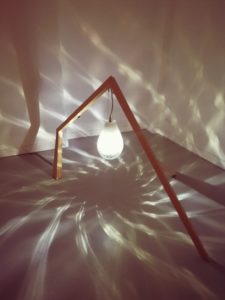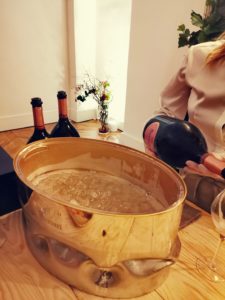 During two days, visitors would have be able to discover the history, heritage and involvement in the Art branch of Ruinart, thanks to tastings and more specifically the art of pairing dishes and champagne. Guided by the oenologists Louise, Raphaëlle plus Valérie Radou, the resident chef of Maison Ruinart, located in Reims, for a unique culinary experience, and marry two major cuvées of the house, their legendary Blanc de Blancs and the Ruinart Rosé, tasted as a duet, a way to rediscover these two emblematic bottles.
Thereafter, the experience may have been followed by a tasting of Millesime cuvées trio, through the Ruinart Millesime 2010 in comparison with the Ruinart Millesime 2009 in bottle and the Ruinart Millesime 2009 in a magnum shape.
More information on the official website.