A French technology to wash your teeth in only 10 seconds, with the dental care range of Y-Brush!
4 min read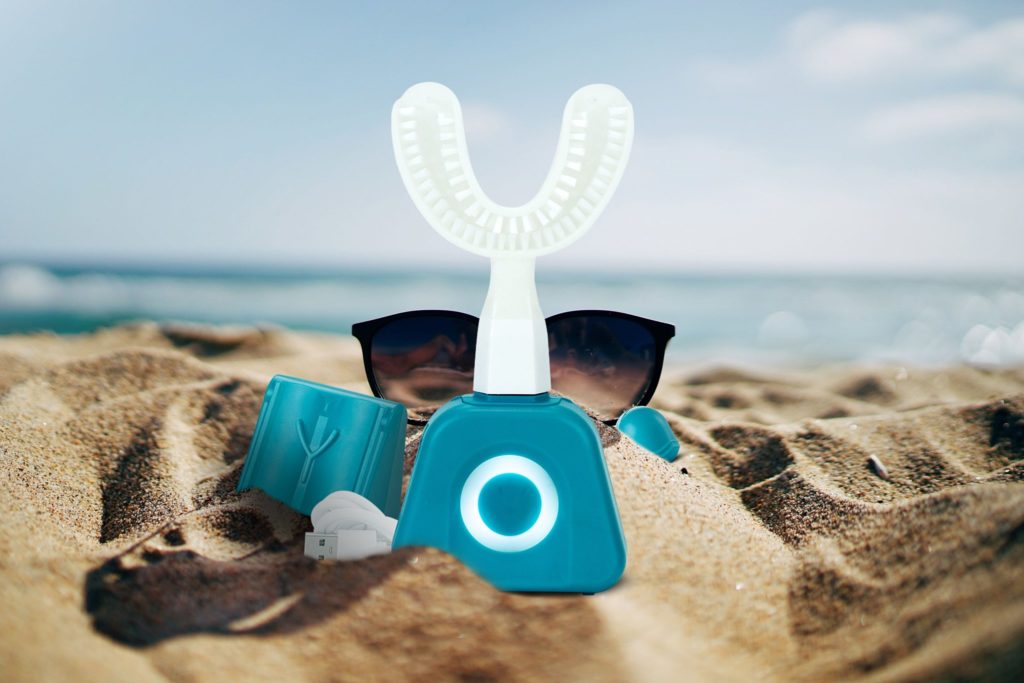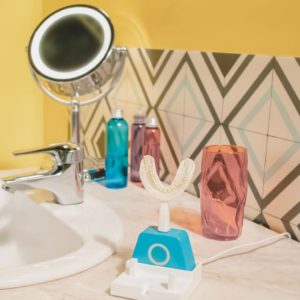 Once upon a time, there were 2 French visionary entrepreneurs from Lyon, named Benjamin Cohen and Christophe Cadot who decided to bring a new vision to the daily use of toothbrush, that they considered quite complicated to handle at an optimal utilization. From this fact, their desire to facilitate this process conveyed to the birth of their Y-Brush project, developed with the support of dentists, specialized in oral health, and validated by numerous in vitro and clinical tests.
Pursuing the brushing innovation going on since decades, whose latest evolution is the electric toothbrush appearing in the 1950s, this French technology would bring more vibrations to your mouth. Focused on a revolutionary automated brushing technology, the Y-Brush toothbrush is able to brush your entire teeth in just 10 seconds, both available to adults and kids (from 4 to 12 years old) and also spread through an innovative range of products. Then, we invite you here to discover how this groundbreaking device works and what you could expect from it. By Alex Plato
---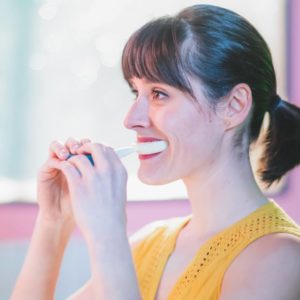 First of all, did you know that the 2 minutes of recommended brushing time may be replaced by a 10 second ritual care? Therefore, the Y-Brush brushing technology allows you to brush your teeth automatically, thanks to its ultrasound and its sonic vibrations. Supported by 35,000 nylon filaments (named NylonMed technology), the Y-Brush can remove simultaneously more plaque from your teeth, compared to other materials (such as silicone, for example) plus 15% more dental plaque than a traditional toothbrush that clean teeth one by one (photo credits: Y-Brush).
For more efficiency on your teeth and good oral health, you could juggle between the 3 sonic vibration modes (soft, normal, intensive) but it's recommended to change your brush every 6 months at least, while eventually ordering your brushes individually or as a recurring subscription directly from the online store.
you have to mind that this automatic toothbrush is guaranteed from France, whose brushes are made up of more than certified 35,000 nylon bristles and its handle, assembled in their own French factory in Lyon, on automated machines and even disabled employees participating in the manufacturing.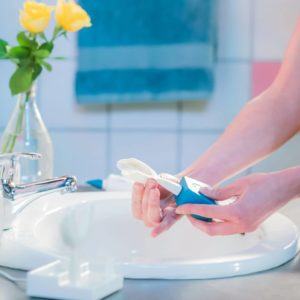 On top of that, this Y-Brush has a generous autonomy of 3 months (with the rechargeable battery), and this flexible electric toothbrush is designed to adapt to all types of anatomies, from children between 4 and 12 years old or adults with small jaws for the S size brush, or the M size brush which is recommended for teenagers over 12 years and most of adults.
The operating instructions are pretty easy, spread a slice of solid toothpaste from the Y-Brush applicator, on the entire length of the nylon bristles. If you don't own this toothpaste applicator, cover your teeth with a dab of toothpaste with your tongue, before wetting your brush and inserting it on the top and the bottom teeth. Thereafter, keep the unique button pressed until the end of vibrations of thousands of filaments rubbing against the surfaces of your teeth, while softly chewing from time to time and rotating the Y-Brush from right to left.
Don't forget to rinse your brush after each operation, running it under water and removing any left paste with your fingers between filaments.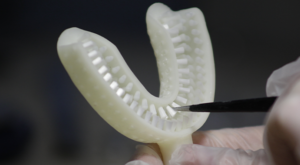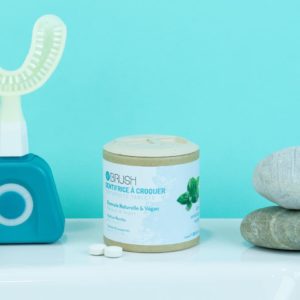 Consequently, this is an easy and funny daily dental care, with a very few dexterity required. Indeed, the nylon filaments are as long as those of a regular toothbrush and can brush the global surface of your teeth, a part of the interdental spaces and even partially massage the gum line.
As you can see, their range is also available with a series of accessories, as well assembled in France, in order to optimize your Y-Brush brushing experience. For instance, your oral hygiene could be improved with chewable and organic toothpastes, preserved in an eco-friendly and recyclable packaging.
Otherwise, you opt for the custom-made vertical storage rack, specially designed for to offer some rest to 1 or 2 of your S or M sized brushes, from your Y-Brush! Don't either miss the sticker sheet, composed of 8 customized and water-resistant stickers (colorful animals for kids and Y-Brush logo for adults) to be glued on the base of your toothbrush and which are made to quickly recognize your personal Y-Brush.
Regarding all these elements, the calculation is simple… A regular toothbrush usually spend on each tooth between 1 and 2 seconds for an ideal brushing, out of a recommended session of 2 minutes, while the Y-Brush technology may spend between 5 and 15 seconds (depending on the vibration mode) on each surface.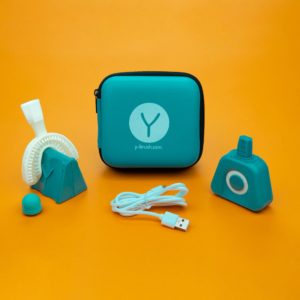 A last word about the various efficiency tests that have been carried out, during the R&D phase, in collaboration with dental experts that led to this revolutionary concept. How could the action of a simple sonic toothbrush could simultaneously be effective on all your teeth and the surrounding plaque, without using any silicon nor extra energy?
Therefore, this Y-Brush technology has been approved by a couple of in vitro tests according to the Bass method recommended by most of dentists, based on recognized methods, and followed by 5 other separate tests about plaque evolution, on a total of 50 people and a 2×8 day cross-over clinical study regarding a blinded plaque research (resulting with more dental plaque removal than a standard brushing).
At last, take the opportunity to transform this boring routine into a pleasant and fun hygienic moment, and whether you're still not satisfied with this French innovation, remind that a product return is possible within 30 days thanks to a Money Back Guarantee service.
More information on the official website.
---