Diptyque blows its own scented candles to celebrate its 60th birthday and invite you in a Voyages Immobiles exhibition in the Poste du Louvre
9 min read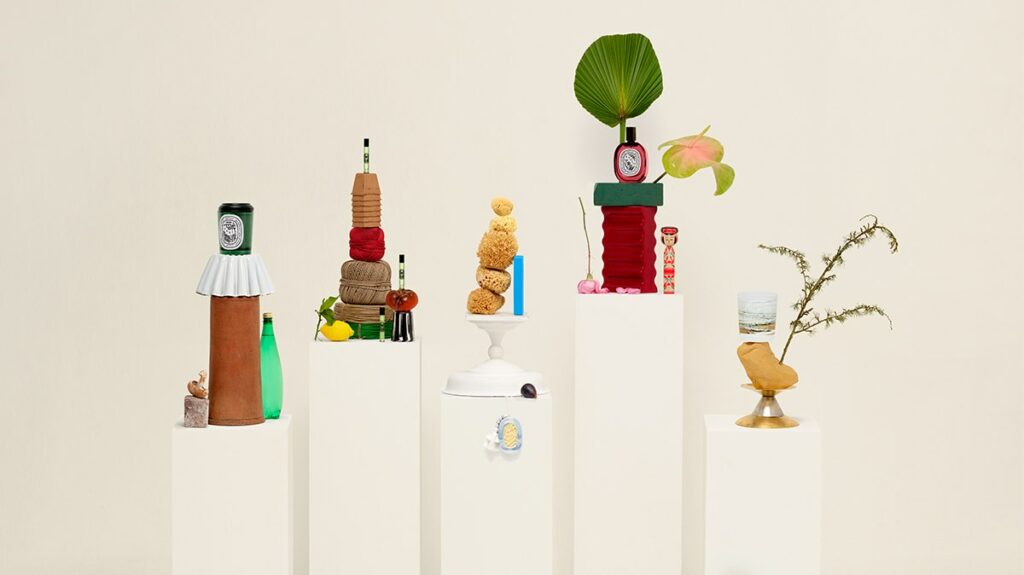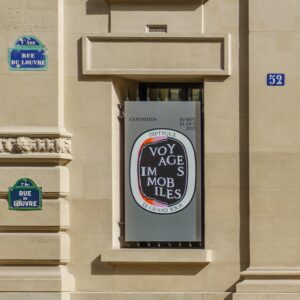 Popularized since now 6 decades all over the world, notably through various types of perfumes and scented candles, but not only… The successful Diptyque story, get told this Autumn 2021 by a very special occasion, through the celebration of the 60th birthday of this Parisian born house.
Indeed, the founders of the House, Desmond Knox-Leet, Yves Coueslant and Christiane Montadre, were three aesthetic and curious artists who created Diptyque, in order to live their travel dreams in real. As one of their greatest sources of inspiration, they imagined their olfactory creations, as well as the graphics that adorned them. Therefore, this obvious taste for elsewhere, for art and for perfume, is celebrated here with this Voyages Immobiles exhibition. Under the curatorship of Jérôme Sans, nine contemporary artists offer here their vision of travel by interpreting the iconic destinations of Diptyque, of course punctuated by original fragrances, from Italy to Japan, via Greece, Lebanon and of course France!
To make this date remembered, an exciting contemporary exhibition has been settled in Paris. We're glad to celebrate with you this specific moment, through the detail of this beautiful installation, and the reminiscent new products that you could discover thereafter and in our video below. By Alex Plato
---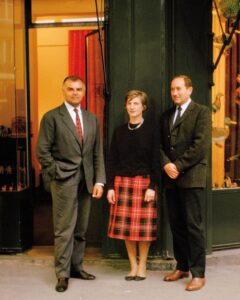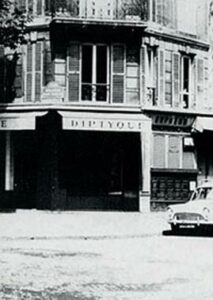 Have you ever already enjoyed a Diptyque scented candle in your salon or somewhere else? On this 2021 year, it's the occasion to celebrate their 60th birthday, since this perfumed adventure has started in 1961, from their original flagship store located on the historical Latin Quarter of Paris (photo credits: Diptyque).
In order to blow other types of candles, the Diptyque team has decided to imagine a contemporary art exhibition, revealing a certain artistic philosophy of this internationally acclaimed French house.
For instance, a specific tribute has been paid to the constant quest for travelling sights, through symbols and of course exotic fragrances.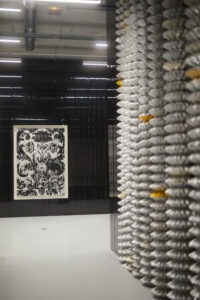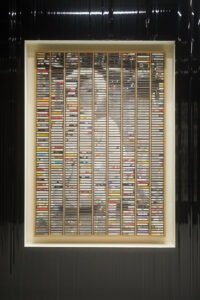 Therefore, let you get embarked on a visual and olfactory experience in the newly renovated Poste du Louvre, situated a couple of steps away from the eponym Louvre Museum. An autumnal rendez-vous for any Diptyque enthusiast, standing over two amazing floors full of surprises, from September 10th until October 24th, 2021. This is where five artists were invited to display their own vision of the Diptyque spirit, according to their artistic personality and inspired by some emblematic destinations (photo credits: Alex Plato).
That's why, this ephemeral exhibition has been untitled "Voyages Immobiles", and those itinerant artworks have been precisely selected by the renowned curator Jérôme Sans.
In fact, a colorful dialog has been built, able to get deeper into the corporate culture of this young but mature brand which had never stopped to reinvent its collections between art and travel, since its beginning.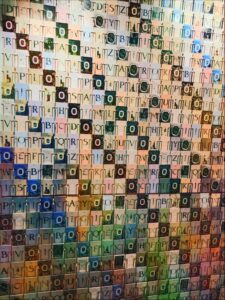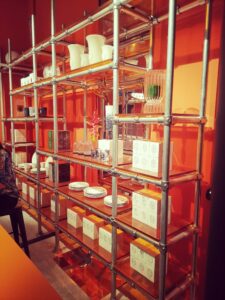 The proof of this affirmation may be confirmed within the publication of these five artists' exhibited creations, in only a limited series. Under "The Grand Tour" framework, don't miss to explore those several products, especially composed for the occasion, echoing in a way, different journeys operated, notably in the 18th century.
Note that some limited edition artworks are available for sale (Un temps après la jeunesse, La Laguna, The Cave of Chiron, Fragrance of Infinity and Secretum) in small series.
More information and online reservation, on the official website.
Voyages Immobiles, 52 rue du Louvre, 75001 Paris (France), from September 10th to October 24th, from 11 am to 7 pm (night-time until 9 pm on Thursdays).
---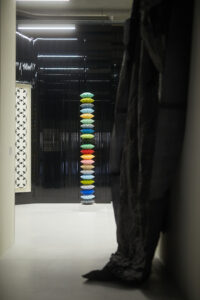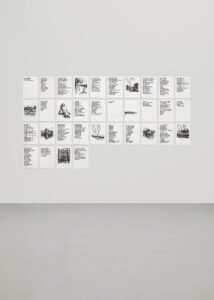 At this occasion, let you seduced by the Parisian interpretation of the artist from Madagascar, named Joël Andrianomearisoa. This paper specialist wrote an homage poem, illustrated by various drawings, essentially recalling the omnipresence of booksellers (even second-hand) in this City of Lights (photo credits: Diptyque).
Accompanied here by a special candle symbolizing a pleasant Parisian walk, along the mysterious quays of the Seine river. An olfactory promenade emanating the surrounding vegetation, notably crossing through the road of some alleys and chestnut trees, but also the ancient odors, coming straight from typical Parisian bookstores or the famous independent bouquinists.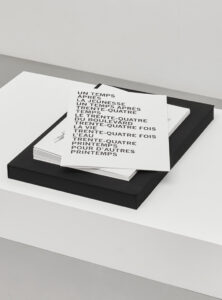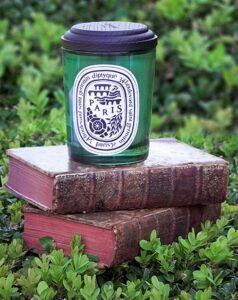 Could you feel here the heart of this vintage composition, full of notes of waxed wood? Therefore, along spicy vicinted accents of a bunch of patricious works and even stone pavers, this special scented candle somehow evokes this unique Parisian atmosphere, where sometimes art can meets historical points.
As far as we know, this candle is covered by a carved black wood couvercle, finding its inspiration from the bygone design of an old Diptyque candle can display. On the label, you may as well admire a rose of winds, inspired here by the one engraved on the Esplanade of the Notre Dame of Paris Cathedral, symbolizing the starting point of this great Diptyque's own Grand Tour and even the kilometer zero from where start all the roads of France!
---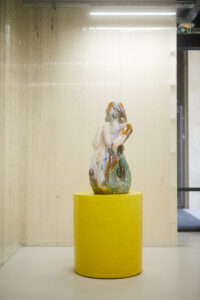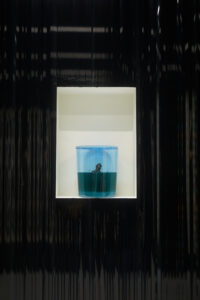 In the mean time, the second stage of this Diptyque trip is conducted by the flemish designer Johan Creten. This interviewed personality (on our below video) created a limited edition of a blue-green candle, representing the Venetian lagoon, which while burning would eventually reveal you a fancy bronze statuette, directly influenced by the ancient Italian style.
For your information, the mystical city of Venice was very cherished by the Diptyque founders, since they stayed there on several occasions and they really appreciated the omnipresent art and culture, visible at every corner of this somptuous laguna (also read our articles about this destination, in this section).
If you have already visited this fabulous island of Venice, maybe are you familiar with the Serenissima location, nicknamed as the "vegetable garden of Venice".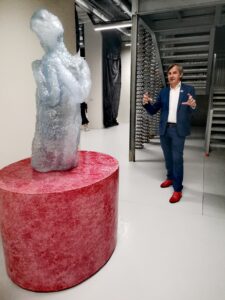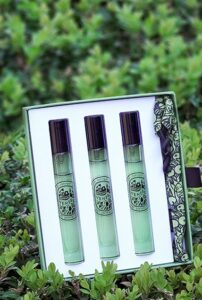 From this specific local influence, gently swept by the winds coming straight from the lagoon, and where nature grows there in abundance, explore the associated act.
Indeed, an eau de toilette has been imagined here, transporting the feeling of some sunrise, married with endemic vegetal species of green vegetables and herbs. What's better to find in its composition, than natural Italian notes of mandarin, covered by green but aromatic accents of pepper, basil and tomato? A Dolce Vita wedding evoking the scents of a romantic Venetian journey.
By the way, this Venice inspired Eau de Toilette is available in a small box, filled by three nomad-sized perfumed bottles and a cotton pouch, illustrated with a historical Diptyque motif. This travel kit is the perfect solution to bring this fantastic fragrance, wherever you travel, as an authentic ambassador of the timeless spirit of this Italian destination.
---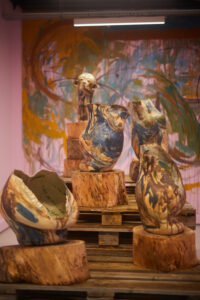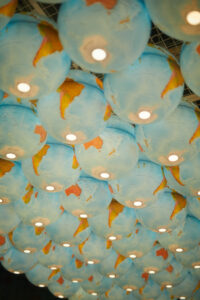 Third step of travel, facing the ceiling Planet Earth globes of the creative Ange Leccia, we can find the realization French artist Zoë Paul who initiated a specific travel to Milies, this time in Greece, unveiling a genuine curtain of earthen beads, somehow depicting a hand, as the symbol of the healing Chiron centaur.
Indeed, this fresh thematics would easily come from the summer holidays spent by the founders of Diptyque, in this bucolic part of Greece. Nonetheless, this village of Milies, located at the foot of the Mount Pedion, is embodied here by random mountainous paths, in a scented palette.
Otherwise, an other interpretation is also visible through a reconstituted fairy village, settled by the Greek scenographer Andreas Angelidakis, displaying an authentic antique but mysterious atmosphere.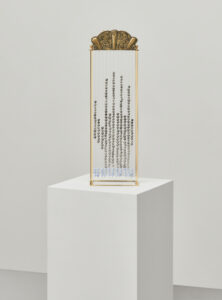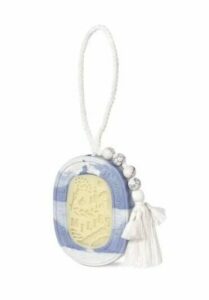 Thus, full of spicy fragrances mixing immortal flowers, sunny figs and the maritime breeze from the Mediterranean seafront, this blue and white decorative object wears scented traces of those various flavorful routes, from the coast until this Mount Pelion.
Its composition path doesn't stop there, since you could also appreciate additional explicit aromatic wooden notes. Also note that this ensemble is decorated by beads inspired by a collarier, once realized by Christiane Gautrot, while the hanging pompon perfectly resumes a bunch of typical elements of Greek craftsmanship.
---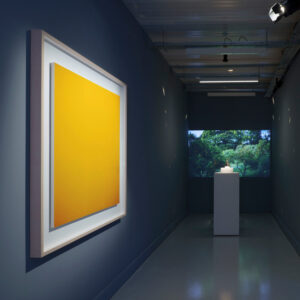 On top of that, this rich scented world tour gets pursued by the interesting realization of the Japanese architect and photographer, named Hiroshi Sugimoto, who designed a mystical space presenting an abstract and contemplative installation.
Thereafter, you're invited to admire a wide variety of fields such as photography, sculpture, architecture, dance, calligraphy and even writing. For instance, a video untitled "Kankitsuzan x Hiroshi Sugimoto" has inspired the fragrance edition of this artist. In front of this projection, stands a glass bottle, made of optical glass and generates the prism of his Opticks series. Then, the complex reflections that can be seen in this bottle allow you to appreciate all kinds of images from different angles and points of view.
In the other hand, fragrance contained in this bottle is a real tribute to the orange fields of Kankitsuzan x Hiroshi Sugimoto, since "Kankitsuzan" stands for the name of an area near Tokyo, and also the name of the agricultural foundation created by Sugimoto in 2011, grounded to restore and preserve these fertile lands.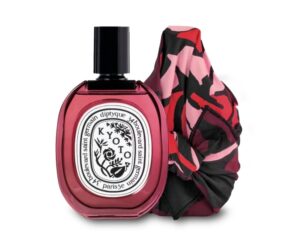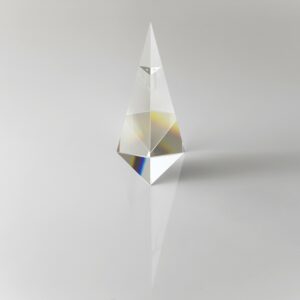 As far as we know, the glass flask contains a citrus perfume, in reference to a sacred place, present in Kyoto.
Indeed, Japanese aesthetics have often inspired Diptyque, particularly with its famous refinement and poetry. In this case, an exotic eau de toilette has been baptized under the spell of Ikebana art, honoring an art, meaning "the way of flowers". This ancestral tradition reminds plenty of natural references, mainly taught by an Ikebana school which was firstly founded in Kyoto, in the 15th century.
Following this precise oriental approach, the olfactory composition of this floral and woody perfume is lead by three symbolic pillars of this refined Ikebana gracious art. That's why, you may find here major rose notes symbolizing human being, while a beet-vetiver duet evokes the Planet Earth and incense representing the sky.
Cherry on the cake, its flask is proposed here according to the illustrious Furoshiki tradition, so to say wrapped in an elegant printed fabric, pictured by a typical Sarayi design, created here by Diptyque's founders.
---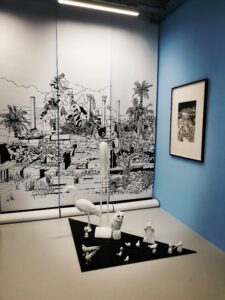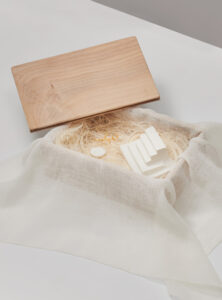 At last, the fifth part of this Grand Tour is guided by the Lebanese fashion designer Rabih Kayrouz, who revived archaeological remains found in Byblos, in Lebanon. Among these elements, we can observe a poppy fossil, a crown fragment, but also temple samples, all sealed in a cedar box.
A dearful place where used again to stay from time to time, the founders of Diptyque, who particularly enjoyed to cross the old souk of this millenary port, where small cafes follow one another. This is where, you could be served a full-bodied coffee whose aroma mingles with the scent of some random antique woodwork, emanating from the countless merchants' stalls.
Otherwise, still in this thematics, the Franco-Moroccan artist Chourouk Hriech designed those magical landscapes of Byblos, through a vast dreamlike space, traversed by moving clouds and imaginary migrating birds, symbols of flight, love and freedom.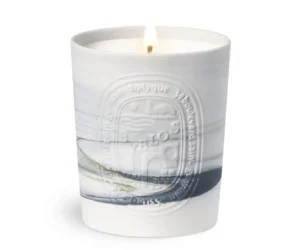 Not far from this fairy framework, don't miss the mysterious atmosphere of this ancient
Phoenician
port where cargoes of
spices
, precious woods were and are still delivered, conveying our senses to the heart of the composition of this
Byblos
scented
candle
.
From this brand new burning spirit of Diptyque, discover an enveloping accord of roasted coffee, enhanced here by the liveliness of fresh cardamom and Atlas cedarwood. In fact, let you seduced by a succession of olfactory sensations, deeply illustrating another oriental atmosphere, offered by this fascinating Lebanese city. Thus, through a rich historical and artistic legacy, adopt this original candle, packaged in an earthenware jar, inspired by irregular waves of some coffee smoke. Adding to this, its candle pot is of course handcrafted, displaying several colors of pigments, which may vary from one to another, naturally making each piece unique.
---