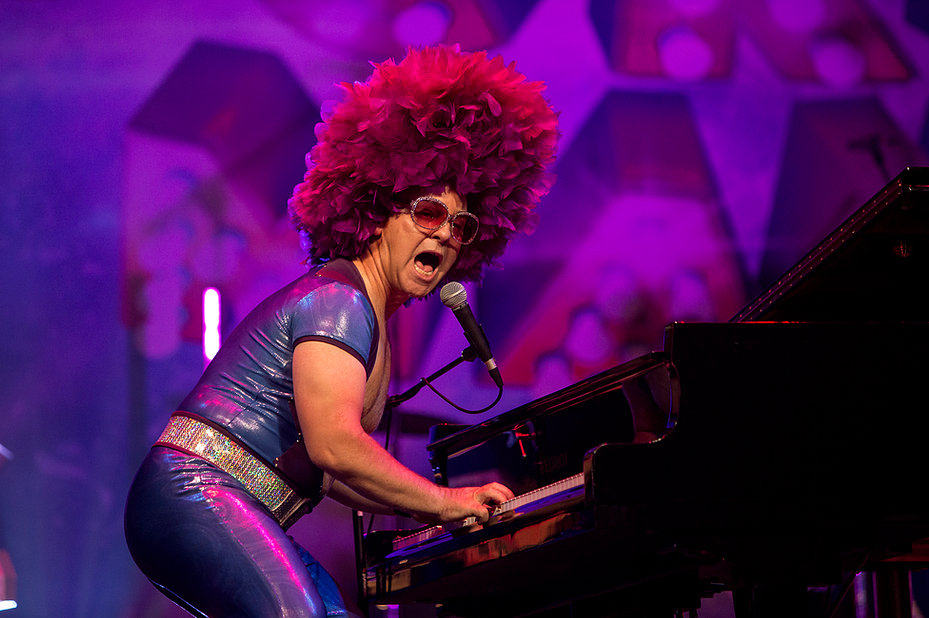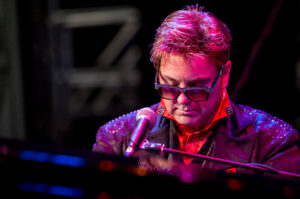 After the triumph of One Night Of Queen and many other artists belong to the stable of Richard Walter Production, we are sure this time that you would get tempted to attend another incredible famous artist's performance. Deeply anchored in the global collective memory, all of us know at least one popular song of Sir Elton John or keep it mind one of his extravagant stage costumes.
Once again, such as Gary Mullen (in our prior article) interpreting Freddie Mercury in every way, from his gestures, his look and above all, sings his music with nearly the same voice! Same situation here, but with the artist Jimmy Love who has the similar talent to perform the huge musical repertoire of the British singer Elton John, as much as possible close to the reality! Close your eyes and you would undoubtedly feel as if you were in front of the real one… By Alex Plato
---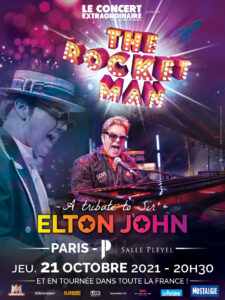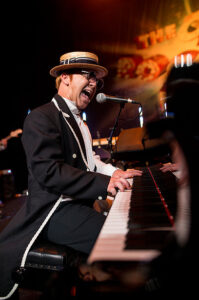 Maybe you've already met the authentic Elton John during one of his countless concerts or when he was in Paris last September 2021, as part of the Global Citizen Live charity festival, on the Champs de Mars? If this is not the case, the Richard Walter Production offers you the opportunity to fulfill this gap with the impersonation of your idol by a breathtaking performer, in the person of Jimmy Love (photo credits: Richard Walter Production).
That's why, we invite to do not miss gain this possibility to attend an other amazing tribute concert in France, where all details are checked to illustrate the best of Elton John's colorful personality on stage. In fact, this is a real challenge taken up by Jimmy Love and his orchestra, since it's not an easy task to embody a famous singer such as Elton John, and in all his different periods and styles.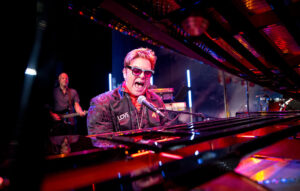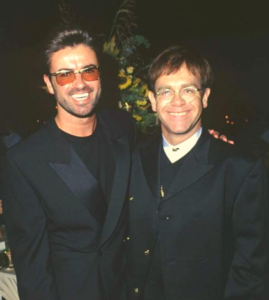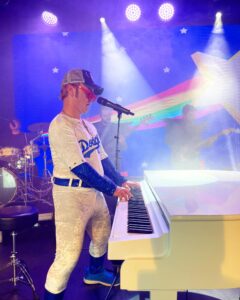 In order to make this option possible, Jimmy Love had paid many efforts to wear all the physical and mental facts of his idol and finally looks unrecognizable in the character, displaying a considerable energy at the disposal of his audience in this a unique and unmissable show. Indeed, Jimmy Love would naturally, after countless of hard work, take you on a journey full of surprises and eventually some decadence!
During nearly two hours, you could appreciate the flamboyant and eccentricity of Elton John, along an identical voice and presence that would you surely confuse your recognition of this true pop legend, strong of multiple Grammy Awards acclaiming his hundreds of hit songs.
Therefore, don't miss those numerous iconic references inside "THE ROCKET MAN" experience, from "Yellow Brick Road", passing by "Crocodile Rock" to "Candle in the Wind", even "Your Song", or the latest acts of "Sacrifice" and of course "Rocket Man"! More information about the tour dates and booking options on the official website.
LILLE / SEBASTOPOL – 20/10/21
PARIS / PLEYEL – 21/10/21
DATES OF THE 2022 TOUR :
AMIENS / ZENITH – JEU 28/04/22 – 20H00
CHALONS EN CHAMPAGNE / LE CAPITOLE – 29/04/22 – 20H30
AMNÉVILLE / LE GALAXIE – 30/04/22 – 20H30
STRASBOURG / PALAIS DES CONGRÈS – 3/05/22 – 20H00
MONTBÉLIARD / AXONE – 4/05/22 – 20H00
DIJON / ZENITH – 5/05/22 – 20H00
CLERMONT FERRAND / ZENITH – 6/05/22 – 20H30
LYON / AMPHITHEATRE – 7/05/22 – 20H30
ORLEANS / ZENITH – 10/05/22 – 20H00
RENNES / LE LIBERTÉ – 11/05/22 – 20H00
NANTES / CITÉ DES CONGRÈS – 12/05/22 – 20H00
CHATEAUROUX / LE MACH 36 – 13/05/22 – 18H00
BORDEAUX / ARKÉA – 14/05/22 – 20H30
NARBONNE / ARENA – 15/05/22 – 18H00
NICE / ACROPOLIS – 17/05/22 – 20H00
MONTPELLIER / ZENITH – 18/05/22 – 20H00
TOULOUSE / ZENITH – 19/05/22 – 20H00
MARSEILLE / LE SILO – 20/05/22 – 20H00