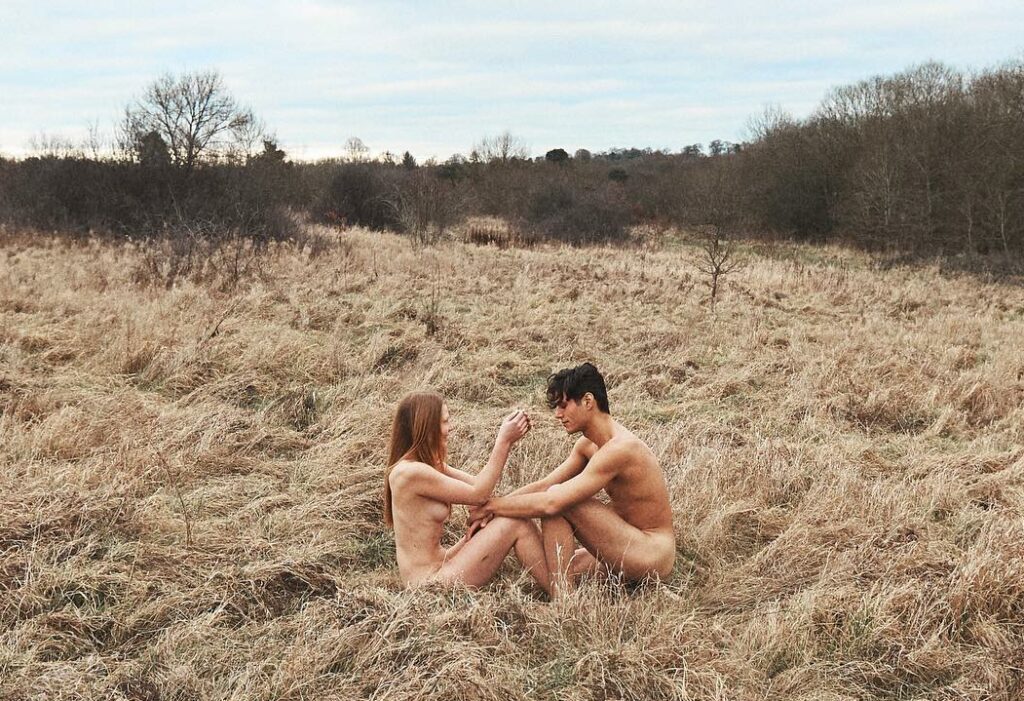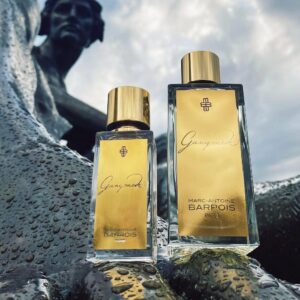 A couple of times after an award obtained at the legendary Fragrance Foundation Awards, honoring the know-how and talents of the Ganymede perfume, by a renowned industry prize, for more than 20 years. Marc-Antoine Barrois comes back this year to bewitch his fans, with his new Encelade creation, joining his own selection of fine fragrances, as well postulating soon to become again the spirit of the year.
Thus, Marc-Antoine Barrois got a major recognition in 2020, for his Ganymede olfactory jewel, which was rewarded with this promising Prize intended for the Best Fragrance from an independent Niche Brand, the time of this annual Fragrance Foundation gala. By the way, this Experts Award for the Author's Perfumery is made up of a bunch passionates, coming from several composition companies, also members of the Fragrance Foundation France, along a group of journalists specialized in perfumes. In order to be more transparent and to help the juries to break a tie among these 400 confidential perfumes, launched every year on the French market, during a whole year, we can count on three different categories of prizes.
Thus, you could go through the Professional Award for Selective Perfumery, the Experts Award for the Author's Perfumery, in partnership with the Voici magazine and the Public Award for the Selective Perfumery and Other Circuits. Moreover, a new trophy was created in 2020, the Responsible Innovation Award for a Perfume, aiming to celebrate the responsible commitment of this olfactory sector, supported by the Generali company. By AL
---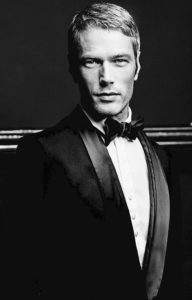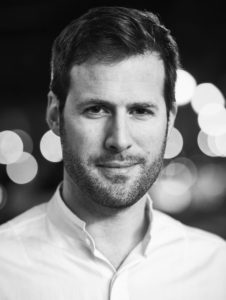 Following our previous articles on niche perfumes, we are glad to introduce here the French winner of the 2020 edition of the Experts Award for the Author's Perfumery, honored by the Fragrance Foundation France. Thereafter, beyond a blind vote to facilitate the construction of the nominee fragrances, a majority of the jurors was pleased to attribute this professional recognition for the amazing niche perfume imagined by Marc-Antoine Barrois, greekly baptized Ganymede. Nonetheless, this fragrance, imagined under the aegis of this inspired French couturier pursues a personal scented project initiated in 2013, with a first showroom inaugurated in the northern part of Paris.
Furthermore, after a solid fashion formation along a bunch of famous personalities, counting on Dominique Sirop, Jean-Paul Gaultier for Hermès and Jean-Claude Jitrois, this native stylist and artist from Lille, obviously revealed his wide palette of talents, making him as a genuine creator with a own signature style.
Therefore, deeply aware of his proper potential,
Marc-Antoine Barrois
decided to lead his own
way
and eventually paid many efforts to offer a whole selection of personal
productions
, also through some
collaborations
. From this moment, his followers could discover his
artisanal
and
luxury
imaginary, through a variety of
Haute-Couture
masterpieces cautiously selected along
jewelry
and
accessories
elements (photo credits: MA Barrois).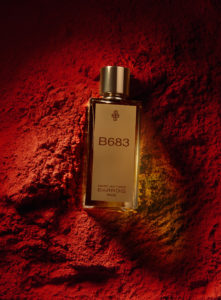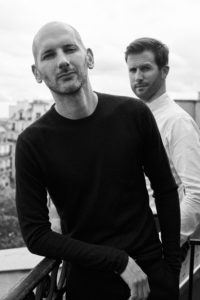 Lately, the recent ambition of the couturier resided in a scented collection, nowadays structured around three perfumes. Indeed, lately his last project Encelade joined its two siblings Ganymede and B683 (as the name of an imaginary planet, like the Little Prince's one B612). Three name codes for three critical successes, especially for the late Ganymede which was already honored by respectable prizes.
Based on this statement, as an independent brand, it was such an intense gratitude for Marc-Antoine Barrois to be granted with one of these illustrious awards for Ganymede, his second fragrance. For your information, Encelade follows a series of olfactory collaborations realized in partnership with the perfumer Quentin Bisch, who also collaborates for the perfumery company Givaudan.
This talented Nez has as well gained notoriety for many of his contributions, such as the scented creations of Angel Muse and A*Men Ultra Zest for Mugler, Azzaro pour Homme with the FreeLight limited series, Missoni for Missoni, Ambre Impérial for Van Cleef & Arpels, among others…
---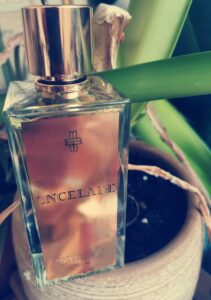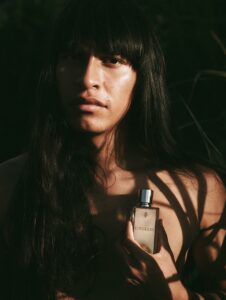 Two years after the obtention of the IFF prize in 2019 with his previous perfume Ganymede and the creation of B683 in 2016, the inspired couturier Marc-Antoine Barrois once again associated with the perfumer Quentin Bisch, to offer a brand new woody green and leathery evocation of some imaginary sort of "lava and ice" jungle, full of multiple wild inspirations. In fact, you could naturally appreciate an abrupt contrast between those smoky leather and acid greenness aspects, eventually representing a certain style of Quentin Bisch, melting between dark, woody, and fruity notes (photo credits: Roberto Greco).
As far as we know, this prolix duo once again wished to explore the antique times with the representation of the giant Enceladus, which was killed by Athena.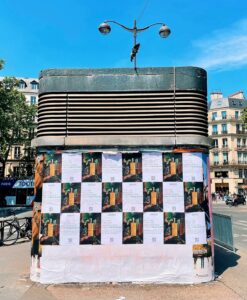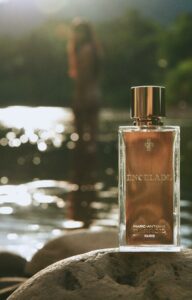 This son of Ouranos and Gaia, embodied a certain form of character and rebellion, and seems to have been buried under the Etna volcano, in Sicily. In the meantime, the name of Enceladus was also given in 1789 to a mysterious satellite of the Saturn planet.
Nonetheless, you may certainly imagine a certain representation between fire and ice, as inspiration to suggest the spirit of lush nature. In order to make this possible, a delicious rhubarb touch, was employed to melt with cedar and vetiver. In another hand, you couldn't miss a smoky leather and animal accord, thanks to a fusion between sandalwood and tonka bean. Last but not least, you have to know that Marc-Antoine Barrois hired the photographer Roberto Greco, for the visual identity of this gem, whose golden reflected flask was decorated by the sculptor Jean Boggio.
Encelade is an Eau de Parfum, 95 euros/30 ml, 175 euros/100 ml. More information on the official website and the closest stores to find these products!
---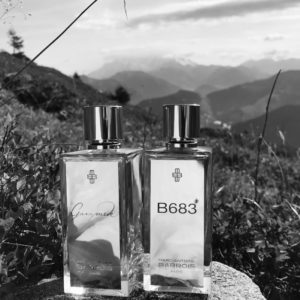 Awarded in France alongside some famous perfumery players, such as Etat Libre d'Orange brands, Juliette Has A Gun, Maison Rebatchi and Matière Première Parfums, the unexpected Ganymede stood out and shined bright as an unmissable fragrance, a few weeks after having received the homolog Extraordinary Perfume prize from the Fragrance Foundation UK, in London.
A rich path for this newly born Ganymede in 2019, which is now available in 134 independent perfumeries spread throughout 37 countries and dedicated for men but also women. Indeed, either acclaimed by ladies and gentlemen, this juice has been experiencing since its launch an unusual success, thanks to a clientele of men and women seduced by this elegant niche perfume. This jewel relies on a real alchemy between different surprisingly compatible flavors of Italian mandarin with saffron as fresh head notes, followed by a leather-suede warm heart of violet and Chinese osmanthus, before a wedding between immortelle and akigalawood, in the base notes.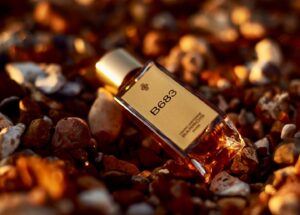 We have to admit that this ensemble suits altogether and pursue an expressive leather alloy, initiated by the first scented edition of Marc-Antoine Barrois, the so-called B683.
As a matter of fact, this first beautiful fragrance was a great birthday gift for his 10 years of career in fashion industry… The result was a nod to the timeless and charismatic elegance of his mentors delivered along his fondest memories since his tender childhood. Subtly combining the refinement of woody essences, the sensuality of spicy notes and the bewitching scent of leather, this B683 was the first collaboration with the avant-garde perfumer Quentin Bisch signing here a perfume supposed to be of an intoxicating wake, and representative of the main side effects of his spirit…
According to Quentin Bisch: "It's all about creating an emotion, a surprise or inviting to travel."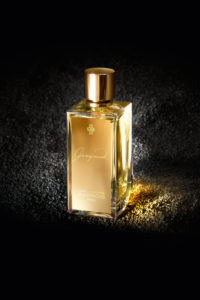 Although, for this Ganymede creation, the goal was to invent a seductive juice, so was Ganymede in the Antiquity when he was supposed to be the Zeus' lover. An explicit sensation of sex-appeal guided by the soft encounter of the fresh violet flower with the tangy mandarin, which is the main essence that imposes its original citrus pace in this fragrance's personality.
Nonetheless, as you can see, this complex composition enjoys playing on contrasts since you could also find some wooden and mineral base notes, particularly featured by the presence of this immortelle flower and the akigalawood. Unless this latter is a laboratory derivative, conceived by Givaudan to recreate the patchouli essence, after an enzymatic extraction, this mix has been able to stimulate a visible counterpoint from the rest. Along his personal wishes for an olfactory daily basis, Marc-Antoine Barrois also keeps in mind to keep on following a certain virtuous perfumery, notably through a series of concrete policies, such as the removal of BHT (also known as butylated hydroxytoluene, often disputed as it's used as a preservative), UV filters and cellophane, for instance.
Indeed, the natural stability of this juice had been possible thanks to several natural essences and the decision to upgrade the concentration of the inner perfume to a high rate of 25%. That's why, you could in a sense, admire its pretty golden robe which, of course, may change over time into multiple shades, still without requiring to the addition of any colorants… We wish you a nice journey full of senses!
Eau de parfum 95 euros/30 ml, 175 euros/100 ml. More information on the official
website
and the closest
stores
to find these
products
!
---