Learn more about French and Occitanian gastronomy in Narbonne with Les Grands Buffets, the largest restaurant of France!
11 min read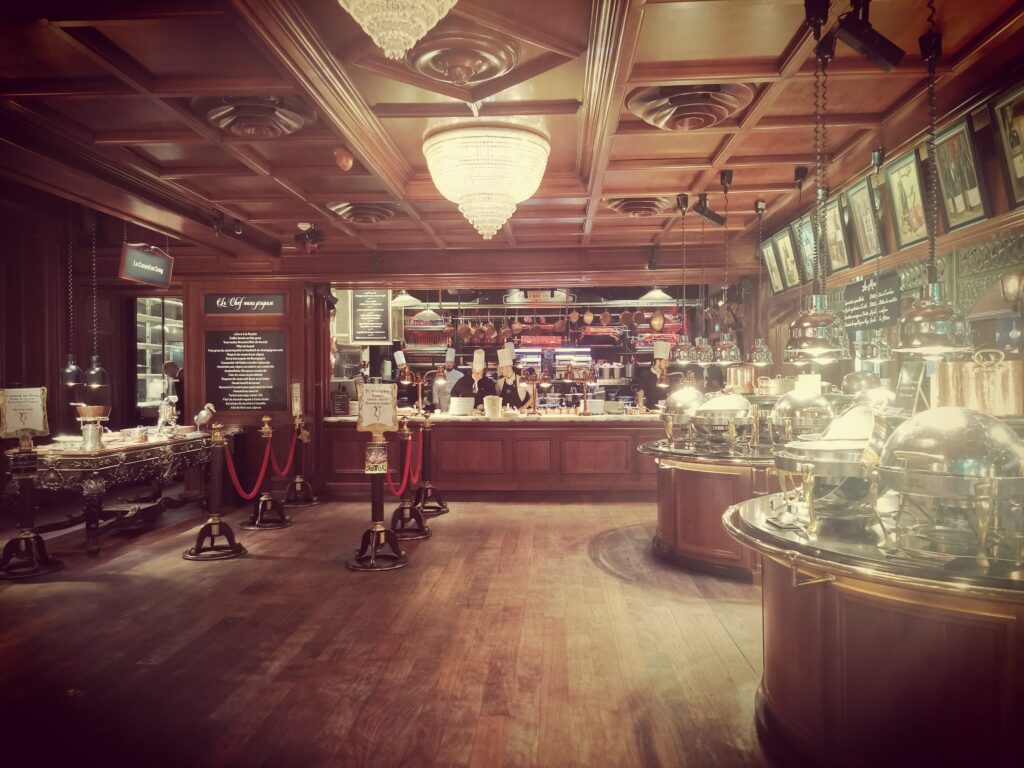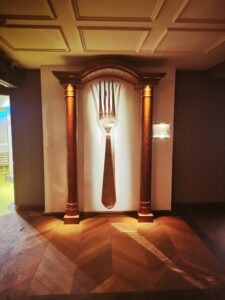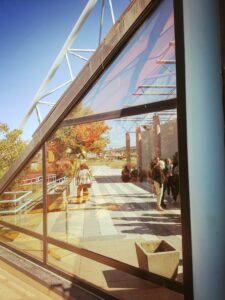 Have you ever heard about the Temple of French gastronomy, based in Occitania? Established in Narbonne since 1989, thanks to the initiative of Jane and Louis Privat, the restaurant Les Grands Buffets is able to bewitch any guest with its avant-garde concept and gigantism.
Therefore, the ambition of this giant restaurant is clear… Nested in a 80s resort, colliding an outdoor municipal swimming pool, this structure is able to host no less than 1000 gourmet customers per day, spread in two courses and five thematic lunch halls. The key of its success somehow resides in a golden triangle, that fulfill different requirements and expectations, of lending accessible and at your own discretion, the various codes of luxury and high gastronomy. In the same time, you could get offered the opportunity to discover emblematic dishes from French and Occitanian cuisine, through a traditional repertoire.
Thus, once entered into the place, you couldn't miss the epicurean spirit from Rabelais, whose motto told by Gargantua is displayed at the wooden entrance, inviting any of us to "Do what would like". By AP
---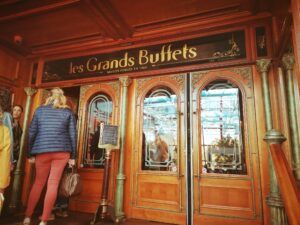 This winning formula conveys Les Grands Buffets to be considered nowadays as the leading restaurant in France, in terms of frequentation and turnover. Adding to this, for more than 30 years, its reputation of unmissable culinary meeting point has been constantly increasing, and even by crossing borders, since more than 60% of the 363,000 annual customers of the restaurant, come from all regions of France and abroad. If you want to have a chance to live this unique experience, remind that you need to book your venue at least a couple of weeks before (photo credits: AP).
More than a "all you can eat" concept with a unique formula of 52,90 euros, Les Grands Buffets proposes an authentic immersion into a certain French lifestyle and gastronomy.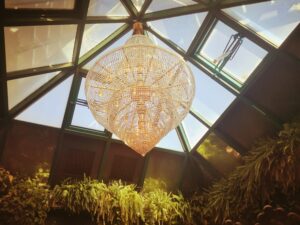 Beyond multiple eponymous big buffets, full of various delicious food specialities, stand a real gastronomic know-how and an invitation to explore the delights from the Occitanian region. Indeed, at least 50% of the proposed products are sourced from short circuits and local producers, that are cooked in situ. This is also the case for the wine menu, since the 70 listed references only come from local winegrowers, apart from the Piper Heidseick champagne. Icing on the cake, the soft but also alcoholic beverages are all proposed with a producer price. Then, don't worry about spending price tags for your wines, with even the possibility to get your lunch bottle offered if you buy a take-out box of 6 bottles from the same reference. By the way, Les Grands Buffets received in 2019 the Special Jury Prize for the most beautiful wine list served by glass (thanks to a machine), as part of the Tour des Cartes.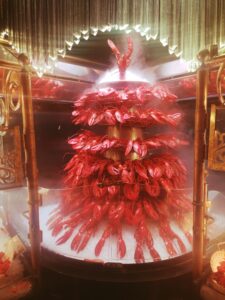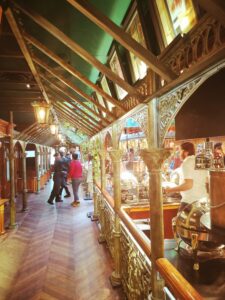 This famous wine list competition is organized by the specialized magazine Terre de Vins, whose jury was chaired by Philippe Faure-Brac, as well renown as Best Sommelier of the World in 1992. A good occasion to support the local production, while eventually bringing back some souvenirs from Occitanian vineyards. Thereafter, you could undoubtedly combine your glass of wine with some of the most illustrious specialities from traditional French cuisine, in the pure respect of the ritual of the arts of the table, which were consecrated in 2010 by UNESCO, as Heritage of Humanity. Eventually starting by a huge seafood section, naturally due to its geographical proximity, welcoming with an amazing mountain of lobsters.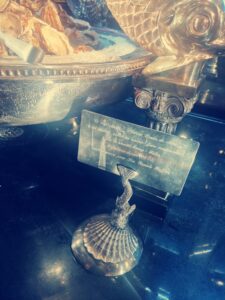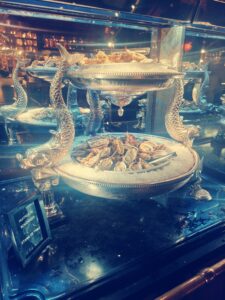 Don't hesitate to help yourself from the regional oysters, extracted from the nearby Étang de Thau, introduced in a majestic silverware display. In the same mood, a seasonal selection of countless shellfishes and small fishes, cooked in salads or jellies, need to be cautiously selected, along edible crabs, lobsters and even a homemade fish soup.
Thereafter, why don't you try the selection of pâtés en croûte, as novelty from Autumn 2022? Those traditional French pastry meats collide with the nine different types of foie gras proposed filled with truffles, peppers, Armagnac, figs… Your appetizer selection may be completed by 9 cut hams, matured with different affinages, in parallel of other regional products to taste, either in salads or raw forms.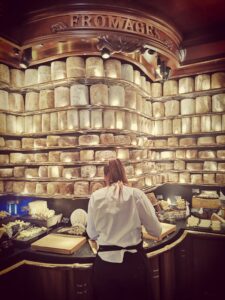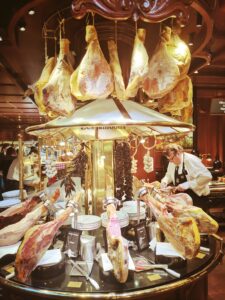 On top of that, those aliments need to be accompanied with various bread toasts, to grill in the machine at your convenience. In fact, this is a good transition to introduce you the exceptional cheese buffet that joined the Guinness Guide to Records in 2021, approved as the largest cheese platter in the World, to be found in a restaurant.
Indeed, since December 2018, this incredible part of the buffet guarantees at least 111 species of cheeses from all over the World, even oscillating between 116 and 124 references, all skillfully highlighted by two cheesemaker masters, David Marrant, master dairyman of the restaurant, Xavier Thuret, as Meilleur Ouvrier de France, and with the help of the L'Affineur du Chef team.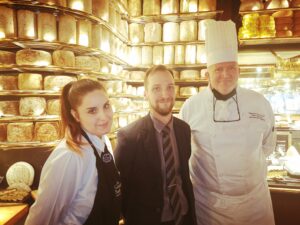 Therefore, in this countless choice of cheese gems, you would face them as all classified (with a take-away sticker) regarding their origin, intensity or their particularity (whatever they're soft, blue, pressed, bloomy, washed, young, in-between or out of age, made from goat, sheep or goat).
You could either find in this incredible gastronomic journey through Occitania (so to say Régalis, Margalet, Goustal, different types of Pelardon, Picodon, Perail de brebis, Therondels, along various varieties of Roquefort, but also Laguiole, Rondin, Mont de Lacaune, Brique La Bergère…) and more globally France (Comté from Haut-Doubs, Cantal, Reblochon and Salers produced by small farms, in parallel of Camembert, Brie, Marcelin, Félicien, Nectaire…), but also Europe.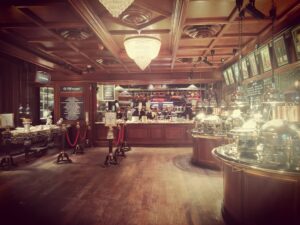 Thus, the great cheese-producing countries of Europe are also honored, such as Feta, Ladotiri and Graviera from Greece, nearby cumin flavored Gouda from Holland, or Gorgonzola, Taleggio, Peppered Pecorino and Roccolino Nero from Italy, without forgetting Stilton from England, the illustrious Tête de Moine from Switzerland, plus Manchego and Cabrales from Spain, among many others.
This cheese paradise could be a good introduction or aftermath regarding the important profusion of hot dishes, available on self-service or upon request. Indeed, your curiosity may be undoubtedly stimulated by the row of silver bells, preserving the heat of emblematic French dishes, varying depending on the season, like the Tête de Veau, frog's legs, boar civet, but also more local specialities including the Seiche à la Sétoise…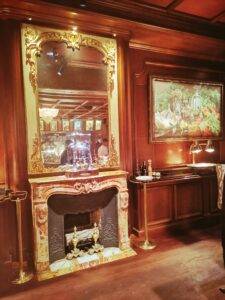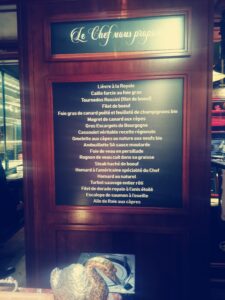 Therefore, the entertaining à la minute counter would make your gourmet wishes come true, with a selection of various French ancestral specialities, prepared in front of you. Once again, this list may vary according to the Chef's inspiration, but you could surely find lobsters, wild turbot baked in oven, tournedos Rossini, the authentic Cassoulet and also the illustrious Andouillette!
In the same zone, don't miss the three culinary novelties, as heirs to the greatest French tradition, with Le Canard Au Sang, a dish dear to Louis Privat who even had acquired at auction, in 2016, the famous duck press from the Tour d'Argent restaurant.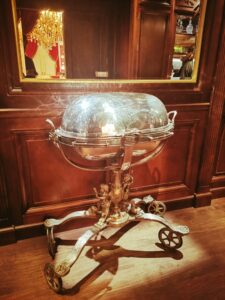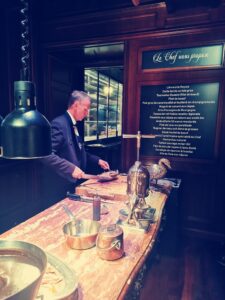 Thus, this Parisian address originally used to serve upon reservation this endangered monument of French gastronomy, whereas it's served every day in Les Grands Buffets, elaborated under the eyes of the customers, in accordance with the ancestral ritual of the Master Canardiers. On another hand, the Lièvre à la Royale is another treasure, inspired by a 19th century recipe, to discover along poached foie gras in its porcini and mushroom broth.
Adding to this, ribs of beef are as well proposed from the spit (along lambs, suckling porks, and kidneys), after being presented and cut in front of you on majestic game tables, adorned with heavy marble trays. This space is a real ode to the 17th century times, when dishes used to be traditionally showed to guests of honor, especially during the Renaissance times.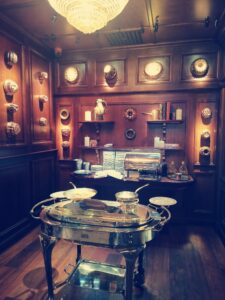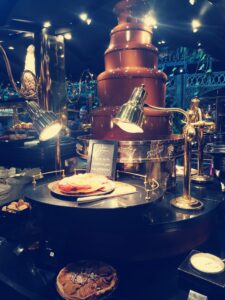 On top of that, don't miss the selection of 80 desserts which are offered, including pastries, fresh fruits, pies, entremets, cakes, featuring essentials from French pastry, prepared by the seven pastry chefs of Les Grands Buffets, like Saint-Honoré, Paris-Brest, Opéra, Tropézienne, macarons, whipped cream éclairs… All this to be completed with other traditional sweet recipes, like organic caramelized baked apples, organic chocolate mousse, but also rice pudding, even the legendary Tarte Tatin along other flambéed desserts, to ask from your burning host standing behind an elegant silver trolley. For your information, this masterpiece comes from the Negresco Hotel in Nizza, and is useful to flame the delicious Crêpes Suzette, unless your prefer flambéed bananas or Norwegian omelettes.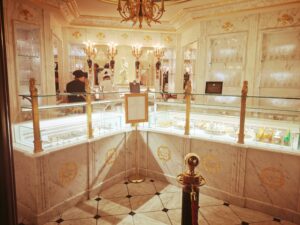 As a surprise may hide another, you're invited to discover the brand new ice cream kiosk, simply named Le Glacier, decorated with a baroque style, reminding some Venice tea salons. In this sparkling tiny corner, you could get served again several frozen specialties, naturally including the great classics of iced French desserts.
We could enunciate Peach Melba, Poire Belle Hélène, Coupe Mont Blanc, Profiteroles au chocolat, but also iced cocktails with Coupe Colonel or Irish Coffee served with a homemade whipped cream. Not to mention other frozen delicacies, like frozen nougats or fruits but also the mandatory Trou Normand, as a shot of Calvados spirit with an apple bowl, to help your digestion!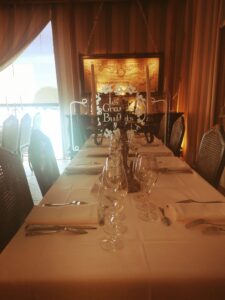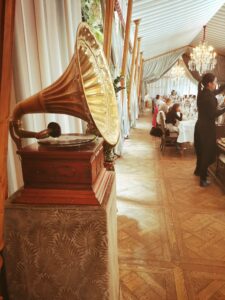 Moreover, Les Grands Buffets has paid many efforts to welcome you with the finest conditions, eventually duplicating the luxury codes at any table you could seat. For instance, an extreme care is given to a friendly and professional service, along an elegant tableware, starring white cotton tablecloths and large embroidered napkins, along some cutlery for fish, silverware and even decanted wines, to initiate or recall you the spirit of gastronomic restaurants.
This is such a continuation from the traditional ritual from French service associated to ancestral recipes, even coming from the Middle Ages when long dinners were organized, around gargantuan buffets and a preciously decorated table. A certain elegance that pursued in the 19th century, with this ceremonial that was recalled as "the French service".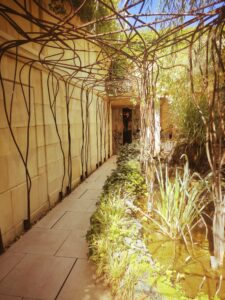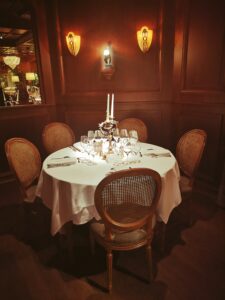 Therefore, Les Grands Buffets represents such a veritable conservatory of the multiple food specialists that could count such a restaurant, with its 210 employees including 80 cooks, spread from the functions of scaler, cook, roaster, saucier, butcher, creamer, refiner, baker, pastry chef, chocolate maker, confectioner…
On another hand, as a true art enthusiast, Louis Privat, founder of Les Grands Buffets, wished to introduce other professions inside his establishment. For instance, many artworks, coming mostly from local painters and sculptors, along random decorative arts are visible in and around the different rooms of this restaurant.
"I have always thought that Art should be shared and not only celebrated in museums. This is why I am committed to ensuring that Art, in all its forms, lives and is part of the essential ingredients of the experience offered by Les Grands Buffets" says Louis Privat.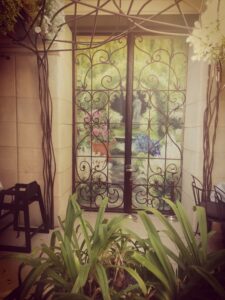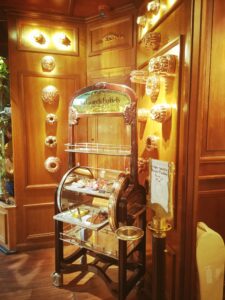 This artistic journey gives the tone between the different lounges that celebrate a particular artist. For example, in the Ann Carrington Room, an original artwork was accomplished by this artist sitting in the central showcase, while another version is displayed in a British Museum.
Adding to this a unique collection of silverware would guide you through a certain history from tableware., all around your dining table with at least an elegant chandelier. Just behind, the new corridor baptized from the pastelist Alain Belanger, whose paintings are exhibited in the restaurant.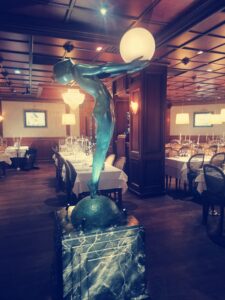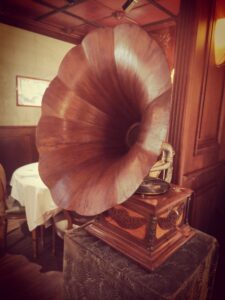 In another hand, the Salle Max Le Verrier presents magical sculptures achieved by this artist, including the famous "Clarté" piece, a 1m70 high masterpiece displayed in the center of this true Art Deco room.
Just surrounded by the Hervé di Rosa gardens, in honor to this Sète native artist who created the Foumban tribal sculptures around the vegetated fountain. This Mediterranean garden is only open a few months a year, according to the weather, and reflects various amazing (natural or not) play of lights to contemplate.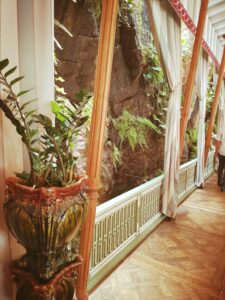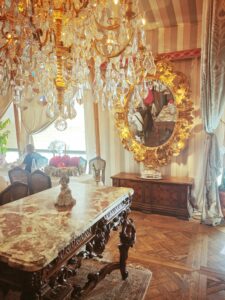 In another style, the Jean-Baptiste Nolin ceremonial tent opts for a flamboyant baroque style, even exhibiting an authentic map of the Canal du Midi road from the 17th century. Named under "The Royal Canal", this map was illustrated by the official cartographer and engraver of King Louis XIV. This atypical space is adorned with a vegetalized wall, sculpted by hand, and a view above a swimming pool.
The last 2022 update is the golden Salon Doré Jean de La Fontaine which offers a refined luxury of gilding in a neo-classical atmosphere, a luminous room dedicated to Jean de La Fontaine. Indeed, 2 portraits and 12 from his most illustrious fables of this poet illustrate some painted panels inside this new dining room, somehow recalling the splendor of opulent castles.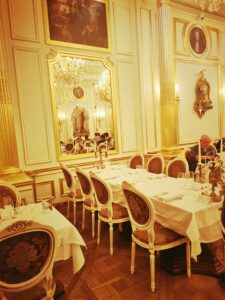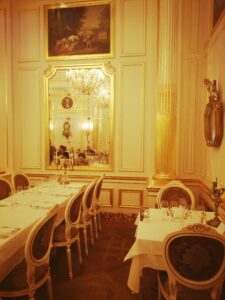 A realization that was signed by the respectable companions of the Ateliers de France, whose skills are specialized in the renovation of ancient important French monuments, such as the castles of Versailles and Chambord, but also more recently the Hotel de la Marine in Paris.
For your information, no less than 18,000 gold leaves were required by the Mériguet-Carrère and Louis Del Boca Ateliers to highlight those countless moldings, in order to perpetuate the traditions of styles and French techniques.
Without forgetting a display case that houses rare porcelain, deposited by the famous Maison Haviland from Limoges, enlightened by 5 custom-made chandeliers made in bronze, crystal and gold (including 1 monumental central Louis XV style chandelier with 60 sconces, 2m60 high and 2m in diameter ) that illuminates this room, covered with Versailles parquet flooring in solid oak.
Les Grands Buffets
, Espace de Liberté, VC Giratoire de la Liberté, 11100 Narbonne (France) / Phone: 00 33 (0)4 68 42 20 01. Entrance under
booking
from 12pm until 1.30pm and 7.15pm until 9.15pm, more information on the official
website
.
---