Let's taste a different Corbières facet with the Château de Lastours' wines
6 min read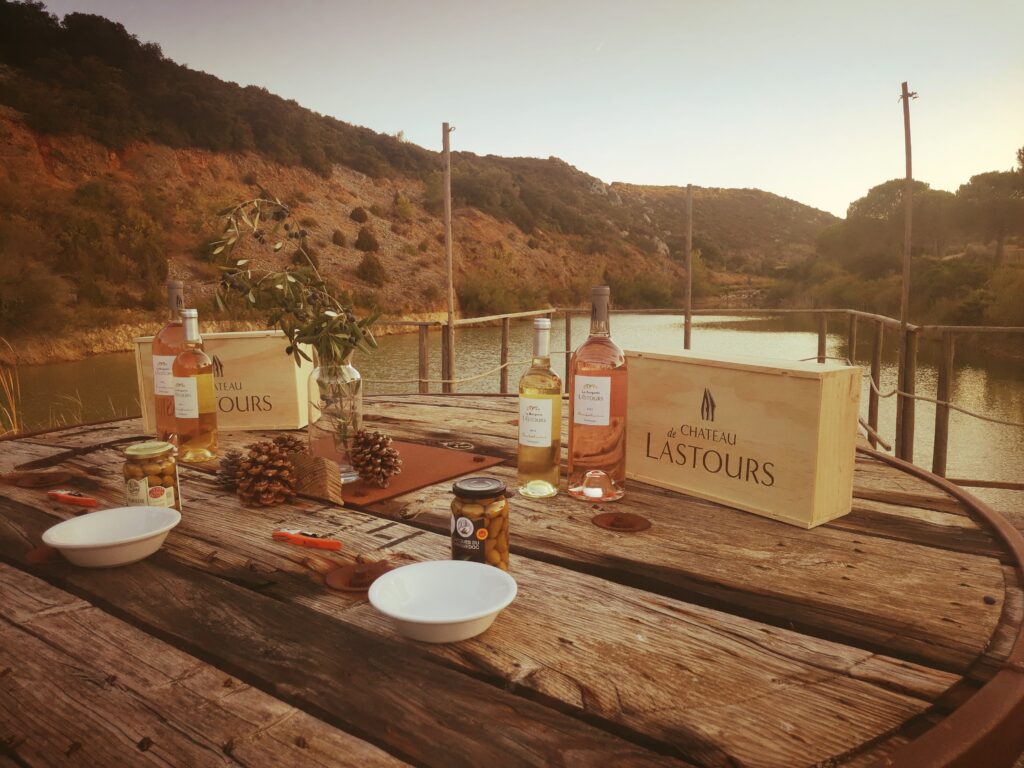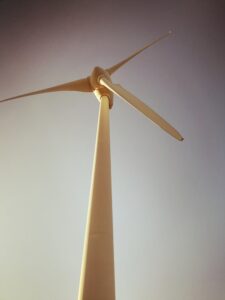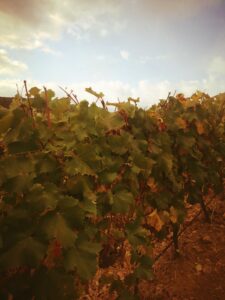 We start our Aude wine tour with the Château de Lastours, located in a charming territory in the heart of this department. A hotspot for wine tourism today, the wide territory of Lastours has always been a land of stopover in the heart of the Corbières territory at the dawn of the first millennium.
The vineyard estate of Château de Lastours is spread over 850 hectares, where stands a great biodiversity, colliding with generous vines. Adding to this, a respectable amount of 4000 olive trees stand never far from vines and along a local vegetation, offer a dormer over a garrigue natural framework, between the Mediterranean Sea and the Corbières zone. On top of that, you could as well live the Lastours Experience, thanks to a wide raceways network of mountain road and off-road, beneath the hills. By AP
---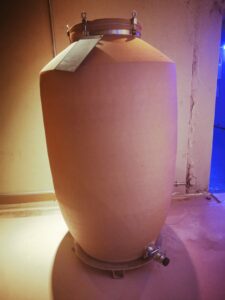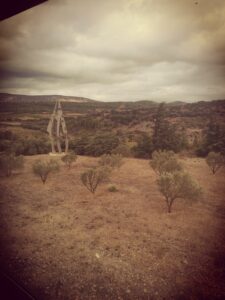 As far as we know, some garrisons were stationed in the settlement of this Château de Lastours and a fortress even offered a panorama over the rural roads, reaching the Domitian way. In order to welcome any traveler, the Castrum de Turribus was then built (photo credits: AP).
Unless it became over time the Château de Lastours, referring to its watchtowers which overlooked the Domitian way at this particularly dangerous place. From the 13th century until the French Revolution, these lands of polyculture (timber, cattle, cereals, vines) were supervised by three families of viscounts from Narbonne who were rich lords who lived very comfortably around the castle.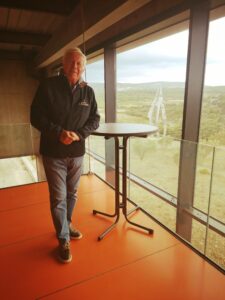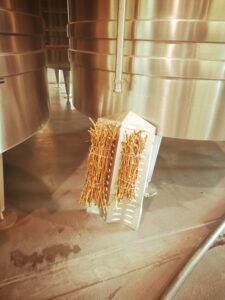 Confiscated in 1791 but sold in 1801, Lastours gradually started to host as elsewhere in the Corbières, countless vines during the 19th century. In this case, two successive families, the Calas and the Martins, both keen on botany and agronomy, paid many efforts to develop the growing wines of their property, notably with the employment of grafting methods.
From 1940, Lastours became the property of the writer Louis-Pierre Lesstringuez, before bein revived in 2004, thanks to the arrival of a family composed of wine enthusiasts. Their goal was to make this beautiful abandoned land great again, particularly with the implementation of organic practices, parcel selections, energy savings and of course wine tourism.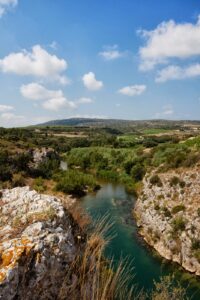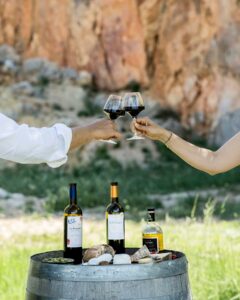 For your information, a specific effort was carried out by the Allard family who eventually collaborates nowadays with Thibaut de Braquilanges, a native winegrower from the region, proud of a long international experience. Therefore, his actual mission remains to promote, helped with his entire team, the wines and activities of Château de Lastours, both in France and abroad (photo credits: Lastours).
In its wide surface, the Château de Lastours, particularly since the arrival of the Allard family, has obtained a High Environmental Value classification which has been attributed by the Ministry of Agriculture and even certified in organic farming since 2020. Therefore, the different vines of the exploitation are cultivated within the respect of a certain sustainable agriculture.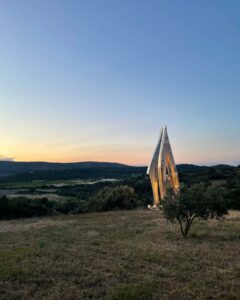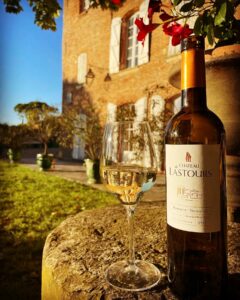 For example, each year, a couple of sheeps mow the exponential grass around vines, while eliminating any weeding need and naturally enriching the surrounding soil with their waste. Otherwise, bees are as well employed, since they are also essential for the floral pollination. That's why, the domain has decided to set up beehives from 2019, completed with the launching soon of a Lastours honey.
This responsible behavior is also visible in the production process, notably through an eco-friendly approach. With the use of contemporary aging barrels in a green winemaking cellar, the random impact on environment tends to be limited as much as possible. For instance, everything related to natural enlightment is privileged and even temperatures are controlled thanks to efficient insulation and ventilation.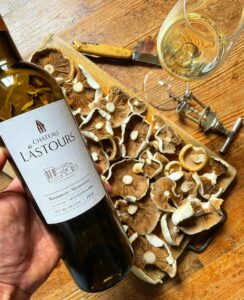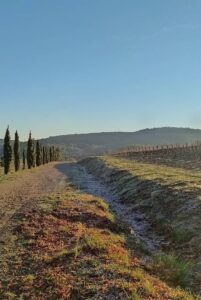 Without forgetting that the several cellars of the Château de Lastours are even equipped with modern devices, combining the latest technology, essentially in terms of design and ergonomics. This juice rolling works so well that this domain is able to reach approximately 450,000 bottles per year. Indeed, those unique wines reflect the true spirit of a real Mediterranean terroir.
Starting from this basement, we invite you to explore the different treasures of this Château de Lastours. Thus, its several wines are mostly recognized for their aromatic complexity and freshness. Many vintages are available, whether you opt for red, rosé and more recently white wines. Their grapes are born and evolve in the heart of a sunny scrubland, before being aged in oak barrels for some of their references. Depending on your mood and your experience, there should be at least one wine (or more) able to seduce your senses.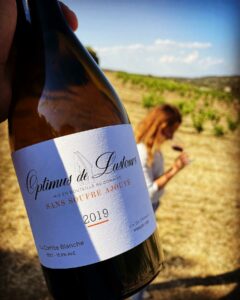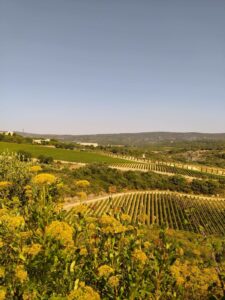 Among the wide variety of premium wines, let's focus on their Optimus cuvée 2019. This vintage is fully composed of the best local grapes of Carignan variety, without any sulfur added and was even aged during one year in amphorae. Indeed, in this plot, which is over fifty years old, grapes evolve with a rare balance, a high alcoholic degree and a low pH, all those elements designing the key features of this sulfur-free cuvée.
Here, grapes are manually harvested and this wine is obtained by following a method of integral vinification. Thus, fermentation and maceration take place directly in barrels, which are vertically placed. For your information, this method allows a precise vinification in small volumes and allow the expression of tannins without masking the inner aromatic structure.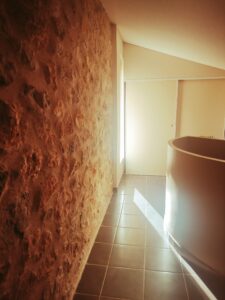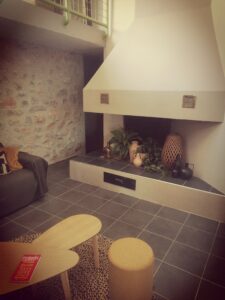 In fact, a particular hygienic care is operated at every stage of the juice production and especially during the one-year aging in amphora, before fining this wine with organic eggs from a regional farm. Apart from this and still located in the heart of the estate, settled between vineyards and scrubland, the Château de Lastours offers a set of B&B accommodation where you could enjoy a pleasant panorama. Organized around the 2 typical villas called "Laurède et Aladères", they wear a contemporary design, equipped with wide bay windows and sometimes exposed stone walls.
For instance, 12 rooms are proposed with a magnificent view of the Valley. Those private spaces hold reversible air conditioning, a private shower room, TV and free Wi-Fi access.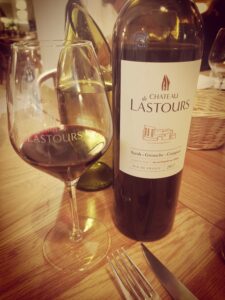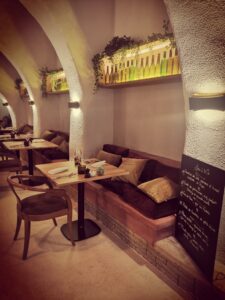 Apart from this, don't miss the regional menu proposed by the restaurant La Bergerie, open from Thursday noon to Sunday noon. In this vaulted stoned restaurant, you could appreciate some market menus, prepared by the chefs David and Renaud. A good opportunity as well to discover the random wines from the property, associated with fine dishes, served in an authentic framework. In this real trip back in times, with those vaulted ceilings, and a bright overview about the different ranges proposed by the domain. Whether you opt for a Vin Biologique, a Grand Vin du Languedoc or even the Bergerie de Lastours (with AOP Languedoc for the rosé, starring Grenache and Cinsault and an AOP Corbières for the white wine, featuring Roussanne et Vermentino), you could find the right wine for your lunch.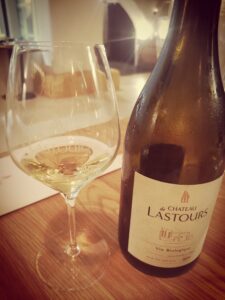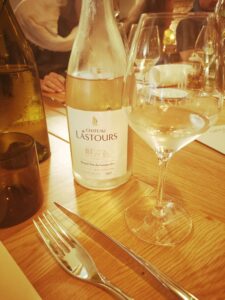 The Cuvée Le Château de Lastours may be conserved for some years, with a white AOP Corbières version, composed of Roussane and Vermentino grape varieties, along a red AOP Corbières edition, with Syrah, Grenache and Carignan elements, aged for 12 months.
In another hand, the Grande Réserve Rouge AOP Corbières holds notes of Syrah, Grenache, Carignan and Mourvèdre grapes, from more than thirty years old vines, in the heart of clay-limestone and stony hillsides, exposed to a certain rising sun. Submitted to a maceration of around 4 weeks, this juice reveals blackcurrant and raspberry fruits on the nose, with an elegant style, full of melted tannins.
Château de Lastours
, 11490 Portel-des-Corbières (France) / Phone : 00 33 (0)4 68 48 64 74. More information on their official
website
.
---