Have a tour into antique times with the Journées Romaines of Nîmes, the Musée de la Romanité and its Table du 2!
8 min read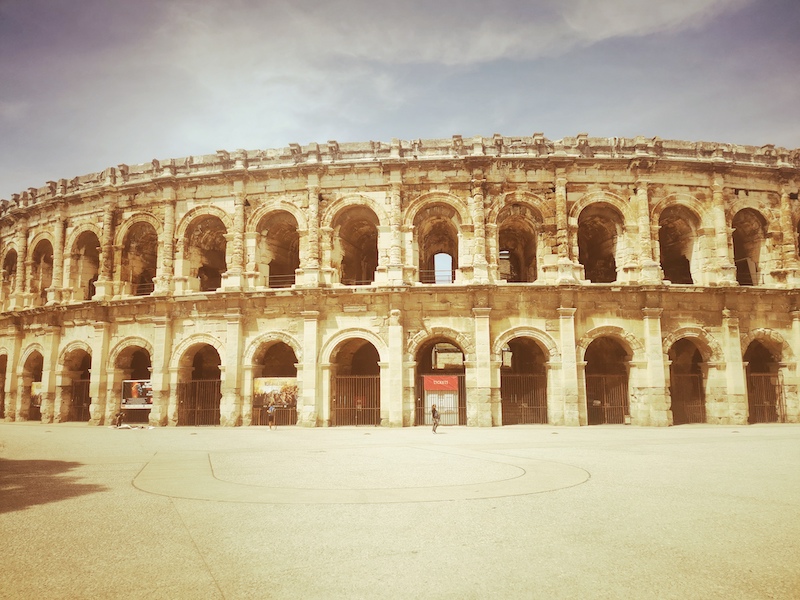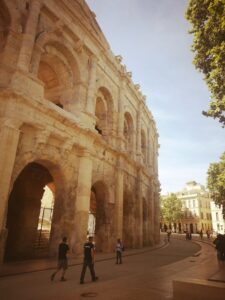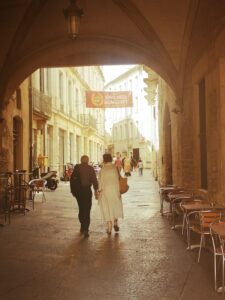 The unmissable Roman rendez-vous of historical reconstitution just took place again in Nîmes. Indeed, Les Journées Romaines offered 3 days of magic in your eyes, between May 6th to 8th, 2023, through several animations spread all around the city center of Nîmes.
Another good opportunity to discover this millenary city from the Occitanian region, that just opened its arms to numerous visitors from all over the World. Various possibilities to follow antique history from Roman Empire, through their traditions and eternal fights against barbarians and gauls. At this occasion, a selection of shows, historical re-enactments, were organized for a better immersion in the heart of those hard but amazing times. By AP
---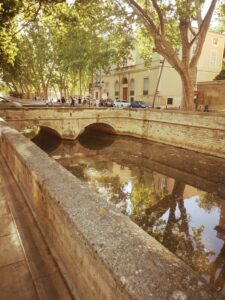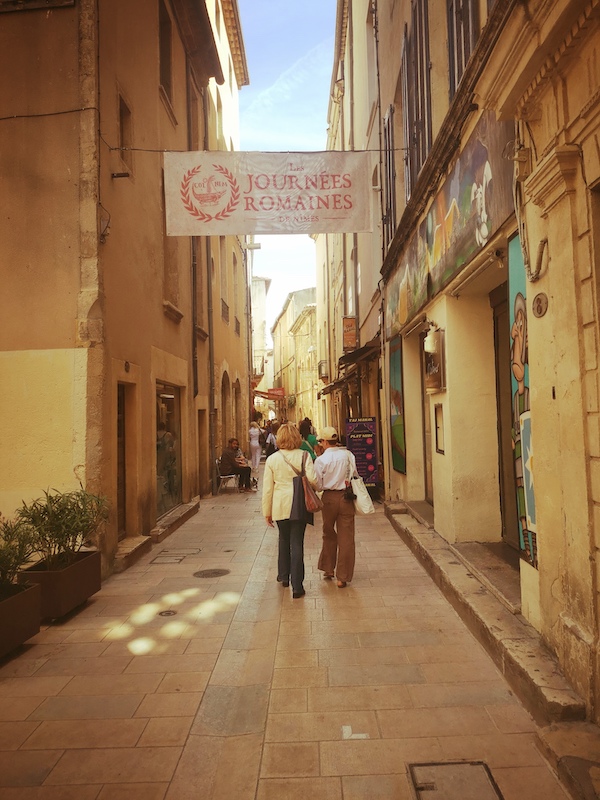 If you visit Nîmes, be ready for numerous historical and cultural spots, plus some entertainment all year long! Among those entertaining devices, we invite you to be ready for next year, to experiment the countless free activities prepared and accessible for you at the annual Journées Romaines (photo credits: AP).
For example, why don't you attend a preparation of a typical gallic meal and learn more about the foods and culinary practices mostly consumed by the Gauls? This is possible thanks to the exhibition of food samples, reconstructed objects and any other period utensils in the antique market but also in the Musée de la Romanité.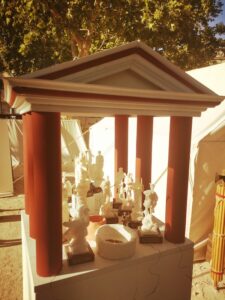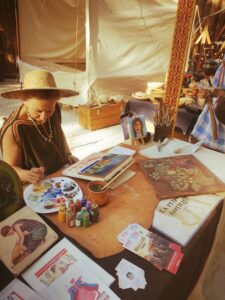 Unless you prefer discovering the different techniques and tools employed for woodworking and architecture, along arts and crafts related to tableware, basketry, but also demonstrations of gallic clothes manufacturing, including the random textiles employed.
Without missing a bright presentation of traditional beauty utensils and pharmacopoeia, either used by Romans and Gauls. By the way, some of the previously related animations are settled in the so called Fort of the Legionnaires. Surrounded by a fortified wooden fence, this large community space invites anyone of us to immerse into a true realistic Roman military and civil life, thanks to various activities, demonstrations and workshops.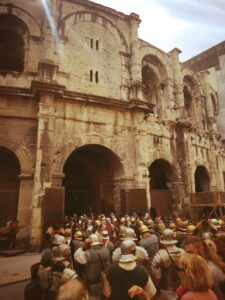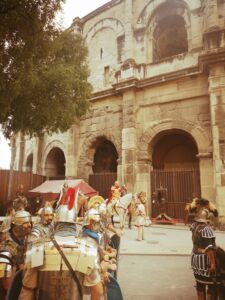 For example, we could enunciate the presence of the Legio Adamantina. On the menu, don't miss a deep introduction into the daily life of legionaries in a camp, but also live military exercises and different craftsmen's demonstrations, such as musical, sculpture, religious and even chainmail workshops, among many other surprises.
In the case you look for other types of souvenirs, why don't you have a stop at the antique market? Located in the large floral Esplanade nearby the train station, take the time to visit more than forty of stalls, transformed for the occasion into a real ancient Roman market, with the possibility to acquire a large variety of ancestral products, used during the Roman times.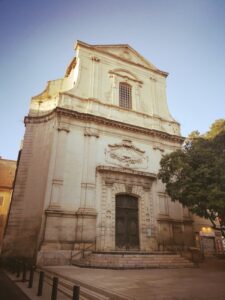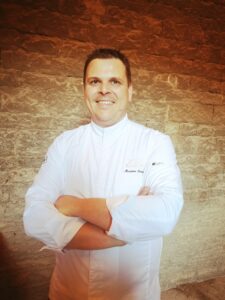 Among them, you could count on local gastronomic delights, gathered by the Roman banquet thematic, starring Roman condiments from the Taberna Romana company, revived Roman wines by the Mas de Tourelles, along Roman herbal teas and possibly the signature of the Roman recipe book written by Mireille Cherubini, baptized "Latin de Cuisine".
For more pleasure, you may as be seduced by the multiple reproductions of terracotta, representing multiple Bacchus figures, despite you let yourself tempted by customized legionary costumes or even board games about Romanity proposed by Acta.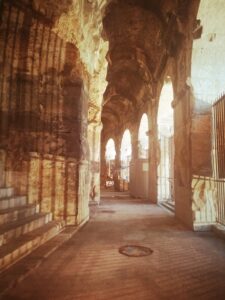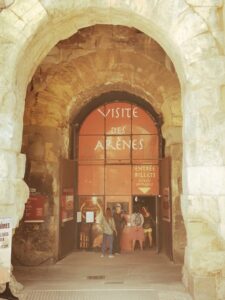 This market sits nearby the Gallo-Roman village, where also stands a couple of workshops, to inform you more about handmade traditions of Gallo-Roman ceramics, leather work, bronze, rope making, along falconry demonstrations, so to say buzzards, falcons, eagles, and even owls.
In a way, this historical path is an ideal introduction, especially if you plan to attend the so much awaited show in the Arenas. Indeed, at the occasion of the second year of management of the breathtaking illustrious Arènes of Nîmes by Edeis, three editions of the "Vercingetorix" reconstitution spectacle were shown off during those three festivities days.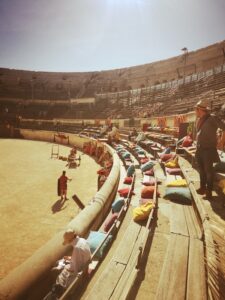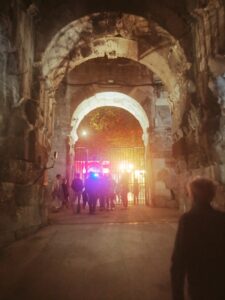 For your information, those Arenas of Nîmes host an authentic amphitheater (from a 133m length and 101m wide), dating from the 1st century AD, apart from eventually being one of the best preserved Roman sites in the World.
Mostly built with construction stones extracted from two quarries located near the city, named under Barutel and Roquemaillère, every passenger is undoubtedly bewitched by its exterior circular facade. Thus, this peaks at 21m high and composed of two levels of arcades, divided into 60 bays. On top of that, a system of vaulted galleries and radiant staircases reinforce the modernity of this monument, by allowing spectators to quickly gain their seating places.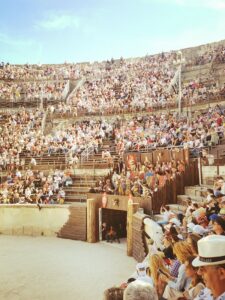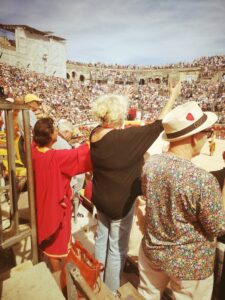 By the way, at its antique firmament, this amphitheater could have welcomed more than 20,000 people, separated to each other according to their social rank, invited to watch the endless shows offered by the local notables, in the hope for their reelection as a gratitude. Nonetheless, once inside, you may naturally observe that wherever you sit on those stoned bleachers, an incredible and large panorama is offered to you over the arena, from all sides.
Therefore, even 2000 years after its construction, those Arenas are still the theater of events and even corridas! During those Journées Romaines, a part from the Roman history gets offered to you with this "Vercingetorix" experience.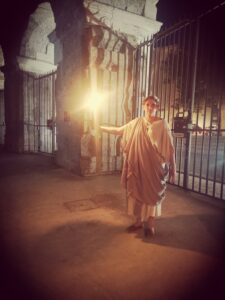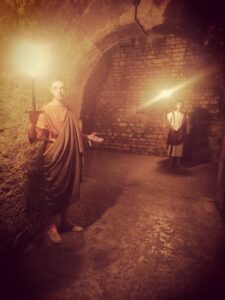 With the support of more than 500 re-enactors from all over Europe, that would act as realistic as possible like in the bygone circus games, as if you were there two thousand years ago. That's why, an overview from the tragic Gallic Wars would be depicted here, from Gergovie to Alesia, featuring the brave Vercingetorix battling against Julius Caesar and his troops.
In addition, but this time at night, some wanderings were planned, in small groups, in different areas of the city center but also theatrical tours of the Arenas, enlightened with torches were as well organized.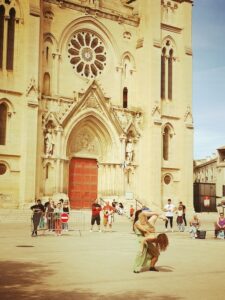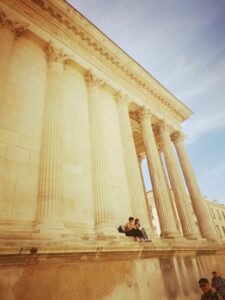 In another hand, if you just need to discover the old center of Nîmes, you could be accompanied by an official guide. The Tourist Office, whose employees are dresses in Romans at this occasion, offer an enriching visit, following its roots from Nemoz to Nemausus.
During two hours, a selection of unmissable historical sites get unveiled, around the first indigenous foundations from the late 6th century BC, passing by the Roman imperial sanctuary, the Augusteum and of course the Maison Carrée. This antique jewel is a Gallo-Roman temple which is an almost unique and intact antiquity testimony. Nowadays the monument is integrated into the urban landscape, displaying its brightness all around.
Arènes de Nîmes
, Boulevard des Arènes, 30000 Nîmes (France) / Phone : 00 33 (0)4 66 21 82 56. More information on their official
website
.
Nîmes Tourist Office
, 6 Boulevard des Arènes, 30000 Nîmes (France) / Phone : 00 33 (0)4 66 58 38 00. More information on their official
website
.
---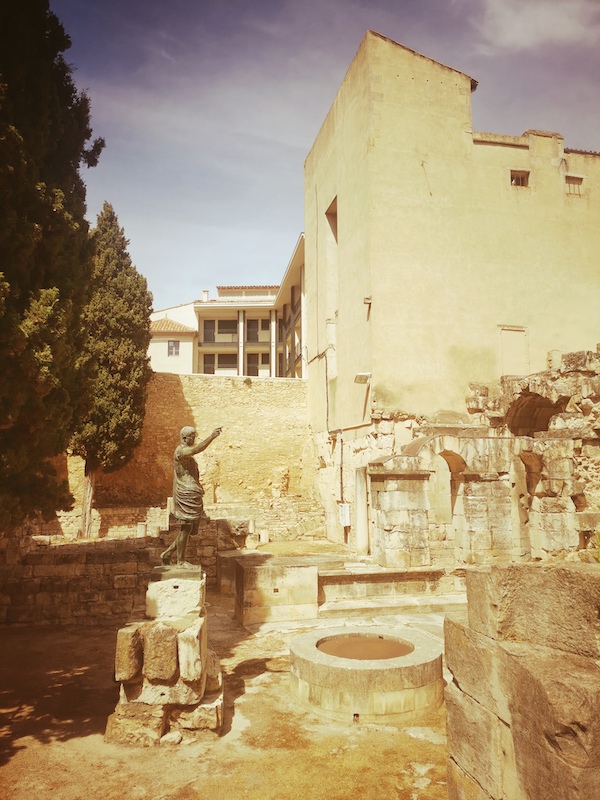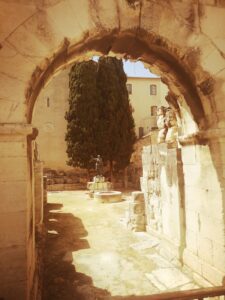 If you wish to get further into Roman times, we deeply invite you to have a tour inside the Musée de la Romanité is one of the largest contemporary architectural and cultural projects in France. Wished by Jean-Paul Fournier, Mayor of Nîmes, this innovative museum is bordered by a Mediterranean garden and a polyvalent living space.
In the exhibition part, don't miss the discovery of extremely rare mosaics during excavations, realized back on the Allées Jaurès. Therefore, the mission of this unique museum, signed by the architect Elizabeth de Portzamparc, would showcase no less than 5,000 artworks out of the 25,000 pieces that comprise the archaeological museum.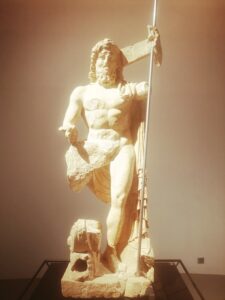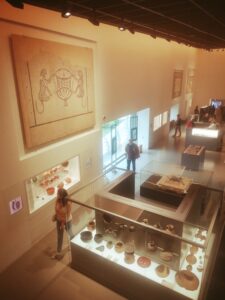 This cultural center is designed around a demanding scientific and cultural project, where you could learn more about the rich and ancient heritage of Nîmes.
Wrapped behind a wavy facade, composed of translucent glass, as a certain reminiscence of a mosaic, this large archaeological museum of 9,200m2, proudly faces the Arenas. Thus, the visitor is invited to live a unique experience for a historical journey, since the early days of Nîmes, from the 7th century BC to the Middle Ages, through a very innovative museography and an immersive scenography (featuring augmented reality, among other remarkable digital and audiovisual technologies…).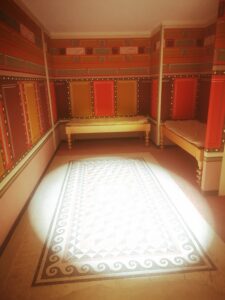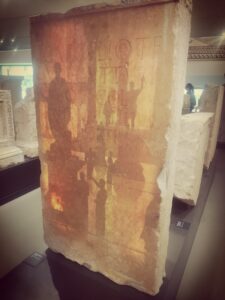 Thus, this antique adventure starts right from the reception, where a spectacular vestige of a propylaea pediment, completely reconstructed and restored, thrones about 15 meters above the ground. This masterpiece somehow symbolizes the entrance to the Spring Sanctuary which gave birth to the city.
As far as we know, this part also acts as the gateway to the multiple facts of this avant-garde museum, the archaeological garden, the restaurant and its breathtaking green terrace. Indeed, this rooftop offers a unique 360° panoramic view of Nîmes and its most beautiful Roman jewels.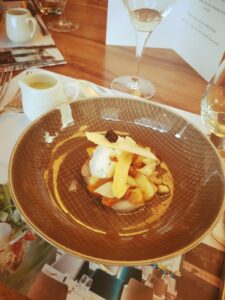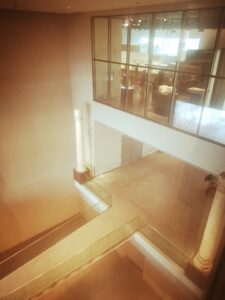 In fact, located on this futuristic and vegetated roof on the second floor, the culinary side of the Musée de la Romanité counts a gastronomic offer imagined by the Michelin chef Franck Putelat. Benefiting from a comfortable framework, enjoy this opportunity to have a gourmet break facing 2000 years of history…
For instance, don't miss to appreciate the inspired talent of the kitchen team, where a selection of fine Mediterranean products are combined through delicious dishes, regularly renewed according to the season. Thus, for the spring season, this menu could eventually feature various delights, like an asparagus soup and its smoked haddock, or the legendary oeufs mimosas.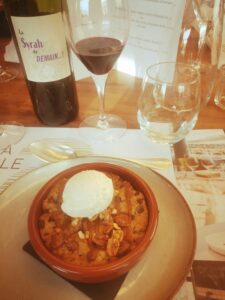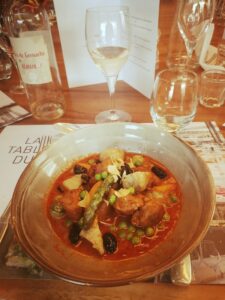 Followed by a fine sea bream and its green asparagus risotto or, if you prefer, stewed lamb accompanied by its spring vegetables. On a sweet note, you could have counted on a strawberry vacherin or a revisited and dismantled chocolate cookie.
Cherry on the cake, all of those gastronomic treasures can be served with a selection of regional wines, selected with much consideration by the sommelier. That's why, you could find various wines from plenty of Languedoc and Occitanian appellations, such as the illustrious Roc d'Anglade, Le Clos des Fées or even the Domaine Gauby.
Musée de la Romanité
, 16 Boulevard des Arènes, 30000 Nîmes (France) / Phone : 00 33 (0)4 48 21 02 10. More information on their official
website
.
La Table Du 2, 2 bis Rue de la République, 30000 Nîmes (France) / Phone : 00 33 (0)4 48 27 22 22. More information on their official website.
---