Enjoy a gourmet moment surrounded by the Luxemburg garden, at La Table du Luxembourg!
6 min read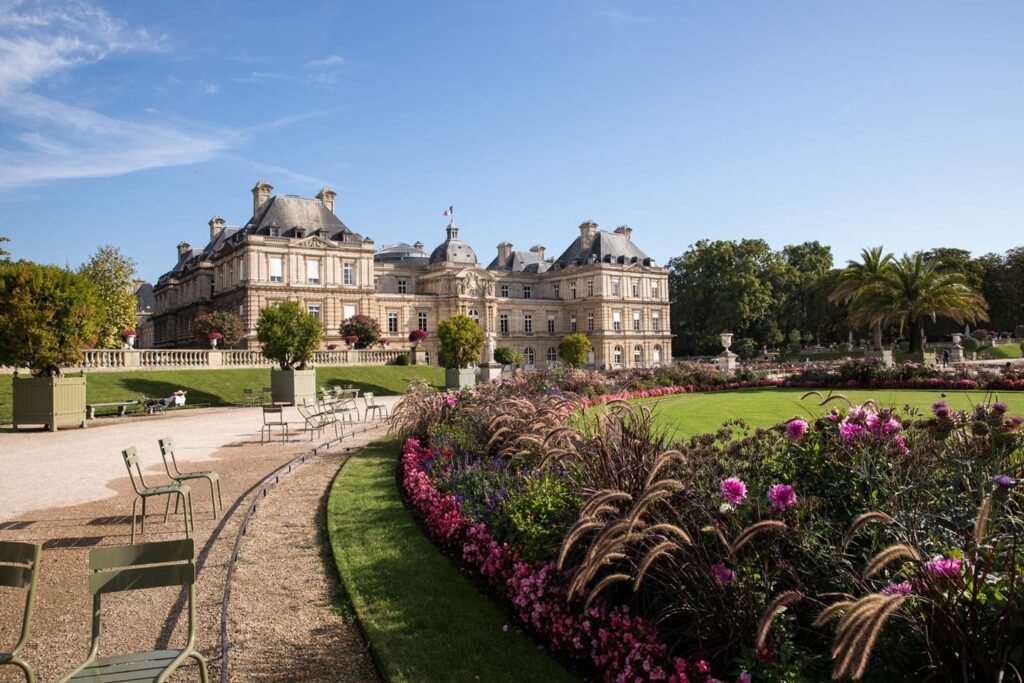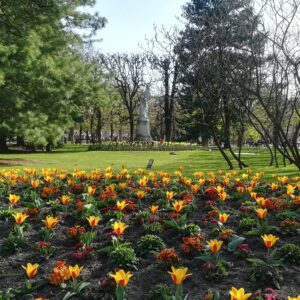 Have you already spent some time in the Jardin du Luxembourg, in Paris? If not the case, we really invite you to discover this very popular and singular park, as one of the most visited Parisian gardens. Surrounded by beautiful cultural places, gourmet tea rooms and tasty brasseries, this wide green area is settled around the the Palais du Luxembourg where sits actually the current Senate. In this natural framework, this eponym Palace was the origin of the creation of this garden, requested in 1612 by Queen Marie de Medici, in order to highlight this monument.
Apart from this charming piece of architecture, don't also miss the Luxembourg Museum which has been the first museum to open, in 1750. This cultural hot spot, also property of the Senate, offers around two exhibitions a year, with the main thematics of Renaissance in Europe, the role of Paris as the capital of the arts as well as the relationship between art and power (read article here about the actual exhibition).
Among this rich range of possibilities, we propose you here some suggestions to pursue your experience in this mythical land of nature, inside the Parisian urban jungle. One other important point resides in the fact that the Luxembourg Garden is a real botanical paradise, where hundreds of plants, trees and flowers varieties collide, either outside or protected in an orangery and greenhouses, able to contain more than 500 species of orchids. By AP
---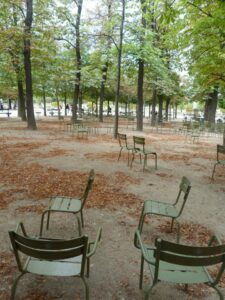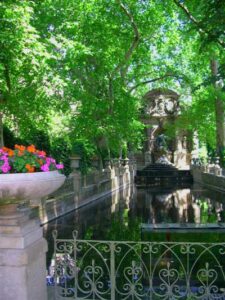 Such an amazing exotic touch before admiring some of the various 106 statues that adorn this garden, such as the very beautiful Medici fountain (photo credits: Daniel Wisniak).
This piece of art was erected in 1630, from the wish of Marie de Medici, unless you prefer laying down on of the many heavy green chairs, available all around and particularly in front of the basin, where your kids can navigate small sailboats, following an old tradition. Otherwise, you still have the opportunity to listen to an orchestra or any brass band or try to practice some pétanque games. This is possible in one of those ideal grounds there, or in the nearby Jardin des Grands Explorateurs (also known as the Marco Polo and Cavelier-de-la-Salle gardens).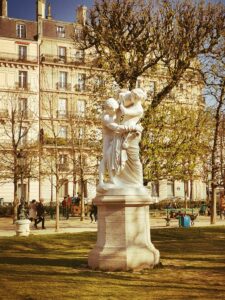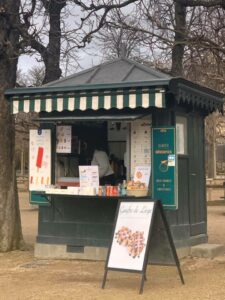 Therefore, this pleasant and intimate green annex was built at the end of the 19th century as an urban extension of the neighboring Jardin du Luxembourg.
By the way, the main attraction of the Jardin de l'Observatoire is the superb Fontaine Carpeaux (also called the Fontaine des Quatre-Parties-du-Monde), which is an admirable open-air Parisian monument. Assembled between 1867 and 1874, it is may regarded as a collective artwork produced by several illustrious French sculptors, including Gabriel Davioud and Jean-Baptiste Carpeaux. Thereafter, you would also find throughout this park a multitude of statues offering, in addition to a pleasant landscape, a superb perspective towards the Luxembourg Gardens.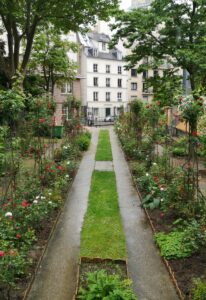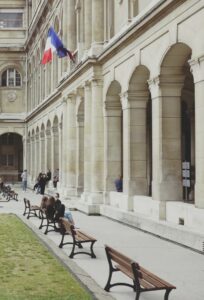 In addition to this grandiose decor, you can enjoy in this garden large lawns accessible to the public and a layout favorable to bucolic promenades, meditation sessions and sometimes picnics.
The buildings that line the avenue also deserve a special attention. For example, you could admire the Faculty of Pharmacy of Paris, the Institute of Art and Archaeology, and many other buildings with such an original architecture. Moreover, inside the Faculty of Pharmacy, there is another pretty and unusual garden that you can visit for free, which is the Botanical Garden of the Faculty of Pharmaceutical and Biological Sciences.
Le Jardin du Luxembourg, 75006 Paris (France) / Phone : 00 33 (0)1 42 34 20 00. More information on their official website.
---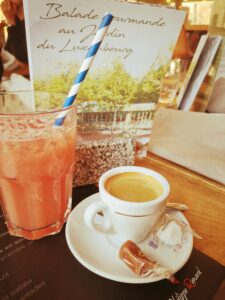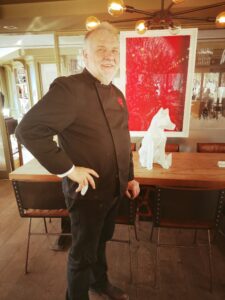 Located in the heart of the Luxembourg Garden, known as one of the most illustrious gardens of Paris with its countless surprises and colors, La Table du Luxembourg is a real haven of peace for all of the gastronomic enthusiasts to discover. Born from the desire of the Senate to create, through a contest, a gastronomic address inside this garden, managed by this institution.
Initiated by the starred chef Philippe Renard, who enjoyed a certain notoriety by the time he conducted the tables of the luxurious Sofitel Paris and 23 years in the Lutetia Hotels, located not that far away. Willing to start a new culinary adventure, Philippe Renard decided to invest this sporty corner of those Luxembourg Gardens, where tennis and basketball courts collide…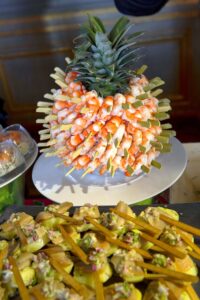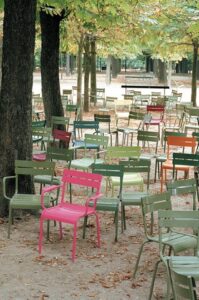 Under a fancy glass roof, including a potential capacity of 80 seats, or on the terrace, where 120 guests may admire a unique perspective over the idyllic gardens, feel free to adopt this Table du Luxembourg for any precious moment, such as family reunions, but also business lunches, seminars, cocktails, literary encounters, wine tastings, birthdays, weddings…
Therefore, Philippe Renard wished to share in this warm and functional space, his own vision about French cuisine, but only made from seasonal products. Whatever they are proposed à la carte, either featured on a menu form or on a to share formula, you are invited to immerse yourself into ancestral recipes from French terroirs.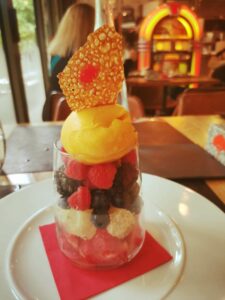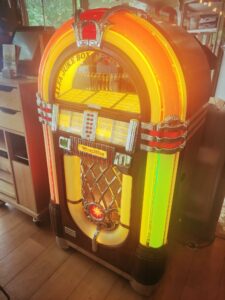 Therefore, this Table du Luxembourg proposes a simple and seasonal cuisine, as close as possible to the terroirs. In fact, the chef pays homage to great classic regional dishes and the list is long!
During lunchtime, also named as Déjeuner des Gourmets, you could either appreciate some fresh Gravlax salmon with its celery remoulade, sucrine salad with Atlantic lobster, unless you simply prefer oysters from Arcachon or big escargots from Burgundy. As hot dishes, the legendary Cassoulet from Castelnaudary would be on the menu, along a Bouillabaisse from Provence or the signature roasted chicken with a garlic purée. For vegans, why not opting for a tian of Provencal vegetables?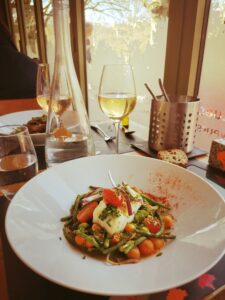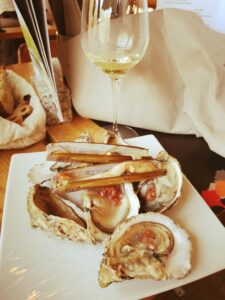 Icing on the cake, the Chef has prepared for you a huge brunch formula, only available on Sundays from 12pm until 3pm… Organized around a gargantuan set of various buffets, enjoy this pleasant guinguette atmosphere, supervised by a skillful and inspired team.
For 65 euros (or 30 euros for kids), you are invited to appreciate a selection of finely selected dishes, raw or cooked. Classified by category, starting from seafood (starring delicious oysters, tasty razor clams with garlic, giant shrimps, smoked herring and salmon, or high-range Basque delicatessen from Pierre Oteiza…), passing by another buffet where you could find countless seasonal vegetables which are grilled or marinated, along other types of salads for more fresh sensations…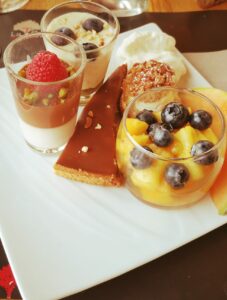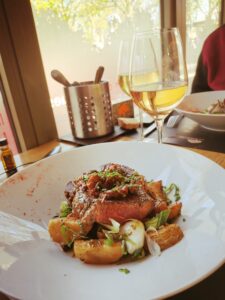 For instance, we could easily enunciate you a homemade gaspacho, fresh asparaguses, cold quiches and tortillas, figs stuffed with goat cheese… all of those elements to hydrate with different types of oils or vinegars, and possibly to complete with a bunch of ripened cheeses.
In parallel, don't miss the hot dishes which are a quiche lorraine and a spinach flamiche, or other served ones directly served at your table. For instance, we tested the excellent grilled cod breast from North Sea, with pan-fried green vegetables with pesto or the other alternative proposed with the rumsteak and its marinated vegetables! And to accompany this generous brunch, 2 glasses of wine per person, to choose from the house's selection of fine wines, plus one squeezed juice and a café (photo credits: AP).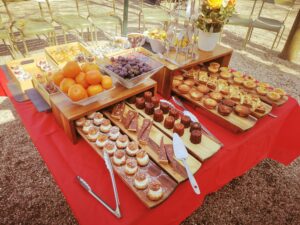 On top of that, one other buffet remains at your disposal, once again depending of the weather conditions inside the chalet or outside, but this time displaying a large choice of homemade sweet delights, if you still have appetite.
Among them, you could count on a balanced Havana Club rum baba, Menton lemon pie, Gianduja chocolate pie, pasteis de Nata… Last but not least, remind to take away the Gazette du Renard to learn more about the news!
---