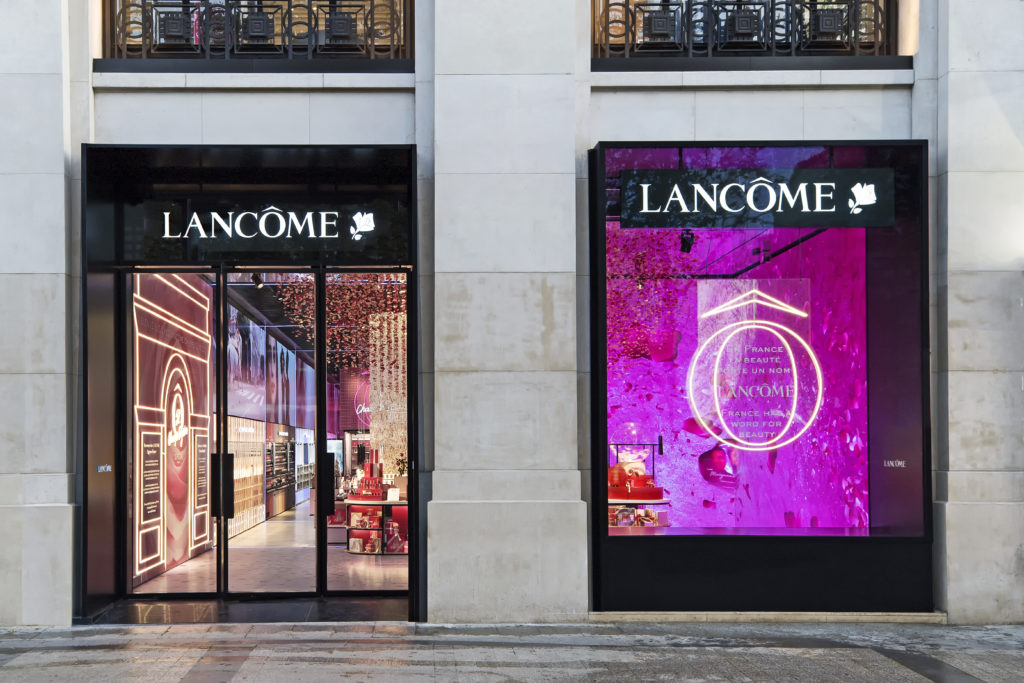 One of the world leader brands in luxury beauty, Lancôme just inaugurated, around last Christmas 2019, its first flagship store in the heart of Paris and moreover, on the illustrious Champs-Elysées Avenue. This address steeped in history and prestige, talks to anyone. In fact, this 52, Champs-Élysées' address becomes the new house of Lancôme, a place dedicated to femininity where visitors are invited to discover the galaxy of Lancôme. In fact, a beauty temple, full of surprises, like the brand new Idôle perfume and the Advanced Génifique Serum, both detailed below… By Alexis Lery
---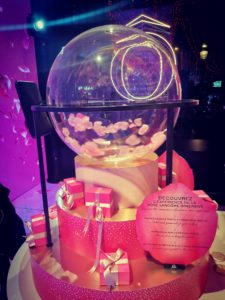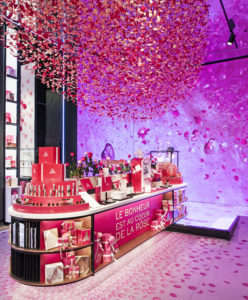 On two floors and 300 m2, the guests are immersed in the heart of the spirit and values dear to Lancôme and which are specific to its DNA: happiness, generosity, femininity, assertiveness and confidence (Photos Credits : Aldo Sperber)
This first official Lancôme presence in the so-called most beautiful "Avenue of the World", the Champs-Elysées, has been prepared since years. The right location has been properly seeked, in order to give the best vitrine, displaying the House's savoir-faire in cosmetics and perfumery.
This temple dedicated to beauty, is colored in pink, since the entrance, with the specific event space, the Joy of Now beauty corner destined to switch from time to time…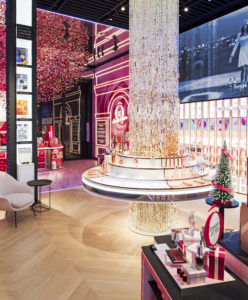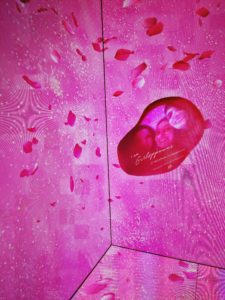 This pinky joyful immersive experience is not only tainted on the floor, since you would be overhung by suspended rose petals, and a surrounded by giant LED screens, where you would admire many of the brand's muses scrolling, like Penelope Cruz. This rose theme recreates the raw essence of the Lancôme universe, devoted to this feminity symbol, while enveloping you in happiness.
For sure, you may find there your favorite Lancôme iconic or favorite products in brilliant packagings, and for some of them, exclusively available in this boutique.
Thus, among them, a collection of exclusive leather goods, purposely manufactured at the disposal of this Champs-Elysées flagship store. Those are made high-range selection of leather, embossed with a touch of French elegance and naturally, the timeless Lancôme pink.
In this customization era we live in, the visitors may be able to personalize their products thanks to the
UV printer
technology. Almost all the time in action to instantly answer to your wishes of artwork or text of people's choice.
The technology may hide another and thanks to the Shade Finder function, more than 21,000 women have found their ideal personal facial shade.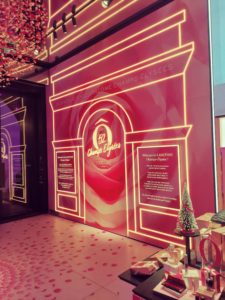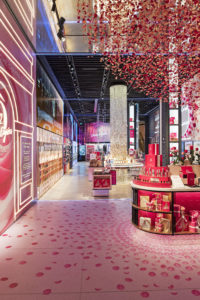 Don't also miss to pick up your rose by the flower robot which would perfume it with your favorite Lancôme fragrance. An inevitable interactive experience, perfect to complete your bags and gift boxes. There are of course, nearby many other house perfumes available, to discover.
And in another hand, a few store shelves away, get into the new make-up innovations, while testing the latest products, playing with a wide range of foundations, powders, lipsticks or mascara and much more.
Take your time to initiate yourself in the Lancôme skincare expertise and choose your own proper getaway with the house signature treatments.
The Lancôme commitment in sustainability is not missed… Within the refilling of your Idôle flacon and many other skin care recipients, you would be proud to save plenty of packagings.
You may give as well a second life to your used products, thanks to the TerraCycle recycling station.
Last but not least part of this shiny place, the first floor, where the customers would find some face and body care, through a sensory adventure. An opportunity to refresh your skin in a serene beauty salon.
---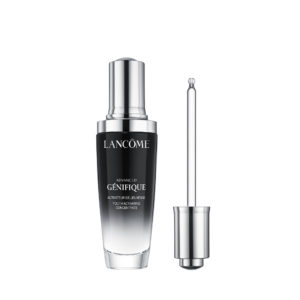 By the way, maybe your care would be operated with the Lancôme Advanced Génifique skincare? This innovative formula was launched in 2009, and has opened up a field of possibilities in terms of science and innovation.
It seems, that all around the world, millions of women have been seduced by this Advanced Génifique Serum, surely thanks to its innovative formula. Indeed, this product resulting from more than 197 clinical trials, furthermore it was initially tested and validated on approximately 4000 women.
Proud for being recognized through its effectiveness and its ability to activate 10 facial signs of youth, this product deserved more than 170 awards, and many more user validation reviews. That's why, 97% of women who use this commodity, would recommend it to their loved ones. For your information, you won't be alone, since 25 million vials of this Serum were sold worldwide, one every six seconds… Undoubtedly, we may consider this Lancôme creation as one of its bestsellers, like its La Vie est Belle perfume…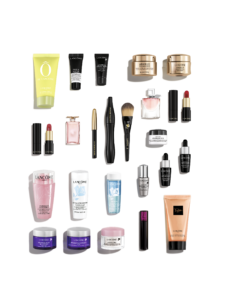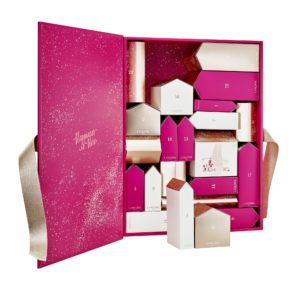 Ten years after its launch, Advanced Génifique is following its evolution path, with a new approach for the care and beauty of the women's skin. The result of 15 years of research on the skin, via the microbiome technology, this vision is embodied in the new Advanced Génifique serum. The new formula is offering a new vision to the global cosmetic offer, thanks to its action on the microbiome side and its visible results on the apparent youthfulness of the skin.
If the original serum has stood the test of time by establishing itself as a beauty "must-have", over the past ten years, the new formula promises to become just as promising. Possibly to discover it, on wintertime, inside the Advent Calendar, in a miniature format among other Lancôme bestsellers.
Your skin may also be reinforced due to the benefits from the new Advanced Génifique Serum. This solution was enriched with 7 prebiotics and probiotic fractions, acting directly on the microbiome technology, so that your skin may have more chances to recover faster, and to look apparently younger.
"We know that the science of the microbiome holds limitless possibilities for health and skin care. We are proud to launch the new Advanced Génifique, the result of recent discoveries on the skin microbiome and research carried out by our teams, in collaboration with the greatest international experts. " Françoise Lehmann, President of Lancôme International
Different formats and indicative prices on the official website: 20ml / 55 € – 30ml / 85 € – 50ml / 116 € – 75ml / 137 € – 115ml / 185 €
---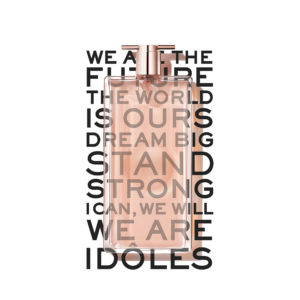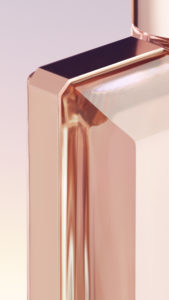 After your skincare, maybe you would add the final touch and offer to your skin the new perfume, launched by Lancôme, baptized Idôle… In the image of its muse, the American actress Zendaya, this new floral fragrance would present to women some freshness, plus a certain assertiveness. Resolutely modern, this aerial and luminous fragrance contains ingredients from a sustainable branch… Such as the omnipresent rose scent, at the core, reinterpreted in a bright and soft way. Thereafter, jasmine, as one of the most delicate (and expensive) flowers in perfumery brings much sensuality. A third major note within a white cyprus accord gives to this Idôle juice, a sensation of some juvenile touch, thanks to a contemporary combination of musks.
Lancôme: "All the way feminist, since three women perfumers from three different continents, have teamed up to conceive this unique Eau de Parfum."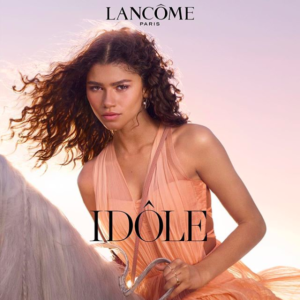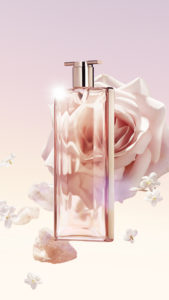 Moreover, the packaging has also been designed for a daily use. Indeed, the Idôle bottle was thought in order to be as thin as possible, great to fit in any woman's bag… and possibly to protect your flacon with a dedicated accessory, a transparent protective shell, letting you admire anywhere and use this fountain of youth. As seen before, following the current zeitgeist, your gold-rimmed bottle would be refillable in many Lancôme sale points. By the way, perfumery becoming a real lifestyle and just scents may show to your friends the way you are. Thus, women are prompted to identify themselves to some society opinion leaders, omnipresent on the numerous social medias. That's why many brands hire those people as ambassadors. In this case, you have to choose who's your real Idôle!
Available formats on the official website: 25 ml – 50 ml – 75 ml