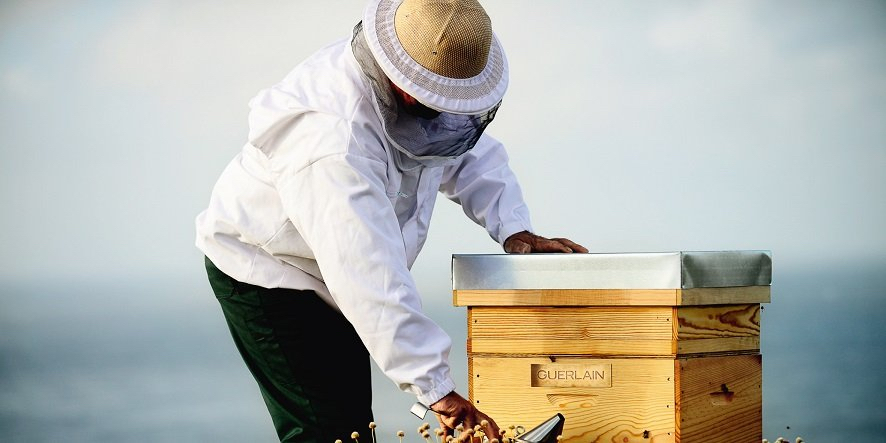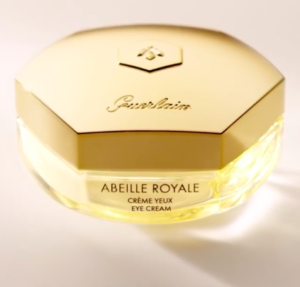 Following its well-established tradition of excellence, the French House Guerlain is engaged through the conception of fine fragrances and beauty products, since 1828 and they're still willing nowadays to preserve this unique centenary savoir-faire, thanks to innovative projects.
The latest novelty is also one of those, the new Multi-Wrinkle Minimizer Eye Cream is born from a real commitment to optimize and save the precious honey production, benefiting of exceptional properties, from rare Breton black bees, through the Abeille Royale cosmetics range. Thus, this could have been possible, thanks to different connections between partners and of course customers, sharing the same sustainable philosophy, in order to maintain such a responsible world altogether. By AP
---
Last collaboration to mention, Guerlain announced the launch of Bee Respect, a product transparency platform dedicated to anyone curious, regarding their daily care products' compositions. Thanks to this Bee Respect effort, you may have a clearer view about what goes into the Abeille Royale skincare range. For instance, since several years, the Guerlain House has been engaged in an ambitious process of mapping the lifecycle of its emblematic products (photo credits : Guerlain).
Guerlain
has eventually chosen to ground this
Bee Respect
program. As a real traceability platform, freely and easily tool, the full
spectrum
of information behind each product would be then brought together and accessible to all, via each product's individual
QR code
. This
Bee Respect
function is already available in
France
on all the
skincare
and
makeup
ranges but it will be extended to their perfume ranges, at an international level in 2020.
---
The starting point of this scheme lies within the philanthropic research partnership settled since 2011, between Guerlain and the Association for the Ouessant Brittany Black Bee Conservatory, a structure ideally located in this Ouessant Island, 18 kilometres away from the French coast in the Irois Sea and a bit more from the Glenan Archipelago, still in Brittany. Consequently, the Ouessant Island and its many mills, benefit, in this unique location, from a rare and precious ecosystem, preserved from all kinds of pesticides and parasites, plus classified by UNESCO. This implies that its local bees are supposed to produce exceptionally natural premium honey, innately rich in amino acids, thanks to specific contents in trace elements and high rate of fructose, all are essential constituents that participate in tissue repair. That's why, alongside exclusive blends of honey and royal jelly, Guerlain has selected this Ouessant honey to be integrated into its BlackBee Repair technology.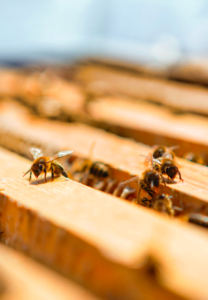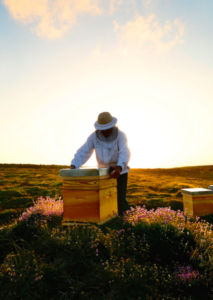 Pursuing its long-lasting commitment to biodiversity, and most notably to the bee as an
environmental
sentry and also the official house's symbol,
Guerlain
has now joined forces with
UNESCO
to promote the training and support of
beekeepers
and the transmission of their knowledge and know-how across the world. This natural alliance between
Guerlain
and the
Man and Biosphere UNESCO
program (MAB) has been launched in collaboration with
l'Observatoire Français d'Apidologie
(OFA), focused around four main axes. The first one is centered on the training of
beekeepers
, under the framework of the
UNESCO
biosphere reserves, followed by the support of the installation of
beekeeping
operations comprising of 50 hives. Then, providing some technical aid, in order to ensure
sustainable
development and a stable business model.
Last but not least, they could give a measure from the benefits of those pollination actions, in the local ecosystems (photo credits: Ouessant Tourism).
---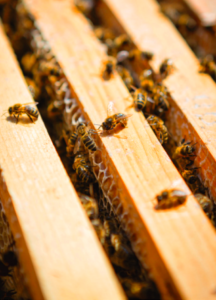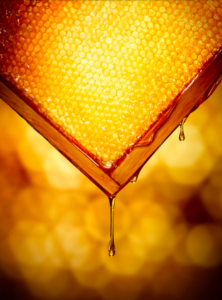 This natural sourcing has logically conducted the Guerlain research laboratory to the elaboration of that so-called Black Bee Repair technology, enriched by years of research, and providing the best natural benefits to the home successful Abeille Royale range. This selection of avant-gardist cosmetics is inspired by the very latest technical advances in neuroscience, where high-tech requires the best hive products including this exclusive Ouessant Island honey, completed by Corsican honey, New Zealand clover honey and also by some Guerlain exclusive royal jelly. This is one of the most precious substances in the hive, and also the basic food of the queen bee, it is also a queen food for the skin. Thus, Guerlain has developed its exclusive branch of royal jelly in order to guarantee its quality and purity.
Walk like a queen, talk like a queen, bee the queen with the new Abeille Royale Queen's treatment using the finest of raw materials: royal jelly. A unique 7 day treatment to repair, revitalize and renew tired skin!
Cultivated in a preserved environment, this exclusive royal jelly is an exceptional nutrient, a natural concentrate of carbohydrates, proteins, fats and vitamins, real benefits for the human skin. A bunch of precious raw material, all engaged in the combat against the signs of aging, both those that are already visible and those yet to appear.
For sure, this innovation is ophthalmic tested and based on the combat against all of those many micro-tears and micro-lesions visible on the skin, both damaging the skin barrier; mostly due to skin cell or nerve dysfunction, and often provoked by stress or the environment. Multidimensional in the way it may act on the signs of aging, the Abeille Royale cosmetics collection (available in several variants, pictured below) would be the first enemy of wrinkles, loss of firmness and elasticity (photo credits : Guerlain).
Guerlain
's
Abeille Royale
adventure began 10 years ago, and it still supposed to take 3 years off your look! According to a clinical evaluation lead by a
dermatologist
, operated on a sample composed of 30 women, through 2 applications a day during 2 months…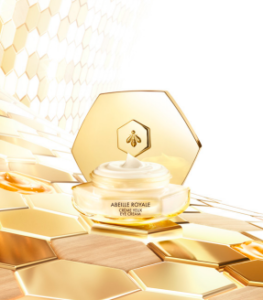 Since then, treasures, from the hives, have formed the basis of an entire range of scientifically proven cosmetics, efficient on the youth and beauty of the skin. This 2020 year, the Guerlain Research has reinvented the illustrious Multi-Wrinkle Minimizer Eye Cream, composed of 94% of ingredients from natural origin, propels any eye contour cream to ever more sensorial and performing actions. Packed full of the very latest innovations inherent of those Guerlain hive technologies, this cream aims to rejuvenate anyone's eyes, tending to erase the bunch of wrinkles surrounding them, from fine lines on the skin surface to crow's feet and frown lines. From this in mind, your skin has more chances to become more smoothed, revitalized and densified, while dark circles and under-eye bags are softened to leave a certain refreshed regard.
Did you know that your eyes may flutter around 10,000 a day? Due to this high cadence, the outer eye area is one of the most active on the face. And with skin that is only 0.5mm thick, it is also the thinnest and most delicate. No wonder that it is the first to be affected by wrinkles, crow's feet, frown lines, under-eye wrinkles and tear troughs. Inspired by the mesocosmetics sphere, this magic cream combines the smoothing power of hyaluronic acid in both high and low molecular weights, combined with an all new poultice-effect texture and the rich nutrients sourced from a blend of Ouessant honeys, present in the BlackBee Repair technology.
This results into an anti-fatigue and multi-wrinkle minimizer complex helping to fight multiple causes that could affect your eyes, such as: hyper-pigmentation, the weakening of small blood vessels and the build-up of water or even fat reserves. On top of that, you would also enjoy the sweet scent from the sunny fragrance, inside the cream, signed Thierry Wasser, nose of the Maison Guerlain, with those honeyed, fresh and light notes.
---
The Guerlain Research has invested its entire formulation expertise into Abeille Royale to create a next-generation poultice-like cataplasm texture, which for the very first time is made from 94% natural origin ingredients. Thick on the fingertips, it melts on to the skin, massaging in easily. Once applied, it sets, envelopes and comforts skin around the eye, allowing its actives to be released, then your skin should appear smoother and more awake. For an intensive mask-like effect, apply at night in one thick layer and leave on without rinsing. More practical instructions below:
Multi-Wrinkle Minimizer Eye Cream
has been redesigned to reduce its
environmental
impact. Reworked and entirely modernized, the container has been made lighter to conform to the sustainable outlook that
Guerlain
strives towards. The weight of the glass has been reduced by 30% comparing to the last 2017 version.
Eye Cream, 15ml / 100€. More information about the Abeille Royale collection, on the Guerlain official website.
---