Seize the opportunity to explore the Voyages en Orient realized by the Comptoir Sud Pacifique, and even grab some last collectors!
10 min read

How to talk about Comptoir Sud Pacifique without devoting a parenthesis on the 70s, that saw emerging this French perfumery house, thanks to the fertile imagination of Pierre and Josée Fournier. By the time, the creations of this confidential perfumery were considered as a real olfactory revolution, since their anti-conventional fragrances were meant to break with the common trends, running in that period! The early stages of widespread exotic trips to different parts of the Planet lead to new ideas for all of those travelers. The multiple scented inspirations from the desert caravels through the Lebanon mountains, the Turkish roses fields, passing by the mythical oud spirit covering some Arabian Medinas… Comptoir Sud Pacifique did their best to magnify those magical oriental experiences into two series of fragrances, among them 6 perfumes from the last Voyages en Orient collection and another trio dedicated to the power of oudh wood. By the way, we highly recommend you to make some provisions of this trio, since those last items, whose production has stopped, are sold online… By Alex Plato
---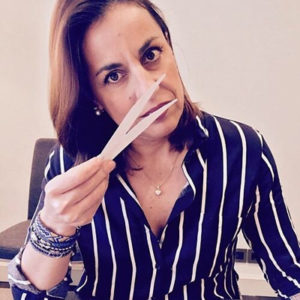 Deeply inspired by their multiple voyages, the founders of this independent French perfume house signed a collection of fragrances, inspired by olfactory treasures they brought back from those distant lands. In fact, Comptoir Sud Pacifique maintains a certain vision of its creations, like figurative and sensory canvases, a certain evocation of nature and memories.
For your information, Valérie Pianelli, owner of the counter, focuses the homemade artistic choices through this travel culture, thanks to a development process mostly based on the quest for exotic and natural raw materials. You may notice this spirit above different ranges, classified in distinct thematics (photo credits: Comptoir Sud Pacifique).
For the lovers of oriental scents, they could be seduced by the colorful premium collection, baptized Voyages en Orient. This flamboyant offer is composed of 6 fragrances, all turned to traditional Middle Eastern and Indian flavours, materialized in 6 emblematic representations of any traveler looking for olfactory escapades. All in all, you may have the opportunity to step into 5 different countries and their ancestral manners and know-how in the perfumery branch.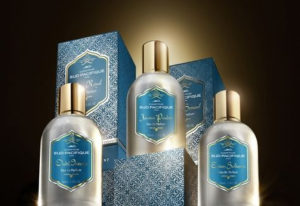 You have to know that since Antiquity, perfumes were conceived in order to honor the gods, while being the symbol of power and wealth. Nourished by the authenticity and the message conveyed by each of the raw materials used in those 6 resolutely oriental fragrances, Comptoir Sud Pacifique wished to offer a contemporary touch to those unparalleled artworks. Born between 2013 and 2014, those perfumes were signed by a bunch of specific masters perfumers, whose own personality delimited the perimeter of this scented infinity. Moreover, they were also lucky to have the freedom to select among the most upgraded raw materials, without any price limits but still on reasonable expenses, of course. You may find them packed in luminous and cylindrical lacquered glass bottles, presented in a blue case decorated with Ottoman-inspired illuminations.
Added to them, 3 oriental juices have preceded this selection. All had the chance to be launched in 2009 in cooperation with Middle Eastern noses, those fragrances were imagined in tribute to oudh wood, a mythical and spiritual bearer of dreams… such a desired precious rare essence, so common nowadays in the very competitive olfactory industry and that we covered in a previous article.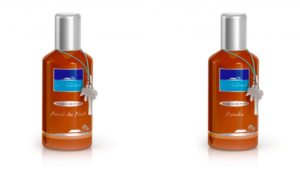 Despite the fact that this original collection of eaux de parfum was formally designed regarding the respect of high perfumery's codes, notably including refined olfactory signatures made with several fine materials, Comptoir Sud Pacifique unfortunately decided to stop the production of this initial oriental edition of 3 items. That's why we keenly invite you to jump at the chance to endorse the last bottles, exclusively available on the online store and on the brand's boutiques. Among the other ones of the series, you wouldn't regret to discover those jewels, soon switched to the coveted status of collectors… to wear as sensual scarves, whose oudh wood bewitching you like precious fabrics, sensual like a warm desert breeze.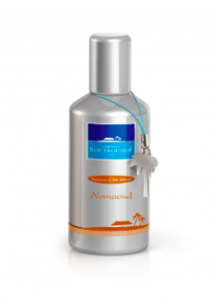 Firstly, the Aoud de Nuit may be considered as a unique and wild potion. This incomparable elixir enhances the sensual and captivating nectar emanating from the oudh steams, heating the atmosphere, following each of your steps. Your wake would eventually open the doors into a heatwave perspective… Thus, this magic formula was made possible with a singular combination with those unforeseen head notes of bergamot and cassis. Cradled by those aromatic aromas, this golden symbiosis will last on your skin, supported by this melting-pot of precious woods (santal and cedar woods) mixed with vibrant spices (cardamom, saffron) wrapped in musk and vanilla and spiced with a hint of gourmet caramel and tonka beans.
In the Aouda fragrance, the traditionally woody but mysterious temperament of this oud chord has been here reinforced by a handful selection of some wooden touch, via the comforting breath of the natural notes of patchouli and Moroccan cedar wood. Then, a bucket of rare essences complete this palette , thanks to the presence of a spicy sacred alliance, in the heart notes, which tends to reveal the mystery and the magnetic charge of it all: amyris, niaouli, Copahu balm. Those botanical terms stand for a proper starting point, to welcome the fresh floral composed of rose, geranium and chamomile.
Last but not least, the Nomaoud identity provides an intense and charming fragrance that vibrates thanks to the powerful spicy woody notes sublimated by purple rose and cistus as heart notes. The eternal oudh wood is surrounded by a magical potion, that would let you wrapped, due to its black musk, leather and warm amber base notes, for a mysterious and unforgettable wake.
More information on the official website. Capacity: 100ml, Recommended price 87 €.
---
For sure, the next six oriental olfactory columns, forming those Voyages en Orient, also need to be discovered… An interpretation here in 6 unique ultra modern perfumes, a crescendo of sensations, vibrant emotions that get stronger as the olfactory journey progresses… The imaginary journey could eventually starts from the eerie shores of the Mediterranean Sea, standing at the gates of Turkey, pursuing in ancient Mesopotamia and reaching the doors of Arabia. Meanwhile other stained halts were considered as compulsory, such as in the cedar forests of Lebanon and an excursion through the sunny horizons surrounding the Euphrates river, revealing the sweet and sensual scent of those rare jasmine flowers. Exploring this unrivaled oriental perfume line developed by Comptoir Sud Pacifique, would stand like a passport to constitute the intermediate stages of your future fabulous olfactory journeys.
---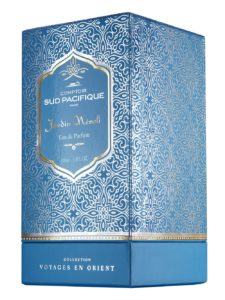 Starting this mystic series with the Neroli Garden, would be logical since it evokes in a way, some luxurious panoramas, bordering the foggy banks of the illustrious Bosporus strait… This composition created by the nose Henri Bergia (from the Expressions Parfumées firm) expresses this ottoman spirit, symbolized by an agglomerate of a certain bygone era where you would either have found Venitian merchants and Greek artistocrats. Those beautiful people seemed (and they had no choice) to handle the art for exchange their treasures brought back from their distant expeditions, communicating their enthusiasm for unique and delicate raw materials, building later their wealth…
Through this perfume, you would undoubtedly get a glance of this old-fashioned Eastern art of living! Fulfilled with silks, handcrafted illuminations, adorned with infinite arabesques, and dependably local feluccas… A nearly architectural suspended garden, gliding silently above the lights of the Golden Horn inlet. From there, you are allowed to have a rest, laying in those intimate floral heart notes introduce you to a precious untitled Neroli flower, married with a cocktail of sparkling and invigorating scents of lemon flower and a captivating heliotrope.
Furthermore, those first aromatic impressions you would get also from flowered and sensual head notes of petitgrain, May rose mingling with the spicy bergamot. Thereafter, lasting on your skin for multiple hours, the assured base notes composed of carnal vanilla and tonka beans, unfurl as an invitation to gluttony and pleasure. A certain zephyr of lust will fill in your wake, causing a sweet and maybe epicurean atmosphere…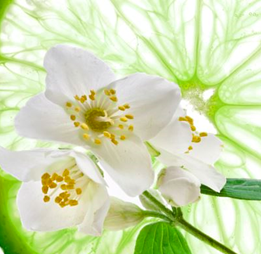 For your information, the essence of Neroli is an ancestral essential oil, produced from the bitter orange blossom Citrus aurantium, whose fresh scents would surely transports you to those widespread Mediterranean fields, from where are extracted this nectar.
Thus, since approximately 1680, Anne-Marie Orsini, princess of Nerola, brought this bitter orange essence into fashion, by using it through the perfumery of her gloves and even her bath sessions! Since then, the Neroli flavor has continuously been used to incarnate those character traits, due to those notably legendary aphrodisiac virtues…
Starting from this statement, Comptoir Sud Pacifique paid many efforts to offer to its clientele, a ticket to explore those luxurious gardens embodied by this Jardin Neroli artwork, a real sparkling and fresh eau de parfum with a cooling outfit!
---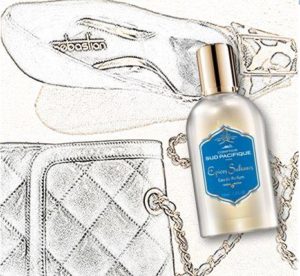 Follow your next journey in Turkey, with the Épices Sultanes… Deeply inspired by the historical trade crossroads, between Europe and Asia, whose starting point from the famous Silk Road. There are many chances to get infatuated with this escapade to Istanbul, with the help of the scents, you may smell in any corner of the city's bazaars, evaporating from any kind of jewelry, carpets, textiles, mosaics and even silverware, among the colorful stalls, full of spicy assets.
This is where the perfumer Violaine Collas (from Mane) found the inspirations for this addictive eau de parfum, properly named Épices Sultanes, a multi-colored mosaic of bergamot and dried fruits as head notes, upholded by saffron and a rainfall of Turkish rose petals, supported by a complex bedrock of base notes, composed of puffs of smooth vanilla, amber, added by hints of sandalwood and naturally creamy oudh.
---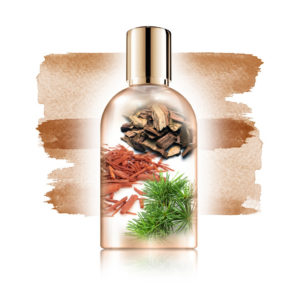 Have you ever visited Lebanon? Where the cedar forests reigns in and around, as well in the culture, as a national symbol. The next composition created by Sidonie Lancesseur (from Robertet) understandably includes this wooden touch in this Bois Royal item. A fragrance that vibrates with its green, aromatic notes of citron warmed by local spices, represented by bergamot, lemon and then cumin, in the heart notes, almost a beastly expression, then sublimated by an enveloping patchouli veil.
In the background, you would unsurprisingly find a consequent dose of cedar wood, completed by a discreet vetiver from Haiti and benzoin, confers to this oriental woody perfume, a real and mysterious intensity, typical of this multicultural and picturesque country.
---
Your next Jasmin Poudré composition, also created by Violaine Collas (still from Mane) would eventually powder yourself with jasmine petals.. Inspired by some local scarce commodities providers, located on the blue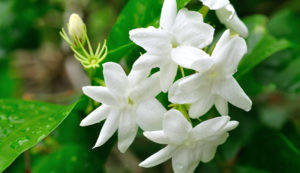 shores of the Euphrates river… Nonetheless, not far from Damascus, you would even feel the aquatic notes and the warm head notes supplied by Calamus and Osmanthus, accompany you until the flowering profusion of Ylang and Sambac jasmine, tempered by the powdery elegance offered by some Florence iris (photo credits: Interflora).
This delicately sensual, refined skin fragrance is even prolonged by a trail of a subtle ambery musk and even styrax extracts, a trees variety mostly growing through Middle East, very appreciated in perfumery and pharmacy for their balm.
About the jasmine flower? It is certainly one of the most used scents in perfumery, for this native species from Asia, this precious white flower evolves in many regions of the world and today offers more than 200 different varieties of flowers.
However, two species of jasmine are mainly used today. Among them, you may count the Sambac jasmine, originating from Eastern Asia and the Grandiflorum jasmine which may be found in India, Morocco and Egypt, and even in the perfume "Mecca", in Grasse.
The solar and generous force of jasmine invites the masters perfumers to mainly employ this vegetal flavor for those unique assets.
---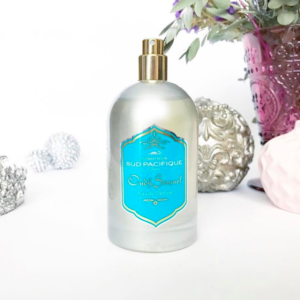 Thereafter, we come back to Arabia with Oudh Sensuel, would eventually ravish your last memories about the Persian legends… That's why, in a way, the first impressions of this Oudh Sensuel, instantly bring you to the legendary sensations experienced in a random Scheherazade palace (photo credits: InnaMakeUp).
Those oriental feelings may be possible firstly thanks to the head notes of this fragrance, those powerful velvet roses enfold the spicy core, in which the saffron and oudh get together in one. Those heart notes of saffron extend to the base notes of this perfume, created by Emmanuelle Juliard (from Sozio) and then intertwine with some musk to give more sophistication and elegance to this resolutely oriental composition.
About saffron? Those odorous red saffron flowers, also called "red gold", are part of the perfumery history, since Antiquity, after having crossed several cultures and civilizations. Mostly produced nowadays in Iran, Maghreb and South Europa, in Greek mythology, saffron is the symbol of resurrection and eternal life, that's why and still today, it remains one of the most expensive substances in the world. The saffron holds a spicy smell, added with a leathery, even tarred side. Moreover, perfumes including saffron have undoubtedly a strong personality, like this one!
---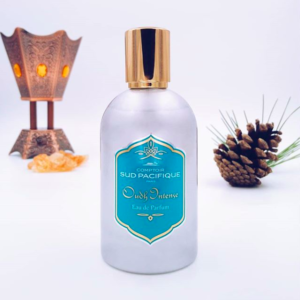 Last but not least, we discover the Oudh Intense, an other composition created by the faithful scented artist Henri Bergia (again collaborating with Expressions Parfumées).
This other trip into the mysteries of Arabia offers us a rich and subtle fragrance, thanks to its heartwarming and durable floral facets. Those bewitching sensations start with the fruity notes of lemon and blackcurrant (aspects, you may also find in Aoud de Nuit).
Those head notes flawlessly match with the heart, composed of rose and patchouli from Indonesia. In the base notes, the power is illustrated by the presence of oud, ably enhanced by amber, white musk and the resinous chords provided by fir balsam, an interesting resinous woody odor of pine needles. This comes from a majestic tree which interferes in many charming actual perfumes (photo credits: Comptoir Sud Pacifique).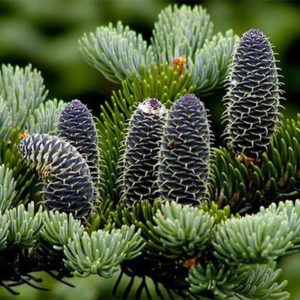 A couple of words about this fir basalm essence, also an American emblem tree has a long longevity of 70 to 150 years and can even reach 15 to 20 meters height! From this massive size are enhanced million of those very fragrant pine needles present on its branches, otherwise often used to adorn the Northern American habitats during the holidays (photo credits: Anna's Incense).
Likewise, it should be noted that this large pyramidal tree is also widely used by perfumers, especially in male editions. The obvious and pleasant scents extracted from its needles, turn into this fir basalm, also called the absolute of balsam pine. Overall, this woody aromatic tone is often associated with other compatible siblings, such as cedar wood, cypress or guaiac wood.
---
More information on the official website. Capacity: 100ml, Recommended price 147 €.