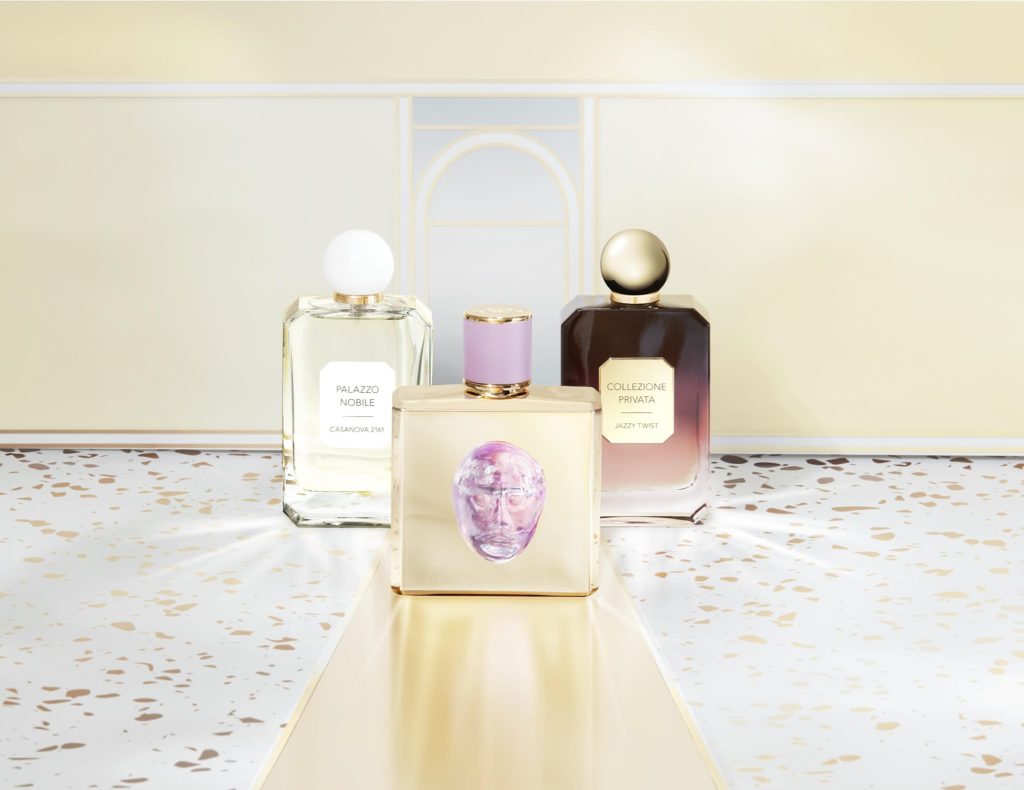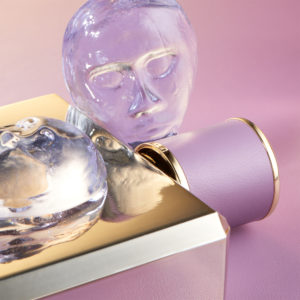 Following the first Storie Veneziane idea (aka The Venetian Stories) firstly put in writing in 2018, when the founders of the famous Swiss cosmetics brand Valmont, Sophie and Didier Guillon, conceived a collection of olfactory fine jewelry inspired by Venice, its districts and its crafts.
Indeed, strong with 30 years of experience of precious cosmetics expertise, nourished by pure Alpine water, this Swiss tandem takes up a new expedition with this olfactory collection. A common challenge where they combined both of their imaginative talents to sign an innovative fine bottle, which guided the initial edition of five extracts of distinguished perfumes. By Alexis Lery
---
The second act of this olfactory tale appears on 2020, still under the Storie Veneziane label, now anchored in an emblematic Venetian palace, within a generous birth of two different collections of eaux de toilette and perfumes. Those illustrate the distinct visions of their two designers, in which everyone rediscovers the essence of her inspiration.
Thus, driven by the success of the first Storie Veneziane's opuses, initiated at the Venetian Palazzo Bonvicini, the couple, sharing a same enthusiasm for art and beauty, published two new olfactory canvases, divided into two distinct and singular collections. Furthermore, you may have the opportunity to discover their passion for contrasts and fine materials, dear to Sophie Guillon, for Collezione Privata, and on another hand, the architectural taste, regarding her husband's interests, to find in the Palazzo Nobile selection.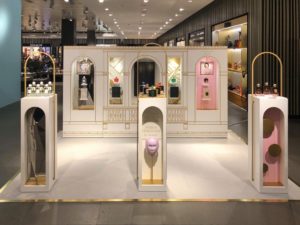 As a matter of fact, if those two founders share certain
codes
, these two collections express the artistic choices of each creator, embody their creative bias and their innate class.
Storie Veneziane
embodies the upcoming commitment of the
Valmont
Group
in
perfumery
, thanks to this efforts made to pay some honorable tribute to the gracious and flamboyant spirit of
Venice
, as a real source of inspiration.
A real source of inspiration, dedicated to this universally City of the Doges, that lasted through ages, mostly illustrated by its famous arty (for example, the Venice Biennal and Mostra Festival, for instance), musical (starring street concerts and balls) and many more fashion and cultural aspects (such as the annual Carnival), all witnesses of some rooted local traditions, from yesteryear (photo credits: Valmont).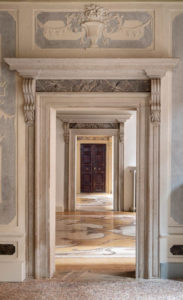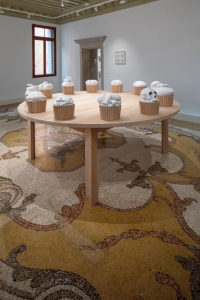 Indeed, through this
Storie Veneziane
adventure,
Sophie
and
Didier Guillon
express their passion for
Venice
and especially their artistic experiences there. You have to know that the couple fell in love with an emblematic
Venetian
palace, the
Palazzo Bonvicini.
This edifice represents a real piece of history, built in a pure
Italian
style, showing a contrasting elegance with its
Renaissance
facade and its 18th century interior.
Also baptized Palazzo Nobile by Didier Guillon, who acquired it through the Valmont Foundation, in order to renovate and sublimate it, to further stage his own artworks and other artists as well. In this case, in those antique walls are regularly hosted prestigious exhibitions, like the recent act named Hansel & Gretel, White Traces in Search of Yourself, that was held there from May 11th to November 24th, 2019.
Palazzo Bonvicini – Fondation Valmont
Open every day except Tuesday and Wednesday, from 10 a.m. to 6 p.m. (free admission)
Calle Agnello – 2161 / A
Santa Croce district
30135 Venice
---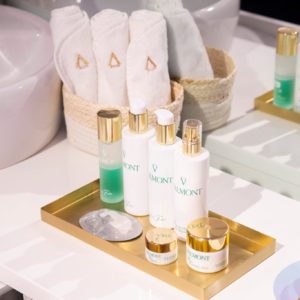 Logically this palazzo quickly became a main source of inspiration to start this new olfactory journey, emanating from this alternative Swiss group, concerning those Storie Veneziane. This collection exemplifies this Italian lifestyle mixed in harmony with the core spirit that made the success of Valmont, already in the cosmetics branch. A project spread in three parts, all different but simultaneously complementary.
The first birth in 2018, within the Storie Veneziane, thanks to five extracts, considered as fine olfactory jewelry, in a really fine package, made of some illustrious Murano glass in majesty and precious Italian leather. All were imagined in tribute to five Venetian districts, and they would be soon joined by a sixth item.
The adventure continued in 2020 thanks to the arrival of the Collezione Privata, a concrete testimony dear to the Valmont founders' passion for femininity and its multiple contrasts. Three versions embodied through three characterful perfumes, but kept in familiar flasks.
Followed with the Palazzo Nobile collection, a wedding of five pure and discreet eaux de toilette, notably mentioning the illustrious seducer Casanova, straight in his palazzo.
---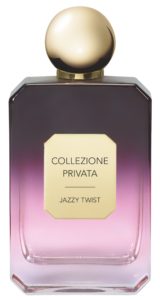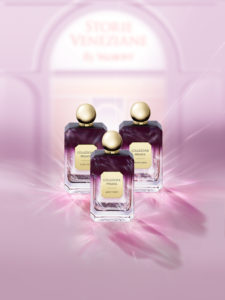 Starting our tour with this purple packed Collezione Privata, three eaux de parfum able to "interpret a certain harmony", according to Sophie Guillon, creating here a purple rain olfactory collection, reflecting her own image. The same esthetics you may find along some so-called cosmopolitan ladies, sophisticated but without any ostentation, spontaneous, lively and frank. This was made possible thanks to the long cosmetics experience of Valmont, highlighting, as glamorous as possible, several quality scents and even visible in the packaging contrasts of the bottles. In a fact, a certain quest for harmony lead by juxtaposing hot and cold notes, combining fabrics that all oppose, however still interpreting the expression of a pure femininity, in all of its originality.
The first creation of Collezione Privata, baptized Jazzy Twist, symbolizes the independent and elusive lady… whom Casanova would never have been able to conquer. The result? A sparkling even effervescent, impetuous and intoxicating fragrance, properly signified by this musical inspiration. Consequently, Jazzy Twist delivers its vibes, all in contrasts but full of delicacy, playing with any woman's seductive assets, revealing the musical side in anyone, whatever the rhythm is!
This gourmet and floral fragrance reveals a tuberous melt with magnolia accord, where anyone's creativity could be underlined through the personality of a woman, maintaining a resolutely young spirit and luminous femininity. A strong catch of black pepper from Madagascar warms the senses and incenses this floral surge, both rich and light. On top of that, get fascinated by the scents of chocolate mixed with the natural essences of patchouli, tonka beans and some vanilla extracts, offering a surprising and gourmet wake, following any of your steps, probably in any jazz club…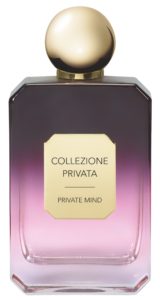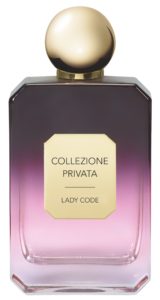 The second Collezione Privata's installment is fueled with some cool seduction and codified elegance, symbolized in the Lady Code creation. Still feminine without ostentation, this perfume is inspired by the expression of a certain French elegance, sparingly preserved. You would eventually notice that beneath its mysterious appellation, this fragrance reveals plenty of warm and engaging flavors, an enjoyment shared along any spray on your personal assets.
With such a timeless composition, cherished with some sensual notes, sifted around the sweet and fresh Sambac jasmine natural essences, a legendary scent, often used in perfumery. For instance, this enchantment is followed with a glance of noble head notes, made of subtly spicy pink berries . This fruity touch may be exacerbated by the almond chosen as a base note, this voluptuous gourmet chypre personality stands out from its purple fellow perfumes, due to its warms and unreasonable charm.
Finally, like a fascinating enigma, the Private Mind unit invites you into a secret garden, where you would appreciate a spiritual and serene moment. A sensual juice highlighted through the opulence of flamboyant materials, flattering the Damascus rose placed in its heart. In its first emotions, the Private Mind fragrance celebrates the spicy heat of saffron and then, captivates a flowery leather accord. In this case, the rich and feline leather notes express an unprecedented intense animal femininity.
More information on the official website, one format available of 100 ml, for a recommended price of 250 €.
---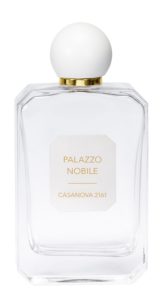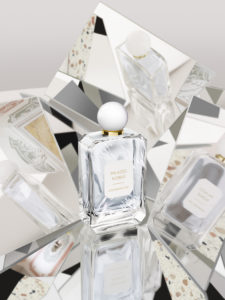 Then, the second olfactory collection, Palazzo Nobile, in which Didier Guillon adds his own sensibility. Resulting in five rare eaux de toilette, both dedicated to men and women, in love with a certain discreet and fresh hedonism. Those crystalline scents are expressed like five intimate emotions of singular personalities, protected in various bottles, designed in a certain sophisticated elegance, punctuated with a terrazzo motif borrowed from a random Italian Palazzo and multicolored sparkles.
Once immersed, you would enthralled by this immaculate series, naturally elaborated in conjunction with his wife Sophie, a way to celebrate a real artistic couple cohesiveness.
Indeed, those transparent flask and mosaics fragments easily underline the interior atmosphere of the Palazzo Bonvicini. This initial location, hosting the Valmont Foundation, provides the major inspiration for this eponymous collection; filled with the ancestral Venetian lagoon soul.
Inspired by the legendary seducer Casanova, whose quest is to desire as various women as possible, Didier Guillon breathed a fragrance, in tribute to this ineffable character, expressed with an a masculine and magnetic scent. Thus, this stylish Casanova 2161 eau de toilette, would eventually deploys its talents in front of women, by means of bewitching spicy head notes, made of aromatic woody facets, such as a contemporary interpretation of a great classic in perfumery, the smoky and earthy vetiver. Exalted in this avant-gardist composition, this essential oil reveals its charming assets with the support of those fresh and aromatic juniper berries, while the heart of this seductive perfume beats the extreme elegance of the iris. Also called the "blue gold" in high-perfumery, this imperial flower is often employed for its floral and woody accents. Last practical information, you would end up finding the personal address of Casanova, since its street number is anchored in its title golden palate, affixing his famous patronym.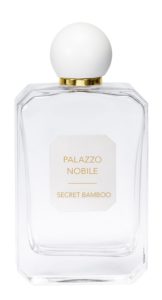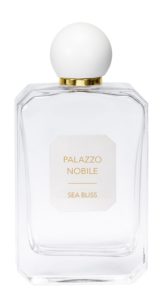 Like a maritime breeze, the Sea Bliss item invites you to get on and about, away from your daily duties, thanks to vigorous scented profusion coming from this quiet seaside ballad. An authentic and unadorned eau de toilette magnifying a handful of iodized and blue waves of some pacific ocean… A seductive and fresh fragrance, where the fruity and solar tiare flower rubs shoulders with invigorating and ozonic marine heart notes. This Sea Bliss allow is softened and prolonged on your skin with the help of the softness empowered by white musks.
The Secret Bamboo illustrates in a tangy breath, the natural elegance and magic of bamboo, here associated with a powdery floral, green and airy notes, in order to seduce your friends with grace. At the heart of this composition reigns the sweet heliotrope flower, a floral and delicate species spreading its powdery elegance through the green apple accord, bringing fresh and crisp notes to this crystal eau de toilette, clearly transparent thanks to the freshness of aquatic notes in the base notes.
A tribute to an iconic olfactory asset, Satin Musk proposes a generous celebration of the musk essence, in a resolutely powdery and intimate fragrance, a virtuous addiction blossoming in this ode for this abundant musk notes, romantically connected with some exotic flowers. This eau de toilette finds its strength within a discreet personality, expressed through amber tones, plus some fresh and aromatic anise notes, offering a sparkling touch to this somehow rhythmic and delicate composition, like a cocoon. Last but not least, a generous and elegant bouquet of jasmine expresses, at the heart, all its floral and solar transparency.
Discover the sensuality facet of the poppy, through the Bright Poppy poem reminds a pleasant time in a field of poppies, punctuated with some bergamot, jasmine and cedar wood airstreams, throwing a fresh breath full of optimism. A fulfilled and fleeting personality, where jasmine and bergamot flowers brighten this perfume, thanks to its tangy and sparkling notes. As base notes, those everlasting musky notes completes the woody cedar wood, providing depth to this poppy waking dream.
Who said that romanticism was dead? Let's refine your seductive abilities, crystallized in the sensual notes of this Blooming Ballet. A real symbol of femininity expressed around an evanescent floral bouquet, composed of delicate roses, sparkling and spicy freesia, in heart notes and a powdery cloud of white musk, soft but pronounced as tiny cotton.
More information on the official website, two formats available of 100 ml and 50 ml bottle, for a recommended price of 148 € and 98 €.
---