Wet your lips in a Calvados glass, a typical Made In Normandy eau-de-vie
20 min read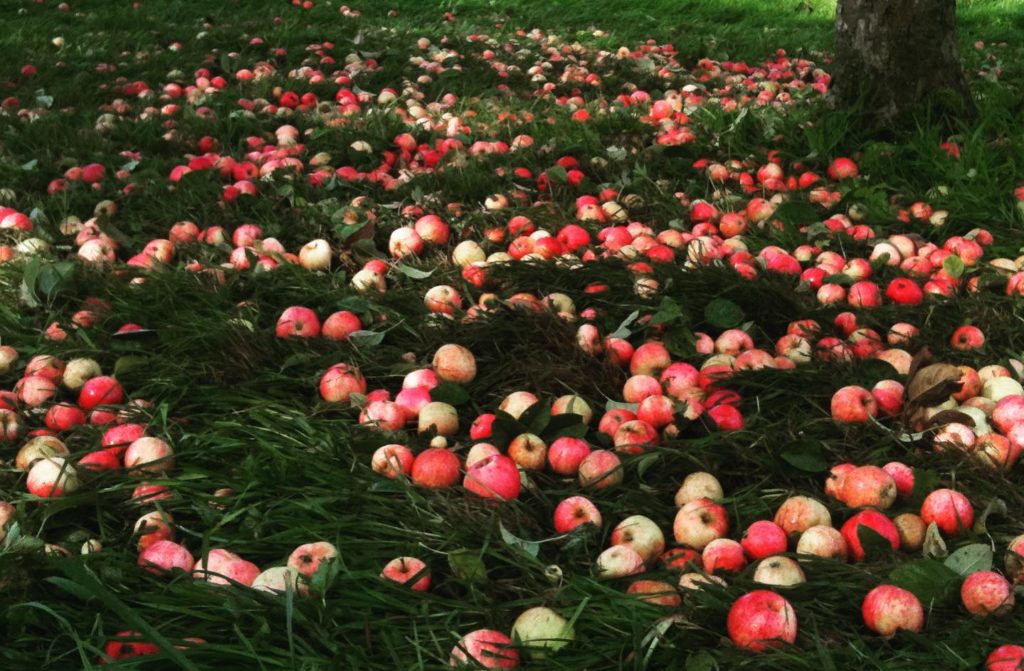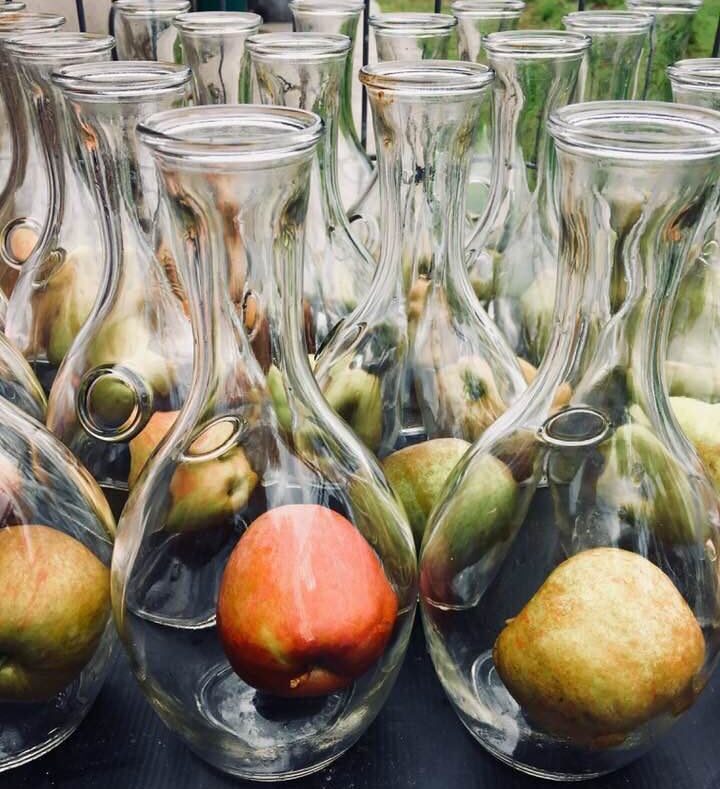 A genuine Norman brandy, Calvados is a famous elixir, nowadays from all over the world, where a new generation of curious and demanding consumers are getting seduced by its authentic taste. Indeed, a collective engagement of certain producers and merchant-breeders paid many efforts to convert its original narrow image and vintage consumption reputation, where it would eventually only have been consumed as a digestive and sometimes accompanied with a coffee (photo credits: Calvados Christian Drouin).
So why not becoming surprised by this versatile eau-de-vie which, unlike many other mouth alcohols, can vary and multiply the pleasures, without any risk of complex notes. Whether it is tasted pure, on ice, in a cocktail, in combination with a dish or as a simple ingredient constituting a recipe, Calvados would surely amaze you within its unequaled palette of flavors. Thus, through different players, we would introduce some alternatives, in order to validate your gastronomic passport and eventually wake up new inner appled senses, that you wouldn't maybe have expected. By Alex Plato
---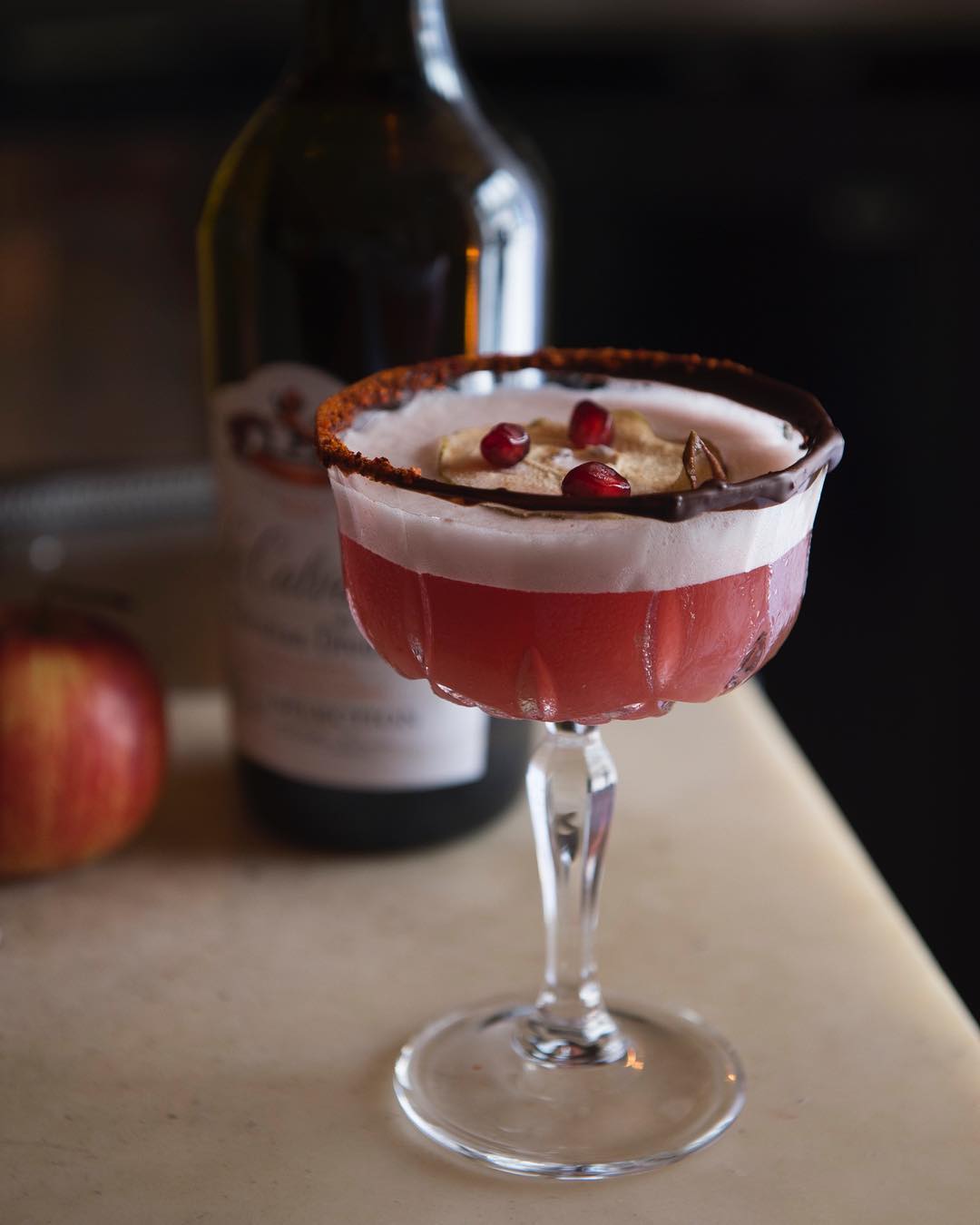 A living proof that tradition could be respected within innovation, this illustrious French eau-de-vie is originally made from the distillation of cider or perry (thus apple and pear based), obviously largely cultivated in Normandy. Respecting the ancestral and natural fermentation lasting at least 28 days, the fruits proportions remain at the discretion of the producer, as long as their free will to distillate their juice whether in a column still or aged in wood barrels, for a minimum period of two years. Mostly produced in specific well-defined areas of Calvados, Orne, Eure, Mayenne and Sarthe, where an absolute know-how has been developed to reach this precious Calvados appellation. This is where that this fruity spirit is minimally matured between 2 and 3 years, to finally titrate at least 40% alcohol volume (photo credit: Pierre Lucet-Penato).
Furthermore, Calvados proposes three appellations: Pays d'Auge, Calvados and Domfrontais. For each of them, and beyond the varieties of apple and pear trees, the type of orchard and related soil, on which these trees grow, have a real impact on the final result. For instance, apple orchards generally consist of at least 20% local apple varieties, whose are about 70% bitter or sweet bitter varieties, and a maximum of 15% acidulous species. Among them, low-stem apple trees tall stalk orchards dominate the Normandy landscape, visibly characterized by green meadows where Norman cows, apple trees and even tall-stem apple trees can live together.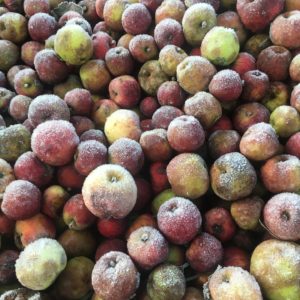 You have to know that apple trees give their first fruits after 10 years and reach their full maturity from 30 years old, and they can even reach the venerable age of 70. Furthermore, with 10 kg of apple, the average production results to around 6L of cider or even a Calvados bottle of 70 cl, at 40% vol. In order to reach this noble ratio, the maximum density for planting trees is 250 plants per hectare of apple ciders, and 150 plants per hectare for pear trees. Please note that during harvesting, mechanical shaking of pear trees is prohibited. Adding to this fact, you've to learn that pear trees were historically planted around orchards to protect apple trees, notably due to their deeper and strong tree root system, for example in winter!
In the other hand, the low-stem orchards, more contemporary, are exclusively dedicated to lead an intensive fruit production, whereas the apple trees produce their first apples after 5 years, for a life expectancy of 30 years. The maintenance of the orchard is done mechanically and the density is much higher (1000 feet of apple trees per hectare), for an average yield of 35 tons per hectare. Very popular in the 80s, this mode of cultivation tends to fall into disuse, in favor of pre-orchards which yield much more interesting fruits.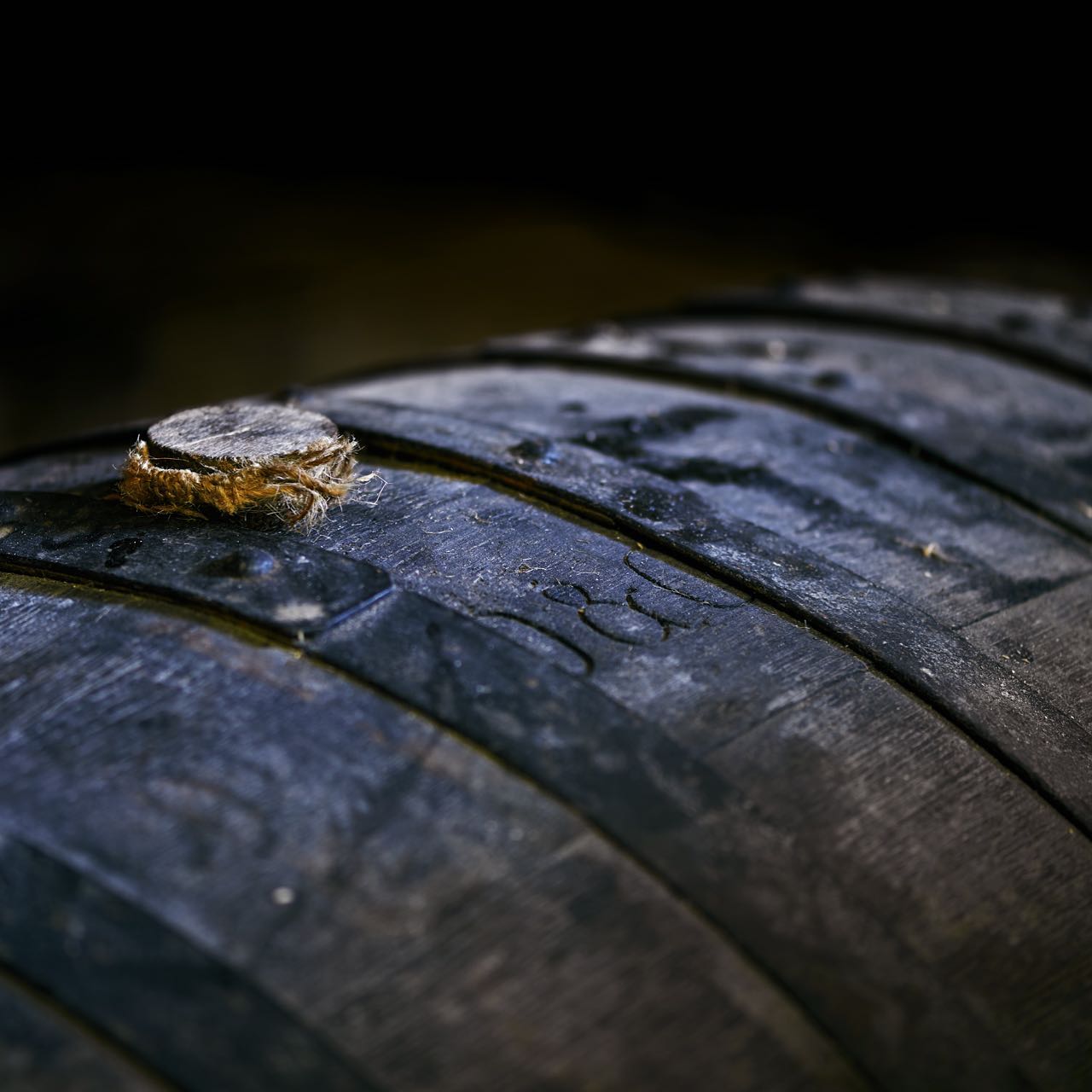 As a matter of fact, this Norman brandy may then be matured in a variety of oak barrels, reflecting the expression of different terroirs, spreading the rich aromatic diversity of this alcohol. Moreover, since a couple of years, a new alternative built on barrels of porto and madeira have been employed in order to launch new gustatory experiences. Among them, you could also count on the Blanche de Normandie, a real un-aged expression of this apple brandy (photo credits: Calvados Christian Drouin).
Thereafter, you would be happy to learn about the different types particularly distinguished by the category to which it belongs: blends or vintages.
Blends are recognizable with some specific classifications, such as Fine, Extra and XO. Some labels specify an age which is that of the youngest brandy in the blend. Whereas, for the classification of their spirits, we know that Calvados producers refer to an age account, whose anniversary date is July 1st of each year. The age of a Calvados is determined by its date of distillation, possibly from single casks. These millesimes depend on a rigorous selection and give rise to exceptional spirits with a strong identity.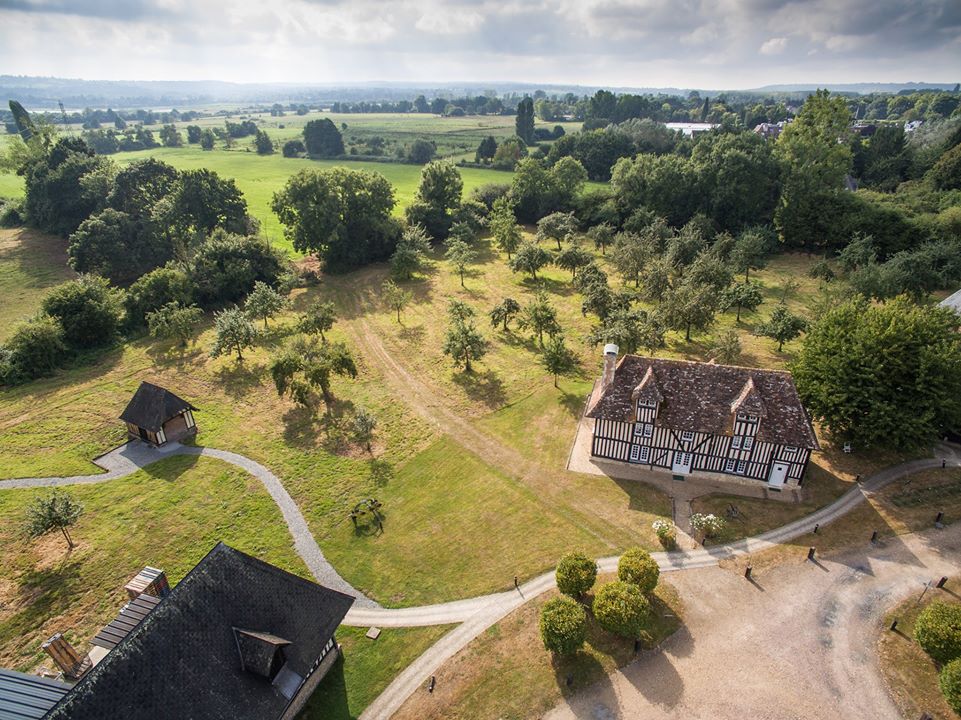 Regarding the appellations, the
Calvados
from the
Pays d'Auge
, is situated at the crossroads of the
French
departments of
Calvados
,
Eure
and
Orne
. This territory is particularly made up of shallow
clay-limestone
hillsides, above which a local production is especially composed with 70 to 100% of
apples
(the rest of
pears
). Adding to this, a natural
fermentation
lasts at least 42 days and continues with an old fashioned distillation, in an
iron still
, before a casual minimum
aging
period of two years.
Thereafter, we learn more about the following Calvados extracted from the Domfrontais' appellation, as well concentrated in three departments: Orne, Manche and Mayenne, luckily privileged with a soil composed of granite and shale. The Domfrontais appellation meets some specific criteria, such as a more balanced mixture of apples and pears (at least 30% of perry). Some steps further, a natural fermentation still lasts at least 42 days, before a simple distillation in a column still and a minimum aging of 3 years, usually in oak barrels.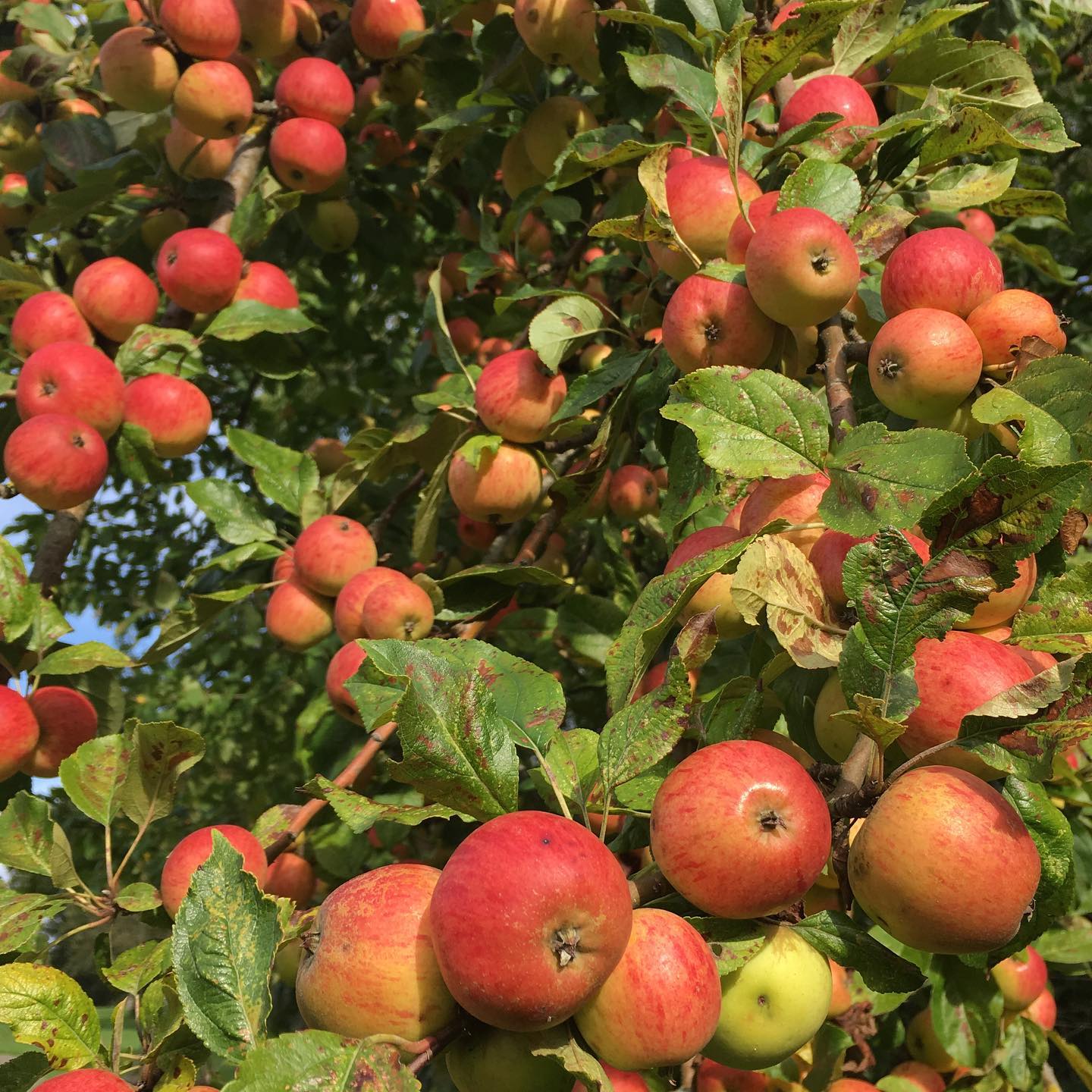 What about
apples
? Mostly harvested between late
September
until
December
, nearly 200 varieties of
apples
may be used in the
Calvados
production, unless only about twenty of them are more regularly cultivated. Among them, there are four main types of
cider apples
: bitter, bittersweet, sweet and tart.
Bitter
apples are rich in tannins and provide structure to the final product, whereas the
bittersweet
ones bring fruity and richness and the
sweet
apples are mainly used for their contribution to the alcohol content of
cider
. Last but not least, the
tartness
stock provides the right amount of
acidity
. Once harvested, the fruits are stored in
granaries
, grouped into
paloxes
(large boxes of around 300 kg), or even on the
ground
for the ripening phase.
At the moment of apples and pears ripening, then these fruits are crushed and pressed, before a final step called crumbling. This one is operated to collect the maximum amount of sugars and tannins, while soaking skins and fruit pulp in water and pressing them again, a very common technique among the cider houses. Thereafter, the juice would be ready for a natural fermentation to formally proceed, as much as possible according to the Norman tradition.
Regarding this point, a tight AOC statement must be respected and along pears, these apples must also be produced locally, plus without any additives allowed by law, expressly after they would have been squeezed. Indeed, after the natural fermentation in tanks, between minimum 28 to 42 days, depending on the AOC. a part of the juice would become cider and the other finest portion would become the essential proper raw material for the next step, aka the distillation. This much expected session annually starts on July 1st, within two main distillation modes coexisting, within the specific AOC standards.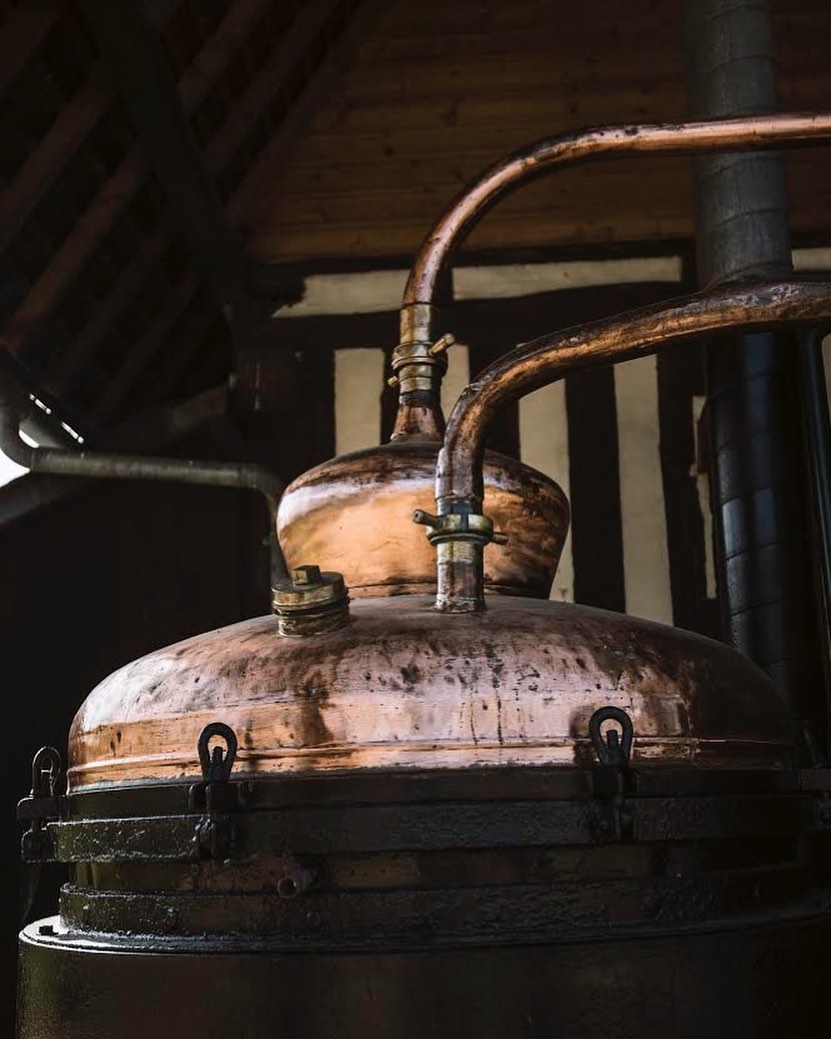 At first sight, the most common
ironing still
, symbolized by the illustrious
ironing alembic
, composed of
copper
to boil the
cider
, a heating part and finally a refrigerating
copper coil
to liquefy the remaining
alcohol vapors
. Used for the two distillations, this device is mandatory for the
distillation
processed in the previously cited
Calvados Pays d'Auge
appellation. For example, pictured here, the
mobile still
, property of
Calvados Christian Drouin
, settled in 1946 but now retired.
The other alternative to be found, is a more contemporary column still, a "must have" in the Domfrontais area, again composed of a boiling function, completed by no less than fifteen trays to let the juice and its vapors melt and circulate, before reaching a condensation column.
Once ready for the last aging phase where the future Calvados nectar would eventually stay between 2 and 3 years in ancestral oak barrels (no matter if they are new or used, refreshed or not with cider). Each barrel has its own chance, preferably those already made from second hand oak casks, already used for other spirits (wines, rum…), instead of recent wooden ones which are rather employed. Indeed, each cask gives to the Calvados its own flavors, along alcohol evaporation and oxydation also contribute to the complexity, thanks to complementary aromas… before the last dive in the more flavored used barrels (200 to 600 liters), for several years. Although some capacities, between 1000 liters of 10,000 liters, may still be used. In this way, they don't only ensure the aging of young spirits, but also their storage.
---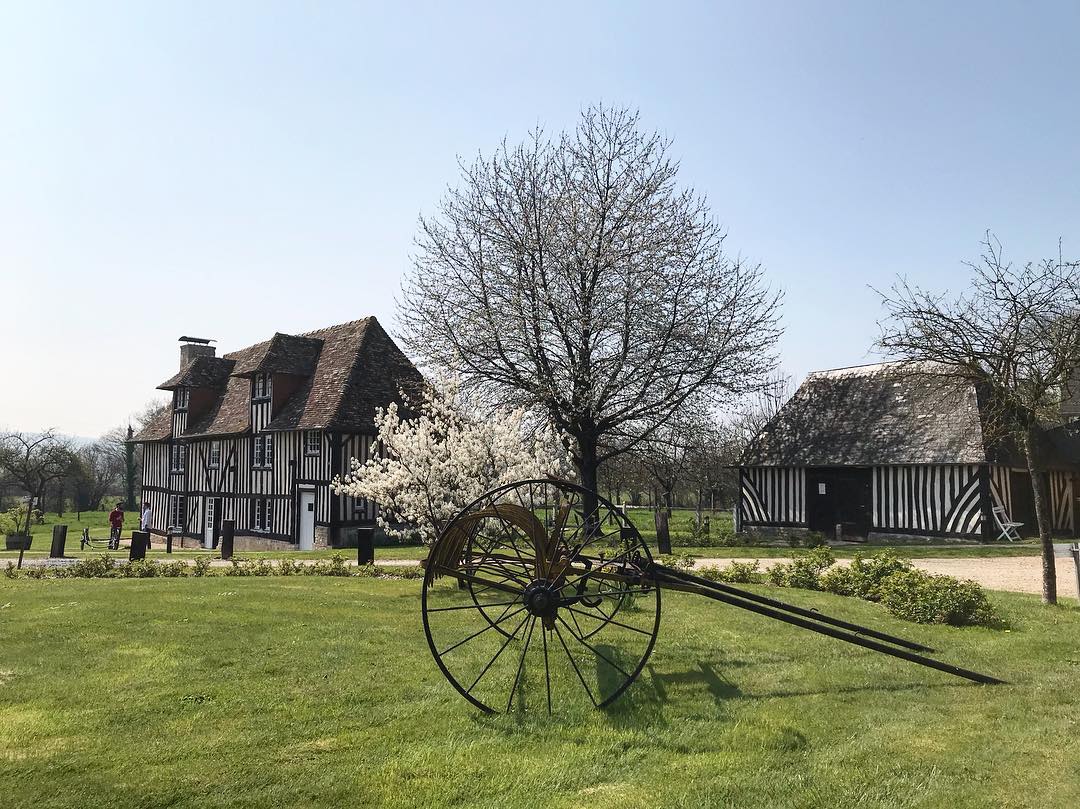 Following our first discovery of their
Gin
in our previous focused article, let's get into the
Calvados
' core of the
Domaine Drouin
. Their
Coeur de Lion
estate is also located in the heart of the
Pays d'Auge
, in an ancient
Norman
farmhouse adorned with a typical 17th century
Augeronne
architecture (photo credits:
Calvados Christian Drouin
).
More than 3 successive generations of skilled distillers have succeeded to each other, offering a selection of premium spirits. This impetus was refreshed since 1960 when Christian Drouin, settled in the orchards and began to manufacture his own-named Calvados, plenty at his image. The international exportation was strengthened from 1979 thanks to the support of his son Christian and revived from 2004, with the intervention of his descendant Guillaume Drouin, a graduated agricultural engineer and oenologist.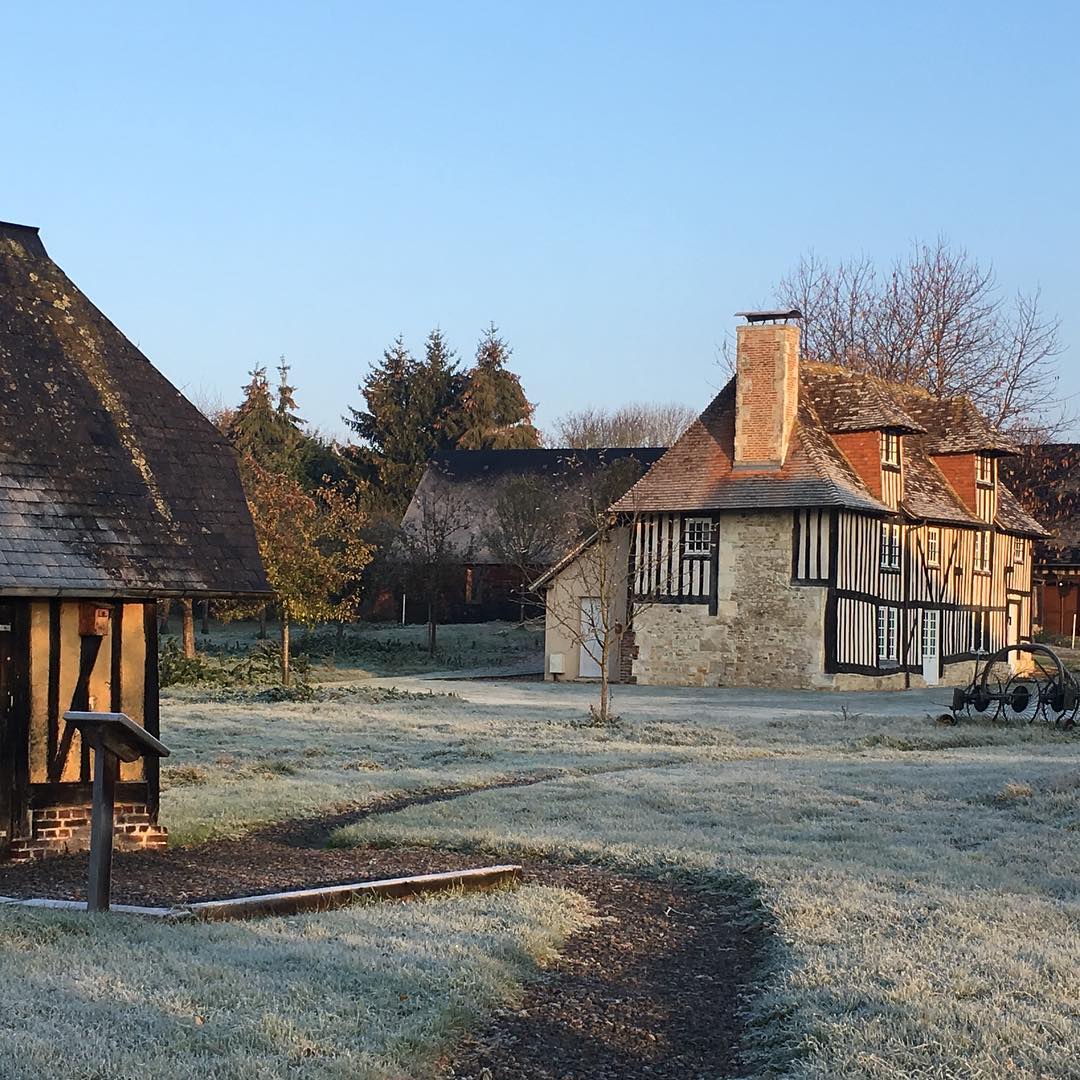 Family unity making strength, you would be amazed to learn their homemade production processes. Since their large estate is equipped by traditional
Norman
devices, such as a press, a distillation workshop, aging cellars, a packaging workshop and of course
orchards
, planted between 1991 and 1993. This surface is only composed of
high-stem
apple trees, whose fruits are duly selected in order to obtain a balanced sweet and acidity content, within a wedding between different varieties of
apples
(a proper alloy among sweet, bittersweet, bitter and tangy
apples
). This oriented diversity is prominent in the development of a genuine and worthy
Calvados
.
One last detail about these apples, they are harvested by shaking the apple trees, which are then picked up by hand and stored in burlap bags. This alternative method certainly offers a new contact back to the ground…
Once ready for fermentation, these native Pays d'Auge cider apples would then be distilled in two successive heatings in the two home iron stills, still in order to respect the charters of the Pays d'Auge appellation.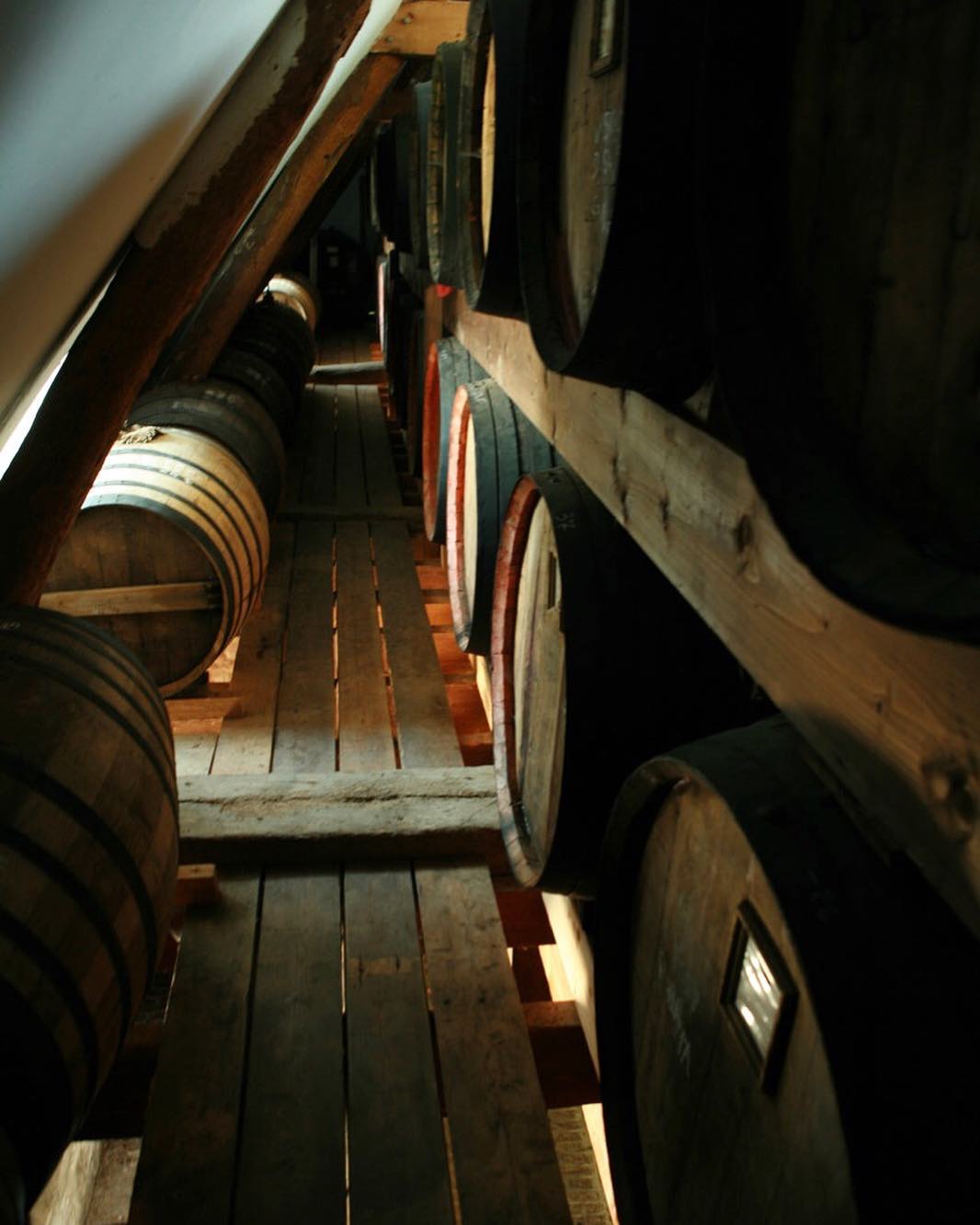 Then came the aging session, the
Calvados Drouin
is aged in cellars, essentially containing small barrels of 250 liters (where the aging may be accelerated) and a few others of nearly 600 liters.
Most of these barrels are former Sherry, Porto and Banyuls barrels. This rich past offers a consistent texture, along a great aromatic complexity, doubled by a magnificent color. In an other hand, the Domaine Christian Drouin as well owns casks, from 15 to 25hL, mostly used for racking, assemblies and storage of ancient Calvados.
At last, if you ever get the chance to visit this exploitation, don't miss to take time to smell the alcohol evaporation emanating from the barrels, commonly called as the mythical "share of angels".
Made from a double distillation, if they are not at least 20 years old, the Calvados Christian Drouin are assembled, bottled and marketed as blends. A real pleasure for spirits enthusiasts, either at home or in a restaurant!
This worldwide acclaim can be testified by the 140 Gold medals, as main public rewards regarding these long-term efforts, for ages.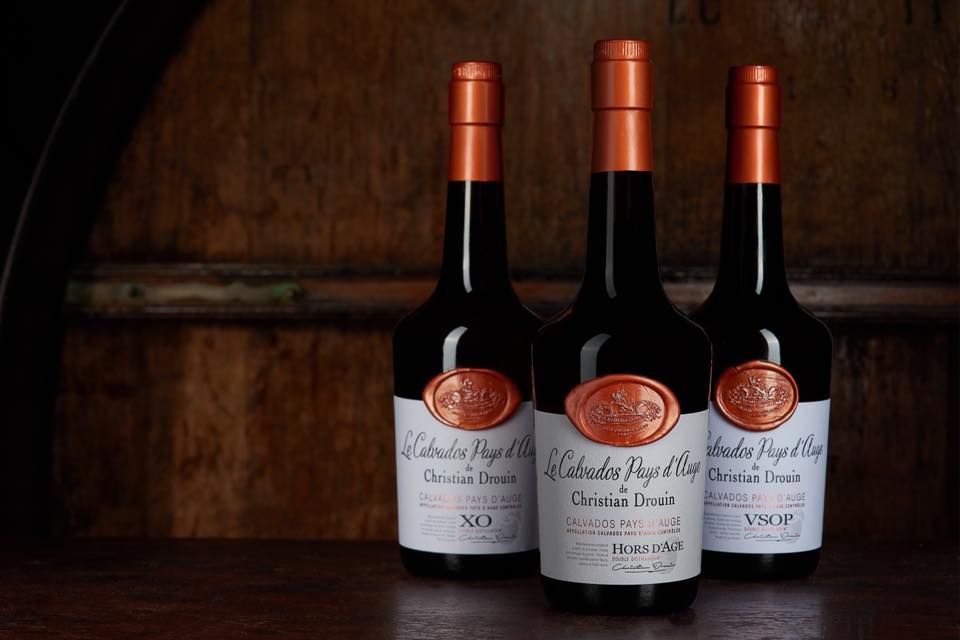 Among the long list of their available
cuvées
, that we invite you to taste, why don't you initiate your journey with a
VSOP
? As we have seen before, made from a
double distillation
and benefiting from a wide choice of flavored
barrels
, this premium
blend
offers an incomparable palette and aromatic richness, this 100% apple
Calvados
is aged at least 5 years in recent barrels, then 4 to 5 years in
barrels
aged 15 years.
The VSOP opens with aromas of ripe apples mixed with sweet spices, vanilla and cinnamon. The result is a supple and harmonious juice, full of roundness and able to provide you enough generosity of fruity fragrances (reminiscent of citrus, prune, gingerbread). On the palate, get into the more present woody notes, with a slice of discreet spices, before a balanced apple happy end.
---
This time we dive into the fairy universe of one of the
Pays d'Auge
appellation's flagships! Located on the
Cider Route
, in the charming village of
Victot-Pontfol
, the
Domaine Dupont
holds multiple
Norman
facets, from the production of
ciders
, along the
pommeau
and of course
Calvados
(photo credits: Domaine Dupont).
For instance, you would be amazed by the real quality of their wide range of Calvados Pays d'Auge, extending from 2 years to over 50 years of age, either reduced or high-degree Calvados (non-reduced, for an empowered tasting experience), whether these nuggets are traditional blendings or even just ancient Calvados vintages. There should be something for every single taste!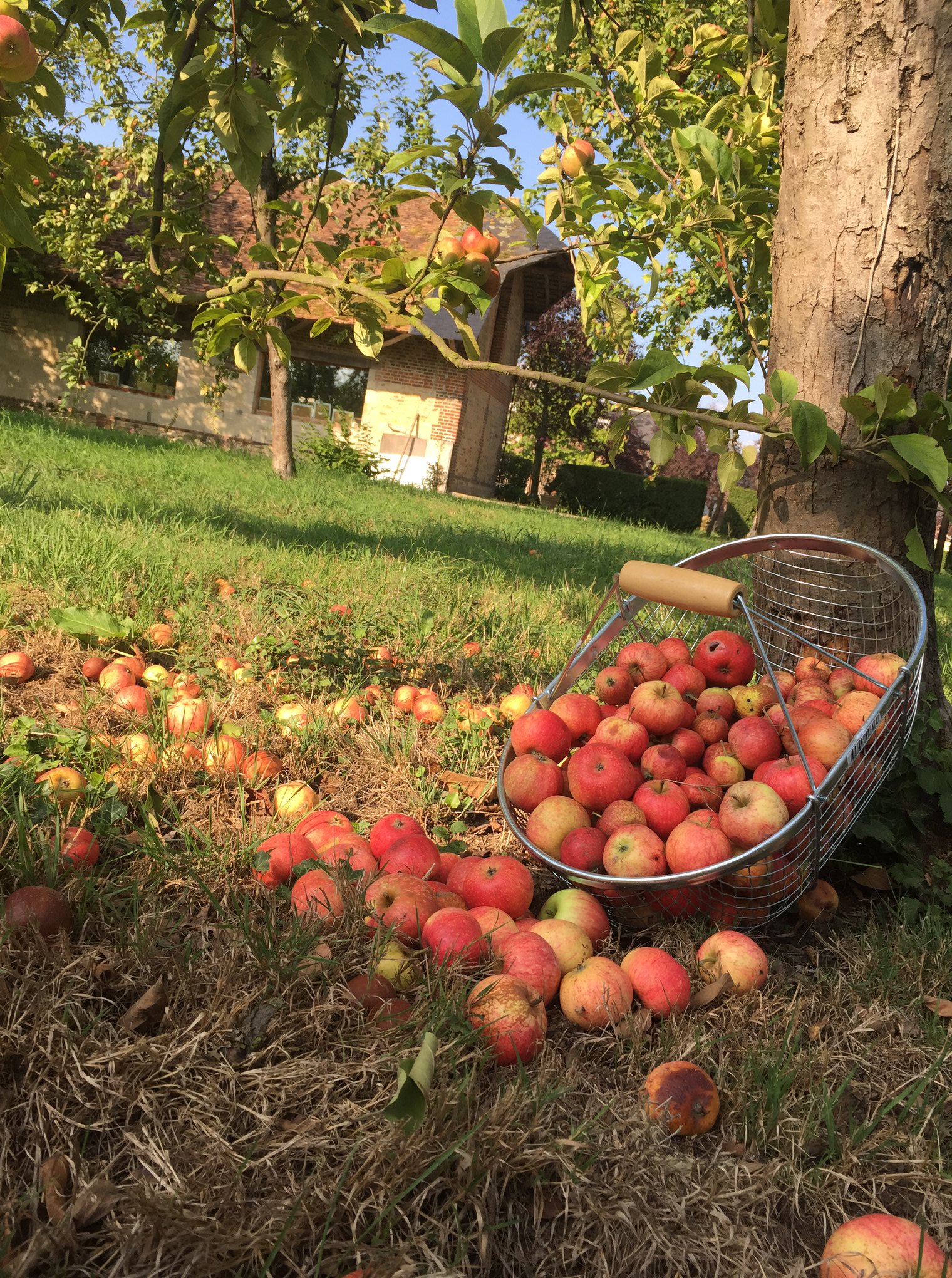 Initiated in 1887 but accelerated one century later, on the impulse of
Étienne Dupont
, the
Calvados Dupont
enhances the real spirit of
Normandy
and for sure, the
Pays d'Auge
due to a flexible
double distillation
, occurring six months after the cider
fermentation
process, an obliged passage to obtain the
AOC Pays d'Auge
label.
Proud of a domain covering 30 hectares of fertile orchards, where the apples varieties are manually sorted, thus giving a consequent attention to the reach of excellence from side to side. Indeed, the Calvados Pays d'Auge, elaborated by the Domaine Dupont, got inspired the best methods from the wine world, employing an œnologist and giving the same high attention (and inspiration) like the greatest millesimes of wine and Cognac.
This novel graped point of view is pretty rarely encountered in this traditional Calvados region, plus it is relied on such precise technical guidelines, notably in terms of cider fermentation, distillation and until the brandy aging in oak barrels, enriched with a gentle heating during the first three months. The occasion for the Calvados to get embodied with small vanilla notes, before being transferred into older barrels for a longer aging, where it would intensifies itself and becomes more complex. Freed from its most volatile alcohols, which slowly evaporated, their Calvados gradually approaches, time after time, its final level of consumption.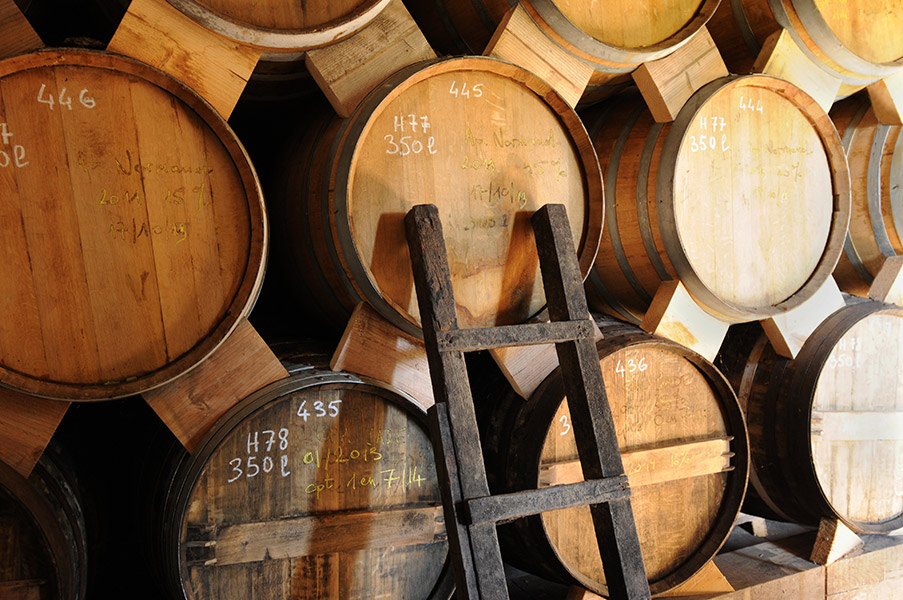 That's why we invite you to feel the expression of this history of a certain
terroir
, through fruits and spirits, within a tasting dilemma between young fruity and dashing
Calvados
, while the older ones got softened, more intense and in the same way, more harmonious, due in particular to a large palette of
aromas
, gradually enriched through
aging
, in
oak barrels
. This result is reflected by a dress which displays visible
amber
reflections over time.
Otherwise, the Calvados Dupont constantly tends to innovate a lot, and regularly launch original products (such a reserve cider or an ice-cider), often precursors towards other producers of this so much visited Cider Route and more largely, through Normandy.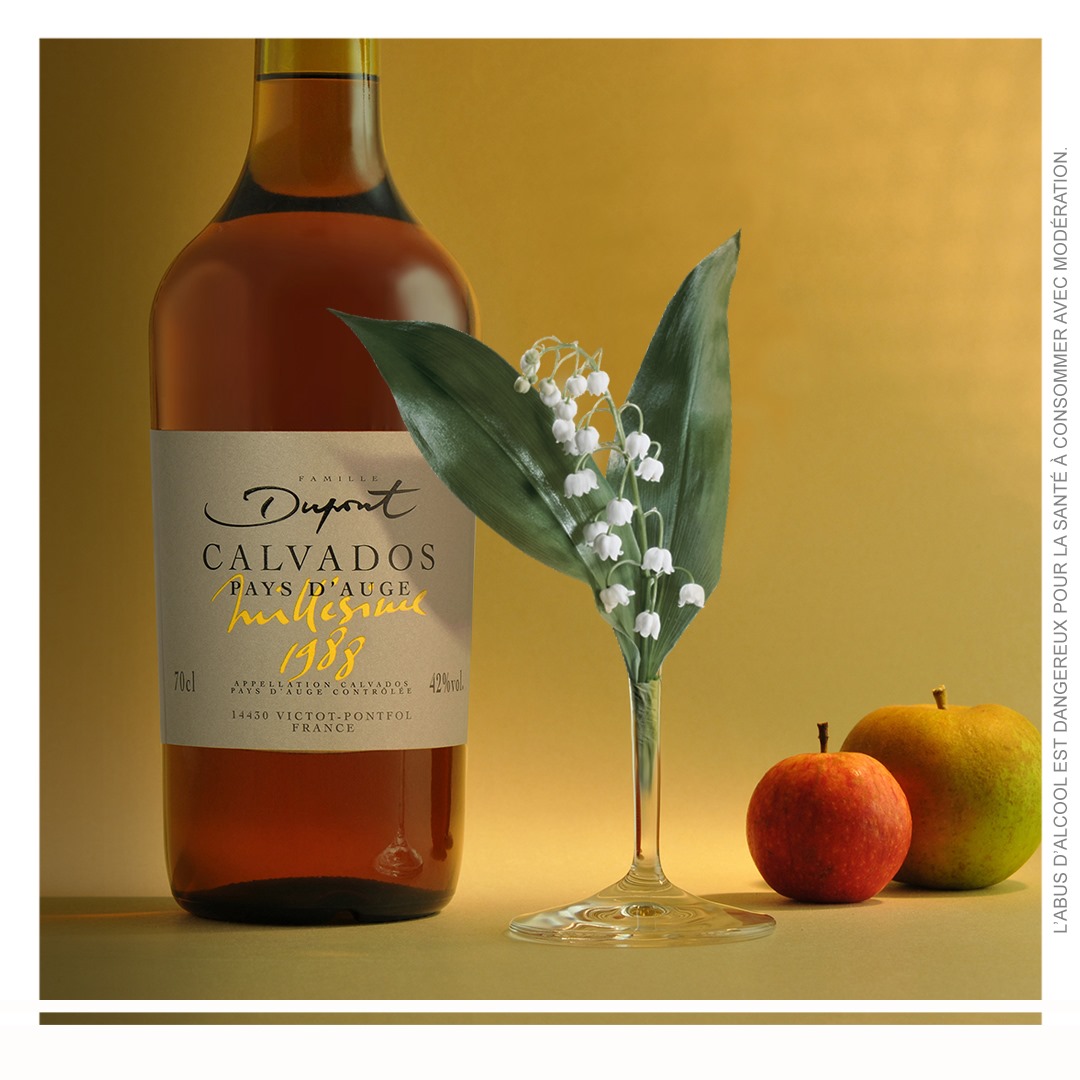 Otherwise, you have a consequent choice to discover their different worthy
vintages
, such as this brilliant
Millesime 1972
. Naturally distilled this eponym year and aged in
barrels
and toasted
oak barrels
of 400 liters. It has been raised on the native representative soils, mostly composed of
clay
and
Oxfordian
marnes
, to extract the best of
bittersweet
apples with a moderate complement of
acidulated
apples.
This premium bottled on order Calvados proposes a very dark mahogany robe, unless reflecting a bright and limpid appearance, more typical of this apple lineage. Therefore, feel free to appreciate its smooth fragrance, mainly offering wooden and spicy aromas, before a notable fruity finish, even from empty glasses… This sensation goes once in your palate, thanks to very intense candied notes, still enriched with these woody and spicy tones, in a way a real balance between bitterness and freshness, supported by the remaining touch of tobacco flavor.
This Calvados is eager to be stored for a long time, your bottle uprightly stood. We recommend you to appreciate it as a digestif, at ambient temperature, accompanied with a cigar or not…
More information on the official
website
. By the way, if you are passing through the domain in
Victot-Pontfol
, you would be warmly welcomed to visit the
Calvados Dupont
's cellar, followed by a tasting of some of their products.
---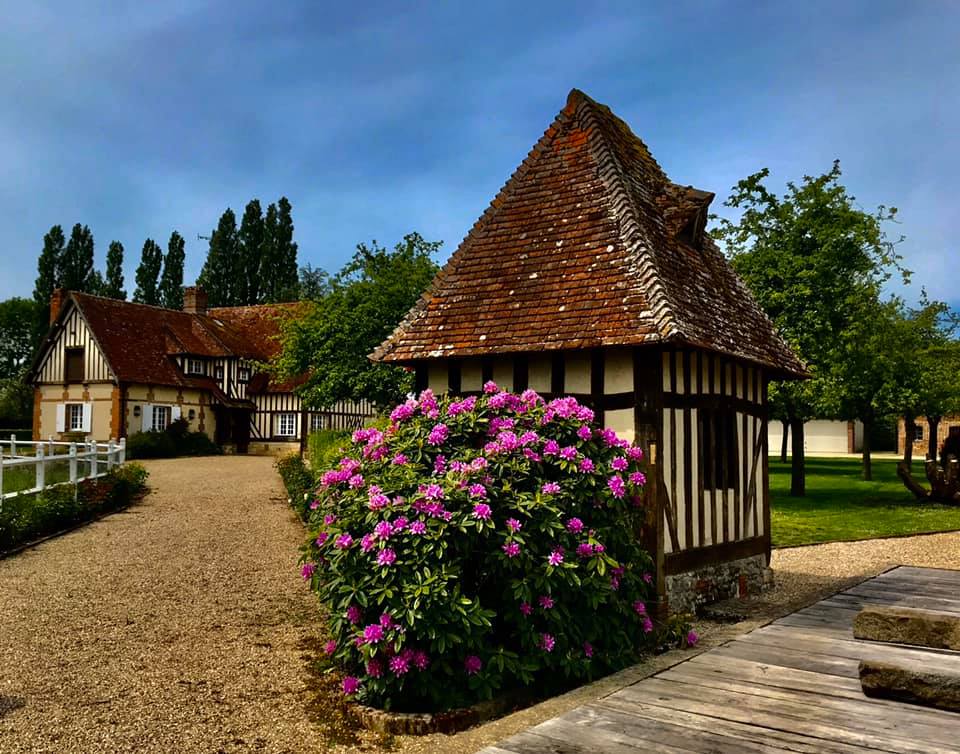 A few steps thrown away from there, the history of the
Groult
family distillery started in the 19th century at the
Clos de la Hurvanière
. This farm, located on the heights of the
Pays d'Auge
, precisely in
Saint-Cyr du Roqueray
, is spread on 27 hectares, mostly composed of fine
orchards
, hosting no less than 6000
apple trees
(15 hectares made of
tall-stem
apple trees and 12 hectares of
low-stem
ones).
Planted on rich soils, full of silt, flint and clay, these fields are dedicated to sublimate between 400 and 600 tons of apples a year, and then a traditionally developed cider, like by the way in most Norman farms, and this since decades. As far as we know, the average yield would result to 650 liters of cider, distilled from 1 ton of these precious apples (photo credits: Calvados Groult).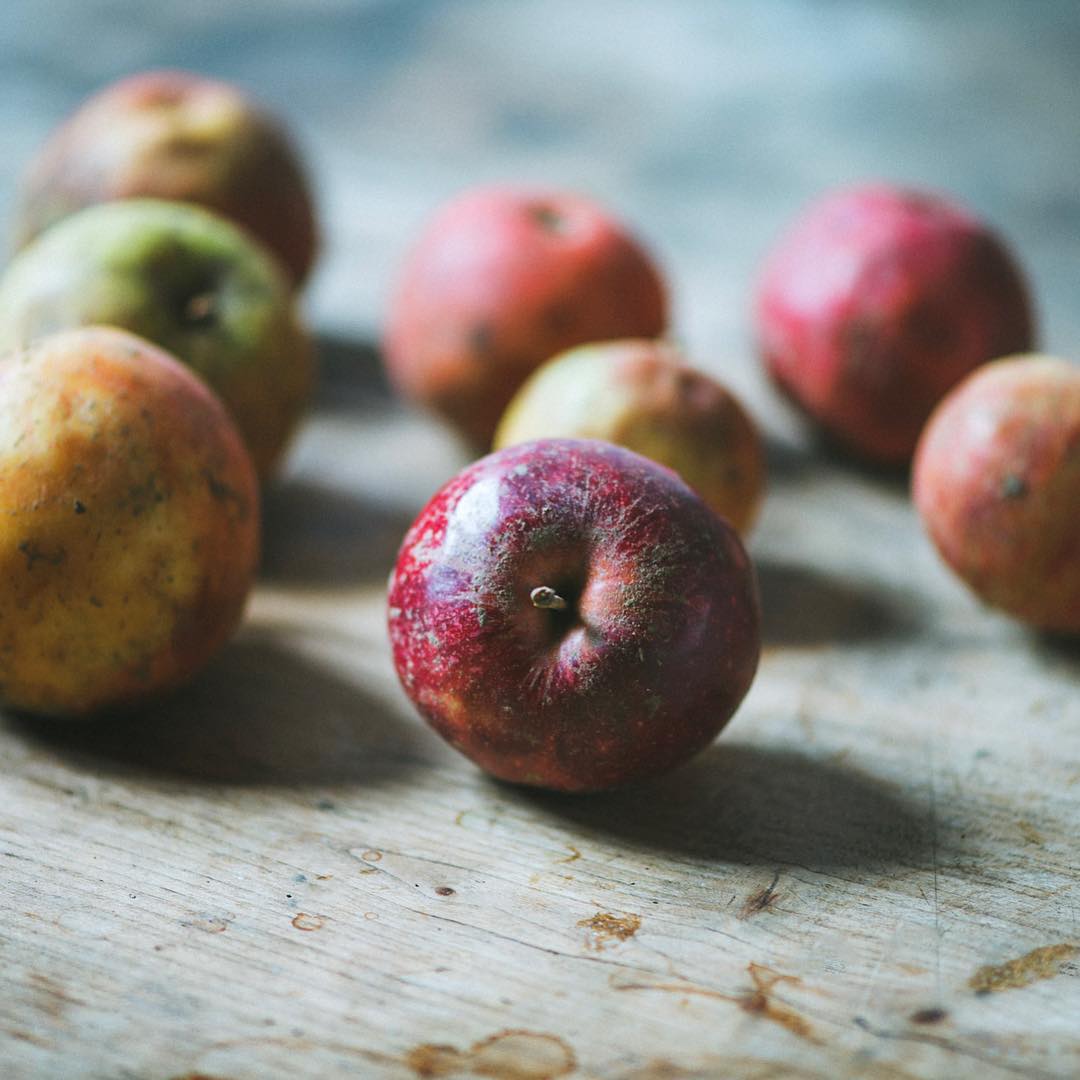 Among the 30 varieties of
cider
apples used, you may more frequently find
Antoinette
,
Fréquin Rouge
,
Bisquet
,
Moulin à Vent
(Windmill)… In fact, bitter and bittersweet
apples
represent nearly 70% of the production, where sweet
apples
, like
Bedan
and
Noël des Champs
take part of 20% from this ratio. Last but not least, tangy
apples
symbolized by
Rambaud
and
Petit Jaune
complete the last 10% of this wide manually harvested and sorted family.
For your information, in 1860, Pierre Groult started to distill his own cider, with the goal to produce an authentic local brandy, self baptized Calvados Groult.
Thanks to its meticulous and secret production methods as well as a magnificent surrounding terroir, his Calvados quickly obtained a good reputation and also won his first gold medal in 1893. This adventure went pursued by his son Léon's, who paid many efforts to develop the settling of new orchards, along a second aging cellar, where three stills were installed, who two of them are still in use today.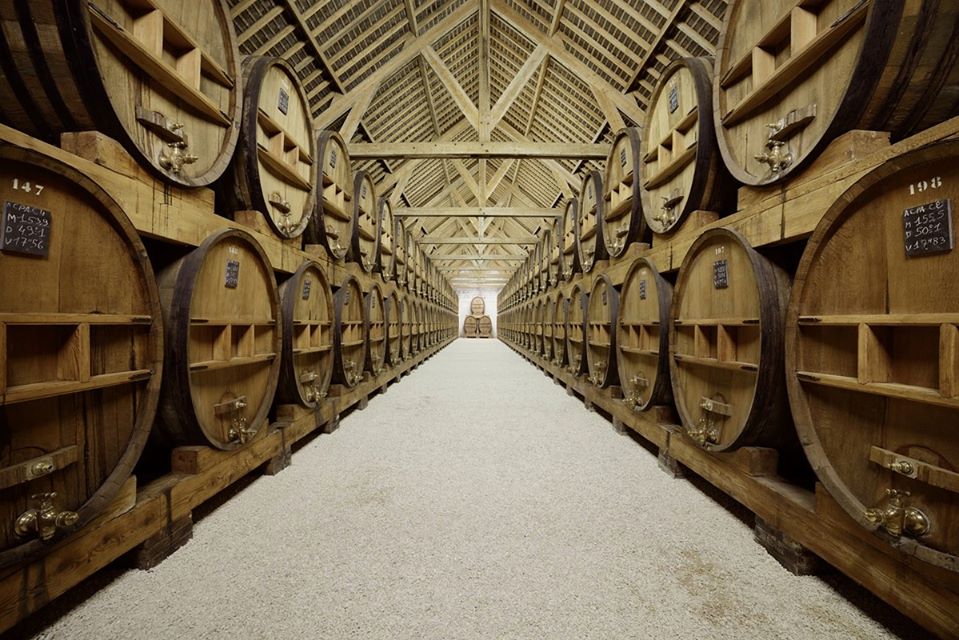 In 1952, this
distillery
was completed within a large aging cellar, in which oak casks of more than 12,000 liters were installed. This new
momentum
allowed the team to expand their production, as well due to the late arrival of recent
orchards
. This was also made possible by the extension of their
Calvados
warehouse, while building the two largest cellars of the region.
Thus, new prestigious cuvées were proposed, such as millesimes, cask finish items finished in whiskey barrels, gourmet ciders, carrying some ancestral specific methods (double wood-fired distillation, perpetual blends). It's not a secret that these innovations answer to a certain demand, especially from abroad, where the Calvados Groult is really popular and present nowadays in 38 countries.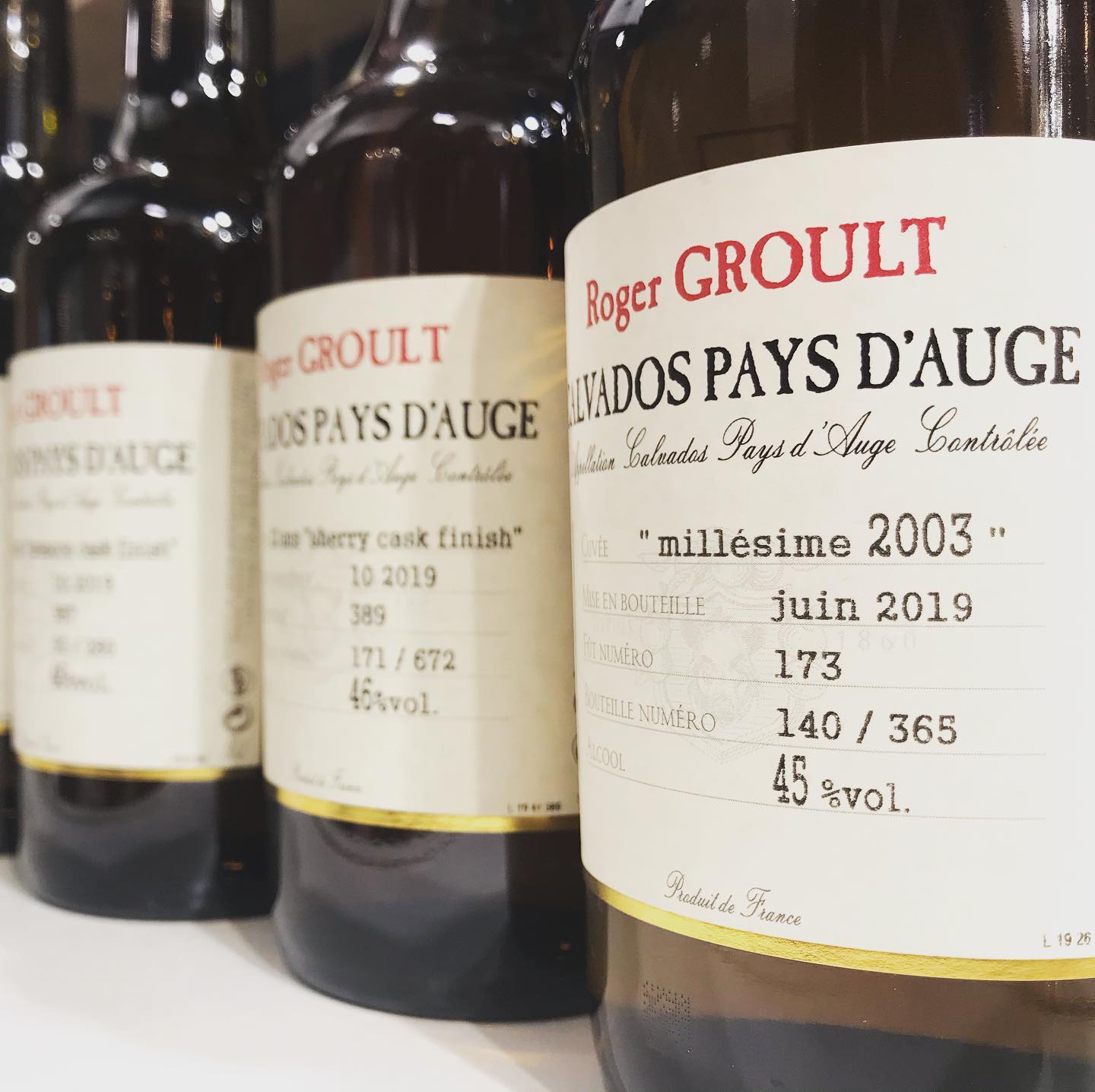 Cherry on the cake, a double
distillation
in old small stills, fed by wood, is operated after the natural
fermentation
of their
ciders
, for a period of 6 months on fine
lees
. A good occasion to get ready for the final plunge!
These stills made from iron, offer a double distillation, since this unmissable method regarding to the controlled appellation Calvados Pays d'Auge keeps the best distillate ever.
Among the homemade artworks from many ages, let's discover their full
apple
based
12 years
aged
Calvados
, able to surprise anybody (even neophytes), while revealing inconspicuous
aromas
, full of white
flowers
and sweet
spices
. Thus, aged minimum
12 years
and
perpetually
blended in old french
oak casks
, this
elixir
would also offer you its last slightly
candied
final notes. As far as we know, this fine
nectar
would be ideal as a
digestif
, served at ambient temperature, or a perfect accompaniment to appreciate your favourite
desserts
, especially made of
chocolate
or eventually as well just a
cigar
!
---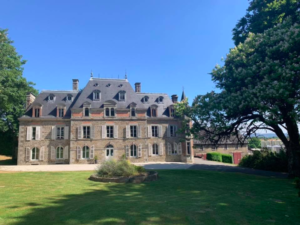 It's also our mission to introduce you the other AOC Calvados approach! Nowadays lead by its third generation of Calvados enthusiasts, the Calvados Coquerel shares its best nectars elaborated in their distillery, located a few kilometers from the Mont-Saint-Michel. Among this happy tribe who succeeded to make this family affair as the first regional independent productor (with 650K bottles/year), Pierre-Marin Neuhaus tends to pursue the closest as possible this family spirit, initiated since 1937. As staunch defenders of this certain Norman tradition since decades, their spirits have been selected and assembled for their unique assets, such as their aromatic profiles representing the best of this so much appled French region of Normandy, also protected under the Appellation Calvados Contrôlée (AOC) label, guaranteeing a premium Calvados quality (photo credits: Calvados Coquerel).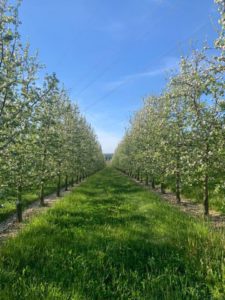 For your information, on their authentic orchards, also implemented by their 200 surrounding farmers, we are proud to announce that the polyculture is king, thanks to a happy cohabitation between cows, sheep and for sure apples. Plus, in these fields, an eco-friendly manner helps to maintain these rich soils, notably through an organic fertilization, completed by a natural lightening, while letting drop the first apples on the ground (most of the time, the crooked elements).
Thus, this poor pollution effect results to a visible high biodiversity, offering a pure living space to insects, flowers and other kinds of species. In an other hand, this policy permits the safety of the fragile water tables, of these Norman orchards. A real sustainable lifestyle example to inspire other lands and specialities, in a way!
In order to reach the Calvados Coquerel standards, the exploitation counts four families of apples. Among them, you may find the sweet ones, baptized Germaine, Rouge Dure, mostly acclaimed for their natural and perfumed sugar. Furthermore, there are also the bitter varieties, aka the Domaine and Fréquin, bringing balance and harmony, eventually to connect with the Bedan, Rouge, Bisquet and Binet families, which are sweet-bitter apples, offering a durable tannin touch. Last but not least, the tart ones, standing out through the illustrious Rambault and René Martin, especially for their freshness and the subtle taste they could fulfill your senses.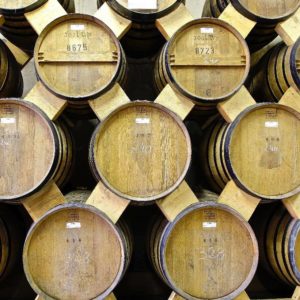 Furthermore, once these apples and a slight complement of pears are harvested and pressed, the juice obtained from those multiple fruits is left in a natural fermentation for a minimum duration of 28 days to become cider, whose aromas are then concentrated and exalted during the next step, within the distillation on lees. Soon metamorphosed into a crystalline brandy, where this final fruity wedding operated in the three traditional home copper column-stills, before the last maturation in many of the 2,500 unmissable oak barrels and 70 foudres!
Now that we're informed about the process, who's not excited to discover the Calvados Coquerel selection? Indeed, following to this statement, we would be glad to introduce you the main products elaborated by this centenary Norman house, and accompanied with a couple of suggested original cocktails, suitable to the personality of each element, to prepare at your place, at your own liking and convenience for sure! An alternative privilege to appreciate a multi-awarded Calvados, thanks to more than a hundred medals, including five times the Grand Prize of Honor from the French President, recompensing the most beautiful cellars in Calvados.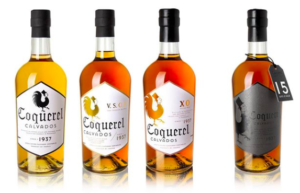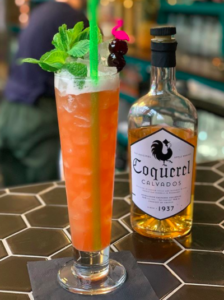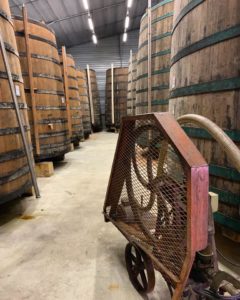 The emblematic Coquerel Fine edition is naturally one of their signature blends, aged at least 2 years in French oak barrels. With this Calvados, enriched with fresh cider fragrance, you would quickly perceive the fruity and fresh personality of apples, associated with the sweet vanilla notes, before a floral final touch. This fantastic wedding results from a fine aging in young fine-grained oak barrels, during the first months of aging. Such an incomparable sensation that even the cellar master affirms that tasting the Coquerel Fine "gives me the impression of crunching in the apple".
To enjoy it, the team recommends you to use 5 cl of this nectar into the so called Coquerel Tonic, completed with 15 cl of tonic water and 2 apple slices in a highball glass, efficiently stirred and filled with ice.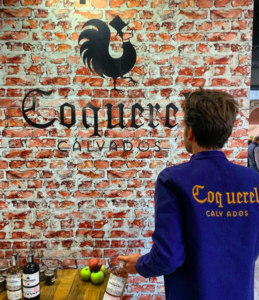 The Coquerel family affirms that any Calvados is above all, a great cider. That's maybe one of the reasons why this Coquerel VSOP was imagined by the grandfather, who somehow wished to create a certain balanced harmony between the freshness of apples and the sweet spicy notes brought by a minimum ageing of 4 years in small oak barrels.
Therefore, this slightly amber juice holds mahogany reflects, and spreads a generous aromatic peppery perfume, full of cooked apples, but also woody and vanilla scents. Once in mouth, you would be amazed by its soft and fruity sweetness, really matching with the reminiscent spices in a full-bodied profusion, opening on candied fruit and gingerbread notes, altogether evolving towards a delicious final touch, enriched with dried fruit. In fact, a worthy Calvados undoubtedly better to consume pure, on ice, or as a long drink with some tonic or as a base for premium cocktails.
For instance, we invite you to employ 6 cl of this Coquerel Calvados VSOP into a Normand Mule cocktail, an alternative version of the classic Moscow Mule, preferably to implement in a copper mug, with 12 cl of fresh ginger beer, 1 cl of squeezed lime, after dropping the skin at the bottom of the glass. Don't hesitate to decorate your creation with apple and lime slices!
"Coquerel VSOP is the perfect balance to find back the fruity aspects of our Fine and the smoothness of our XO" according to the cellar master.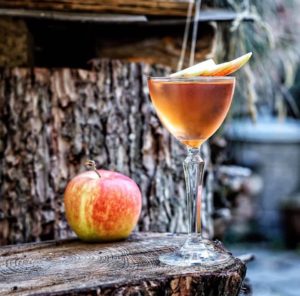 Then, we switch to the Coquerel XO Hors d'Âge is one of the emblematic blends of the distillery, thanks to its powerful and complex tasteful approach. Thus, this subtly golden Calvados has turned into sparkling amber reflections, due to its maturation from 6 to 10 years in old barrels. This period conferred to this elixir an optimal maturity and eventually a rich aromatic balance between elegant notes of baked apples, brioche and hazelnut, evolving on aromas of lemon, dark chocolate and caramel, in your palate. A real round juice, provided with a very long Tatin pastry final feeling, to consume pure.
Here, the Coquerel's suggestion would be the Old Fashioned, Really? cocktail, to build with 4 cl of Coquerel Calvados XO and one sugar cube, naturally in an old fashioned glass. Then, wet the solution in one dash of bitter Angostura, before a splash of club soda and an orange twist, for your courtoisie. You may also add a large ice cube in case of heatwave!
"Coquerel XO is made from a blend of spirits aged at least 6 years selected by me, so that they are perfectly balanced between visual elegance and aromatic richness" still admits the cellar master.
More information on the official
website
and take the opportunity to discover their wide
range
, such as their brand new
Normindia Gin
!
---
Also an authentic
AOC Calvados
, a neighbored
distillery
, formerly easily identifiable by the
parchment
-like labels featuring on their bottles, the
Maison Garnier
was founded in 1877 and operated a brand new
blue
packaging lately. Once upon a time, a
wine
and
spirits
merchant decided to conduct its own
Calvados
production activity. Located in the
Orne
department, near
Condé sur Noireau
, the
Maison Garnier
is run by the dynamic
Nicolas Garnier
, a cellar master who eventually traveled the world, before carrying the golden family torch within this
Norman
adventure (photo credits: Calvados Garnier).
The Calvados Garnier have the distinction of being distilled in a small Gazagne column alambic, just slightly modified. Since its first steps in 1923, this device hasn't stopped operating during the distillation season, while offering, apart its bucolic design, a very marked taste specificity and remarkable lightness.
For your information, in order to be marketed, the Bible requires that any Calvados must be at least aged of two years old. This rule is deeply respected at the Domaine Garnier, since their elixir is only bottled, from three to thirty years of age, also waiting for the upcoming millesimes to come soon, if you stay tuned…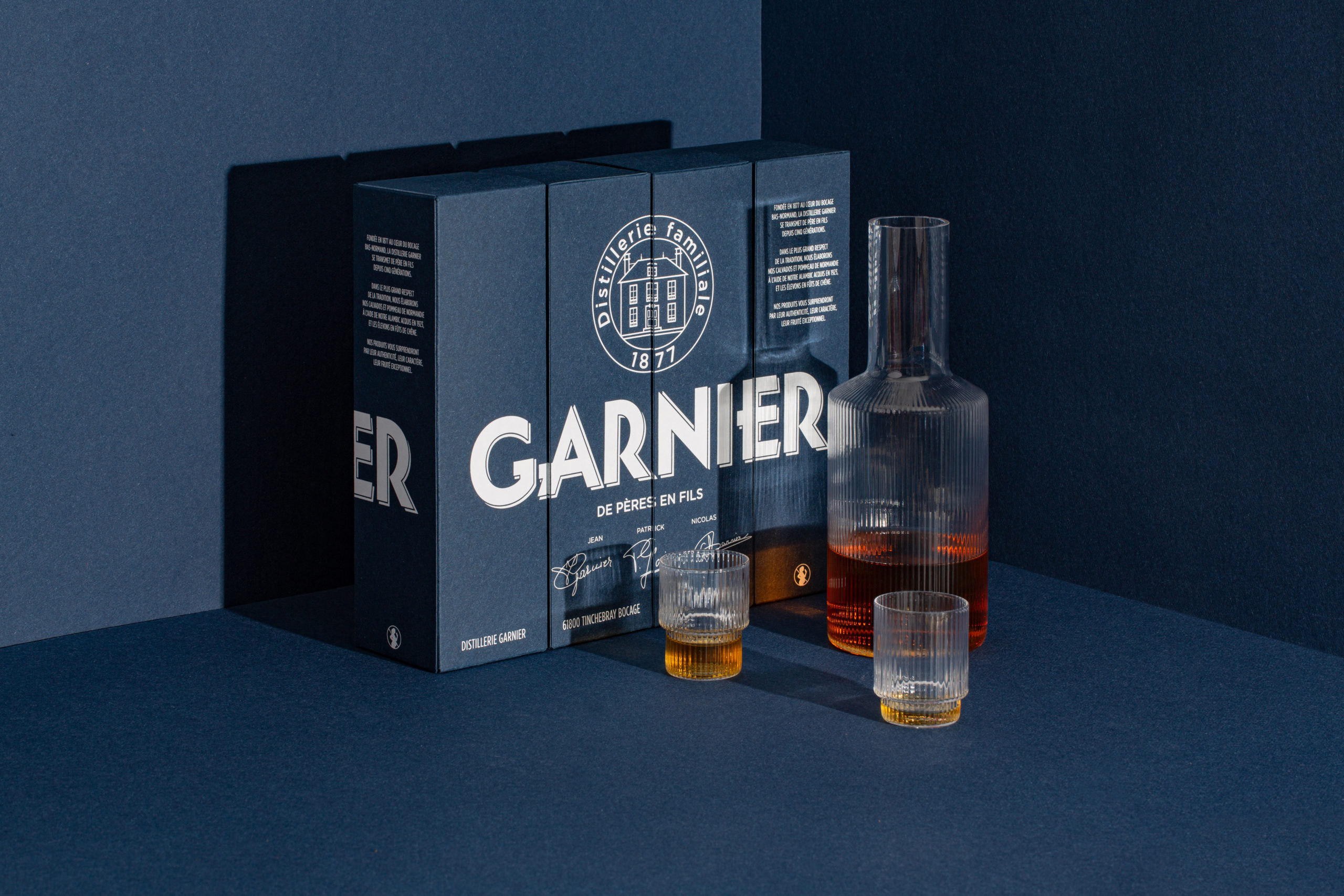 In order to illustrate these points, we're glad to introduce you their
20 year
old
Calvados
, particularly dedicated for anyone able to appreciate the
heritage
bottle of the collection… Indeed this
Garnier
item is the fruit of a wedding between no less than 30 different
apple
varieties (no
pear
therefore), from
bittersweet
to
sweet
. At the first look, admire its dark
amber
taint, announcing unsurprisingly some melted
woody
aromas, combining
nut
,
caramel
and
vanilla
notes. This detail is coherent with its very
sweet
taste, where its
tannins
make one with the warm energy of
honey
and
baked apples
aromas. In fact, this
Calvados
comes from a
solera
containing all the
Garnier
blends, since the early times, eventually ideal at the happening of a good
diner
.