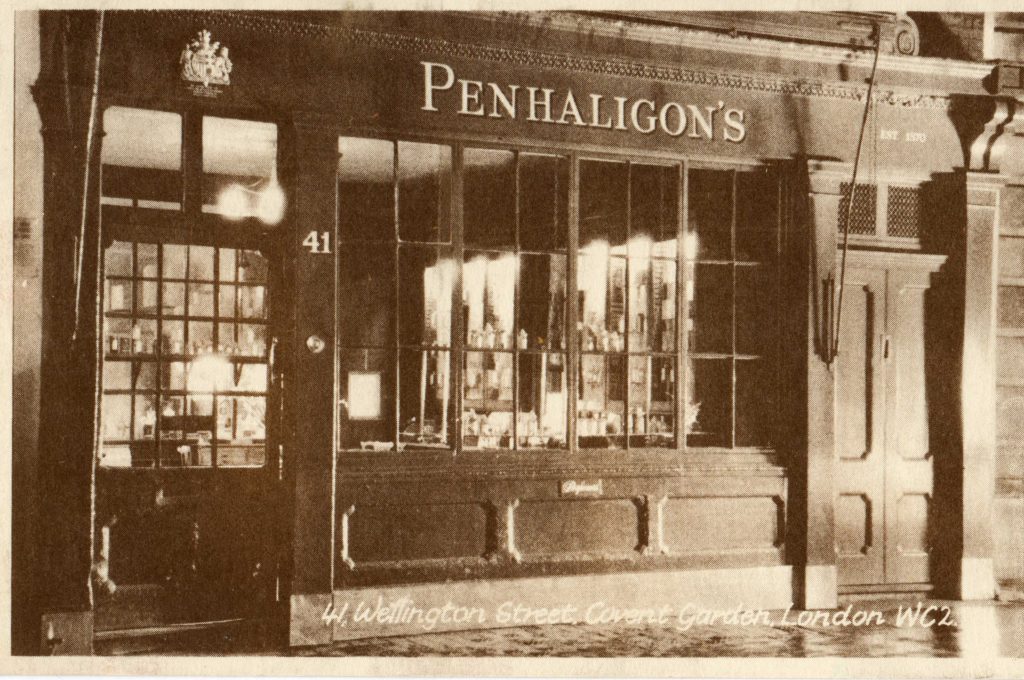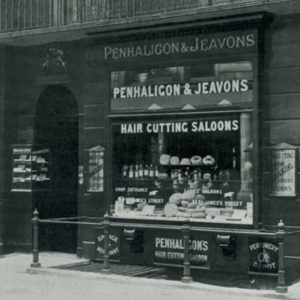 Once William Penhaligon escaped by train in 1860s, from his calm countryside in Cornwall, to reach the Londoner Dream, he wouldn't have imagined the destiny of his perfume house. Quickly after, he settled his own barber's shop on Jermyn Street, close to his future partner from 1880, Mr. Jeavons, a hairdresser. Like his fellow barbers during the time, William Penhaligon was keen on designing his own range of beauty products to satisfy the wishes of his clients. Although, his perfumes were the more successful of this line, he became the official barber and perfumer during the Queen Victoria's reign. By the way, it was cited in his first warrant that his distinction was awarded as a "devotee of natural products only which was Penhaligon's trademark."
Like we usually say in UK, "birthdays here are linked like buses in London, we expect one and there are two that happen at the same time!" Indeed, not only does 2020 mark the 150th anniversary of the legendary British royal perfumer Penhaligon's, but it also marks the 10th anniversary of their dapper fern scent, Sartorial. Directly inspired by the Savile Row, a street in Mayfair, central London, principally known for its traditional bespoke tailoring for men. By Alex Plato
---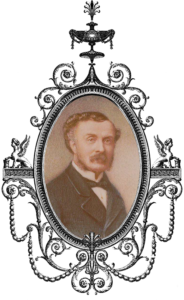 2020 is definitely an important year for the Penhaligon's perfumery House! This fine ancestral British institution, was founded in 1870 in London, by late William Penhaligon, reflects a certain passion to prolong a family tradition and an amazing legacy. Indeed, prior launching his own beauty entity, the founder was engaged as hairdresser and barber in the illustrious Piccadilly Turkish Baths on Jermyn Street, where he designed his own scents, lotions and potions.
A personal project which notably gained prominence at the occasion of the later opening of his own salon, in the same street. Since his precious clientele was really enthusiast about this homemade range, full of creative and innovative slightly perfumed goods, in order to define a new elegance. And thus, Penhaligon's was born, in a deep connection with the British Royal family, since William Penhaligon was furthermore appointed Royal Barber and Perfumer to the Royal Court during Queen Victoria's reign. Moreover, in 1903 the uprising House was granted its first Royal Warrant from Queen Alexandra, followed by an other Royal Warrant granted in 1956, by the Duke of Edinburgh and the last one, in 1988 from the hands of the Prince of Wales. These official certificates still prominently feature on the front of the Wellington Street store, a legendary address also labelled on the bottles. Moreover, Penhaligon's still pursues to supply the royal palace to this day, directly from their store, situated in Burlington Arcade.
For you information, the royal tradition even pursues nowadays, since Prince William and his father, Prince Charles both share the same tastes for the perfumes of fragrances. Indeed, their preferred juice is the Blenheim Bouquet, a detail that probably predicts a potential royal warrant soon bestowed by Prince William? Nonetheless, we may count among other famous Penhaligon's clients, such as Kate Moss who often wears Bluebell at party time, and even Sarah Jessica Parker, claiming her addiction for Violetta (photo credits: Penhaligon's).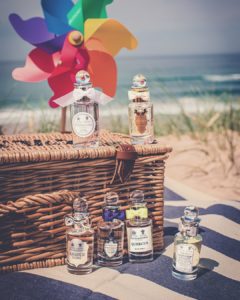 Nowadays, an extended fragrance selection has been developed, and on top of that, is still made and bottled in England, still using the highest quality ingredients. Thereafter, their precious bottles are hand-finished in the respect of the original Penhaligon's codes. Thus, their signature fragrance glassed bottles recall nearly the same design since the beginnings, surmounted by a distinctive refined ribbon-wrapped stopper. Although, keeping up with some avant-garde mind, the team tended to adapt their traditional process to modern technology, especially with environmental concerns (from CO2 extraction to nature print technology).
Even though, and on request, your favorite products may be delivered in eco-friendly gift boxes, eventually filled with some attentions, according to your tastes. The generosity spread by Penhaligon's would be revealed from your first order or passage in one of their boutiques.
On top of that, as you may act for wines or clothes, everybody needs to test to adopt! That's why, you are invited to find your own Penhaligon's scented profile, helped with one the home advisors, able to ask you the right questions and make you smell what is suitable to you. Last but not least, also ask for the Made To Measure facility, a private appointment warmly guided, to personalize your fragrance, with the addition of one of four top essence signatures. Cherry on the cake, opt for your own Penhaligon's customization, through the engravable option, iconic velvet bow and box, in an array of different colors.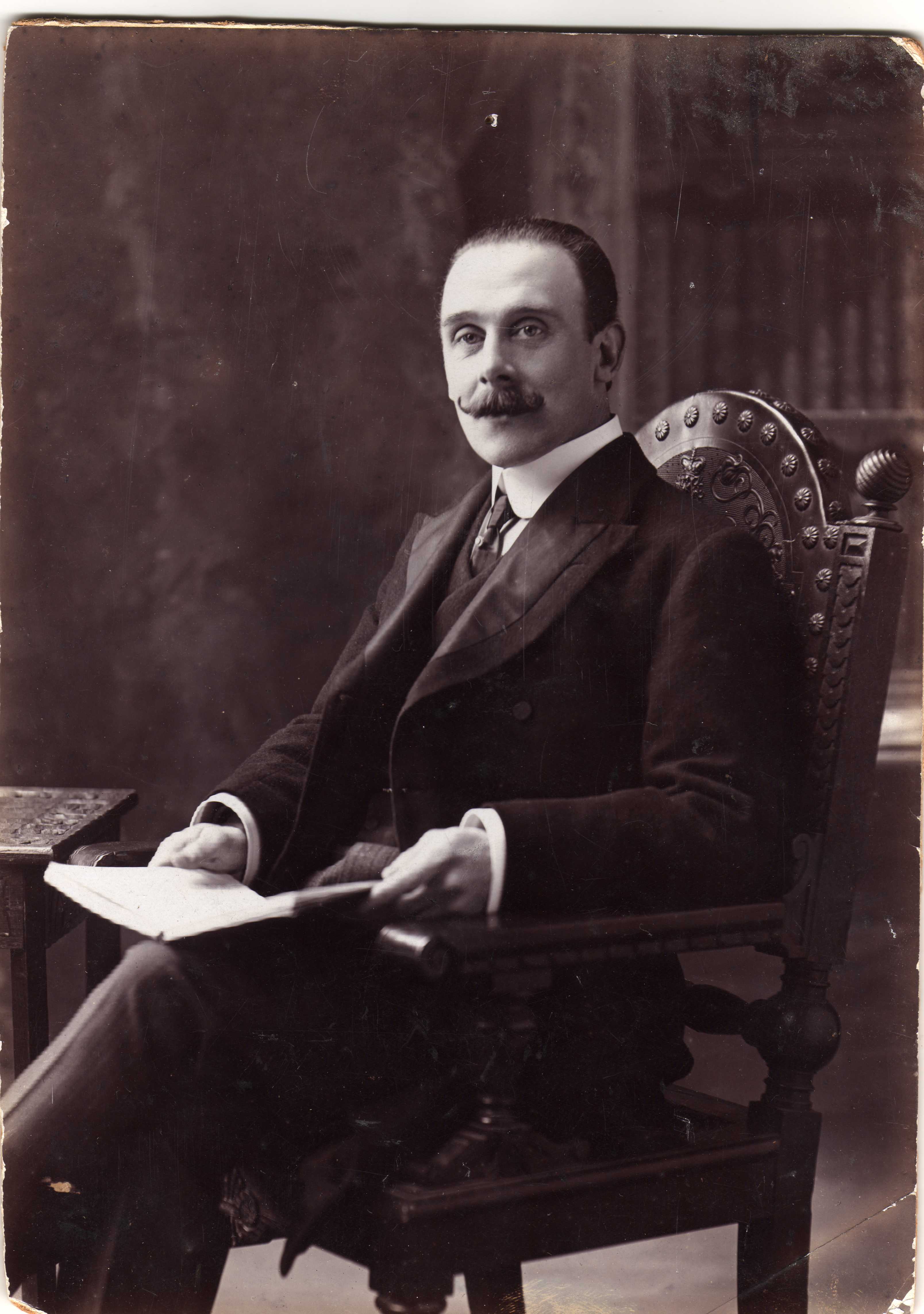 By 1874,
William Penhaligon
had expanded his
salon
(pictured above) through a huge investment, £ 1500 was spent on the
shopfit
, which by todays standards is over £ 65,000! For your information,
perfumes
were
blended
,
bottled
and
ribboned
around a square stopper, at the rear of the
store
, behind a transparent screen, so that customers could witness first hand this artisanal
production
process, whereas the still homemade
bath oils
were created in the basement. As far as we know, the
quality
of his products and his
merchandising
contributed to
Penhaligon's
success, that convinced the fellow
Mr Jeavons
to ground a business
partnership
, in 1880. Then, the
Penhaligon's fragrant shop
eventually didn't stop to flourish then, to the point where
Penhaligon's
was particularly frequented by famous clients, such as the Persian
Shah
with let him charmed by one of the first creations, baptized
Hammam Bouquet
.
Despite William Penhaligon passed away in 1902, 3 weeks before the death of Mr Jeavon, the magic still lingers on. Indeed, his son Walter, an expert perfumer, took over the family business and finally in 1904, the worldwide renowned Penhaligon's appeared for the first time without Jeavons. Furthermore, Walter Penhaligon was such a visionary traveler, who already imagined in 1902, the revolutionary Blenheim Bouquet (illustrated below), in tribute to the Duke of Marlborough and his Blenheim Palace. Thus, this male citrus fragrance broke the usual codes of that early 20th century period, when most men would have rather worn soliflore fragrances such as a rose or violet. This innovative direction was completed in 1911, with the decision to include lavender essence in all of the masculine perfumes, to pay homage to his father's original Hammam Bouquet.
By the way, this item was already a tribute to these popular Turkish baths arising in London, especially for the aristocracy, since the 1860s. As a matter of fact, Walter Penhaligon's leadership and creativity shaped Penhaligon's into the fine perfumers select club, as we appreciate it nowadays.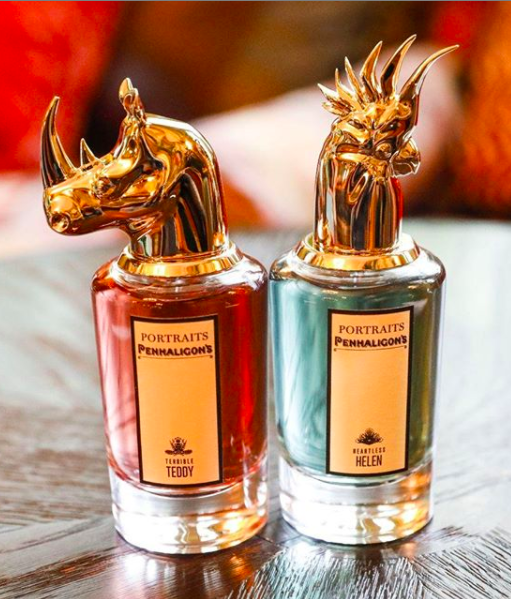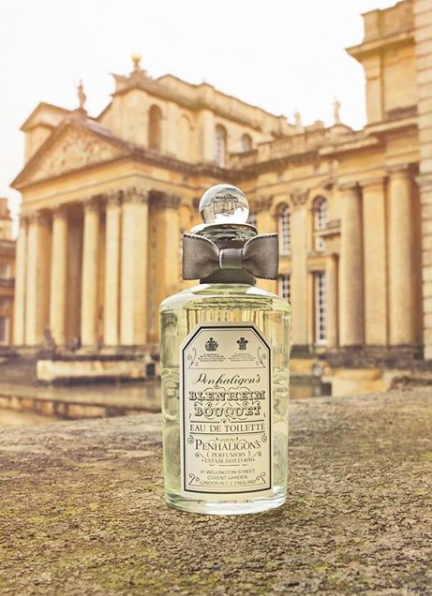 The typical British touch developed by William Penhaligon last for ages, and still amazes the nostalgic people of a United-Kingdom from yesteryear. Then, this legacy was correctly pursued by his son Walter, whose leadership and creativity shaped the Penhaligon's, we know today.
This was made possible thanks to masterpieces, such as the Floral Toilet Waters, a selection of floral fragrances, based on the Victorian tradition of floriography, notably including essences of lily of the Valley (different from its original 1907 incarnation due to advances in perfumery), violetta, night scented stock, orange blossom, gardenia and of course the iconic bluebell.
Lately, the flagship store opened on Wellington Street; 40 years ago, mainly due to the efforts of the manager from that time, Sheila Pickles., who purchased Penhaligon's, in 1975. Thanks to her impulsion, this third prestigious Royal Warrant, as Suppliers of Toilet Requisites was finally allocated, from HRH The Prince of Wales, in January 1988. Furthermore, this much inspired lady entrepreneur tended to revive many classic fragrances, inspired by the original William and Walter's recipes.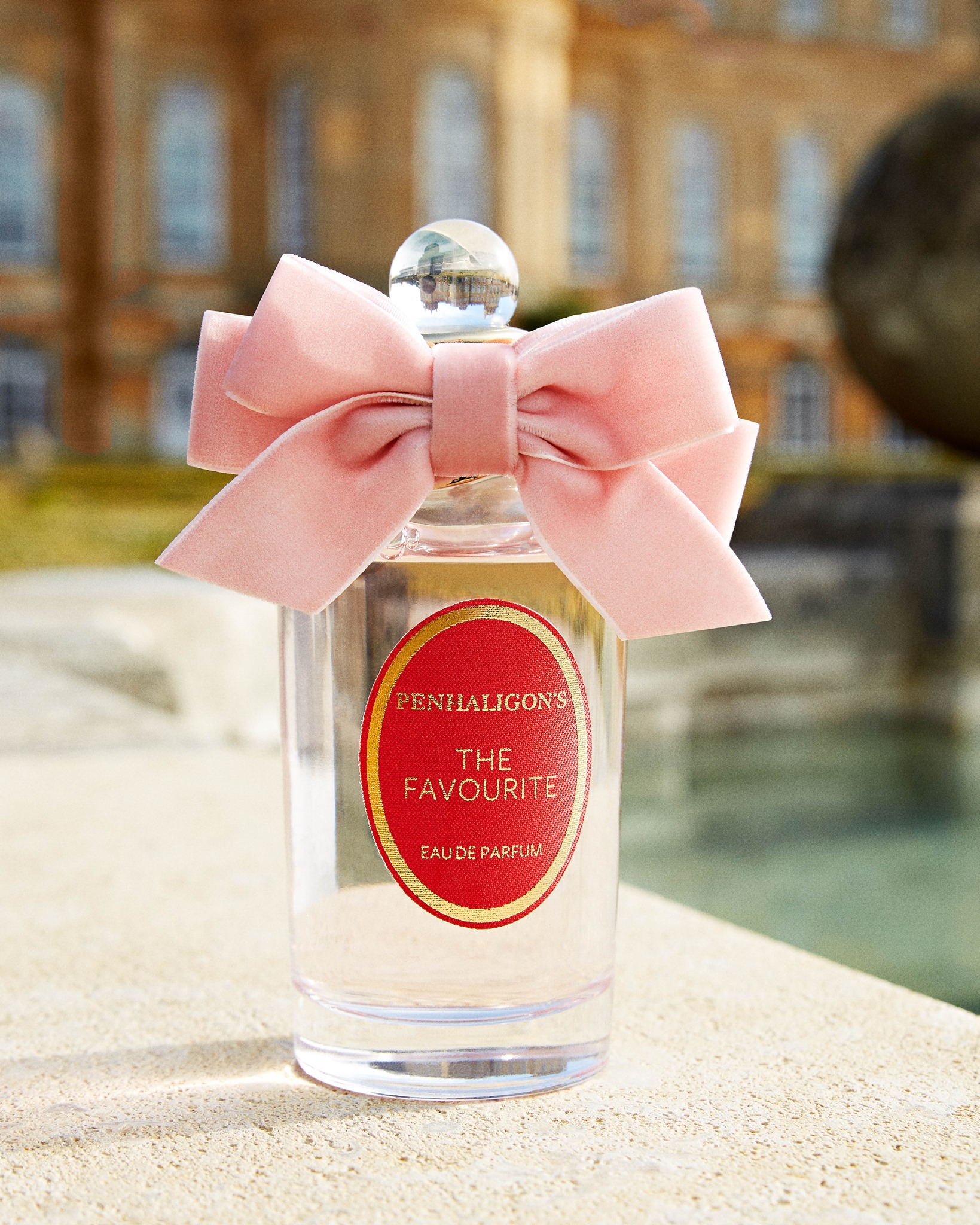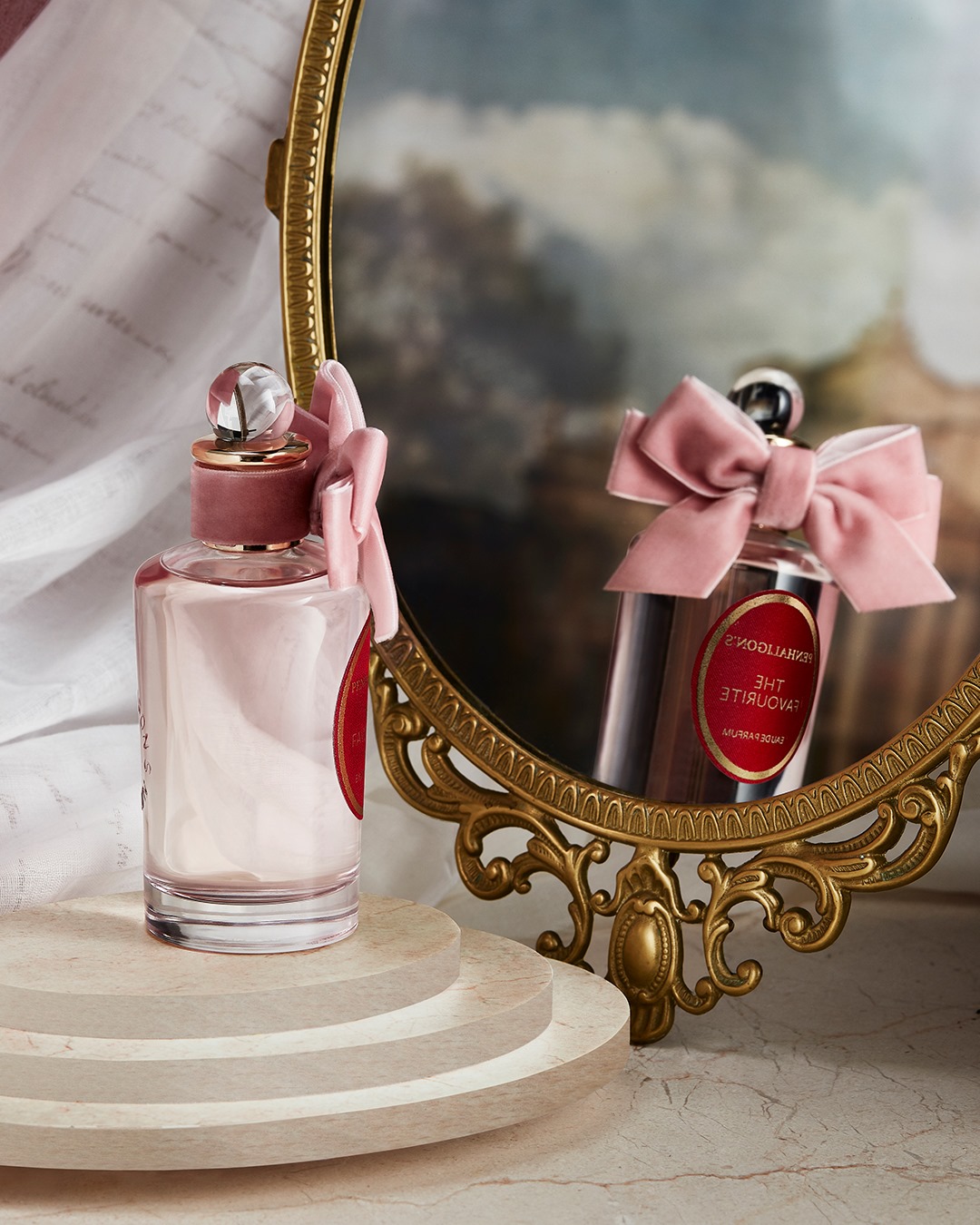 A good occasion to celebrate this century and half of inspiration, with a related royal gift! Indeed, The Favourite perfume has just been launched to highlight this memorable birthday and may as well becomes your favorite one! Who else but Sarah Churchill, Duchess of Marlborough, the tender friend of Queen Anne since their childhood, could endorse this princely fragrance?
Like any Court courtesan, you would undoubtedly be surprised by the appearance and the real intentions, of this immaculate but pretty nifty influencing personality, properly surnamed The Favourite.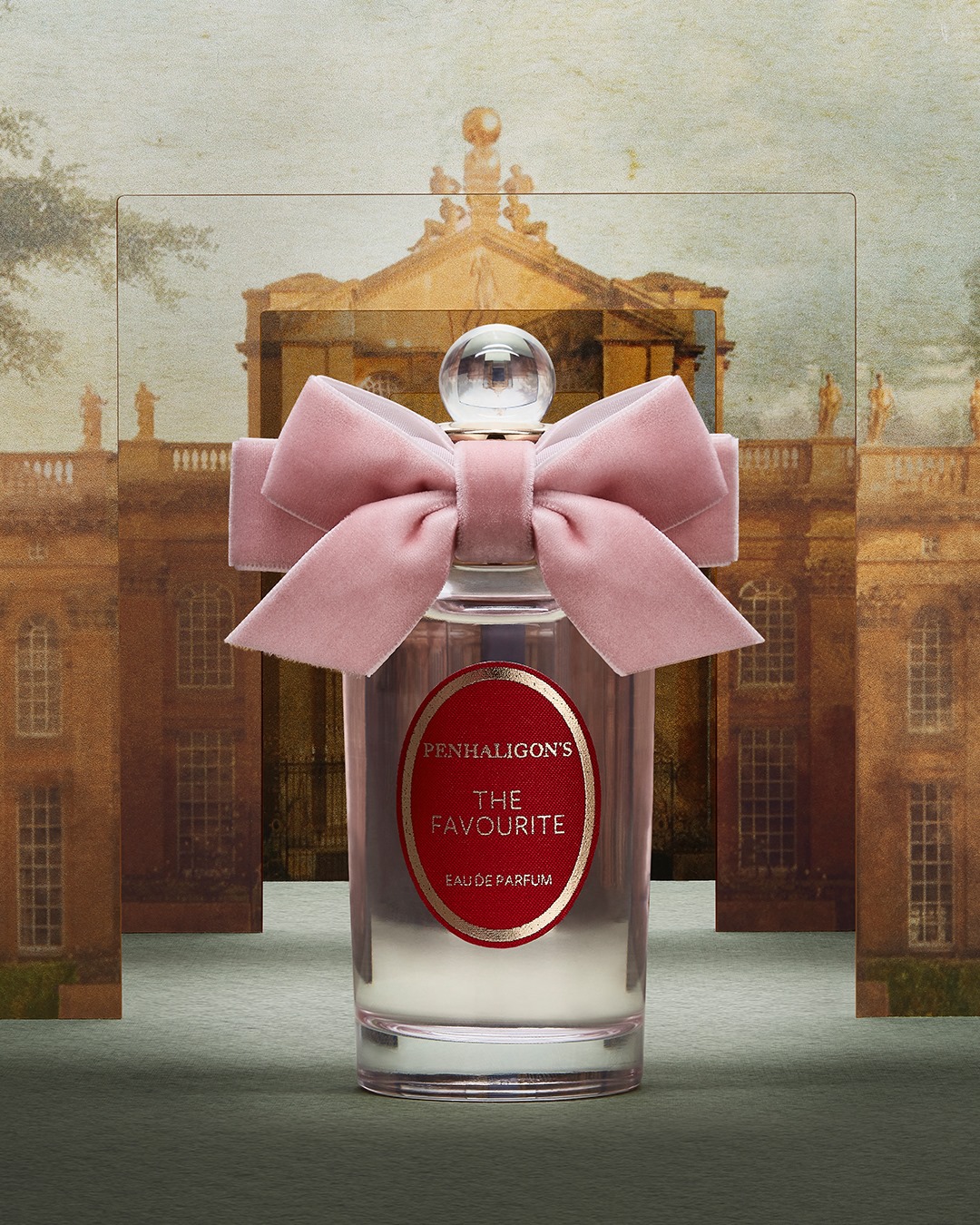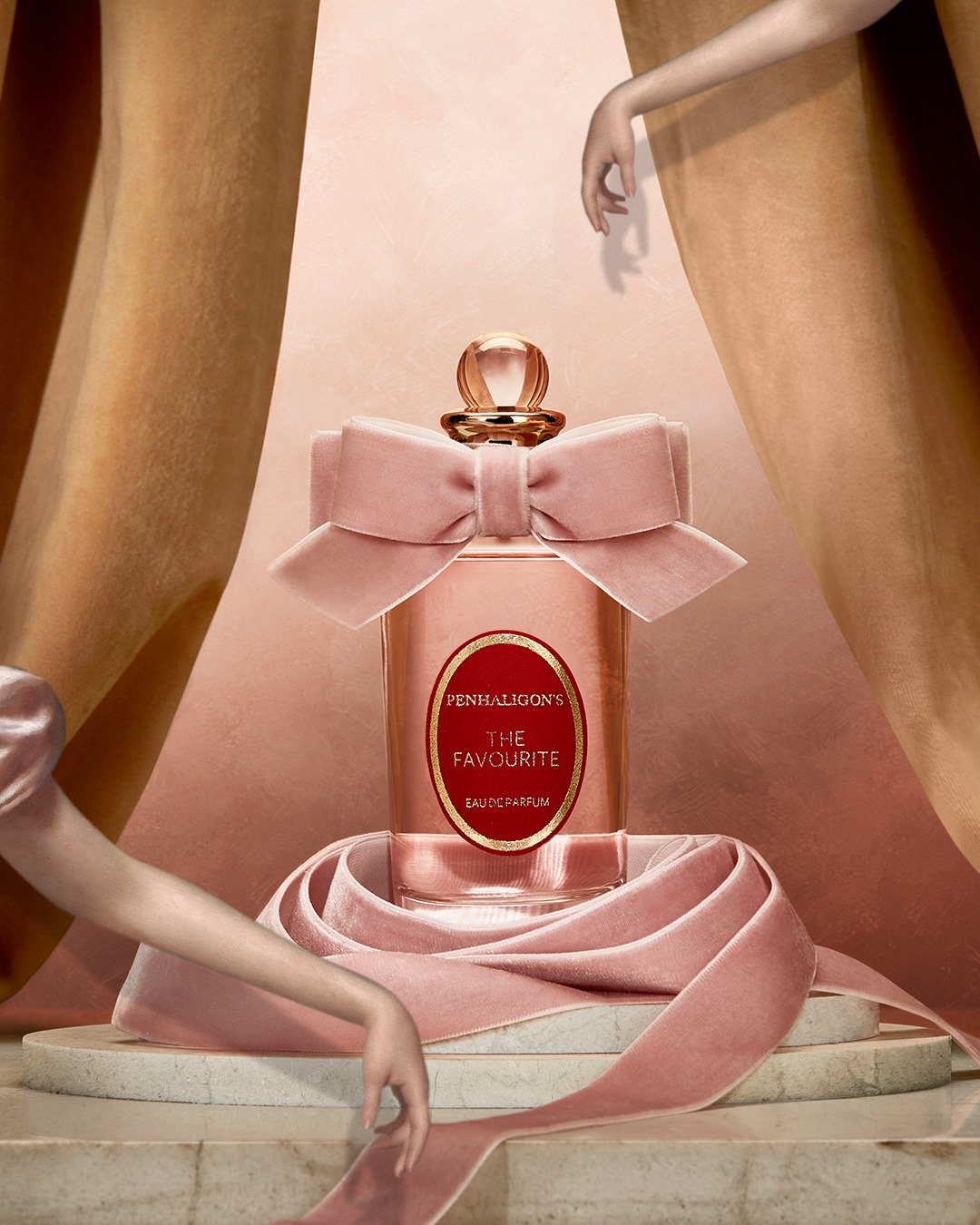 Are you feeling yourself in this portrait or are you in need of a new flame to start uncharted projects and why not bearing a new way of life? Then, we advise you to take the opportunity of this royal birthday, learning to develop your charisma, while adopting this collector item, full of (wild) floral scents grown to bewitch anyone passing through.
Once you spread the multiple petals of this colorful bucket, don't be surprised to find some warm and powdery gilded mimosa, balanced with a powerful but sweet virgin jasmine to keep secret your hidden seduction abilities.
Obviously, that's not a mystery that you would surely bewitch your wake, thanks to freesia, violet and mandarin explicit heart notes. Don't be afraid to let your spirit getting embodied by some durable base notes, dedicated for happening heated parties, supported by the comforting Indian elegant sandalwood and unsurprisingly musk.
---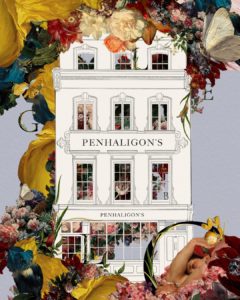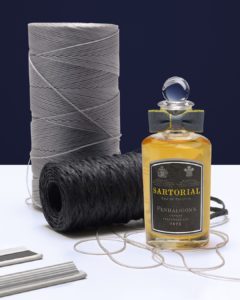 An anniversary may hide another! And Penhaligon's doesn't stop the party, with the celebration of the 10th birthday of their their iconic fern essence, once baptized Sartorial.
And the least we can admit is that this fragrance holds the main qualities of a true British gentleman. Thus, thanks to this lively flacon, full of robust leather, shiny lavender and smooth oakmoss, you may be undoubtedly regarded and coveted among the audience you would get along, with or without your sanitary mask! In the other hand, we really invite you to discover its other scented sensations, displaying an understated elegance within notably different natural extracts, reunited here by the French Nez Bertrand Duchaufour.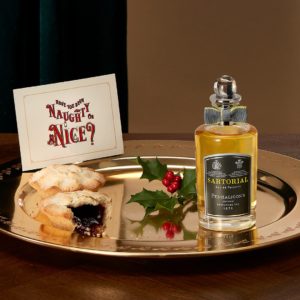 Would you take a piece of cone with a cup of British humor then?
Acting like a real gentleman needs to wear some mandatory outfits and requires a certain stylized attitude. And Sartorial may fulfill both of them, through a wedding between many elegant and warm scented facets. Therefore, once you spray yourself, a flow of delicate and magnetic notes would surely comfort you, within tonka bean, gurjum balm, myrrh, patchouli and beeswax.
We can say that the entity of this perfume is woven such as a tailor-made suit, especially designed for aesthetes kept in a bottle! A particular inspiration drawn from the notorious tailoring Norton & Son workshop, located in the couture street of London, baptized Saville Row. Thus, Sartorial is a perfect ready-to-wear fragrance dedicated to all of the couture houses' enthusiasts. You wouldn't miss the explicit olfactory evocations emanating from some random fabric composing your yarns, handmade rolled cuffs, any metallic touch evaporating from the scissors working on few patterns or even the dear souvenirs of a vintage sewing machine.
More information on the official website and explore the wide selection on the online store.