Count to Troyes for a real exploration of its medieval treasures, nested in the Aube Valley
7 min read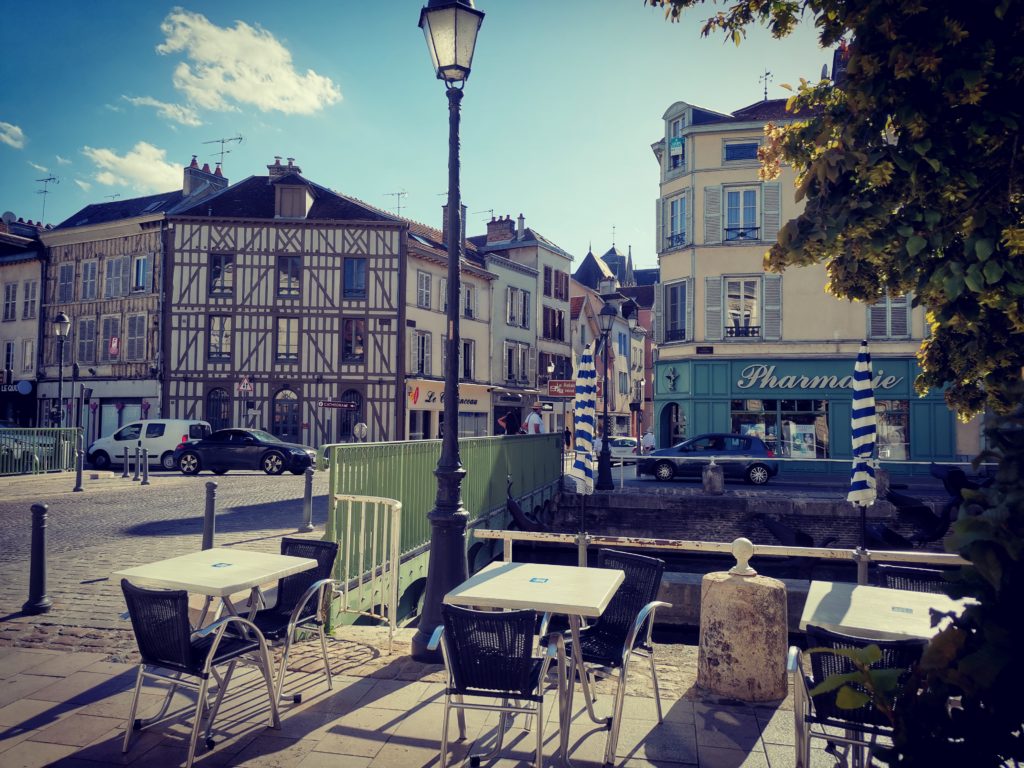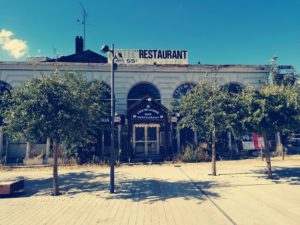 Following our last article about the Orient Lake, we make a stop in this varied and colorful Aube area, to discover the history and the exceptional richness of the heritage of the city of Troyes. A jewel which needs to be discovered step by step through its more or less tiny streets, large boulevards, millenary churches, squares and courtyards, adorned by many half-timbered houses. A wooden tradition sustained by Troyes as a much preserved heritage and pride.
Since its origins as a Gallo-Roman city, named Augustobona, different archaeological excavations were lead, in order to facilitate the datation of the human presence in Troyes, even from the prehistoric times. However, the first population, to have left tangible traces of their domination, was the Tricasses, a Gallic tribe who accepted the Roman occupation of its capital, which became then Augustobona. Even though, this city already benefited from a crossroads location, close to the Seine and connected to the Agrippa route, extended from Milan to Boulogne-sur-Mer. By AP
---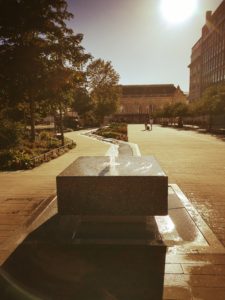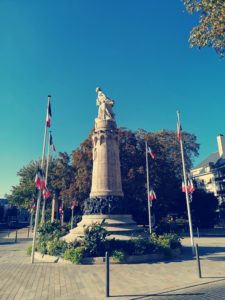 The least that we can say about Troyes, it's a real pleasure to explore this completely historic city, rich of more than 2000 years of existence. If we include the Roman road getting through the Via Agripa, a former way that crossed Gaul from east to west, at that time (photo credits: Alex Plato).
Indeed, this path allowed the Romans to create the first Gallo-Roman city, then offering the occasion to the Counts of Champagne to redefine the borders of this city with ramparts and a system of water pipes, bringing water in the 12th century. As far as we know, at the time, there was a crying need for water to fulfill the multiple tanneries and especially the population of this rapidly developing city. However, the Counts of Champagne disappeared at the period of Philippe le Bel, and sadly in 1524, a fire sadly tarnished hundreds of houses and put an end to this period of the Middle Ages.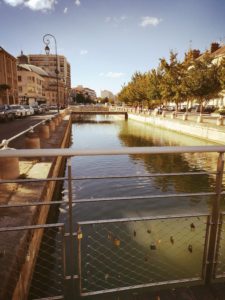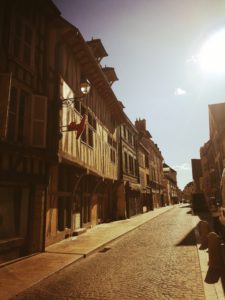 In addition to this tragic destiny, these ramparts were removed in the 19th century and replaced by large boulevards, like in Paris, and factories were transferred in the surrounding area. Moreover, the current plan of this city dates from this epoch and occurred several renovations over many buildings, including the 17th century Town Hall, initially built in a Louis XIII style.
For instance, you may easily recognize this influence through a pair of typical key details, notably including pilasters and columns in marble, from Tournai in Belgium. Nonetheless, once you walk nowadays through the old town, you would notice that many houses have been established on very few or even no foundations. This particular architecture unfortunately caused many houses to sag but luckily not to collapse, as the structure, made of resistant timber material, was held in place by pegs. Although, a different heritage may be clear from one mansion to another.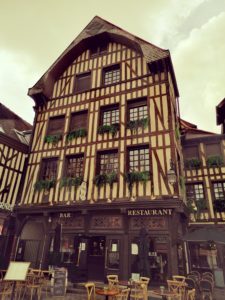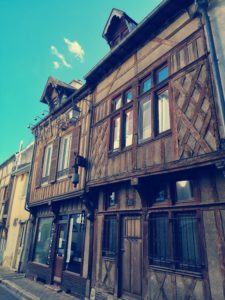 Not far from this town hall, we highly invite you to have a look on the Saint-Jean-du-Marché Church where you would find the main styles of architecture that the town has known throughout ages, including the traditional gargoyles which also served as gutters, during the Gothic part.
Later, in the 19th century, as the story goes on, many streets from the Middle Ages were renamed by some famous artist names, with the exception of a few alleys… like the Marché Au Pain where bakers once sold their bread once a week. Nearby, don't forget to get into the smallest alley in Troyes, where the houses support each other (as much as they can), despite their fragile wood structure, also made of briquettes and cob, visible between their beams. For your information, this street was baptized Ruelle des Chats, since any cats could (even today) easily jump over this promiscuity of facades, explicitly so close to each other…
---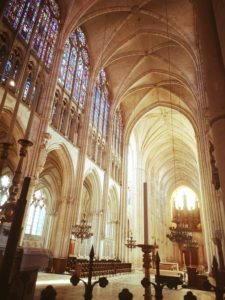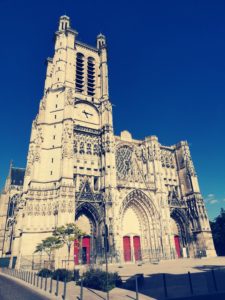 Unless it needed more than 6 hundred years of construction and was achieved 400 years ago in the center of Troyes, the Cathedral of Saint-Pierre-et-Saint-Paul illustrates many stages of this impressive Gothic style, either radiant and flamboyant, even inside this amazing perspective of Gothic arches.
If you have a closer look at its measures, 114m long and 28.50m high, this Trojan edifice is clearly one of the highest religious constructions in France, mostly renowned for its majesty, the beauty of its sculptures, painted artworks, tapestries and especially its listed stained glass windows recovering a surface of more than a 1,500 m2!
This fact reinsures this speciality as a real core asset, notably with the presence of its workshops, since the early days of the city and until now, especially glorified in the Cité du Vitrail, not far from the center.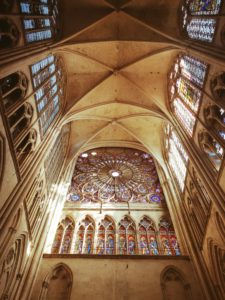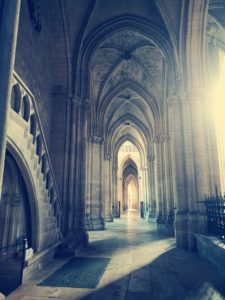 A department museum dedicated to this ancestral art, extended on an honorable surface of 3500m2. In this space are exposed a vast collection of stained glass windows, partly extracted from local churches, destroyed during the French Revolution but also unique artworks exclusively realized by many artists. Soon open, in 2021!
Indeed, Troyes is one of the two most important French cities for the history of stained glass manufactures, and this Cathedral holds a special place there.
For your information, in the choir, a bunch of 13th century stained glass windows represents different legendary scenes picturing Mary, Saint John and various episodes from the Bible, along characters from the Middle Ages, depicted inside the nave.
Otherwise, we can notice the Tree of Jesse and in the northern aisle, Le Pressoir Mystique (1625) by Linard Gonthier, a famous Trojan master glassmaker. The choir stalls, in carved wood, originally come from the Clairvaux Abbey, as well as the famous big organs. On top of that, this Cathedral preserves a remarkable treasure, constituted from 1204 (at the occasion of the looting of Constantinople by the Crusaders).
reliquaries
(including that of the head of
Saint-Bernard of Clairvaux
), beautiful
relics
, countless
enamels
and other pieces of some genuine
goldsmith
masterpieces, including a
Byzantine
casket in purple
ivory
(11th century) and the chaplains of the
Counts of Champagne
(13th & 14th century).
Cathédrale Saint-Pierre Saint-Paul, Place Saint-Pierre, 10000 Troyes (France) / Phone: +33 (0)3 25 76 98 18
---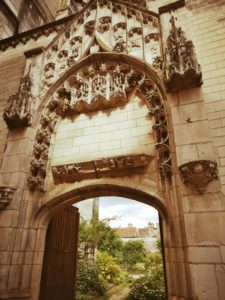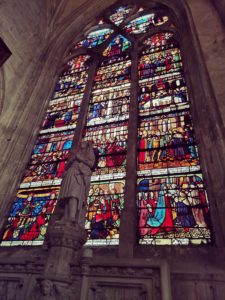 A few steps away, admire the delightful Juvenal-des-Ursins garden and its planted terraces. All these elements open up to visitors, sometimes curious to discover this Renaissance-style space, settled just behind the Hôtel Juvénal-des-Ursins. A typical 16th century mansion highlighted by this brand new green oasis, offering a real pleasant natural moment focused on some inner breath of life.
Once inside, take a look on the combination on the different vegetal compositions spread in this 500 m² surface of greenery, designed after an idea of Éric Pallot, a Chief Architect of Historic Monuments. In addition to their aesthetic virtues, these different species were chosen in order to bring a hint of biodiversity in the heart of the old town. Last but not least, the facades and trees of this luxurious garden are highlighted by a certain charming LED lighting at night.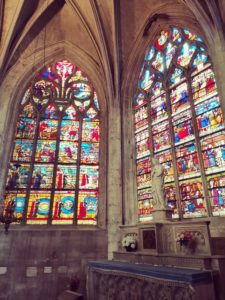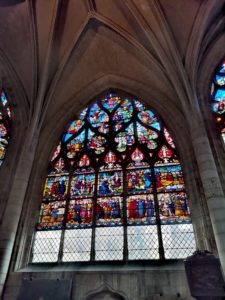 Based on this observation, you can realize that there are various small cloistered, and naturally preserved, lovely gardens spread in and around the old center of Troyes, such as well at the gates of the Sainte-Madeleine Church, considered as the oldest church of the city, built in the 12th century.
Therefore, this medieval edifice is famous for its rood screen (jublé, in French), a massive sculpted monument, dating from the 16th century and which remains very rare in France, since there are only ten of them left. Whereas this masterpiece was much more widespread before and was also full of symbols.
Therefore, apart its decorative purpose, this mystic element was really useful at that time, in particular from the fact that the prayers were separated from the religious staff, especially during the Middle Ages times.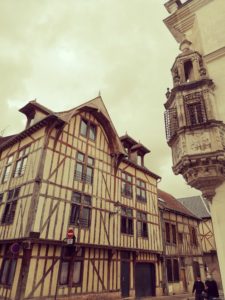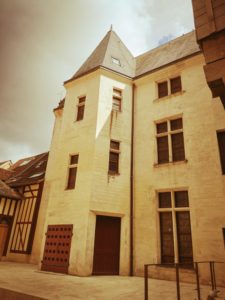 At the same time, you can admire the presence of the central altar, entirely made of marble, imported on the special request and financed by a couple of Trojan goldsmiths. Thus, these notables have much enrich their wealth, within their numerous collaborations with several Kings of France.
Furthermore, this interface has been illuminated by a selection of stained-glass windows since 1530, marking the end of a certain flamboyant Gothic style, displaying a lot of details and characters, of which we sometimes find more than 100 characters, represented here by a long and mysterious fresco. On top of that, these real comics were distinctly made by master glassmakers at different times, but they managed to keep the same spirit and the same brilliant color code.
Thus, mainly from 1490 to 1530, the stained glass windows were characterized by a strong drawing, leading to a great readability, thanks to a frequent use of speech bubbles (captioned banners) and finally a great technical refinement (engraving, beaded decoration and sumptuous ornaments, typical of this famous Trojan stained glass school).
Sainte-Madeleine Church, 3 Rue de la Madeleine, 10000 Troyes (France) / Phone : 00 33 (0)3 25 73 82 90
---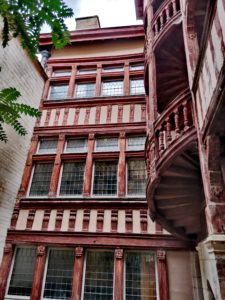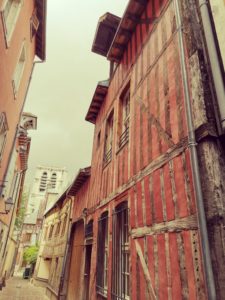 If you continue your visit through the streets of this incredible old town of Troyes, you might find many other surprises, like this Hôtel du Lion Noir, secretly hidden behind a building facade. A true representation of the Italian Renaissance style, built at the end of the 16th century. For instance, this unique place can only be seen as part of a guided city tour, in order to visit this red jewel of architecture.
This wooden mansion, belonged to the Huez family and registered on the second list of the World Heritage, notably thanks to its typical facade of the second Renaissance. In an other hand, don't miss the spiral staircase, a rare wooden element at this time, serving three floors with a balcony.
Hôtel du Lion Noir, 111 rue Emile Zola, 10000 Troyes (France).
---