On the way to the Champagne made in the Montagne de Reims, with Taittinger and Palmer
7 min read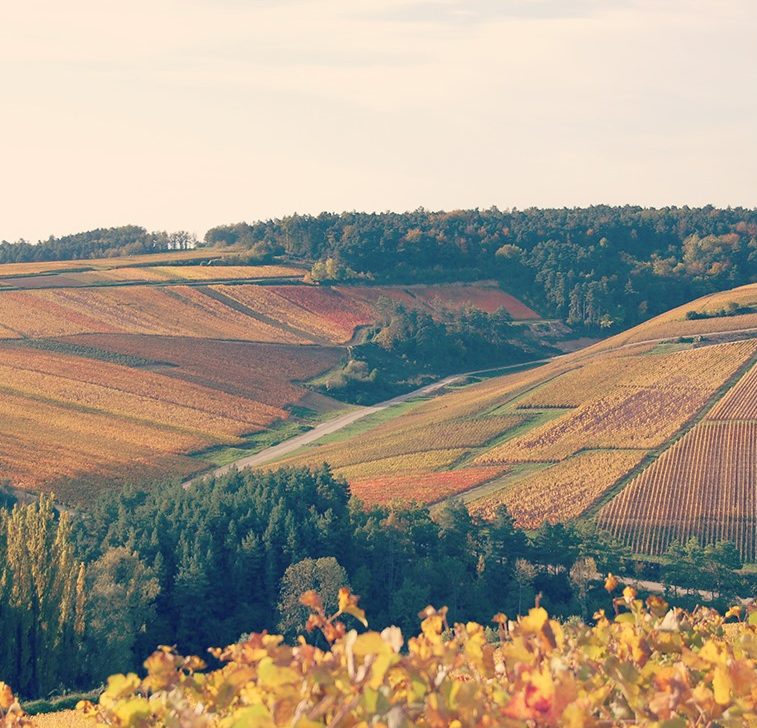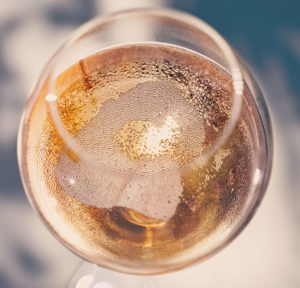 Champagne is more than bubbles stuck in a high-quality wine, synonym of party or success celebration. As we have seen earlier in many articles, it's also the title of an appellation since 1935 and of the symbol of a whole geographic region, spread over a couple of fruitful departments. This time after our city tour in Reims (read article here), we tend to focus in the local production around this city and notably seated in the illustrious Montagne de Reims designation.
Nestled between the Marne and the Vesle rivers, stands in a vast promontory with wavy edges, the Montagne de Reims with its copses and thick woods, extending from east to west, over nearly 30 km in length and 6 to 10 km in length. In comparison to the Côte des Bar, these vineyards, spread on around 2,000 ha, are mainly composed of the Pinot Noir grape variety, except in the mountainous slopes Trépail and Villers-Marmery where Chardonnay completes this sparkling canvas.
In summary, most of the wines of this region are regarded as full-bodied, fresh and aromatic, offering a real structure to this Champagne. By Alex Plato
---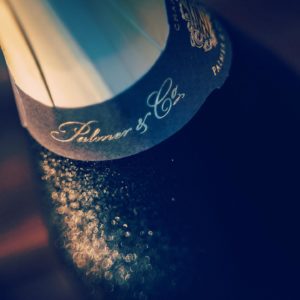 It seems that the
Champagne House
of
Palmer & Co
started its adventure in 1947 when 7 established winegrowers, already owners of
Premiers Crus
and
Grands Crus
from the
Montagne de Reims
, decided to combine their
terroirs
to create an exceptional
wine
. These seven kinds of pioneers were looking for some harmony and perfection and therefore wished to create an international brand that anyone would remember the name. That's why this
American
name of
Palmer & Co
has been chosen to firmly represent the 415 hectares of
vines
, spread over some forty vintages, including more than 200 hectares classified as
Grands Crus
and
Premiers Crus
of the
Montagne de Reims
(photo credits: Palmer).
Moreover, the regions of the
Côte de Sézanne
,
Côte des Bar
and the
Marne Valley
complete this lot of premium blends, each area brings their own specificities. For your information, the
Palmer & Co
's vineyards include grape varieties divided into 45%
Chardonnay
, 40%
Pinot Noir
and 15%
Pinot Meunier
.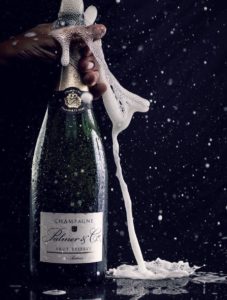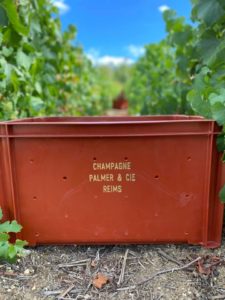 The result is a
Champagne
range composed of 3 collections, "
Reserve
", "
Specialties
" and "
Vintage
". The icing on the cake,
Palmer & Co
remains one of the very few
Champagne
houses to vinify until the monumental
Nebuchadnezzar
format. Thus, this
House
tends to cultivate this science of huge
bottle
sizes in order to preserve in their own way, these exceptional
vintages
or favor specific blends, in such large bottles.
Adding to this, time is precious for Palmer & Co, since three years are notably required to develop the Brut Réserve cuvée. Indeed, the cellar master considers that this tasty maturity may be amplified thanks to a longer maturation duration between six and eight years of patience, essentially for Millesime cuvées and it could even reach ten years or more for the big flacons.
"A magnum is the perfect size for two gentlemen over lunch, especially if one of them isn't drinking" used to say Sir Winston Churchill.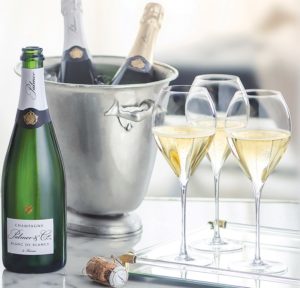 For instance, we are pleased to discover the
Blanc de Blancs
vintage that
Palmer & Co
decided to conceive its singularity on the complexity of its
Premiers Crus
plots located in
Trépail
and
Villers-Marmery
. These lands symbolize the real spirit of the great
terroirs
of the
Montagne de Reims
.
As a reminder, this beautiful appellation of the Montagne de Reims is known as the kingdom for the illustrious Pinot Noir. Thus, this vigorous and generous grape variety is better suited to these limestone soils, but nonetheless we could also find some brilliant Chardonnay in this ocean of Pinot Noir.
Renowned for their concentration and their structure, these white jewels benefit from a well sheltered location from the westerly winds, sloped among the Premiers Crus of Trépail and Villers-Marmery. Furthermore, these renowned Premiers Crus, emblematic of the Montagne de Reims, are recognized for their elegance and freshness, allowing to an harmonious wedding starring a selection of delicately leaked and fruity Chardonnay (around 10%), straight from the Côte de Sézanne.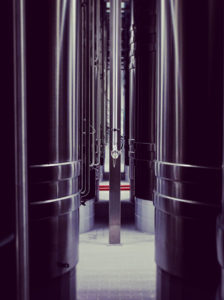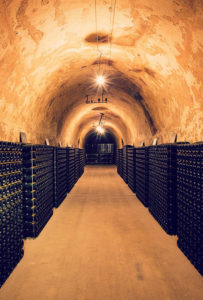 Regularly dosed at 7g/L and aged on lees for at least 5 years (or 8 years for the magnum) in the freshness of chalk cellars, this Blanc de Blancs cuvée contains a respectable experience to share the time of an aperitif.
Nestled in a pale golden dress with sparkling golden reflections, the bubbles of this Blanc de Blancs are fine and regular. This cuvée offers a generous fragrance explicit to any epicurean, ready to smell a couple of fresh aromas reminiscent of brioche, and eventually punctuated by fresher and mineral notes recalling some touches of citrus and chalk.
By the way, these citrus and white fruit notes are symbolic of these exceptional Chardonnay, since they can be supported by an exquisite minerality. That's why, once in your mouth, you would get a pleasant feeling of a charming wine revealing a nice roundness on the attack, and time after time an explosion of citrus offering a real fresh and balanced sensation.
---
Taittinger, a dream spread from the chalk cellars to the bottle…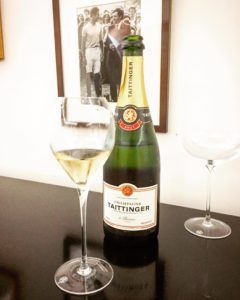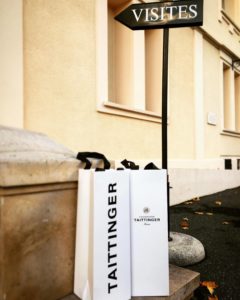 The Champagne Taittinger is more than a brand, that produces 6 million bottles, that is to say almost 2% of the 320 millions of bottles on the market every year, for all of the Champagne appellation (photos credits: Hugh Tran).
The House settled in the cellars of the former Saint-Nicaise Abbey, built in the 13th century upon Gallo-Roman chalk mines, dating back to the 4th century. We can count 3 cellars of the group including one in the center, one under the vineyards and one under the abbey where is currently the building of the visits; with 2km of galleries dug in chalk, 3 levels of storage of 6 million bottles.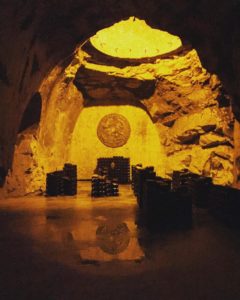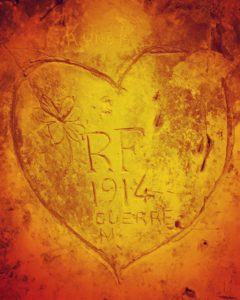 Taittinger and Russia still maintained a strong link since the Tsar Peter 1st visited the abbey in 1717, moreover the brand will be the official supplier of the late 2018 Russian Football World Cup with a specific designed bottle for the occasion. In the meantime, the export market is very important for the brand because it represents 80% of its sales, of which the United Kingdom and the United States represent the first markets.
Pierre-Charles Taittinger founded this young house in 1932 and in the Vinotheque are nowadays preserved the oldest bottles, the oldest of which dates from 1966 while the series started in 1952 with a form inspired by the Middle Ages ones, allowing a better oxidation of bubbles by the flared shape of the neck. A main part of the harvest if composed from the best villages called Grand Cru for a maturation, from 8 to 10 years, grown in oak barrels, comparing to 18 months for a casual juice.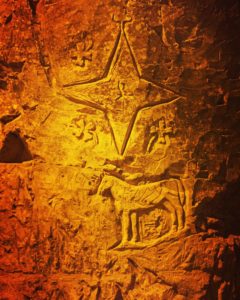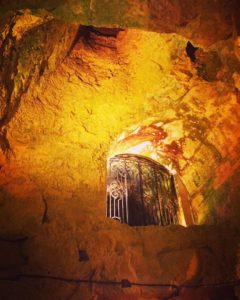 Those cuvées, mostly called Comtes de Champagne, are riddled manually by an expert that may be able to "turn" 7,000 bottles per hour. Some of the oldest samples are sometimes tasted to appreciate the evolution of Champagne. Like other fellows, Taittinger has a range of large formats of bottles, that account for nearly 25,000 sales a year.
A heritage particularly present in the galleries between stored bottles and indeed testifying of those different periods, ranging from the 3rd to the 20th through the 13th century carved in chalk (material only present in France, Benelux and England), sometimes as a pyramidal shape to avoid landslides. Galleries spread over 3 levels between 12 and 20 meters underground, lit with sodium to ensure a constant temperature.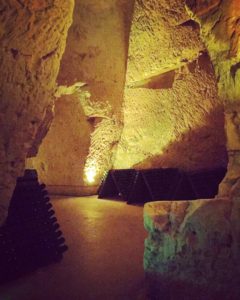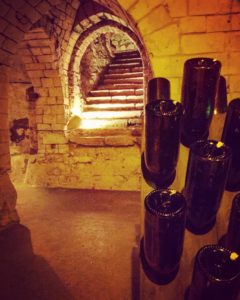 On top of that, the property of the House's vineyards is spread between 288 hectares which represents the 3rd vineyard in surface for the Champagne appellation, which doesn't forbid them from requiring 50% of supply of external juice contributions.
For your information, the first surface is 1300 hectares for Moet and Chandon and the second ranking, 500 for the Champagne Veuve Cliquot, whereas the Champagne appellation was registered in 1935 and represents nearly 34,000 hectares in all the departments concerned.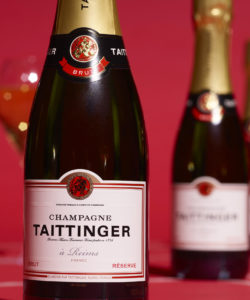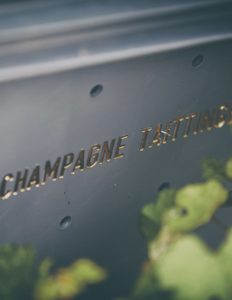 Among the rich selection of Taittinger, the popular Brut Réserve is made up of 40% Chardonnay and a bucket of 60% between Pinot Noir and Pinot Meunier, coming from more than 35 different vintages and from different harvests that are perfectly ripe. In fact, this high proportion of Chardonnay offers a balanced and flavorful Champagne, reflects a sufficient maturity, due to a minimum aging of three to four years in the cellar, reaching a full aromatic appearance, highlighted by a shiny color of golden straw.
Reinforced by fine bubbles, along a discreet and persistent foam, this perfumed Champagne can be very expressive and proposes an expressive nose, full of fruity aromas of peach, white flowers (hawthorn, acacia) and vanilla. Once in your palate, feel the lively and fruity profusion melting some honey and brioche touches.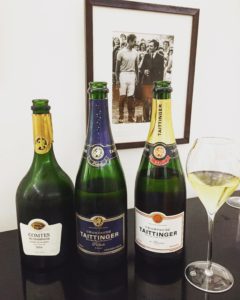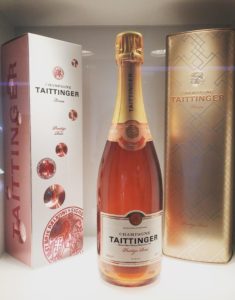 In the other hand, the illustrious Brut Prestige Rosé is considered as a vibrant and intense Champagne, mixing 30% of Chardonnay and 70% of Pinot, 15% of which is vinified in red. This red wine that goes then into this blended rosé is made from the best Pinots Noirs, coming from the Montagne de Reims and Riceys (in Côte des Bar, article here).
Dressed in an intense pink color, this Brut Prestige Rosé is an expressive Champagne, studded with fine bubbles. Carried by a superb freshness, this jewel mostly deploys aromas of red fruits (raspberry, cherry, blackcurrant) before still offering a fine balance between velvety and full-bodied notes of fresh red fruits. In fact, a fruity rosé Champagne that perfectly matches with a red fruit dessert.
Champagne Taittinger / 9 Place St Nicaise, 51100 Reims (France) / 0033 (0)3 26 85 45 35 / Planning here / More information on the official website.
---