Initiate yourself with the wide plurality of the Bordeaux wines!
18 min read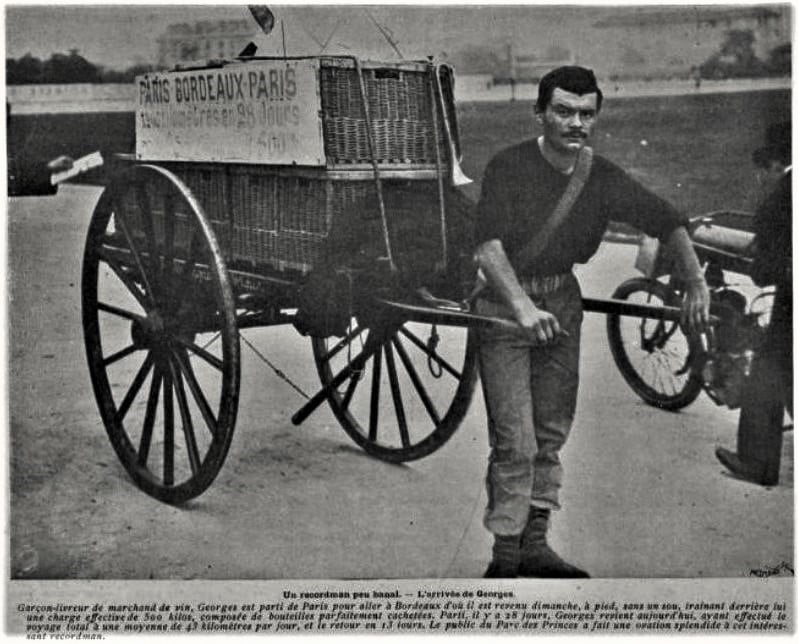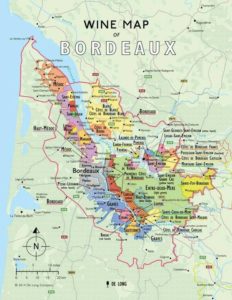 Have you ever enjoyed some Bordeaux wines? Enjoying an international reputation, this is also the largest vineyard appellation in France and one counting a huge list among the most famous classified domains.
Nonetheless, this vineyard holds multiple facets, starring varied soils organized around three river axes, so to say the Garonne, the Dordogne, all melt into their common estuary of the Gironde river.
This variety of landscapes and colors naturally offer all types of wine, often developed from a blend from two until five grape varieties, completing each other. For instance, we invite you to get into this range of several grape varieties, able to constitute brilliant juices, such as Merlot, Cabernet-Franc and Cabernet-Sauvignon, along Semillon and Sauvignon.
In addition to the regional appellations, we can as well distinguish two main territories located in the left bank of the Garonne (hosting Médoc and Graves appellations) and the right bank (hosting Libournais, Blayais-Bourgeais and Entre-deux-Mers appellations). On top of that, don't miss a selection of sweet wines to be explored around the Ciron, another river throwing into the Garonne. By Alexis Lery & Alex Plato
---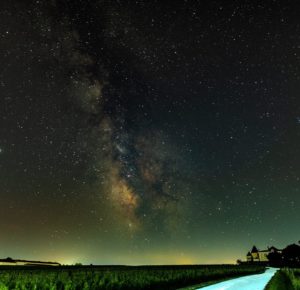 We start our Bordeaux wine tour with the wide Graves and Sauternes appellation, stretching from the south of Bordeaux until Langon, bordering the Garonne river and the immense pine forest of the Landes, serving as a natural protection. Baptized in the Middle Ages as Graves in reference to the gravel soil favorable to development of premium vineyards, also starring pebbles, flint and other stony debris deposited for a very long time in and around, by the Garonne river.
A diversity of elements as well perceptible in the production of great wines able to gain prestige and finesse with time passing by, through structured but powerful red wines and elegant dry white wines, notably represented by the sublime sweet wines of Sauternes, such as the notorious Château d'Yquem.
In this same region, we find a recent appellation, since it dates from 1987. Indeed, the AOC Pessac-Léognan pursues the similar old terroir, already dating from the Middle Ages. Located on the southern, southwestern edge of Bordeaux, this acclaimed appellation features many famous domains of this Graves area, still luckily laying on these gravel, sandy and clay soil.
In perfect, the perfect conditions to favor the growth of red grape varieties (Cabernet-Sauvignon, Merlot, Cabernet Franc, Petit Verdot and Malbec) and white grape varieties (Sauvignon and of Semillon) to have a typical expression.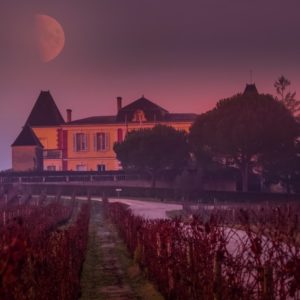 Therefore, in this AOC Pessac-Léognan, stands the Château de France, retaining the name of the old locality on which it was built, situated 15 kilometers south of Bordeaux, spread over 40 hectares of vineyard, shared between 36 ha of Cabernet Sauvignon and 4 ha of Merlot, Sauvignon and Sémillon. Extending over one of the highest slopes of the Léognan terrace, the oldest and highest of the four gravel terraces built over time.
Adding to this, this domain holds the privilege to seat on outcrops of very deep Pyrenean gravel, sometimes on a clay-limestone subsoil, revealing the presence of the same tawny sands and variegated clays as in Haut-Sauternes plus also in certain sectors of the Médoc.
Acquired in 1971 by Bernard Thomassin, the Château de France is registered in the Union des Grands Crus de Bordeaux since 1981, followed by a HVE certification illustrating a commitment proving the existing practices of the domain regarding the respect versus environment.
In fact, these manners are expressed through a minimal energy consumption, a sorting and recycling of waste, in parallel of a reasoned cultivation and a green harvest, following a Double Guyot pruning viticulture. Regarding the vine working conditions, a deep focus has been given to protect the health protection of employees, along the security of the neighbors and consumers.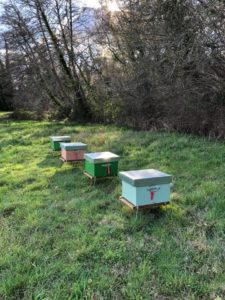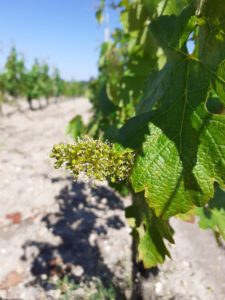 In fact, an approach facilitated by the collective system proposed by the Conseil interprofessionnel du Vin de Bordeaux (Interprofessional Council for Bordeaux Wines), while reducing costs and optimizes tools leading to an ISO 14001 certification. Adding to this, a couple of beehives were installed in the vineyard, in order to promote a certain biodiversity while respecting the ecosystem of their natural areas and engaging the beauty of the surrounding ecosystem, through their plots and their property.
Since then, this Castle has been advised by Michel Rolland since 1996, and run by Arnaud Thomassin, still from Thomassin family is then one of the oldest owners of the Pessac-Léognan appellation, made of an original terroir, composed with the Ferbos soil, typical of this region of Graves and more confidential plot (50 ares) aptly named Coquillat, whose soil is riddled with fossils dating back from 19 million years and an average annual production of 195,000 bottles.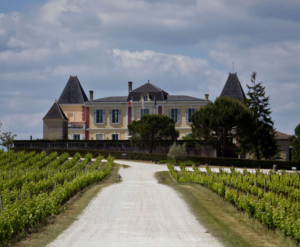 Thus, count on these eponym Château de France wines made for a long aging, along the Château Coquillas wines acclaimed by many restaurants. As we have seen earlier, this last one has been named regarding the evocation of the many shell fossils that abound in one of the parcels of the property and recalling the Bec-en-Sabot plots, paying here a tribute to these rare birds flying around papyrus in Africa. Indeed, Bernard Thomassin, fond of ornithology, has been admiring for a long time this rare, vigorous, fierce and solitary bird, which can measure up to 1.50 m and usually lives in the swamps of eastern Africa.
If we deeply focus into this Château de France selection, you would be glad to discover fine and elegant wines that resolutely assert themselves in a long duration, and a certain purity thanks to a vibrating Grape Destemmer Crusher, enabling the removal of the finest vegetal debris, still in the respect of environment. After this, a second sorting would be operated on a vibrating table, before a duration between 3 to 4 weeks of maceration in vats, featuring a regular temperature control between 28 and 30°C.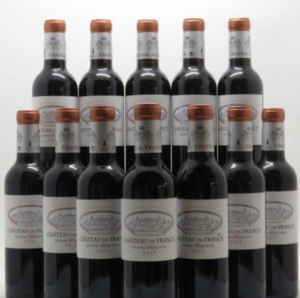 Thereafter, a malolactic fermentation is operated in vats and an aging in barrels (30% in new wood and 70% in single-wine barrels), in a suitable semi-underground cellar, from 12 until 14 months and complemented with a filtration before bottling.
At this occasion, we are glad to taste the authentic AOP Pessac-Léognan elevated by this Chateau de France, within this Millesime 2015 spread between two grape varieties, 40% Cabernet Sauvignon and 60% Merlot.
This nectar offers a fine tasting, composed of a deep ruby color, illustrated by an intense and ripe nose, full of a floral peony, raspberry, spicy black pepper and blond tobacco fragrances. An explicit perfume, balanced by an harmonious and round palate conveyed by an harmonious between the strength of Merlot and the gourmet notes of Cabernet Sauvignon, melt into a fruity and peppery long final moment. A perfect wine recommendation to match with venison terrine, kefta tajines, wild boar stew and fine cheese.
More information on the official website.
---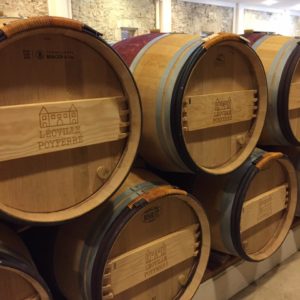 Then, let's go through the prestigious Saint-Julien appellation, cultivated over the communes of Saint-Julien-Beychevelle, Cussac-Fort-Médoc and Saint-Laurent-Médoc in the Médoc, as one of the communal subdivisions of the Médoc vineyard. Situated in the south part of Pauillac and in the on the left bank of the Gironde estuary, this territory shares a common history with all the appellations of the Médoc (photo credits: Leoville Poyferré).
This vineyard is established on a sedimentary rock, spread on a homogeneous surface covered by countless pebbles, whose subsoil hides a variety of elements enriching the wine cultivation. For your information, the grape varieties used in this terroir are identical to those found throughout the Médoc, mainly starring dominant Cabernet-Sauvignon, Cabernet-Franc, Merlot, Malbec, Petit Verdot and Carménère. Moreover, the wine style of this appellation is mostly shared between southern wines, which are more supple and feminine, close to Margaux wine. In the other hand, the northern wines are regarded as more powerful and full-bodied (Léoville Poyferré, for example), close to Pauillac.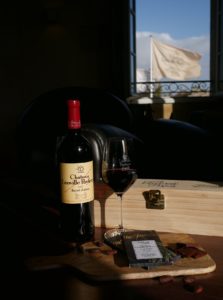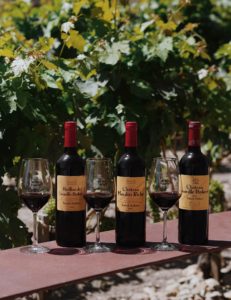 Therefore, if you enjoy history tales, you surely won't be disappointed with the Château Léoville Poyferré past, starting in 1638 and being officially inaugurated in 1840 when the Baron Jean-Marie de Poyferré attached his surname to the native Léoville domain, before becoming a Second Grand Cru Classé in 1855.
Ideally settled in Saint-Julien, renown as one of the most intimate communal appellations of the Médoc but originally stretched from the Château Beychevelle vineyard until the Château Latour in Pauillac, the exploitation has been divided since into three parts which are Léoville Poyferré, Léoville Barton and Léoville Las Cases. Formerly one of the largest and oldest properties in the Médoc, the Château Léoville Poyferré is now nestled in a pleasant area, polished by the incessant waves of the Garonne river, feeding this internationally acclaimed terroir of Saint-Julien.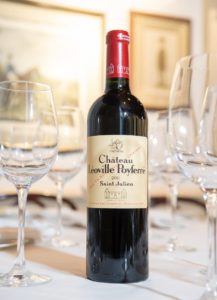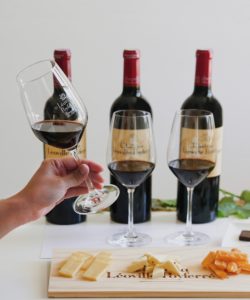 Anchored and shaped by the wishes of nature, the 920 hectares of this notorious appellation evolved in many facets, but gathering a common framework, a grave soil, offering a rich diversity in this terroir, thanks to its plural palette to compose their wines.
As far as we know, the Château Léoville Poyferré extends on several plots, on a surface of 80 hectares, including an entire vineyard (aged of 38 years in average) of 20 hectares, intended for the production of the Château Moulin Riche. On top of that, for more green commitment, the Château Léoville Poyferré decided in 2016 to integrate the Environmental Management System dedicated for Bordeaux wines, notably encouraging them to improve their daily good practices and even being lately rewarded by the highest third level of the High Environmental Value certification, for its entire vineyard and occurring from the 2017 vintage.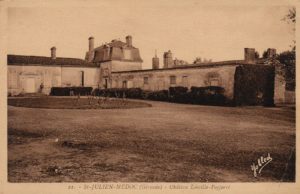 Conducted by Bruno Clenet and David Aguirre regarding the vineyard management, the various vineyards of the domain are taken care from the roots and with a limited amount of external interventions. As nature takes an important place, vines are pruned using the traditional method, known as Double Guyot, which allows the number of bunches to be controlled. Thus, this process allows to increase the longevity of their vines while reducing the risk of wood disease. Further phenolic and technological analyzes are completed and support the regular verifications of grapes, leading especially before harvest time.
Once in the winery, all of the grapes are manually harvested and sorted in two main steps, in order to only to keep the best ones that would have the chance to join their different vats, respectively by grape variety and by plot. Nonetheless, in order to fully exploit and appreciate all the diversity of their vineyard, this vat room is equipped with 57 temperature-controlled stainless steel vats, and even 27 of them are double-walled for an optimal cold pre-fermentation maceration, enhancing the purity and the aromatic intensity of their precious juices.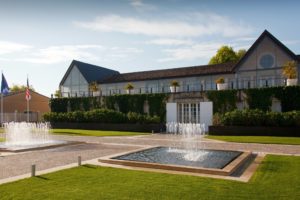 As you may have understood, this strategic complement is mandatory before the crucial stage of alcoholic fermentation, when each vat is guided day after day on the way to climb the full potential of their wines. Under the supervision of Isabelle Davin (oenologist of the Château) and Didier Thomann (cellar master), all the parameters (temperature, quantity of oxygen, etc) would be ready to accompany these wines for 18 months, in French oak barrels. By the way, some of these new barrels are used for malolactic fermentation, necessary to get a certain general stability and flexibility, especially at the next step of assemblage. In this case, the oenology team has the tight role to find the perfect wedding between the singular personality of their different plots, into the most emblematic partition of the Château Léoville Poyferré identity.
Throughout this aging, traditional rackings follow one another to gently refine and stabilize their blends. The last unruly tannins would eventually soften thanks to a traditional egg white fining. Like a jewel, their wines are thus finely polished to restore all their brilliance.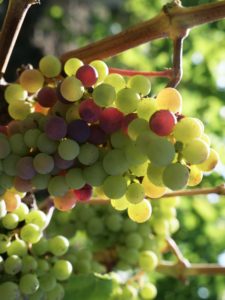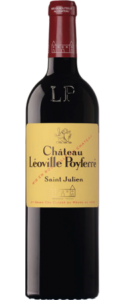 For example, the Millesime 2014 proudly developed by the Château Léoville Poyferre is the quintessence of the Saint-Julien appellation protected in a brilliant bottle. Displaying an explicit tannic structure, over an explosive aromatic expression, full of intense notes of black cherry, blackberry and cedar, before conveying to an explicit balsamic and mineral touch, recalling the siliceous properties of the subsoil of a vineyard (mainly aged of 34 years), rich in clay.
Set in a purplish dark and shiny robe with some random blue reflections in your glass, this elixir is luckily composed of a successful wedding between 60% of Cabernet Sauvignon, 35% of Merlot, 2% of Petit Verdot, 3% of Cabernet Franc. This complexity would easily let you keep this jewel between 5 and 10 years but don't hesitate (like many Bordeaux wines) to open it heart to you in an elegant carafe, preferably one hour before sharing its soul.
Once in mouth, you would be undoubtedly pleased to unveil the quite spicy but smooth contents of a full-bodied blend of red fruits and even white pepper, emanating from this authentic classified Second Cru. An expression somehow symbolizing the best of its fruity and tannin assets, displayed in a full length.
Icing on the cake, whether you are just getting to know wine or are an enlightened enthusiast, take the time to book your next multi-lingual visit of the domain, notably through different themed tastings. Request your visit by email, more information on the official website.
---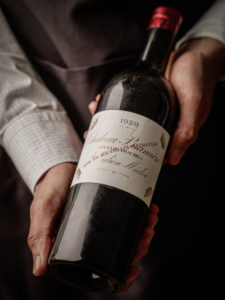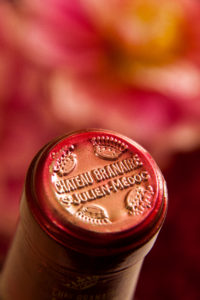 Still in Saint-Julien, we are glad to introduce you a Grand Cru Classé settled in 1855, unless the first owner of the estate Jean-Baptiste Braneyre had initiated from 1680 the potential of the superb gravel terroirs located a stone's throw from the Gironde river estuary.. In this case, the Château Branaire-Ducru is one of the famous names of the Saint-Julien appellation. Owned by François-Xavier Maroteaux, but managed by Jean-Dominique Videau, this Château Branaire-Ducru offers, time after time, an emblematic expression of this great terroir of the left bank of Bordeaux with a couple of renowned Millesimes.
The Château Branaire-Ducru vineyard covers 60 hectares, lately expanded of 10 hectares in 2009, whose vines are aged of 35 on average, even some of them are 100 years old. Planted on quaternary gravel-siliceous alluvial soils, recognized as really fertile terroirs in the region, allowing late grape varieties to develop while ensuring some suitable phenolic maturation, for an elegant and velvety wine.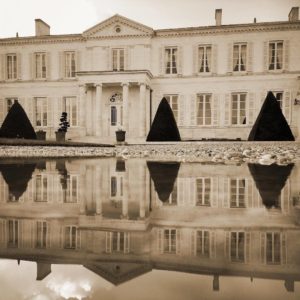 By the way, a part of the vineyard including young vines (aged less than fifteen years old), are specially dedicated to the development of the Duluc de Branaire-Ducru cuvée, the second wine range of Château Branaire-Ducru which is supposed to be more accessible, while respecting the house signature.
Mostly guided by predominantly Cabernet-Sauvignon blends, the wines of the Château Branaire-Ducru express a regular character, defined around a strong presence of fruit, freshness and complexity. It is precisely the major focus of the team's work to specify, for each vintage, the style and the Branaire-Ducru signature, largely inscribed in the elegance and spirit of Saint-Julien.
Regarding the vineyard work aims to offer a prominent place in Cabernet-Sauvignon a precise image of the Branaire-Ducru terroirs, for a better complexity, fresh character and fruitful aspect to their wines, whatever the year. Moreover, a manual harvest is operated on the entire vineyard after a further analyze.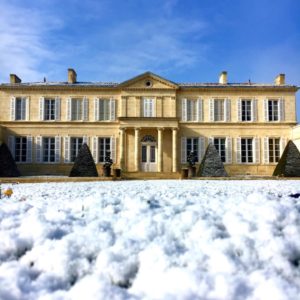 Supported by the oenologist Éric Boissenot, the collected juice is then conserved in stainless and thermo-regulated steel tanks, of different sizes adapted to each plot, under a fermentation temperature of 26-28°C. Thereafter, a maceration period of 3 and 4 weeks would follow, adapted to each part of harvest, expressing the aromatic potential of these various grapes.
In this homogeneous and successful batch of Saint-Julien, the practice of sustainable cultivation has been operated in the vineyard by limiting or even eliminating certain fertilizers. On top of that, a total renovation of the cellars was even carried out in 1992, in order to invest into a more modern equipment, such as the vat room ensuring the flow of wine by gravity. This process restrains any pumping, in order to preserve the characteristics of the fruit.
Icing on the cake, you would fortunately find the same style between the Branaire-Ducru and Duluc de Branaire-Ducru signatures.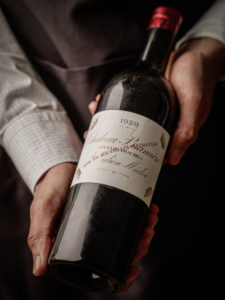 In this case, the
Millesime 2016
of
Duluc de Branaire-Ducru
still relies more on young
vines
of
Cabernet Sauvignon
and
Merlot
, whose harvest is matured for 12 months in
French
oak
barrels
. This
vintage
embodies in a way the perfect climatic conditions of that generous year. Indeed, the
spring
was well watered and accompanied by a beautiful
flowering
, allowing a beautiful vegetative balance of the
vines
. In addition to this, it even occurred some effective water
constraints
leading to the enrichment of the
grapes
, with a bunch of
phenolic
compounds, along a real
aromatic
construction of this
wine
.
Thereafter, if you dare open this bottle, you would first notice a real complexity of aromas of red fruits in the fragrance, complemented by floral aromas coupled with certain spices. Once in mouth, take the time to appreciate the undeniable roundness and suppleness of this juice, preceding a long and aromatic final note. This specific vintage developed by Duluc de Branaire-Ducru could and sometimes should be enjoyed over a long period after your acquisition.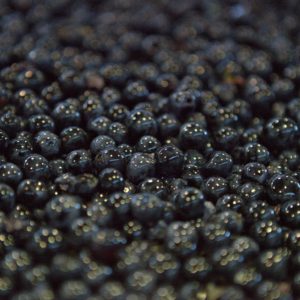 In comparison and still following the great climatic conditions of 2016 which were particularly favorable to the construction of a quality vintage, let's discover the the Millesime 2016 of Branaire-Ducru. This masterpiece of the mother house, reflects the dry and sunny weather that emerged in the summer of that fertile year.
This elegant wine composed a main portion of 64% Cabernet Sauvignon and 27% Merlot, shows a very deep color, a very expressive complex fragrance of very ripe black fruits, combining all the richness, precision and freshness awaited by any Bordeaux wines enthusiast. Furthermore, this elixir wears an authentic homogeneity highlighted by a spicy mood and adorned with some black pepper happily married with these notes of black fruit and tobacco. Then, a set of extremely fine tannins get unveiled, before a long and aromatic length in mouth.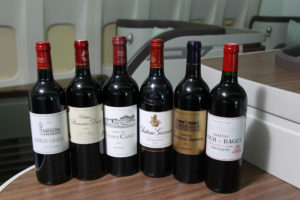 As far as we know, we recommend you to serve this wine at a temperature of circa 18°C, preferably after a decanting period of at least one hour in a carafe, in order to better liberate its aromatic expression. Otherwise, if you have more time and patience, don't hesitate to open it in a few years (even some decades), for example from 2023 and you could naturally discover from it more complexity.
Last but not least, the Branaire-Ducru wines have been served for more than 10 years in the 1st class flights operated by the Cathay Pacific airline company. That's why, Cathay Pacific organized a competition to find to Branaire-Ducru a Chinese name, which was lately announced as Zhou Botong. For your information, Zhou Botong is a character in Kung Fu novels and television series (photo credits: Cathay Pacific).
More information on the official website.
---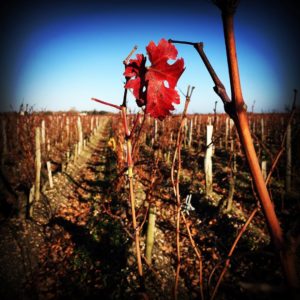 Thereafter, don't miss the global Haut-Médoc appellation, whose production area covers twenty-nine municipalities located at the northern part of Bordeaux. Of Haut-Médoc's fifteen wine-producing communes, eight are located along the waterfront of Garonne and Gironde: Blanquefort, Parempuyre, Ludon, Macau, Arcins, Lamarque, Cussac and Saint-Seurin-de-Cadourne, while seven communes lie inland: Le Taillan, Le Pian-Médoc, Avensan, Saint-Laurent-Médoc. Saint-Sauveur, Cissac and Vertheuil. Few of the estates falling within the generic Haut-Médoc appellation were included in the Bordeaux Wine Official Classification of 1855 (as all but six of the 61 are located within the AOCs Margaux, Saint-Julien, Pauillac and Saint-Estèphe), but several were included in the Cru Bourgeois classification.
In this territory, we can notice the Crus Bourgeois, which are mainly found there around the Alliance des Crus Bourgeois du Médoc, belonging to 60% of the production in the Haut-Médoc and in comparison, 36% in the Médoc. For your information, this classification corresponds to a distinction between these premium Bordeaux wines which never accessed to the status of classified Grands Crus in 1855, but benefits from the system of traditional terms.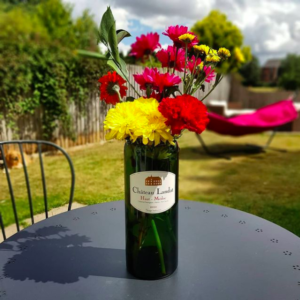 Thereafter, why not having a look at the Château Landat which has been listed as a wine property since 1881, and quickly recognized as a genuine Cru Bourgeois in 1908, already at the time due to its charming and elegant wines. Run since the 1970s by the Fabre family, settled in the Haut-Médoc and Margaux appellations, in the heart of the left bank of Bordeaux. Associated with Florence, his wife, Vincent Fabre ensures the overall management of these so-called Domaines Fabre, joined in 2013, by Mélanie at the head of the property, followed in 2017 by her husband Nicolas and Jean-Hubert, the youngest of the siblings. Thus, this domain is located on the northern part of the village of Cissac and over the plateau of Vertheuil, in the heart of the Haut-Médoc appellation. Therefore, the soils of the vineyards (with an average age of 30 years) are mainly composed of clayey gravel and sands, spread on a surface of 14 hectares, where are cultivated 60% of Cabernet Sauvignon, 35% of Black Merlot and 5% of Petit Verdot.
Moreover, the Château Landat tends to respect as much as possible its vines thanks to a series of sustainable processes (granted by the Haute Valeur Environnementale label), such as the preservation of the inner biodiversity, limitation of water consumption in the vat, grassing between two vine rows (to restrict the vigor of the vine), along a cautious mechanical harvest but manual grape sorting, in order to obtain a constant and perceptible quality of the juice (photo credits: Green Bottle Glass).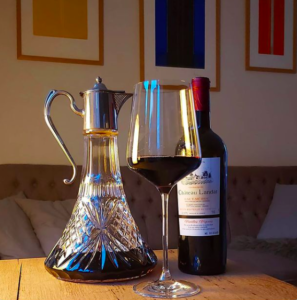 Once again, we find here a fermentation obtained through a micro-oxygenation operated in specific vats, reinforcing the inner tannic structure and chromatic intensity of their wines, where the pure tradition of Médoc is respected. Indeed, their wines are commonly aged for 12 months (for sure depending on the Millesime) in authentic oak barrels, after a long maceration between 3 to 4 weeks. These oak barrels come from 5 and 6 different coopers and French woods, of which 20% to 30% of the cuvées are made with new wood, showing more or less marked differences according to the material. Moreover, in order to clarify their wines and provide them with the optimal oxygen necessary for their aging, regular rackings are planned according to the tastings carried out by their technical team (photo credits: An Moons).
In this case, we are glad to introduce you the Millesime 2016 of this Château Landat dressed in a visible shimmering color. By the way, this is their first wine labelled with the HVE certification, that's maybe why it wears a fine and elegant perfume revealing some toasty aromas of black fruit and nougatine. Adding to this, once in mouth, don't miss a supple and fleshy expression, starring an harmonious aromatic persistence. Time after time, this Château Landat edition would undoubtedly keep on amazing you by developing tertiary aromas of musk, in parallel of notable woody nuances.
Icing on the cake, this charming red wine is recommended to be associated with some red meat, and fine cheeses, whether you prefer to consume it in a regular bottle, a magnum, a double magnum, an Imperial or even a Nebuchadnezzar size!
More information on the official website.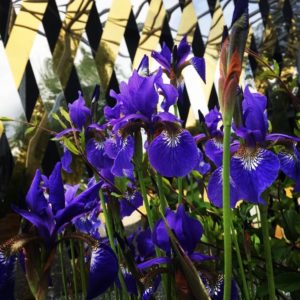 Adding to this, the
Domaines Fabre
has also invested the
Margaux
appellation, also known as the first of the six communal appellations of the
Médoc
, while remaining the largest one. Otherwise, this is the first one you could cross after leaving
Bordeaux
, whose
vineyards
are located on the edge of the
Garonne
, at the height of the
Bec d'Ambès
.
For your information, this appellation is not limited to the village of Margaux, but as well extends through four neighboring communes, Arsac in the west, Cantenac and Labarde in the center and Soussans in the north. While the most famous castles tend to gather around the core of Margaux, where the vineyard is very fragmented, such as the Châteaux Margaux and Palmer, in order to better adapt each grape variety to the geological and climatic characteristics of these endless plots. By the way, the Margaux wines are considered as ones of the most delicate wines of the Médoc, expressing a delicate expression, full of supple and fruity aromas. On top of that, these wines commonly wear a dark color, displaying woody, roasted and liquorice notes, before preparing a smooth finish. Don't forget that the Margaux juices are able to mature more quickly than its neighbors from Pauillac or Saint-Julien, and they are dedicated to be kept for a long time.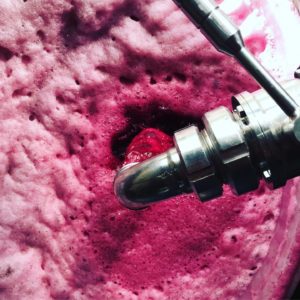 In this ocean of jewels, the Domaines Fabre own the Château Bellevue de Tayac, where is produced a Cru Bourgeois elaborated in the AOC Margaux criteria, proving an exceptional quality. Therefore, we invite you to take some time to visit this lovely property of 4.5 hectares, composed of a charming vineyard spread over the commune of Soussans. This location benefits from mild conditions, within a favorable microclimate for the development of the precious vines, certified High Environmental Value since the 2018 vintage. As far as we know, this unique terroir is essentially made up of gravelly hilltops, reminiscent of a clay subsoil (photo credits: Domaines Fabre).
The vineyards rest on a gravel and clay basis, the soil of which is worked to promote rooting. The harvest is manually operated with the grapes which are picked at an optimal maturity and harvested in crates. Then, the vinification takes place, after a precise grape sorting, in stainless steel vats for the Merlot and Cabernet Sauvignon, and in barrels for the Petits Verdots. Thereafter, 4 weeks of maceration follow after a controlled fermentation, fully aged in recent oak barrels during a period between 16 and 18 months. The omnipresent care required throughout this cautious production process, confers to these Château Bellevue de Tayac wines a very beautiful Margaux spirit, which both offer a certain density and freshness.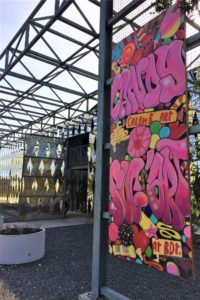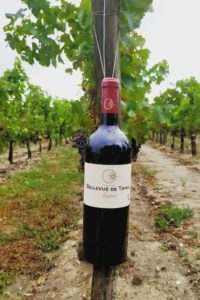 As you can see here in the
Château Bellevue de Tayac
, there's no real
castle
but a
winery
facade, composed of an alloy between gilded
copper
and stainless
steel
slats. This
avant-garde
trellis
reflects countless multicolored facets, able to evolve time after time, whether there is clouds or sunshine over its surrounding
vegetation
. A perfect transition to introduce you the
Millesime 2016
, always proud to show you its
black
color and its explicit intense
scents
of
toast
and very ripe
blackcurrant
. Then, you would be undoubtedly seduced by the interesting
density
of this naturally elegant
wine
, which can offer a very pleasant
fresh
dimension. Last but not least, this acclaimed
elixir
proposes a nice length, full of fleshy and ripe
tannins
, perfect to accompany with
red meat
or fine
cheeses
.
More information on the official website.
---