Let's meet some of the artists of the Marciano gallery, such as Joy's interview!
8 min read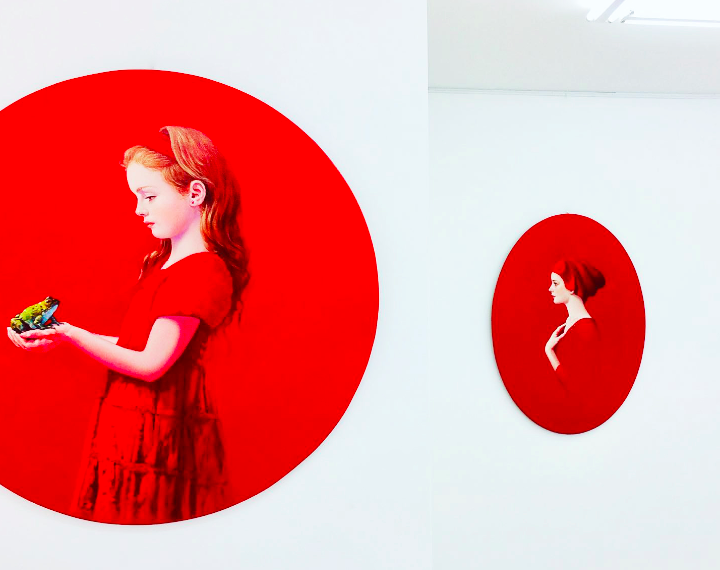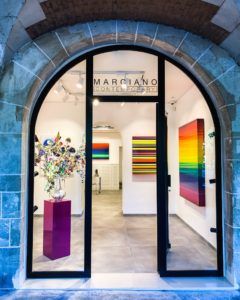 Founded in 1992 by Mickaël Marciano, the eponymous Marciano gallery proposes a selection of around 50 inspired artists. With the aim to democratize contemporary art through its several galleries, mainly located in Paris but also outside, feel free to discover them in those 7 complementary exhibition spaces.
Spreading from New Pop Art, passing by New Realism until Kinetic Movement, let you get seduced among a variety of artistic movements conveyed by these various emerging or illustrious artists. Thus, it's not a mystery that from painting to sculptures, figurative to abstract, the universe of the Marciano galleries stands out with its wide offer.
By the way, some of them have benefited of the Marciano support, notably for the realization and of course the promotion of their artworks. That's why, many of them decided to entrust the Marciano galleries with a worldwide exclusive distribution of their creations and we are glad to present you a couple of them, including an interview of the colorful artist Joy among other artistic treasures! By Alex Plato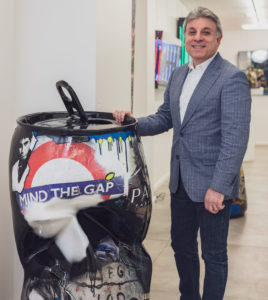 Otherwise, while still specializing in
contemporary art
, you may also discover a wide selection of more experimented artists with a stronger notoriety. Therefore, you could count on
Cesar
,
Arman
,
Appel
,
Chagall
,
Picasso
and
Dalí
to name a few. Nonetheless, the
Marciano
galleries also represent the legacy of multiple renowned artists, such as
Roger Suraud
(photo credits: Marciano & Henri Saromsky).
Last but not least, as a real advocate for artistic democratization, Mickaël Marciano as well tends to convince anyone willing to start or expand his own art collection with good bases. For your information, even foundations and museums have already once purchased one those heterogeneous masterpieces. Therefore, let us introduce a couple of these featured artists, able to entertain your upcoming admiration.
Marciano Contemporary
, 4 Place des Vosges, 75004 Paris (France) / Open everyday from 11h until 19h30 / Phone : 00 33 (0)1 84 83 44 44. More information on the official
website
.
---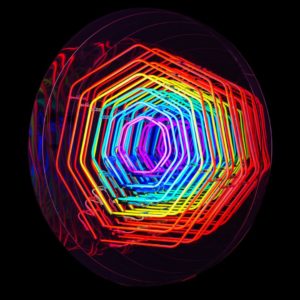 Starting our
Art
tour with the enlightened designer
Falcone
, who is a full autodidact
artist
, while notably finding some of his roots in the
art foundation
of his grandfather. Learn more about this private
Fondation Cherqui
, located in
Aubervilliers
, open to the visit with its 5000 visible
artworks
, on the
video
below.
As a real passionate about
geometric
works and
kinetics
since his childhood,
Falcone
was also much inspired by the deconstructed tables of
Carmelo Arden Quin
. In this case, infinite colorful
circles
and
squares
always intrigued this multifaceted
artist
and eventually encouraged him to go further.
Thus, with the goal to multiply a contemplative image without an end, Falcone employs his favorite tools which are neon, plexiglass, and of course LED lights reflected by a mirror. All these ingredients are reunited to generate a sort of optical illusion as a guideline for an innovative and colorful art demonstration (photo credits: Falcone).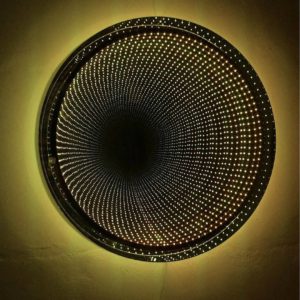 Furthermore, thanks to those electric special effects,
Falcone
enjoys the pleasure of a visual
stimulation
produced on the spectator's perception, essentially according to his position in front of the
artwork
. By the way, this
magic
solution would only become possible through the force of a complex
electroluminescent
display.
Based on the power of a tiny lightful diode (abbreviated as LED, for light-emitting diode) which is considered as an opto-electronic device able to spread light when it is traversed by electricity. While passing in one direction, the energy would eventually produce non-coherent monochromatic or polychromatic radiation from this electromagnetic interaction.
Thereafter, this constant and durable photon emission generates an amazing stylistic device based on different topical or abstract subjects, able to display an infinite ray of lights in your favorite exhibition hall.
---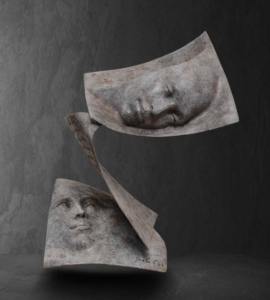 In a different topic, let's have a look on this
Italian
artist
Paola Grizi
, born in
Roma
in 1968. It seems that her passion for
Art
had been transmitted to her by her grandfather, himself a renowned
painter
and
sculptor
. However,
Paola
started an initial career of
journalist
, after literary studies but her inner
creative
spirit emerged
crescendo
until the point of no return, and the desire to become an
artist
was so strong. Then,
Paola
wished to adapt her passion for
writing
and mostly mingle it with
bronze
material (photo credits: Paola Grizi).
Thereafter, letters and human nature intertwine and merge shape into a mystical interpretation of the countless dreams and sensations of the artist, all in relief. As if you were turning pages of a book or a magazine, this literary vision of Art enjoys an international recognition, where Paola has been rewarded with numerous and prestigious prizes. By the way, after having been a resident of the city of ChangChun, exhibited in numerous private collections, Paola recently had the opportunity to present her works at the international exhibition in the illustrious gardens of Etretat.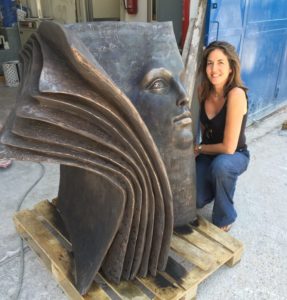 On top of that, among many
awards
,
Paola Grizi
even won the 3rd
Biannual International Ceramic Contest
of
Ascoli Piceno
; and she was invited twice in 2014 and 2015 by the
Chinese Chanchun Municipality
to represent
Italy
in the
China Changchun International Ceramics Symposiums
.
She also won the Special Public Award at the 35th CICA International Competition de L'Alcora in Spain and then went on to serve on the jury of the same contest in 2016. Additionally she was as well chosen by the Pontifical Gregorian University in collaboration with the Kunst-Station of Köln, in Germany for a Contemporary art project in the Church of Saint Peter, along with eleven other international artists.
Let yourself tempted by this incredible innovative structure of books and visages, massively shared on social networks, and you could maybe read what's on the artist's mind.
---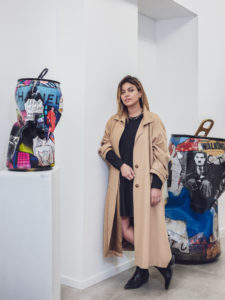 Thereafter, let's turn on the protean plastic artist
Joy
, based in the
South
of
France
where she lives her passion for a new type of
Art
, mixing
fashion
,
music
and
Street-Art
(photo credits: Joy).
Due to a successful career of stylist, fascinated by the powerful and original universes of Martin Margiela and Comme des Garçons, this multi-faceted artist decided to create her own ready-to-wear collections for women, spread in many boutiques all around the World. After an experience as a photo stylist for Elite Model, she got tempted with a bit of exotism and flown to Namibia, where she had the occasion to teach styling classes at the French Embassy, under the framework of Maryline Vigouroux.
When returning to
France
, she wished to look for a new way of expression and therefore
painting
became obvious for her. That's why, during 3 years,
Clara
painted large formats composed of
plexiglass
, which were exhibited in a couple of
Parisian
galleries, such as the
Blumann
and
Kleiman
entities. Thus, her first realizations were composed of large color drawings that she printed on a support, sublimed some additional relief provided by
markers
or
spray cans
. Time after time,
Joy
reached a certain amount of volume in her
artworks
, in memory of her long past in
fashion
styling, where the
fabrics
play a full role such as the materials employed in a
sculpture
.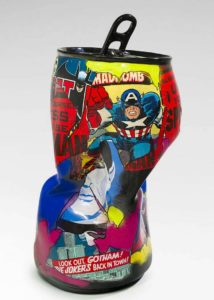 As a
soda
enthusiast, especially sipped from
cans
, the artist also decided to adopt this
Neo Pop-Art
item as a real support
inspiration
for her future
sculptures
! Following the steps of illustrious predecessors, such as
Andy Warhol
who used to screenprint
cans
, while
César
enjoyed compressing them, here
Joy
opt to monumentalize them in
Popy Cans
. Starting from a
prototype
, shaped in a 1m40 high
mold
, which is declined under her flourishing imagination, as unique
pieces
of different sizes, where
Joy
employs her singular
artistic
sense with her own technics. Indeed, after ordering her resin
cans
, whose structures are realized by
Arsculpt
, near
Valence
, while the
bronze
pieces are made in
Paris
, in the
Foundry Chapon
. As far as we know, the
creative
process of
Joy
respects some specific
guidelines
, punctuated by precise stages details that make her
Art
so authentic.
Therefore, once she received cans from the several suppliers, her inspired spirit seems to melt in a dynamic interaction on a special way with each of those artworks. Fueled by the crazy energy of her own workshop and influenced by some pop music in movement, Joy breaks codes and displays her own vision of urban culture and more particularly Street-Art. In order to realize this joyful harmony, the artist mixes different materials, made for each other, through spray and casual paintings, adorned with some drawings and of course collages of famous photographies. Last but not least, these masterpieces are varnished three times, in order to provide enough resistance and brightness to highlight its multiple facets, while lasting as long as possible.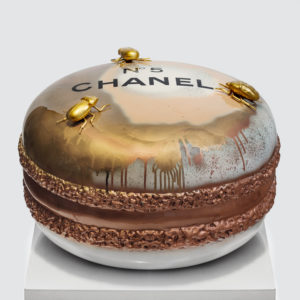 Adding to this, still faithful to her own inventiveness and
mix of genres
,
Joy
pursues her present
artistic
philosophy with more than ever originality. For instance, she has recently shown, during an exhibition in
Monaco
, her latest creations which are designed as monumental
macarons
. Here, these traditional
French
sweet
pastries
wear again a colorful and shiny
robe
, thanks to a
lacquered
covering, on which three
beetles
climb and delight this so yummy
Parisian
cake. With this new artwork,
Joy
tends to challenge her audience with new forms of expression with the combination of
fashion
and
sculpture
in an explicit
avant-garde
form. Then, she tells us more about it in some questions.