Discover the Experience Pommery, the Villa Demoiselle and the brand new Blooming exhibition, all reunited in Reims!
6 min read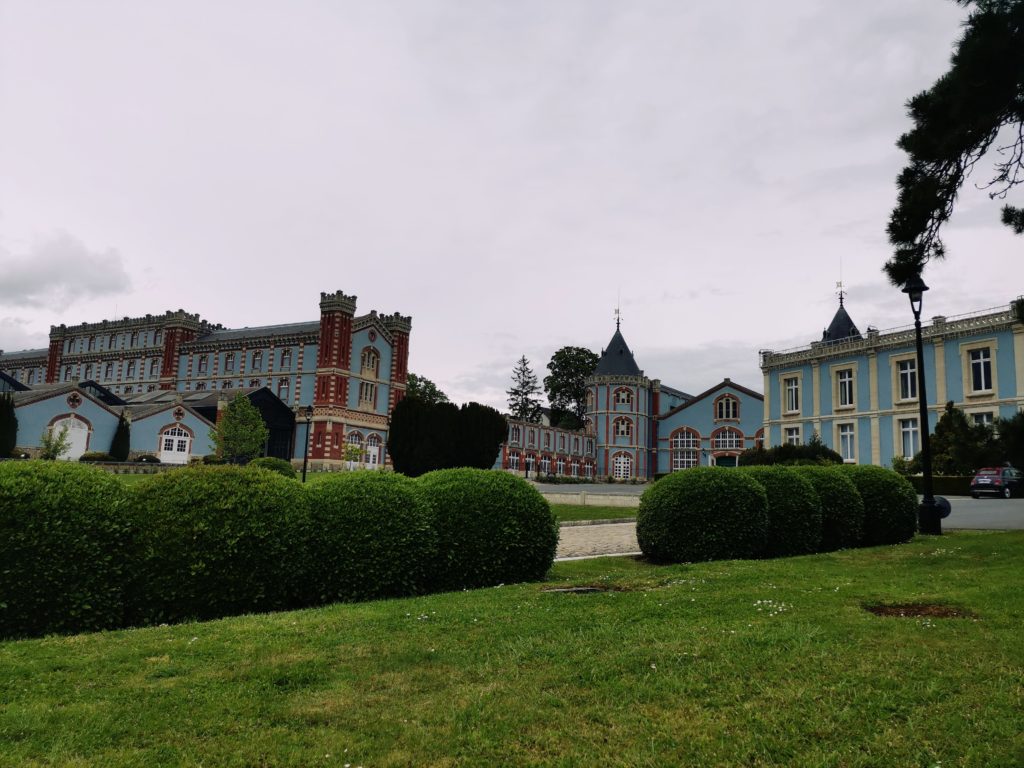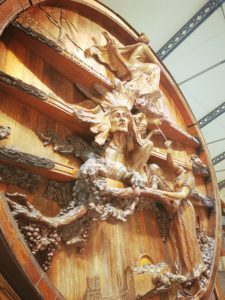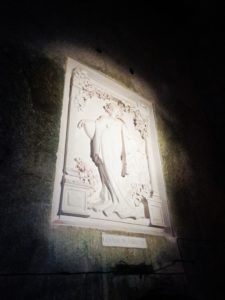 Pommery is more than a champagne house… From its Victorian style architecture, this huge ancestral Reims domain has more surprises for you in its 55-hectare estate. Indeed, in a Champagne appellation counting 319 villages and only 100 of them hold a Grand Cru vintage, you have to know that 70% of sales are concentrated between October and the end of year celebrations, when Pommery must release one million bottles per week during this period out of the 18 million produced each year.
Therefore, the Champagne spirit needs to be reinvented the rest of the year and even paying efforts to seduce new markets within new projects. Thus, in the global amount of 300 million bottles of Champagne sold per year, the Asian market is less mature with only 12 million bottles sold in Japan and 2 million in China, certainly due to a lack of initiation of bubbles. By Alex Plato
---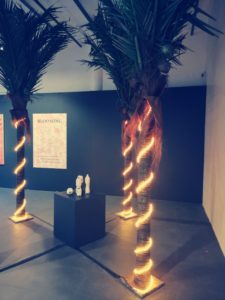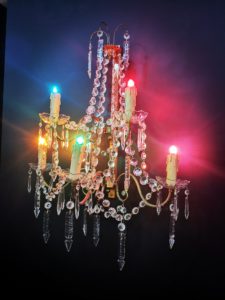 While preparing your visit, you have to be ready for these cellars and its art exhibitions, the Villa Demoiselle and its Art Nouveau collection, the Clos Pompadour, unique in this wide Champagne region, and the winery. In order to find out more about their vision of Champagne, some Master Classes are proposed to give you the keys to understand their own Champagnes.
Between two visits, enjoy the terrace of the restaurant, Le Réfectoire, this translated Refectory place is located at the heart of the Domaine Pommery, accessible to all, as a real place of sharing, discussion and conviviality around your upcoming meal, carefully prepared each day by the kitchen team (photo credits: Alex Plato).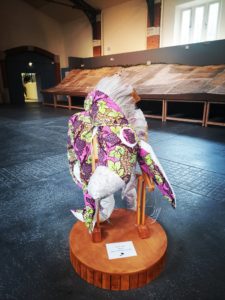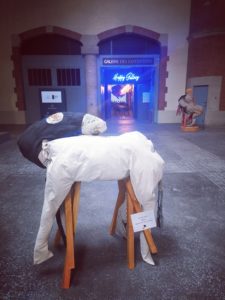 In addition to this superb ancestral estate, devoted to Champagne, including the Villa Demoiselle, and its largest Art Nouveau collection in the region, the Maison Vranken-Pommery has set itself a dual cultural and artistic objective to satisfy its 150,000 visitors.
Therefore, feel free this year, to explore the Happy Gallery and its selection of nearby masterpieces realized by the British artist Stephen Wilks (interviewed at the end of the video).
In this giant hall, where a vertiginous wooden sculpted barrel proudly stands, you would find a charming exhibition and admiration space where visitors can move around as they wish. Apart from the Champagne store, able to satisfy your desires for bubbles, do not miss the few works of art scattered here and there around this sparkling forum.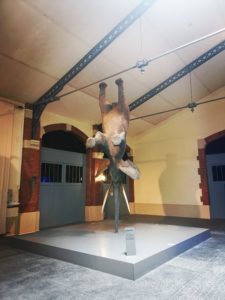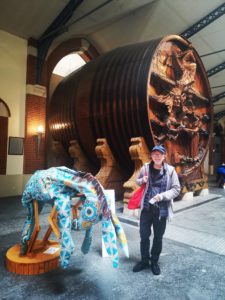 At present, the atmosphere is of an animal and textile mood thanks in particular to the talent and the so British spirit of the artist Stephen Wilks, who devotes most of his inspiration to the nonchalance of the donkey. Thus, his articulated sculptures, mostly designed in Berlin, representing this animal in all textile forms, rest, for some slouch, on different types of plinths. Like communication art objects, according to the artist's wish, these donkeys are supposed to convey all types of messages and thus be able to facilitate exchanges, because of their flexible structure.
Apart from that, another animal curiosity in the person of Würsa realized by Daniel Firman, a former intermittent circus elephant who was immortalized and stuffed in Liège, Belgium, before being hung upside down from the ceiling. Breaking the French rules prohibiting the exhibition of wild animals, whatever their condition, this incredible work was validated by the French Hunting Office thanks to its circus past.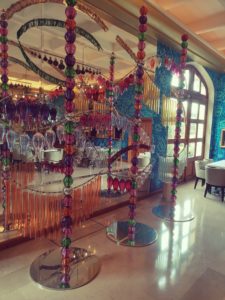 Not far from the majestic restaurant called Le Réfectoire, naturally because of its location in the place of the old refectory, the establishment can accommodate 50 people inside and 50 others outside on a flowered terrace. The chef, Philippe Moret, tends here to offer guide us into the authentic culinary history of French cuisine, while proposing the most symbolic dishes of this illustrious gastronomy and in the mean time, reinventing dishes that sometimes may find their origin deep back in time.
From the illustrious Apicius duck, passing by the Louis XVI's pig's trotters, or the Poule-au-Pot of the time of Henri IV and without forgetting the Auguste Escoffier's passion for Melba, many historical moments have been associated with a specific dish. Take the time to explore the real circumstances why and how chicken was served to Napoleon at the Battle of Marengo, this dish has then remained in our memories and tables.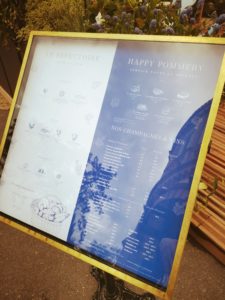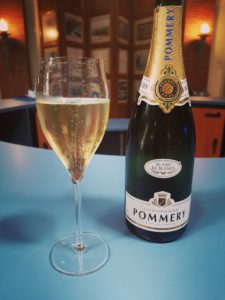 The occasion to taste the Pommery spirit, whose first Champagne Brut was successfully launched by Madame Pommery, within the Pommery Nature 1874. It was the departure of this tradition to offer an authentic personality to their Champagnes, different from former sweet wines.
For instance, discover this Apanage Blanc de Blancs cuvée, made from a meticulous selection of Chardonnay which brings a certain liveliness and great complexity. Indispensable to elaborate premium vintages, Chardonnay is a precious grape variety in Champagne that knows how to offer to those Pommery Champagnes, a real delicacy, elegance and freshness.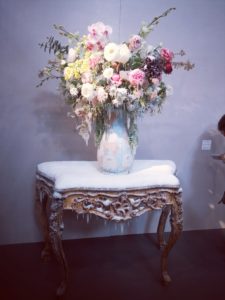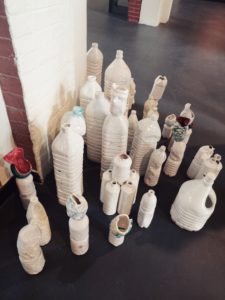 At the end of this Happy Gallery stands the Cellier Pompadour, where you could explore the new Blooming exhibition. In a Eiffel-type hall, admire this selection of artworks, settled to celebrate the blossoming of nature and men, by bringing together 61 artists from various periods (either specialized in painting, ceramics, drawing and figurative photography). All gathered under the curatorship of the Reims Fine Arts Museum, the director of the Pommery House aka Nathalie Vranken and the Beaux-Arts Magazine editor, Fabrice Bousteau.
A rich assortment, mostly made up of contributions from this Reims Museum of Fine Arts, where you can still find other works by Stephen Wilks, such as these ceramic vases and bottles, starring white crackled reflections. Plus, another production from Pommery and exclusively for this even, with the plastician Laurent Pernot, so to say a flowered frozen commode.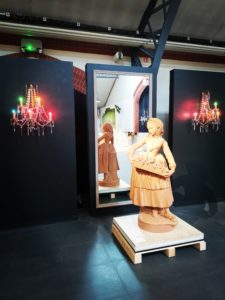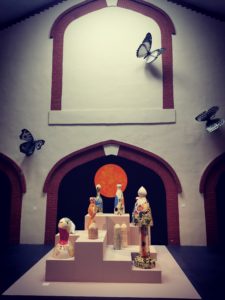 In total, you will discover a selection of around a hundred artworks, highlighted in an ingenious scenography by the Greek scenography designer Lef Kazaouka. A dialogue conceived as an Ikebana, this Japanese concept also known as the name of Kadō, since "the way of flowers" or "the art of bringing flowers to life" that is to say this art of floral composition, starring spiritual and aesthetic virtues.
Thus, Blooming is an extraordinary garden where Paul Gauguin, Camille Corot, Henri Fantin-Latour mix their petals and their colors with those of Keith Tyson, Sophie Calle, Barthelemy Toguo, Pierre and Gilles or the imaginary jungles imagined by Pierre Seinturier without forgetting the hallucinogen butterflies by Jean-François Fourtou.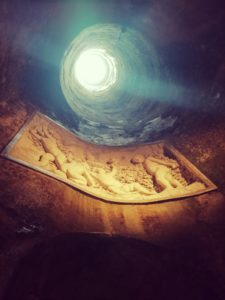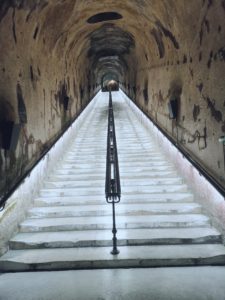 If you feel getting deeper underground, take part into the Experience Pommery and explore the multiple surprises hidden in and around in these Gallo-Roman chalky cellars. A unique historical site in Reims, registered as a UNESCO heritage site, which contains no less than 110 galleries, decorated with antique sculptures directly stuck into the rock, colored signals and since recently, numerous artworks of international contemporary artists.
Among them, we can find again Choi Jeong Hwa, Stephen Wilks, Jacqueline Dauriac, Philippe Baudelocque, Barthélémy Toguo, Enrique Marty, among others. Moreover, this is a real challenge to preserve these artworks in this specific condition area composed of 98% humidity and a constant temperature of 11°, where the elements naturally evolve with time in these vast cellars of Pommery and even some are directed to an inevitable deterioration.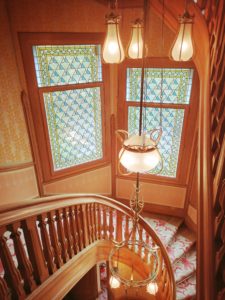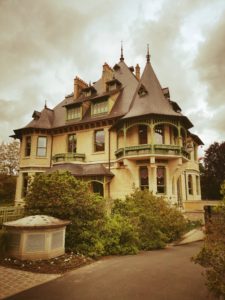 At last, you should complete your Pommery tour, with the visit of the Villa Demoiselle. A real temple of Art Nouveau and Art Deco, built between 1904 and 1908, but fully renovated from 2004 with skilled craftsmen, under the supervision of Paul-François Vranken, founder of this Pommery-Vranken Champagne.
The unique architecture of Louis Sorel, with the woodwork by Tony Selmersheim, the ceramics by Alexandre Bigot and the painted decorations by Félix Aubert were almost wiped out… Therefore, this intense restoration of the 6 floors revived this Sleeping Beauty a magnificent edifice, as an embassy of this Vranken Champagne house, and the famous Demoiselle cuvée from which this Villa wears the name. The result is an historical and magical museum, where you can discover a formidable collection signed by some of the greatest artists of the early 20th century, such as Majorelle, Daum and even Gallé.
Domaine Pommery
, 5, place Général Gouraud 51100 Reims (France) / Phone : +33(0)3 26 61 62 56 / More information on the official
website
.
---