Different facets of Lille get unveiled with L'Hermitage Gantois and the artistic acts of Lille 3000 and Lille Art Up!
11 min read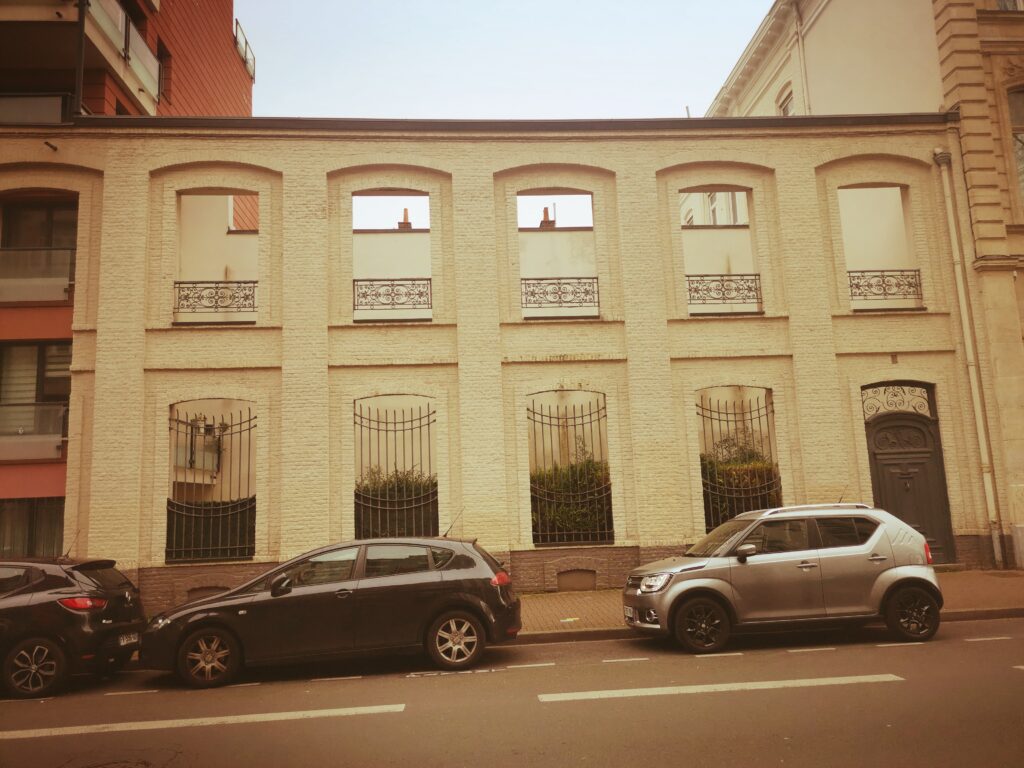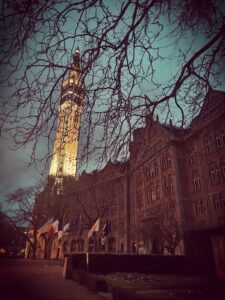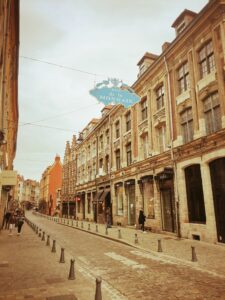 Just after Valenciennes, we propose you to have a promenade into the heart of the Vieux Lille, proving as the real capital of Flanders. For instance, the medieval period is predominant in various parts of the center and of course several edifices reflect it. That's why we would guide to visit two former hospices, ready to visit or even to stay, since they are both transformed for different purposes, a Museum for the Hospice Comtesse and a luxury hotel for L'Hermitage Gantois. Along this, the city of Lille never runs out of inspiration to highlight its rich past, notably here with the Lille 3000 urban art project that comes back this year with countless surprises. By AP
---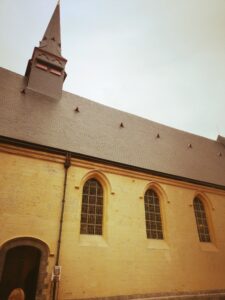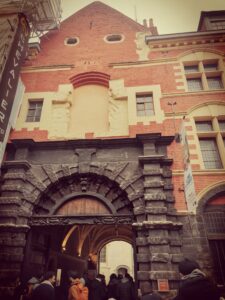 As a starting point, we offer you the opportunity to learn more about the Musée de l'Hospice Comtesse, sitting in a former hospital. Situated in the heart of the oldest streets of Lille, this monument was founded in 1237 by the Countess Jeanne of Flanders and played a major social role for ages. So much important that its hospital activity only ceased in 1939, still preserved in the current buildings dating from the 15th, 17th and 18th centuries (photo credits: AP).
Nowadays converted into a cultural center, spread from vaulted exhibition halls (since 1962) and a chapel decorated with the coats of arms displaying the main benefactors of the hospital, in the ground-floor.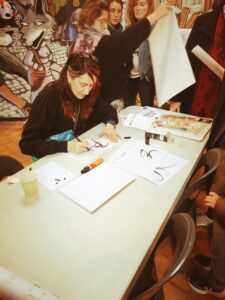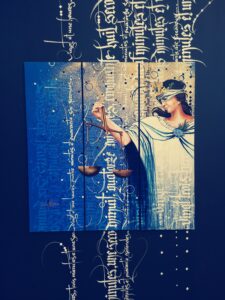 This is where temporary exhibitions are often held, like the recent art installation, highlighting some street artworks. Those were realized by the French Collectif Renart, mixing frescoes representing contemporary scenes and ancient habits, starring Lady Alezia showing her calligraphy abilities.
This main alley is surrounded by a couple of edifices which used to be occupied by the community from the Augustinian sisters. This ensemble is organized around two courtyards and a garden, and precedes a permanent exhibition space, full of local antiques. Indeed, Flemish art and history wouldn't have anymore secret to you, through the many paintings, tapestries, carved wood, furniture and earthenware expressing the true local bygone folklore.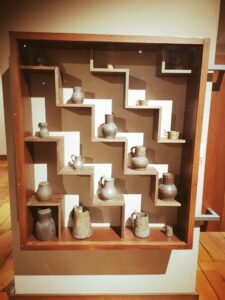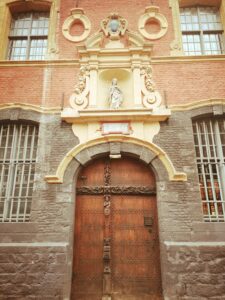 As a summary, the ground floor of this community monument wishes to recreate the intimacy of a real Flemish house from the 17th and 18th centuries, thanks in particular to the earthenware tiles in the kitchen, the sculpted furniture in the refectory and its tableware tools, without omitting to recall the spiritual and hospitable vocation of the place with the chapel, the pharmacy and the medicinal garden.
In the dormitory, a selection of artworks illustrates the history of Lille from the 16th century until the French Revolution. Therefore, you would be immersed into the former urban panorama and its architectural facets.
illustration
was made possible through the portrait
galleries
depicting the
Counts of Flanders
, realized by
Arnould de Vuez
and the
Dukes of Burgundy
. Those series evoke in a way the
political
context while the local
traditions
are expressed through the paintings of
Louis
and
François Watteau
, such as some chronicles of
Lille
society during the
Ancien Régime
.
Musée de l'Hospice Comtesse, 32 rue de la Monnaie, 59000 Lille (France) / Phone: 00 33 (0)3 28 36 84 00. More information about the upcoming events on the official website.
---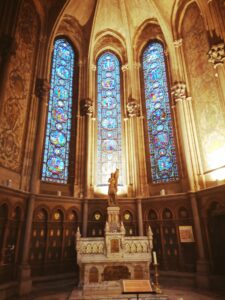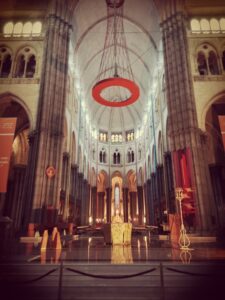 A couple of meters further, don't miss the Neo-Gothic cathedral of Lille, which was surprisingly built between 1854 and 2008, where this symbolic religious monument was completed by an imposing contemporary facade. In fact, this Notre-Dame de la Treille cathedral stands on the site of a former castle site, built in the 11th century and unfortunately demolished in the middle of the 19th century.
Dedicated to Marian worship, this edifice impresses with the result from more than a century of huge work, with numerous interruptions due to lack of budget and wars. However patience lead to a substantial architectural act.
Despite
Lille
did not become a
diocese
until 1913, this
cathedral
was finally completed in 2008 with the construction of this incredible
facade
(to admire from
inside
or
outside
), decorated with a
stained glass
window realized by
Ladislas Kinjo
. Otherwise, you could also be surprised by its
crypt
which houses a center dedicated to
sacred art
.
Lille Cathedral
, Place Gilleson 59000 Lille (France) / Phone: 00 33 (0)3 20 31 59 12. More information about guided
visits
, on the official
website
.
---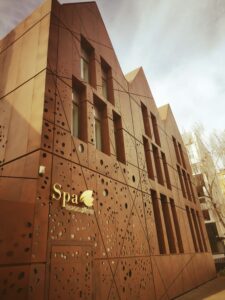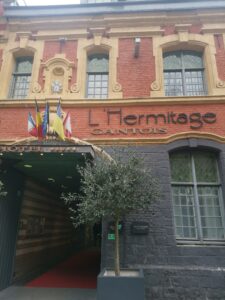 Then, let's get into another old hospice turned here into a luxury hotel… Thus, the Hermitage Gantois Hotel as well tends to highlight a rich medieval site and history, since its early days back in 1462, erected from the will of Jean de Le Cambe, also known as Le Gantois. After having made his fortune as an alabaster trader with England, this merchant decided to offer a better place dedicated to old and disinherited people, in the deep heart of the Vieux-Lille.
Originally composed of a ward and a chapel, where Jean de Le Cambe was buried and where you could admire a fantastic artwork dating from the 15th century, baptized Stations of the Cross, and other annexes centered around four courtyards (or defined as cloisters), plus a small museum displaying a bit of history with archives.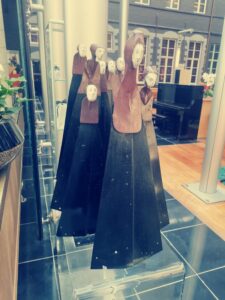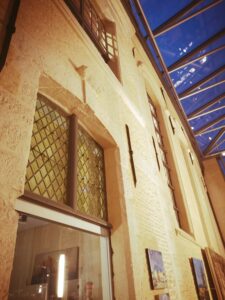 By the way, the hospice was enlarged in 1664 and 1672 in order to include a house for the chaplain, along a reception house, including a niche housing a small statue representing Saint John-Baptiste, nearby a remarkable altarpiece. Nonetheless, don't miss the remains of a fresco depicting Saint Piat and a Cephalophore Saint, carrying his skull in his hands.
Recently, a glassed canopy has been installed in the former yard, the Hermitage Gantois, where natural lights cradle day and night the front desk and its piano bar. In case you wish to get some entertainment and experiment a lounge moment with your relatives, you should take a sea in a coach and lay down before reaching one of the 82 available rooms and suites.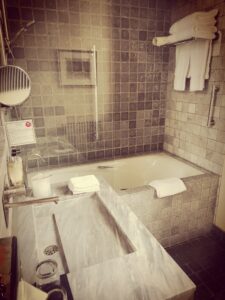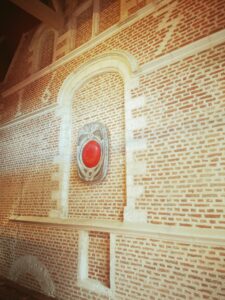 All those rooms are set around the inner gardens and cloyster of this charming hotel, they combine a certain modernity (with air-conditioning and large screen TV) versus tradition, adorned with woodwork on the walls and the visible signs of time.
Therefore, once inside, you could notice that each room reveals its own character and insure you some optimal comfort with premium bedding and a calm surrounding quarter. Regarding the wide bathroom, adorned with elegant grey ceramic tiles, you would have the pleasure to appreciate this bygone charm, with a couple of sensorial bath utensils developed by the famous Lalique crystal brand.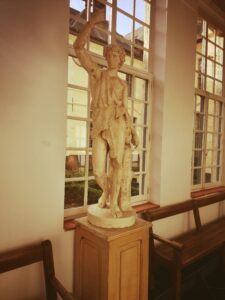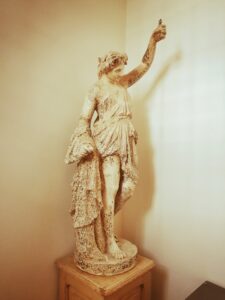 All of those rooms are connected by different circular corridors, this ensemble of private rooms definitely lead you to the glassed agora, the several cloisters, but also 7 conference halls and the recently built SPA. Those halls are perfect to organize study days, seminars, banquets, press conferences, product presentations, exhibitions, weddings, birthdays or any random cocktails…
In order to delight anyone's tasting buds, they offer various catering offers, business breakfasts, culinary formulas and many other cocktail propositions. This series of private rooms are suitable for the most prestigious receptions, including spaces with historical decor from 20 to 200 m2 with a capacity of 300 people.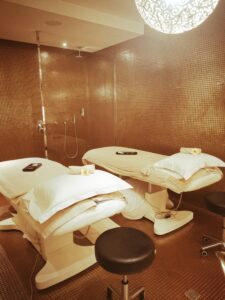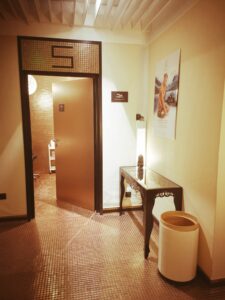 Therefore, just after passing an other historical part, including various adjoining fully equipped conference and meeting rooms, of different sizes, you can reach a pretty modern space. Thus, if you look for more well-being sensations, we invite you to join a modern SPA, located in a brand new building connected from this historical hotel, provided by a glassed walkway. In a space composed of noble materials, such as lacquered aluminum and calepinage, with full micro perforated sheets, for an original chromatic identity in its facade.
Once inside, you could benefit from beautiful facilities, such as a true blue swimming pool, surrounded by the usual sauna and Turkish bath, plus massage rooms.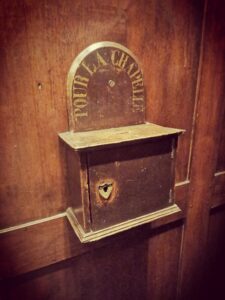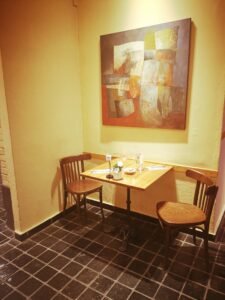 Apart from the entrance cocktail bar (under the canopy) serving some snacking, L'Hermitage Gantois proposes two possibilities to enjoy local culinary specialities in its two restaurants. In Le H, currently in renovation, the accent is focused on high gastronomy, unless you prefer the warm ancient atmosphere visible in its Flemish brasserie, called L'Estaminet.
Indeed, if you look for a relaxed lunch or dinner, this address, situated in a typically decorated hall, offers ancestral Northern dishes, accompanied by the best beers of the region. For example, you could ask, depending on the season, for classical appetizers, such as tartar steak, or rather local versions.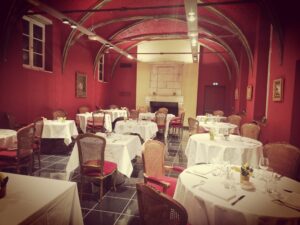 Among them, you could count on the illustrious Potjveleesh. This Flemish speciality, composed of a terrine of meat in jelly (rabbit, pork, veal and chicken), is as well proposed as main dish with French fries, so is the no less famous Carbonade Flamande, which is a Beef Stew cooked in beer.
As desserts, you're invited to pick up one of the sweet delights, revisited for the Northern territory. Among them, don't miss the Pavé Glacé Flamand, which is a chicory and Speculoos biscuit ice cream with meringue, unless you prefer opting for a brownie, adapted with Speculoos custard. If you want to book for a group or just come the morning after for a continental breakfast, just settle beneath the red vaulted rooms of the Estaminet. Help yourself between those fresh sweet or salty products and energize your day with a cup of Crémant!
L'Hermitage Gantois
, 224 Rue Pierre Mauroy, 59000 Lille (France) / Phone : 00 33 (0)3 20 85 30 30. More information on their official
website
.
---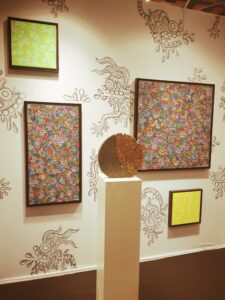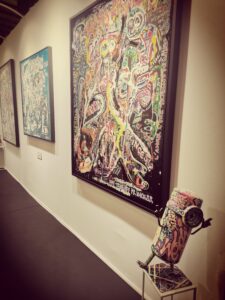 Did you know that Lille as well has its own contemporary art fair? Dedicated to all of the modern art enthusiasts, remind its name for next 2023 edition. Lille Art Up! Indeed the 14th edition stood from 10th until 13th March 2022, after two years of pandemic pause.
A new occasion to discover many galleries and their artists, through countless original and fascinating artworks, that stand at the Grand Palais in Lille, the main 2022 theme was untitled "Transparencies & Lights". Related to transparency and lights on which artists like to play, based on their techniques and materials were perhaps less used to use in the creative process.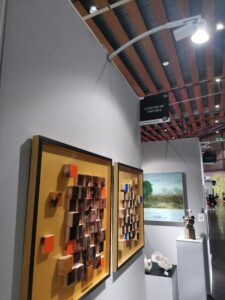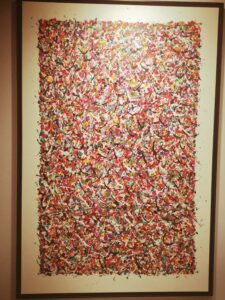 This event has become an unmissable for the general public for contemporary art, even hosting 40,000 visitors who are invited to come each year to to discover as much as original artworks visible in this Art Up. Open to all, during the four days of the exhibition, you can expect several events and eventually meet artists.
For instance, many stalls open their doors to invite you to invest in art or just get enrolled in workshops, unless you prefer attending the "Night of Art". Apart from this, you could also enjoy live performances and encounter new revelations that are coming young artists display their impressive creations.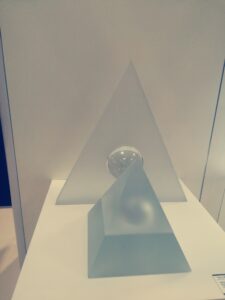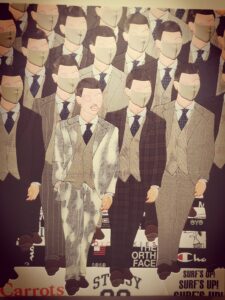 Adding to this, noticed in the description of this 2022 edition, this art fair wished to question about aesthetic issues regarding transparency and lights applied nowadays in various topics. Among them, you could notably find applications in architecture, sculpture, painting, watercolor, photography, glass art, NFT or even video supports.
Nonetheless, and specifically related to glass art, the fabulous dedicated museum of MusVerre, located in Sars-Poteries (that we already covered in this article), was invited to display some of its most exceptional masterpieces. This selection counts recent and eclectic realizations imagined by Bert Frijns, Laura Diaz de Santillana, William Velasquez, Keiko or Mukaide.
Lille Art Up!
in
Lille Grand Palais
, 1 Boulevard des Cités Unies, 59777 Lille (France) / Phone : 00 33 (0)3 20 14 15 16. More information on their official
website
.
---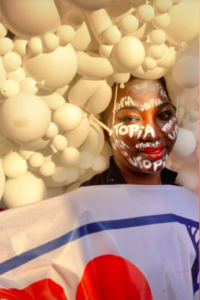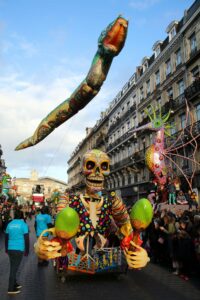 Keeping on contemporary art, we invite you this time to explore the new season of the unmissable artistic venue of Lille 3000, that promises to be rich in exhibitions and events. Like usually, this colorful program would take over cultural places and even streets, by displaying more than 35 exhibitions to be discovered in the city center of Lille, but also the European Lille Metropolis and the Hauts-de-France region (photo credits: Hauts de France).
For your information, this avant-garde project was born from the fact that in 2004, Lille became European Capital of Culture. It seems that this exceptional recognition had permanently changed the cultural ambition of the Flanders capital, but also promoting many new cultural projects in the surrounding region. Therefore, from 2006 with its first Bombaysers edition, Lille 3000 project has continued the work started in 2004 with its major thematic editions.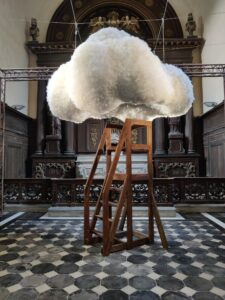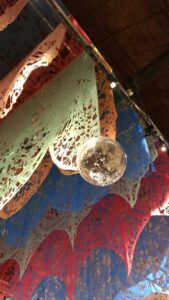 Furthermore, after the various thematic venues of Europe XXL occurring in 2009, Fantastic in 2012, Renaissance in 2015 and Eldorado in 2019, Utopia is the 6th themed edition of Lille 3000. This manifestation will be held from May 14th until October 2nd, 2022, after being started with a parade that crossed the streets of Lille, which transported the spectators to "Alice in Wonderland".
One of the novelties of this edition is embodied by Les Caps, through artistic (pedestrian or cyclist) hikes, through natural landscapes, offered to visitors in order to discover the random artists, while exploring different amazing places. As you have understood, you can expect surprises all over Lille and in the 95 municipalities of the metropolis, but also in some other parts of the Hauts de France region and even in Belgium.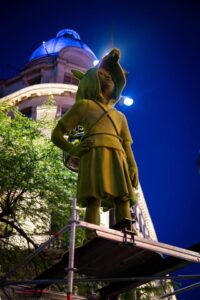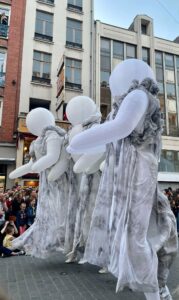 Among the 15 exclusive ephemeral exhibitions, you could admire a masterful artwork visible inside the Lille Flandres train station where the ceiling has been decorated by the Portuguese artist Joana Vasconcelos. Without forgetting any other urban metamorphoses, such as the Moss People occupying the Rambla on rue Faidherbe, as those Green Elves by the Finnish plastic creator Kim Simonsson who evoke a certain imaginary world, populated by magical figures taken from Nordic tales and who are gradually transformed into elements of the plant world.
Apart from this, the festival is once again intended to be participatory and has been preparing for months, with the brainstorming support of residents and schools, through creative workshops. Thus, this tremendous creative energy and extraordinary popular enthusiasm was necessary to Lille 3000 to further explore plenty of cultures from all over the World and relocated for a while in the most prestigious corners of Lille.
For example, at the occasion of this Utopia edition, those art installations would be available at the Tripostal in partnership with Design Museum Gent, as well as the Young Colors exhibition at the Institut pour la Photographie and settled at the Sainte-Marie-Madeleine church, but also at the Gare Saint Sauveur around convivial events to share on next weekends with your relatives.
---