Learn more about Languedoc wines, with the wide and plural AOC Fitou appellation
11 min read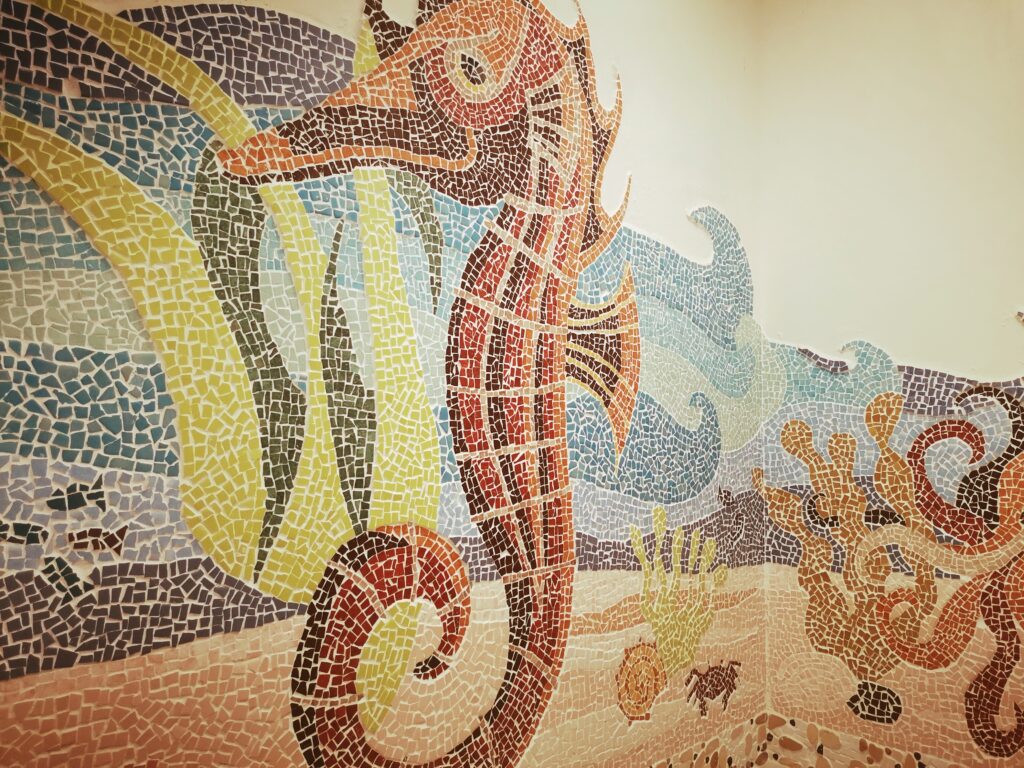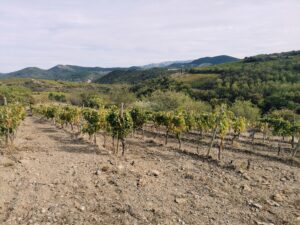 We offer you the opportunity here to discover a wild but fertile region with shimmering colors, caressed by the Mediterranean winds. Just outside Narbonne, don't miss the Aude vineyards, featuring the AOC Fitou appellation. This one is located in the Fitounie territory and even recognized as the first appellation of Languedoc.
In this article, you would then discover some of the richnesses from Occitania. Therefore, you could admire on one side between Narbonne and Perpignan, the sea, ponds and long sandy beaches. On the other one, the Corbières massif with its deep gorges, its scrubland hills where thyme and lavender bloom, just below its internationally acclaimed vertigo citadels. By AP
---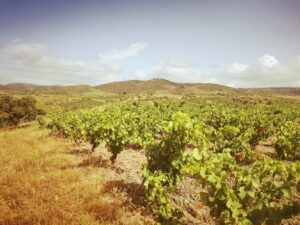 Thereafter, we focus this time on the AOC Fitou appellation, whose original name still remains uncertain, since it could either come from "Fictor" which means potter, since the clay industry was predominant for ages, or linked to "Fictorum", including the Latin root "Fita", meaning the "limit". Indeed, this would be specified by the presence of the village of Fitou on the border between Gaul and Iberia (photo credits: AP).
It is a fact that since this vineyard has been established on the coast for more than 2000 years, with the planting of vines by the Greeks, on the coast around the Mediterranean Sea. An ideal location, at the direct vicinity of the nearby ports, which was pursued by the Romans, who made it a real trade product, along the Via Domitia (which was the Roman road linking Italy to the Iberian peninsula, passing through Narbonne Gaul) and as far as La Franqui harbor, on the Canal du Midi.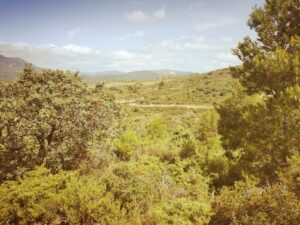 More recently, several historical documents, dating from the Philippe Auguste, Louis XIII and Louis XIV eras can attest to the importance of the good reputation of this vineyard. This great reputation comes largely from its terroirs, favorably established on two very distinct facets. Indeed, the Fitou vineyard, which extends over more than 2500 hectares, for 354 winegrowers and 5 cooperative cellars, is spread over an area located on the edge of the Mediterranean area, while the other rests in the heart of the Corbières massif.
Icing on the cake, these two areas were recognized as A.O.C. in 1948, complementing the already existing production of Vins Doux Naturels, Muscat de Rivesaltes and Corbières, which makes it the oldest AOC red wine in Languedoc-Roussillon.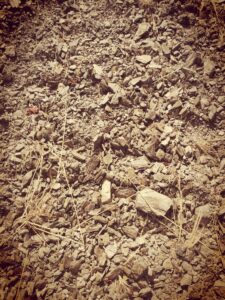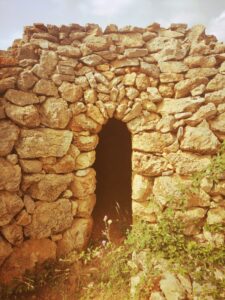 Indeed, the AOC Fitou covers nine towns in the Aude department (Caves, Leucate, Fitou, La Palme, Cascastel-des-Corbières, Paziols, Tuchan, Treilles and Villeneuve-les-Corbières), including five municipalities located along the Mediterranean coast, around Leucate, between 20m and 200m above sea level, while four municipalities are located in the Hautes-Corbières, around Tuchan, between 200 and 300 m above sea level.
For information, these two wine spheres are separated by a limestone plateau, giving a rather rigid clay-limestone dimension to the coastal part, endowed with a typically Mediterranean climate.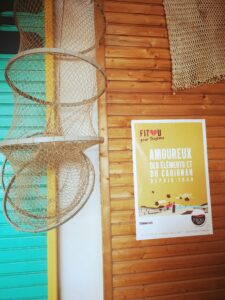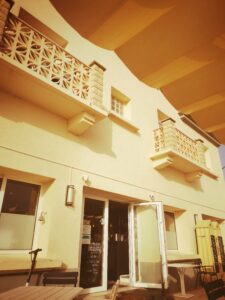 This maritime exposure is located on shallow, stony and warm soils, offering a certain flexibility to these wines. While the establishment of Haut-Fitou extends over much more varied soils, rich in shale, softer limestone and sandstone. This terroir, located at altitude, is distinguished by a drier climate which gives the wines more power.
Although the climate in the Corbières massif is harsher, the whole territory of Fitou benefits from a sunny and dry climate, bathed in light and heat, in an exceptional environment. Indeed, it is claimed that those vines can be sunny at least 300 days a year. This is why in this dry environment, the vines remains one of the only plant presences on this territory where steep hillsides, deep valleys and plateaus of scrubland alternate.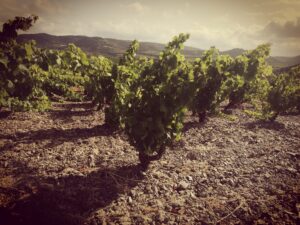 From these arid lands are extracted different grape varieties, including two traditional grape varieties, the unctuous Grenache Noir, which tempers the vigorous Carignan, which offers a strong power to those wines, but offers a low yield. Added to this, other grape varieties offer different subtle nuances, such as Mourvèdre, which is mainly present on the Mediterranean front. This type of grape offers an aromatic but more tannic structure, ultimately contributing to more longevity.
In addition, on the mountainous hillsides of Haut-Fitou, Syrah stands out for its more complex aromas, rather displaying notes of red fruits. Added to this, two different pruning modes predominate, knowing that the most common pruning is called "goblet". Whereas some Syrah vines are organized in the form of "Guyot" pruning.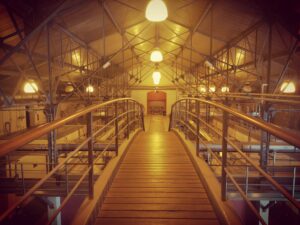 Nonetheless, you will understand that in view of these different conditions, the average yield of 40hL/ha is one of the lowest for French red wine. This criterion is important in the vinification method, which currently aims to combine two types of vinification for more balance in the final result. We can therefore resort to traditional vinification which is practiced from crushed whole bunches.
In another hand, maceration with whole grapes completes this scheme, bringing more suppleness and fruit to those wines. In summary, thanks to the evolution on winemaking methods and technological development, we obtain much more conventional wines while retaining their strength. In addition, it is necessary to count on vatting, under controlled temperature, lasting 8 to 10 days, and sometimes much more for special cuvées.
AOC Fitou
, 37 Avenue de la Mer, 11480 La Palme (France) / Phone: 00 33 (0)4 68 40 42 70. More information about the appellation on their official
website
.
---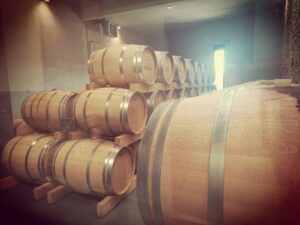 Then, we would learn more about those juices, often aged in wooden barrels, but also more rarely in tuns, for a period of 9 months minimum. The result conveys to strong red wines with mainly dark ruby ​​reflections, along with warm, ample and fleshy accents. The younger these Fitou wines are, the more they give off aromas of flowers, garrigue and red fruits, while as they mature, they offer explicit notes of spices, ripe or candied fruits, sometimes on a background of a wilder or leather touch.
The aromatic distinction is accentuated between those different main terroirs. Indeed, a wine raised in the clay-limestone terroir of Haut-Fitou has a much darker color. It releases sweet notes on the nose, while once in your palate, note its dimension rich in Grenache Noir tannins, offering a spicy dimension nevertheless quite present in cherry, doubled by a hint of tobacco and cocoa.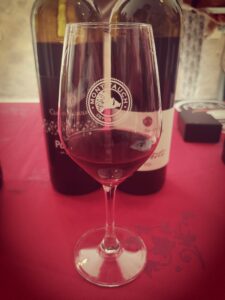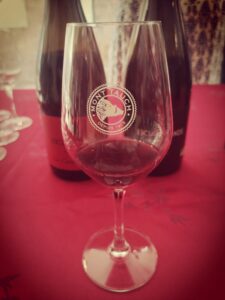 Thus this syrupy aspect is accentuated with time, and you will be able to appreciate in old vintages from the shale of Haut-Fitou, creamy nuances of dark chocolate, fig, coffee, even rancio.
So, do not miss the
Domaine Esclarmonde
, located in
Paziols
. This 24 ha estate is located on the varied
soils
of limestone clay, shale and pebbles on
hillsides
. In 2013, the tribe left their former
cooperative
and set up their private
cellar
, in order to sign their first
vintage
that same year.
Still in
Paziols
, since 2013,
Thierry Billès
, a former
rugby
player, has been cultivating 12 hectares of
vines
and 2 hectares of organic
olive trees
. Baptized
Le Clos Padulis
, this ambitious project was aimed to improve its production with a defined
organic
approach.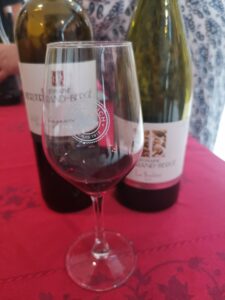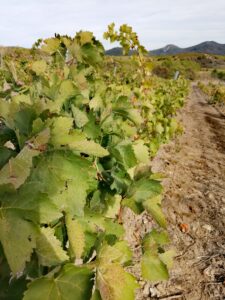 Another Paziols domain, the Domaine Bertrand-Bergé is a family estate located on mountainous reliefs. Their winegrowing tradition has been passed down with passion for six generations, and nowadays pursued by Jérome Sabine Bertrand.
Their vineyard covers nearly 33 hectares, on limestone soils, enriched with pebbles, including vines with an average age of 60 years and also small yields for sure. The maturity of this domain has been optimized thanks to a fair harmony between terroirs and grape varieties, along a special care given to their own vines, notably with genuine organic processes.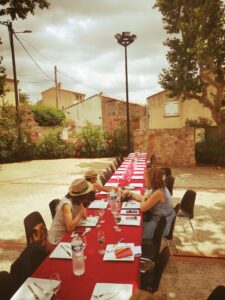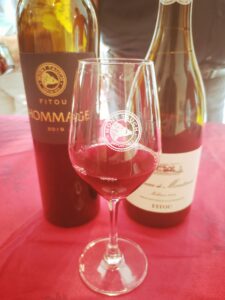 Also located in the heart of a surprising landscape, surrounded by majestic mountains and Cathar castles, the Mont Tauch cooperative cellar has been producing wines for more than a century, on a surface of more than 1000 hectares.
Led by the Mont Tauch technical team, the Château de Montmal may somehow be considered as a model of sustainable development. Located in the heart of the schistous hills of the village of Villeneuve-les-Corbières, their vineyard is operated in a sustainable agriculture way. For instance, the focus is done over a long work of biodiversity preservation, carried out around the respect of new hedges, the grassing of pounds plus some monitoring of insect populations, essentially by trapping and a reasoned fertilization.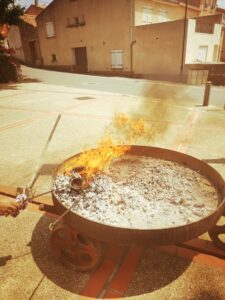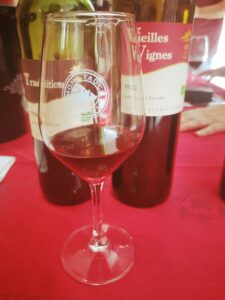 Founded in the middle of the 19th century by Emile Rolland, the Domaine de Rolland has been transmitted since 7 generations. Again located in Tuchan, on a rocky hill, in the shadows of the Château d'Aguilar, regarded as one of the "five sons of the city of Carcassonne", while guarding the Kingdom's borders, in the 12th century.
Therefore, those vines, belonging to the Domaine de Rolland, are spread over a surface of 20 hectares, arranged in 4 distinct zones, with a great homogeneity of soils, mainly with shale. Unless the surrounding soils are arid but balanced in all its necessary components, those conditions lead to an essential quality for the production of renowned wines. Thus, the Domaine de Rolland mainly produces organic wines in AOP Fitou but also some Rivesaltes Muscat along amazing IGP Syrah, Carignan and Viognier.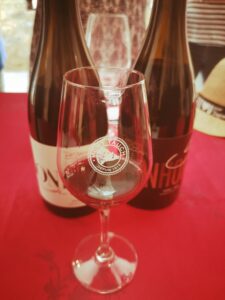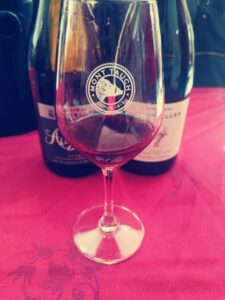 The Château de Nouvelles is as well located in Tuchan in the center of this varied Fitou region but also reaches the Rivesaltes appellation. This domain is built above the vestiges of an old 19th century feudal castle.
This is where a square tower and the Saint-Martin chapel persist today.
The Domaine Gabinato Fresquet was still born and raised in this terroir of Haut-Fitou, on a dry and rocky land. Once again, this is an ideal setting, tainted with various historical remains, since the Bonshommes wished to become Cathars.
Therefore, this family adopted a certain philosophy focused on manual harvesting, directly sorted in their vineyard.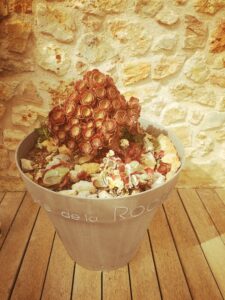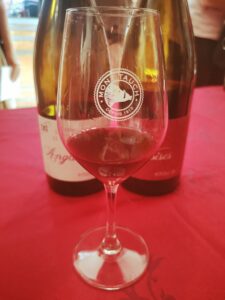 The Domaine Le Cigalet of course cultivates both Carignan and Grenache on shale lands, in order to produce wines of character. Located in the middle of scrubland, on shale hillsides, their vines are cared with respect for biodiversity and environment, along a manual harvest.
This domain recently issued a 2019 cuvée, inspired by its steeply sloping vines, blown by powerful winds. Mainly composed of Carignan, this red violet alike wine has been growing in wooden barrels for 4 months and displays black fruits, spicy and garrigue notes.
---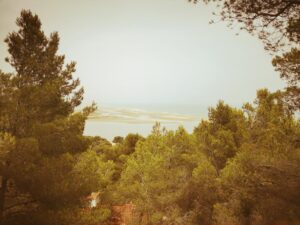 On the other hand, the wines developed within the clay-limestone terroirs of Fitou Maritime display more purple reflections, displaying floral and sometimes exotic fruits scents. This trend is confirmed during the random tastings, with the addition of some iodized flavors, mostly due to this proximity to the Mediterranean Sea.
For your information, we got introduced this seafront part wines of Fitou inside the Hôtel-Restaurant La Côte Rêvée, facing a wide Mediterranean beach. A good occasion to get further into the different characters and assets that we could find in this typology of those specific wines, with the local specialities prepared in cuisine. Indeed, we are glad to tell you more about those various wines from different winegrowers, just below.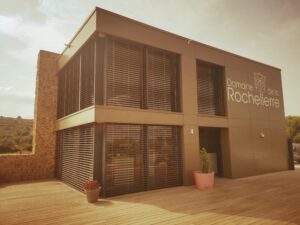 Let's start with the Domaine of La Rochelierre, which conceives a specific Fitou Tradition cuvée allowing the terroir to fully express itself, with notes of black fruits, tapenade, garrigue and even fresh spices.
Unless you're more into the À Deux edition, a top-of-the-range wine enhancing the assets of Carignan. Aged in barrels, this juice displays a very fresh and tannic moment.
The Château Abelanet, run by Romain Abelanet, proposes this year two delicious young millesimes. Among them, one employs old vines, again highlighting Carignan, grown on a clay-limestone soil for classy garnet colors.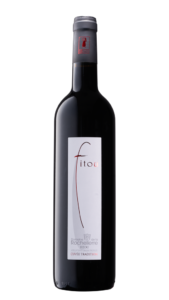 Another castle, embodied by the
Château des Fenals
is a former
bastide
, that became a
castle
belonging to the
Aragon
family until the
French Revolution
.
You could appreciate here powerful red wines with a balance between acidity and tannins, with again explicit notes of garrigue, leather and spices.
The
Mas des Caprices
offers
organic
and
maritime
wines.
The Retour Aux Sources
cuvée
even features a local and rare
grape variety
, named
Lledoner Pelut
, displaying intense
spicy
and
peppery
aromas.
Whereas Ze Fitou cuvée is a rather balanced wine, aged in concrete vats, using press wines (20% of the juice) aged in old barrels, in order to coat and polish its tannins.



The
Champ des Sœurs
domain aims to highlight the
Carignan
grape variety, able to bring freshness and structure to its
wines
.
For instance, La Tina cuvée is composed of the oldest Carignan elements and combine them with the finest Grenache and Mourvèdre elements, from this exploitation. In fact, a fresh wine that you can even keep preciously during 20 years.
On top of that, the
Cap Leucate
vineyards are rich of a variety of seafront vines.
Les Murailles de Cézelly
represent the
quintessence
of a modern
wine
, thanks to its velvety
tannins
.
Otherwise, you could adopt Le Belvédère edition, which looks as a sunny wine, full of wild garrigue scents, softened by woodwork and thanks to a surprising texture.



If you still feel curious for castles, the
Château de la Grange
is tainted with
Roman
roots, since it's located in the former
Via Domitia
.
Apart from this, this domain is also renowned for its organic wines, cradled by endless marine waves. Thus, this Mediterranean situation brings its refreshing flow of iodine all over those vines, normally planted on dry soils. At last, those vineyards produce grapes with splendid concentrations.
Last but not least, we suggest you to conclude with alternative and original
organic wines
, imagined by the
Domaine Mamaruta
.
From peppery to even banana notes, those nature wines are low sulfited… So you better open those bottles at least 30mn before serving, for casual tasting conditions.
AOC Fitou
, 37 Avenue de la Mer, 11480 La Palme (France) / Phone: 00 33 (0)4 68 40 42 70. More information about the appellation on their official
website
.
---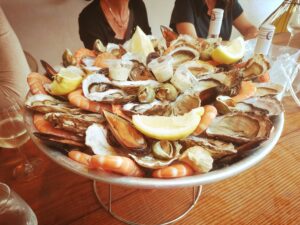 In conclusion, we highly recommend you to serve these nectars through a temperature between 17 and 19°, in order to reveal their true personality. Indeed, as you may have noticed earlier, the wines of Fitou are generally powerful and full-bodied in mouth. Thus, those are ideal wines then to accompany the local cuisine which stands at the crossroads between the cuisine of the South-West part of France and Mediterranean coast, through a mix of various charcuterie, seafood, grilled meats and cheeses.
For instance, we had the opportunity there to taste their delicious selection of oysters, shrimps and other shells, proposed by L'Hippocampe. This charming sea food hut welcomes in a astonishing framework in Leucate, featuring fresh products.
On top of that, do not hesitate to age the wines from this Fitou appellation, since they have a propensity to age harmoniously, enriching themselves with more spicy and aromatic aromas, eventually for getting more length in the mouth. In order to make it possible, you could conserve those bottles in a good cellar at constant temperature.
L'Hippocampe
, Mas 20 et 21, Centre Ostréicole, 11370 Leucate (France) / Phone : 00 33 (0)4 68 70 76 94.
---