Follow the steps of Colette in Corrèze, from her Jardins, the Castel Novel Hotel, the Pans de Travassac and of course the Festival de la Vézère !
9 min read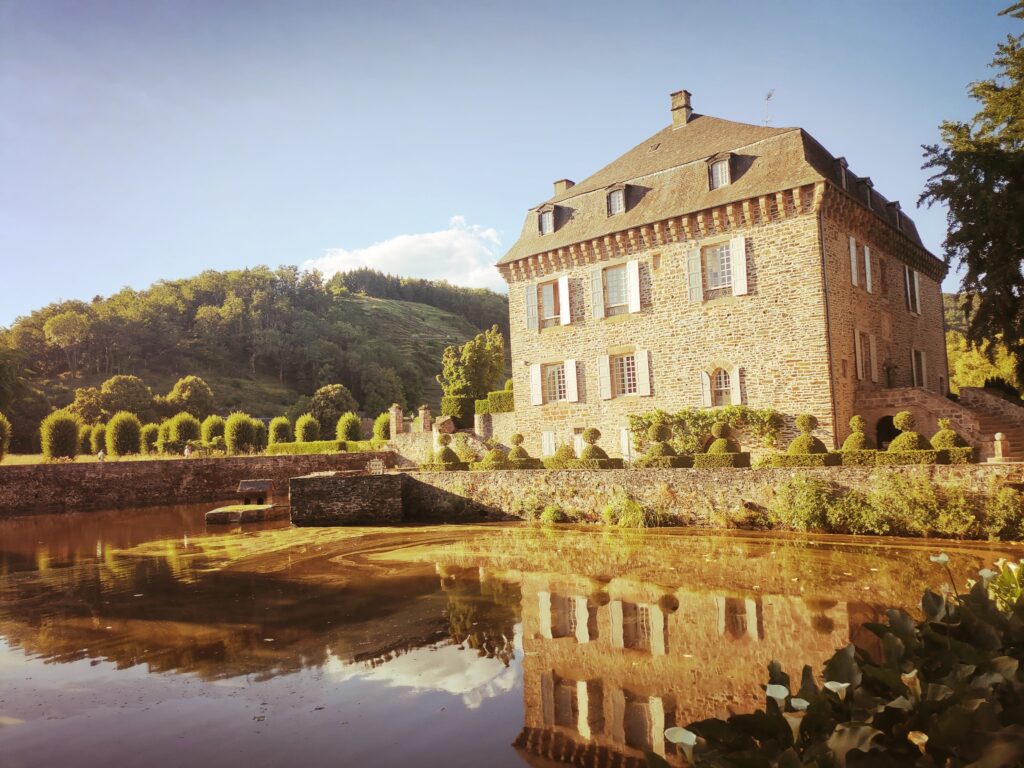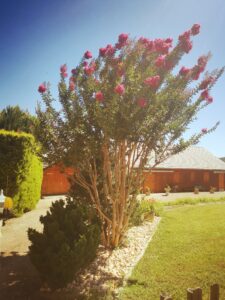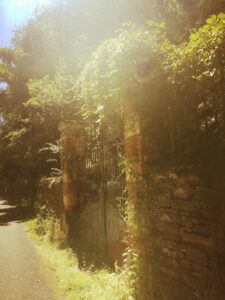 Shortly after our various topics in the Creuse department, we focus this time on another interesting touristic territory, still belonging to the former Limousin region and nowadays Nouvelle Aquitaine.
Indeed, located in the south of the Massif Central, the green region of Corrèze proposes countless opportunities of visits, from the famous Regional Natural Park of Millevaches, until Brive-la-Gaillarde, or even walks around the waterfalls of Gimel and Murel, eventually crossing the Causse and Dordogne valleys. You must be aware that various upcoming changes of sceneries, along a wide patrimony heritage. By AP
---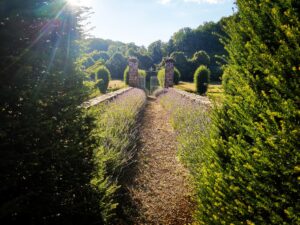 Indeed, in this Corrèze department, you may notably find five villages, registered as ones of the most beautiful villages in France, which are Collonges-la-Rouge, Saint-Robert, Ségur-le-Château, Turenne and Curemonte. Apart from those medieval localities, you could also visit many other hot spots, such as the Merle towers, the Pompadour Castle, the Aubazine Abbey, but also the countless local markets, full of quality products (photo credits: AP).
In this article, we would mostly focus on some amazing attractions around the city of Brive-la-Gaillarde. By the way, don't hesitate to let you guided by the friendly team of the tourism office, in order to give you the best visiting tips, according to your preferences. This office welcomes you in a surprising lighthouse in Brive-la-Gaillarde but also in 7 nearby villages.
Office de Tourisme de Brive Agglomération, Place Du 14 Juillet, 19100 Brive-la-Gaillarde (France) / Phone : 00 33 (0)5 55 24 08 80. More information on their official website.
---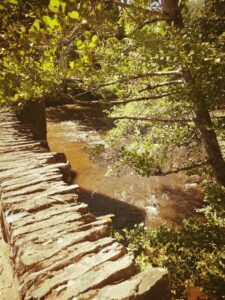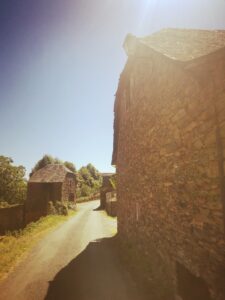 Therefore, the famous city of Brive-la-Gaillarde is surrounded by the luxurious Vézère river, bringing its flow of water reflects and surprises. A good idea to start your tour would be to rent electric bikes to go sightseeing through its numerous hills or even a canoe, for enjoying some water sports, notably from the Base Sports Loisirs Vézère, ideally situated in Voutezac.
This village is spread on several charming hamlets. Among them, you could count on Le Saillant, crossed by a beautiful medieval bridge with six ogival arches. This is also there that you could find an orientation table, located at 391m high, offering a breathtaking panorama above the Vézère valley and its hydroelectric dam.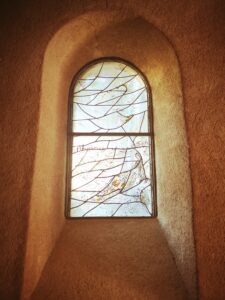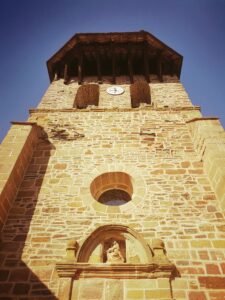 On the same village, don't miss the Notre-Dame chapel, surmounted by a fancy bell tower, which houses six stained glass windows, pictured by the famous artist Marc Chagall. Those colorful masterpieces were realized between 1978 and 1982 by the glass painters Charles Marq and Brigitte Simon, in Reims, but were finalized by Chagall himself, to add his personal touch.
Those stained windows just came back recently in the chapel, after a renovation time of more than one year in Metz! In order to celebrate this event, the music Festival de la Vézère, which was born in 1981, in the nearby Château Du Saillant, paid a tribute this year to Chagall. Thus, for this 41th edition, the team hosted the cello artist Victor Julien-Laferrière.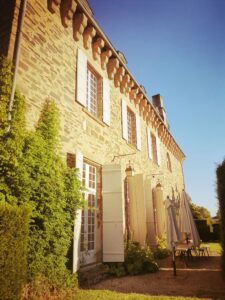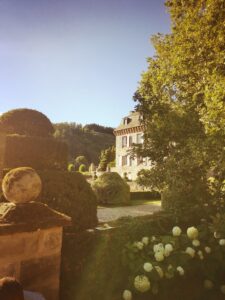 For instance, this talented instrumentalist played a series of musical pieces related to the painter, inside this Notre Dame chapel but also in the Château du Saillant, accompanied by the pianist Jonas Vitaud. As you can see, this Festival de la Vézère is a real annual cultural summer rendez-vous in Corrèze, along the pop music festival of Brive-la-Gaillarde, whatever you listen to.
Thus, this festival reunites an eclectic selection of brilliant classical music artists, featuring an inaugural concert that usually takes place inside the Château du Saillant, before spreading to other pretty places around it. A good occasion to discover with the catering service, various local specialities, such as the Mique burger, based on a typical bread. This homemade dish is served in stalls, before entering the concert hall, possibly along the neighbor wines from the Côteaux de la Vézère.
Château du Saillant, 2 Le Saillant 19130 Voutezac (France) / Phone: 00 33 (0)5 55 84 94 91 or 00 33 (0)5 55 23 25 09 for the ticketing of the Festival de la Vézère. More information on their official website.
---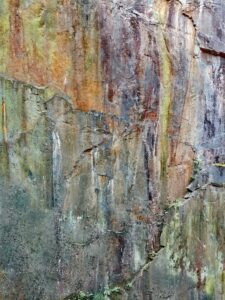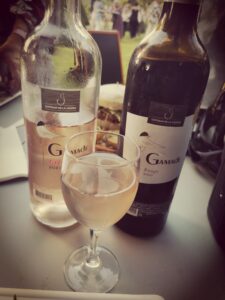 Regarding those enunciated wines, they are produced in a recently born domain, created in 2003, at the initiative of various viticulture enthusiasts. Indeed, those vineyards from the Côteaux de la Vézère aimed to revive a centuries-old vineyard that made the pride of the Brive basin and more globally of Corrèze.
This domain is currently spread over 23ha, on shale hills which offer a true mineral side, for a little yield (less than 40 Hl/hectare), producing 100,000 bottles for 23 hectares. Only three communes of Allassac, Donzenac and Voutezac, are concerned, where stand the properties belonging to 10 winegrowers.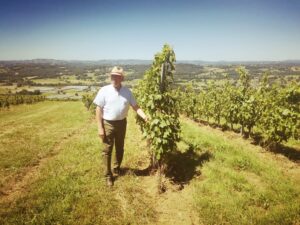 They are only organized on organic viticulture, since 2017, concentrating the vinification of their clean juices in the Chai, located in Le Saillant. Apart from this, as seen earlier, the Côteaux de la Vézère lay on a rich soil, composed of slate schist, cared with natural phytosanitary products. The result is a wide range of white, red and gray rosé wines, available online, in stores, or directly at the cellar. This is where you could taste the various wines from this tiny appellation!
Therefore, the Gamade wines are labeled IGP Pays de Brive, including white wines made from Chardonnay-Sauvignon and Muscat, red wines made from Merlot, Cabernet Franc and Pinot Noir, while gray rosé wines are composed of Pinot Noir grape variety. In the other hand, the dry white, made from Chenin grapes, and red wines, made from Cabernet Franc, have been homologated in the AOC Corrèze, in 2018.
Coteaux De La Vézère, Coteaux de la Vézère La Jugie, lieu-dit, Le Saillant, 19240 Allassac (France) / Phone : 00 33 (0)5 55 25 24 60. More information on their official website.
---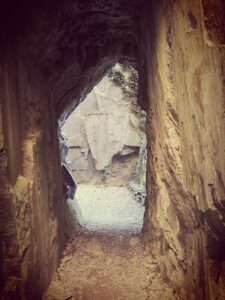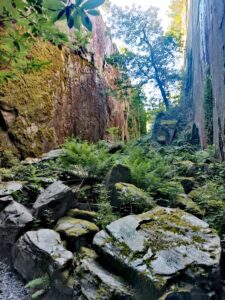 Still around Brive-la-Gaillarde, we invite you to discover more about this ancestral slate culture, connected to the geological underground of this relief territory. For more details about it, the unique place would be to visit Les Pans de Travassac. Situated in the heart of the village of Donzenac, this fascinating place needs to be visited, in order to learn more about the exploitation of slate. This essential premium construction material is still carried out here, and this for more than three centuries.
This site is clearly spectacular and even sometimes vertiginous, due to its high cliffs of more than 100 meters, and eventually admire those numerous impressive peaks, manually shaped to extract those precious slates.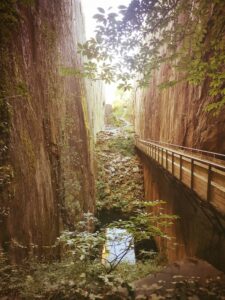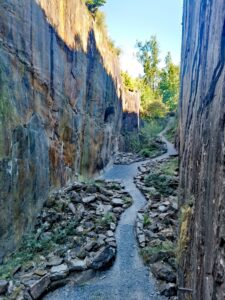 For your information, up to 250 workers worked in these slate quarries, even reaching a depth up to 100m, full of verticality mysteries. On top of that, guided tours are proposed from May until the end of October, for anyone willing to explore any corner of this unique place in the World.
If you are patient, you could even attend the demonstration sessions of some technics about slate cutting, operated by craftsmen. Then, if you want to get more elements, there is a former workshop that has become a museum, where are exhibited plenty of historical documents, photos and worker's tools. Then, maybe you would decide to reach the slate café, offering a bright panoramic view over the medieval village of Donzenac.
This view would include the bell tower of the Saint-Martin gothic church, from the 13th century, and the castle of the barons of Donzenac. Last but not least, this site as well hosted this year, for the first time, the Festival de la Vézère, with a concert of Lola Descours, Elodie Soulard and Ulysse Vigreux.
Les Pans de Travassac, D25, La Rue Haute, 19270 Donzenac (France) / Phone : 00 33 (0)5 55 85 66 33. More information on their official website.
---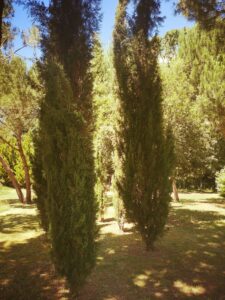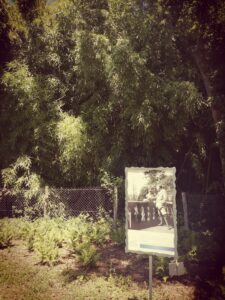 By the way, another concert from this festival occurred in a besides magical place… Therefore, Le Carnaval des Animaux occurred in Les Jardins de Colette, last July 20th. As its name suggests, this floral park of about 5 hectares, designed by the landscape architect Anouk Debarre, pays an honorable tribute to the famous eponym novelist. Organized around six thematic gardens, representing various French regions that inspired the books of Colette, represented here through several vegetal references.
Therefore, let's plunge in a Brittany atmosphere with small beach huts, unless you're more into nostalgic of Paris with the same tree alleys as in the Palais-Royal square, without forgetting the colorful gardens of Provence and Burgundy, where this novelist was born.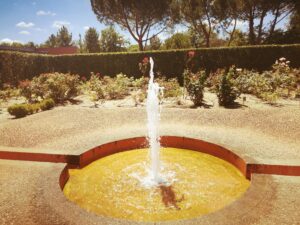 As far as we know, this botanic resort offers a pleasant moment to anyone wishing to get a green bowl, the time of a picnic or just entertaining your family. Thus, the path is punctuated by countless surprises, such as a giant 5,000 m² maze with puzzles, along other full-scale games of skill, and even stagings to enter, inspired by the literary pieces of Colette.
Apart from this, don't miss the countless animations and events organized in this park, all year long. The schedule is online, and you would have a Cornelian choice between paper chases, night watches and for sure many thematic occasions. Among them, you could count on Easter time, Halloween thrills and eventually Les Journées du Patrimoine or Les Rendez-Vous au Jardin!
Les Jardins De Colette, 1119 Route de Roland Garros, 19240 Varetz (France) / Phone : 00 33 (0)5 55 86 75 35. More information on their official website.
---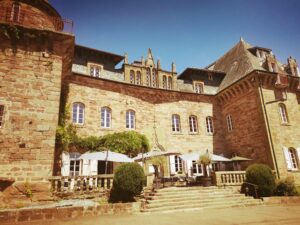 In case, you wish to pursue your experience with Colette, why don't you decide to stay in the same castle where she lived 1911 until 1923 with her fellow husband, the journalist and politician Henri de Jouvenel? Thus, the castle of Castel-Novel, situated in Varetz, just ten kilometers away from Brive-la-Gaillarde, quickly became the backdrop of many of her novels.
This castle, perched on a rocky peak, originally dates from the 13th and 15th centuries, unless its Orangerie and the facade of the residence were remodeled in the 18th century. For your information, it has been the property of the Aubusson de la Feuillade family, since 1500s, for more than three centuries.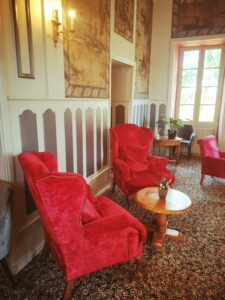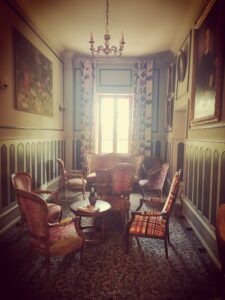 With its distinctive pointed towers and its facade made of red Collonges stone, this incredible edifice has been converted from 1956 by the couple Parveaux, into a magnificent hotel and a gastronomic restaurant, surrounded by a generous park of 17 ha. You would undoubtedly be seduced to live the castle life inside, in a fully renovated historical place and chic atmosphere.
Therefore, it's not a secret that this sort of bygone charm, visible in the lobby, the salons, the dining room and the 27 rooms, that counts this mythical Brive hotel, is somehow bewitching. Regarding the current renovation that still goes on, the Castel Novel only proposes 15 rooms nowadays, available for booking, all adorned with a splendid panorama over the valley.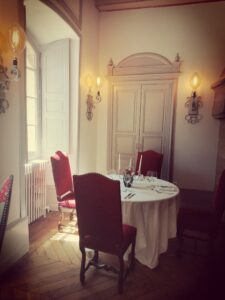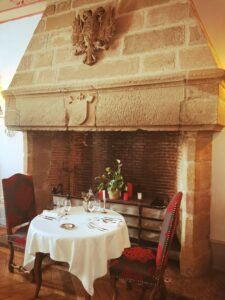 Then, apart from their vintage wallpaper and furnitures, those rooms are naturally equipped with air conditioning, a desk for working moments, a flat-screen TV with satellite channels for leisure time and a safe, to preserve your precious belongings. Adding to this, take some time to relax in the old school bathrooms, including a bidet, a hairdryer and free toiletries, provided by the local cosmetics manufacture of Sothy's.
The morning after, a continental breakfast is served still in this bucolic atmosphere, starring many local products, such as dairy products, ham and viennoiseries. In summertime, don't miss to use the outdoor swimming pool, nearby an outdoor bar, a tennis court, or simply through the wide park.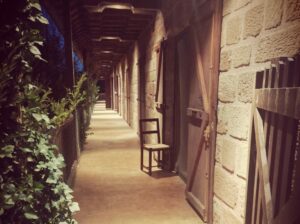 Whether you plan to stay overnight in this hotel, or not, you are allowed to enjoy at least a slice from this Castel Novel experience, notably through its bygone styled hotel bar and its restaurant, which used to be Michelin starred.
Benefiting with a large panoramic terrace, where you could admire a breathtaking surrounding landscape, you may also use their free private parking, with the possibility to rent a car, to complete this wide hospitality offer.
Castel Novel Hotel, Castel Novel Castle, 19240 Varetz (France) / Phone: 00 33 (0)5 55 85 00 01. More information on their official website.
---