Enjoy a circus Xmas in Printemps stores, with the universe of Olaf Hajek and the countless gifts from Loewe, Diptyque, Paul Smith, Ferrero…
7 min read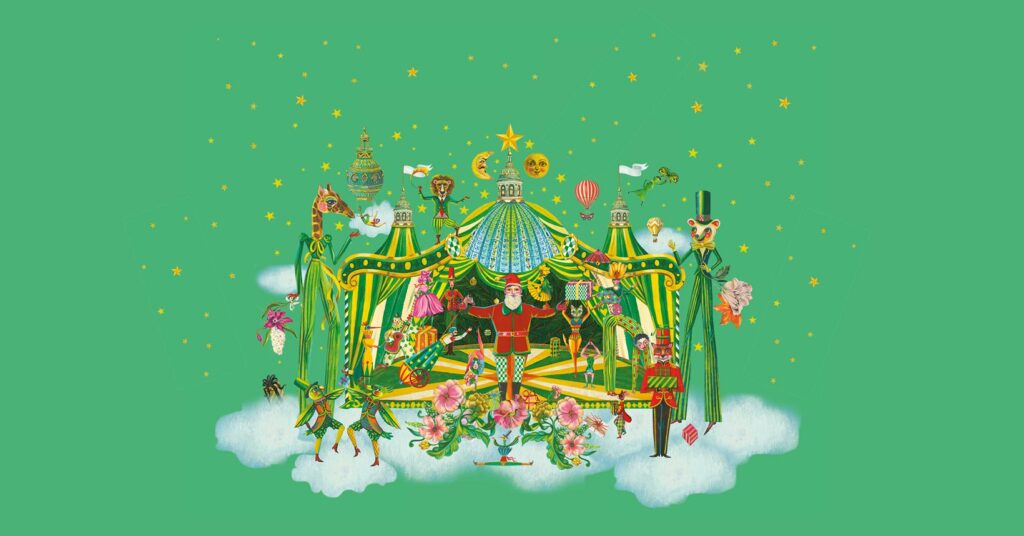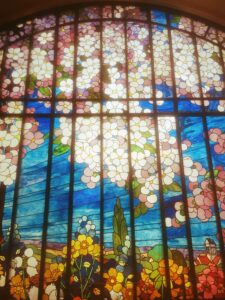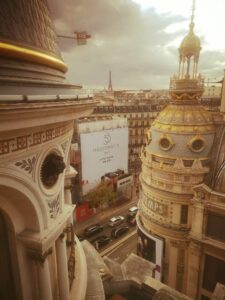 Founded in 1865 by Jules Jaluzot, the Printemps group is one of the most illustrious French department stories, based in Paris but not only. Specialized in various fields in order to promote fashion, luxury and beauty, this group is composed of 20 department stores in France, including 4 affiliated stores.
The Group is also active in the lifestyle sector, with 9 Citadium sports stores, and has become a notable player in fashion e-commerce through Printemps.com, launched in 2020, but also the entities of Citadium.com, Place des Tendance, another e-boutique acquired in 2013, and Made in Design, the European leader in online sales of designer furniture and decoration, acquired in 2019 (photo credits: AL).
For instance, you may discover more than 3,500 brands on a total surface area of 180,000m2, along 70 million annual visitors to those stores, of which over 20 million of whom only visit Printemps Haussmann. This year for Christmas, Printemps has hired the artist Olaf Hajek to help them illustrate their Christmas theme, a good occasion to discover an alternative version Christmas atmosphere, tainted with some circus accents and rediscover the last actualities of this Printemps group. By AL
---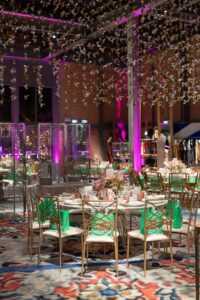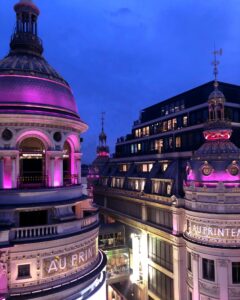 At the occasion of those 2022 Xmas holidays, the famous Printemps department store invites a new interpretation of Santa Claus, this time playing the role of Monsieur Loyal character. According to the illustrating talents of the German artist Olaf Hajek, whose artwork is dedicated to acrylic creation tainted with a hint of artificial patina technique, mainly through the realization of cardboards, inspired by the style of Cuban advertising posters from the 1960s (photo credits: Printemps).
An amazing universe that has been acclaimed and even awarded many times, from various media supports like the New York Times, the Guardian and Vogue, without forgetting its appearance on Royal Mail postage stamps in Great Britain.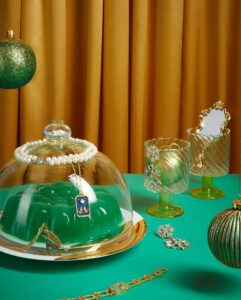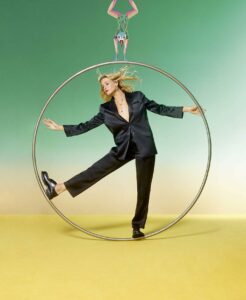 For instance, Olaf Hajek decided to draw this Ringmaster and his merry troupe along for an extravagant tour, featured in all of the Printemps' stores across France, even for catalogs and decorations. A good way to navigate in this sort of phantasmagoric theater, designed as a real extravagant Christmas circus. That's why you could meet the Ringmaster played by Santa Claus, surrounded by magical characters of clowns, along orchestras and trapeze artists, human cannonballs, tightrope and stilt walkers and other acrobats executing fabulous tricks. In fact, this imaginary trop, both reuniting human and animal dreamlike characters, may be more admired in the heart of the historical site of the Printemps Haussmann.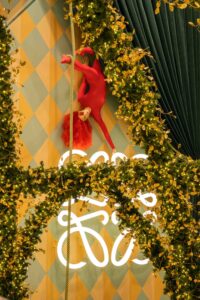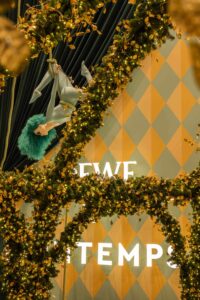 Indeed, this spectacle starts from outside, since the millions of visitors of the Boulevard Haussmann, passing in front of this department store, may be already captivated with the clownish makeups and wispy wigs from the Ringmaster's companions, represented in action in those sceneries. A longtime tradition and savoir-faire that has been lasting since 155 years and still requires such a hard work from the Printemps teams. Therefore, no less than 650 hours of installation occurred day and night, during nearly 3 weeks, in order to assembly those opulent Christmas windows, which were lately inaugurated by the artists Isabelle Huppert and Naomi Campbell, friends of Maison Loewe, partner of this 2022 edition, supervised by Jonathan Anderson, DA of Loewe and accompanied by Jean-Marc Bellaiche, as CEO of Printemps.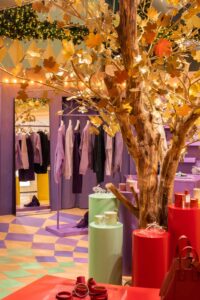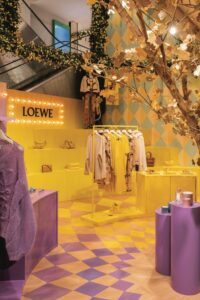 Moreover, the show goes on inside this Printemps Haussmann, within another circus inspired installation in the Atrium. This time, this pop-up circus ring was conceived in collaboration with the Spanish luxury house Loewe, which notably showcases iconic pieces, developed exclusively for Printemps. Overlooked by a fancy structure inspired by the famous cupola, topping the Printemps Haussmann, this authentic circus arena is surrounded by colorful seating and spectacular murals, adorned with harlequin motifs (photo credits: Printemps/P. Musellec).
Icing on the cake, this merry space features a majestic golden Christmas tree at its center, reflecting thousand of electric lights to bewitch your Christmas shopping or simple for the pleasure of your eyes.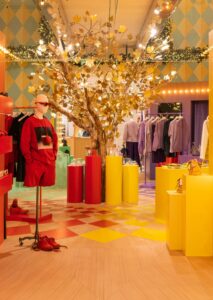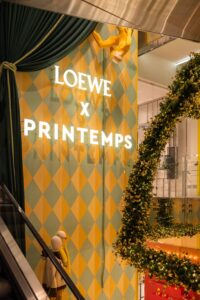 On top of that, you couldn't miss the monumental curtains, adorned with oversize tassels displaying the Loewe monogram, somehow highlighting the signature of this unique collaboration, labeled as Loewe x Printemps.
At last, and as they do every holiday season, a selection of inspired brands and designers have offered to Printemps their best gifts they have prepared in order to satisfy. That's why, you could find through those Printemps' alleys, countless surprises, with a total of 250 exclusive items, from gourmet treats and tree decorations until tableware, fashion and many more accessories.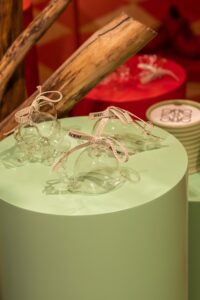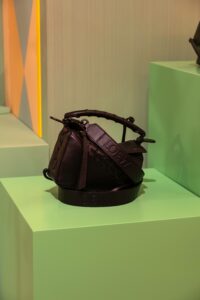 Among them, why don't you take a look on the partner's products from Loewe? Founded in 1846 in Spain, more exactly in Madrid, this prestigious house of Loewe is one of the oldest luxury brands in Spain. This manufacture used to be even the official supplier to the Court of Spain, before being acclaimed by the European royalty.
A sort of royal house that has always been distinguished itself, essentially with its unparalleled expertise in leather work but which has also extended its range with fashion, home furniture and perfumes. In fact, the Christmas selection in Printemps is mostly concentrated around elegant glass bulbs representing the Chinese zodiac animals, along of course different leather bags and random table bowls!
A selection of exclusive
gifts
to find in
Printemps
, with a green & gold heart
vase
by
Seletti
, a
neon
star
by
Locomocean
, a chaos
pillow
by
Pangea
, a 28cm blue tulip
vase
by
Laetitia Rouget
, a 36cm Jaine Hayon
vase
by
Bosa
, a
Queen Elizabeth
theme,
rabbit
or
mouth
decoration as
Christmas
bulbs, an orange peel
candle
by
Loewe
.
More information on the related website page.
---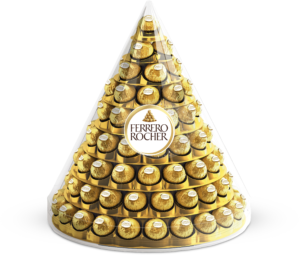 For the more gourmets of you, you may opt for the multiple chocolate delights proposed by the other partner of this year, so to say Ferrero. In this case, a unique golden Ferrero Rocher® pyramid, composed of no less than 96 bites, is exclusively proposed in your Printemps store and even highlighted in one of the Christmas windows, called Le Grand Final.
A good way to celebrate the 40th birthday of this popular Ferrero Rocher® venture, the time of a specific pop-up store, situated on the 7th floor of the Printemps de l'Homme department, in the Printemps Haussmann site. Since its creation in the Italian village of Alba, a multisensory recipe unchanged since 1982, honored in Paris with several in-store events, from November 9th 2022 until January 10th, 2023. Therefore, you're invited on this pop-up store, every Wednesday and weekend from November 19th, to personalize the golden ribbon, adorning the Ferrero Rocher® Origins box, of course free of charge with the message of your choice.
More information on the related website page.
---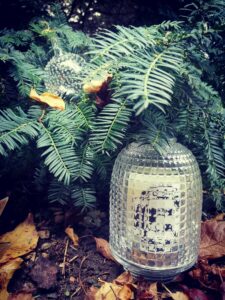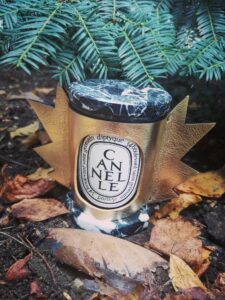 Since 1961, Diptyque's world-renowned olfactory universe has managed to extend its brand spirit, desired by its founding fathers. Through ranges as diverse as home fragrances, candles, eaux de toilette, decorative items and even body care products, the Diptyque spirit now covers a wide spectrum of objects, featuring scents now as famous as their packaging.
At the occasion of the annual Christmas collection, discover the merry selection prepared for you by Diptyque in your favorite Printemps store, within a set of fascinating must-haves… Indeed, through an offer of limited edition candles, along glamour and collector photophores and Christmas tree bulbs, essentially made of fine relief glass, you can be sure to spend a magical moment with your relatives.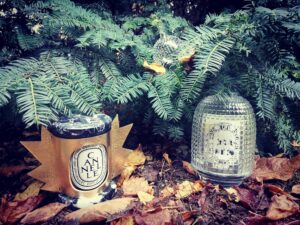 More information on the related website page.
---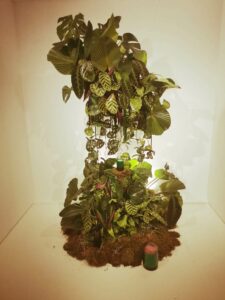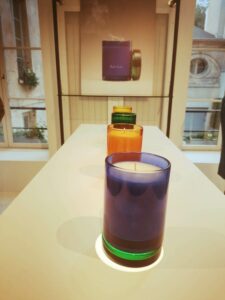 In the meantime, in another Printemps' corner, you could also discover among many designers, one of the most famous British ones, in the name of Paul Smith. Settled in the fashion industry for almost fifty years, this visionary has always succeeded to surf on all kinds of trends, while constantly innovating his own personal touch.
His personal motto would be "Classic with a twist", where basics meets variety, through pop colors, fun prints, original cuts… As far as we know, the creations of Paul Smith are recognizable at first glance and notably his brand new home fragrance line.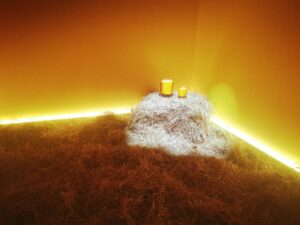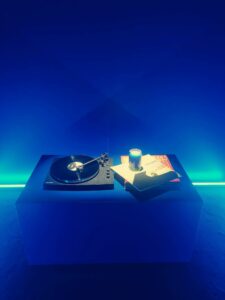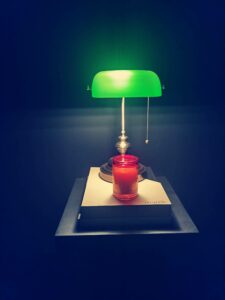 For your information, the Paul Smith's new home fragrance collection includes candles and an elegant diffuser, mentioning four distinct and evocative fragrances which are Bookworm, Early Bird, Botanist and Daydreamer.
Formulated with raw natural ingredients, sourced from all over the world and from some of the more trustful suppliers, like LMR Natura, each fragrance is designed to recall some of Paul Smith's fondest memories, such as cycling through sunny fields on his summer vacations, or eventually the installation of his first tiny store in Nottingham, back in 1970.
More information on the related website page.
---