Our selection of gifts for this wintertime 2023, with Alexandre de Paris, Cherigan, AMPM…
8 min read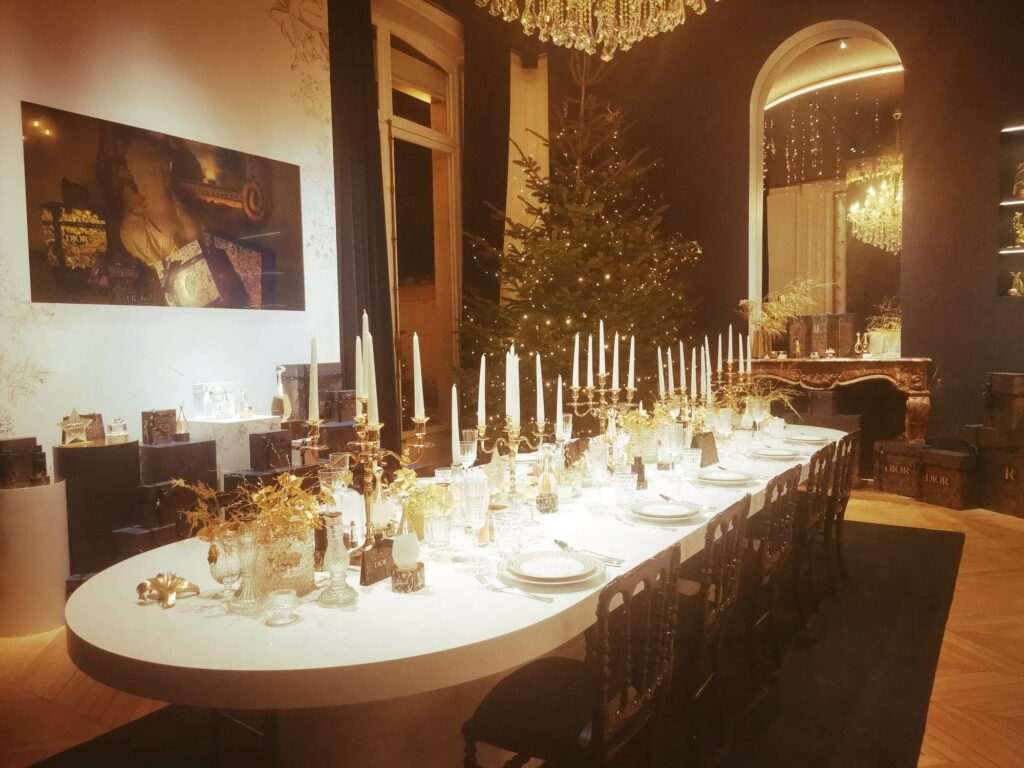 Christmas is just around the corner and it's an opportunity to discover our selection of last minute gifts, spreading an authentic real French spirit in your place but not only. From hair jewels, perfumes, decorative or other any other utilitarian elements. By Al & CW
---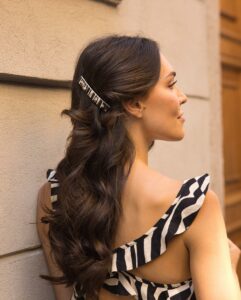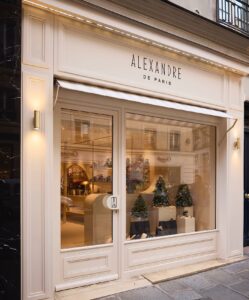 Have you ever dreamed to add some true style your hair cut? Indeed, this alternative could be fulfilled by the French brand Alexandre de Paris, defining since 1971 his own vision of top-of-the-range hairdressing (photo credits: Alexandre de Paris).
Founded by Louis Alexandre Raimon, nicknamed Prince, the Sphinx or even d'Artagnan, this creative spirit went eventually acclaimed by countless celebrities, such as Princess Grace of Monaco, Audrey Hepburn or even Liza Minelli. This worldwide notoriety naturally led him to collaborate with prestigious fashion houses such as Chanel, Saint Laurent or Dior.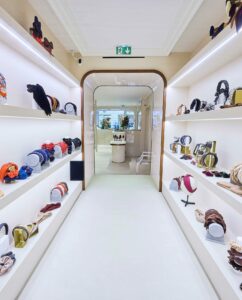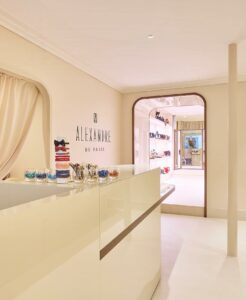 For your information, the parades in which Louis Alexandre Raimon participated inspired him to create a line of hair accessories. This is how the hairdresser imagined the iconic Vendôme comb, referring to the illustrious Parisian place of jewelers, and which remains to this day one of the Alexandre de Paris' flagship models.
Therefore, the first French store was inaugurated in 1989 at rue Saint Honoré and was followed by several other boutiques, especially in China but also in Taiwan. The 2000s marked a new turning point for Alexandre de Paris with the arrival of Fabienne and Sébastien Bailly at the head of the company.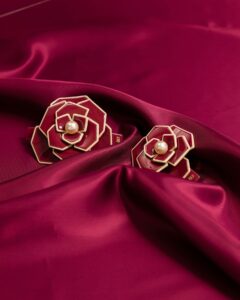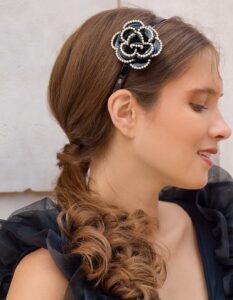 This entrepreneurial duo wished to preserve local skills in France, by refusing to relocate any production. Then, they decided to keep the ancestral manufacturing tradition, anchored in the valley of Oyonnax, settled in the Ain department, in order to create and assembly those various elegant hair accessories.
Renowned as true artworks, those several headbands, barrettes and crab clips are handmade sculpted, decorated and set with crystals and stones. Adapted to all hair types, those Alexandre de Paris creations are characterized by a mix of reinterpretation of cult pieces, thanks to signature elements such as pearls, camellias (as a souvenir with ancient Chanel collaboration) or bows.
Alexandre de Paris, 342 Rue Saint-Honoré, 75001 Paris (France) / Phone : 00 33 (0)1 42 61 41 34. More information on their official website.
---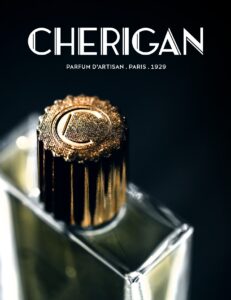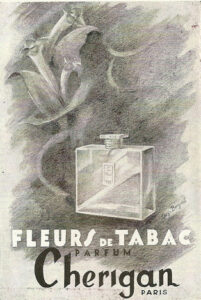 Let's follow with Cherigan, a perfume house founded in 1929, by a Czech immigrant Ota Polacek, but suddenly went asleep in the 70s and awakened since 2016. It presents a range with art-deco tones, which has revived the historic perfume Fleurs De Tabac, which was considered as one of the first tobaccos scents in perfumery and today, this fragrance is available again with more than 90% of ingredients from natural origin (starring sandalwood, Italian bergamot, or even musk).
This best-seller is completed along six contemporary creations but still adorned with vintage tones. This plural olfactory selection offers you countless windows over stories, oriented towards a certain outdated art of living, at a time when the 1930s generated prolix inspiration for many artists.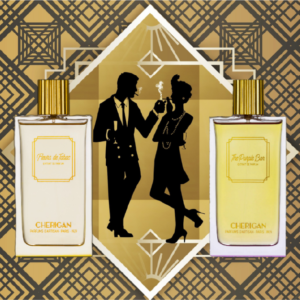 For your information, this legendary brand used to have an address at 120, avenue des Champs-Elysées, and also gave birth to the Chance flask, which was represented by a horseshoe. Relaunched by the entrepreneur Luc Gabriel, specialized in niche perfumery with a first The Different Company adventure in the early 2000s, who acquired the Cherigan name in 2016, and wished to pursue the creative explosion from those Roaring Twenties, where the design of perfumes could be very innovative (photo credits: Cherigan).
This visual intensity has been replicated in the latest bottles, that are delicately lacquered in a specific color for each creation, and even topped with a handcrafted and custom-made bonnet, polished with an engraved logo. All wrapped in a precious reusable case, adorned with a golden marking on a designer paper. Plus, the olfactory intensity has been also continued in the expression of Extraits de Parfums, able to display the best representation of strong bygone perfumes, which are either available in 100ml or 15ml format.
Cherigan Paris
, available at
LA STATION by The Different Company
, 10 Rue Ferdinand Duval, 75004 Paris (France) / Phone : 00 33 (0)1 42 78 19 34. More information on their official
website
.
---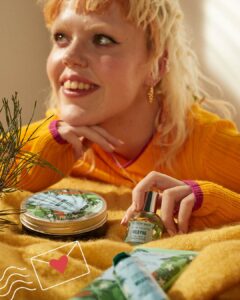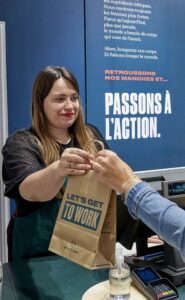 In a rather cosmetic universe, discover the Advent calendars of the British brand The Body Shop. On the menu of those sublime new surprise boxes, you would find some of the most popular beauty products from this famous entity and its Fair Trade partners. Indeed, each of these 3 Advent calendars celebrates a certain natural beauty in all its aspects, notably through a series of responsible ingredients, in order to find your daily dose of well-being (photo credits: TBS).
Starting with the smallest blue format, named La Boîte À Souhaits, embodied in an animated calendar, that would transport you through the world of the courageous women from Chhattisgarh in India, with whom The Body Shop collaborates in order to harvest Fair Trade certified mango seed oil. Don't miss then the 24 surprises emanating from this calendar, that would be perfect to hydrate your body, face or even hair, especially in those cold wintertime.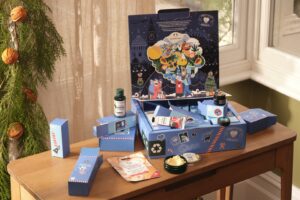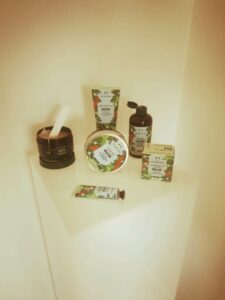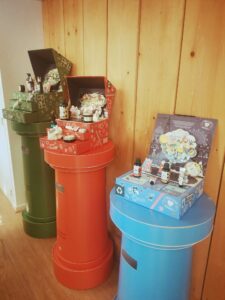 The second red Advent calendar, baptized La Boîte des Merveilles, highlights the high involvement of women settled in Northern Ghana, this time in Africa, with whom The Body Shop develops the culture of Fair Trade certified shea butter. So far, more than 600 women spread through 11 villages are concerned by this ambitious project, and have seen their living conditions improve, particularly by accessing to healthcare projects. and education. So, hurry up to celebrate your Christmas holiday with 25 wonderful surprises to open each and every day!
The last but not least Advent calendar is a green box, known as La boîte à Souhaits & Merveilles, and honors again Fair Trade certified recycled plastic collectors from the streets of Bengaluru, in India.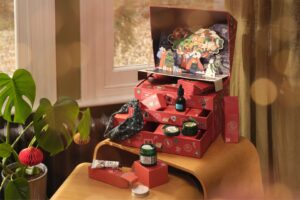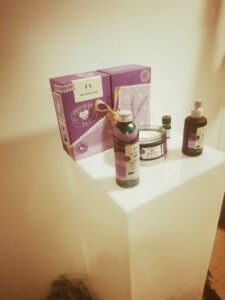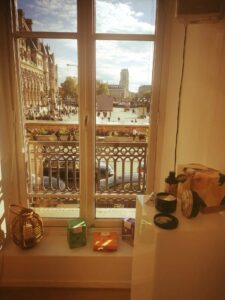 For instance, this recycled material has been precisely used for the fabrication of this calendar and some packagings of the extra sized products inside. Let's gradually unveil 25 surprises, dedicated for your body, face and hair (with Moringa shampoo), along travel size masks in Himalayan Charcoal or British Rose, and even a soft lavender pillow mist.
At last, why don't you opt for The Marvelous Box and its best-selling products, still enriched with Fair Trade certified ingredients? In this elegant basket woven, manufactured by Get Paper Industry, a Fair Trade partner since 1989, you could find shea hand cream, mango shower gel or even shea body butter.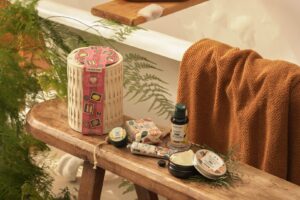 For your information, the shea butter would provide you some hydration for up to 96 hours, along Himalayan Charcoal and Nicaraguan Coffee travel size masks, available in this reusable calendar, perfect for preserving your jewelry or any other secrets.
More information on their official
website
.
---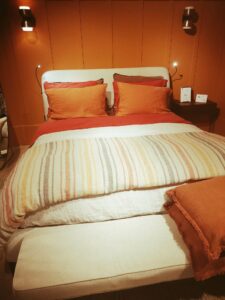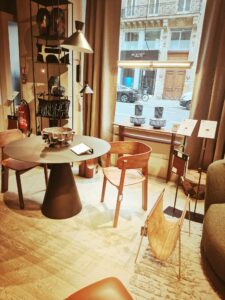 If you wish to decorate or even rethink your interior design, why don't you think about the latest creations of AMPM? For instance, the top-of-the-range decoration brand from the legendary mail order company La Redoute goes on its rejuvenating and creative philosophy in terms of premium furniture design, for this Fall-Winter seasons, in accordance with the current styling expectancies (photo credits: AL).
This new collection was made possible thanks to the implementation of natural materials and chromatic tones, notably by enhancing the visible contrasts between the warm woods embodied by walnut and in another hand the bright aspects of marble.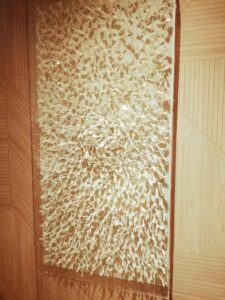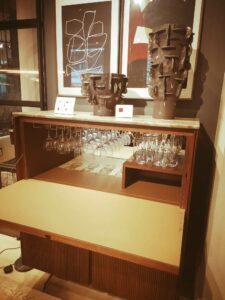 In fact, this revival AMPM selection wishes to reconnect us with the codes of various bygone eras, while revisiting various temporal references, from the 1930s until the 1950s and even in the 1970s. It's then possible to juggle between those 15 elegant atmospheres, all composed with organic and comfortable reliefs, proposing their own vision of functionality in terms of furniture, and even placing some pieces as true fabulous artworks.
In a way, AMPM succeeds in the wedding between this vintage touch with a hint of contemporary design, all set up in an charming mood.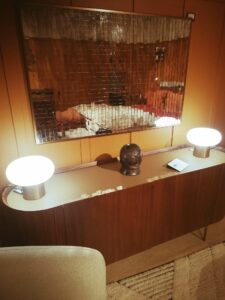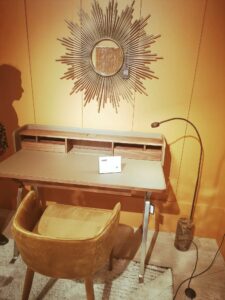 Furthermore, in this AMPM Fall-Winter collection, you would be undoubtedly glad to find cosy flannel sofas (pictured below), along natural terrycloth armchairs or even organic tables, notably illustrated by some walnut material, either covering buffets and dining tables.
Without missing the expression of minerality, through a variation around gray and white marbles, plus creative rugs, totemic pieces. Those different types of evocative fabrics, such as this Jacquard patterns, and braided leathers, particularly used on the front of a bookcase, transforming those objects as true artworks of your interior.
More information on their official website.
---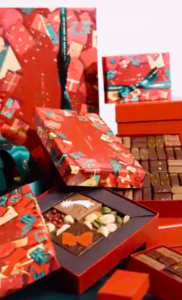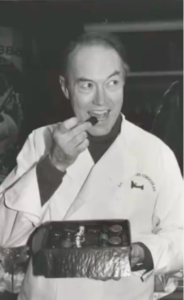 In a gastronomic field, you could find the last creations of an alternative French chocolate player La Maison du Chocolat, situated on the third floor of Printemps de la Maison. Designed as an artisanal chocolate factory, you may discover there the different facets of this renown house, through countless high-end confectionery items (photo credits: La Maison du Chocolat).
Those premium values are nowadays embodied by its actual creative chef, named Nicolas Cloiseau, who is also a Meilleur Ouvrier de France and a true passionate about cocoa in all its refined shapes. For your information, the creative team requires a certain research for quality, along respect for tradition and the search for new gourmet flavors, permeating the constant production of all kinds of chocolate delights. Whether you prefer to buy some bites in a chosen assortment or in an exceptional gift box, you wouldn't regret to taste those luxury chocolate specialities, available in one of the most emblematic monuments of Paris.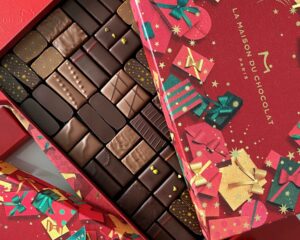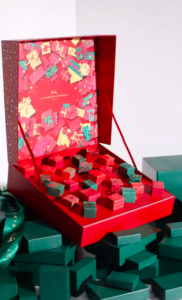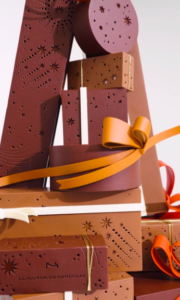 For Christmas time, La Maison du Chocolat has imagined a wide fairy chocolate collection, able to tempt anyone of you, through colorful ganaches, pralines, truffles, yule logs or eventually beautifully wrapped macaroons, either to keep for yourself or to offer as the most gourmet gifts.⁠ Among them, many chocolate boxes would allow you to immerse yourself into the different aspects of the house's personality, unless you prefer to impress your guests with a giant yule log, aka Le Sapin Vertige De Cadeaux, for sure reviewed by Nicolas Cloiseau. This unique artistic piece, born form a culinary construction of 14 gifts, displays nearly 7.2 kilos of chocolate and is only assembled in ten samples worldwide. This masterpiece is entirely handmade realized in their proper workshops and requires 33 hours of work from their chocolate makers, surrounded by 7 chocolate knots (made from white, milk and strawberry chocolate) overhanging its highest peaks.
More information on the related website page.
---