Spend a gastronomic and architectural moment at La Paillote Bambou private beach, in La Grande Motte
4 min read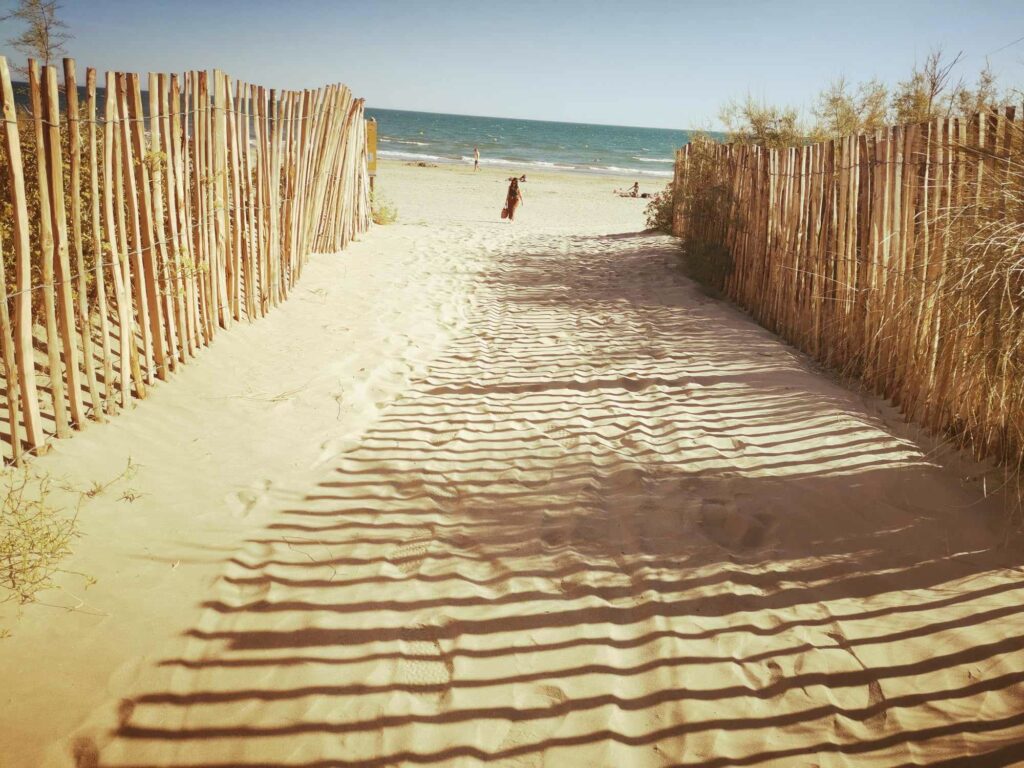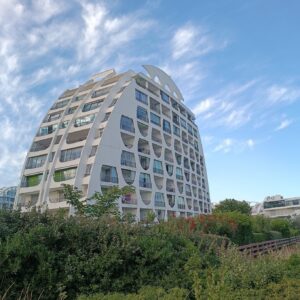 Following our previous tours in Occitania, we are glad to step this time into La Grande Motte resort. This seaside destination maybe considered as an architectural oasis nearby the Mediterranean Sea. Bordered by a long beach, La Grande Motte naturally stands out as a unique farniente destination of its kind.
Apart from this, this city is renowned for its particular architecture, golden sands and sunny ambiance, which hadn't stopped captivating the attention of visitors for decades. Therefore, one of the most striking elements of La Grande Motte resides in its futuristic architecture. Mostly inspired by the style of the architect Jean Balladur in the 1960s, displaying rows of buildings which are shaped like pyramids and cylinders. Whether for its sunny beaches, its unusual design or its vibrant life, this Mediterranean destination continues to fascinate travelers looking for something different, modern and memorable. By AP
---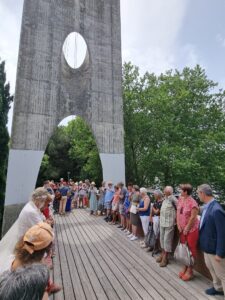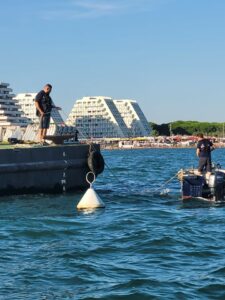 It seems that this avant-garde design looks either functional and aesthetic, despite countless critics. At least, those edifices offer endless panoramic views all above the Mediterranean Sea, while maintaining relative privacy for residents (photo credits: LGM).
Icing on the cake, this innovative architectural approach has earned La Grande Motte the prestigious "20th Century Heritage" label, as real international recognition of its contribution to contemporary architecture. A rich panorama is offered, starting by the fine sandy beaches stretching as far as an eye can see…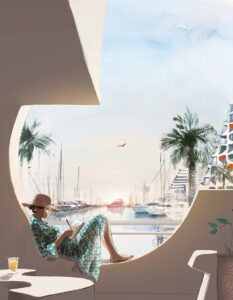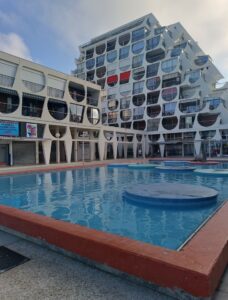 Anyone of us is invited to relax through refreshing swims but also water sports… Indeed, it's not a secret that this is both a sailing and windsurfing paradise, thanks to ideal wind conditions and a well-developed nautical infrastructure. Without forgetting the internationally renowned golf course, offering fans of this sport an opportunity to practice their swing while enjoying a nice sea view.
At last, you couldn't miss the bustling pedestrian streets, full of shops, restaurants and cafes, creating a lively and friendly atmosphere. As a family destination, La Grande Motte neither disappoints, as well due to the presence of an amusement park, along children's clubs and playgrounds.
La Grande Motte
tourist office, 55 Rue du Port, 34280 La Grande-Motte (France) / Phone : 00 33 (0)4 67 56 42 00. More information on their official
website
.
---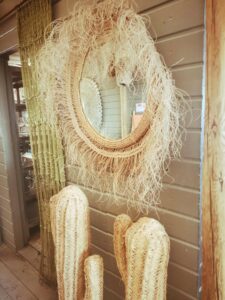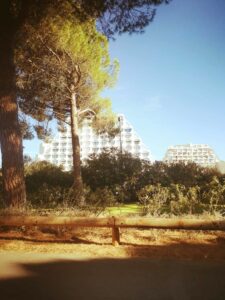 In this more than just a seaside hotspot, you could count on a living testimony to the union between visionary architecture and its picturesque coastal environment. As can testify La Paillote Bambou, directly located on the Grand Travers beach.
Open from May until October, this 25th year old beach restaurant is enriched with a privileged framework, in perfect harmony with the translucent waters of the Mediterranean Sea. This ensemble of basketwork and immaculate fabrics, lead us into a cozy cocoon, perfect to relax and escape. This friendly and festive atmosphere makes it a special place, either for day and night (photo credits: AP).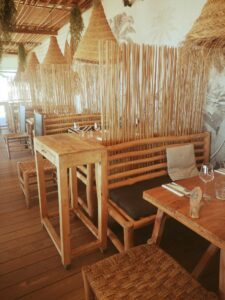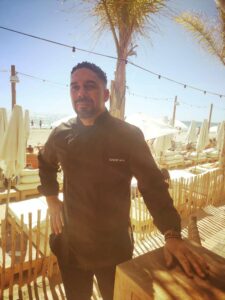 Indeed, let's benefit from the Mediterranean Sea view, cradled by the chef's delights. Thus, native from Guadeloupe island, Hervé Guyard is pleased to share his Carabbean roots, into a fresh and tasty summer cuisine. Therefore, in his exotic fusion menu, the chef wished to revive his early inspirations, by associating seasonal regional products. Among them, you may count on a daily updated selection of grilled fish and other seafood.
That's why, you may surely be tempted by the Féroce d'Avocat, as appetizer. An emblematic creole speciality to share (or not), which is prepared in front of you, for more freshness.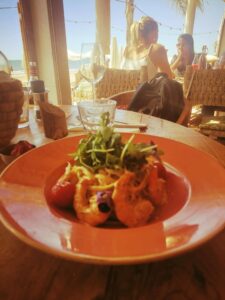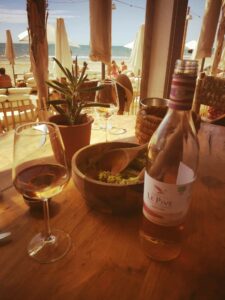 Followed by some snacked octopuss, smoothed with some sweet potato gingered purée, unless you prefer linguine pastas with gambas, hydrated with a delicious cajun sauce. Otherwise, there could be the option of sea bass fillet, garnished with some mashed potatoes with summer truffle, plus pakchoï cabbage and white butter.
As you can see, a specific choice was made to offer a slate of gourmet and homemade suggestions, giving free rein to the chef's daily inspiration. Before eventually ending with one of the icy delights, a chocolate fondant or a gourmet coffee.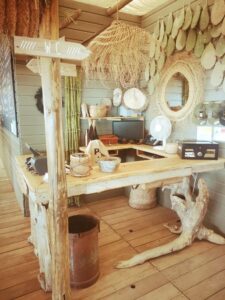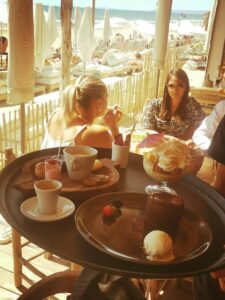 Adding to this, don't forget that every day, from 10am, you could enjoy some cocktails at the Red Parrot. This official cocktail bar of La Paillote Bambou is logically a real beach bar that welcomes you in a privileged setting.
A good occasion to get closer to the sea, while enjoying some sunny breakfast with your feet in the sand, or having a pair of tapas or simply relaxing with a homemade cocktail. There is a wide cocktail and wine choice, combining original creations and timeless classics, imagined by the bar manager named Guillaume Escaut. On top of that, in order to make your visit easier, La Paillote Bambou provides you a paid private parking, with a welcoming host.
​
La Paillote Bambou
, Accès 47, Routes des Plages, 34280 La Grande-Motte (France) / Phone : 00 33 (0)4 67 56 73 80. More information on their official
website
.