Derain visits Beaubourg
4 min read
André Derain, 1904-1914, the "Radical Decade" in Pompidou Center, Paris, until 29th January 2018.
Researches on colors and shapes, experiments, influences and flights. The decade 1904-1914 is fundamental, both for André Derain, and for his contemporaries… and the upcoming years.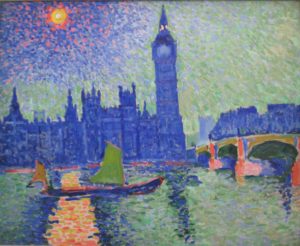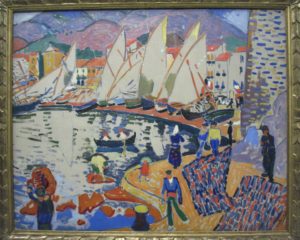 Big Ben (1906) / Le séchage des voiles (1905) – Photo credits: Sylvie Roman
The exhibition presented at the Center Pompidou highlights a decade of youth creations, André Derain was born in 1880, just after completing his military service. These three years (1901-1904) constitute a break in his creative drive: for a few months in effect, he frequents Maurice de Vlaminck – with whom he shares a workshop – and Henri Matisse, with whom he studies at the Camillo Academy in Paris.
These years under the military banner are a lost time for the study of his art, but he takes the opportunity to illustrate novels written by his friend Maurice de Vlaminck. Some large paintings also date from this period, taking advantage of some of his permissions, he lives in Chatou, close to Versailles and performs his military service in the village of Commercy.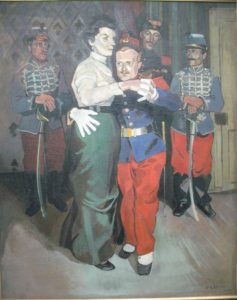 The Ball in Suresnes (1903) represents Andre Derain and his soldier mates, in a ballroom: we guess in an afternoon with a little sad and glaucous military uniform. Three men (including Derain) stand at the back of the room, in the foreground a young "called" woman dance with another woman. This first red-blue green and white shot is an intrusion into our reality as a spectator, and escapes us in the scene played in front of us. With this painting, Derain already shows his mastery of proportion, volumes, lines, diagonals, and very sharp colors are laid in large flats and with a certain thickness of material. This painting is interesting in more than one title: it shows the milestones that will be the style of Derain for his next forty years. A certain sense of construction, staging, treated volumes as pieces of study (cubism), the color and sharpness of it, and of course the contrasts.
Colors, materials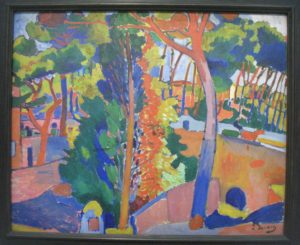 Landscapes at l'Estaque, 1907.
The exhibition leads us still in the footsteps of Derain as a friend and a follower of Henri Matisse, in Collioure, on the Mediterranean side.
This very short stay, at the appeal of his studies pal, only extends over two months, on summer of 1905. The colors are almost pure, laid in large flats, often with a knife, stries sized in the canvas and mostly separated, with this unfinished portion that could have shocked his contemporaries. This very short period, a few months, would have followers and fans, but kind of "copists".
A certain leader, certainly without having it wanted, and incentive, exploring many sides of creation which none had yet ventured. It is rather symptomatic that the two artists at the origin of the Fauvist movement, which marked far beyond the Painting Art, liberating it from some chains, were so quickly diverted from a field that they had yet initiated.
As if Derain had continued to explore the sense of pure colors, the lacerated strokes were more than laid, devastating his canvas under construction, especially during his stays in Marseille, or in the back country. However, it plunges even more towards the line and the purity of the line, the simplification of the shapes –
This geometrisation of this artistic creation culminated in 1910, with works made during his stay in Cagnes. La Danse (1906), a great canvas exceptional both in its motif, sarealization, its texture and its discretion (it is part of a particular collection), makes the connection between its pure color period (fauvism) the cubism that is built, and his explorationsfutures (see the exhibition at the Museum of Modern Art in Paris).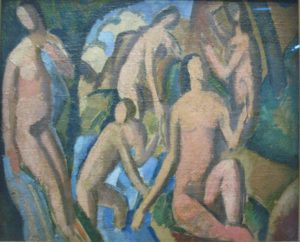 In the large Bathers scene presented in the exhibition, (1907 and 1908, MOMA and Prague) is showed the obvious inspiration and influence of Cézanne, one s 'separates yet quickly.
The line is sharp, fast, chopped, the bodies implanted in the ground. We must see in these works, rather inspiring Picasso's paintings, which will be realized only a few months later (Collection Chchukin). Picasso he meets after his trip to London (at the request of his gallerist Ambroise Vollard) city in which he saw and admired a collection of African art at the British Museum.Hyper realism and detachmentThe exhibition then takes us to more realistic lands , with a fascinating perspective of portraits, a detachment sublimated, as in an icon or a photo of Serano … The series of Italians (1912-1913), is in this respect fundamental and moreover, the painter seeming to explore new perspectives, only continues his quest.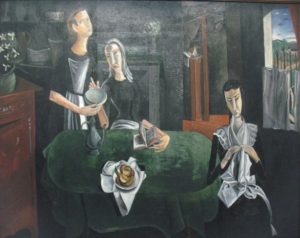 This brings us to shocks of three paintings, including Portrait of a man with newsprint (1914, Knight X, acquired by Shchukin), and also Saturday (1913, id). Lacerated features, dry and cold, reversed perspectives, (Cezannian), dark and flat colors, depths and shadows faded retracted … The window however opens to an elsewhere and a world that seems less dark. This painting is like a shock and must be compared to the work that has been done all over again by BernardBuffet, especially his younger years (self-portraits, etc.), an excellent exhibition of which was shown last year at the MAM of Paris, an essential complement to The Radical Decade, the exhibition at the Museum of Modern Art in Paris, "Derain, Balthus, Giacometti"…
We remain a little frustrated, it is not the explosion of shapes and colors and the Derain's inventiveness in his youth, this exhibition is extraordinary because of the richness of its material and works; the paralleling, enlisting, going back and forth between the three artists, and one understands why Derain was an inspirer for so many young artists, beyond the years.