Explore Montpellier from the treasures of its old center and its Musée Fabre and its MO.CO. exhibitions!
15 min read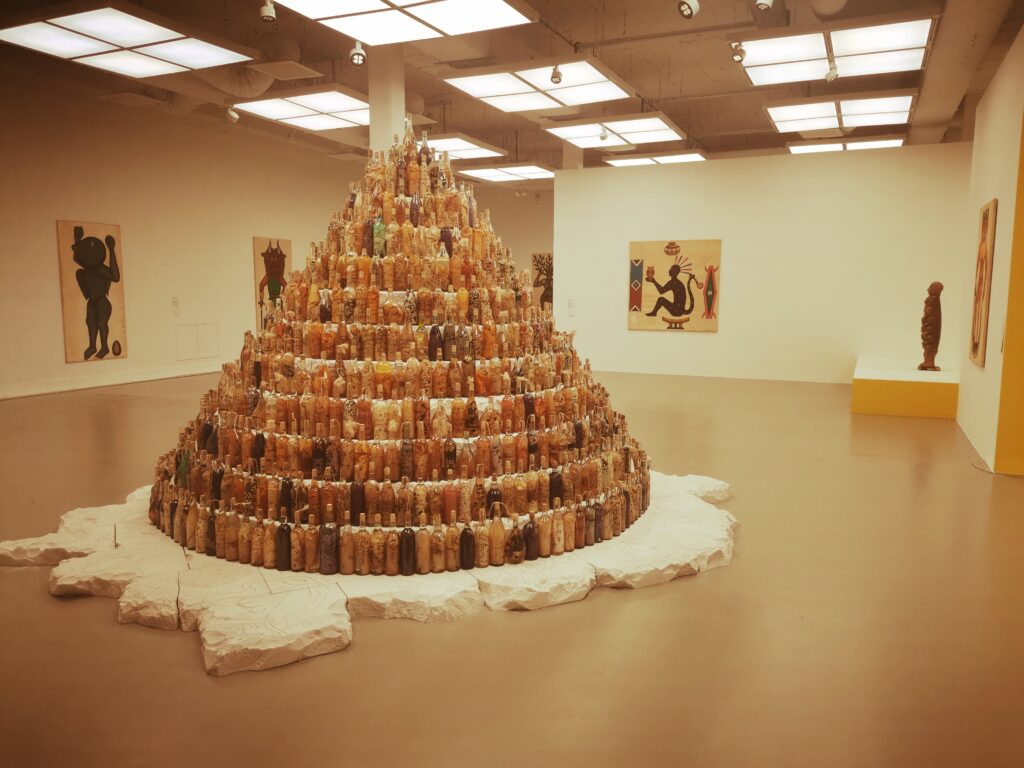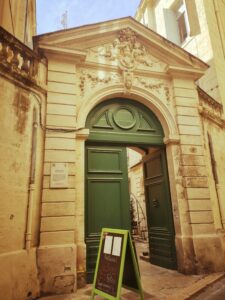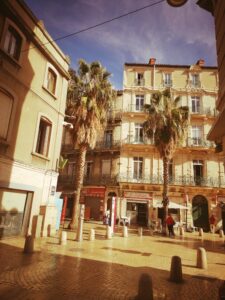 Did you know that one of the main cities of Occitania, Montpellier contains no less than 80 mansions built during the classical period? Starring massive gates, wide and lighted courtyards, staircases with wrought iron balustrades… True hidden gems, Montpellier has ever counted on its local resources.
Indeed, after endless religious wars of the Middle Ages, Montpellier was being rebuilt thanks to its new status as the capital of Languedoc. The city became richer and the medieval construction went reorganized. This is when the first mansions appeared and the constructions continued until the 18th century. Today, Montpellier counts many beautiful mansions, with or without private yards. In this article, we will introduce you some of them which have been transformed over the centuries, and are used nowadays either as restaurants, hotels or even cultural centers (with amazing exhibitions to attend). By Alex Plato
---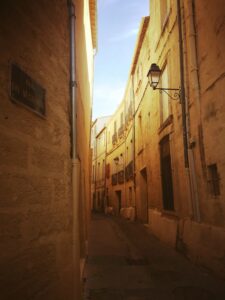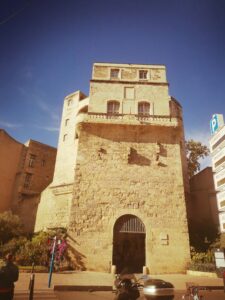 For a further admiration of those magnificent edifices, we invite to get lost yourself among the maze of alleys in the Écusson district and admire the numerous historical testimonies of wealth installed by the nobility and displayed with a profusion of premium decoration. Thus, after having observed the different details on the facades, such as caryatids, Atlanteans, gargoyles and any other symbols, don't miss all the other architectural details visible in the windows and its majestic balconies (photo credits: Alex Plato).
If you have more time, why don't you get deeper into the history of those private mansions through various periods? For instance, a concept starting from the 17th century, with illustrious architects like Simon Levesville and d'Aviler refreshing the ancestral medieval mansions. From there, the former austerity of facades has been contrasting with the monumental staircases which used to open out with balustrades to offer an access into their random interior courtyards, becoming in the same time a symbol of social distinction.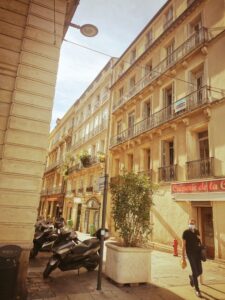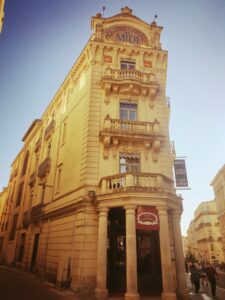 Following with the 18th century style often characterized by the embellishment of the facades thanks to a brilliant and aesthete generation of Languedoc architects, mainly known as the Girals. Gradually, those facades of the Montpellier's hostels became less sober and their balconies were getting adorned with fine ironwork.
Without forgetting the influence of the 19th century, when numerous mansions started to host some separated apartments, evolving in a way into rental property due to the big financial appetite of the uprising bourgeoisie and their high demand for profitability. Furthermore, the facades and staircases of the existing hostels became more exuberant, even sometimes wearing ostentatious decorations, inspired by the Haussmannian style which really broke the usual Montpellier tradition.
mansions
are private and closed to
visitors
, that's why the
Tourist Office
often organizes specific
guided tours
dedicated to the discovery of those surprising interior
courtyards
of those elegant
hostels
. Don't waste time to explore the
secrets
of these hidden places and book your next visit to open those closed
doors
!
guided tours
, connect on the
Tourist Office
official website.
---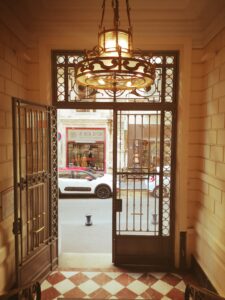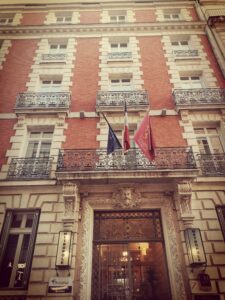 In the heart of the Ecusson district, a stone's throw from the Musée Fabre and the train station, stands the Hotel Oceania Le Métropole, a majestic 19th century building. Built in 1898 by the architect Thomas Piétri in the image of the Grand Palaces of the French Riviera, this boutique hotel, entirely in 2016, combines modern amenities with the charm of period residences.
Following the spirit of luxury hotels, in addition to the swimming pool and jacuzzi bordered by palm trees in the garden, this establishment has unveiled a brand new wellness area, and therefore combines an alloy between charm and authenticity with a touch of the exotism. Beyond this contemporary hotel universe, we invite you to relive the prestigious guests that visited the place in the past, just like the actors Jean Marais, Michel Bouquet, Jacques Villeret, the mime Marceau, the singer Léo Ferré and even had the honor of welcoming Picasso, as can testifies the 1926 invoice signed by the painter's hand.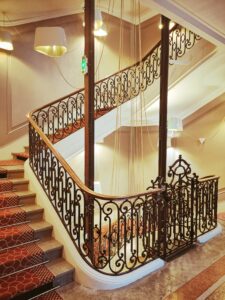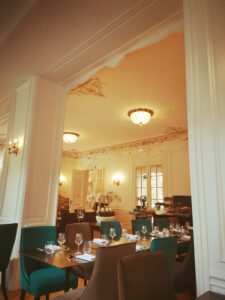 Once inside, you couldn't pass through its high ceilings, associated with the renovation of historic frescoes and prestigious parquet floors which all offer to this edifice all its letters of nobility. Nowadays, adorned with a classic and contemporary decoration, you may be surely seduced by the touch of graphic originality, visible in different corners of this historic place.
For example, at the bend of corridors, parakeets escaping from the glass roof have landed on the walls and invite you to continue the visit to the 96 rooms and suites. Regarding the decoration aspect, an homage has been given to the different times of the day, the warmth of the southern sun, a subtle blend of orange and purple evoking a beautiful sunset or the enveloping softness of some coppery midnight blue of an upcoming pleasant evening.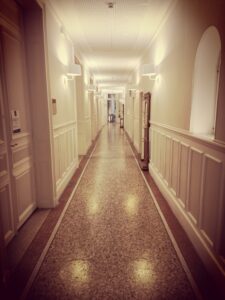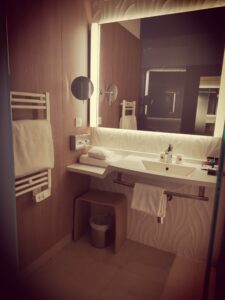 For your information, this hotel has 96 well-equipped and air-conditioned spacious bedrooms, with Rituals amenities and a welcome coffee machine, overlooking the garden or the quiet street. Adding to this, professional firms can find seven bright meeting rooms that can accommodate up to 120 guests, for one day or more.
Don't miss the restaurant with a modern and neat cuisine, a vintage bar with some traditional accents , unless you prefer enjoying your drink in the pleasant hall and its marble tones or outside in the patio, between the shades of the Mediterranean vegetation. Same option for the continental breakfast, served in the dining room with beautiful ancient ceiling moldings.
Hotel Oceania Le Métropole
/ 3 rue du Clos René, 34000 Montpellier (France) / Phone: +33 (0)4 67 12 32 32 / More information on the official
website
.
---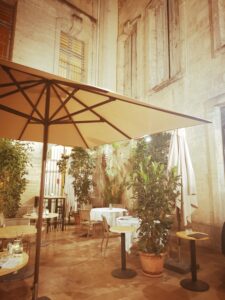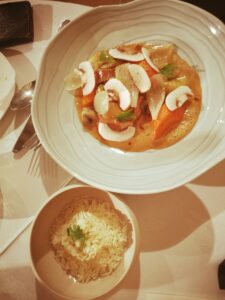 Another mansion nested in the heart of the Ecusson quarter, Éric Cellier and Pierre Morel's new version of the ancestral bistro of the Maison de la Lozère has forged itself for almost 28 years, the reputation of one of the major gastronomic places of the Languedocian capital.
In an authentic Montpellier atmosphere, come and discover a menu that changes every week, with a choice of cosmopolitan dishes and desserts, all accompanied by a selection of preferably local wines or even a wide choice of olive oils. Without forgetting the basics of this Lozère region, starring the unmissable Aligot from Aubrac, prepared just in front of you.
tataki
until revisited
vitello tonato
, passing by seasonal
marvels
, completed here by a variation on
apples
, let's share some
conviviality
guaranteed in this charming place. Standing in the deep
city center
, either enjoy a moment in the
patio
, in the
vaulted
hall or simply at the
bar
!
Maison de la Lozère, 27 rue de l'Aiguillerie, 34000 Montpellier (France) / Phone: 00 33 (0)4 67 66 46 36. More information on the official website.
---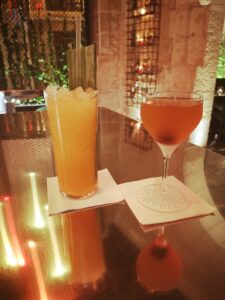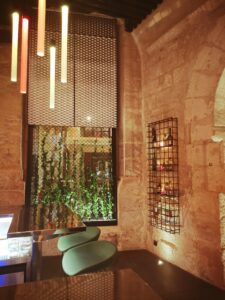 A little bit further in the old center, find the chance to enjoy some surprising cocktails in a place able to combine the two fields of expression of its founder. Indeed, between photography and cocktails, the artist Julien Escot has designed his Aperture bar as his most personal project. Thus, this former cocktail world champion launched his own concept of bar and restaurant gathered into an art gallery, and that has just joined the short list of the 50 Best Discovery cocktail bars of the World!
In a framework following a genuine contemporary approach, the creative team has imagine a constant updated menu full of innovative and inspired cocktails. In addition to this, an inventive cuisine is also served either at the counter or comfortably seated at your table.
photography
, the
medieval
walls of
Aperture
often wear the
artworks
of
Julien Escot
, but not only since you could as well admire the formidable
plays of lights
starring the various
neons
installation imagined by the designer
Pierre-Cyrille Acquier
.
Aperture, 2 Rue des Trésoriers de la Bourse, 34000 Montpellier (France) / Phone: 00 33 (0)9 87 17 44 33
---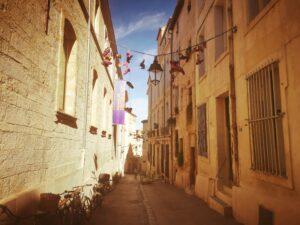 Concerning the artistic life, the MO.CO. represents the image of its daring and inspired sunny territory, gathering a creative ecosystem that goes from training to collection. This line of activities includes a set of production, exhibition and mediation, by bringing together all forces around an art school and two contemporary art centers. Those are called the MO.CO. Esba (Montpellier School of Fine Arts), the MO.CO. Panacée (contemporary creation laboratory) and the MO.CO. Hôtel des Collections (space dedicated to international exhibitions). The MO.CO offers all audiences the opportunity to fully participate in the contemporary art of our time.
The MOCO was conceived as a real meeting point for any visitor willing to enjoy finding new encounters, beyond the random exhibition program. This was made possible thanks to the casual presence of a restaurant, an intern park but also a shop area (renewed seasonally), often serving as convivial spaces able to emulate the daily life of Montpellier.
Moreover, a partnership has been initiated with the Paul Valéry University in Montpellier and its network of researchers, in order to create an international research center notably working on the notion of collections, in its most diverse aspects. Thereafter, the Montpellier School of Fine Arts (MO.CO. Esba), enabled back and forth between training and professionalization, between the development of an own creation and integration into a multifaceted network, between students and guest artists. This program allows young graduates to participate in international Biennials in various residences (Château Capion, Domaine des Boissets, Sainte Enimie, Maison Daura, Saint Cirq Lapopie, Abbaye de Fontfroide, Narbonne, etc.), welcoming artists, curators and critics are invited by MO.CO. to collaborate with the students from this School.
More information on the official website.
---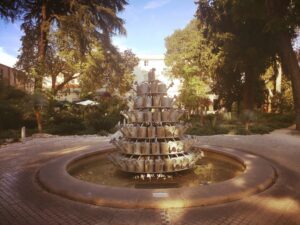 For instance, in the heart of Montpellier stands in the Hôtel des Collections, located in the prestigious Montcalm Hotel. Therefore, you could attend countless upcoming exhibitions, either extracted from public and private collections from all around the world, along artist interventions. Those can happen regularly and often in direct connection with architecture.
Surrounded by the luxurious Garden of the Five Continents, imagined by the landscape artist Bertrand Lavier who decided to imagine a garden with the shape of the world map. Made up of plant species from all over the world, chosen in consultation with the famous gardener, landscaper, botanist and biologist named Gilles Clément. Completed by a an original fountain, also designed by the artist, fits perfectly into the center of this atlas, planted in October 2019 and inhabited by two turtles. A project essentially based on the slow motion process for the vegetal evolution to get through the seasons.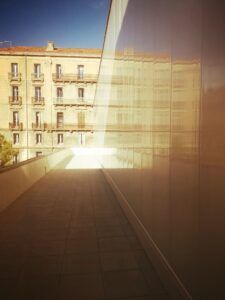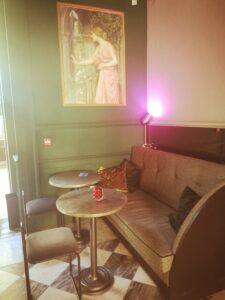 A trendy bar and restaurant complete this Hotel des Collections, essentially in order to pursue the experience indoor or outdoor.
On this year 2021, a colorful exhibition was offered in partnership with the African collection lent by the Zinsou Foundation, established in Benin. Untitled "Cosmogonies. Zinsou, une collection africaine", this installation brings some exotism to this classic establishment which welcomes artworks from this unique Foundation's collection for the first time.
According to a selection guided by the desire to display an African artistic panorama, this Cosmogonies act presents nearly 110 artworks (sculptures, photographs, paintings and installations) represented by 37 artists of different generations such as Frédéric Bruly, Bouabré, Cyprien Tokoudagba, Mallick Sidibé, Chéri Samba but also Zanele Muholi, Ishola Akpo, Sammy Baloji or Aïcha Snoussi.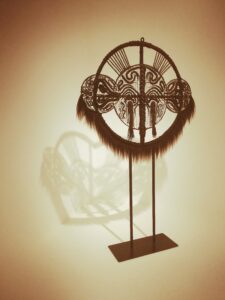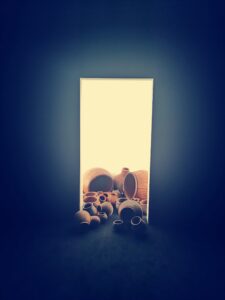 By the way, this summer act held in parallel with the France-Africa 2021 summit which took place in Montpellier, at mid October 2021.
As the common thread of this story, the curatorial team of MO.CO opted for the figure of Cyprien Tokoudagba (1939‐ 2012, in Benin), who is notably famous to have painted on palaces and temples, or even restored frescoes, created sculptures, thus listing the various voodoo deities or scenes related to the Kings of Abomey. His motifs were also pictured on canvas, before being invited by the collector Marie-Cécile Zinsou to inaugurate her eponym foundation in 2005. The figures and symbols represented by Tokoudagba conveyed to the transmission of a certain ancestral culture, through a universe of illusions between reality and supernature.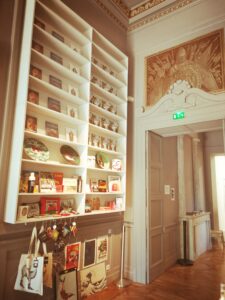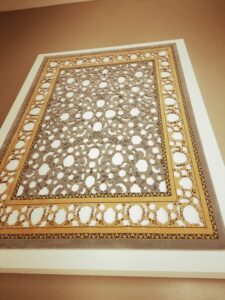 Therefore, these Cosmogonies can combine magic and realism, with an exhibition route that can reveal this ability to create worlds through seven major themes, mentioning alphabets and codes, intimacy and memory, legends and symbols or even metamorphoses.
Among those African magicians, we may count on the various talents of Frédéric Bruly Bouabré, Esther Mahlangu, Kwesi Owusu Ankomah and Emo de Medeiros have all formed formal repertoires mixing tradition and contemporaneity. Moreover, the hairstyles highlighted by Ojeikere's photographs also bear witness to meanings transmitted by codes, linked to intimacy. With Sidibé and Keita, it is a journey into this intimacy that is proposed, before the gaze wanders to reflect a tune of time reworked in the studio, going as far as the staging.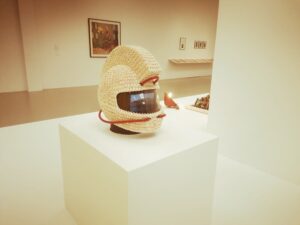 On top of that, the question of the border between realism and cliché is crossed with the works of Samuel Fosso who disguises himself to better caricature social typologies according to appearances. The scenes of everyday life painted by Chéri Samba are tinged with the same ironic distance, in the choice of scenes, but also in the often ironic comments that accompany them.
Nonetheless, contemporary times have also somehow created a sick world, and this is denounced in the random photographs of Romuald Hazoumé or the works of Quenum, Mahama or Baloji. To transform it, enchant it, or turn away from it, one can then turn to the stars with Rigobert NImi, to mythology with Lilanga, or to trust the magic signs revealed by Hazoumé. There are also forms of individual resistance, of self-invention, of liberating metamorphoses: this is what the photographs of Zanele Muholi or Rotimi Fani-Kayodé offer us, the sculptures of Seyni Camara, or the drawings of Aïcha Snoussi.
Hotel des Collections, 13 Rue de la République, 34000 Montpellier (France) / Phone : 00 33 (0)4 99 58 28 00. More information on the official website / "Cosmogonies" exhibition, from July 3rd to October 10th, 2021.
---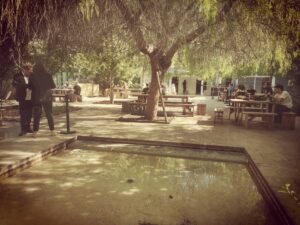 Another facet of the MO.CO., called the Panacée, presents a biennial of SOL ! Located in an emulative ecosystem, created to encourage, support and disseminate contemporary creation in its territory. This cultural center is recognized as a structure generating and facilitating cosmopolitan and international exchanges.
Apart from this, many services are proposed, from the library, passing by cultural mediation within different events, or even the training of artists to new technics, without forgetting the beautiful patio where you could enjoy a fresh market cuisine or simple a typical bissap juice, from a Senegalese recipe. A good occasion to have some rest after visited the artworks of the visiting artistic scene, sometimes from the surrounding territory of Montpellier.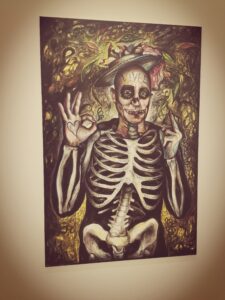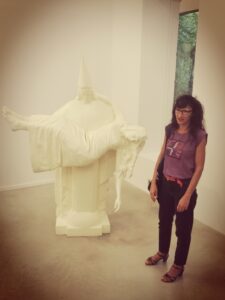 Thereafter, this territory's biennial started on October 2nd, 2021 in the Panacea site, although it started in 2019 with various workshop visits and meetings, with a focus on the local art scene along a reflection on the role of the cultural institution towards its immediate community. This intergenerational installation tends to explore all kinds of arts, as a real illustration of the creative dynamic that animates this sunny region, starring a defined territory going from Sète to Alès and from Nîmes to Béziers.
In another hand, this biennial is also intended to be a national and international meeting point and a promotion tool, including a publication planned soon to bring together the realizations of the numerous artists from this edition.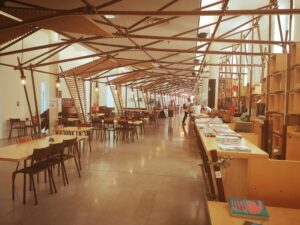 Following the spirit of the previous edition which occurred in 2019, which centered on "decentering" notions, this concept reveals once again contemporary artistic practices. As you can see in the many artworks exposed upon here, their artists may express a certain distrust of an hierarchical (and sometimes authoritarian) society, a system whose values ​​are established according to patterns of domination and outdated models.
Moreover, as far as we know, many artists tend nowadays to leave the big cities in favor of less dense territories, abandoning in a way the models of entrepreneurial production in favor of vernacular forms. In fact, the boundaries between art and crafts, between the noble and the prosaic, seem to be more and more blurring. That's we observe that their realizations depend now more on specific places, while transforming according to the frames offered to them.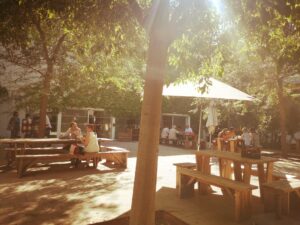 Then, those artworks have been shown along three axes (the relations regarding nature, to History and to society), under the artistic direction of Vincent Honoré, the very inspired curation is provided by Rahmouna Boutayeb, Caroline Chabrand and Pauline Faure. Therefore, this collective exhibition opens up new horizons through the exploitation of new materials and visions of society, from territorial scene.
A trend that had already started with the inauguration of the previous Hôtel des Collections which was also an opportunity to call on local artists for specific creations (La Cellule, Geoffrey Badel). More recently, the Possédé.e.s exhibition has featured four artists (named Nicolas Aguirre, Jimmy Richer, Chloé Viton and Luara Learth Moreira), settled in Montpellier, just being graduated from their Fine Arts School. Those places underline this connection between the actors of contemporary creation in Occitania.
MO.CO. Panacée, 14 rue de l'École de Pharmacie, Montpellier (France) / Phone: 00 33 (0)4 99 58 28 00 / "SOL ! La biennale du territoire" exhibition, from October 2nd, 2021 to January 9th, 2022.
---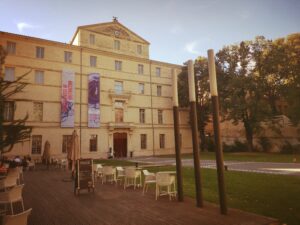 At last, don't miss the Musée Fabre which is one of the most important museums in Europe, takes you on a journey into the world of arts through the centuries, and even got reborn after four years of renovation in 2007.
Indeed at the request of the Metropolis, the architects imagined a new building to increase the exhibition area. The interior wall, made entirely of textured glass, as well lights up at night thanks to more than 3,000 neon devices. This original glass facade is an important architectural element of the project. This pavilion is dedicated to the presentation of masterpieces, dating of the 20th century, such as Pierre Soulages, Simon Hantaï and the Support-Surface movement.
Then, a natural and coherent route allows you to cross the spaces of the former Jesuit college dating from the 17th century, passing by the Fabre Museum installed in 1828 in the Massillian Hotel. The latter then underwent major transformations such as the spectacular Galerie des Griffons, also restored to its original volume.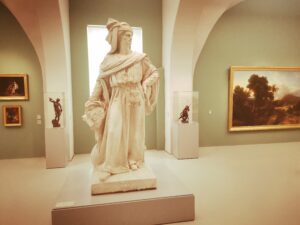 You could continue your visit through 19th century extensions, in particular in the Galerie des Colonnes built in 1875-1878 to house the Bruyas collection.
Whereas, the Musée Fabre lately welcomed from August 6th until October 31rd 2021, an exhibition dedicated to a group of American artists who, settled in France, and eventually contributed to the redefinition of abstract art on the European continent. Under the sweet title of United States of Abstraction – American Artists in France 1946-1964, this installation offers another history of abstraction art, essentially at a time when New York gradually replaced Paris as the attractive capital of Modern Art. Thus, after the Second World War, many American painters, musicians and writers chose to come to study and create in France, in particular during educational purposes.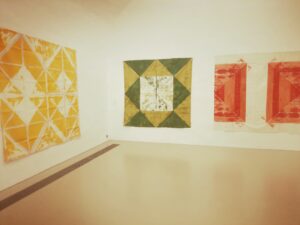 That's why, this Franco-American love story around concepts of abstraction needed to be reviewed here in a hundred paintings, sculptures and drawings. Among the main players of this performance, we can count on Sam Francis, Joan Mitchell, Ellsworth Kelly, Robert Breer, Ralph Coburn or Jack Youngerman. Organized in collaboration with the Nantes Art Museum, this exhibition is organized in three parts and details how this American presence helped to redefine Abstract Art and establish the foundations of Narrative Art after 1945, notably in France.
While admiring those canvases, you would learn more about the history of Abstract Expressionism, related to many New York art schools, and above all depicting the influence of American painters of this mid-twentieth century, through its most famous heroes, like Jackson Pollock and Willem De Kooning, among many others.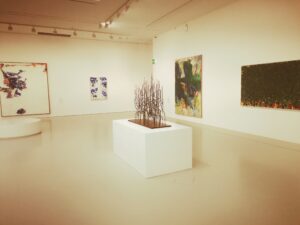 Without missing that more than 400 artists used the GI Bill scholarship, which allowed any veteran to finance his studies, by coming to register in Parisian art schools and academies, essentially between 1944 and 1953. Some, in the wake of their compatriots, like Joan Mitchell, in 1955, settled in France permanently, while others frequented with more or less assiduity the various workshops of the Grande Chaumière starring Fernand Léger or Zadkine, like Ellsworth Kelly, who arrived in France in 1948, studied at the École des Beaux-Arts.
This exhibition would explore this intense presence, through the artistic and intellectual relations between these artists either playing in the French and American scenes, at a time when the world artistic geography was in real upheaval. Therefore, this ambitious project was also carried out in collaboration with the support of the DRAC Occitanie, the Terra Foundation for American Art and the Franco-American FRAME cooperation network.
Musée Fabre, 39, boulevard Bonne Nouvelle, 34000 Montpellier (France) / "United States of Abstraction. American artists in France (1946-1964)", from August 6th – October 31st, 2021,
---