Chapitre T, a literary tea salon in Nantes
5 min read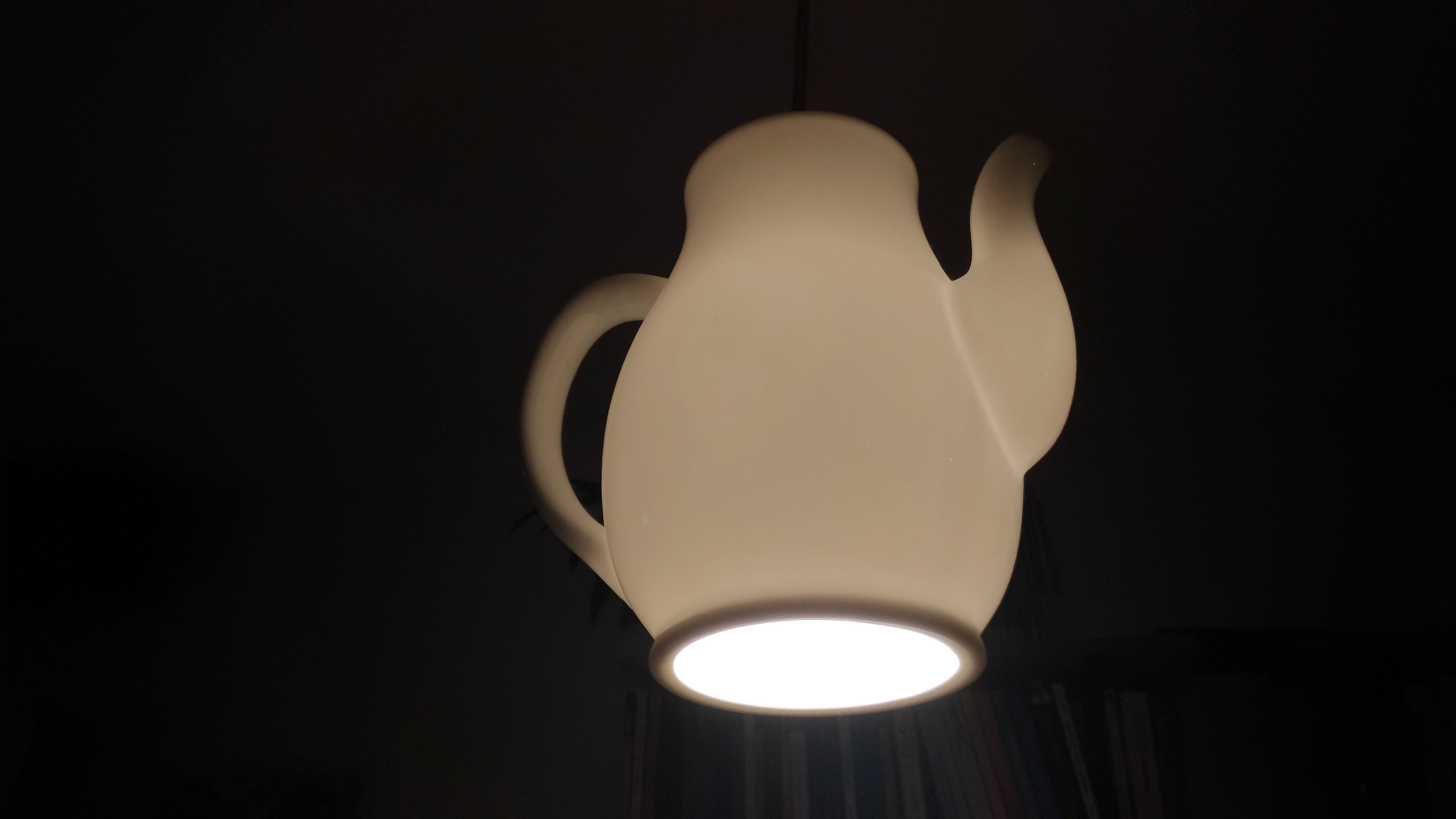 More than a tea room in Nantes: a cultural event for everyone.
Chapitre T is more than just a tea room in Nantes, it is also a meeting place for gourmands who want to share with friends or family some sweet pastries and salty concocted with love by Anne. Moreover, Chapitre T is a space for sharing and cultural exchange: literary conferences, creative workshops, and not to mention vernissages to make you discover the works of artists from here and elsewhere.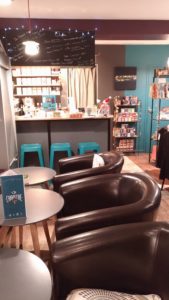 Since its creation, Chapitre T and its cultural bistro have attracted a local clientele of all horizons and all ages. All can meet around common centers of interest, during various cultural events (conferences, vernissages, creative workshops, Blabla-Livre meetings …). WIFI access and power outlets are available to people who wish to move to Chapter T to work on a computer, or to surf the web in a user-friendly environment. You will also find books to consult on site or to buy, board games, magazines …
A cultural agora in the heart of the tea room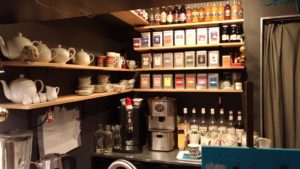 In an intimate setting and a personalized decoration according to the vernissages and the exhibition of the works of young talented artists, I organize literary meetings to discuss a work or to tell his favorite of the moment and enjoy treats! Because the place, in the heart of Nantes downtown, is also the meeting place for gourmands and gourmets, lovers of very good teas with subtle aromas, and tasty homemade pastries.
A tea bar that delights the palate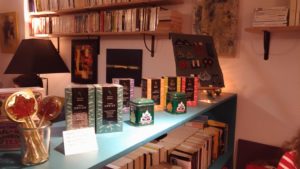 An occasion to experiment a gourmet break in this tea bar, for lunch, a snack, or just for the pleasure of sharing a great moment with others, along a large selection of Lagosta teas, made by an Angers based creator, homemade salted specialties from fresh and seasonal products, homemade pastries for all tastes, on-site or take-out creamy fruit juices and nectars by Patrick Font, handcrafted in France tapas boards on event evenings: assorted cold cuts and cheeses, glass of wine…
A cultural bistro that delights the spirit: vernissage, literary evening …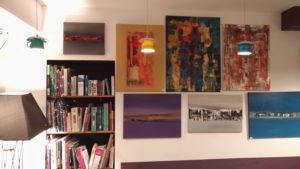 Indeed, the cultural Bistro, Chapitre T also offers the sale of carefully selected new and used books. For a break time alone or with others, the cultural bistro offers a wide selection of books and magazines to consult on site, and has at your disposal its small toy library with games for all ages. Treat yourself to a friendly moment full of laughter with family or friends, around a good tasting!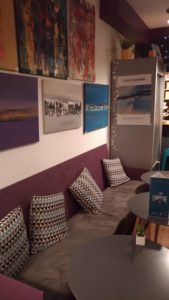 Plus, some days, in the morning, afternoon or evening, I welcome guests for a thematic conference, a literary presentation, or for a creative workshop for the youngest. Find the agenda of the events of Chapitre T online.
One Thursday a month, is organized a vernissage to present a new artist and a selection of his artworks, which will compose the decoration of the place all month long. You can admire the work of many painters, sculptors, photographers and other creators from Nantes and elsewhere. On this moment, you can enjoy homemade tapas on aperitif plates composed for the occasion.
Gourmet and original cuisine, homemade elaborated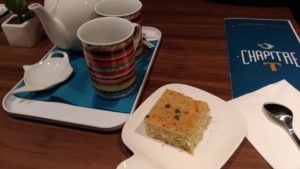 Embark to the Pays-de-la-Loire to taste at any time a Lagosta artisanal tea, launched by the Angevin creator Laurent Maupoint. He chose to tell the city of Angers through new fragrances of tea, as delicate as scented, with amusing and evocative names: Le Bon Roi René, the rose or orange flavored Little Monster Tea, Anjou Vélo Vintage, or the collection of "Pisse-Mémé"…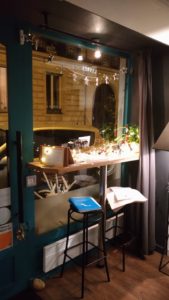 You can continue the journey in the gourmet country of with Ardèche products, such as the artisanal ice-cream of Terre Adélice, and their perfumes from the classic ones to the more original, or even stay in the Rhône-Alpes region to taste the fruit or vegetable juices, and the creamy nectars of the Patrick Font juices family business, established in the Loire. And find the time of childhood with delicious smoothies, iced tea or creamy hot chocolate…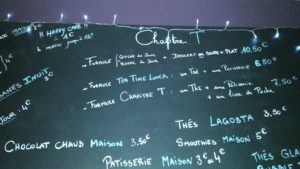 The menu is renewed every day to provide tasty and creative homemade dishes, made with fresh seasonal fruits and vegetables, and local products. Mixed salads: southwestern salad, taboulé, revisitedQuiches and salted pies: piperade and chorizo, sweet potato and cheese from Nantes, seafood and leek-mushrooms, tomato and mozzarella onions, broccoli and smoked salmon, zucchini goat cheese and honey… Hot dishes: coconut-curry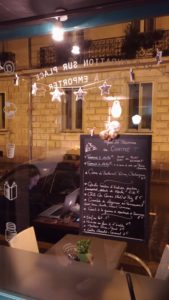 chicken fillet, tarragon chicken on mashed sweet potatoes, Bolognese pinnets, spaghetti carbonara… And for desserts: homemade pastries, homemade ice cream, fromage blanc and its accompaniment of the day, homemade compote with various fruits …
On thursday evening at night: dinner plates composed of various cheeses and charcuteries, accompanied by a glass of wine.
You're welcome for lunch or breakfast, and get the delights of the tea bar at any time of the day. In the morning and until noon, enjoy a coffee for just 1 euro!
Location:
1 bis rue Camille Berruyer 44000 Nantes
Chapter T welcomes you from Monday to Friday from 9h to 18h30, Saturday from 10h to 18h30 and at night on Thursday for events. Discover the daily menu on Facebook.