Discover the locations of FRAC Île-de-France in this Rentilly Inox Castle and FRAC Paris Plateau Buttes-Chaumont
4 min read
The Île-de-France Regional Contemporary Art Fund (FRAC Île-de-France) is conducting a major project to support contemporary artistic creation based on several complementary themes: enrichment and dissemination of his collection,  program of exhibitions and events on the sites of the Frac Plateau and the Domaine de Rentilly castle, mediation actions for all audiences, editorial policy related to the exhibitions and the collection.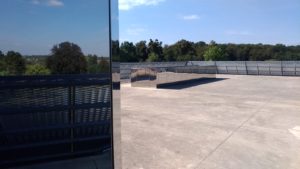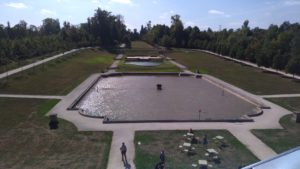 Its collection of more than 1,600 artworks covers all fields of creation while being particularly focused on the emergence of new generations of artists (photo credits: Alex Plato).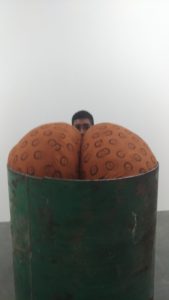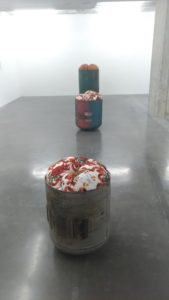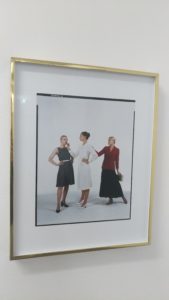 The distribution of its Art collection is established in a multiplicity of partner locations in the Paris region, but also in France and abroad. This dissemination is an opportunity to invest non-devolved places in contemporary Art, for an unprecedented offer to diversified audiences. For instance in the Paris FRAC Plateau site, close to the Buttes-Chaumont Park, is invested until December 9th, 2018, by the first exhibition of Elad Lassry in France. Born in Tel Aviv in 1977, Elad Lassry lives and works in Los Angeles. Spanning photography, film and sculpture, his work questions the relationship between object and representation.At le Plateau, Lassry presents a new series of photographs and sculptures in which subtle, yet conceptual shrewd strategies open up a flexible space where each photograph is invariably reminiscent of another, endlessly replaying the function and meaning of the objects they represent. From an unassigned fashion shoot, a reef fish supply facility, to a photographic darkroom experimentation, Lassry's photographs are shot on an almost extinct technology (8 "x 10" camera). The artist thus combines analogue technology with the dematerialisation of the image.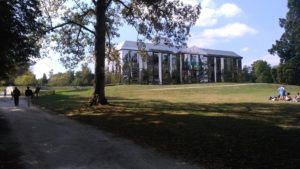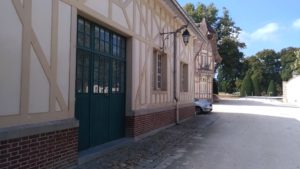 The castle of Rentilly, in the Seine-Et-Marne department, is the second Frac place, became possible thanks to the agglomeration community of Marne Gondoire.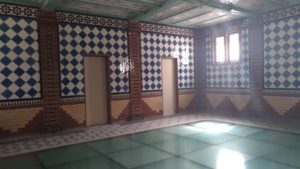 The rehabilitation of the castle, part of the Cultural Park of Rentilly, allowed, on the initiative of Frac Île-de-France, to develop an extraordinary project: entrust this rehabilitation to an artist to make the castle both a real work of art and a place totally adapted to the presentation of works of art.
Xavier Veilhan, the artist selected after the competition (in collaboration with the architects Bona Lemercier and the scenographer Alexis Bertrand), proposed a project that makes this place one of the new flagship places of the Île-de-France.
Fully renovated in 2014, the Castle wears now inox slides on its facade, giving to the edifice an impression of temple of light!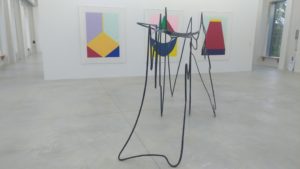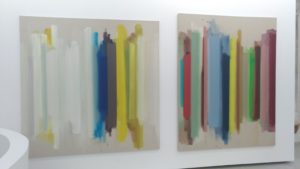 The FRAC Île-de-France therefore has a new exceptional place to regularly present its collection and thus becomes a multi-site structure, like this new Exposition L, held until February 2019.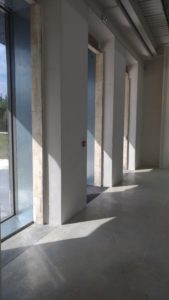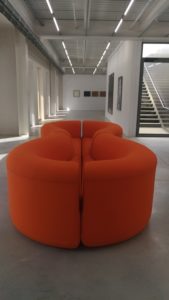 From 22nd September 2018 to 10th February 2019 the FRAC Île-de-France is holding an exhibition, curated by Xavier Franceschi, with works from its collection at the Château de Rentilly (Parc culturel de Rentilly – Michel Chartier), where the selection of works is left purely to chance : a random draw, open to everyone  via a plugin on the FRAC website, has taken place from May 25 to June 10, to choose a letter from the alphabet determining the artists to be exhibited. The 'winning' letter is 'L' : all artists in the collection whose name begins with 'L' are part of the exhibition and all their works will systematically be exhibited. That's why we find the artists: Dominique Labauvie, Maëlle Labussière, Jeff Ladouceur, Suzanne Lafont, Denis Laget, Jacques René Lagrange, LALAN, Bernard Lallemand, Bertrand Lamarche, Fabrice Langlade, Annika Larsson et Augustin Maurs, Bo Christian Larsson, Elad Lassry, Micha Laury, Bertrand Lavier, Christopher Le Brun, Jean Le Gac, Marc Le Mené, Marie-Hélène Le Ny, Cécile Le Talec, Guillaume Leblon, Mark Leckey, Seulgi Lee, Frédéric Lefever, Marie Legros, Pierre Leguillon, Mathieu Lehanneur, Jochen Lempert, Jean Leppien, Rainier Lericolais, Eugène Leroy, Elodie Lesourd, Natacha Lesueur, Agnès Levy, Christian Lhopital, Arto Lindsay, Tony Long, Mireille Loup, Ken Lum, Marie Lund, Guy de Lussigny, Mark Luyten.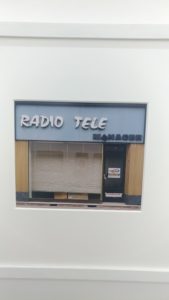 While this project is the first of its kind, it is consistent with the approach to the collection fostering experimentation, while at the same time respecting the works and artists involved, in particular through a both fun and conceptual approach. Reflecting past exhibitions, whether at the Plateau or Château, along with historical exhibitions, from Surrealists, Fluxus to more recent proposals from Bertrand Lavier or Bob Nickas , there is a predefined rule or protocol here that must be rigorously and religiously adhered to.
---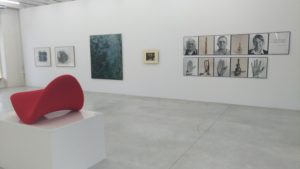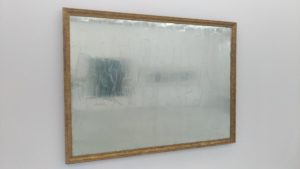 As a result, whereas the true stance of an exhibition is generally determined through the selection of works, in this exhibition a predetermined principle is set in motion leaving no room for any subjective choices. From another point of view it is something truly arbitrary, the rule that is defined largely governs the next steps…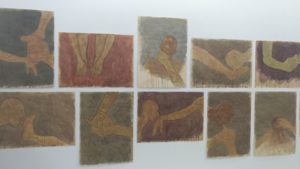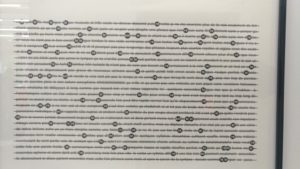 Beyond this apparent paradox, the exhibition and this stance enable works to be exhibited and compared on a completely new level.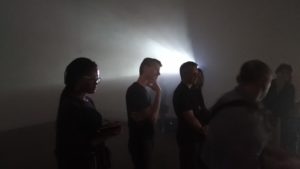 Detached from any pre-existing or predominant theme, they appear de facto in perfect autonomy. That's the real objective: to introduce works from the collection in their integrity, for what they are, without any preconceptions or bias.
le plateau, paris
22 rue des Alouettes
75019 Paris, France. T +33 (0)1 76 21 13 41
info@fraciledefrance.com
Wednesday to Sunday, 2–7pm. Free Admission.
Late Night Opening : the 1st Wednesday of each month, until 9 pm : Plateau-Apéro.
le château, rentilly
Parc culturel de Rentilly
1, rue de l'étang
77600 Bussy-Saint-Martin. T +33 (0)1 60 35 43 50
Sunday visits: guided tour of the exhibition every Sunday at 4pm. No enrolment necessary. Be at the reception desk five minutes before the visit starts.
Creative Visit Saturdays for Children: Every Saturday from 2:30 to 3:30pm, children discover a work in the show and make a plastic/visual object (drawing, photo, painting, etc.) attuned to what they have just discovered. Free of charge. No enrolment necessary / 2:30 – 3:30pm. Be at the reception desk five minutes before the visit starts.
Late night and drinks
1st Wednesday of each month (except opening dates) until 9pm.
education department, l'antenne culturelle
T +33 (0)1 76 21 13 45
publics@fraciledefrance.com