Since 1945, Chez Fred, a traditional gastronomy address in Pereire, Paris
4 min read
A few steps away from the busy Place de l'Etoile, nestles the Pereire district and its planted promenade. It is in this rural setting that there is an address for gourmets. Founded in 1945, the Chez Fred restaurant inspires tradition, both in terms of interior design and cuisine.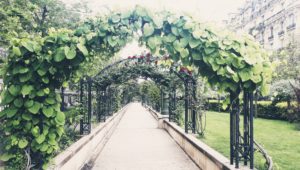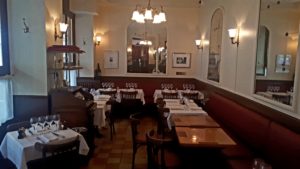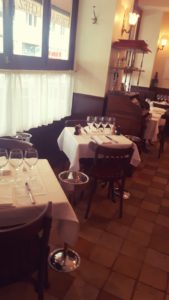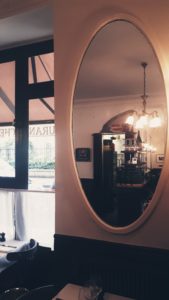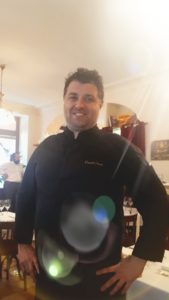 Originally, Chez Fred was a Parisian representation of a "bouchon lyonnais", a restaurant offering typical specialties of Lyon.
This address became a Parisian bistro when it was taken over in 2019 by Laurent Hullo. Having worked for several years in such prestigious addresses, like Monsieur Bleu or the Plaza Athénée.
Eager to lead his boat and offer his own vision of the culinary arts, he was surrounded by chef David Crozat (photo above). A former team-member of the restaurants Conticini and Costes, he was as well a colleague of Mr Hullo by Monsieur Bleu. He also spend some years in the United States where he was proud to transmit the French gastronomy (photo credits: Alex Plato).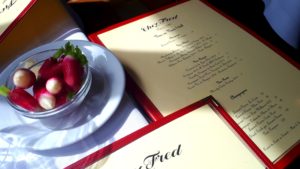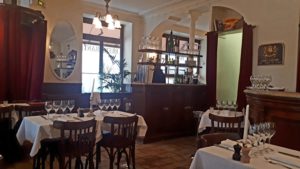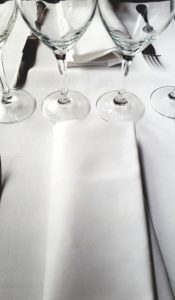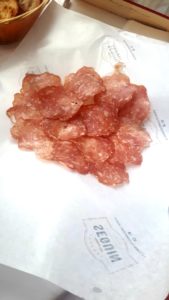 Inside reigns an atmosphere of a certain other time, where vintage furniture are melt into each other and give an impression of French tradition, where customers feel like at home.
This sensation is reinforced with the kind attentions of the Master of Ceremony Laurent Hullo, helped with his experience and savoir-faire in hospitality.
He pays particular attention to the comfort of his guests, especially with the use of quality dishes, such as silverware as cutlery and real wine glasses, qualified in catering as "ballon".
An other effort is made with the appetizer offered with the radish, that would be completed by some authentic slices of saucisson, which was tastefully selected by the team.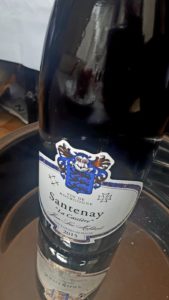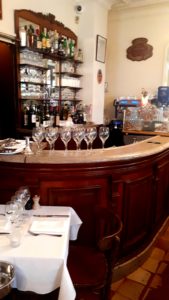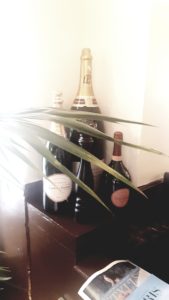 For just a glass or an aperitif, the bar counter welcomes you to take a pause, and enjoy some idea of other times that would have stopped. As a longtime partner of Champagne Laurent Perrier, Mr Hullo would be happy to introduce you his different cuvées.
Thereafter, to accompany your meal, you would have the opportunity to try the fine wine selection of the Chef, also sommelier (wine waiter), like this 2015 Bourgogne Santenay red wine, very dedicated to the kind of cuisine proposed, with meats and delicatessen, for instance.
Of course all the French regions are present on this wine list of several pages, you just have to let you guide to associate the best to your menu and find your happiness among this handpicked selection.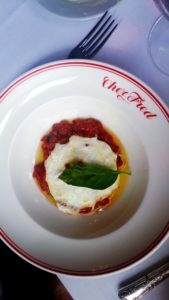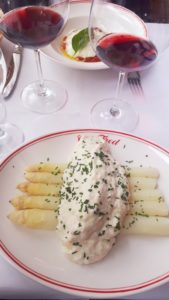 The menu will delight fans of seasonal products, neatly cooked according to the sensitivity of the Chef.
We will find influences from Basque influences in the inevitable asparagus, accompanied by a sauce flavored with Espelette pepper and basil.
This ultimately seasonal dish, since depending on the freshness of vegetables until mid June, is directly inspired by a recipe of the grandmother of Mr. Hullo.
One other classics would be the homemade foie gras (sometimes difficult to find a real one abroad), or even the inimitable Œufs Mayonnaise (a boiled Egg stuffed with Mayonnaise), with a personal touch in this bistro to discover.
Another notable influence is Italy with this other starter, the Bruschietta on its bed of crushed tomatoes. This would be great to marry with the ancient tomatoes salad, to rediscover new feelings.
---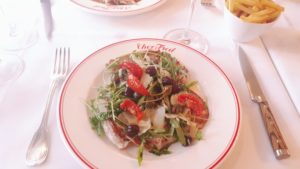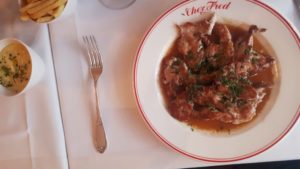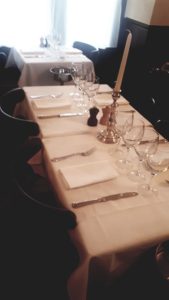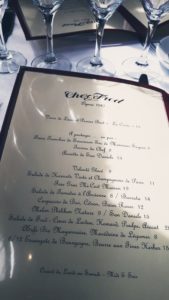 Once you have been able to pick up your habits, select from the main courses, always adapted to the season and almost all new additions to the map, last April. With the exception of the pork spider, a marvel scented by its juice and mash that accompanies it. This dish was an emblematic piece of the old version of Chez Fred.
Another suggestion, the Paillard de veau (veal belly) returned in its lemon juice, which thus raises the flavor of this meat which would have appeared more neutral without any hydration… A recipe also dear to another chef Alain Ducasse.
Among classics, and often a victim of its success, the homemade duck confit. We stay in the region of the manager, with this emblematic dish of the South West of France.
Then, like for the appetizers, you will find dishes according to the seasons, like the rib of beef to be shared, which would be rather served in winter and thus to take forces in order to counter the cold weather of Paris.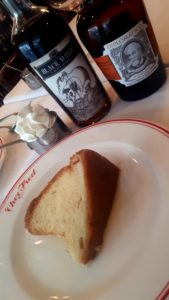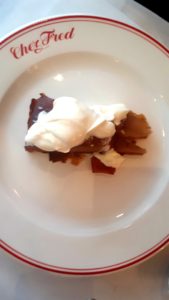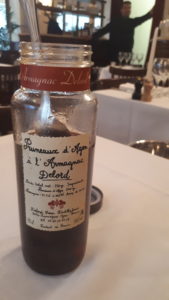 Concerning the desserts side, you will not be left out.
Indeed, are you going to be seduced by the homemade Baba Au Rhum (rum baba) and its personal chantilly cream? All washed down with rum, according to the quantity of your wishes, between a spicy amber rum and a more classic one, from the Venezuelan brand Diplomatico. Or let yourself be carried by a fondant tarte tatin, delicately baked for 10 hours and accompanied by a smooth cream?
A traditional French meal often ends with a digestive that will help to conclude in a festive way this convivial moment.
On the program, prunes from Agen, drowned in their Armagnac or other French festivities you will discover their flavors!
Chez Fred, depuis 1945 / 190 bis Boulevard Pereire, 75017 Paris / Telephone : +33 (0)1 45 74 20 48 / Open everyday except Sunday, from 12pm to 2pm and 7pm to 11pm.