Le Cep Hotel, in the old town of Beaune, perpetuates the wine legend through a luxury resort and Spa
14 min read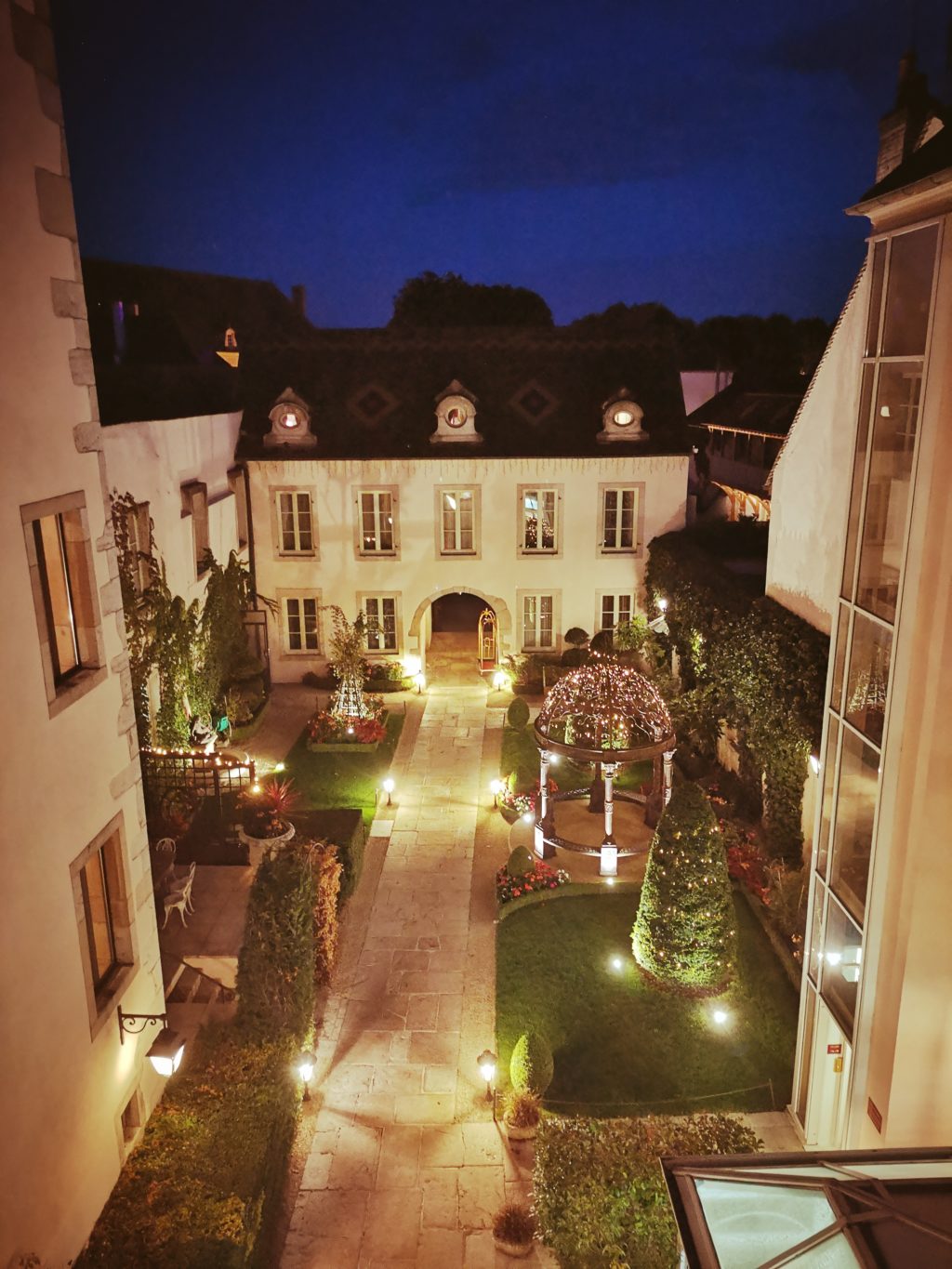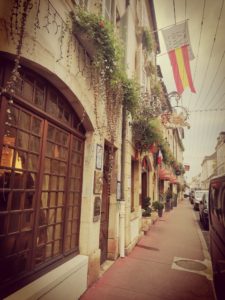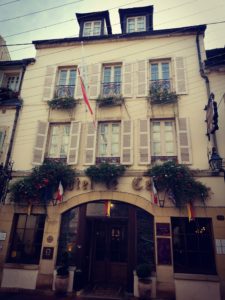 Ideally located in the historic heart of Beaune, the Le Cep Hotel is located close to the famous Hospices de Beaune and Notre-Dame basilica. This 5-star hotel resort is a a true institution in Burgundy for all epicureans, from all over the world. The harmonious meeting of several mansions or residences dating from the 14th or 16th century, allowed Le Cep to grow over the years! Today there are 64 rooms including 30 suites. For your comfort, many lounges plus a bar are available, a Saint Félix wine tasting cellar, a gourmet restaurant Loiseau des Vignes, a Michelin star labelled since 2010, two courtyards dating from the 16th century, a typically French garden, garages and also a private parking, where you would be forwarded to 3 high-tech meeting rooms, a fitness area and a chic and refined Spa, still at your entire disposal. Of course, don't miss our video about the hotel, at the bottom of this page. By Alex Plato
---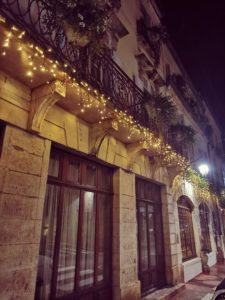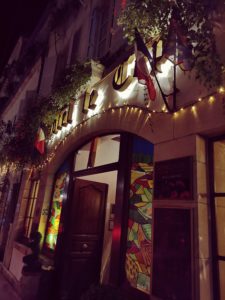 Once entered into Le Cep Hotel, you would be undoubtedly amazed by its authentic Burgundy decoration style, consisting of antique furniture, woodwork, French ceilings, and many other tiny charming details…
Those were all perpetuated in the new parts, after the main building renovations, while turning the interior design into a certain modern comfort!
You may also admire those unique shades, while getting into the typical Burgundy scenery finding its roots in two charming mansions with their adjoining courtyards and flamboyant interior garden, classified as a 16th century jewel. From the facade and still while starting your visit straight from the hall and its welcoming front-desk, take some time to admire the adornments and its fresh furniture, fulfilled of local history (photo credits: Alex Plato).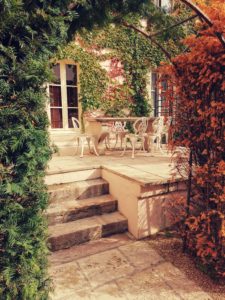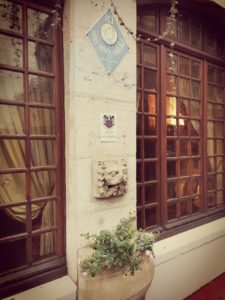 Affiliated with the Small Luxury Hotels of the World group, among exceptional resorts from all over the world and all representative of their local identity, Le Cep Hotel is also member of the TemptingPlaces hospitality network. For your information, this label has been collecting since 2010 a selection of 55 exceptional and independent boutique hotels, spread through 15 countries. With the common asset to be affiliated for their authenticity and the excellence of their premium configuration and services, these hotels were notably rigorously selected by the commission group, reflecting in many ways the commitment of their owner and their passionate teams.
Today, the TemptingPlaces team pursues its wish to amaze hedonistic travelers, while revealing unique addresses, and thus offering them an unforgettable experience. More information on their official website.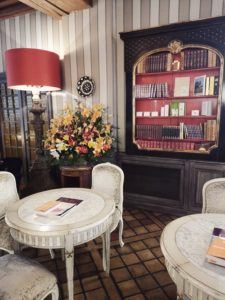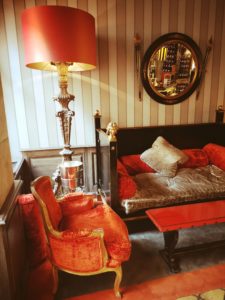 A harmonious connection between those mansions, from the XIVth and XVIth centuries, made the expansion of this Beaune hospitality institution's possible, year after year. Thus, you may feel this ancient spirit through the different rooms, from where you would read your newspaper quietly in front of a freestone fireplace. A layout that seduced many celebrities, like the former French president Jacques Chirac and many cinemas personalities, such as the director Claude Lelouch and who, besides created a filming school in Beaune, named Les Ateliers Du Cinéma.
The vinery inspiration is everywhere from the entry door handle to the rooms, baptized from the best Burgundy appellations! You may either remember that Le Cep Hotel's name recalls the cep (vine plant), naturally so common in that illustrious winery area.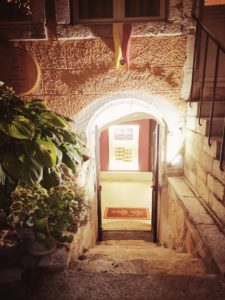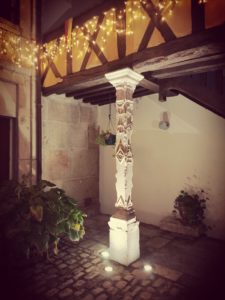 In fact, you could even bring back home a real wine bottle, as a souvenir from your journey, to get a the newly open Saint Felix wine cellar. A good reason to extend the memory of your stay at the Le Cep Hotel and the luxurious Spa Marie de Bourgogne!
Located in front of the bucolic backyard, where the visitors may facilely park their car even if it's electric, thanks to Tesla charging points… This Spa Center, baptized in tribute to this legendary Burgundy duchess, opened its wooden doors in October 2015, with a panel of inspired stained glass created by the artist Joyce Delimata from the Atelier Desmet.
A real space of relaxation and comfort that has all the attractions of a winery house, including many devices, to help you laying down, even if you don't stay at the hotel.
Indeed, you would find there 15 sensorial experiences, among the latest possible in this sector, like a soft mattress with adjustable jets, a water bike, cryotherapy, among many other fine cares for your mind and body…
---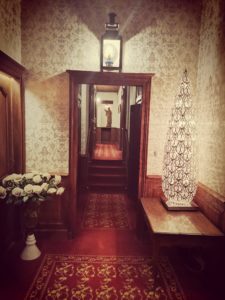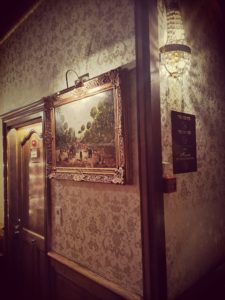 Originally located in the core of the legendary city of Beaune, this typical Burgundy architecture gathers a harmonious ensemble of historical monuments, composed of several private mansions and surrounded by two historical 16th century courtyards and a cosy garden, where you could have a peaceful rest.
The staff and the management of the Hotel Le Cep have only one goal: to help you turn your visit into an extraordinary experience that you will remember with pleasure!
For a total immersion into the famous Climats de Bourgogne (Burgundy Climates), a Unesco World Heritage site.
The hotel gives a chance to the guests to discover, at their own rhythm, the charms of Burgundy wine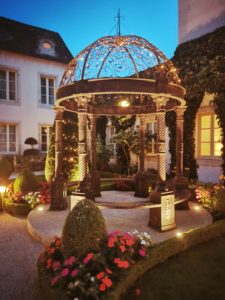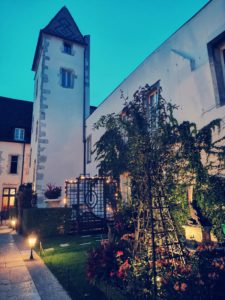 villages and their hillsides, get off the paved roads to stroll through the vineyards, and find the ideal site for gourmet picnics. Thus are offered hourly rentals, for the half-day or for the day the following high-end vehicles: bikes, a quad…
It is such a Burgundian tradition, in the cities of yesteryear, to live sheltered from the outside world. As can be seen from these numerous gardens and interior courtyards which enabled the organization of numerous meetings, representative of a certain rich social life that went through ages.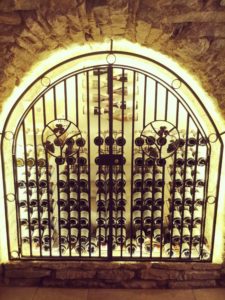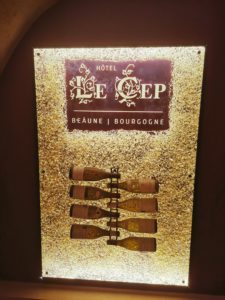 Le Cep Hotel collects for more than 30 years the wines bought during the famous Wine Auction, annually organized at the intention of the Hospices of Beaune and also some other precious bottles, that now have found a proper place to store and share those jewels, in the newly open Caveau Saint Félix (tasting Saint Félix Cellar).
This cosy space is discretely but romantically located in the heart of one of the many hotel's yards, accessible from the Thiroux de Saint Félix courtyard, dated from 1570.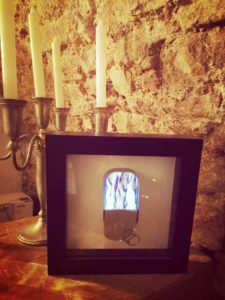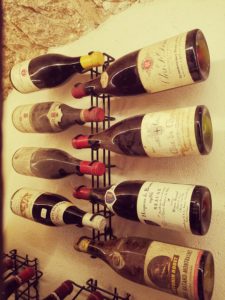 In a felted and chic atmosphere, your senses will awake instantly in the privacy of this place, which may be privatized for tasting a vintage wine or a divine nectar from the 36 cuvées from the Hospices de Beaune on 30 vintage wines, chosen among our private and unique prestige collection!
This privilege place would surely quickly become the favorite place of any epicurean guest, loyal great lovers of the Burgundy wines, where there are organized master classes, private tastings, some mâchons bourguignons (some local appetizers)… Why not also celebrating your birthday, between close friends, in this unique typical cellar, where you would maybe luckily taste (or purchase) a wine bottle made in your birth year…
---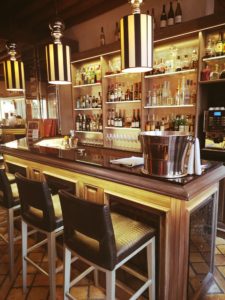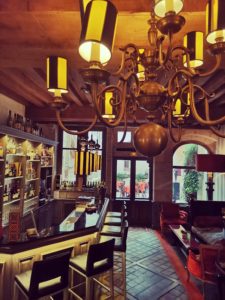 The hotel bar of Le Cep Hotel welcomes its guests, 24/7 in a cozy atmosphere where you could enjoy many exceptional regional wines! It's easily reachable since it's accessible straight from the entrance. The barmen are naturally skilled to advise the epicurean passengers, according to their choices and tastes.
Due to the complete renovation in 2013, the decoration was carefully thought out and it is a place where you would feel a convivial atmosphere, either with your family or your friends on a bar stool or one of the smooth antique sofas.
During wintertime, the guests may also revel in the comfortable cocoon lounge nearby, whilst reading a good book in front of the fireplace, or otherwise in summertime, relaxing and tanning under the sun rays, in the garden or one of the stunning 14th and 16th century courtyards.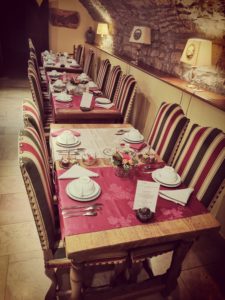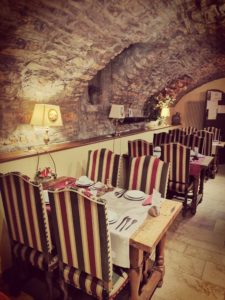 Same possibility for the breakfast moment, that could be, as well, take in the untouched 16th vaulted cellar, and its long row of old school tables. Each morning from 7am to 11:30am, your breakfast may either be served there, in the Louisiana salon (portrayed above), in the courtyard or even in your room. Thus, the buffet proposes an array of cereals, fresh fruit juice, bread and pastries, a selection of coffee and hot drinks, a Burgundian cheese tray, cold cuts… and even some Pinot Noir wine to wake you up!
A room service menu is available 24/7 composed of sandwiches, cold cuts, cheese, naturally Burgundian snails, cooked dishes, ice cream, among other delights. Many other delivery options are proposed, thanks to collaborations with some neighborhood restaurants, like the closer Loiseau des Vignes. Those may be useful for any occasion, like a buffet, business breakfast and even a real picnic, direct from the market, may also be organized on request.
---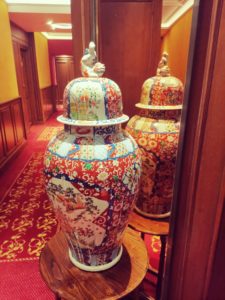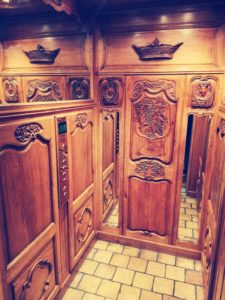 Regarding the main figures, Le Cep Hotel proposes 64 rooms including 32 suites. All bedrooms are different and personalized, both by their name corresponding to Burgundy wines, distinguishable by their fancy separate interior design. Furthermore, you will notice many paintings, Chinese vases and other precious artworks, at every corridor's corner. This beautifying the alleys where thousands of suitcases pass through… Firstly, each of the room categories includes those many different wine appellations as a crescendo "eye-wink": Bourgogne, Village, Premier Cru, Grand Cru and Nectar. You would surely find the right, according to your taste and your budget.
Furthermore, each room even has a Burgundy wine name (Meursault, La Rochepot, Clos Vougeot, Montrachet, Chassagne, Romanée etc.). You would then appreciate the authentic decoration, combining the charm of a certain vintage melt with a modern comfort.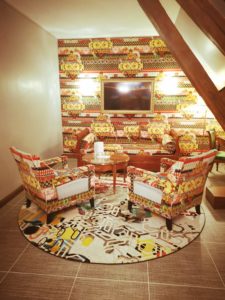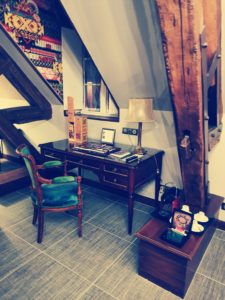 Cherry on the cake, among the hotel's personalized rooms, some were designed with the help of renowned fabric manufacturers, such as Giorgio Armani, Hermès (like those pictures above), Christian Lacroix. The last two suites, inaugurated last spring, compete in originality and refinement, and one other was inaugurated in tribute to Coco Chanel, still maintaining a vintage spirit.
Moreover, all of the 32 suites are equipped with a NightCove device to embellish your sleep. This is considered as a very innovative product that provides incredible, sensory experience, improving the quality of sleep for its users through different functions. Thus, you would either experiment the Sleep touch, the Wake touch for a gentle awakening or the Nap key for a restful nap at any time of the day.
---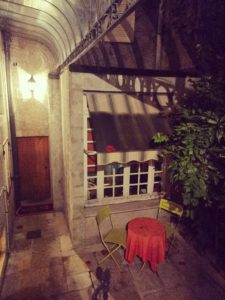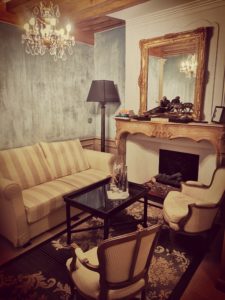 First of all, let's find extract some of the Nectar suites…
In quest of space? You would surely find your happiness between one of the 15 spacious and astonishing Nectar suites. They succeeded to replicate, for each one, an own universe, mainly lavishly branded, as if you were staying in your proper Burgundian apartment! Thanks to a chic decoration, those suites reveal a unique rare furniture, every detail is thought of. Everything you would need to spend an unforgettable stay in Beaune!
Designed to satisfy the most demanding of epicureans, those 15 Nectar suites need to be appreciated with as much enthusiasm as the prestigious Burgundy wines of which they wear the name.
Those famous names include then some Meursault Charmes, Clos de la Roche, Les Amoureuses, Grands Echezeaux, Mazis Chambertin, Corton Charlemagne, Volnay, Pommard and Puligny.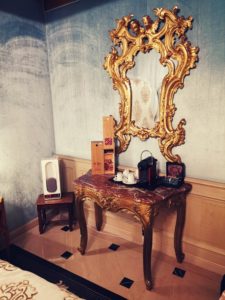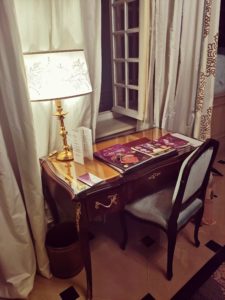 The Puligny onehas a ground floor's location, allowing the guests to stay close of all the hotel's facilities, while enjoying a calm and spacious environment, thanks to this two-room suite. Thus, they would have the chance to spend winter nights in front of an electric firehouse and discuss in this cosy and pastel living-room, with surely a great bottle of Burgundy wine! Just maybe before pursuing the relaxing in a long bath with candles…
Last but not least, the Vergelesses suite, has a large size of 42 m², and was completely renovated during the spring 2017. This room benefits from one the most beautiful views on the garden, and is worn with the colorful fabric of Christian Lacroix' touch, with which she was adorned echoes the glazed roofs of the hotel… By the way, we offer you a glance many design styles of the different suites, on this diaporama below.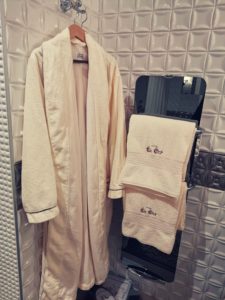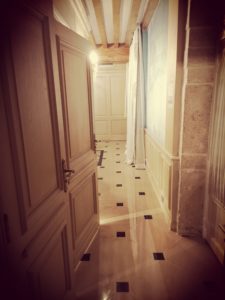 From a starting price of 599 euros, you would enjoy from many benefits and services.
The casual comfort that you would find in those Nectar suites is the same that in the other rooms of Le Cep Hotel. Thus, those are furnished of air-conditioning, acoustic double glazing, safe, free Wi-Fi, mini bar, direct telephone, flat screen TV with 88 satellite channels, web radio (35 stations), Treca bedding, bathroom with hairdryer, magnifying mirror, monogrammed bathrobes, VIP welcome products, slippers, courtesy mineral water, iPhone station, espresso machine, NightCove, fruit basket…
---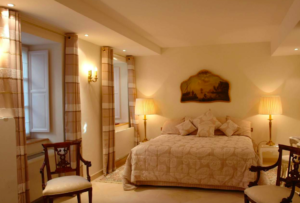 Ensuite, the Grand Cru suites…
Like the famous Grands Crus de Bourgogne, those homonym suites are also unique and appreciated for their incomparable quality! Thus, they are all different, but pursuing the original spirit of the hotel, with elegant decoration, adorned with French ceilings, parquet floors or beautiful wardrobes of yesteryear… Those rooms are offered within a surface from 32 to 52 m².
The 17 Grands Crus suites are all equipped with a king size bed or twin beds, a desk, sitting area with armchairs or bench seats, bathroom with tub and separate shower and toilet.
Although, some precious differentiate each of them:
The Clos Vougeot suite is equipped with a beautiful 35 m² terrace
The Clos du Roy with 3 single beds and 2 bathrooms
La Rochepot has a romantic attic room as desired accessible by an old stone staircase
Montrachet and its canopy bed
The Welcome Bâtard and Saint-Felix, communicating with a common private landing, therefore ideal for a family.
From a starting price of 429 euros, the Grand Crus suites are equipped with the same usual equipment, plus VIP welcome products, slippers, mineral water from courtesy, iPhone station, espresso machine, fruit basket, and monogrammed robes.
---
One last step, starring the 1er Cru suites…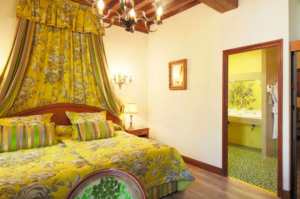 This is a different category for appreciating Le Cep Hotel and your stay in Beaune, in the heart of Burgundy. Each room is still spacious and lavishly furnished, for a surface between 24 and 39 m². These 20 charming rooms are equipped with a king-sized bed or twin beds, a work area, bathroom with bath and (or) shower. Some are even equipped with an extra bed that allows for the accommodation of a third person.
If you still would decide your suited room depending of their names, here are a bucket of some great appellations that you would find over: Chorey, Vougeot, Chassagne, Savigny, Griottes Chambertin (facing courtyard), Romanée Conti, Richebourg (facing the garden) are among the 20 of those 1er Crus rooms, names that represent the famous vineyards of the region. From a starting price of 329 euros, the 1er Cru rooms are equipped with the same amenities and services, as the other suites.
---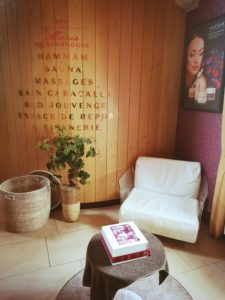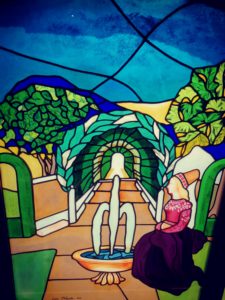 In order to answer to a growing demand regarding some "body maintenance" trend, Le Cep Hotel has developed an array of facilities to enhance your image… A fitness center open 24/7 equipped with cardio machines, situated at the top of the panoramic tower.
From the top of the panoramic tower you would have a breathtaking view above the colorful roofs of the Hospices de Beaune and contingently the Spa Marie de Bourgogne, famous all around the region for its complete equipment.
Open in fall 2015, refined and elegantly renovated, keeping in harmony with the pure Burgundian reference to vines, portrayed by Le Cep Hotel. This Spa offers over 350 square meters surface dedicated to 15 different sensorial experiences.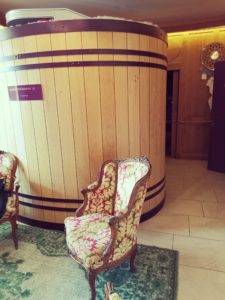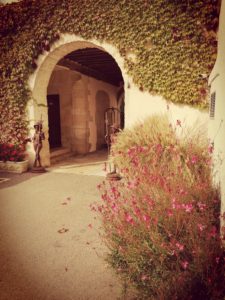 Among them, on a pure relaxation 350m2 surface, you would have the opportunity to select the session of your choice, the more suitable to your health and especially your personal desires, such as: Cryo21, providing some cryotherapy benefits, chromotherapy, aqua-biking, waterbed, a bath-tub for balneotherapy, floating bed, hammam, sensorial shower, an intimacy sauna housed in a big wooden barrel, duo massage… and even a cosmetic line, inspired from the Burgundian vines. In addition to this long list, a massage room is also located on the top of the panoramic tower.
The Vinésime cosmetics were selected as a key partner to this Spa. Those fine products are directly inspired upon the excellence of the Burgundy region. For the first time in its history, Burgundy uses the strength and beauty of its prestigious vineyards to create exclusive skincare products that are as precious as its exceptional wines.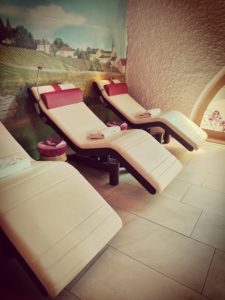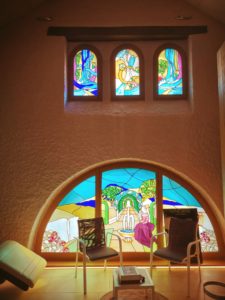 Loyal to the spirit of tradition and lifestyle that has shaped the history of Burgundy over the times and created the famous Climates of Burgundy (the unique Burgundian terroir that was recently selected to be a Unesco World Heritage Site), Edouard and Marie Damidot, a young couple from Burgundy, created this line of products that is in perfect harmony with the traditional Burgundian values and assets: chardonnay, pinot noir and blackcurrant…
A last point, for the sports fans, you may also count on a partnership with Appart Fitness, a gym club located just 400m away from the hotel. From there is proposed, in a modern and air-conditioned place of 950m2, many facilities to allow your personal workouts, everyday from 6am to 11pm.
The training zone comprises several cardio and weight devices, with 80 different activity spots.
Indeed, don't miss the opportunity to try floor mats, elliptical and upright bikes, bicycles (with backrest), steppers, rowers, guided and free-weight machines, along a spinning room and even fitness courses with 4 state-qualified coaches.
For more information on how to recharge your batteries in this Marie de Bourgogne Fitness & Spa, 27 Rue Maufoux, 21206 Beaune (France), open everyday from 8:00am to 8:00pm, on the official website, phone : +33 (0)3 80 22 35 48 & by e-mail.
---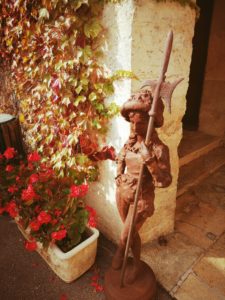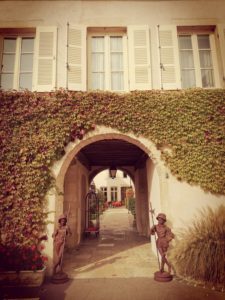 Concerning the business part, if you search for a dedicated place for your company, the new Philippe Le Bon meeting spaces are made for you!
Those had been created in October 2015 and these new rooms have a direct access from the hotel reception through a corridor, made of a medieval architecture, in the style of the nearby Saint Félix courtyard, dated back of 1575.
They also have an easy access to a landscaped terrace overlooking the ramparts, surrounding the city of Beaune.
This bucolic passage is guarded by two nonchalant soldiers, willing to follow you for your next business appointment. Some sculptures that have been unearthed by the hotel owner of Jean-Claude Bernard, among many other valuable decorative pieces.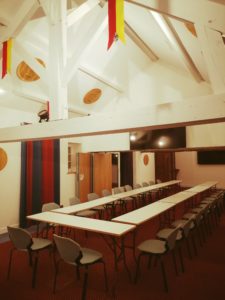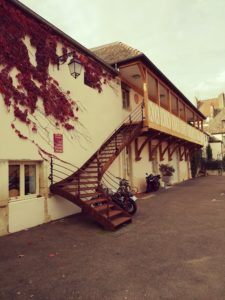 Equipped with all modern amenities and high-tech material, while combining some local soul and functionality, those 4 rooms are modular, offering many combinations in order to organize specific meetings, with a capacity from 12 to 80 people.
The equipment left at your disposal, consists of an over-head projector, TV led 4k 75", a tactile remote screen to launch videos, music and lights… Moreover, all of those meeting rooms are unsurprisingly equipped with a broadband wireless internet access,
---
More information and booking conditions on the official website.
Hôtel Le Cep & SPA Marie de Bourgogne / 27 Rue Maufoux, 21200 Beaune (France) / Phone : 00 33 (0)3 80 22 35 48