Have you ever slept in an abbey? The Abbaye de Maizières, close to the Hospices de Beaune, would make your dream come true!
10 min read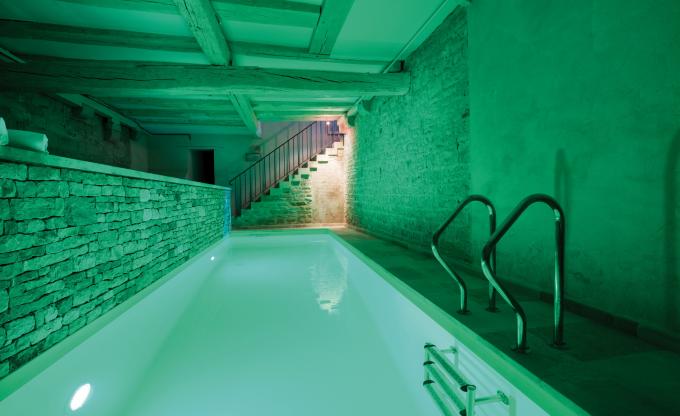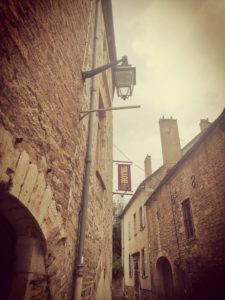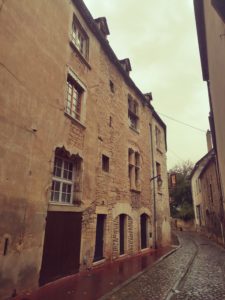 Following our discovery in Burgundy, after an interactive rally and a wine tuition in the prestigious École des Vins of Beaune, we focus this time on the medieval part of this area. If medievalism was a hospitality resort? It would be Abbaye de Maizières and the Hospices de Beaune! By Alex Plato
Property of the monks from 1301 until the French Revolution, the Abbaye de Maizières has since turned into a charming boutique hotel, ideally located in the historic center of Beaune. This place, full of history, would amaze you thanks to its many ancient esthetic details, from the apparent stained-glass windows in the authentic Cistercian vaulted cellar where you may have your breakfast or diner, and also find the reception. Each room is unique and shows visible stones, like in the common parts, making a very unparalleled medieval atmosphere (photo credits: Alex Plato).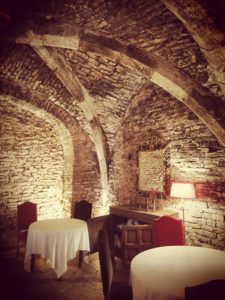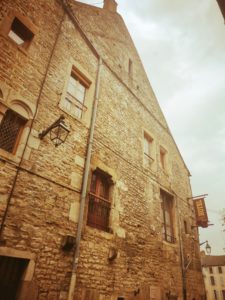 Beside the magnificent entrance, adorned with some Cistercian stained glass windows and behind a medieval door hides a treasure of more than 900 years of history… In fact, you would experiment a real time travel into 1000m2, forming this singular hotel of 8 rooms and 5 suites.
This address hidden in the intramural Beaune town, making the heart of the Burgundy wines' main city beat.
Discreet, confidential, almost invisible, the Abbaye de Maizières reveals all its advantages once the door has been crossed: Cellar with warheads, ancient Roman fortification from the 3rd century, stone passage, spiral staircase….
After the successive repurchase of the different bodies of buildings, it took almost 4 years for Bruno Epailly and his wife Emmanuelle to rekindle this former Cistercian Abbey. For your information, this major edifice was unfortunately robbed and sold during the French Revolution… but like a Phoenix, it revived into a magnificent luxury boutique hotel.
During your stay at the Abbaye de Maizières, you may bring your pets. They are allowed without any additional cost, and then take advantage of a 24-hour reception, a concierge and luggage storage. In addition, the Abbey has a significant advantage, free public parking nearby is available and therefore, close to popular monuments such as the Notre-Dame de Beaune Basilica and the Hospices de Beaune, this hotel is a proper starting point to easily join the most famous attractions of Beaune.
That's why, since its opening, this charming hotel has delighted and satisfied the stay of the hundreds of visitors, who have been able to stay there, willing to know more about this part of Burgundy, in Beaune.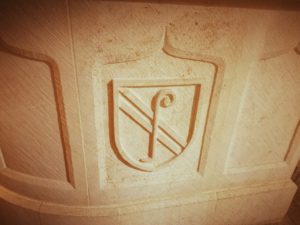 You may find some vestiges of the past, while passing through the different corridors leading to your bedroom, and also while climbing the period spiral and stone staircase, all steeped in history…
It cannot be denied that the owners of the premises, Mr. Epailly and his wife, worked tirelessly to shine the treasures of the past, as can be seen from this ancient coat of arms of the Cistercians, directly visible from the front-desk.
Another authentic centerpiece is also visible in the corridors at the first floor. This major sculpted element was unveiled during the late renovations, that even brought together the two buildings, adjoining each other to form the actual ensemble that would welcome you, during your Burgundian stay. A real work of goldsmith to save the original spirit!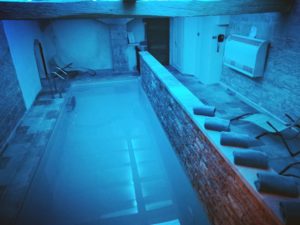 All the more so if you take the time to swim a few strokes in another cellar, also with vaulted walls which encloses the hotel heated swimming-pool. A blue setting cradled by plays of light, reflected on the stones, which offers a moment of disconnection with daily constraints. Roughly, you would feel like in ancient thermal baths, as the raw appearance of the stone was respected.
A good bowl of relaxation before returning to the tranquility of your room where the medieval charm mixes with modern comfort. Thanks to average sizes from 25 to 60 m2, decorated with natural materials, you would find a sufficiently spacious area, deserving surprises in every corner, reinforced by the architectural curves enveloping the place.
Still in this wellness thematics, personalized or Californian massages, made with organic oil, are also possible in your room, by a graduate therapist.
medieval
-inspired furniture for lounging… Unless you opt for a nap on your bed and its latest generation mattress. Depending on the layout of your room, it may be adorned with a charming chandelier reflecting the light projected by the stained glass windows, offering a view of the cobbled lane that runs alongside the hotel.
Each room is air conditioned and has its minibar, coffee machine and a flat-screen TV… You may also count on your slippers and bathrobe stamped with the hotel's initials, very practical to easily and lightly reach the swimming-pool or your bathroom.
About this private space, you will surely savor the contact between water and stone, when you make the wise decision to use the different amenities offered by the bathroom. What could be better than taking a shower in an
abbey
, equipped with many
Clarins
beauty treatments (thanks to a partnership)?
After a well deserved walk, you are finally ready to enjoy a real Burgundian dinner in the famous vaulted cellar, which we had told you about before.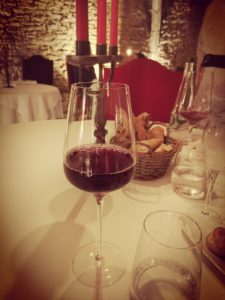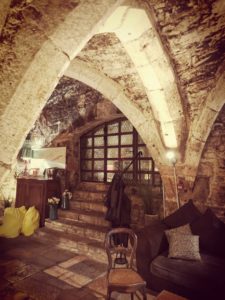 Nestled at the bottom of this living space of the Abbaye de Maizières, these few tables guarantee you an intimate dinner, sheltered from the tumult of modern civilization. Under these century-old vaults, blackened by the wear of time, you could not find a more picturesque atmosphere. In addition, you would be in the immediate vicinity of the protected wine rack, as if to preserve these nuggets that could embellish your diner.
In addition, a lounge area with soft sofas or high tables is waiting for you, in case you want to precede your dinner with an aperitif glass, in order to wait in good conditions.
This restaurant part of the hotel is called theCastrum Café by Sébastien Ledoux. Sébastien welcomes you and prepares dinner for his limited amount of guests. As a true man-orchestra, he's everywhere to fulfill your needs with a dynamic service, full of little care.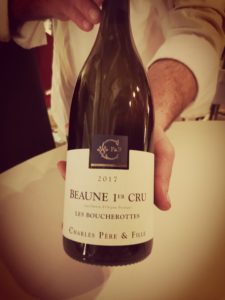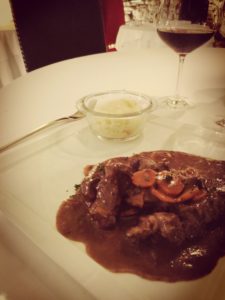 An often updated menu, consisting of Burgundy-inspired dishes but prepared with seasonal products.
So you could be seduced by snails, still wriggling, or vegetable broth, as a starter.
Then, depending on availability, since it is an artisanal table, you could be offered a legendary boeuf bourguignon or even a poultry preparation, so common in the region, like the cockerel. In addition, it could also be your lucky day with a rare fish, the arctic char revisited around the leek and citrus.
For the dessert part, it will also depend on the cuisine of the day, it could be a traditional pear in wine, just like a crème brûlée or an unconditional selection of regional cheeses, suggested by the institution of Beaune, the Maison Hess cheese dairy store.
It goes without saying that each dish will have its taste enhanced by a suitable wine pairing, the chef will suggest the bottle for you.
Menu prices: 49 – 81 €
Closed: noon and Sunday/Monday all day. Booking: +33(0)3.80.24.74.64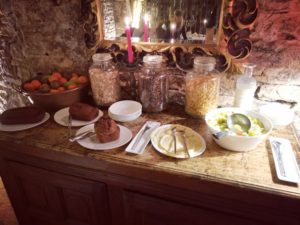 The morning after, your restoration time would occur in this same quiet space, that you can recharge your batteries to start the day off right, with the breakfast table, offering the perfect place to relax before a busy day walking the streets of Beaune.
This service is also available thanks to the room service. However, we recommend you to spend it in this charming vaulted cellar, in the form of a buffet and a table service, specifically for fresh products such as cold meats and of course cheeses, you can also make your request for regular hot drinks.
In search for excursions' ideas, the hotel proposes in partnership with Safari Tours, different vineyards guided tours. In the heart of exceptional landscapes, take the opportunity for a real Burgundian safari, in order to discover the best of the expanses of the local vineyards and the secrets of wine, in fact… aboard one of their air-conditioned mini-vans. These Safari Tours offer a wide choice of visits to discover exclusive spots. The presentation of the vineyards, wine tastings and guided tours are led by a local expert guide. Prepare your camera!
You may also drive your car to the free public parking available, less than 80 meters from the hotel (Parking République) or in a private parking. A Valet Service (25 € per day (price per vehicle)) is operational from 8:00 am to 10:30 pm every day, on reservation.
Abbaye de Maizières / Adress: 19, rue Maizières, 21200 Beaune (France) / Phone : +33(0)3.80.24.74.64 – Fax: +33(0)3.80.22.29.03
---
To follow your medieval experience in Beaune… What could be better than visiting the essential Hospices de Beaune? Located just a few minutes from the Abbaye de Maizières, this mythical place recalls the entire history of Burgundy. A mythical place, often used for scene filming, like the successful French movie, La Grande Vadrouille, from 1966.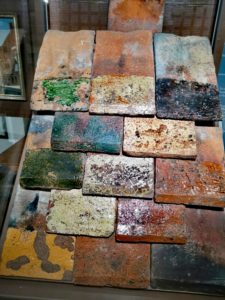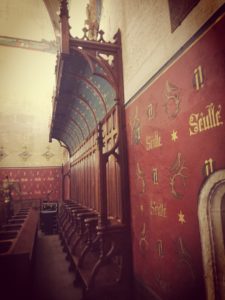 While visiting the center of the town, you couldn't miss this Hôtel-Dieu, with its Gothic facades, its glazed roofs, carpeted with geometric figures in flamboyant colors. This quaint monument is part of the heritage of the Hospices de Beaune, a charitable institution created in 1443 by Nicolas Rolin, chancellor of the Duke of Burgundy and his wife Guigone from Salins.
On August 4, 1443, this Hôtel-Dieu, you can visit nowadays, was born. The One Hundred Years' War was not over by the time, and the village of Beaune suffered quite much from rampant misery and famine, and even some militias plundered and ruined the countryside. Moreover, three quarters of the Beaune's inhabitants of the city were destitute.
That's the reason why and to redeem their salvation, Nicolas Rolin, Chancellor of the Duke of Burgundy, Philippe le Bon, and his wife, Guigone from Salins, then decided to create a hospital for the poor, victims of those hard times. They endowed it with an annual rent thanks to saltworks, and from another local resources, the wine production.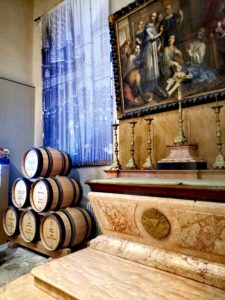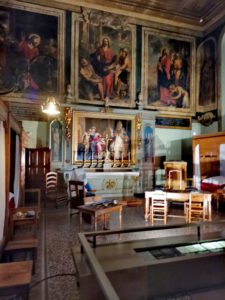 On January 1, 1452, the hospital welcomed its first patient. From then and until the twentieth century, the sisters of the Hospices de Beaune took care of many patients in several large rooms. The Hôtel-Dieu quickly acquired an honorable reputation among the region, but also by the nobles and the bourgeoisie. Through their donations, they have made it possible to enlarge and embellish the hospital by creating new rooms and bringing some fine artwork pieces. Thus the Hôtel-Dieu has become a veritable "Palace devoted for the Poor".
Thus, there were between 80 and 100 patients staying at the Hôtel Dieu. Along the time, they benefited from the support of several patrons, including Louis XIV, who financed the construction of a separate room to put patients from different genders apart, in addition to a room dedicated to patients who were able to pay the nursing cares.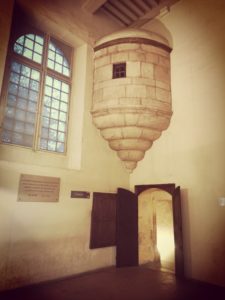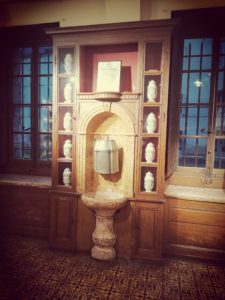 The kitchen, very typical of the Middle Ages, was inspired by a new dietetic treaty, in which the cooking of pears was recommended as well as wine to overcome the impurity of the water.
The sisters were busy in this huge kitchen to concoct dishes, in order to satisfy everyone and in particular offer bread to the poor who waited outside the porch, each the morning. By means of a realist and resourceful historical reconstruction, the visitors may meet some sisters at work, through several sceneries. The result is really astonishing!
You may also notice, the multiple remedies, throning in the wooden shelves standing in the pharmacy, where is notably contained a giant 150kg mortar. The lack of porosity of the earthenware was perfect to contain the various drugs, which were erected as the beginnings of chemistry.
From time immemorial, this local medical initiative has never ceased to radiate and has then federated other establishments, located in nearby villages, famous nowadays for their wine appellations… Among them, you may count Pommard, Nolay, Meursault and of course Beaune, in order to form an extended community that kept since, the same baptismal name, aka the Hospices de Beaune.
However, its medical duties were transferred in 1971 to a more modern hospital, with the exception of a retirement home. The Hôtel-Dieu is today considered as a historic monument and it covers an important area of ​​the city of Beaune, with its museum, its three courtyards, its outbuildings, its 15th century bastion and its hundreds of meters of preserved cellars, notably, the particular wine reserve owned by the Hospices de Beaune. These four buildings open to the public, surrounding the Cour d'Honneur (courtyard of honor), represent the actual configuration of the Hôtel-Dieu of yesteryear.
Last Judgment
polyptych, realized by the artist
Rogier van der Weyden
? Preserved from light and humidity, among other major medieval paintings, in a dedicated exhibition hall.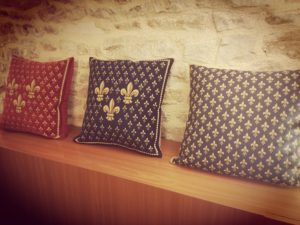 Since the first days of that place, its founder Nicolas Rolin had planned the endowment of the establishment in furniture, tapestries and other objects, especially medical tools. Thanks to them, any visitor may be able to get a precise idea of the period manners, through a first inventory made in 1501. This massive collection of objects has three distinct origins: the foundation itself, the duties of the hospital's operation, plus the donations and legacies of benefactors or patients, who have stayed there.
The General Inventory of Burgundy has been conducting an exhaustive study since 1988 and has brought to light some 2,500 pieces of furniture (beds, chests, etc.) and 2,500 objects (tapestries, paintings, sculptures, medicine jars, etc.). In this sense, furniture, paintings, and tapestries are regularly the subject of a restoration program.
Hospices de Beaune
's annual Auction!
Hospices de Beaune / Rue de l'Hôtel Dieu, 21200 Beaune (France) / Phone : 00 33 (0)3 80 24 45 00 / Open everyday from 9am to 11h30am and 2pm to 5h30pm.