Icicle, Anne Fontaine and Hermès opened their Flagship Store on the George-V Avenue, in the Golden Triangle
8 min read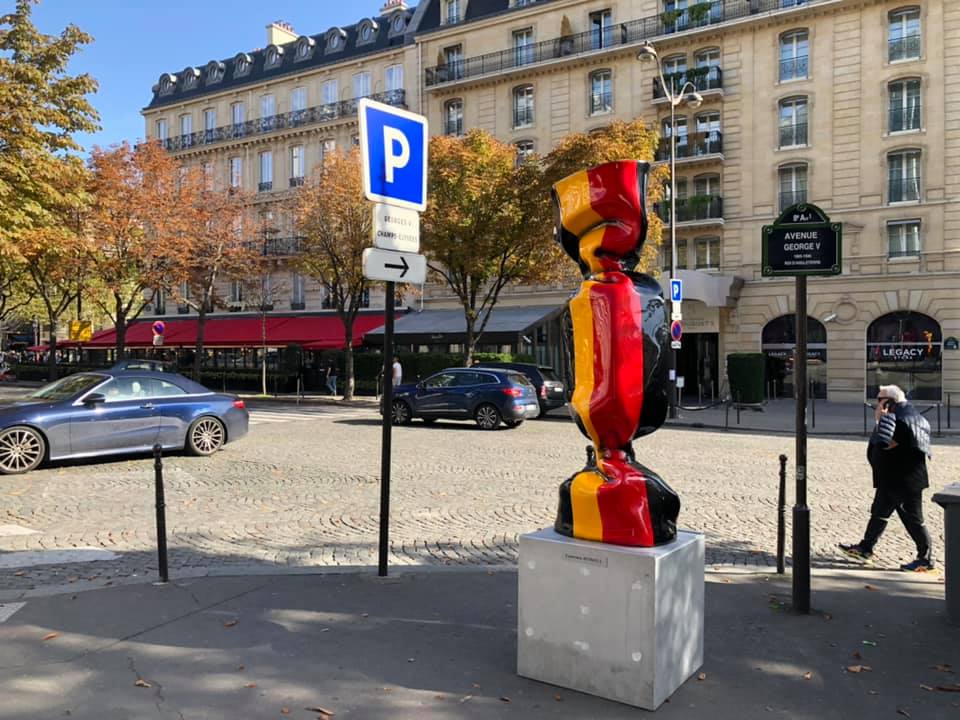 Like the Comité Montaigne, an association promoting the shopping and cultural life of the famous Parisian Montaigne Avenue, the Comité George V has the same proud goal, completed with many initiatives like the late Laurence Jenkell's "National Sweets" urban exhibition. Created on the occasion of this Avenue's centenary, a period spent creating luxury and elegance in the French style. Willing to perpetuate the tradition of excellence that has made Avenue George-V one of the world's most prestigious addresses, since the July 14th, 1918 when the city of Paris switched the name of the former Avenue de l'Alma to Avenue George-V, as a tribute of thanks to the British and King George V, for their participation in the Great War. Nowadays, surrounded by many hospitality institutions which lately celebrated their birthdays, like the Fouquet's and the Prince de Galles Hotel, this George-V Avenue is still part of the few avenues in Paris, where the luxury brands still wish to open their Flagship Stores, those are here some last openings. By Alexis Lery
---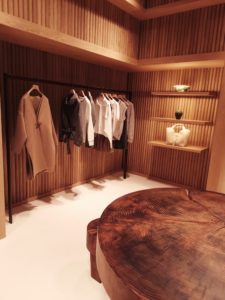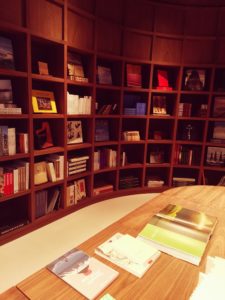 One year after the legendary French brand Carven acquisition, the Chinese fashion player Icicle chose a historical and typical Parisian mansion, built in 1894, located in the George-V Avenue, to open the brand's first Flagship Store, outside the Chinese territory (photo credits: Alexis Lery).
This Icicle boutique is composed of 4 levels, among them, three floors dedicated to the clothes collections and also a cultural space, sheltering a bookstore and an art gallery. For instance, this is where was lately exposed the artworks of the Chinese artist Yang Jinsong, through his exhibition untitled "All about trees", curated by Pia Camilla Copper.
A unique place, where Chinese and French culture may inspire and nourish each other of us, where texts play with images and where classics debate with modern scriptures. You would notice that from its conception to its unique experience, this Icicle entity embodies every value and aesthetic of quality prêt-à-porter, in the so-called Parisian capital of fashion. A collection, depending on the seasons, mostly made of fine cashmere pieces (from scarves to aircoats) or heavy silk to find in their light suits… In an other way, it could also be considered as a haven to live in according to nature, since the place has been conceived following a sustainable path, respecting the Earth vibes, due to the many visible natural elements in their furniture.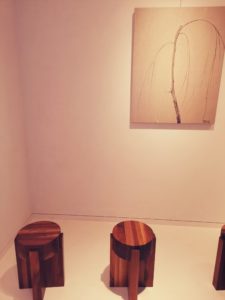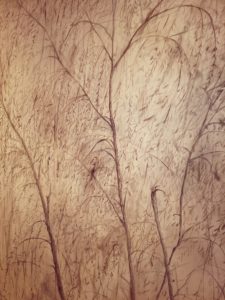 On top of that, and according to the Belgian architect Bernard Dubois
, this place was designed in the following way: « The interior design
makes extensive use of solid, natural materials, while keeping a certain eco-awareness
and durability
in mind. » That's why, once inside the three levels, you would admire pure white hues, rich earth tones and wood shades, conveyed by organic
materials of highest quality.
The architectural lines, intertwining Chinese and European traditions in a play of similarities and differences. A unique alliance that resonates through a minimalistic design, really reflecting the motto of the fashion house, "Made In Earth". In order to learn more about it, the France country manager, Isabelle Capron, tells us more about the spirit of this place, through this interview, on the below video.
Icicle, 35 avenue George V, 75008 Paris (France) / Open from 10:30am to 19:30pm, from Monday to Saturday / Phone: 0
0 33 (0)1 43 59 15 17
---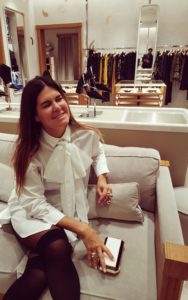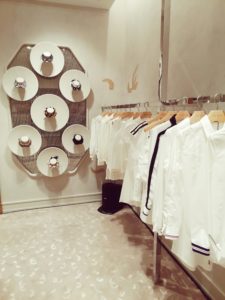 Still close to the Champs-Elysées, and just behind the illustrious Hotel Fouquet's, an other fashion style lead by Anne Fontaine, the French brazilian stylist, settled her new Flagship Store, located in the Parisian right bank, on George V Avenue. The brand had already 3 stores in Paris, as well as a corner at the Haussmann Galeries Lafayette, and continues to expand throughout the World (photo credits: Alexis Lery).
Created in 1993 by Anne Fontaine, herself, and her husband Ari Zlotkin, the eponymous brand offers an authentic high-range collection dedicated to modern women, made with fine material. The brand is also famous for its white chemise, initially launched from the first shop, situated in Saint-Germain des Prés, prior to its international fame.
Nowadays, the creator and her family live in New-York, but her creative fashion studio is still in Honfleur, in Normandie and the designer goes there every month to work with her teams. She also launched her own Anne Fontaine Foundation, with the goal to launch initiatives in order to protect the Amazonian forest.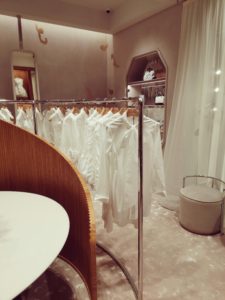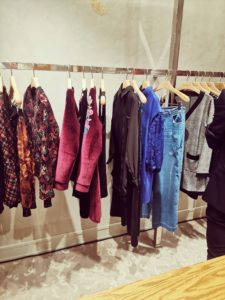 this luxury brand handles a pretty international footprint, including more than 60 stores worldwide and this new Parisian key address is the artwork of the interior designer Gabriel Kowalski.
With a surface of 240 square meters, this Flagship Store is built like a string of universes and demonstrates the diversification work undertaken by the brand, for several years. Indeed, the white chemise, the eternal keystone of her collections, is of course in the spotlight, thanks to its own soaked room, tainted with an immaculate white, exposing the dozens of variations of this designer's fetish piece.
Moreover, other departments are proposed to customers, with a pretty ready-to-wear collection, always organized with a certain sense of detail (lace, construction toys…), supported by a growing range of accessories. After the jewelry launching, whether classic or linked to the shirt (collar, cuff links …), came the handbags, and more recently the shoes. "We launched the shoes four seasons ago. After having been a little groped at the start, today we have put together a good offer of around thirty models by season, with the key concept of comfort, and very different styles, from the smartest ones to the sneakers" admits Ari Zlotkin, Anne's partner.
Anne Fontaine /46 Avenue George V, 75008 Paris (France) / Open everyday from 10am to 7.30pm / Phone: 00 33 (0)1 47 20 00 50
---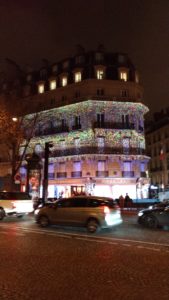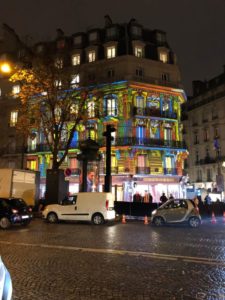 Again on this same dynamic George V Avenue, the brand new Flagship Store of the illustrious classic French Hermès house, opened its doors at the end of 2018, after two years of renovation. Enlarged and clarified, this giant boutique is now spread over three levels. A joyful dialogue between heritage and contemporary times celebrates this new architecture, composed of over 600m2 of creation and French craftsmanship, both only expressed through the abundance of collections and exceptional materials (photo credits: Alexis Lery).
Indeed, we admit that you would be surely impressed by the amazing and fancy facade, from the outset side of the street, somewhat seducing the urban visitors. By the time, this building sheltered the artworks of Ernest Motsch hats, who settled there, already back in 1870 and whose name is still displayed in golden letters, on the wooden front. This brand was then acquired by Hermès.
A classified architecture on which the RDAI Architecture Agency, in charge of the renovation, intervened with a singular attention to respect any original details. This agency is headed by Denis Montel and is also responsible for the interior design of all Hermès stores around the world. For example, the window frames, made of mahogany and their bases, of red marble from the Haumont region, have found their full brilliance back, while brown blinds, from the ground floor to the second floor, graphically punctuate the whole main entrance, enlarged and moved to this long shopping George V Avenue.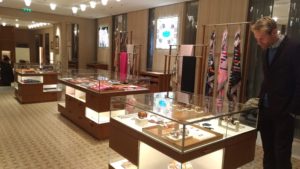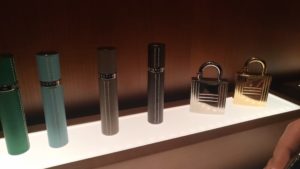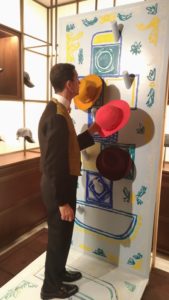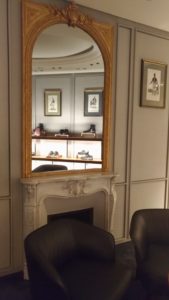 Once inside, as a matter of fact, the huge choice of articles is real. For instance, on the right, the hats corner pursues the tradition, with its independent entrance and occupies a new surface, dressed with an ebony and walnut colored floor.
The same elegance can be found through the silk, perfume and leather goods departments, whose floors are adorned with gray-blue marble, often shaded with ocher and mosaic carpets, inspired by the same ones, visible in the Faubourg Saint-Honoré store.
Those spaces are wrapped around a central staircase, decorated with sculptural curves. The railing, designed like a ribbon, energizes and ease the circulation of the potentially high amount of customers to meet in any Hermès store. This was made possible, thanks to the separation of the staircase in two parts, each serving a wing of this building.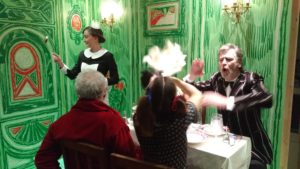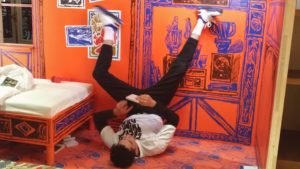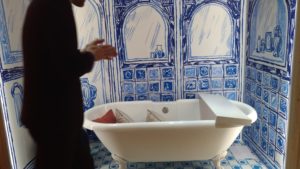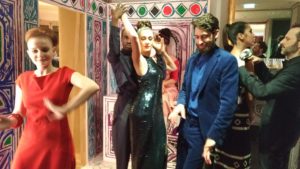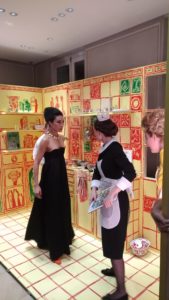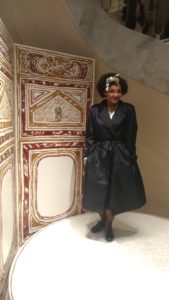 More intimate, the first floor was thought of like a Haussmanian apartment, but whose original codes would have been dropped. Indeed, during the inauguration party, whose pictures you can admire here, many improvisation theater stages were set and spread through the corridors, including comedians, mixing Belle Époque styled sceneries (with a dining room argue or a tap dancer) and contemporary thematics (starring a hip-hop dancer, Fabien Maitrel, break dancing in his bedroom), and even a poet guy, lying in his bathroom.
A massive preparation artwork was required for this unique event, since two months were necessary to prepare this 3 hour fantasy show, highlighting those exclusive rooms, following one to another, in a colorful succession and designing each one's perception, snapped up by a bunch of new perspectives, punctuated by large volumes.
Then the visitors could eventually embrace all the diversity of the house creations, from the women's prêt-à-porter to the men's ready-to-wear collection, also including fine jewelry and watchmaking pieces. Moreover, in and around, are nested some cosy chimneys, high mirrors, seasoned parquet floors, while those several palettes of color give you a breath of sweet fantasy.
With different moods, regarding the departments, with a bluish, almost mat, gray, for the men's one and a pearly, almost flesh, pink at the women's side. Adding to this, a selection of sensual hues, imagined hand in hand with the artist Pierre Bonnefille, dressing plenty of walls. Consequently, on the ground floor, duck-blue and red-russet carpets have been settled to give a warm and invigorating accent to this casual atmosphere. On the second floor, the Fifty Shades of Gray, visible in the men's department illustrates a real serious philosophy but some shiny details appeared to reveal unexpected inspirations and dreams to the visitors. Here, the decoration is randomly composed of palm leaves patterns, alongside the original baroque moldings, whose golden colors contrasts with a glance of blue and green shades.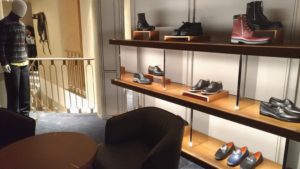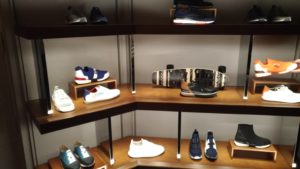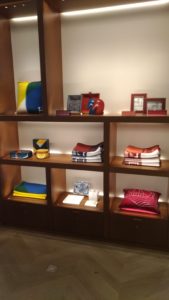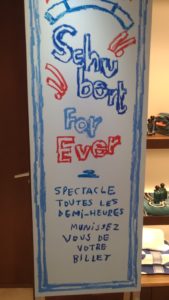 Inventiveness in movement, passion for beautiful work, a new spirit for a new departure… Those are the key words allowing this George V Avenue store to carry once again the values ​​and the abundant creativity of this typical Parisian house. On the occasion of this reopening period, an exclusive collection of bags and accessories, both for men and for women, was made in order to celebrate this happening.
Since the founding of Hermès in 1837, six generations of enterprising and passionate craftsmen have been contributing to the development of new challenges, while transmitting to their heirs the cult of a certain fine raw material, composed of a sensation of ultimate French savoir-faire, the love of beautiful objects made to last, as well as a constant desire for innovation. The Hermès house is nowadays managed by Axel Dumas, since 2013, Pierre-Alexis Dumas is the general artistic director. They are both members of the sixth generation of this founding family. Last but not least, you may find all Hermès collections are now available in 308 exclusive stores around the world.
Hermès, 42, avenue George-V, 75008 Paris (France) / Open from Monday to Saturday, from 10.15 am to 7.30pm / Phone : 00 33 (0)1 47 20 48 51