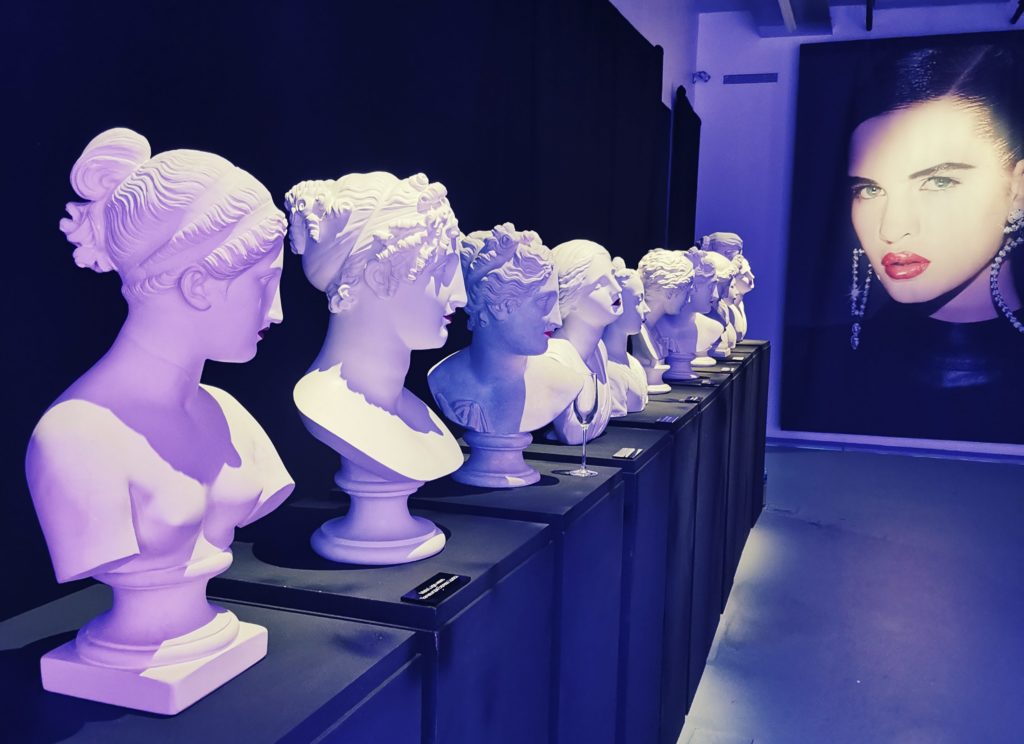 The year 2019 was very dynamic in terms of new projects, new products and also the occasion for young and older brands to celebrate their birthday, a proper way to draw a certain attention regarding their products and recall their customers about their expertise, and maybe convince new comers! By Alexis Lery, in collaboration with Ludovick Darquin, for Le Fouquet's part.
---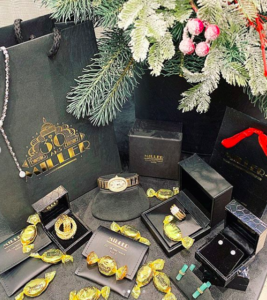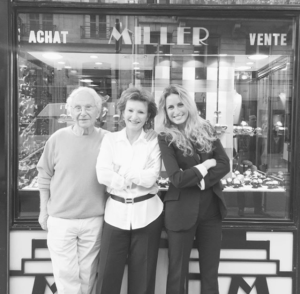 Located at the 233 Rue Saint Honoré, in Paris, close to the shiny Place Vendôme, the Bijoux Miller jewelry boutique just celebrated its 30th birthday festivity, organized in the majestic Hotel Mona Bismarck (photo credits: Bijoux Miller).
This celebration was the opportunity to display their know-how and their sense of hospitality, within Le Bar Paris and the entertainment operated by the Stamm Orchestra, singing many soul music classics, like Marvin Gaye and The Temptations.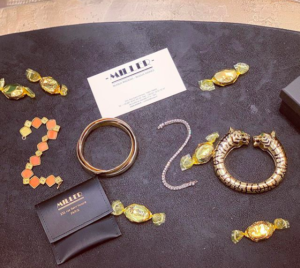 A great way to thank their customers from all over the world, since the creation of the company, looking for original jewels, vintage jewels, watches or sometimes rare collectibles.
Many contemporary pieces from the most important Place Vendôme jewelry houses. This family affair is specialized in the purchase and resale of second life jewelry, while staying intractable on rehabilitation quality thanks to their workshop. Through this philosophy, the firm Bijoux Miller intends to transmit a certain history.
Thus in the store, you would find a selection of antique jewelry and watchmaking from the Art-Deco period (1920 – 1930) until nowadays, in perfect condition. For example, a 30s Mauboussin platinum and diamond brooch, 40s Tank rings and bracelets, 70s Piaget watch in jadeite or lapis lazuli, Cartier necklaces and bracelets from the 90s Panther collection, and even more recent jewelry, like Boucheron's "Serpents Bohème", Chaumet's "Liens", or Cartier's "Love"…
Bijoux Miller / 233 Rue Saint-Honoré, 75001 Paris / Open from 9am to 6pm / Phone : 00 33 (0)1 42 61 63 13
---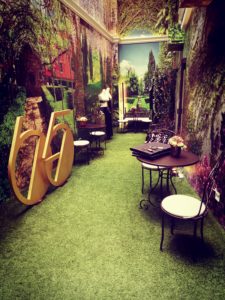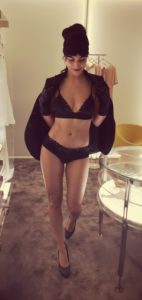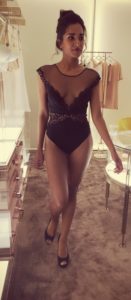 Who said there was a specific age to wear lingerie? La Perla proves the contrary since 65th years! This Italian lingerie House was founded in 1954, in Bologna, the Mecca of silk factories and a real textile center point, since the 17th century (photo credits: Alexis Lery).
The founder, Ada Masotti has earned her reputation as an outstanding corset maker, earning her the prestigious Golden Scissors nickname. Over the years, she put her talent at the service of lingerie, dedicated to enhance the women's femininity. For this birthday, La Perla launches Macramé Noir, a limited edition collection. To get this, Alessandra Bertuzzi, the creative director, imagined this luxury collection of 19 glamorous pieces.
La Perla
highlights each
macramé
as a unique pattern. Those details are enhanced by black
Swarovski
crystals applied hand by hand. Thus, this
capsule
collection
was presented, last October, in the
Paris Saint-Honoré
boutique, and its forest tones, with a couple of happy few…
La Perla
/ Adress : 20 Rue du Faubourg Saint-Honoré, 75008 Paris / Open: 9am – 6pm / Phone : 00 33 (0)1 43 12 33 60
---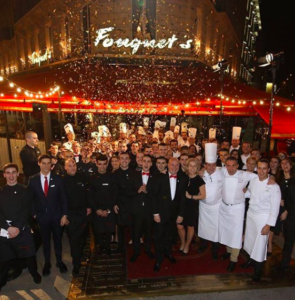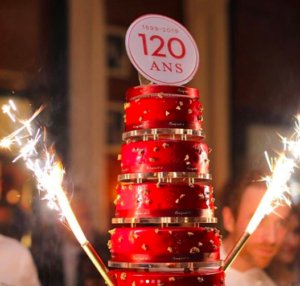 The famous Le Fouquet's restaurant celebrated its 120th anniversary last November 19th, 2019. A real moment in time for this legendary institution!
Located in the prestigious Champs-Elysées Avenue, strengthened by its international reputation, the establishment pampers its guests in a warm and festive atmosphere excelling in the composition of its menus under the direction of the chef, a Michelin three-star, Pierre Gagnaire (photo credits: Le Fouquet's).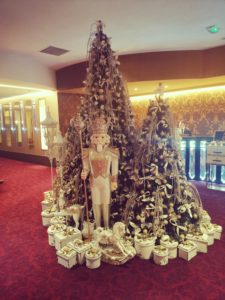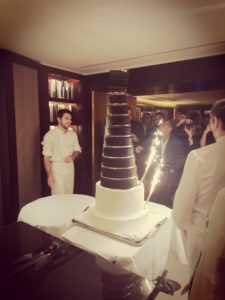 Originally born as a tavern, called The Criterion, the lemonade maker Louis Fouquet transformed it into a luxury bar and renamed it The Criterion-Fouquet's Bar, then became a restaurant thanks to Leopold Mourier. In 1998, the Barrière group acquired it and joined a hotel in 2006 (photo credits: Alexis Lery).
As a reminder, this legendary Parisian brasserie was looted and burned during the 18th demonstration of the Yellow Jackets which took place last March 16th, culminating after several months of mobilization. Identically restored, the brasserie reopened last July 14th. During this celebration, Le Fouquet's offered for the occasion a piece of a typical home speciality. Thus, and cherry on the birthday cake, for the first time in history, a millefeuille was offered to to passers-by and this before the annual illumination of the Champs-Elysées Avenue. A real team feat since 2008 of those millefeuilles were baked in only 120 minutes!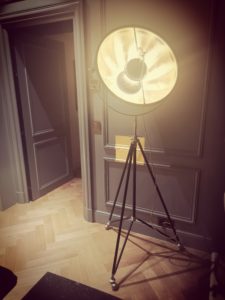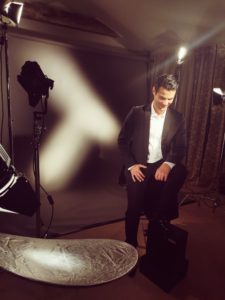 As part of this 120th birthday of Le Fouquet's, this gastronomy institution and the renovations carried out at the Hôtel Barrière Le Fouquet's Paris, the Studio Harcourt has designed an exceptional suite and offers to its guests an extraordinary experience. Your appointment is ready, on the most beautiful avenue in the world, turn on the spotlights…
On the top floor of the hotel, the Harcourt Suite pays tribute to the strong collaboration with cinema between those two entities, whose stories have been intertwined since the beginning of the 20th century. From Josephine Baker to Edith Piaf, or from Jean Gabin to Quentin Tarentino, Le Fouquet's has ever been an unmissable meeting place for the world of the arts and cinema… Especially since the Cesar awards' dinner in the restaurant…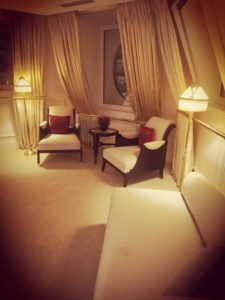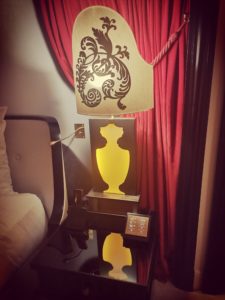 Thus, a legendary agreement which sees its apotheosis with the creation of this suite, crowning the Hotel and overlooking the Champs-Élysées. Designed in collaboration with the interior designer Jacques Garcia, the Harcourt Suite displays its 200m2 of prestige and elegance under the black and white gaze of many emblematic cinema actors. On top of that, and upon request, the Harcourt Suite's lounge may be transformed into a real photo studio to offer the guests of this prestigious Suite a very private photo session, naturally held by Harcourt Paris. On an identical stage, where were seen numerous personalities, like Carole Bouquet, Karl Lagerfeld and even Catherine Deneuve! Each photographer, assistant, and make-up artist, suspend time for a few hours for an unforgettable moment. The unique portrait, a true work of art, signed, numbered and authenticated, perpetuates the memory of this legendary moment, with maybe some gypsy jazz guitar notes played by the artist Robert Aurélien Voltaire.
Le Fouquet's
/ 99 Av. des Champs-Élysées, 75008 Paris (France) / Open everyday from 7.30am to 11.30pm / Phone: 00 33 (0)1 40 69 60 50
Hôtel Barrière Le Fouquet's Paris / Adress : 46 Avenue George V, 75008 Paris (France) / Phone : 00 33 (0)1 40 69 60 00
---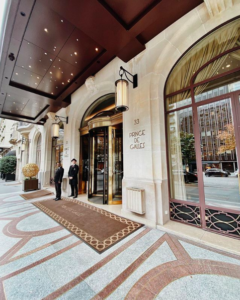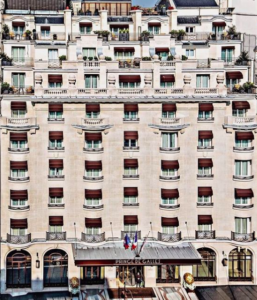 Not so far away, still in Paris, the Prince de Galles Hotel also celebrated its 90th anniversary with a couple of significant acts, like the opening of a brand new suite of 180m2, with the complicity of the crystal Maison Lalique. Therefore, a new era begins for this hospitality institution, built in 1929, in honor of the British King Edward VIII, ideally located on George V Avenue (photo credits: HPG).
Member of the Luxury Collection, a luxury brand of the Marriott International group, and legendary element of the Parisian Art Deco scene, the Hotel Prince de Galles has counted, since its inauguration on last century, among the most singular hotels of Paris.
This luxury edifice proposes a large welcoming surface, starring warm dimensions, in the properly called Golden Triangle. This Palace has always infused a spirit of celebration and freedom which has made it the privileged refuge of generations of artists, writers and intellectuals. On the eve of celebrating its 90th anniversary and after a meticulous restoration which has renewed all of its past splendor, the Hotel is cultivating its difference, through a constant inspired creativity.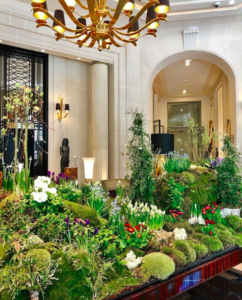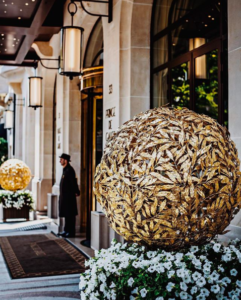 For instance, in 2013, this Hotel Prince de Galles reopened after a complete restoration of two years carried out by ERTIM Architectes SA in collaboration with two internationally renowned decorators.
Among them, Pierre-Yves Rochon has redesigned the 115 rooms and 44 suites, the lobby and the wellness area, while Bruno Borrione was entrusted with many other spaces, dedicated to the hotel's gourmet restaurant, baptized La Scène, besides Les Heures Bar and the famous patio. Unveiling a mosaic of some Parisian elegance, the hotel stands out as the unmissable meeting place for demanding customers seeking the discretion of a luxurious address in the sophisticated setting of an Art Deco jewel.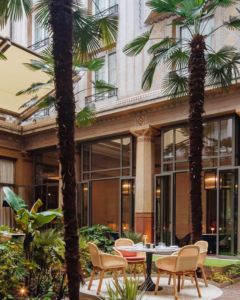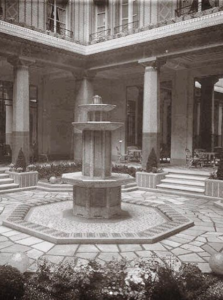 For its 90th anniversary, this famous 5-star Hotel has also completely redesigned its patio, still an Art Deco luxury case, adorned with exotic trees, to feel somewhere else in the World…
Once comfortably installed there, you would enjoy some decorative art elements and as well, the brand new Chef's specialities, regularly updated. On the menu, a selection of the House's signature cocktails accompanied by tapas, to be enjoyed a few steps away from the illustrious Champs-Élysées Avenue.
A perfect break after a full day sightseeing in the city of lights.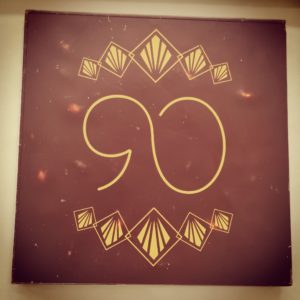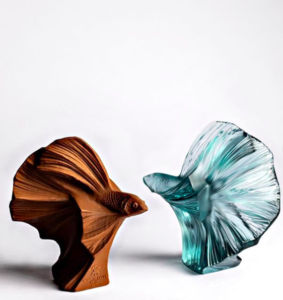 Moreover, a couple of months ago, a gourmet collaboration was lead, in association with the crystal master Lalique, through an Easter chocolate range, baptized the Prince de Galles Siamese Fighting Fish, realized by the hotel pastry chef Nicolas Paciello.
This time, in tribute to this 90th birthday, a new partnership with Lalique produced a real masterpiece, the inauguration of the biggest suite of this Marriott Hotel, the Suite Lalique.
Indeed, covering 180 m2, spread over the top two floors and surrounded by two large 100 m2 terraces with spectacular views of the Eiffel Tower, the Sacré Coeur and many other notable Paris monuments, this luxurious suite is available at the soft price of 18,000 euros per night, that makes it one of the most expensive suites in the World.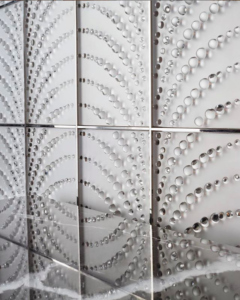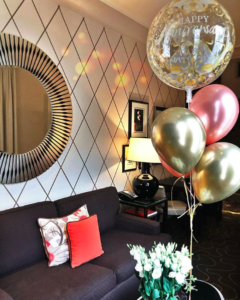 Thus, the
Berliner
designer
Patrick Hellmann
completely redesigned one of these hotel suites, with the colors of the
Maison Lalique
, (a luxury decorative arts house) thus illustrating the links of the place with this emblem of
French
know-how. With its view over the rooftops, surrounded by one of the most beautiful and spectacular
Parisian
terraces, the 180m²
Lalique Suite
.
Precious wood used on fine woodwork, glass carpet, lacquers and even many marbles… The most noble materials were favored by the German interior designer. You enter through the office decorated with large bay windows and decorated with a glass carpet, golden mosaic and a wall clock created from diverted Lalique pieces (more about it on our article here).
"It is a collector's item and a home in the house" says Gérald Krischek, the hotel director.
A vast staircase topped with a monumental chandelier leads to the living rooms located on the upper floors, as long as the Coutard panel wall and its fine transparent droplets gushing out of satin and repolished crystal… Many decorative details, to find like a treasure hunt in many rooms, like in the bathroom, all in marble and inlaid scenes in the mirrors and countertops, such as the bathtub overlooking the Eiffel Tower (photo credits: HPG & Shelllz).
Hotel Prince de Galles, a Luxury Collection Hotel / 33 Avenue George V, 75008 Paris / 00 33 (0)1 53 23 77 77
---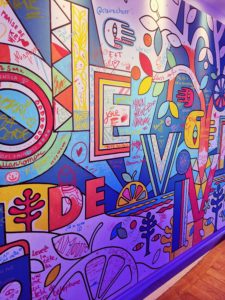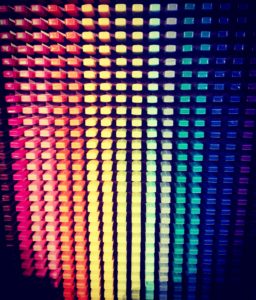 On the occasion of its 10th anniversary, Atelier Cologne opens the doors of its ephemeral perfume house for a weekend (photo credits: Alexis Lery).
A symbolic celebration organized in the iconic Artcurial auction house, transformed for the occasion in an interactive and immersive space, dedicated to olfactive universe and brand identity of this young perfumer, acquired by L'Oréal in 2016.
In order to celebrate this key happening, Atelier Cologne opened its doors to the public, close to the Champs-Élysées avenue. A good occasion to everybody to participate to an exceptional event, while living 10 unique olfactory experiences to discover.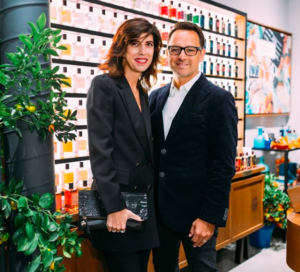 Among them, were proposed some exclusive workshops and inspiring talks with many guests, punctuated this weekend. Moreover, guided olfactory trips were offered throughout the day to transport the visitors on a traveling adventure, rich in scents and a brighter knowledge of the huge choice of fragrances proposed by the brand, launched by its founders Sylvie Ganter and Christophe Cervasel, after a first meeting that occurred in New-York, in 2006 around this perfumery thematics.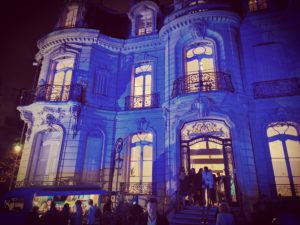 Completed with some good mood, entertained by the Art Of Living Officer, Sophie Trem and her special guests to lead The Good Mood Class, fueling a festive inspiration to the passing happy few.
On another hand, some people's intuition could be stimulated with Siham Jibril from Generation XX. Some other nightbirds may have attended (and even danced) to the musical groove on the sounds of L'Impératrice band…
An opportunity to experiment the softly scents in action in the space, and even to reveal anyone's hidden talents with many other creative workshops, all centered on naturalness and the expression of each one's perception.
More information about the large selection of fragrances and keep updated about the last news, on the official website www.ateliercologne.fr.
---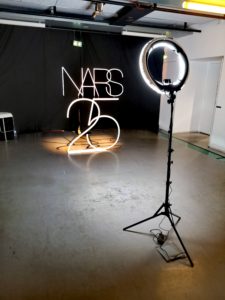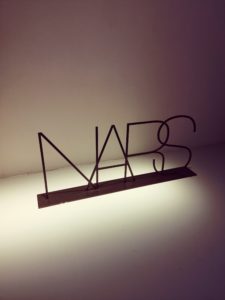 Another young beauty player, the NARS brand was turning 25 years old! It's sounds crazy, but many customers say the House doesn't look her age!
For the occasion, it decided to think big and release a brand new line of lipsticks, the iconic product that started the adventure (photo credits: Alexis Lery).
Indeed, the story of NARS (for NARSissist) has a close connection with lipsticks, a wide source of inspiration for women.
Thus, it was in 1994 that the history of NARS began, when its founder François Nars created a simple range of 12 lipsticks. Who would have believed at that time that the brand would gain such momentum in the make-up market?
So nobody was surprised to notice that the brand's would celebrate its anniversary, with the launching of a range of 60 new lipsticks! In addition to these 60 new shades, NARS offers a reissue of the famous 12 original shades, within an ultra-canon red packaging.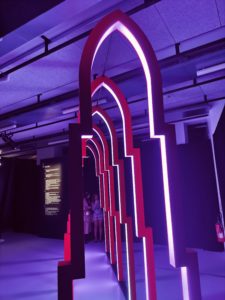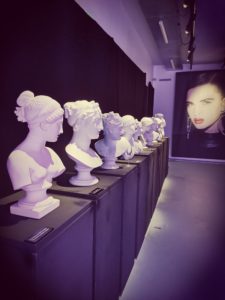 The different destinies of NARS reveal in one of those exposed birthday lipsticks…
You could imagine that among these 72 shades, you would surely find something according to your style! Even when it comes to the future of their lipsticks, NARS has sought to reach anyone's diversity.
So, depending on your preferences, you may choose between mat, satin and transparent finishes. All are enriched with passion fruit and moringa oils, which aims to make them ultra comfortable.
For more information about this fun and colored collection, for some only available online, on the official NARS website, where each lipstick costs from € 26.