For its new collection, Lalique floats on crystal waters and the Han Meilin pandas
8 min read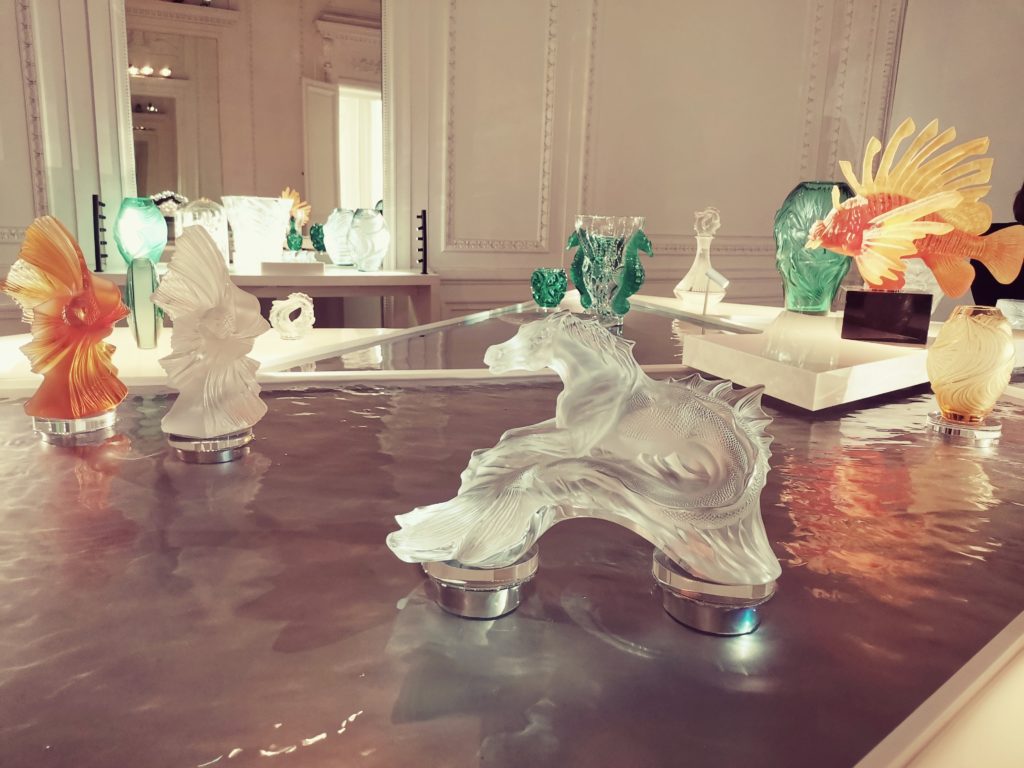 From the legendary Poisson created by René Lalique in 1913, until the Perche radiator cap, or the Roscoff, the fishes have often inspired the Lalique House's creations. Inspired on this majestic, glossy, satin-crystal light sculptures created by Marc Lalique in 1953, many other pisces seem to sprout from the water. The result of the incredible work of the creative team. Last but not least, you would discover the new Soleil perfume that shines on Lalique and furthermore, the last Lalique Art collection composed of the chinese artist Han Meilin pandas.
The new collection takes us on a deep plunge into an aquatic universe. Thanks to the talent of Lalique's artists and the exceptional expertise of its glass masters, Lalique captures the graphic power of fighting fish and the powerful and symbolic expressions of ornamental sea creatures like koi and carp.
Thus, pictured upon, you would notice the
Lalique Fighting Fish
vase sculpted through highlights of crystal, playing on reflections and natural lights. Native to Southeast Asia, these warlike fish remain peaceful in this crystal version, issued in several sizes and colors. Furthermore, the large sized vase is available in a numbered in clear or only limited edition of 88 pieces for the mint green version,
In the middle, the kaleidoscopic effect of the Mossi vase is a factory secret, originally designed by René Lalique in 1933. It has become emblematic of the House and is now transfigured through Persepolis blue crystal, still in a limited edition of 88 pieces.
The following one is also a reedition of a 1926 René Lalique creation, the then so-called Tourbillons vase, was issued since in various sizes. Its abstract design gives a full effect of its mint green graphic curves.
We still find this classic mint green color mixed with clear crystal in the Poseidon vase. This limited edition of 99 pieces, is composed of a couple of hippocampus adorning the center of the structure, for more visual effects. Fashioned by the fine technics of double injection, exclusive to Lalique, this masterpiece requires a major glass technics, also to finalize with those hand-carved with satin-finished droplets.
We may attend as well the birth of this amber crystal Lion-Fish. fashioned using the lost wax technique, this very limited edition of 8 pieces is intended for collectors.
The last picture again remembers this authentic Lalique Fighting Fish. Available with amber and clear colors for the large size sculpture, and Persepolis blue or mint green blue patinated for the numbered edition, clear small size sculptures.
---
Why not highlighting those vases with some trays, frames and boxes perfectly to associate? The Fleurs de Cerisier (cherry blossoms) collection reminds the blossoming of Japanese cherry trees (sakura), illustrated into carved wood coated with fifteen layers of lacquer. Those very fine pieces were made by skilled craftsmen in Vietnam, to pursue a thousand-year old tradition from Asia. The final touch starring satin-finished crystal motif was done in France, in the Lalique Manufacture.
The box, plus its two crystal kissing birds, is available in three sizes. The trays and picture frames, each declined in two sizes, are illuminated with a gadrooned crystal.
---
Those daily decorating objects would surely match with the new Wingen barware service, named after the homonym village, located in Alsace region. This is where the Lalique Manufacture does it best to give you the best of crystal. You have to know that René Lalique had already designed a stemware service with the same name in the 1920', with a similar pattern. Those different useful barware instruments are finished in a satin crystal, the Lalique speciality as you have seen it earlier.
Indeed, you would find many chiselled pieces like a
decanter
, a
water jug
and an
ice bucket
to keep cold your finest nectars in full transparency… Furthermore, for this being served in a
tumbler
and taller
highball
with those clear
ice tongs
. Smokers are not forgotten, thanks to this quite heavy sandblasted crystal
ashtray
… Those exceptionally manufactured elements may be observed in real, in the
Lalique Bar
in the
Paris Rue Royale
showroom.
---
Now that your celebration table is complete, Lalique has also thought about you about your annual Christmas ornaments, following Scandinavian and Anglo-Saxon tradition.
For this winter selection, a dominating
Reindeer
adorns the
Lalique Christmas ornament
. As always, highlighted by crystal, its antlers proudly spread out in an incredible relief structure. To hang on your Christmas tree or table, you may decide to add it a
Pine Cone
, a small
Christmas Tree
or a
Bell
, all available in clear or red crystal. Thereafter, you could bring their scintillating reflections to light, with some light effects.
---
After Christmas, starts the New Year's Eve… That's why Lalique helps you to celebrate the Chinese year of the Rat in 2020. Depending on their astrology calendar, including the Rat and Mouse sculptures as symbols of this time of this year. This zodiac sign is a symbol of prosperity, wealth, and fertility, and we hope it would provide you those benefits, even you have a different sign!
Rat
sculptures would undoubtedly express their passionate and energetic personality, in your decoration interior. With more rounded curves, the
Mouse
will impress you with its curious attitude. A small version is available in clear crystal, goldlustered or black. It is also available in a large size, in clear crystal, gold-stamped or gold-lustered, and pink for a limited edition of 188 pieces.
More information online on the official website and on the Paris official showroom, 11 rue Royale, 75008 Paris / Phone: 00 33 (0)1 53 05 12 81
---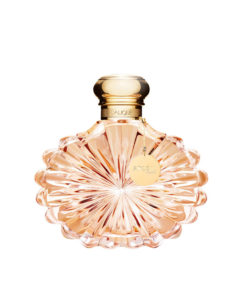 The crystal House has many strings to his bow… Indeed, sustaining a recent perfume momentum initiated in the 90s, Lalique launched its late fragrance, simply baptized Soleil (Sun). For a summer baby, born in June 2019, it's naturally a fruity, floral and feminine fragrance. You would surely be dazzled by the sun's rays emanating from this flacon, evoking the warmth and light of this illustrious star. Thanks to its glassmaker know-how, Lalique stands out in the wide perfume galaxy, by a certain mastery in the flacons design. In this present case, the sun is unsurprisingly captured in a circled flacon, with irregular curves, allowing unpredictable light undulations. To strengthen those sun rays effects, a light orange dash appear from side to side…
This solar Eau de Parfum was created by famous perfumers Alexandra Monet, Barbara Zoebelein and Benoist Lapouza. They put in a bottle, a concentrate of light, composed of trendy scents. You would first feel the freshness of mandarin and cardamom, supported by a soft citrus touch doubled by caramel and almonds. The feminine sides are ensured by the power of jasmine and unduly pear extracts. Finally, the last notes, able to shine on your skin, are the white musk and the santal wood, for a smooth finition.
For more information and the different formats on the online website.
---
Plus, the Lalique Art division offers new inspirations and designs devices to external renowned artists, through a unique collaboration surfing on lights games, transparency, color and reliefs. From this extraordinary encounter between art and crystal, new forms of art may be born. At the source of the inspiration of René Lalique, founder of this legendary house, there is nature. Sparks of life that the creator boldly seeks to magnify, an Arian thread, almost a school.
Some 130 years and a continent separates them… Following the the late Chinese inspiration, the same breath animates as well Lalique and the Chinese artist Han Meilin. Honored master of his country and ambassador of beauty for the rest of the world, Han Meilin has also been recognized as an "artist for peace" by the UNESCO. For more than sixty years, a stalwart of the great Chinese traditions he has studied throughout his country, Han Meilin has invested his art into many fields: painting, calligraphy, sculpture, writing, ceramics, animated cinema, and even design…
Lalique Art
to open the doors of their factory, as they often do. Then, welcoming an artist and to offer him the expertise of their best workers in France, still in this lively and glitter spirit. While choosing to create those 2 crystal pandas,
Yuan Yuan
&
Meng Meng
, the consortium paid a real tribute to the first panda ever born in a french zoo, the
Beauval Zoo
.
---
In the way to get more contents about the Lalique Art philosophy, we asked some questions to Audrey Wisnia, head of Lalique Art.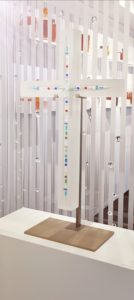 – Could you introduce to us, the Lalique Art activity?
Through the Lalique Art Division, Lalique partners with leading figures in the contemporary art world, as well as art foundations and exceptional designers, joining forces to create unique and rare pieces.
The division offers artists fresh inspiration and motifs, opening new horizons through the interplay of light, transparency, color and contours. The magical fusion of art and crystal creates a new dimension, a new form of expression for works of art.
– What were the main artists invited to design those pieces of Art?
To this day, Lalique Art has worked with the Yves Klein archives, the Rembrandt Bugatti family, the late Zaha Hadid, Suisse architect Mario Botta, American artist Terry Rodgers, Damien Hirst, Anish Kapoor, Arik Levy, and most recently Chinese artist Han Meilin.
– Was their choice in connection with some specific actuality?
Each collaboration came about in a different way.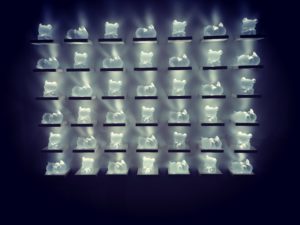 The idea of creating a collection with Mario Botta for example was established following our CEO Silvio Denz asking the world-renown architect to design the new extension to the Villa René Lalique. Through working on this project Mario Botta was able to visit the Lalique factory, whose ancestral expertise and know-how inspired him to create a collection with Lalique.
A more recent example, that of working with Han Meilin, came about when we discovered the work of this multi-talented artist when he was named "Artist for Peace" by UNESCO in 2015.
– Within the new collaborations with artists, do you try to link with the Lalique regular collection's thematics?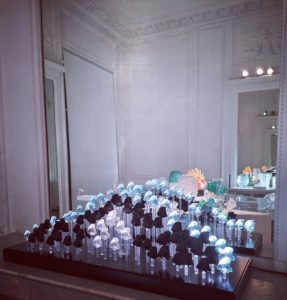 These are real hand in hand collaborations. The artists and designers respect and honor Lalique's timeless style, which is so imbedded in the House's heritage, while at the same time Lalique offers the artists/designers complete freedom of expression. Therefore, the pieces which are presented at Maison et Objet, at the same time as the other new Lalique collections, may end up with a very different theme. This new perspective is what sets Lalique Art apart.
– Finally, what are the profiles of buyers of those Lalique Art limited series?
Clients include both collectors of Lalique and collectors of the artist, and of course those who simply have a sensibility towards the pieces.