We help you to find a French Gin suitable to your taste!
35 min read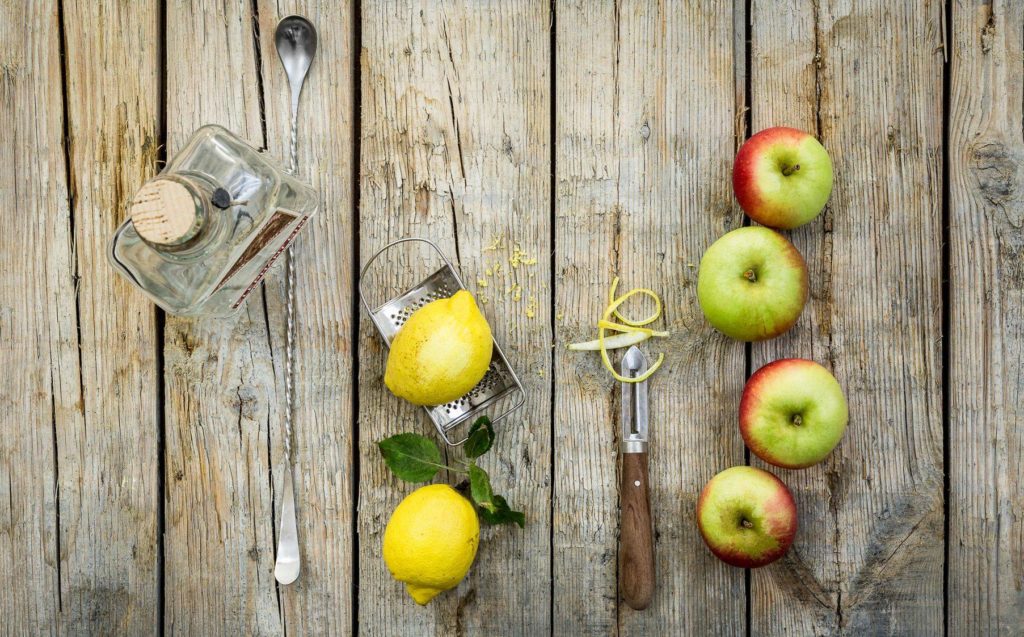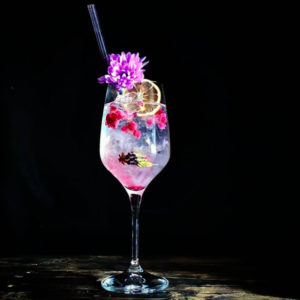 For a long time, relegated at a second role, notably behind Vodka and Rum, the Gin spirit meets a rebirth with a strong success, since the late 80s. To a large extent, dedicated to the universe of cocktails and particularly of mixology, providing much inspiration, as proves this floral creation (pictured nearby), realized by For Cocktail Sake. Comparing to vintage methods, from the producers' side, the distillers nowadays use new aromatics and spices. With the constant goal to innovate new flavored elixirs, in order to make this legendary beverage great again and then, meet the demands of a more and more educated and sophisticated clientele (cover picture: Elephant Gin).
Among this new trend, we have the pleasure to discover that French players are really involved in this revival. Most of them are honored and proud to fall back on as much flavored grain or simply molasses distillate. For sure, this flavoring can be naturally carried out, by infusion or maceration of alcohol with spices, herbs and fruits, or even artificially, by the addition of natural or artificial essences. As a prerequisite, the Juniper Berry is the compulsory component of the Gin DNA.
For your information, in Europe, the minimum required degree for a Gin is 37.5%, then the distillery may adjust, at their discretion, the taste and appearance, while for example adding sugar and coloring. Although, the vast majority of Gins are made from a neutral grain alcohol or molasses. In the case of grain alcohol, their wort is often composed of a mixture of cereals, such as mostly corn, barley and other types of cereals (10%), including rye. By Alex Plato
---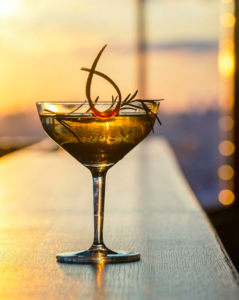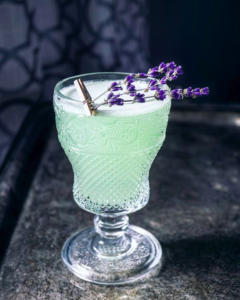 We find it important to introduce the main production methods. First, the usual method to produce the common distilled Gin is recognized for its guarantee of quality. The distillation is often processed through batches, frequently conferred in traditional stills. Those alambics are heated with the help of a steam, using a resistance, placed at the bottom of the boiler. Then, this boiler receives neutral alcohol, reduced to around 45-60%. Once the alcohol is brought to a boil, the emanating vapors then absorb the aromas, composed of berries and aromatics. The less pure distillation heads and tails are recycled and then redistilled while the heating core is sent to the bottling center for dilution and bottling (photo credits: Cheers To Happy Hour).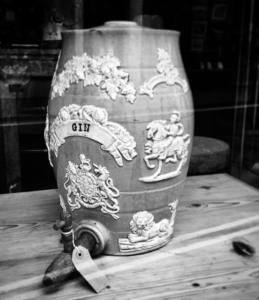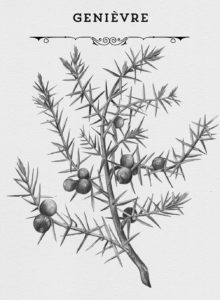 The other alternative is the flavoring by maceration, this principle consists in macerating juniper berries, herbs and spices, directly in a neutral alcohol (usually at a level of 45%), by letting them soak altogether in alcohol or also by placing this ensemble, for 2 days approximately, inside sachets.
Some distilleries filter the mixture before distillation, to separate the aromatics from the alcohol, while other ones prefer to distill all this ensemble, de facto producing an alcohol, particularly loaded with aromas (photo credits: Loft 14 Berlin).
Furthermore, the method of flavoring by infusion consists in hanging a cotton bag containing all the aromatics, including juniper berries and spices in the alambic, or placing those ingredients in a perforated chamber, installed in the bottom level of a still neck. Therefore, upon contact, the alcohol vapors infuse and soak up the essences, released by the herbs (photo credits: The Amazing Jules).
Last but not least, the compound Gin relies on a technique, based on the mixture of a neutral alcohol (usually molasses). Thus, involving a concentrate of Gin aroma (cold compounding) or the same artificial essences of juniper berries, spices and aromatics (gasoline compound). This method does not involve any redistillation, since it is mainly used for the production of mass consumption Gin.
---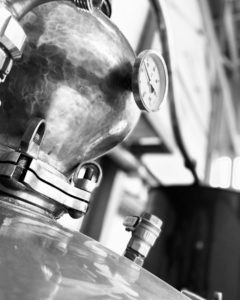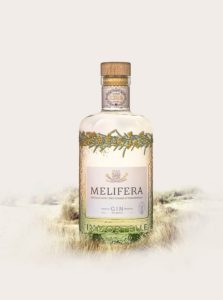 Let's start our French Gin tour with a pretty island located, at the border of the Atlantic Ocean, the Oléron Island. Nestled between endless sand dunes and windy days, nature is right there preserved and hosts many inner fabulous treasures.
Among them, we may find a wild but fragile endemic plant, unless its ability to resist in hostile environments, the shrubby everlasting flower (also called immortelle) has been chosen for an innovative organic Gin employing its antioxidant properties, known since antiquity.
Indeed, baptized Melifera Gin, a passionate team has opted for this noble immortal to flavor the yellow petals of this shrubby everlasting (photo credits: Melifera Gin).
According to the founder, Christophe Amigorena: "Our Melifera project is made from shrubby everlasting flowers grown in a naturally preserved environment. It was therefore essential for me to participate in the sustainable development of the island and to promote its producers. My desire is to preserve biodiversity and to offer eco-friendly and socially responsible consumption".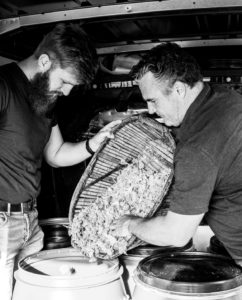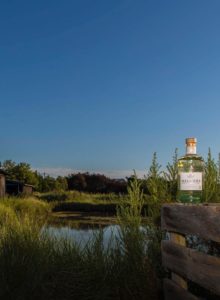 A legendary species in France, once symbolizing the union of Henri Plantagenêt with the former queen Aliénor d'Aquitaine in 1152, when this emblematic royal personality, notably renowned for his beauty, braided his crown of these golden shrubby everlasting flowers. This vegetal choice was hazardous since it was supposed to guarantee to this couple, some spiritual wealth and fruitfulness.
A couple of years after, the story repeats with the same shrubby everlasting sealing here the composition of a premium Gin, with its rich and powerful olfactory facets. Thanks to an exclusive recipe, mostly fed by these plants sown and collected by hand in partnership with local market gardeners, initiated in 2018.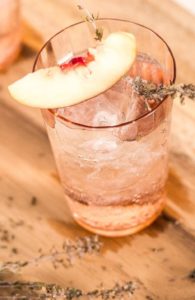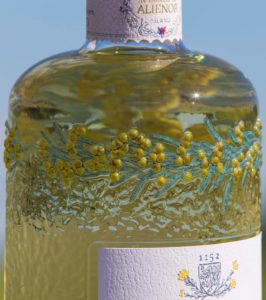 Following a straight process respectful to organic values, the manufacture of this Gin takes place in Charente-Maritime in an ancestral distillery, essentially acclaimed for its artisanal and local production. In fact, a real complement to the manual harvesting until the instant infusion of its botanicals, after a reasoned cultivation in the respect of the surrounding environment. The result is a unique sensory experience, beginning with a subtle floral nose, adorned with a couple of sweet notes thereafter revealing a balanced and elegant aromatic ensemble, made of fresh touches of mugwort, cardamom and slightly salty aspects. As a real trigger of emotions, this premium Gin can be declined as an inescapable basis to imagine any signature cocktail, such as this nearby Gin Tonic.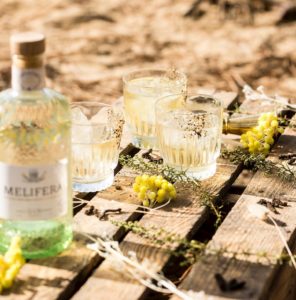 On top of that, regarding the
bottling
, this fancy
flask
, offered by
Melifera Gin
, was elaborated on the latest technical innovations from skilled
glassmakers
and
decorators
. In this case, if you appreciate
reliefs
and
engraving
on glass, you would be deeply pleased! Thus, it seems that
Melifera
is the first
spirit
brand to use this original technology on its
bottles
. Therefore, you could admire here this
shrubby everlasting
adornment, a real
masterpiece
somehow replicating the legendary
Alienor
crown, that we invite you to collect! Adding to this, as you would see later in this intense competition between
Gin
players, each detail counts to stand out and to make your
Gin
as unique as possible (photo credit by
Konoisseur
).
Don't miss this invitation to this modern wedding between floral and marine influences, where you would as become an activist just thanks to your glass, in the sustainability of the ecosystem of an island and its producers.
For more information about the Melifera Gin commitment for the preservation of the natural resources in the Oleron Island and of course this fabulous organic beverage, just visit their official website.
---
---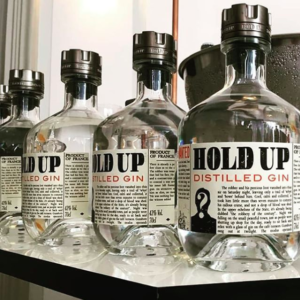 We pursue our exploration with a collaboration between the Vinet Delpech Distillery and the Dream Of Spirits. This first one has been able to respond to the original request for constituting a quality Gin project.
Whether in terms of container or content, this distillery is intimately pleased to offer their beverage expertise, distillation infrastructure (including 3 bottling lines) and their large distribution network, in order to support any kind of innovative projects, matching random potentials of customers' expectations. For instance, Vinet Delpech Distillery is ready to boost any adventure, attracted by their ready-to-go capacity, composed of different bottles shapes and decanters of all sizes, along stoppers, original capsules, labels and serigraphs to personalize, plus many other facilities. It's a fact that the available tools and components is pretty wide, especially for any one willing to forecast a future in spirits.
In this case, the Dream Of Spirits has been seduced by this all-in-one structure, to help them to make their spirit dream come true and to give birth to the Hold Up Gin.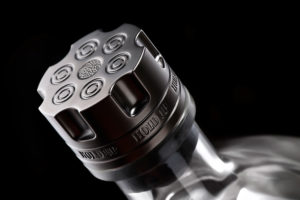 Thus, this elixir is the result of a maturated collaboration influenced by the imagination of a writer, keen on crime novels. Therefore, the founder of this Dream Of Spirits project imagined a whole thematics around a police investigation to hold up this Gin! Indeed, as an epicurean, the guilty of this suspense initiative, he had a precise vision of the recipe of his singular investigation, deeply inspired by a detective story, from the brand name to the packaging details (starring a barrel-shaped stopper).
Thereafter, the aftermath of this Hold Up Gin is an artisanal Gin distilled in a tradition copper alambic, located in the Cognac region, producing an achieved and balanced marriage of flavors, combining a pleasant and robust perfume, hopefully fulfilling you many gustatory sensations (photo credits: Dream Of Spirits).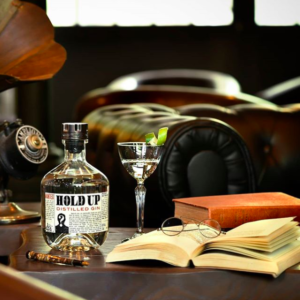 Its unique recipe highlights at first sight, the quintessence of carefully selected botanical essences, including anise and coriander. Deeper in it, you would surely feel the soft notes of a juniper blend, in sweet harmony with the more pronounced notes of tonka bean, elegantly expressed in accordance with a slight hint of lemon. The texture in mouth offers a certain round length. The complex and very aromatic ensemble would appeal to any Gin enthusiasts. Since there are multiple possibilities to savor it, whether simply on the rocks, or mixed in a classic Gin Tonic (eventually decorated with Timut pepper berries, like in their alternative bloody red Vampyr Vodka). An other suggestion to accompany this Hold Up Gin in a Negroni or in any other random cocktail, where it will would surely make a solid and convincing aromatic base.
That's not a surprise if this artwork won a well deserved Silver Medal for French Contemporary Style Gin at the World Gin Awards.
More information on the official website, where you're invited to explore the entire selection in the online store.
---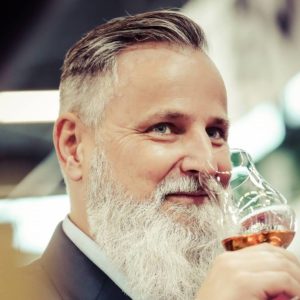 Unless its name sound very British, this Thompson's spirits structure is really French! At the beginning, the founder of this unique adventure, an "English Man in Bordeaux" noticed that many French regions had developed at least their own brandy. In another way, he has always been surprised that his native famous region of Bordeaux was deprived of this asset (photo credits: Thompson's).
Thus, during one of his several walks in those local wineries, Simon Thompson had the chance and the opportunity to discover all the possibilities allowed by the Fine Bordeaux appellation.
Inspired by the heritage of the region and the quality of its grape varieties, such as Ugni blanc and Colombard, distilled twice and then maturing many years in traditional copper stills, plus in Limousin oak barrels, Simon Thompson decided to create in 2010 his own range of spirits, composed of Fine Bordeaux, Vodka, Brandy and Gin, and only made from Bordeaux grapes.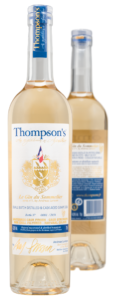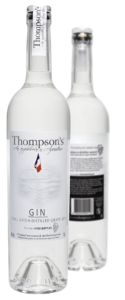 The result is a subtle alliance between an ancestral local know-how in wine production and a contemporary brand identity, developed by this Thompson's spirit revealing the multiple rich historic ties, uniting Aquitaine and England.
For instance, the entity proposes two sorts of Gins, the first is simply baptized Thompson's Gin, made from the maceration of fifteen natural ingredients, including Aquitaine Caviar, peaches and of course the unmistakable grape distillation. This distilled floral and aromatic Gin includes lemony notes doubled with a notable presence of juniper, exactly suiting for any kind of cocktails, such as the classic Gin Tonic.
The second item is considered as the Gin du Sommelier, matured in specific barrels from the Château Labouade, located in Sauternes. Packed in numbered bottles, surmounted by a gracious glass stopper, bringing the light inside the solution, this round but intense distillate offers structured herbal and tasty notes. Furthermore, this spirit is described as "elegant and intense, with a silky texture, its complex spicy notes bring originality and length, whether you taste it pure, in a cocktail or within your favorite Gin & Tonic formula", admits Andreas Larsson, a former World Best Sommelier.
More information on the official website, where you may explore the entire selection in the online store.
---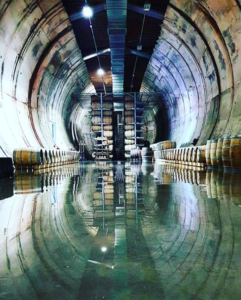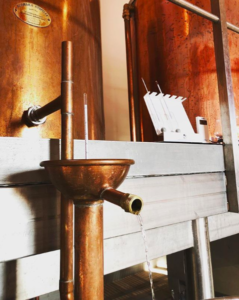 We stay in Bordeaux, exploring another distillery, the Moon Harbour. Based in a former German WWII bunker. This recent project, refers to the famous crescent moon drawing the Garonne river, at the entrance of the city. This shape is so emblematic, that it also appears on its coat of arms!
It's a proper way to remind you that in the past times, on the cobblestone docks of the aptly named Port de la Lune, the Bordeaux berths waited to be loaded at night, on the upcoming departing merchant vessels (photo credits: Moon Harbour).
The Moon Harbour adventure started with the help of a recognized craftsman from Bordeaux, Jean-Louis Stupfler, designer of his homonym alambics, also used by many distillers above; as well as plenty of famous local winehouses, notably specialists in Sauternes. A collective work which proves that in terms of human skills, good assemblies also count.
For instance, their own Gin has been developed Moon Gin, while using the famous London Dry Gin technique. You have to know that the ingredients employed in their Gin slowly infuse, within a sluggish distillation, which dominates the impression of bitterness of the juniper berries. The final touch is slightly spicy, accompanied by the lemongrass flavors, enhanced all of their aromas.
A unique recipe that brings freshness and intensity to their homemade spirit, composed for sure of combava citrus from Reunion Island, coriander and goji berries mainly in China, timut or grapefruit pepper, straight from Nepal, moreover Espelette pepper, native of the French Basque region. So we advise you to try this cosmopolitan combination and tell us your feedback!
As you know, this premium distillate would unequivocally surprise you for sure… As you know, this Gin can also be enjoyed alone with ice, accompanied by mint leaves, or in a cocktail, like the famous Gin Tonic, neutral in aroma… A good recommendation, in order to avoid inhibiting the sincere aromas of this Moon Gin.
More information on the official website, where you may explore the entire selection in the online store.
---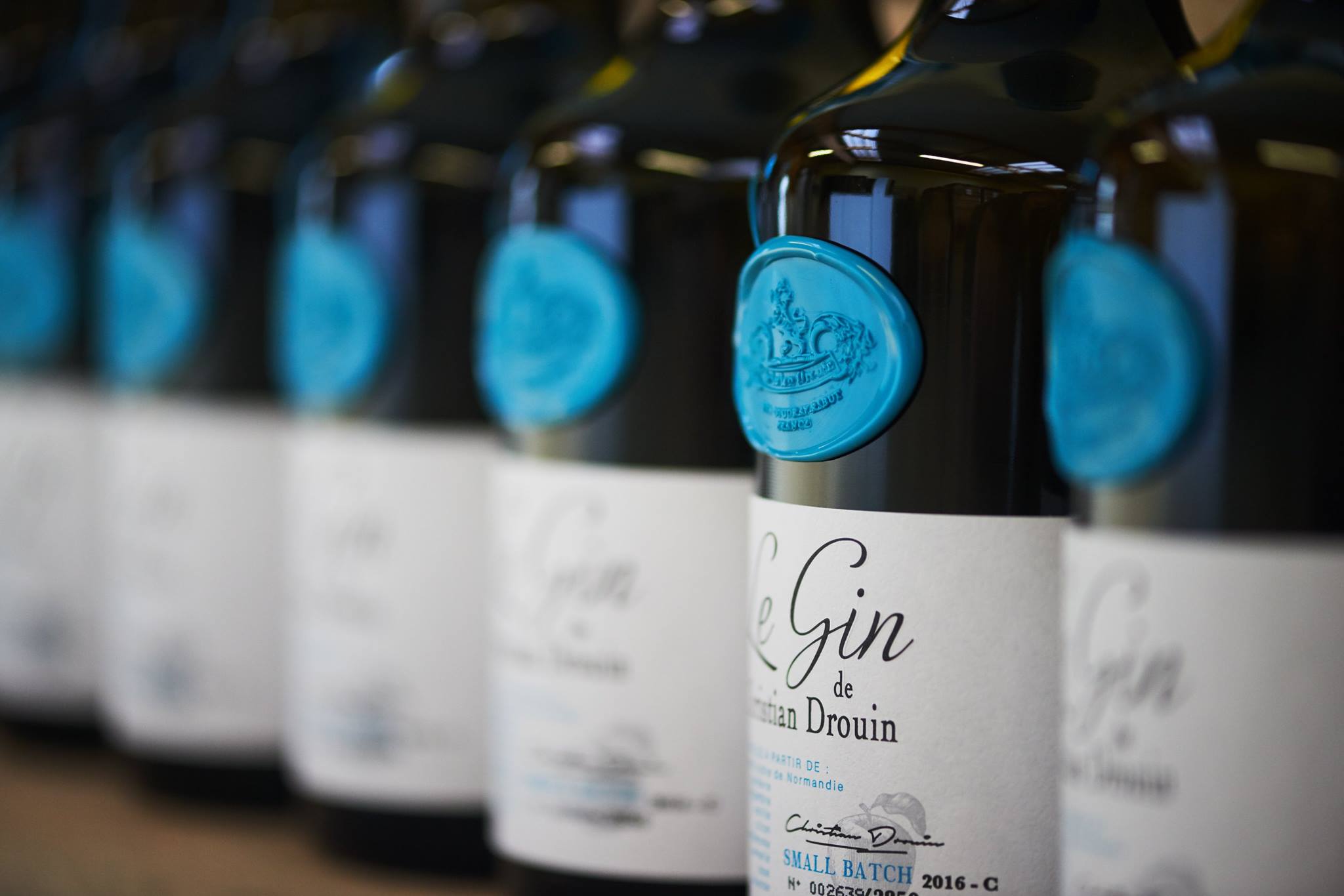 Have you ever tried a Gin made with apples? We have previously seen that the Gin galaxy is fulfilled by its complexity and by original and even some antagonistic perfumes (photo credits: Drouin).
The Gin range developed by the famous Normandy based, Christian Drouin distillery, contains more than 30 varieties of apples. Since three generations, famous for its Calvados and its Ciders, this family affair masters the art of blending premium eaux-de-vie. Pursuing this spirit, a trio of artisanal Gins were homemade imagined by Guillaume Drouin. Thus, it's been a few years now that the use of Calvados has been developing in cocktail bars and its related universe appeared as a real inspiration, especially for launching innovative sensorial spirit experiences.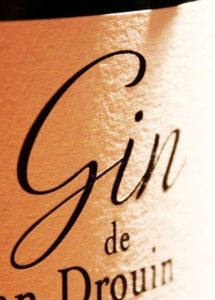 For your information, the production process of this house flagship item, baptized Le Gin, comes from a rigorous distillation lead in small stainless stills, including Ciders naturally from Normandy, as well as from the distillation of the inevitable juniper, completed by a selection of seven other regional typical herbs.
Indeed, the starting point for Le Gin (launched in 2015) was to look for any flavorings that could complement and enhance the compatible heavy and high balance between juniper and cider apple, really crunchily explicit in the smell and of course in the taste! After having distilled those different aromatics separately, a final selection of eight plants, really representative of the Calvados soul, have been married to prepare a flavorful blend.
For instance, you could imagine a real work operated on proportions, in order to adjust this patchwork as close as possible to the original Gin recipe, since the plant-by-plant distillation protocol requires a case-by-case attention before a general batch communion.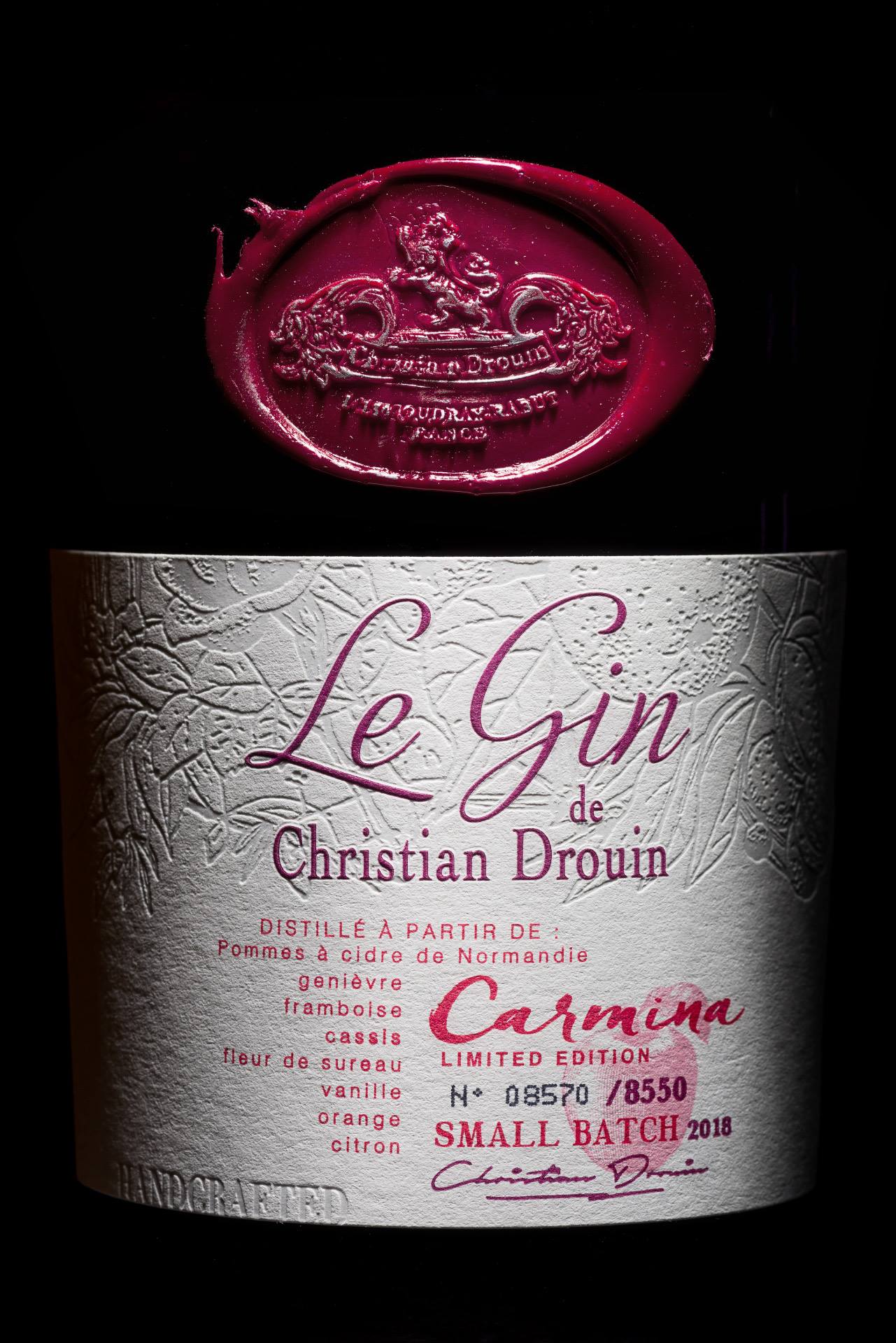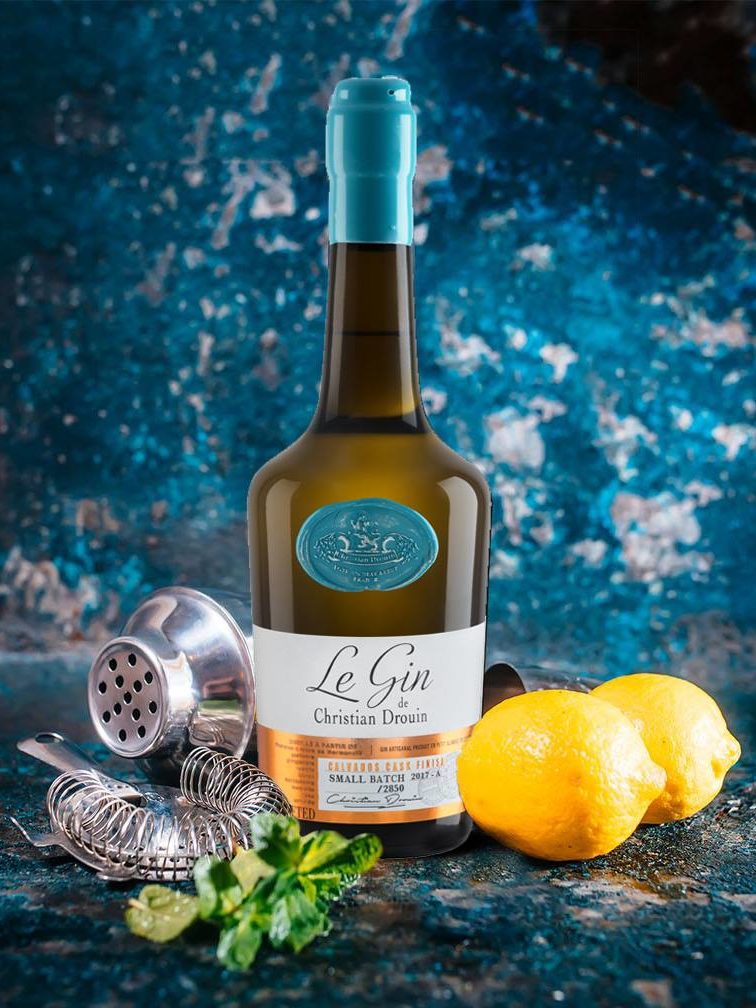 Once got your precious elixir, you may admire the sky blue packaging of the bottle, a mix between anchored tradition and an aerial personality. After your first sip, you would feel this singular result, as an osmosis between ginger, vanilla, cinnamon and almond offering a slight touch, along rose and lemon bringing their vision of finesse, strengthened by the power of spicy and round notes of cardamom and cinnamon.
Furthermore, you may also explore the other Gin reference. The Calvados Cask Finish Gin benefits from the mature house spirit aging know-how. That's why, the Christian Drouin tribe decided to raise a limited volume of their Gin. Just a bunch of old 225 liter Calvados barrels have been selected to age some Gin, during six months, and to give birth to a more complex juice, reinforced with apple aromas.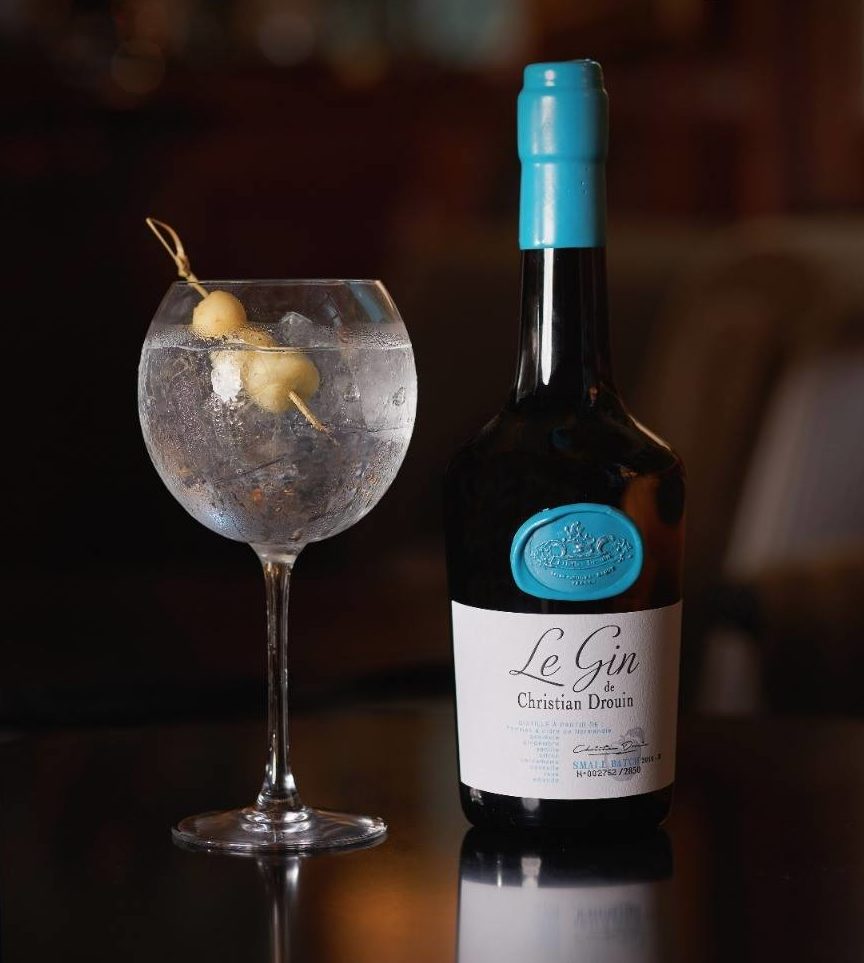 An other alternative would be the Gin Carmina, a blend dedicated to red fruits, where Guillaume Drouin continues to explore new flavor associations.
The distillery recommends to appreciate its product, either pure or on ice, a good way to feel the subtlety of its aromas. Otherwise, the second option would be within the traditional Gin Tonic, better in a large balloon glass, adorned with ice and two thin slices of freshly cut apples, innately macerated in a little Calvados liquor bath.
Two other cocktail recipes are also proposed:
The legendary Gin Fizz, with the following contents to mix with a shaker: Gin: 6cl, lemon juice: 4cl, sugar syrup: 2cl, sparkling water: 12cl.
The Angel Face cocktail, from a 1928 recipe, a Roaring Twenties creation in homage to the French actress Annabella:, starring: Gin: 3cl, Calvados: 3cl, Apricot liquor: 3cl.
More information on the official website, where you may explore the entire selection in the online store.
---
---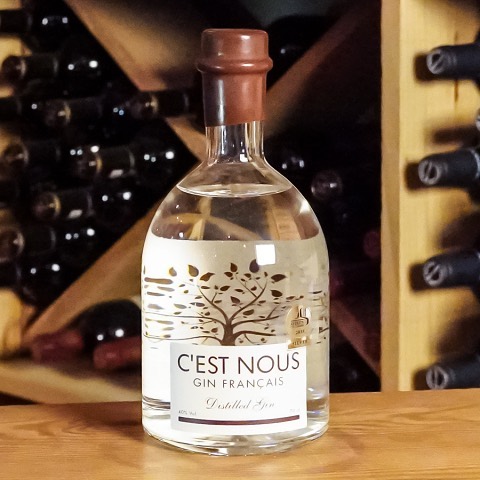 Still in Normandy, the C'est Nous distillery proposes their own vision of Gin. Settled in Caen, this artisanal production, was launched in 2016 by a British citizen and a sommelier lady. The Gin C'est Nous project was born from their mutual project to provide more popularity to promote the culture of premium Gins, in France. Based on an example on how it goes in its England neighbor, where Gin breaks records of sales (photo credits: C'est Nous).
They wanted an aromatic Gin, dressed with an endowed beautiful freshness. Their spirits are slowly distilled in a single-pass copper still, before being bottled and cautiously finalized by the manufacturing team. A good way to enhance their Gin, made from French wheat alcohol and 9 precious herbs including the emblematic juniper berry, as well as Angélique roots, lemon, orange and coriander. Those elements are infused, during a consistent maceration of these spices, kicking off the distillation. After this distillation phase, the Gin get the opportunity to be stored in stainless steel alambics, for a period of several days in order to allow the juice to get harmonized.
Therefore, you would appreciate a very perfumed Gin C'est Nous, it makes you want. Once in mouth, the attack is on juniper berry, then followed, by the freshness of citrus notes. In fact, a good balance results on slightly spicy accents, notably thanks to coriander, before a lingering final gustative moment. This multi-awarded elixir is designed either for a pure tasting, or via any cocktail, for sure like the G&T… Available online, 40° for a 70cl edition.
---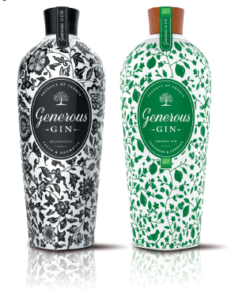 Satisfied with a rich experience into the rum galaxy, two associates Thibault de la Fournière et Christian Vergier launched in 2015 a new Gin section for their Ôdevie Creative Spirits, thus anticipating the strong development of this spirits category nowadays (photo credits: Ôdevie Creative Spirits).
The original idea was to create a French Gin, fueled by fine aromatic fragrances, composed of carefully selected natural ingredients. A way to show the generosity of Mother Nature… That's why this nectar, evolved (once again) in the region of Cognac, has logically been baptized Generous Gin, offering two distinct expressions dedicated to all kind of tastes, still depending on the way you usually savor this beverage.
Furthermore, in any store, you couldn't miss their innovative packaging, a porcelain flask, fully adorned by inspired by a vegetal wall of flowers and leaves. This initial ideal for this design was to reconstitute a traditional botanist bottle, one starring black patterns for the Original Gin and green for the Organic Gin, both interspersed through an opal immaculate white background and surmounted by an elegant wooden stopper.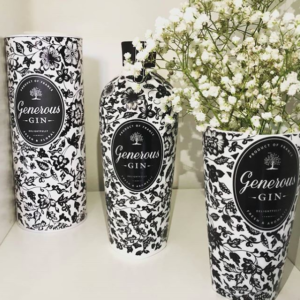 Regarding the Original Generous Gin, this elixir exudes a subtle and floral perfume, at first glance. This was made possible thanks to a balanced wedding between a dominant base of juniper, softened by a slew of white flowers' petals, such as elderberry and jasmine, among other secret contents…
Deeper in your mouth, you would undoubtedly feel the various notes of tangerine and lemon, giving birth to a fruity and floral aromatic explosion. The final notes are considered as long as enriched, due to persistent notes of red pepper, citrus and spices providing a fresh wind to this distilled Gin, suitable for being combined into a Gin Tonic (decorated with some pink berries and a basil leaf), or simply "On the rocks" and even associated with a whole plate of fresh oysters.
Available online, 44° for a 70cl edition.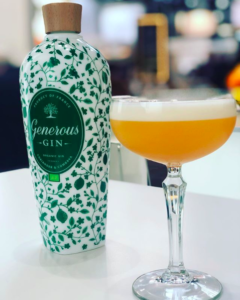 Regarding the Organic Generous Gin, the same secret base notes have been kept, with the adding of new organic shades. However here, you would be seduced by different nuances of fresh exotic lemon, still set on an even fresher and delicate juniper seat, delivering fruity notes of combava and coriander. Those two botanicals bring a reasonable balance, and likewise a bit of acidity, pursued with a slight bitterness, sensitive from attack to final mouthing. A couple of attributes that would surely delight any fans of Dry Martini.
Indeed, the constant alcohol degree of 44 °, has been specifically studied to fulfill the countless expectations regarding the mixology science, and thus attribute the full expression of a lively and universal Gin, fitted with a light and shiny texture, open to all!
With the help of those benefits, the Organic Generous Gin is recommended to be appreciated in a pure way or just lengthened with a very good Tonic Water.
Available online, 44 ° for a 70cl edition.
More information on the official website, where you may explore the entire selection in the online store.
---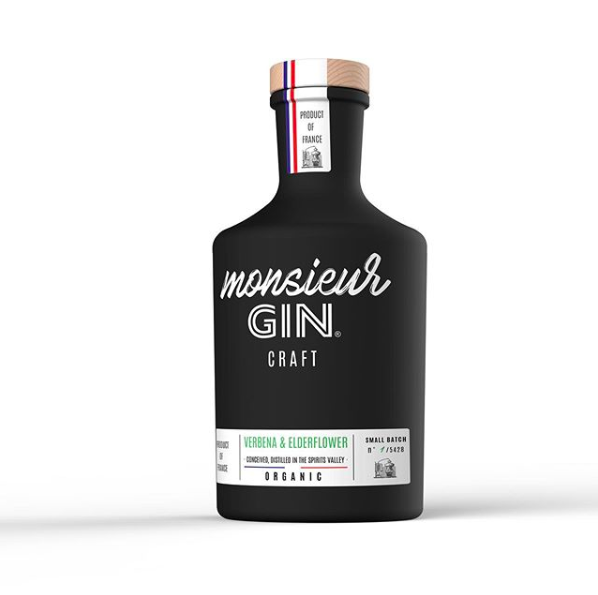 A new organic Gin for you, with this Monsieur Gin. The production is made in the Spirits Valley (situated in Cognac), by Cyrielle Arnold from ARSpirits. The basic philosophy was to produce different types of spirits, but always with the objective to respect an ethic, green and sustainable method. For that reason, the distillery is certified ECOCERT and USDA organic, those two entities bringing a recognition for its involvement paid for the promotion of a certain organic and responsible agriculture.
Adding to this, the ARSpirits parent company offers 1% of its revenues to support the ReforestAction, the trees plantation in France and thus to avoid deforestation, plus engages its forces with SURFRIDER association through their MAX&O collection, which intervenes in particular regarding the waste reduction, and coastal planning and raising awareness answer to the endless actual issues emanating from the climate change (photo credits: Monsieur Gin).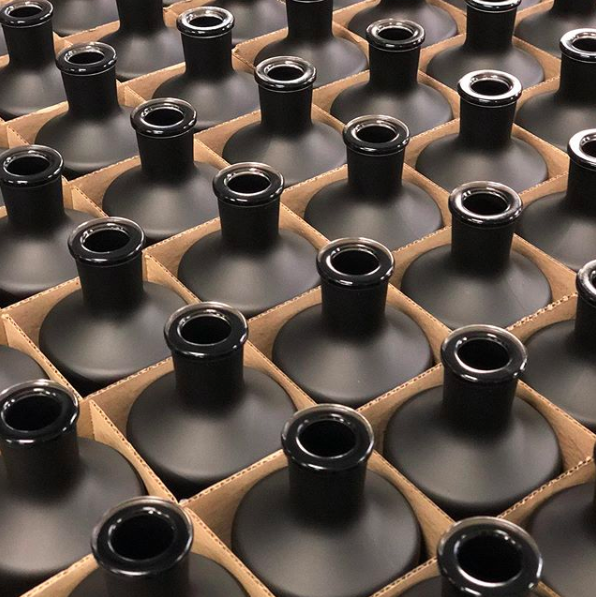 Regarding this gluten-free and vegan Monsieur Gin, this is also the first French spirit to be infused with verbena leaves and elderflowers, respecting the traditional London Dry Gin recipe. Then, in order to reach the purest result as possible, the distillation is processed in a copper alambic, before a reduction carried out with local Gensac-La-Pallue pure spring water. Once the operation is ready, you would admire that each of their bottles are numbered, reinforcing the exclusive and handcrafted side of their production.
Thanks to a delicate and precise tradition, this gluten free Monsieur Gin has abilities to express the best wedding between the fresh notes of coriander and verbena, behind the juniper berries, to feel once your glass is filled.
When you taste this original Gin, it's a true fact that there's a sweet and correct balance between what you smell and what you savor, thanks to an able combination between a harmonious and elegant texture, some freshness and creamy penchants. On top of that, Monsieur Gin may be appreciated either pure on the rocks, in cocktails or can paired with appetizers.
More information on the official website, where you may explore the entire selection in the online store.
---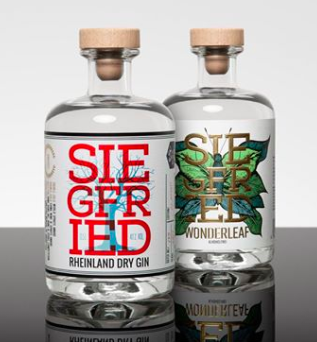 Furthermore, we step into a revolutionary German Gin… Indeed, like the non-alcoholic Rum imagined by the French Lyon-based company Fin Pallet, their German neighbors from Bonn, the Rheinland Distillers developed a non-alcoholic Gin version. Inspired by its fellow "real" homemade Siegfried Rheinland Dry Gin's original recipe, the Siegfried Wonderleaf faced this unbelievable challenge to happen as an authentic Gin alternative, while keeping the native identity! Indeed, this classic Dry Gin already held an incomparable taste, really distinctive thanks to a weighted composition made 18 fine botanicals. Among them, a large part has been given to the linden blooms highlighting this floral spirit. These come from the illustrious linden tree, as a tribute to this legendary element of the ancient German Nibelung Saga, especially when a leaf landed on Siegfried's back, while he enjoyed his bath in the blood of a dragon. Like in this Saga, incredible but true, this elixir holds all the gustatory assets usually found in a Gin, from the smell until the mouth… Unless, it may not be officially called as a Gin, since a regular Gin requires at least 37.5° alcohol volume, facing the statement (photo credits: Rheinland Distillers).
Otherwise, you would be amazed to discover the complexity of this Siegfried Wonderleaf, embodied with no less than 18 distinct botanical essences, necessary to flavor this unmissable element of your future soft cocktails! A perfect match for anyone who can't or don't want to drink anymore alcohol, while feeling the inner tasting memories of a premium Gin, still without any artificial flavors nor additives.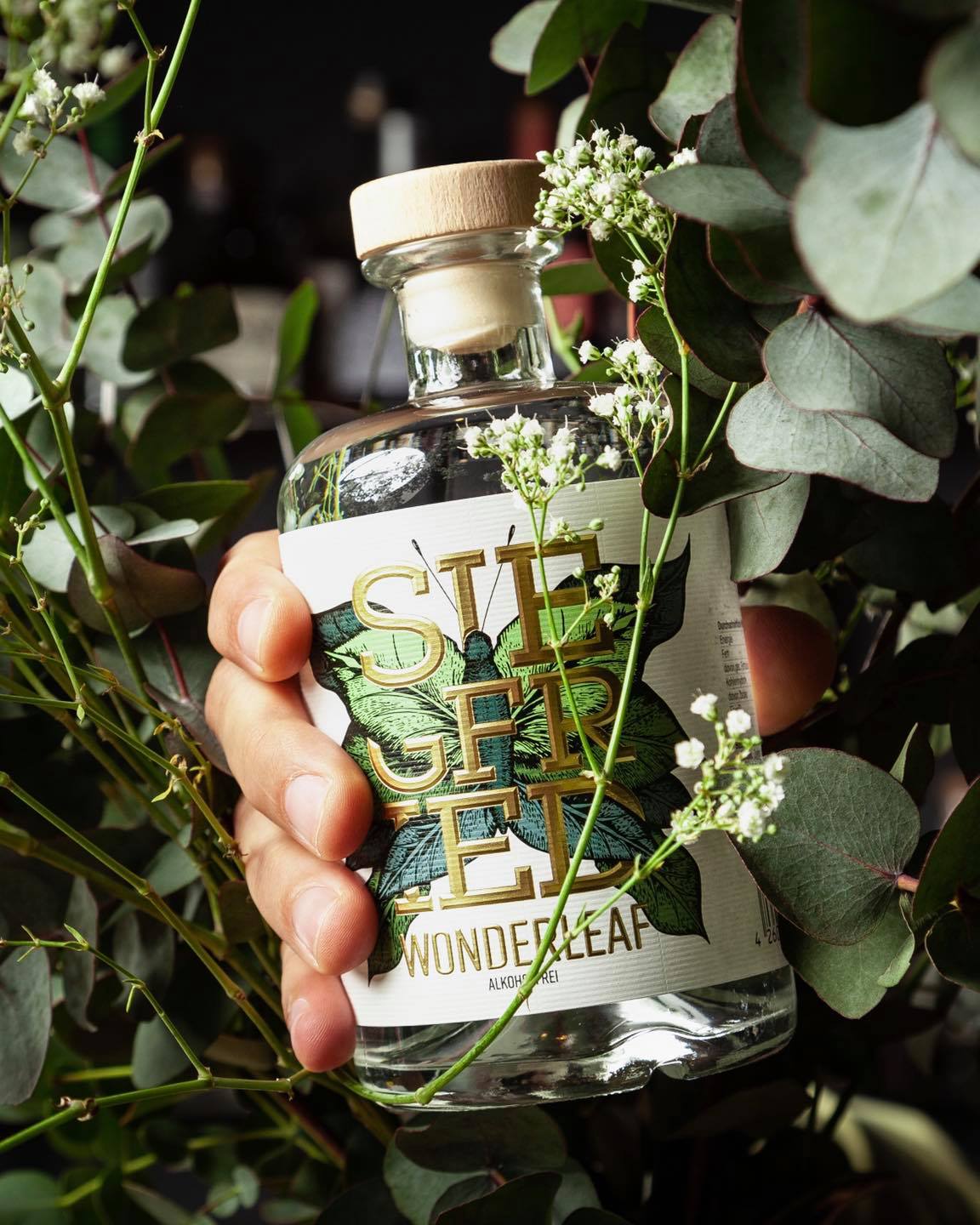 For your information, this challenging project started with a random social media prank, initiated on April Fools' Day 2016 when a non-alcoholic edition of the Siegfried Rheinland Dry Gin was eventually and in a humorous way announced. This joke made such a big buzz, that the Rheinland Distillers finally took seriously all the clientele's ideal vows, and started the development of this singular soft version of their Siegfried Rheinland Dry Gin, only based on natural botanicals and even without any sugar added! As far as we know, their secretly kept technique achieved to extract and macerate this vegetal basis, through a traditional distillation, very similar to a classic Gin method, but reaching a non-alcoholic prowess. The result turned into a successful Gin imitation, enriched with vegan and diet values, since it only contains 2 kcal for 100ml… Don't feel guilty anymore at the cocktail bar!
As you may have understood it, suitable for alcohol-free people, such as pregnant women and kids, this poetically named Siegfried Wonderleaf is undoubtedly a proper initiation for some wise mixology, since it's highly recommended to employ it mixed with other juices. Find some recipes suggestions on their dedicated section. Regarding the conservation tips, once opened, you may enjoy your own Siegfried Wonderleaf at least 8 weeks, without refrigerating, but avoid it from heat.
More information on the official website and explore their wider selection on the online store.
---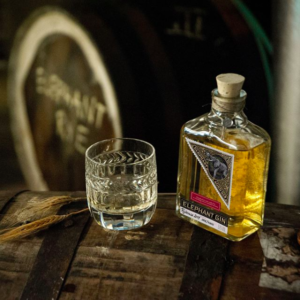 The last player here is also German, but very committed into humanitarian actions… Indeed, since 2015, Elephant Gin has been supporting the exemplary work of different wildlife associations. For instance, 15 % of proceeds, from every large bottle of Elephant Gin, are donated to two philanthropic African foundations, committed to save the African elephant species from extinction, Big Life Foundation and Space For Elephants Foundation. In another hand, 15% of profits from their miniature bottles go towards Sheldrick Wildlife Trust, an elephant orphanage, located near Nairobi. This especially in order to support various direct associated costs including round-the-clock specialist care, proper nutrition, veterinary care & treatment, medications, keepers' salaries and a well-constructed and maintained stockade for housing (photo credits: Elephant Gin).
This laudable action wouldn't be possible without focusing on the quality of the three distillates proposed by the factory. In 2013, they developed the award-winning Elephant London Dry Gin (45%) that uses 14 rare African botanicals combining rare African ingredients, with an undertone of mountain pine plus other herbaceous notes, and fresh apples and focuses on resolutely artisan production methods.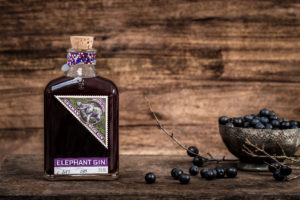 In addition to this, each bottle is custom-made and embossed with a crest in the shape of the typical tribal shield. Indeed, Elephant Gin's labels are hand-written by a calligrapher and carry the name of a past great tusker or elephant that its partner foundations currently help to protect.
Furthermore, since December 2015, the company has complemented its portfolio with an aromatic Elephant Sloe Gin (35%) and in 2017, Elephant Strength Gin (57%). In both cases, releasing a strictly limited small batch edition of each handcrafted Elephant Gin bottle. Combining the taste of the award-winning Elephant London Dry Gin, with the classic flavor of fresh sloes, those wild berries are added in a richly rounded, lightly sweet and exquisitely fruity bouquet, as well as a typical warm red color.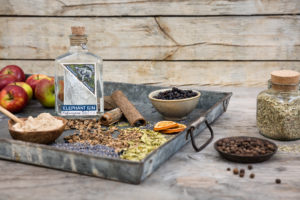 Compared to other sloe gins, Elephant Sloe Gin has a relatively low sugar content, paired with a higher alcohol volume of 35 percent. This makes it ideally suited to mixing in cocktails as well as enjoying neat. All of their Elephant Sloe Gin bottles are adorned with beautiful traditional beads, handmade by three Maasai tribe members from Kenya.
Otherwise, the Elephant Strength Gin encompasses twice the quantity of botanicals and a focus on the extraordinary African buchu, sweet orange peel and herbaceous mountain pine. This powerful Gin, like the elephants, is intense and full-bodied, rich in fresh aroma and a higher viscosity than the original; really dedicated for cocktails or to decorate your boat, since their bottles' design takes inspiration from its naval origins, illustrated with navy blue accents and an inviting map of the ocean, conjuring far-flung exploration and the spirit of adventure anchored at the heart of this responsible brand.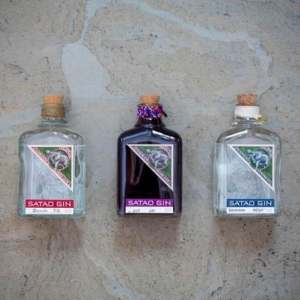 One last key point, after a long back-and-forth struggle with strict packaging regulations,
Elephant Gin
(also branded
Satao Gin
in
Benelux
) has managed to replace the standard
PEC/PET
plastic
shrink
, usually present on bottle caps, by
fully-biodegradable shrink sleeves
. Thus, thanks to
polylactic acid
, many of their packagings are 100%
plastic free
, moreover filled with those characteristics:
– Made out of
recyclable glass
– Closed airtight with
natural cork
– Sealed with a
biodegradable
shrink sleeve
– Adorned with a
glass-bead
string
– Secured with
carton
instead of bubble wrap
More information on the official website, where you may explore the entire selection in the online store.