Kaviari and Ultreïa welcome you in their parisian Caviar showrooms
9 min read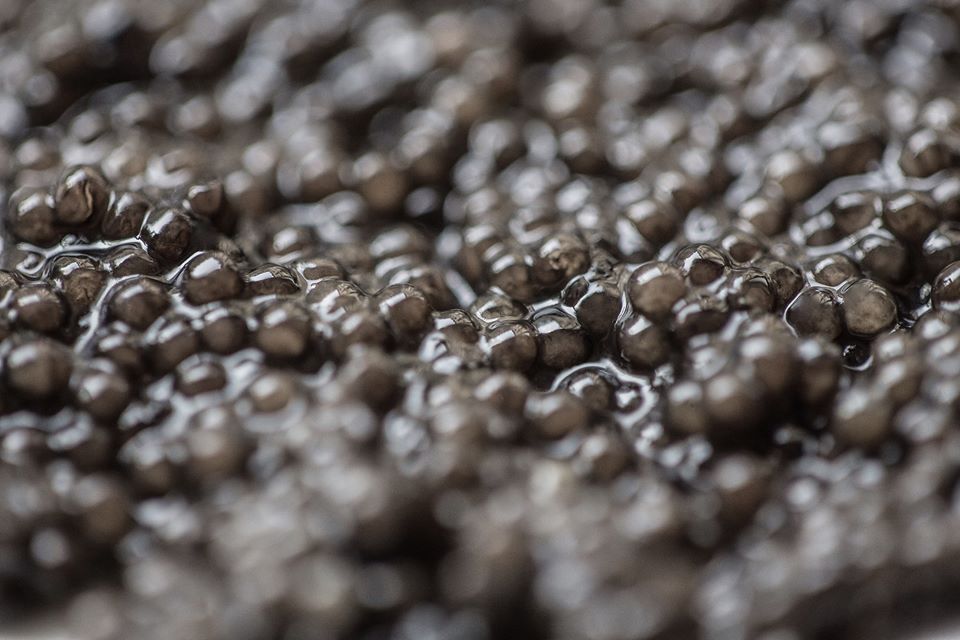 While luxury products, including many gastronomic elite products, such as foie gras and champagne have been democratized since many years, caviar is still one of these high-end and sometimes unaffordable foodstuffs, at least for middle-class people. After all, a new process seems nowadays to have started, regarding the culture of those legendary sturgeon eggs, due to the emergence, in last years, of many French brands. Among them, we may consider Kaviari and Ultreïa, which are trying to give their own less elitist approach, while focusing on the education of new potential consumers. By Alexis Lery
---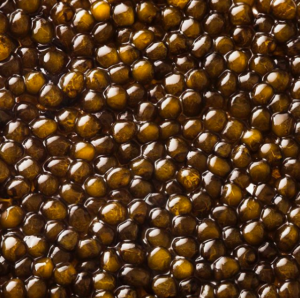 First, for your information, you have to know that there are 24 species of sturgeon, floating in our Blue Planet's waters. Furthermore, the reputation of caviar is mainly approved for its nutritional, antioxidant and regenerative qualities (also for its using in cosmetics sector). However, since many years, the global geography of caviar production has changed a lot and although the Caspian Sea concentrated a good part of the world production… nowadays the new main actors are Italy, France and even China, which are the new main (official) global sturgeon breeders. Indeed, we count about 200 livestock farms, spread around the continents, the majority located in the northern hemisphere.
Those entities have many important roles for the regulation of this fragile and endangered aquatic species, and privilege 3 criteria as essential to recognize a good-quality caviar: water purity, feeding regime and fore sure, their living conditions.
If you ever wanted to whet your curiosity about this rich science of caviar, the Manufacture Kaviari, an entity of Kaviari, located in the eastern part of Paris, would be a great opportunity to achieve your goals (photos credits: Kaviari)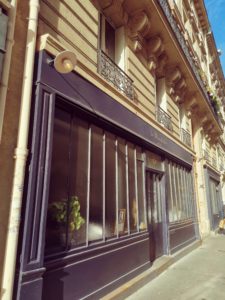 Bastille is a famous cultural Paris area for gastronomy, culture and thus a tourist spot… This was a good reason to settle this factory, transformed into this showroom dedicated to anyone willing to learn more about this millenary know-how.
This place which was, as its Manufacture name suggests it, the former factory and warehouse of this French player in the sector, thus offers an educational space about this "black jewel", which we learn that its exploitation has its origins around the Caspian Sea (photos credits: Alexis Lery).
Thanks to a free access, you may stroll through those permanent exhibition corridors and surely get the opportunity to perfect your knowledge, through schematic panels and significant historic objects.
Once there, you will learn the evolution of the company, since its creation and find out, in particular that the Kaviari founder, Jacques Debot started his experience within the era of wild caviar thanks to a couple of handful Iranian commercial contacts, then grounded a first joint activity with Astara, a border town situated by the Caspian Sea and close to the Azerbaijan. A real trade hub for the local caviar factories!
sturgeon
fishing has strongly evolved since the 80s and in particular by the ban in 2008, of wild fishing on a world level in order to be able to let repopulate the species and thus protect sturgeon, classified as an endangered species. Although, this prehistoric fish species is normally resistant, since it has been existing for more than 250 million years, and therefore ensuing many varieties of
caviar
.
The french market was thus able to undergo different phases of transition and in particular to adapt to the new current practices of farmed caviar, and even to develop the french production branch.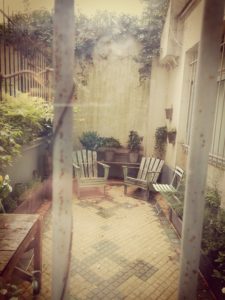 After this educational part, in case you venture further into the place, you can spot a kitchen, composed of a dining room decorated with a Vintage style, revisited by the owner of the place and giving a cozy side to it. space. Lunches are provided on reservation as well as for dinner, if the minimum quota of guests is reached on the table.
In addition, be aware that there are, several times a week, seasonal flat dinners around homemade products and once a month, a dinner may be organized under the expertise of a Michelin-starred Chef.
If you wish to privatize this cosy place for a seminar or other festivities… It is possible to privatize it between 12 and 20 people seated, up to 50 and 80 people standing.
Then, if you wish to combine theory with practice, tasting sessions may be organized by appointment, this would be an opportunity to harden your discerning palate about sturgeon eggs, freshly arrived from all around the world. We bet that there should be something for anyone's taste !
But remember the basic rules to consume them, it's preferably recommended to taste them directly with a mother-of-pearl or even bamboo spoons. Indeed, you have to avoid metal or silver spoons, which would distort the taste of this so refined product.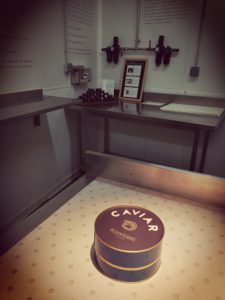 As a result, you would have the chance to discover the extent of the Kaviari range.
Starting with the classics, namely the Baeri Fermier caviar, strong in iodine, melting in the mouth and the grains crushing more easily, between the tongue and the palate. Somehow a more complex feeling here, this is why we advise you to add it on a blini for example or on potatoes.
Another bestseller and much less marked in iodine, rejoicing the posh name of the Osciètre Prestige, coming from a responsible farm in China.
You would eventually notice here a certain hazelnut note, emanating from those rolling eggs… Not far from the Transmontanus edition, which requires 7 years of maturation and which is by definition, a blinis caviar, because it is easy to spread, thanks to the fineness of the grain, melting in the mouth, very fatty and very buttery facilitating spreading.
Then a new variety, this hybrid and house signature caviar, the Kristal, born from a crossbreeding between Dauricus and Schrencki sturgeon species, and developed in a Chinese farm since 10 years ago. This singular but flavourful grain contingently became the "caviar of the Chefs", since many fine restaurants use this "black diamond" for their precious gastronomical creations… A glance of this Art is annually expected at the Taste of Paris fine food fair.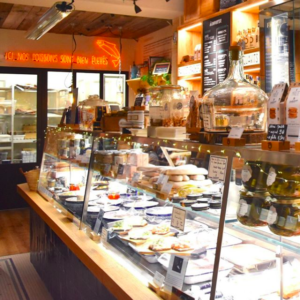 On an other hand, your visit would be also the occasion to buy something from the store , such as the essential elements to succeed your caviar experience, among them, some tarama, smoked salmon, other kinds of fish eggs and the necessary tools to enjoy your experience… and perhaps get to know about the last product launch, a dehydrated pressed caviar, called KenBar, wears the form of a cigar and looks solid as a bottarga (a mullet speciality from Maghreb, tasting very close to caviar). For information, it requires nearly 3kg of concentrate caviar to obtain 1kg of final product and thus very concentrated in iodine. A good idea to accompany your dishes, with those slices or grated shapes.
On top of that, have you already heard about the next project of the company? This will resulting by the inauguration of some Kaviari delicatessen, a first item has opened last November, located Rue des Martyrs in Paris, and then the store network would extend over the year 2020, with 8 new stores. A selection of Swedish food products will be added in the range, to provide a Scandinavian touch.
More information and booking on the official website: La Manufacture Kaviari / 13, rue de l'Arsenal 75004 Paris (France) / Opening hours:
– Showroom, from Monday to Friday, from 9 am to 7 pm.
– Workshop, from Monday to Friday from 9 am to 7:30 pm.
– Privatizable kitchen in the morning, noon and evening
Contacts : +33 (0)1 44 78 90 52 / manufacture@kaviari.fr
---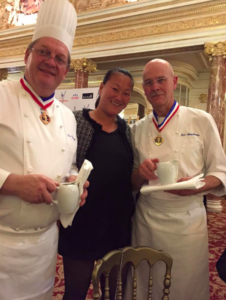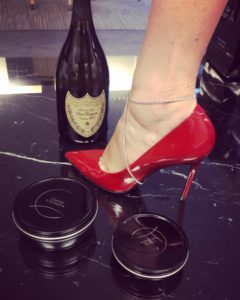 Ultreïa, beyond this latin Middle-Aged joyful expression, is also an initiative to take caviar out of its comfort zone, while democratizing it from above.
A huge enthusiast about the World exploration, Véronique Yoon-Kyung Martin worked, some years ago, in the champagne field and decided to switch to this caviar business, in an attempt to update some codes and traditions of this precious sector… Starting from the fact that France is now a main player, becoming lately the 3rd world producer.
Thus, Ultreïa wishes to represent, like a real ambassador, a certain French culture, by having mainly French production, and only one reference coming from China.
While launching this adventure, her objective is twofold in order to satisfy demanding gourmets and eventually initiate new consumers to the discovery of caviar, around a large and accessible offer, in terms of products, while still focusing on guaranteeing an impeccable quality. This was made possible thanks to a draconian selection of the best varieties produced on breeding farms in Europe and around the world (photos credits: Ultreïa).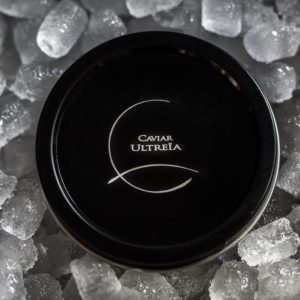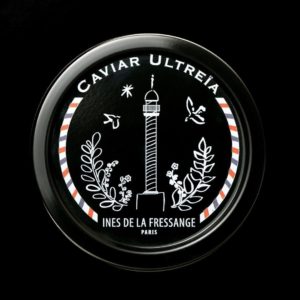 Currently,
Ultreïa
proposes 4 varieties of caviar (available in 4 different formats, 30g, 50g, 100g and 250g), among them, you would find a bunch of specificities…
By this way, you should better remind that what makes the quality of a caviar lay on the texture, almost depending on the maturing period (averagely between 1 and 4 months on the market and up to 12 months for a creamy appearance), aesthetics assets…
While the majority of caviars contain a salt level between 3.5g and 3.7g, salt works differently depending on maturity and type of sturgeon. Thus, the brand offers a set of flavors, since perhaps the cheapest would be the one that better suits to you, apart from the price you are likely to give…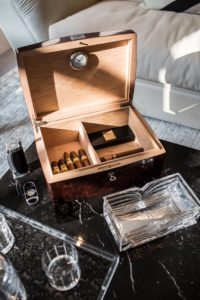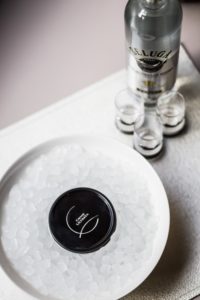 – First of the list, the more affordable… The Baeri Origine, straight from the Siberian Acipenser Baerii sturgeon, the most widespread species to be found in Europe. The first eggs appear from between 5 and 7 years old, comparing to 10 years for the Ossetra Origine, and with an average size of 1.50 meters, versus 6 meters for the Beluga. This caviar provides a fairly tender dark sensation, with amazing soft notes, directly to play with, delicately on your palate.
– Ultreïa counts among its wide selection, a hybrid caviar, the Schrenki Or. This variety is extracted from the Acipenser Dauricus Schrenki sturgeon, raised in the Amur river which separates China from Russia. This sturgeon gives its first seeds from 9 years old.
Schrenki Or is the one that resists the more to heat, including a simple and consensual taste, without a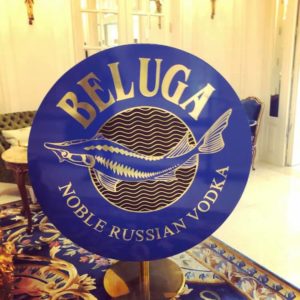 particularly assertive character. This elegant caviar proposes pearly reflections. Its grains are melting and generate little iodized notes of hazelnut butter.
– Ossetra Grand Cru, a noble caviar from the Russian Acipenser Gueldenstaedtii sturgeon, which is one of the first original species from the Caspian Sea. It reaches sexual maturity at between 8 and 12 years old and offers a clear and pearly grain, delivering a powerful and refined flavor. This Osciètre version would be even more iodized than the Schrenki one, therefore more suitable for other kinds of dishes combinations…
– There is also an Ultreïa organic range, the One Ultreïa (or Naccarii), from the Acipenser Naccarii sturgeon, native from the Adriatic Sea. It is necessary to wait between 14 and 17 years before the first production… For that reason, it's a rare delicate and sophisticated caviar, filling your senses with a tiny and tender grain, thus offering softly long salty flavors, inside your mouth. This small production is very dependent on each farm's politics, and arrivals may change following the seasons.
– Some other caviars, like the Beluga, no longer have the same value, since for example the emblematic Iranian range has lost its grain size… when they may only wait for eggs, during 20 years and a spawning every 5 years. Although it remains the caviar par excellence, it comes from the Acipenser Huso Huso sturgeon whose primary origin was in the Caspian Sea and the Black Sea. Thanks to a late maturity, between 17 and 19 years, its grain became large, of an absolute tenderness, its dress is gustatively attractive and its sweetness on your palate, is very captivating…
Ultreïa
showroom, located in the prestigious parisian
Place Vendôme
, offers educational tastings around
caviar
for an audience, between 4 and 25 people. Thanks to a kind champagne glass, you would get this tasty tuition for a price of 150 euros per person, for the opportunity to discover 4 different types of
caviar
.
Ultreïa / Adress: 8 place Vendôme, 75001 Paris (France) / 00 33 (0)6 88 50 91 76 / Open from monday to saturday, from 10am to 7pm.