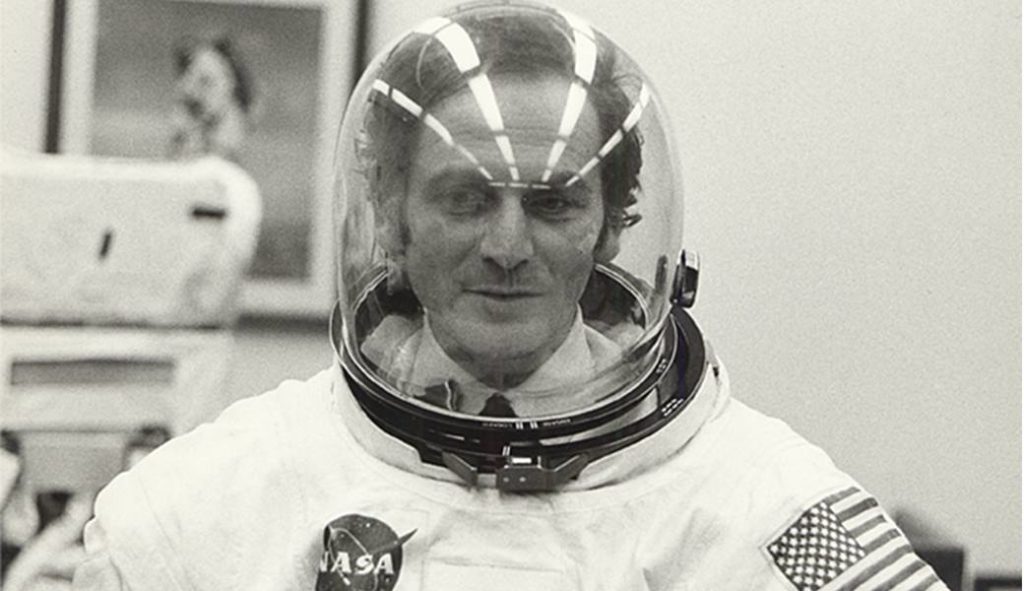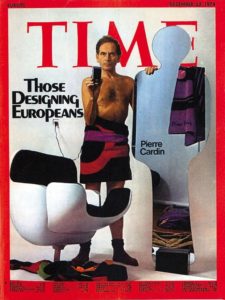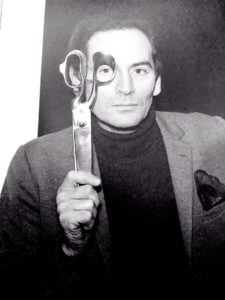 The French-Italian designer Pierre Cardin and his creations are famous all around the world by millions of people but only a few know the man behind the creator. Sometimes provocative but as much as possible innovative, one thing leading to another, this visionary creator has left his mark on the four corners of the world, both in Haute Couture and in ready-to-wear sections. Through numerous archives from the Maison Cardin and the testimonies of famous couturiers, renowned actresses, emblematic models and the artist himself, the biographical movie House of Cardin was born. Therefore, Pierre Cardin immerses us in his outstanding route, lead by two American directors Todd Hughes and David Ebersole, who made their passion for fashion available to this ambitious project and accepted to answer to our questions.
By Alexis Lery
---
The least that we can say is that Pierre Cardin made a long career, since his early days in Italy and his arrival in France during his childhood, when he got attracted to fashion design and more globally aesthetics sights, until the creation of his first collection, launched in 1953. Thereafter, he quickly became acclaimed by the show business and entered the star system, where he got many acquaintances (photo credits: Maison Cardin).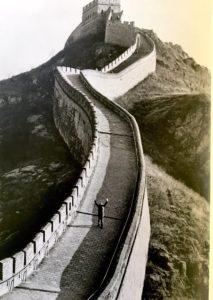 Once his venture was started, nothing could have ever stopped the inspiration of this inventive artist who always tended to focus on multiple tasks and fields in the same time. For instance, the entire world gradually became seduced by the avant-garde aspects inherent to the unique conception of Pierre Cardin, particularly regarding a certain futurist movement. Not only about the colors and the shapes but as well his own philosophy, a personal style clearly recognizable and obviously left a mark on more than a period! From Beijing to Moscow, there may be millions of fashionistas that have at least once in their lifetime, worn or admired a product of the wide and eclectic collection developed by Pierre Cardin, since he decided to spread his influence as much as possible on different kinds of products (perfumes, underwear and even a private jet!). A choice to break the traditional fashion codes whose main players preferred to remain profoundly attached to their original styling image.
A long-winded approach that two American directors tried to summarize in a documentary, baptized House Of Cardin, tracing the history of more than 70 years of intense reflection on design. Directed by two American associates, Todd Hughes and David Ebersole, this filmed act benefited of the testimonial support brought by diverse high-ranking people, who contributed in one way or another to the construction of this myth or the adventure of a lifetime, as you prefer.
"My favorite color is green." – Pierre Cardin
Nonetheless, it's not easy to fit more than 97 years of a rich path, into a movie of 97 minutes. In order to get closer to the reality, the team has traveled all over the world, following Pierre Cardin step by step, and quickly realized that this artist wished to gather different cultures and different personalities around a fashion objective.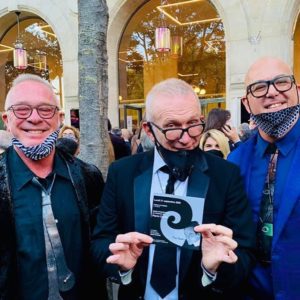 Indeed, enriched with a dream casting, dotted with many various famous personalities, such as Naomi Campbell who immediately agreed to participate in this project, since she's one of the few actresses to wear some vintage Pierre Cardin outfits on the international festival premieres! Moreover, Sharon Stone was also a very good friend of Jeanne Moreau, notably due to their common Paris Match magazine cover, and thus could contribute about her relationship with the former Cardin's wife and this interview was also lead in a vintage outfit. Thereafter, Jean-Paul Gaultier was perhaps the most difficult character to book, because of planning issues but finally, he succeeded to admit how much he got personally influenced, among so many other well-known personalities, by the visionary aura of Pierre Cardin.
In the other hand, another branch of the culture world was mobilized, essentially by the multiple events and concerts played at the Espace Cardin, a performance hall situated behind the Champs-Élysées. A huge list of artists, starring the musicians Jean-Michel Jarre, Alice Cooper and Dionne Warwick played on the 52nd birthday of Pierre Cardin, who have all delivered unique anecdotes about their collaboration on this memorable show. Among many other surprises… (photo credits: Todd Hughes and David Ebersole).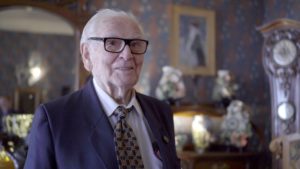 Satisfied by the positive reception of this biographical cinematographic essay, the duet Todd Hughes and David Ebersole made their possible to preview their realization in the presence of Mr. Cardin close to the city where he was born in Venice, Italy but also in Paris, in September 2020. At the occasion of a projection session and a birthday party reunited to celebrate this long-awaited film release in Paris, this time the city of adoption of Pierre Cardin. For more indications, we collected some information alongside the two American directors, regarding their implication in this documentary.
More information on the official website.
---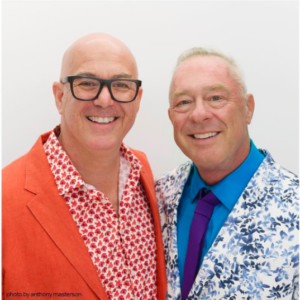 FranceVisiting: When did you start to direct films together? What is your philosophy?
TH & DE: We have been together for 29 years. We were both narrative filmmakers when we met. After being romantically involved for five years we started writing together. We made our first doc 10 years ago. Because we had the collective experience of many aspects of filmmaking we were able to write, produce and direct together. As Pierre has shown us, we did what we loved and the rest followed. This film also incorporated our collection obsession with Pierre Cardin. Off camera, we have loved building collections together over the years. Our affair with Pierre has only just begun (photo credits: Anthony Masterson).

– How did you get the idea to build this film about Pierre Cardin? How was the proposal welcomed by the designer?
TH & DE: It was fate. Divine intervention. As all things in Pierre's world there is a bit of magic and mystery. We were crazy about the brand. One trip to Paris we happened upon the Musée Cardin in the Marais. That was the moment we discovered Pierre Cardin was a real person! We thought he was a mythological design legend. To discover he was alive, well and still up to mischief made us all the more passionate. When we met him, he looked into our eyes, our souls and said, "yes!" We didn't yet know what the question was but he already knew the answer. Voila!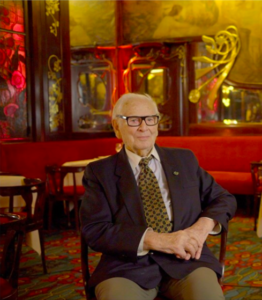 – Did Pierre ask to focus on certain parts of his life? In which angle?
TH & DE: He asked us what we wanted to focus on and without hesitation we said EVERYTHING! That made him happy. He put no restrictions on us whatsoever. He actually led us to the great footage of his partner Andre Oliver. His whole house was extremely helpful.
– Once the documentary started to be filmed, what were the main exciting points and in opposite, the main obstacles that you encountered?
TH & DE: The exciting thing was that in following him for one year we had to travel around the world! Pierre Cardin is a huge presence in China where he was celebrating a 40 year relationship AND Japan where he was celebrating 60 years. Main obstacles were fame. We were unable to find a time to interview Paul McCartney, Ringo Starr, Dapper Dan, Brigitte Bardot, Marisa Berenson or Alain Delon, even though they all agreed. And, Pierre Cardin was 96 when we filmed. We had to respect that he was slower than the rest of us and we just had to slow down for a minute. We learned a lot.
– What is your major satisfaction after this project about Pierre Cardin accomplished? And his first reaction?
TH & DE: Being at the Châtelet Theater next to Pierre Cardin who has become a dear friend. We are so proud to be a part of his legacy. We had the honor of meeting Frédéric Mitterrand that night who told us he didn't think it was possible to make a documentary about Pierre Cardin but that he thought we succeeded. We are fans of his Dior documentary so that meant a lot to us. When we premiered last year at the Venice Film Festival, after a standing ovation, Pierre told the crowd he thought the film was, "thoughtful, artistic and all true." It was like winning an Oscar.
House Of Cardin (2019) available to watch on Amazon Prime.