Spend a Street-Art experience nearby Cognac, with the Hotel L'Yeuse and its Jardin Respectueux!
10 min read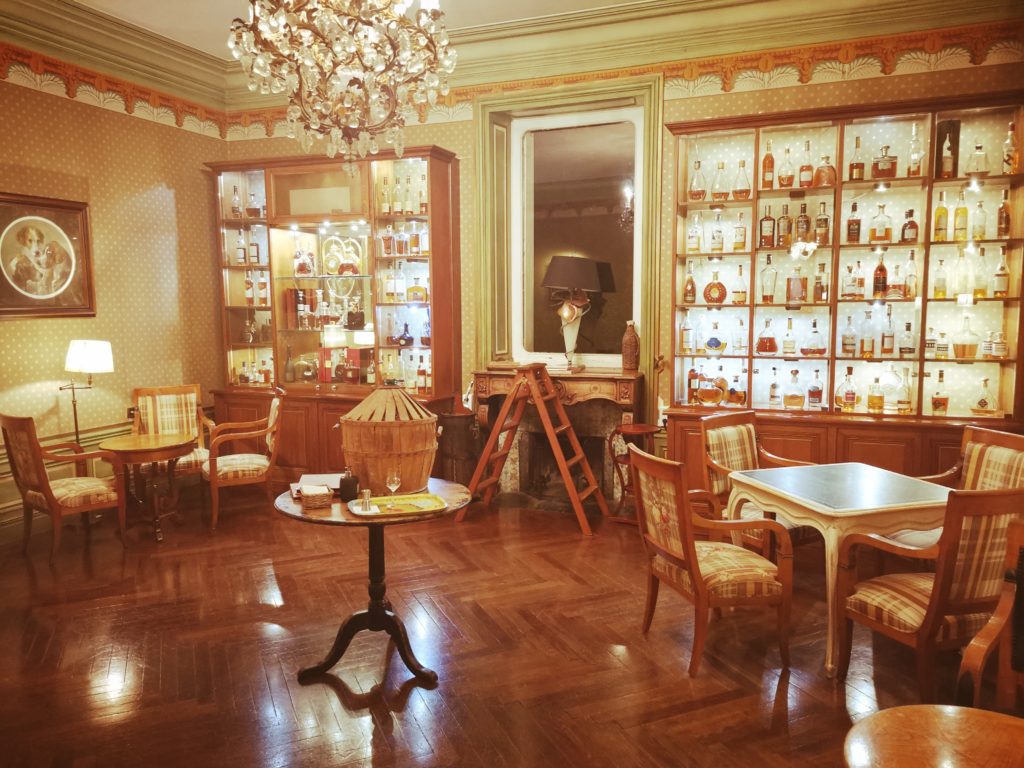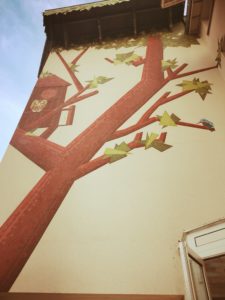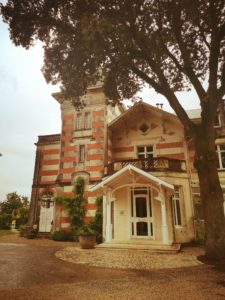 Following our tour in Cognac, nested in this lovely Charente area and its related New Aquitaine, we invite you to stay in L'Yeuse Hotel. More than a random hospitality experience, this establishment stands in a typical and elegant 19th century mansion, locally called Folie. Indeed, this kind of residences was by the time meant to host parties and celebrations.
Still in this luxurious Charente area, situated in New Aquitaine, L'Yeuse is a beautiful 19th century residence with a more contemporary annex forming an estate on the edge of its Jardins Respectueux. The green and flowery environment extends over 2 hectares, offering absolute tranquility to the guests of this charming hotel, with its fine table. The manager Céline Desmazières lead the refined decoration of the spacious and comfortable rooms, essentially with a collaboration with street-artists. We're pleased to introduce you this artistic concept in this article and the video below. By Alex Lery
---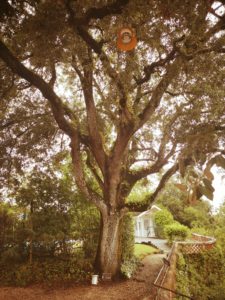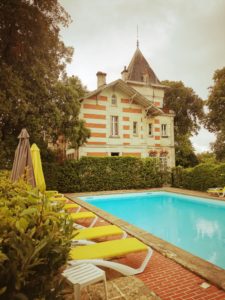 Precisely located in Châteaubernard, at the entrance of the city of Cognac, L'Yeuse Hotel naturally enjoys an ideal position between greenery and the urban stimulations, including the unmistakable Cognac houses' visits. Recently completed by a more contemporary annex, forming like a bucolic mirador overlooking the Charente river, and on the edge of a dizzy but flowery environment spread over 2 hectares (photo credits: Alexis Lery).
Starting from every sense of this Hotel, since its name has been inspired by the green oak tree, painted on the facade of the modern part of the edifice. This majestic tree is also standing as a symbol of the surrounding park, known as the Jardin Respectueux.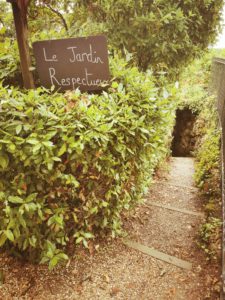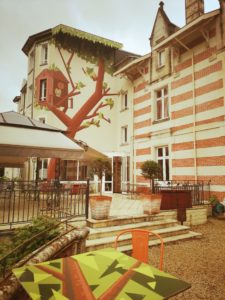 Beyond passing the preserved blue swimming-pool and its ravishing pool-house, you would access to a panoramic terrace over the Charente Valley and the entrance of the Jardin Respectueux. A great crossroad to enjoy a glass of Cognac underneath the oak trees or the pergolas.
Once inside, you would observe that the initial spirit of the place has been revived by the lady of the house Céline Desmazières, who opted for a couple of artistic collaborations. Those mainly conveyed to street art artists that accepted to color her reception hall and most of her rooms. From moldings until ceilings, admire the personal universe of those talented artists, who realized their graffiti pieces while finding inspiration in the genus loci (also known as the genius of the place).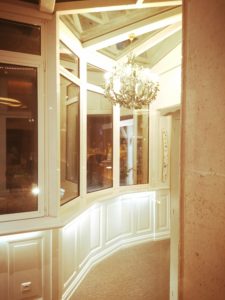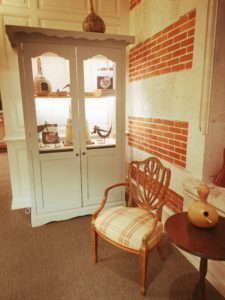 If you take time to visit those rooms (or digitally with their QR code), you could see that each artist invents a unique landscape in the hotel rooms. "We go from the abstract to the figurative using different techniques such as stencils or freehand spray. The idea here is to offer something very open which allows us to have a look at urban practice", explains Mathieu Perronno, the graffiti artist and project coordinator.
About twenty rooms have already been revisited. Now the hotel is also a gallery that offers a range of works by urban art artists. After giving new colors to the facade of the 19th century edifice, six artists have taken over the interior of L'Yeuse Hotel. The owner, Céline Desmazières, gave them carte blanche to transform her rooms into real artworks, while drawing inspiration from the local Cognac heritage and natural environment.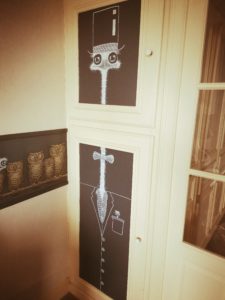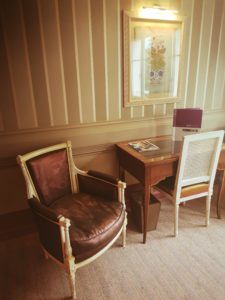 For instance, this challenge was taken up by the graffiti artist Loeil who let himself be intoxicated by the famous spirit. After having researched the assets of Cognac, he equipped himself with his color bombs. "It corresponds well to my own universe, full of colored vibrations in warm ranges", he explains.
For this new foray into urban art in the hotel, those several street-artists have tended to respect the existing and the past, while bringing ideas that refresh the walls of L'Yeuse Hotel in a surprising way. "Every time we do an arrangement or decoration, we are inspired by what we call the "genius of the place", its history and its architecture without overwhelming", explains Céline Desmazières.
Therefore, each of the 21 rooms and 4 suites of this unique Hotel, have been revisited, while keeping the classic decoration, each room has been transfigured by the personality and technique of each artist.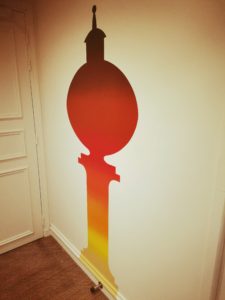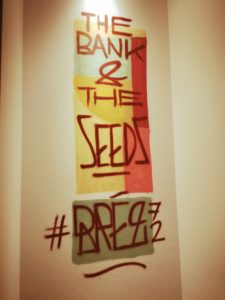 From now on, this Hotel can be considered as an authentic gallery that offers a selection of masterpieces, realized by talented urban art artists, participating in this project, coloring these various spaces, from moldings to high ceilings.
Among these twenty rooms illustrated, some have kept their inner rustic inspiration, but other ones wore the influence of Cognac, such as Loeil who drew his alambics, from his visits in distilleries, including luminous ideas made of laser-cut metal light. Otherwise, another room, signed by Kendo, was inspired by the chef's realizations on pastries and the creation of Mika Husser overviews some flowers of Le Jardin Respectueux. Unless you prefer the owls and ostriches drawn by Matt_tieu, the hands of the father of Jean Rooble, the feathers of Creaero, nearby the funny creatures of Ador stuck in the sky, the arty literature revisited by Rouge, the funny chickens of Philippe Poulet or even the colorful corridors made by Tomas Lacque.
If you take time to visit those rooms (or digitally with their QR code), you would notice that each artist is involved in this artistic project, that would continue in the future at the same pace as in previous years and always according to the same credo, to marry the present and the past.
"We go from abstract to figurative art, while using different techniques such as stencils or freehand spray. The idea here is to offer something a very wide artistic offer, which allows us to have a further look at urban practice", explains Mathieu Perronno, the project coordinator and also graffiti artist (also known as Perro).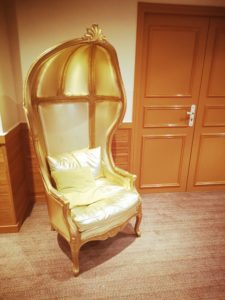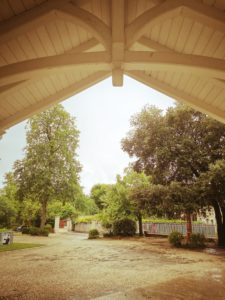 Regarding a relaxing moment, take the direction to the outdoor swimming pool, enriched with deckchairs to take full advantage of the fresh weather from Charente. A pool house stands nearby the basin, with locker rooms and showers in a vintage framework. For more heat, why don't you book a session in the spa? This intimate space proposes a relaxation area, starring a hammam, sauna and whirlpool. In case you're more into massages and body treatments, you would find surely find the right service in this wellness center.
In case, you book your venue for business reasons, L'Yeuse proposes two conference facilities, including the related material. One of them is even decorated by a portrait gallery, where each artist, who collaborated in each room, brought his personal touch on those green walls.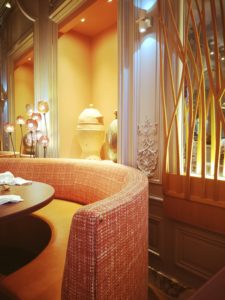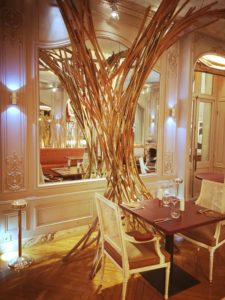 On the gastronomic side, you're invited to delight the taste buds, meet at the hotel restaurant, baptized La Table de Yeuse, offering creative cuisine made from local and seasonal products. There are served delicious specialties of French cuisine await the most gourmet of you, for lunch and dinner at this ideal restaurant, dedicated for a relaxing evening with the family or with your significant other.
Otherwise, if you prefer the comfort of your room, you may count on a very convenient room service (limited hours), the establishment invites you to join its bar/lounge for a well-deserved break. Anyway, the chef Geoffroy Dupuy is in charge of this innovative culinary project, while partly drawing his inspiration from the wild and ephemeral plants extracted from the vegetable garden.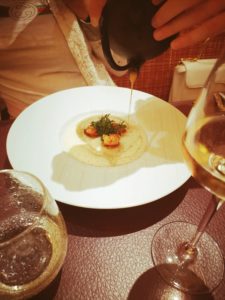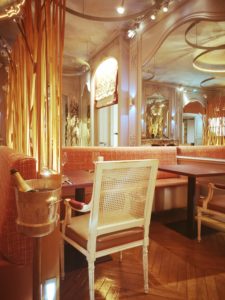 Therefore, he uses some of them to accompany the local seasonal products and from the sea to perfection. For example, as a waiting sweetness, let's enjoy a note of whipped butter, with roasted sesame seeds and with vegetable tones.
Then, to start this gastronomic adventure, a tough choice awaits you, as a starter, there is duck carpaccio from the French Landes, adorned with black cherries, or opt for the soft sturgeon biscuit from Gensac, along a crayfish cream from the Charente banks.
As main course, the selection is also often renewed, let's get tempted by a sole ballotine, straight from the Charentaise coast, completed with first Jarnac carrots drown in butter and a creamy bone juice. Counting on three choices, there could be a beef rib eye matured 45 days, accompanied by new Ile de Ré potatoes as well as a full-bodied thyme sauce.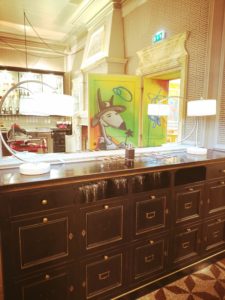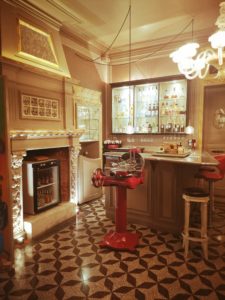 Adding to this, served on a wooden plate, it's maybe time for a selection of mature cheeses, composed of Tomme from Charentes, made with cow's milk and infused with vine flower, succeeded by another cow cheese washed with some Cognac, and a goat cheese joined with wild garlic, Espelette chili pepper, accompanied by a sweet strawberry jam.
After the meal, take a detour to the Y-Bar to enjoy a homemade signature cocktail, along a selection of local finger food. Otherwise, a combo between some Cognac and cigar in the ancient salon, where stands the Cognathèque, would offer you an incredible experience, and eventually taste a 30-year-old Cognac in front of a chess game… Don't miss that centenary eaux-de-vie are honored in these showcases, where are displayed nearly 180 Cognacs from 60 different houses.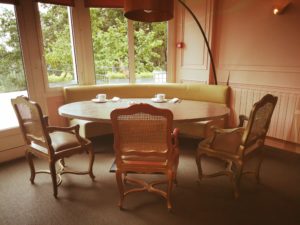 At last, the morning after, don't miss the authentic buffet brunch, kindly prepared by the Yeuse culinary team and supervised by the Chef Geoffroy Dupuy. A chance for you, since he used to be (and he still is) a pastry chef and would ravish you here with plenty of delights varying every day, such as those poppy and lemon cake or this another upcoming surprise. Served daily between 7:30 am and 10:00 am, take your time to savor the local specialities proposed on the table (different fresh cheeses, fruit salads, viennoiseries, eventually to fill with various honeys or squash jams and even nearby roasted coffee).
In case you need to entertain your kids, don't hesitate to ask puzzles, coloring pages or other random available games at the reception.
Hôtel L'Yeuse, 65 Rue de Bellevue, 16100 Châteaubernard (France) / Phone : 00 33 (0)5 45 36 82 60. More information on the official website.
---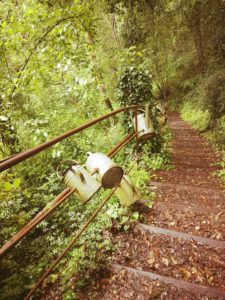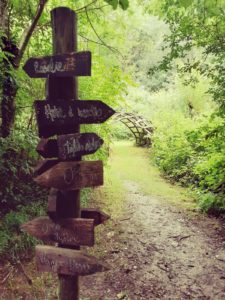 Therefore, the show goes on here with a respectable and educative project about nature awareness, distributed through many parts around L'Yeuse. Indeed, apart from a fancy landscape and a breathtaking panorama over the Charente Valley, let you get tempted to discover the countless secrets of Les Jardin Respectueux (translation for Respectful Garden).
On a path of several kilometers around, we invite you to follow the main road but also to look around you, to observe the many surprises on your way. Among them, admire those different furniture elements, imagined by the ironworker Olivier Dixneuf. This inventive artist pursues on a certain way outside, the street-art philosophy of L'Yeuse Hotel.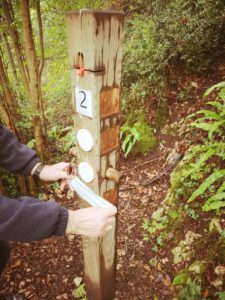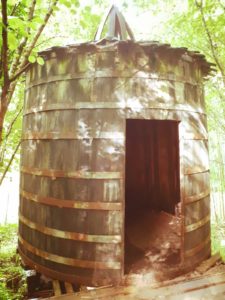 This unique green territory offers an absolute zone of tranquility and contemplation, to the guests but also the numerous passing visitors, such as pupils from more than 90 classes! Thus, Les Jardin Respectueux, directly accessible from the back of the hotel, is either a terraced and a shared garden, managed since 2011 by the eponymous association that aims to generate a dialog between young (or not) visitors and nature, while offering basic notions to respect environment and find nature evolving in harmony with human beings.
For information, you could admire the traces of woodpeckers on trees, who can emits 23 blows per second on wood. By the way, he can protects his head thanks to its 13cm tongue which it surrounds its brain, this biomimicry has even inspired a couple to create a helmet concept.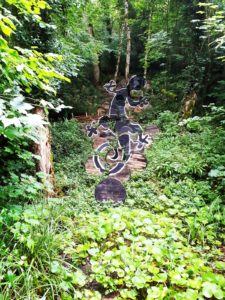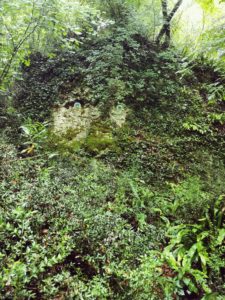 Another biomimicry could be expressed here with the different land art pieces, such as this wall made of vine wood, which even brought back the salamander which comes to live its terrestrial life in the dead wood. This same creature has also been realized by a group of young people, as a tribute of the symbol of the local King Francis 1st. Among the other achievements, we could also admire a human visage revisited on the rocks.
Otherwise, we as well find there real natural wonders, like these fragons (so-called fake holly) which welcome the fruit in the middle of a leaf. Those rare species are preserved by the association, created by Remi Marcotte, which had just acquired a 2.4 hectare plot on the banks of the Charente, in order to accommodate five market gardeners and promote a local production regarding the evolution of the river.
Les Jardins Respectueux, 65 Rue de Bellevue, 16100 Châteaubernard (France) / Phone: +33 (0)5 45 80 81 15. More information on the official website.
---