Christian Drouin tells you everything about Calvados in his book, Le Livre Des Calvados, and tells you where to enjoy a real Café-Calva in Paris!
8 min read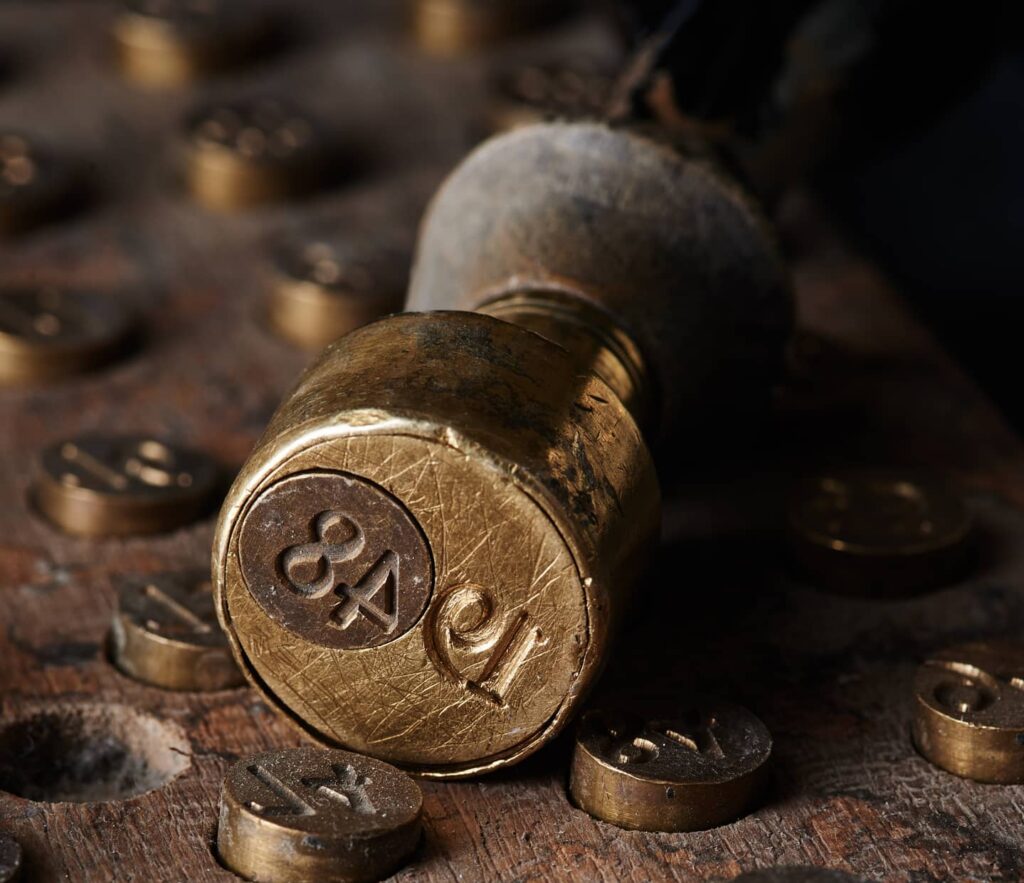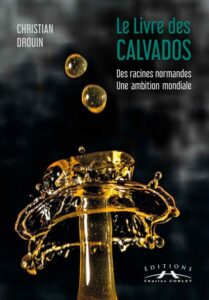 Did you know that one of the Calvados headmasters, Christian Drouin was both of course an internationally renowned producer of Calvados but also a book author in the field of spirits that he has been approaching since ages!
Indeed, often presented as a true ambassador of Calvados, Christian Drouin has led hundreds of seminars in many countries and published several books in France, Canada and Japan. With the theoretical and practical knowledge acquired over more than forty years of experience in his own eponym spirit house and his numerous evangelization trips the world, he naturally felt the desire this time to publish much of his knowledge on the Calvados subject in a new publication, untitled Le Livre des Calvados.
By reading this interesting book, you would be able to recognize the eminent place of Calvados, its Norman roots, among the arena of great eaux-de-vie throughout the world. Thus, as one of the most subtle and complex items emanating from the French terroir, a naturally elegant, delicately scented eau-de-vie but not only since this jewel may lend itself to multiple uses. That's why we invite you here to discover the different perspectives offered by Calvados and more precisely Calvados Drouin such its new spirits and the launching of a map reviewing the various places where you could enjoy an authentic café-calva in Paris! By Alex Plato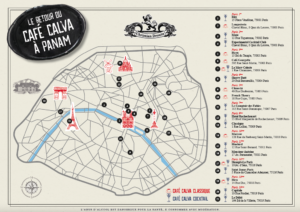 ---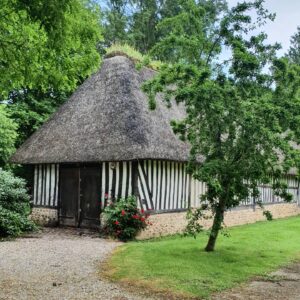 Although Calvados has acquired a flattering reputation for excellence (as you may have seen in our previous general article), it remains less well known than some other spirits with which there is nothing to envy, depending on anyone's taste of course. For instance, the aim of the Livre des Calvados is to contribute to a better knowledge of this prestigious Norman brandy by trying to answer the recurring questions that any random professionals and amateurs ask themselves about how is produced and what are the origins of Calvados? (photo credits: Christian Drouin)
In another way, most of you would like to know as well who are the producers, plus what's the best way to select and consume this spirit. Since Calvados has been identified in many variations and playing many symbolic roles, essentially in social, political and economic purposes, since its appearance at the end of the Middle Ages, its history would have no mystery to you anymore. Therefore, Christian Drouin himself devotes a very particular development to the various modes of consumption, those of the tradition going from the café calva to the use as a digestive while passing by the illustrious Trou Normand and its use in the culinary preparations, those resulting from the new tendencies, the combinations of dishes.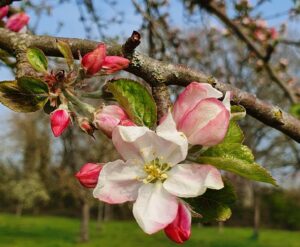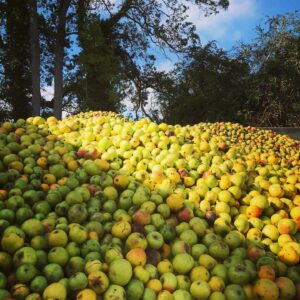 In an other hand, you would be taught more about the international success of Calvados and even its great comeback in cocktails, evoking the bicentenary history of this cider brandy in cocktails. Indeed, the Prohibition played an important role for the popularity of Calvados in the United States, since the American production of Apple Jack nearly disappeared and Calvados replaced especially in various recipes. In this case, also discover the secrets of some easy-to-prepare cuisine and cocktail recipes, scaling from great classics to those of contemporary mixology.
At the occasion of the reading, you would notably observe that there are no less than 220 varieties of apples authorized for the conception of Calvados in Normandy but only 35 have been selected by Christian Drouin for his own spirits.
First of all, one of the reasons of this choice, is the fact that we may consider a matter of risk management since there are still days of frost and tree diseases that could be slowed down by the variety of orchards. While knowing that unlike vines, the apple harvest is more flexible and can be spread over two months. In addition, apple trees alternate and produce every other year, with a graduation between bitterness and sweetness of the fruits, depending of the species.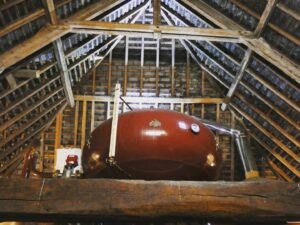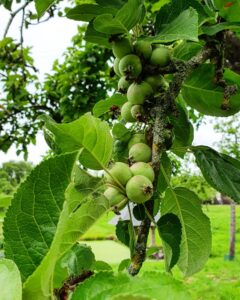 On top of that and in order to highlight the green commitment of the domain, a carbon emission assessment was carried out last spring 2021, telling an emission of 200 tons of carbon per year (3kg of CO2 per bottle which seems to place Calvados as the greenest spirit on the planet) but in addition, the Drouin estate saves around 600kg of carbon by notably planting trees. Pursuing this responsible philosophy, you may find in their apple trees, a couple of nesting boxes for chickadees that enjoy feeding on insects and even situated not far from beehives. In addition, no chemical intervention is necessary for the maintenance of orchards, which makes the soils very natural. A work of global naturalness which is generally more complicated to practice for the vines. Without forgetting that this natural benefit which particularly appeals to cows' appetite which wander between apples and love to delight and crunch into the first apples that have fallen to the ground and seem to stand as most of the time as quite glassy.
The result of this variety of fruits went to various premium productions which followed from one to each other and made it possible to relaunch some homemade specialties, including the famous Blanche, initially launched in 1942. Another important point to remember is the work on high-stem orchards (200 varieties available and rising on trunks of 2m) which produce less than 10 tons per hectare versus low-stem orchards with 30 tons per hectare authorized (but usually producing more). For your information, those apple trees are eventually shaken at the end of the season to obtain more maturity.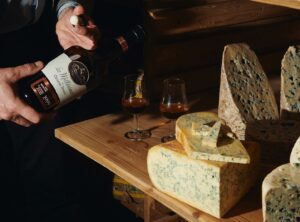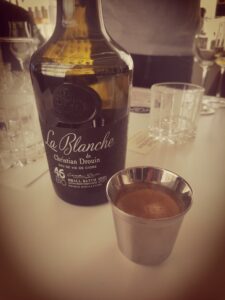 Now that you better understand this Calvados trend, along more notions about its history and the many facets of its conception, why not learning more about the ancestral French consumption of "Café Calvados", otherwise known as "Café-Calva". Simply born from the association between a simple espresso with this tasty Blanche, full of pear accents but composed of only 20 apple varieties. This boosting cocktail was regularly and massively consumed in many cafés and bistros all around France, but suddenly decreased before being relaunched by Christian Drouin with a dynamic communication campaign. Indeed, the house invites you to taste or rediscover this marvel in a selection of Parisian places, where you would be sure to find it and even in another cocktail form (photo credits: Alex Plato).
On the other hand, a way to discover the know-how of Christian Drouin also in terms of Gin with several varieties of this spirit, the original version being marked by touches of almond or cardamom. Another edition was launched more recently with a limited number of ingredients including pear which would attribute its Latin meaning and name of "Pira" (topped with 6 distillates before blending). To this solution, there are added of course juniper, pepper, and even orris root for its candy aromas, plus two binders which are vanilla and lemon. The opportunity to discover a perfect match with the brilliant realization of the young talented pastry chef Cesar Augustyniak, known for his vegan creations but who has also captured the essence of Christian Drouin flavors in the heart of some of his desserts. Here, a revisitation of a gin baba, starring a bitter chocolate ganache, a cream and a brunoise with pear, caramelized almonds and blackcurrant buds, introduced here in La Maison du Whisky.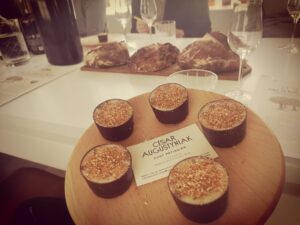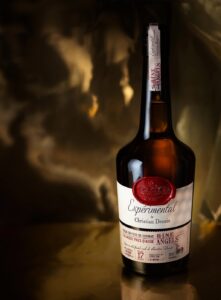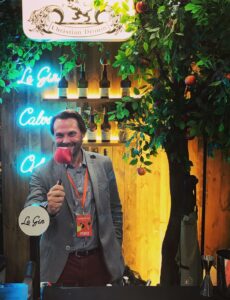 It follows an Experimental cuvée developed by Christian Drouin, called Hine Angels, which enjoys a finish in Cognac barrels while some vintages are matured for the most part in wine barrels (mainly hosted Sherry and Porto) and the more often retoasted, in addition to turning out to be restructuring elements for the conception of this Calvados. On this selection, we thus find a very successful food pairing with a good toast of Epoisses cheese.
Indeed, at the occasion of a trip to Cognac some years ago, Guillaume Drouin stopped at Cognac Hine, with the pleasure to enjoy a wonderful vertical tasting of old Cognac vintages, in the mysterious Hine House. He seemed to be really seduced by this beautiful journey in this Spirit Valley, while enjoying a range of millesimes. So much that he felt a certain connection happening his house and Hine Cognac, so that he wished to employ former Cognac casks for aging during 6 months his future Calvados.
As a matter of fact, those casks were known to bring flowery flavors and silky tannins, perfect to pursue the innovative Experimental range. For premium barrels, they deserved an intense 17 years old Calvados from Pays d'Auge to fulfill the personality and the rich flavors of Hine Cognac's barrels, which are logically mentioned on the bottle.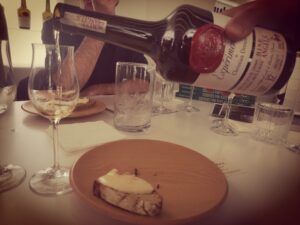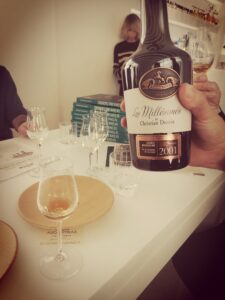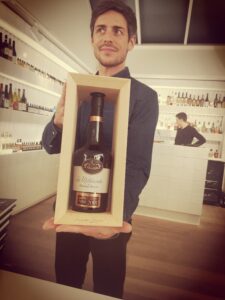 Another variety from this tasty Experimental selection is this time aged in Jamaican rum casks, and is called Plantation Long Pond. In order to marry this 14-year-old experimental cuvée, with accents of banana and sugar cane, we find another suggestion of cheese, but this time typically Norman and one with of the most powerful tastes that could exist, which is Neuchâtel. This delicious product perfectly matches with the structure and the complexity acquired over the years by this spirit, aged during 14 years. Indeed, the older gets a Calvados, more aromas display in mouth and consequently require time to discover and appreciate them of course.
Regarding corporate culture, it turns out that Christian Drouin's juices consider as millesimes, bottles from 20 years of ageing. For your information, these vintages are mainly aged in sherry casks, which can bring notes of cooked butter, nuts and rancio.
We therefore suggest two vintages, the 2001 and the 1991. For instance, taking in account that the vintage 1991 goes very well with the dentelle crêpes nougat, proposed here by Chocolats Genin but in the other side, the millesime 1999 may match with Roquefort cheese.
Le livre des Calvados /Des racines normandes, une ambition mondiale by Christian Drouin / Editions Charles Corlet / Price : 39,50€ – 192 pages. More information on the official website or in La Maison du Whisky.