Our selection of exhibitions in Paris for this Autumn 2021
7 min read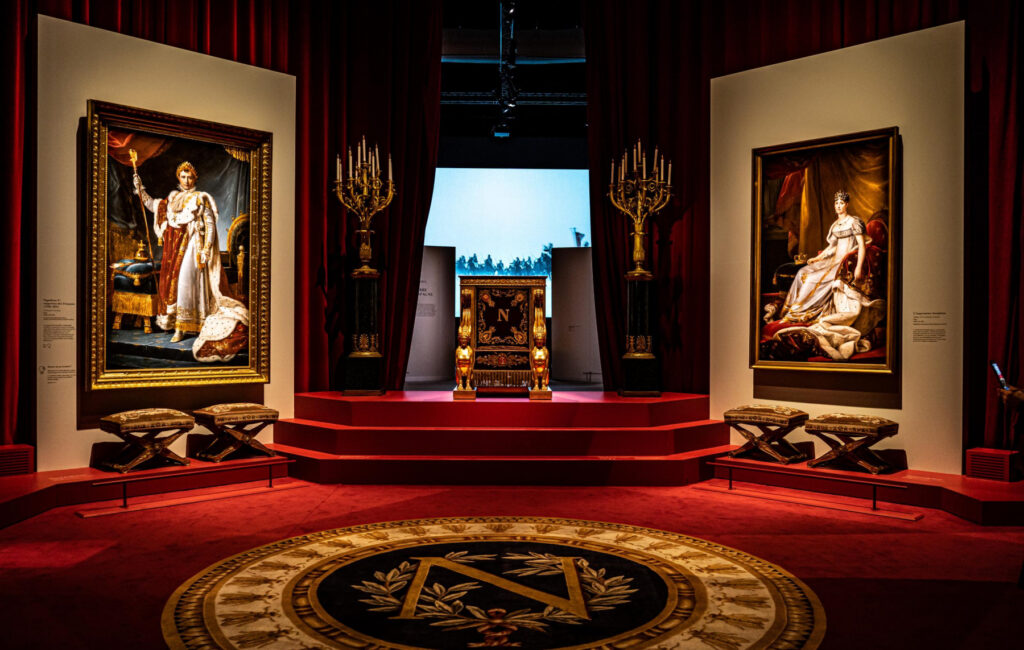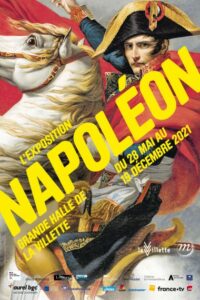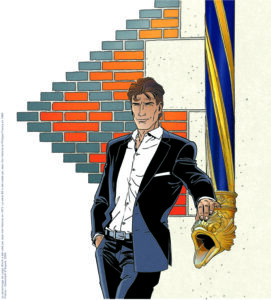 The reputation of the Parisian cultural offer is well established! That's why many exhibitions, sometimes from all over the world, take their place in the largest museums of the capital. Discover the selection of our suggestion for this Autumn 2021, along other unmissable classics, enunciated just below. By Alexis Lery
Napoleon at the Grande Halle de la Villette until December 19, 2021
Largo Winch, aventurier de l'économie at Citeco until December 31, 2021
Martin Margiela at Lafayette Anticipations until January 2, 2022
Dali, the endless enigma – Gaudi, architect of the imagination at the Atelier des Lumières until January 2, 2022
A lovely and unexpectable duet between Picasso – Rodin at the Picasso Museum and Musée Rodin until January 2, 2022
The inspired pictures of Vivian Maier at the Musée du Luxembourg until January 7, 2022
Soutine / De Kooning, painting embodied in the Musée de l'Orangerie until January 10, 2022
Roll on the cinema! at the Musée d'Orsay until January 16, 2022
Penone at the Bibliothèque Nationale de France until January 23, 2022
Fashion and cinema, featuring Jean-Paul Gaultier at the Cinémathèque Française until January 16, 2022
Botticelli, a Renaissance laboratory at the Jacquemart André Museum until January 24, 2022
One century of story for Vogue Paris 1920 – 2020 at the Galliera Museum until the end of January 2022
The Ivan Morozov collection (Cézanne, Gauguin, Van Gogh, Renoir, Monet, Picasso …) at the Louis Vuitton Foundation until February 22, 2022
L'Âme Primitive at the Zadkine Museum until February 27, 2022
Paris-Athens. Birth of modern Greece 1675 – 1919 at the Louvre Museum until February 7, 2021
Thierry Mugler: Couturissime at MAD – Musée des Arts Décoratifs until April 24, 2022
---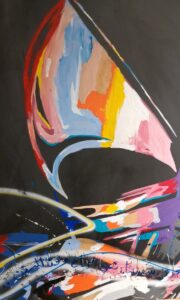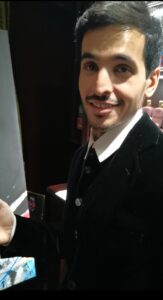 This Autumn, we are glad to invite to discover the contemporary art space of the prestigious Fouquet's Hotel in the Champs Elysées, named the Legacy Store. This surprising and eclectic gallery hosts the first Parisian exhibition of the Qatari artist Ahmed Al-Maadheed who presents a series of 20 colorful and contemporary artworks. Already recognized for having created the "Tamim the Glorious" icon realized in the effigy of the Emir of Qatar, named Sheikh Tamim ben Hamad Al-Thani, which quickly became popular on the social networks. Representing the new Qatari artistic scene, whose illustrations are visible in many parts of Doha (photo credits: Alexis Lery). Here, the exhibited paintings are mostly inspired by his common passion between Doha and Paris, combining graphics, painting, engraving and calligraphy. Baptized "Rimal Art Exhibition", his paintings either celebrate desert (since rimal means sand), but also horses and hawks along Parisian monuments, such as the Eiffel Tower and the Arc de Triomphe.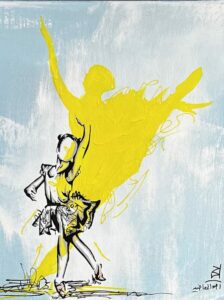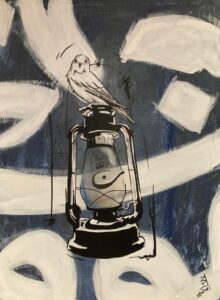 In an other hand, you could also admire the oriental imagination of Ahmed Al-Maadheed through different collaborations and large-scale advertising campaigns on a wide range of projects, especially for major cultural and sporting events in Qatar. You could also find out his production of animated films and of course his intercultural message of hope.
"Rimal Art Exhibition" by Ahmed Al-Maadheed. Exhibition from December 8th, 2021 to January 17th, 2022. Legacy Store at Hôtel Barrière Le Fouquet's, 46 avenue George V, Paris (France). Open every day from 10 am to 7 pm. More information on the official website.
---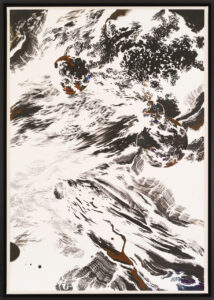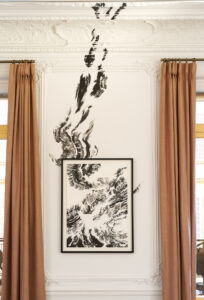 After supporting the fellow artists Matthieu Salvaing and Frédéric Imbert, the Rupture & Associés agency decided this time to offer an authentic carte blanche to the artist Abdelkader Benchamma who has inserted this mysterious Maison Rupture & Associés for the first time in his lifetime, starting from Saturday 23rd October 2021 and lately his artistic presence was luckily extended until Saturday 8th January 2022 (photo credits: Bertrand Huet-Tutti).
Conceived as a total immersion in this rich artist's imagination, this Echoes exhibition showcases the Abdelkader Benchamma's latest ink artworks on paper, shortly after delivered a unique performance in early October 2021 with the realization of an impressive fresco on the walls and ceiling of this magnificent exhibition apartment. Don't waste time then to book your visit and thus admire the graphic know-how of Abdelkader Benchamma and eventually unravel the basements of his enigmatic thoughts.
Echoes
exhibition at
Rupture & Associés
, 1 Place André Malraux, 75001 Paris (France). More information on the official
website
.
---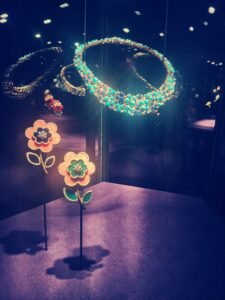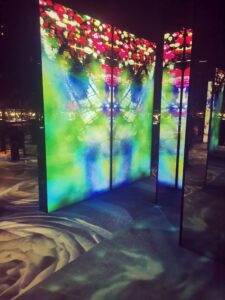 The famous diamonds and pearls creator Van Cleef & Arpels has recently decided to offer to the Japanese photographer Mika Ninagawa a carte blanche to create an exhibition celebrating flowers, with her work presented alongside the Maison's floral creations.
Within an immersive decorative scenery designed by the architect Tsuyoshi Tane, (re)discover over a hundred marvelous jewelry pieces extracted from Van Cleef & Arpels' patrimony collection, along other contemporary jewels graciously mixing with the Japanese artist's brightly colored photographs. On display this Autumn 2021 at Hôtel d'Évreux, on the illustrious Place Vendôme in Paris, this Florae installation invites us on a dreamlike stroll through an imaginary garden.
Florae
exhibition by
Van Cleef & Arpels
/
Hôtel d'Évreux
, Salle des Tirages, place Vendôme, 75001 Paris (France).
Free
admission upon reservation, more information on the official
website
.
---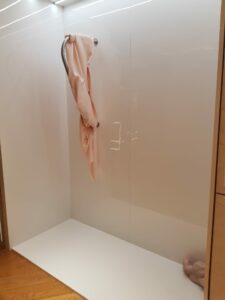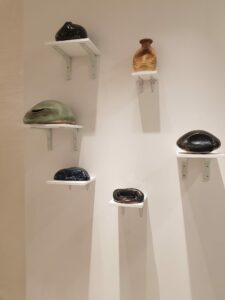 Along the unmistakable FIAC art fair, the ancestral Guerlain house has imagined a contemporary art exhibition in its historic boutique situated on the Champs-Elysées. The 14th edition of this installation is this year dedicated to the question of materials in art, bringing together pieces by very well established artists such as a compression of insecticide cans by César and a suitcase imagined by Wim Delvoye, while other participants are younger, such as a figurative embroidered tapestry created by Ana Silva's facing the random stoneware and porcelains by Zhuo Qi, passing by an abstract painting of Lee Bul.
Then, until November 14th 2021, the Guerlain house hosts again, as part of the FIAC "Hors les Murs" path, an exhibition exploring the materiality of art in its historic boutique on the Champs-Élysées.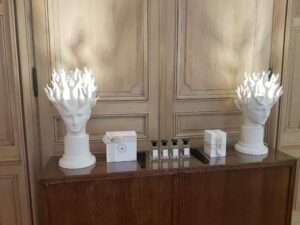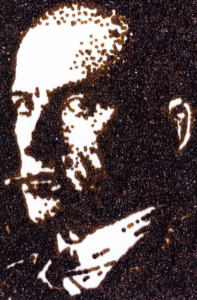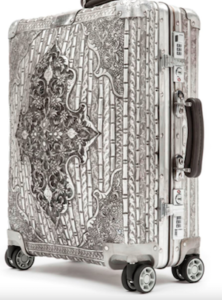 Therefore, like every year since 2005, the perfume house highlights its high involvement regarding the support of a diversity of the international artistic scene. Thus, while purchasing perfumes or cosmetics, take some time to admire the different sculptures, paintings and installations, built between different crossroads around art and craftsmanship. This relation is naturally related to the inner spirit of Guerlain since we already know that the structure focuses on its proper know-how and exceptional raw materials to create its new fragrances and designs.
In parallel with this plural installation, Guerlain has always decided to organize for the first time an innovative charity sale of NFT artworks, at the benefit of the GoodPlanet foundation, chaired by the photographer Yann-Arthus Bertrand. Under the supervision of Caroline Messensee, this initiative aims to support the creation of a garden-laboratory leading researches about regenerative agriculture. For your information, those digital realizations are more and more acclaimed for their technology and uniqueness, even authenticated by an encrypted signature.
"Quand la matière devient art", until November 14th 2021, at Maison Guerlain, 68 Avenue des Champs-Élysées, 75008 Paris (France) / Phone : 01 45 62 52 57. More information on the official website.
---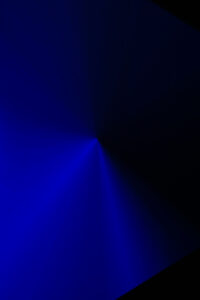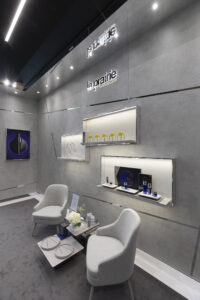 During the unmissable FIAC, we invite you to get to know the colorful collaboration between Maotik and La Prairie, associating with this legendary Paris art fair. Therefore, this Swiss cosmetics firm has decided to unveil its new flagship artist Mathieu Le Sourd, known as Maotik (photo credits: Wilfried Antoine Desveaux / La Prairie).
At the occasion of a tribute to Skin Caviar Huile de Nuit, which is the new anti-aging ritual of La Prairie to use before sleep, this French specialist of digital creation has designed an authentic fairy experience. Indeed, this art installation, baptized "Sense of Blue", was firstly presented at the 2021 edition of Art Basel and was also recently visible at the La Prairie corner of FIAC. Nevertheless, this artwork was made to stimulate as much as possible your senses, while offering a complete immersion into the countless shades of the iconic cobalt blue.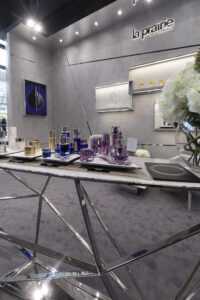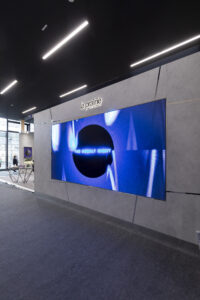 This mysterious chromatic
tone
, recalling in a way certain
shadows
and
depths of the night
, has been acclaimed by numerous
aesthetes
since ancient times, from the ancient
Egyptians
to
Yves Klein
and his famous
"IKB"
, passing by the inspiration impulsed by
Niki de Saint Phalle
to this
beauty
institution in the 1980s, in order to dress some of her
collections
. Another proof of
La Prairie
's commitment to
contemporary art
and emerging
creation
.
Along a presentation of the different lines of La Prairie products, enjoy your immersion in a flow of motion sensors, video projections, along algorithms and light effects mixing together. As far as we know, Maotik has succeeded to marry science, art and illusion in a minimalist and interactive senses.
Maotik x La Prairie : Sense of Blue / Fiac Paris, from 21st until 24th October 2021 / Grand Palais Ephemère, avenue Charles Risler, 75007 Paris (France)
---